Book info
Sample
Audiobook
Media
Author updates
Lists
Synopsis
Some say that casting crusty attorney Allen Sharpe as Scrooge in the Kindred Players production of A Christmas Carol is just playing to type. He's not the most beloved man in town. In fact, you'd have a dickens of a time finding someone who liked him. Still, it's a shock when the Ghost of Christmas Past stabs him during the first rehearsal. Suzanne, the co-owner of the Cackleberry Club Cafe (Kindred's favorite combination diner, craft store, and bookshop), chases the murderer out of the building but loses him in the alley. As the days pass, the list of suspects grows longer. Is it the disgruntled partner? The former secretary whom Sharpe sexually harassed? Or is it Suzanne's fellow owner of the Cackleberry Club, Toni's almost ex-husband, Junior? The women of the Cackleberry Club are determined to find the killer before he can add another victim to his Christmas list.
Release date: December 4, 2018
Publisher: Berkley
Print pages: 304
* BingeBooks earns revenue from qualifying purchases as an Amazon Associate as well as from other retail partners.
Listen to a sample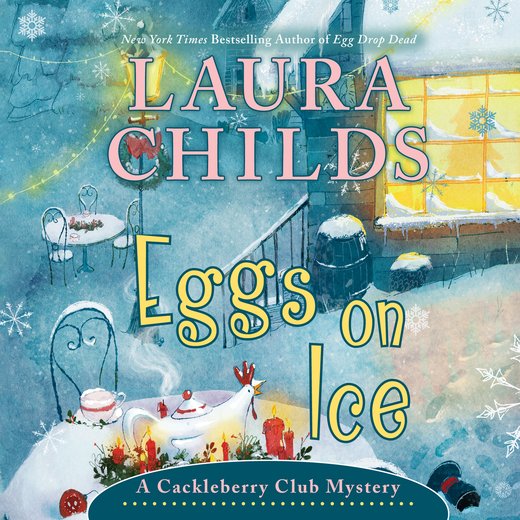 08:03:02
221.13 MB
December 4, 2018
Dreamscape Media
Eggs on Ice
Laura Childs
***This excerpt is from an advance uncorrected copy proof***
Copyright © 2018 Laura Childs
1
It was a Dickens of a night. Velvet topcoats worn with silk ascots, fake British accents that echoed through the theater, a key light focused on an antique rolltop desk piled high with black ledgers. Like that.
"It's perfect casting," Suzanne Dietz whispered to her friend Toni as they stood backstage. "Allan Sharp playing Ebenezer Scrooge."
"Our town curmudgeon scored the ultimate role," Toni chuckled. "What's not to like?"
It was Sunday evening, a few weeks before Christmas, and the Kindred Players were holding their first-ever dress rehearsal for A Christmas Carol. Suzanne and Toni had ditched their holiday decorating chores at the Cackleberry Club Café in order to help with costumes, sets, and lighting. Now they stood in the darkened wings of the refurbished Oakhurst Theatre, watching their fellow townsfolk do some fairly credible acting.
"Look at Bud Nolden," Toni said. "Who would have thought a big gallumping guy who drives a two-ton snowplow would make such a believable Bob Cratchit?"
"He's doing great," Suzanne said. "The entire cast is. They've learned their lines and are putting real emotion behind them." Suzanne, who'd never appeared onstage, never even sung in a high school musical, was delighted to remain in the wings. "And take a gander at Mayor Mobley stomping around out there. Even he's giving a hundred and ten percent."
"Which is about what he usually gets after he stuffs the ballot box."
"Still," Suzanne said. "For once Mobley's trying to do his part for the community."
"Which is more than I can say for myself, because I still haven't figured out which rope raises the curtain and which pulley lowers the backdrop." Toni let out a long sigh. "And then there are the confounded lights. I don't know a key light from a klieg, which I guess makes me some kind of dim bulb."
"Don't be so hard on yourself," Suzanne said. "We'll get the bugs worked out. That's what rehearsals are all about." For her own part, Suzanne was struggling with the fog machine, trying to figure out how to make it spew just the right amount of moody mist. Too little and everything was out of focus. Too much and the stage looked like a foggy night in the Okefenokee Swamp.
"I gotta get this locked down," Toni said. "Opening night is this coming Saturday and I'm so worried that I bit my press-on nails down to their plastic nubbins." She swiped a hand across her stomach. "And I'm getting a case of the whim-whams to boot."
"Tell you what," Suzanne said. "After everybody leaves the theater tonight, we'll have our own private stagehand rehearsal. Figure out which pulleys do what. We'll label all the ropes if we have to. Light switches, too. That way there'll be no second-guessing on opening night."
Between Toni and their other partner, Petra, Suzanne was blessed with the cooler head, the more practical approach to everyday life. She was the one who ran interference at the Cackleberry Club, coaxing everyone down from the ledge whenever they dared entertain a harebrained scheme. She also handled the pesky financial and personnel details that made Toni and Petra whimper with fear. In other words, Suzanne was the voice of reason.
Suzanne, who was a few ticks past the age of forty, was also newly engaged to Dr. Sam Hazelet, the town doctor and her own personal hottie. With her shoulder-length silver-blond hair and cool blue eyes, Suzanne projected an air of self-confidence that was reflected in her penchant for slim-cut blue jeans and suede jackets, which was the exact combo she was wearing tonight.
Toni, on the other hand, was the Cackleberry Club's self-proclaimed hoochie momma. She favored silver-studded jeans and skintight cowgirl shirts that showed off her cha-chas, and she had never seen a piece of fake Dynel hair that she didn't want to clip into her own mop of reddish blond hair.
"I didn't realize this show had such a large cast," Toni said. She held her breath as she flipped a switch, dimming the lights right on cue as a half dozen actors milled about onstage. "Ooh, I did it," she cooed softly. They were coming to the end of the second act and she was still nervous about dropping the curtain. "Eeny, meeny . . ." Toni grasped a thick red rope that led to an overhead tangle of ropes and pulleys. "Is this the right one or should I . . . ?"
Actors streamed past them, coming off the stage and disappearing into the back of the theater: Nolden, Mobley, and six others.
"Don't drop the curtain yet," Suzanne hissed. "You need to dim the lights because the ghost still has to come out . . ."
Toni swatted a switch with the flat of her hand and the entire stage went dark.
"Not that dark," Suzanne said. "The audience has to be able to see something."
Toni's fingers crawled along the entire panel of light switches and settled on one. "Maybe this one?" She flicked the switch and a weird blue light filtered down from above.
"That's the ticket," Suzanne whispered.
"Maybe I am starting to get the hang of things," Toni said. She sounded relieved and a little more confident in her ability as a stagehand.
Suzanne bent down and turned on the fog machine. Instantly, a jet of white fog spewed out and spread across the entire stage.
"Whoa, that might be a bit much," Toni cautioned.
Suzanne dialed her machine back, got it running just right, and then glanced at her script. She was trying to follow along in the dim light. "Okay, so the ghost is supposed to enter stage right . . ."
"Here he comes."
They watched as the ghost floated out right on cue. There was a hush from the other actors, who were all seated in the first few rows of the theater, watching the play, waiting for the next act, when it would be their turn to strut their stuff onstage.
The ghost, dressed in long gray robes and a deep cowl that hid his face in darkness, drifted dramatically about the stage.
"Who is that?" Toni asked as they peered out from the wings.
Suzanne shook her head. "No idea. I wasn't here when Teddy Hardwick had the casting call."
"But the ghost is good. Very believable. Whoever it is."
The ghost postured importantly and lifted his arms as if he were some sort of avenging spirit. "Ooooh." His hollow tones rippled across the stage and filled the near-empty theater.
"Spooky," Suzanne said. "And very realistic." She made a mental note to find out who'd created the ghost costume. With its gray-green color and straggly bits of cheesecloth hanging down, the shroud was very convincing. Like the ghost had actually swept in from the great beyond.
"This is, like, the best part so far," Toni said. She was watching the action with rapt attention.
Suddenly, the ghost darted in close to the Scrooge character and embraced him as he sat at his desk.
"Scrooooge," the ghost lamented. "Scrooooge."
Then Scrooge and the ghost seemed to merge into a single image for a few moments, doing some kind of ethereal dance. The ghost released Scrooge and then floated off into the wings on the opposite side of the stage.
"That's the ticket," Toni said. She grasped the rheostat and slowly dimmed the blue lights to a pale glow that practically pulsed with electrical energy.
"Perfect," Suzanne whispered.
"Suzanne?" came a worried voice from behind her.
Suzanne whirled around to find Bill Probst, one of the owners of the Kindred Bakery, staring at her. His face was scrunched into a nervous expression and he wore a ghost costume made of gray netting.
"I'm sorry," Bill said, "but I completely missed my cue."
"What?" Suzanne blinked rapidly and glanced out at the stage, where Allan Sharp as Scrooge was slowly slumping over his rolltop desk, practically moving in slow motion.
"And now the curtain," Toni said with a triumphant yelp. She had her back to them, hadn't even seen Bill yet, as she released the pulley and a heavy damask curtain came thudding down.
But Suzanne was still staring out at the stage. Hold everything, she thought, her mind making a series of nervous blips. If the ghost is standing right next to me, then who just acted that scene with Allan Sharp?
"How about an encore?" Toni asked. She raised the curtain halfway up and then glanced toward the stage.
Allan Sharp was still sprawled at his desk as eerie blue light filtered down. His head was bowed low and he looked as if he'd fallen into a trance.
A thin spatter of applause rose from the actors sitting in the first couple of rows. They seemed deeply impressed by such a dramatic climax. But a few moments after their applause died down, Sharp still hadn't made a move to get up and take a well-deserved bow.
Is this method acting? Suzanne wondered. Or is something a lot more sinister going on?
Just as Suzanne was about to react, Toni jammed an elbow into her ribs and whispered, "Don't you think Sharp is overplaying his role? I mean, he isn't Jeremy Irons and this isn't exactly the Globe Theatre."
Sharp still hadn't moved a muscle, and Suzanne was slowly, almost unwillingly, putting it all together. Connecting the dots between the mysterious ghost, the almost deathlike embrace, and Allan Sharp flopped out there in a heap.
"Holy cats," Suzanne gasped. "I don't think he's acting!"
"What?" Toni cried.
"I think Sharp is . . ."
Without finishing her words, Suzanne rushed out onto the stage. She circled Allan Sharp's crumpled body, reached out a hand to touch the pulse point at his neck, and felt . . . absolutely nothing. There was no sign of breathing, no other vital signs.
Shocked, practically reeling from her grisly discovery, Suzanne spun about and gazed down at a dozen questioning faces in the audience. "Call 911!" she shouted. "Something terrible has happened to Allan Sharp!"
The cast and crew all froze for a long moment, until a few of them had the presence of mind to fumble for their phones. By that time, Suzanne had already turned and sprinted past Toni. Then she dove into the gloom and darkness of the theater's backstage.
Suzanne could hear footsteps—hasty, running footsteps—just ahead of her but could barely see her hand in front of her face. The entire backstage was dark as a tomb except for a single red exit light way at the back. As she dodged past a rack of costumes, in hot pursuit of the mysterious fleeing ghost, she shivered. The dim red light made the Victorian sets look as if they were bathed in blood.
"Stop!" Suzanne shouted. Her voice reverberated back at her as she spun around a row of dressing rooms and spotted the ghost some ten paces ahead of her. "I'm talking to you," she yelled.
The ghost ignored her completely, flinging out a hand to tip over a wooden crate.
Suzanne stumbled, one knee going down to hit the cold cement floor. Then she righted herself and leapt clumsily over the crate. Up ahead, the ghost was moving quickly again, crashing through set decorations, knocking over a Victorian streetlamp, and heading for the back door.
Suzanne pushed herself harder and dodged around a corner, past a dusty grouping of old furniture. Way back here, in the bowels of the old theater, the air was musty and filled with the smell of mildew and rot. Her heart hammered; her temples throbbed with rushing blood. It was like being in a tomb—dark and silent—only she wasn't alone.
She spun around another corner, saw gray cheesecloth fluttering ahead of her, and followed it down a clattering flight of metal stairs.
At the bottom Suzanne hesitated. Was this a good idea? Where was the ghost? Was he lying in wait for her?
Suzanne glanced about for some sort of weapon. In the dim light she saw folding chairs, stacks of old newspapers, and a toolbox. Her hand swept out and grabbed a rusty hammer. She hefted it carefully, feeling the weight, hoping it would be enough of a defense weapon if she needed one.
Sliding ahead, slowly and quietly, Suzanne tried to pick her way through the gloom.
Was the ghost waiting to attack her? He'd already killed one person, so he probably had no qualms about adding another victim to his dance card.
A narrow hallway loomed ahead of her. Her back against the wall, Suzanne eased herself forward.
And there, just ahead of her, heading for the back door of the theater, was the ghost.
"Stop!" Suzanne cried as she scrambled after him.
The ghost slid to a halt and spun around to face her, all dark cowl and quivering cheesecloth. Holding up a mean-looking serrated knife that glistened with a few beads of blood, he jabbed the tip at her.
Suzanne backpedaled mightily, her heart practically beating out of her chest.
Holy crap!
Wide-eyed and practically breathless, Suzanne stood and stared at the ghost. The heavy cowl still obliterated his face; the knife was clutched in his hand. She took one cautious step backward. And then another.
What was I thinking? This is such a bad idea.
The ghost raised his knife and then tilted it in a perpendicular fashion, almost as if he was making some kind of medieval symbol or benediction.
Suzanne's heart fluttered with fear. Had Toni called 911? Had anyone followed her back here? Was she about to become this madman's next victim?
Then, with eerie but coordinated stealth, the ghost whirled about and kicked open the heavy metal stage door. A draft of ice-cold air flowed in as the door banged hollowly against the outside wall, launching a miniature snowstorm of ice rime. Seconds later, the ghost flitted outside, its footsteps crunching hollowly as he disappeared down the back alley into the frozen, dark night.
2
It was both a tragedy and a comedy of errors. A tragedy because a man had bled to death onstage, a comedy because Toni was convinced he'd been murdered by an honest-to-goodness ghost.
"The temperature must have dropped thirty degrees when that phantom started whooshing around," Toni said. "And I'm positive I smelled something strange."
"Strange like what?" Suzanne asked.
Toni scrunched her face and made a wringing motion with her hands. "Maybe like . . . brimstone?"
"You're sure it wasn't just cheap drugstore aftershave?" Suzanne asked. Nothing here was particularly funny but she still struggled to keep a straight face.
"No, I think that ghost blew up from the pit of hell."
Sheriff Roy Doogie and Deputy Eddie Driscoll had shown up at the theater almost immediately. They'd rushed down the center aisle in a flurry of khaki, snorkel parkas, and pac boots and checked Allan Sharp's body to make sure he really was dead. Then they listened carefully to Suzanne's eyewitness account of the murder and subsequent chase. Toni's explanation, however, had left them scratching their heads.
"It was a real ghost," Toni insisted.
"If it was a genuine ghost I was chasing, then he was wearing genuine Sorel boots," Suzanne said. "I saw them as he hoofed it out the back door."
"But you didn't see his face?" Sheriff Doogie asked Suzanne.
"Difficult to see a shape-shifter," Toni muttered.
"I never saw the man's face," Suzanne said to the sheriff. "He wore his hooded cowl pulled low the whole time." She turned toward Toni. "We're talking flesh and blood here, Toni, not a ghost."
"You're sure it was a man?" Deputy Driscoll asked. When everybody looked a little sideways at him, he added, "Versus a woman?"
Suzanne gave a brisk nod. "I think so. Even though he wore a costume, he still looked tall and fairly husky. And then when I chased him . . . he turned around and threatened me."
"Threatened you how?" Doogie asked. "Verbally?"
"First he held up a big hunting knife; then he aimed the tip at me like he wanted to kill me."
"I'd classify that as a serious threat," Doogie said. "Did he speak to you? Did you recognize the guy's voice?"
Suzanne shook her head. "Not really. He just kind of grunted, low and gruff, as if he was using a fake voice. You know, the way the actor Nick Nolte always talks?"
"Killer disguised his voice," Driscoll said. He was making notes in a small spiral notebook.
They were all gathered onstage, like some sort of impromptu acting troupe. Suzanne, Toni, Sheriff Roy Doogie, Deputy Driscoll, the play's director, Teddy Hardwick, and the still-very-dead Allan Sharp. Doogie had told the rest of the cast to sit tight in their theater seats.
"I still think it was a genuine ghost," Toni said. "There have been several well-documented cases of hauntings in theaters. There was even a series about haunted theaters on the Travel Chanel."
"But this ghost stuck a nasty serrated knife into Allan Sharp's gut and then waved it in my face," Suzanne said.
"Maybe the ghost was running low on ectoplasm," Toni said, reluctant to abandon her theory.
"No, this guy . . . this killer . . . was real. Terrifyingly real," Suzanne said. She'd felt genuine hostility radiating off him.
"What we have here is a straight-ahead homicide," Doogie said. "We don't need an exorcist; we need an investigation." He planted his feet wide apart, grasped his gun belt with both hands, and hitched up his khaki pants. Doogie was a big guy with a shock of gray hair and a meaty face. People thought because he was slow moving that he was slow with his thinking, too. Not so. Doogie was smart and crafty and had the facile mind of a chess player who could see fifteen moves ahead. And just because he was considerate to preachers and little old ladies didn't mean he couldn't be as irritable as a rattlesnake.
"I agree completely," Hardwick said. "We need to solve this murder fast so we can get on with the play. Without any sort of blowback on our actors' reputations." Hardwick was a serious-looking guy in his mid-thirties. Tonight he wore dark slacks and a faded blue sweater and had a long scarf looped around his neck. Artsy-like.
"We need to think logically," Doogie said. "Explore any and all possible motives."
"Maybe the ghost wanted to play the Scrooge role," Toni said.
"It has to be more serious than that," Hardwick said. "There had to be more at stake."
"Who hated Allan Sharp?" Doogie murmured, almost as if he were posing the question to himself.
"Everyone," Suzanne said. "Sharp was a scummy lawyer who dabbled in all sort of things. Politics, shady real estate deals, any kind of kickback he could weasel out of the city or county. And remember, Sharp was booted off the board of directors over at the prison." She was surprised someone hadn't bought him a toaster for his bathtub—he was disliked that much.
Doogie rocked back on the heels of his boots. "Even though Allan Sharp served on the city council, he wasn't what you'd call your upstanding citizen."
Deputy Driscoll made a low sound in the back of his throat. "But we're still sworn to uphold the law. To pursue any and all criminal activity to the best of our ability."
"You don't have to quote law enforcement scripture to me, Edward," Doogie said. "I intend to find Sharp's killer, arrest him, and drag his sorry carcass into court. And if he gets messed up along the way . . . well, those are the breaks."
"Then we'd best get to collecting evidence," Driscoll said.
Doogie nodded. "You grab the crime scene kit from the car."
While Driscoll took pictures and bagged Allan Sharp's hands for possible evidence, Doogie called George Draper, owner of Driesden and Draper Funeral Home.
"You're transporting him to the funeral home?" Suzanne asked.
"No, I only called Draper because he's the one with the meat wagon and the county has a contract with him. I'll have him haul Sharp's body over to the hospital and stash him in their morgue," Doogie said. "You never know; we might end up bringing in an outside forensics expert. Maybe call the state guys up in Saint Paul."
"Then you should check the footprints out back, too."
"Let's go do that."
Suzanne and Doogie wound their way through the back of the theater and down the short flight of steps and pushed their way outside. Snow immediately whipped at their faces, driven by a chill wind. The alley was deserted except for a brown hulking Dumpster, and dark except for a single light from a neighboring building. But the fresh white snow glowed as if touched by a black light.
"Huh," Doogie said. He sniffed the air like a wolf. "He ran out this way, huh?"
"That's right." Suzanne's breath plumed out into the night air and she started to shiver. Not because she wasn't wearing a coat, but because she was thinking how close she'd come to being the second victim. Too close.
Doogie glanced down and pointed at a set of tracks that was mashed into a couple of inches of snow. "Those are his tracks? That's where he ran? You didn't go after him and mess things up?"
"No," Suzanne said. "I was too scared. So those are definitely the killer's tracks."
Doogie pulled out his cell phone, knelt down, and snapped a few pictures. Then he took a pen from his pocket and laid it alongside the tracks for context and snapped a few more shots from different angles.
Suzanne stepped back inside the building and called Sam, wondering just how much she should tell him. Let's see now, a murder, bizarre chase, and a big knife waved in her face. She decided it might be better to wait until she got home; then she could soft-pedal her story.
As soon as Sam answered, Suzanne said, "Apologies, but I'm going to be late tonight. You probably shouldn't wait up for me."
"What's wrong?" Sam asked.
"What makes you think something's wrong?" Dang, was that a quaver in my voice?
"The tone of your voice, for one thing. And the fact that my pager just went off with a 187 code."
"Which is . . . ?"
"A homicide."
"Thanks a lot, Doogie," Suzanne muttered.
"Suzanne." Sam's voice was unnaturally sharp and terse. "Wait a minute, you're at the theater? I'm reading this text message. Mmn . . . holy cats, there was a homicide at the theater and you're still there?"
"Uh . . . yes."
"Suzanne, are you safe?" Sam demanded.
"I think so."
"What does that . . . ? Never mind, I'm coming right over."
And just like that he was gone.
Putting her phone away, Suzanne walked over to the backstage dressing area. Doogie had come in and stomped the snow off his feet and was poking around with a flashlight. "Find anything?" she asked.
"Kind of a mess back here," Doogie said without looking up.
"We went tearing through here, knocking into things, I guess."
Doogie shone his light on a backdrop that depicted a library scene. The thick paper had been ripped from top to bottom. "Looks like Hardwick's going to have to replace a few pieces of scenery."
"Along with his main actor."
"You know anybody who was vying for that role?" Doogie asked. "The Scrooge role?"
"I don't know anything about it. You'd have to ask Hardwick."
"I will do that." Doogie snapped off his flashlight, leaving them in the dark. "For now I'm going to go out front to interview the other actors."
"I think most of them were seated in the audience when the fake ghost came onstage."
"Somebody must have seen something," Doogie said.
Ten minutes later, George Draper arrived, looking somber in his black three-piece funeral suit and pushing a clanking metal gurney.
Then, a hot minute later, Sam rushed in, right on Draper's heels. Dressed in faded jeans, a gray hoodie, and tennis shoes, he glanced around the theater, a look of panic etched on his handsome face. When he finally spotted Suzanne, sitting in the second row, he raised a hand and called out, "Suzanne!"
Suzanne saw the worry on his face, the tension in his body, and jumped up. She ran to meet him and flung herself into his arms. God, he felt good.
"Are you okay?" Sam asked.
"I am now," Suzanne said.
Sam kissed her on the forehead and then moved down to her lips. But only for a brief moment, because now Sheriff Doogie was waving at him and calling his name.
"Lucky me," Sam said in a low voice. "I'm still acting county coroner for another two months."
"And now you've got a murder dropped in your lap," Suzanne said.
"Doc," Doogie called again, more forcefully this time.
"Don't go anywhere," Sam told Suzanne. He vaulted up onto the stage, not bothering with the steps, and walked over to where Doogie and Draper were surveying the body. The three of them put their heads together and muttered in low voices for a few minutes. More photos were snapped. Then they waved at Deputy Driscoll to join them and, together, the four of them rolled Allan Sharp into a black plastic body bag and hoisted him up onto the gurney.
When the body flopped down, a hush fell over the other actors. Somehow the arrival of Dr. Hazelet, the gurney with one squeaky wheel, and the shiny black body bag made Sharp's death feel all too real.
"Wait! Wait!" a strangled voice called out.
Everyone turned as a tall, hawk-nosed man in a long, flapping coat came half running, half stumbling down the aisle.
"Don Shinder," Suzanne said to Toni, who was now seated next to her.
"Allan Sharp's law partner?" Toni asked.
"Sharp Shinder and Young. They've been together almost four years."
"Oh my God!" Shinder shrieked as he drew closer to the stage. He pointed a bony finger at the body bag on the gurney. "Is that Allan? No, it can't be," he said. He stumbled around, looking for a way onto the stage, then finally found the stairs.
Doogie intercepted Shinder before he could reach Sharp's body. He grabbed the man by his shoulders and pulled him to one side. Shinder's narrow face was flushed red and his arms flailed helplessly.
"Allan can't be dead," Shinder cried. "I was just talking to him. We just filed a brief together, for cripes sake." He looked forlorn and positively unhinged.
Doogie led Shinder over to a folding chair and Shinder slumped down.
Shinder fought to make his mouth work, then finally croaked out, "What happened?"
Doogie bent down and quietly explained what he understood to be the sequence of events. All the while Shinder kept shaking his head and saying, "No, no, no."
While they talked, Sam helped George Draper lower the gurney off the stage, then walked over to where Suzanne and Toni were waiting.
"There's nothing more we can do here," Sam said.
"You don't have to, like, examine the body?" Toni asked.
"He can wait," Sam said
We hope you are enjoying the book so far. To continue reading...
Eggs on Ice
Laura Childs
Copyright © 2022 All Rights Reserved
Also in this series
Also by this author