Dough or Die
They capture something much harder to stomach: the attempted murdered of the show's cameraman.
Book info
Sample
Audiobook
Media
Author updates
Lists
Synopsis
People come to the beach town of Santa Sofia as much for the healing properties of Yeast of Eden's breads as for a vacation getaway. And now a cable food channel has selected the bakery as a featured culinary delight for a new show. Baking apprentice Ivy Culpepper is excited as the crew arrives, ready to capture all the ins and outs of the renowned bread shop. But instead they capture something much harder to stomach: the attempted murder of the show's cameraman just outside Yeast of Eden... With no motive and no clues and the town craving answers, it will be up to Ivy to sift through the evidence to find the truth. But she'll have to move quickly before someone else is targeted or the wrong person gets the heat and the business collapses like a deflated soufflé, right before her eyes.
Release date: August 25, 2020
Publisher: Kensington Books
Print pages: 227
* BingeBooks earns revenue from qualifying purchases as an Amazon Associate as well as from other retail partners.
Listen to a sample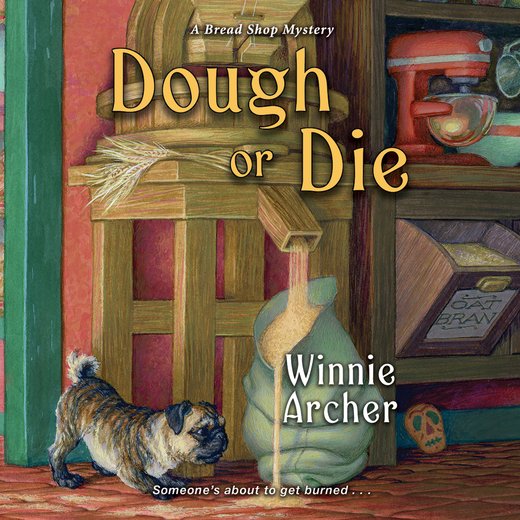 07:56:14
218.01 MB
9781666541496
September 10, 2020
Dreamscape Media
Dough or Die
Winnie Archer
Olaya Solis, the queen of all things bread, stood at one of the stainless steel stations in her industrial baking kitchen in the back of Yeast of Eden, the heels of her hands pressing into a mound of dark dough. She moved rhythmically, folding the dough in on itself, turning it, then pressing her heel in again. Over and over and over, she kneaded it until it was a smooth ball. I scanned the ingredients sitting on the counter next to her station: bread flour, rye flour, wheat flour, cocoa powder, yeast, and water. Whatever she was creating, it wasn't one of the standard doughs she baked for the bread shop.

"What are you making?" I asked as I wound my ginger curls into a topknot.

"It is bread for the steakhouse."

"What steakhouse?"

"The new restaurant that opened up on Broadway. Sofia's Chophouse. Apparently, they do not like their bread supplier's products. The chef asked me to bake a sample of a typical steakhouse bread so he can taste. And so I oblige."

A new steakhouse in town. That was interesting. But even more interesting was the bread Olaya was baking. I'd been to restaurants that served a dark brown soft bread with whipped butter. I'd wondered what kind of bread it was, but it had never occurred to me that it had cocoa or rye in it.

"Can I help?" I asked. I'd arrived early to start the first-ever blog entry for Yeast of Eden, but if Olaya needed help baking, I was always game. She'd taught me everything I knew—which to this point, still put me on the novice scale. The breadth of bread knowledge she had in her brain, accumulated during her sixty some-odd years, was breathtaking. I couldn't begin to learn it all, but I wanted to absorb everything I could from this woman who favored the long-rise of traditional bread-baking, freshly ground flour, and a combination of herbs that made her creations rise above the rest. I'd be her apprentice forever—and I'd enjoy every second of my time learning from her.

"Tell me what to do," she said, raising her gaze to mine.

Olaya was usually the one giving me advice, not the other way around. I stared at her. "What do you mean? Tell you what to do about what?"

"Sandra Mays has a new television show. Well, her and a man. They are co-hosting. They will travel around the country finding interesting bakeries to feature. They call this reality TV?"

I had to laugh. Olaya said those two words like they were a brand-new concept, but reality TV had a long and sordid history. "Sounds a little like Diners, Drive-Ins and Dives, but with bakeries."

Olaya's brows pinched together. "I do not know this Diners, Drive-Ins and Dives."

"It's a reality show. Guy Fieri—he's a celebrity chef on the Food Network—goes all over the country in search of cool greasy-spoon restaurants that make excellent food."

She drew back, not impressed by the idea of being in the company of greasy spoons. Olaya was about all things bread. She could give the iconic Nancy Silverton and La Brea Bakery a run for their money. There was no question that La Brea made great bread, but somehow Olaya, who came from a long line of curanderas—women who healed—infused Yeast of Eden's bread with some kind of magic. People left the bread shop feeling happier, or more content, or relaxed, or amorous. Whatever they needed, those needs were met through the bread.

"They want to film me baking bread, they want to hear my story, and they want to film the Bread for Life program."

Goose bumps prickled my skin. "That's amazing!" Yeast of Eden was my home away from home. I freelanced as a photographer, had finally started a website to promote that business, but I also helped Olaya in the bread shop, including setting up the new blog that would feature up-to-date posts of her breads and the goings-on at the bakery. Working around her, the baking, and the yeasty aromas, fulfilled me in a way nothing else ever had. It was healing, and Olaya was like family to me. Sharing that all with the world via reality TV meant other people could experience the magic of Olaya and Yeast of Eden, too.

"But I do not know if I should do this." She shook her head, sighing. "No, I do not know," she repeated with a frown. "Yeast of Eden will be the pilot, they said. What is this, a pilot?"

Olaya had been in the United States for a long time and her English was nearly perfect, but there were still a few words that were not in her vernacular. "A pilot is the launch show for the series," I said.

"Ah, right. Yes. It will be a long episode because it is the pilot. They told me that means three different days of filming. More, if necessary. The women, they may not like this. Our classes, they are personal. The women, they have gone through so much. Surely they do not want their lives broadcast on television."

"But what you're doing—the program—it's uplifting. The Bread for Life women should be celebrated."

"Pero would you want your life exposed for everyone to see?"

She was being a little dramatic—which was out of character for Olaya. Usually, she was completely in control of everything she did, from the moment she woke up and began the day's baking to the second she laid her head down to go to sleep at night, and everything in between. Seeing her unsettled was unusual. She wore a paisley printed headband at her hairline, holding back the short strands of her iron-gray hair. Her white apron made her look like a baker, but the rest of her flowing clothes revealed her free-spirit nature. She was one-of-a-kind and had a gypsy heart, but succumbing to drama was not part of who she was.

Still, I considered her question. "I don't think I'd mind. The women are all incredible, with amazing stories. Maybe it'll help them to be featured."

She peered at me. "Help them in what way?"

I could think of lots of ways. "To gain confidence, to get jobs, to just feel good about where they are and what they're doing. People can be very supportive and everyone loves a feel-good story." I paused before adding, "Plus, it would be great publicity for the bread shop."

She shook her head at that. "I do not want publicity at the expense of other people."

"It's not at their expense, Olaya. They have stories worth telling. And your bread? It's epic. People all over the country will know about it." The whole concept behind Bread for Life was to lift up and empower low income and immigrant women in the community and help them develop hirable skills, as well as to build self-confidence. Olaya was teaching them to bake. They shared recipes, especially for indigenous breads, and each class offered the participants a chance to connect with one another. It had ended up being far more than a series of baking classes. It was akin to group therapy. A quilting bee or knitting circle, but with bread dough instead of fabric or yarn.

"Pero, will it exploit the women?" Olaya mused. "I cannot have that. I will not do that."

I didn't think so, but she needed to ease her own mind. "You should ask them what they think," I suggested. Olaya had designed the program to be three months long. The women met here at the bread shop once a week for three-hour sessions. We'd all come to love it. On class day, I woke up and started counting the minutes till it began. It wasn't just good for the women participating; it was good for Olaya and me—the ones running the sessions.

Olaya oiled the top of the round ball of dough she'd finished kneading and placed it in a proofing basket, covering it with an oiled cloth. "This needs three rises," she told me, then set it aside to let the yeast work its magic.

Olaya's office was more like a closet. It was barely big enough to fit the desk that held her computer, yet somehow she'd managed to squeeze in another chair facing the desk. That was usually my spot, turned in my seat with my knees facing sideways so they wouldn't bang against the front of the desk. But today I was in Olaya's chair, facing the computer monitor, the dashboard of the WordPress site I'd used to create the bread shop's blog, open on the screen. I clicked to open a new post—the first post—poised my fingers over the home row on the keyboard, and sat there, my mind empty of ideas.

I'd tried to write the inaugural post at home, but I'd drawn a blank. Thinking the scent of yeasty bread baking would inspire me, I'd walked Agatha, my fawn pug, then headed out to downtown Santa Sofia. The quaint, sometimes too touristy, California central coast beach town was home to me. It's where I grew up; where I first fell in love; where my heart had been broken clean in half; and where I'd come back to after my mother had died unexpectedly. Now I looked at Santa Sofia through a different lens. It was the place I called home; it's where I found love again; and it's the place I found myself again. I had Mrs. Penelope Branford, my neighbor across the street, an octogenarian of the most spritely order, and a fellow lover of Agatha. Mrs. Branford was like my grandmother, which made Olaya Solis something along the lines of an aunt. They were the family I'd chosen, and thankfully they fit in perfectly with the family I had: my father, Owen; my brother, Billy; and Emmaline, my best friend from my early school days forward and also my brother's fiancée.

I missed my mother beyond measure, but I knew she was an angel on my shoulder, ever-present, at least in my mind.

"Ivy."

I looked up to see Maggie Jewell, a high school girl who worked most afternoons, standing in the doorway waving at me.

I blinked. "Sorry. Guess I was daydreaming."

Maggie had her straight dark hair pulled back with a barrette. She was on the quiet side so it had taken a while to get to know her, but now that I did, she'd turned into a Chatty Cathy. She tilted her head to one side, pulling her lips right along with it. "Are you okay, Ivy? You looked like you were in a trance. Like, a million miles away."

I waved away her concern. "I'm fine! Just thinking."

"About . . . ?"

I pointed to the computer screen. "The blog is ready to go. I'm just not sure what to write about yet."

She took a step into the office—a single step—then scooted around to the chair squeezed between the desk and the wall. She was smaller than me by a few inches, so while my five-foot-eight inches felt smashed in the little space she was now occupying, the small space didn't seem to bother her any. "I can help you with that." She held her hand up and started ticking ideas off on her fingers. "You can write about Olaya's sugar skull cookies—"

Olaya made the traditional Day of the Dead cookies year round, decorating them before hiding them amidst the baked items in the bakery cases like Easter eggs for the kids to find.

"—do features on all the catering events she's done. You have pictures of everything, right?"

"I do—"

"So the pictures will tell half the story, and whatever you write will tell the rest." She went on before I could respond. "I mean, look. She did the Art Car show. She works with all those restaurants, like Baptista's Cantina and Grill, she catered the funeral for that friend of yours—"

"I'm not sure about featuring a funeral on the blog."

She nodded. "Yeah, I guess you're right about that. A funeral is kind of a downer."

It was, indeed, a downer.

"What about the classes she holds? She does those baking classes. That's how you met her, right?"

"It is." I'd come to Yeast of Eden practically every day once I'd returned to Santa Sofia. I'd been sad and lost, but Olaya's bread had helped heal me. Bit by bit, my grief over losing my mother had subsided and I decided I wanted to learn to bake bread, not just eat it.

"And the classes she's doing now? With all those women? The Bread for Life thing? That would make a great post."

And doing the reality TV gig would be huge, but I didn't want to start off with any of this. I needed an opening of some sort. Something to ground the blog and show what Yeast of Eden was all about. The bread shop had been around for years, so it wasn't a grand-opening kind of thing, but it was a grand entrance. It seemed silly to say something as simplistic as: This is our new blog! Check back to see mouthwatering pictures of bread, bread, and more bread!

Maggie tucked a strand of hair behind her ear. I stared. I'd never noticed how many piercings she had. With her hair out of the way, I could see her entire right ear. She had three earrings in her lobe, one toward the top, and several small hoops or studs in various other cartilage-heavy positions. My ear hurt just thinking about getting one of them.

I caught a glimpse of something on her collarbone. A smear of ink? No, it looked defined, even if I couldn't see what it was. "Maggie, you have a tattoo?"

By instinct, her hand went to the collar of her shirt. "Yeah. It's a dragonfly. My mom and I both got one. To, you know, show our solidarity with each other."

Solidarity. Would Olaya and Mrs. Branford get a tattoo with me? If there were ever three musketeers, that was us. But that led me to the what of the matter. If I were to get a tattoo, what would I choose? What would I want on my body for all of eternity?

An idea formed—not about a tattoo, but about the blog. "What about a short feature on the different people who work here? One on Olaya." I looked at Maggie. "One on you."

She puffed out her lips while she considered the idea. "Do you think people care about that? About us?"

"I think that's exactly what people care about. Olaya, the morning crew, you, me . . . we are what makes this place come alive. Remember when you spoke to the little boy in sign language? That shows who you are. Your heart. I think that's the kind of thing people want to read about."

Color flooded her cheeks. "Maybe . . ."

"It does. I melted when I saw you do that. And the skull cookies? Olaya doesn't have to spend time making those; decorating them; hiding them. But she does, and it's all for the kids. I need to ask her why she does it. Then I can write about not just that she does it, but why she does it."

Olaya's voice drifted to us from the front of the bread shop. Maggie bolted upright. "Whoops! Break's over. Gotta go," she said as she jumped up and ran out.

I went back to the computer, newly inspired. Instead of typing straight into the site, I opened up a Word document. It was going to take a few drafts and some editing to get it right, I suspected.

I was just getting my mojo, my fingers racing across the computer's keyboard, the words flowing, when Olaya opened the door and stuck her head in. "I called them."

My hands stopped their typing, hovering over the keyboard. "Called who?"

"Zula, Claire, Amelie, and Esmerelda."

I sat up straight. She'd called the four women in the Bread for Life program. "Oh! And?"

"And we will do this reality TV."

"They're in?"

Olaya nodded. "They are, as you say, in."

Once Olaya made the decision to go ahead with the reality TV show, things moved with lightning speed. I imagined the filming would be weeks away. Boy, was I wrong. Olaya had been sitting on the reality TV proposal, so when she finally gave the green light, the production team was ready to get started.

Today was the day. I walked into Yeast of Eden's professional kitchen to find the Bread for Life women already at their stainless steel stations, chattering to one another. Only Esmé held back, quietly observing.

Zula was the most boisterous of the group. She was a thirty-something woman from Eritrea and had first come to the United States with her husband. He'd left her with a newborn daughter and a body covered in bruises. Her daughter, Ella, was twelve now, and despite the fact that they barely scraped by, Zula was inherently optimistic. She stood about five feet eleven inches, and with her high cheekbones, flawless glowing skin, and long braided hair, she could have competed with any supermodel in the world.

Claire was an American, was the youngest of the women, and from my knowledge of her, she didn't have two nickels to scrape together. She was a twenty-two-year-old woman who seemed to be on her own. She was the observer of the group—not a talker, so while I was curious about her, I couldn't get her to share much. She'd come into the bread shop a few times, always paying with a collection of coins she'd managed to gather. She was exactly the type of person Olaya and I hoped would benefit from the Bread for Life program, so I'd invited her. Truthfully, I hadn't held out much hope that she'd take me up on it. But then she'd asked, "How much does it cost?"

"It's free. We want to get women baking, and we want them to share recipes from their cultures."

She'd looked at me cockeyed. "I don't have any culture."

"Culture doesn't have to come from another country. It can be a family tradition. My mom always made these little thumbprint cookies called kolaches." The recipe had been passed down from my grandmother. I remembered the kolaches sold in Texas. I'd been so excited to discover the tradition my mother had passed on to me, but they were not the same thing at all. A dream dashed.

I didn't think Claire would come to the first Bread for Life class, but she did. Now I hoped she'd get something out of it.

Amelie was in her early forties and had emigrated from Germany just a year before. "I had to get away," she'd told us. "I mean, what was I going to stay for? I have no more family. That is a strange thought. I am completely alone in the world. Coming here I thought I could get away from thinking about that. Actually, though, it does not help."

She had never revealed what had happened to her family, or why she was alone in the world. Whatever her story, it hadn't dampened her animation. The woman was always smiling and laughing.

"We will help each other," Olaya had said, squeezing Amelie's hand reassuringly.

Amelie had smiled, but this time it didn't quite reach her eyes. "Danke," she'd said, managing a faint smile.

Finally, there was Esmerelda. Esmé for short. She looked to be about my age—somewhere in her early to mid-thirties. She'd been in the US ten years ago, had gone back home to Zacatecas in Mexico, and now was back. She'd left her country behind, as had Amelie and Zula, and was starting over here. They'd left behind not only their families, whatever that meant to them, but their native languages, their cultures, the cities and states they'd grown up in, the food they'd spent their lives eating. Would any of them ever go back again, or would America become their permanent home? "I do not have a creative bone in my body," Esmé had said when she'd introduced herself, "but baking bread, that is not like holding a pencil or paintbrush. I can mix dough, so that is my creative outlet."

I looked at them, laughing and talking. They had started out as strangers, but now, after classes every week for a month, they were on the way to being friends. They were an eclectic group, each coming from a different country and each with a unique background. I thought they might get to the point where they felt like long-lost sisters, but it was too soon for that. They were still tentative about sharing their stories or about giving too much information about themselves, but it was clear they were becoming close.

Olaya came out from her office, greeting me with a smile. She clapped her hands, gathering everyone's attention. "Mujeres," she said, addressing the five of us. "The television crew is here."

She passed through the archway leading from the kitchen to the front of the bread shop, reappearing a minute later with several people in tow. One man hauled a heavy camera propped on his shoulder while several others lugged more cameras and lighting rigs. Another man came in dressed in a casual short-sleeved, button-down chambray shirt and jeans. He looked familiar, but I couldn't place him. Was he a local?

Before I could figure out where I'd seen him before, I was distracted by a woman I instantly recognized: Sandra Mays, local TV food celebrity turned na. . .
We hope you are enjoying the book so far. To continue reading...
Dough or Die
Winnie Archer
Copyright © 2023 All Rights Reserved
Also in this series
Also by this author