Bread Over Troubled Water
Book info
Sample
Audiobook
Media
Author updates
Lists
Synopsis
Photographer Ivy Culpepper is soon to make a home with her husband-to-be in the California beach town of Santa Sofia—but the Yeast of Eden bakery remains her second home. It's not just a place to work, but a community—and now one member of the community has been murdered. A regular who used Yeast of Eden as a workspace, Josh Prentiss always turned heads with his startlingly good looks and thousand-watt smile. But Ivy can't help noticing one morning that he seems distracted and off his game. Later, during a visit to the park where she and Miguel plan to hold their engagement party—with plenty of baked goods on the menu—her rescue pug, Agatha, sniffs out Josh lying in a bed of poppies…scone cold dead. There's no reason for Ivy to get involved. She's busy enough holding down the fort while the shop's owner, Olaya, cares for her recently orphaned niece—not to mention the stress when a new employee is fired and storms out in a rage. Then a band of rabble-rousers starts picketing the bakery, claiming that Olaya's sourdough roll is what killed Josh, and Ivy hears some salacious gossip about her beloved boss. She doesn't think there's a grain of truth to the seedy rumors—but to prove it, she'll have to start sleuthing...
Release date: November 29, 2022
Publisher: Kensington Books
Print pages: 352
* BingeBooks earns revenue from qualifying purchases as an Amazon Associate as well as from other retail partners.
Listen to a sample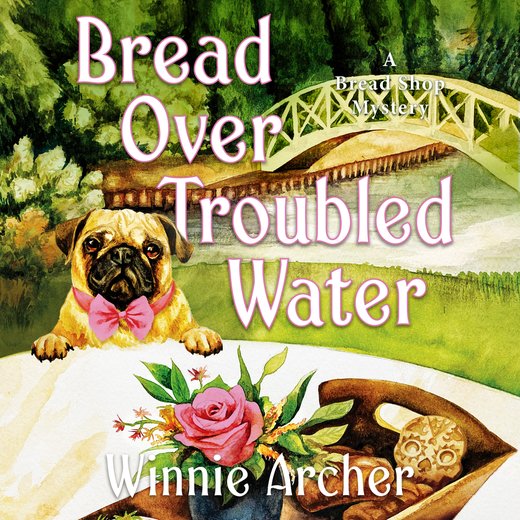 06:59:59
192.26 MB
9781666620610
November 29, 2022
Dreamscape Media
Bread Over Troubled Water
Winnie Archer
Working in the hospitality industry, in whatever form that comes, means the customer is always right. Yeast of Eden, Santa Sofia's artisan bread shop, was no exception. So it was particularly unnerving to walk in to the scent of yeasty sourdough straight from the oven, only to be accosted by the raised voice of Olaya Solis, the bread shop's proprietor, baker extraordinaire, and generally a very zen woman.

Olaya had her back to the door, the house phone clutched to her ear with one hand, and the other waving around furiously, communicating something all on its own.

I raised my brows at Zula Senai—who stood close to six feet tall in her flats, had legs that went on for miles, and worked half-time at Yeast of Eden—and mouthed, "What's going on?"

Zula shrugged and threw out an I have no idea look as she finished up with the customer at the front of the long line of bread lovers. When a bread shop is your home away from home, the customers become a kind of family. Olaya ran her shop like a well-oiled machine. Felix Macron and his morning crew, along with Olaya, started the day's bake. Janae Jackson, Felix's girlfriend, who was a firecracker in a pint-sized woman's body, Taylor Wilson, a long-legged and Kim Kardashian–curvy twenty-one-year-old blonde who looked and acted like she'd rather be catching a wave than kneading mounds of dough, and Mae Spelling, a short, kind of squat woman with dark hair and apple cheeks, did a bang-up job. I helped with the bake, too, but lately I'd been working more with Zula, a graduate of Olaya's Bread for Life class, helping run the front of the store.

It takes a village.

Zula stepped back and stuck her head through the swinging door. Calling for help, I presumed. I pressed my palm to my chest. "I can help," I said, but Zula was back, shaking her head, and already assisting the next customer with an order of two baguettes and six plain croissants.

Olaya's voice rose above the happy sound of customer chatter. "It cannot be—"

She broke off just as the old-fashioned cash register drawer slid closed with a ding. At the same moment, Esmé Adriá glided out from the kitchen through the swinging doors. I waved at her, my face breaking into a smile. Maggie, the girl who'd worked at Yeast of Eden all through high school and her first year of community college, had gone to live in San Francisco with her boyfriend, which had left Olaya needing a new employee. She'd turned to the women who'd been in the first group of her Bread for Life program. She'd designed the project as a way to reach out to low-income and immigrant women in the area to help them develop hirable skills. Supermarkets, other bakeries, and manufacturers were only a few of the places where they'd be employable when they finished the program. That alone could help boost their self-confidence. The friendships they formed with one another were an added bonus. The whole thing was like group therapy centered around an activity, but instead of crocheting or bunko, they baked breads from their different cultures and backgrounds.

Esmé had been in the same Bread for Life cohort as Zula. Where Zula was a boisterous and strikingly beautiful woman from the East African country of Eritrea—and could run circles around any of us—Esmé came to the United States from Zacatecas, Mexico, had escaped a bad domestic situation, and now was back on her feet. While I missed Maggie's youthful antics, Esmé brought a calm serenity to the bread shop, which balanced out Zula's brightness. She was an excellent fit.

Esmé tied the strings of her white apron, sneaking a look at Olaya and raising her brows at something Olaya had muttered in Spanish. I leaned over the bakery display case, beckoning to Esmé and raising my brows. "What's she saying?"

Before Esmé could respond, Olaya slammed the phone down and spun around. She pointed at Esmé. "Ayudar a los clientes con Zula. Help the customers." Then she directed her fiery eyes at me. "Mija, por favor, I need your help."

With my own mother gone, Olaya, along with Penelope Branford, my eighty-something neighbor, had been slowly filling in the hole in my heart. "Anything," I said. I had my camera-bag strap slung over my shoulder. I perpetually snapped photos. The breads, the kitchen staff, the customers, the park, the ocean, the sand, the flowers. You name it, I photographed it. Now I swung my camera bag onto my back and followed her into the kitchen, leaving Zula and Esmé to the growing line of customers.

Olaya marched through the sleek, stainless-steel-heavy kitchen without even a sideways glance at the morning crew. She didn't need to worry about what was happening. The place ran with precision and expertise. Felix, Olaya's protégé in the truest sense of the word, worked the grain mill, an enormous pine and millstone contraption, turning heirloom wheat into hundreds of pounds of flour each and every day. Rye. Spelt. Cornmeal. Buckwheat. Olaya wanted an array of freshly ground grains, and the Osttiroler mill did the heavy lifting.

As the person in charge of the bread shop's website, I'd done a lengthy write-up on just how important the Osttiroler was to Olaya Solis and the bread she baked. "The quality of the flour is the heart and soul of any loaf of bread," she'd once said, a statement I'd put online. "A bread shop that grinds its own wheat—compared to flour in the supermarkets? It is like comparing apples and oranges. They are two different things altogether." Working here, even part-time, I'd learned a new set of vocabulary words, too. Terroir. Noun. How soil and climate and sunlight affect the flavor and character of wine grapes. It holds true for wheat, I'd learned. No two wheat fields are the same.

Felix was in his mid-twenties, pretty much lived in his three-quarter-sleeved chef shirt, and had a Pillsbury Doughboy belly. He was a jolly sort, true, but he was an old soul, and he was a magician. He was Rumpelstiltskin, turning stalks of wheat into finely ground powder rather than gold, which he then used to bake the most divine bread this side of . . . well . . . anywhere.

His girlfriend, Janae, was almost five feet, had skin the color of a sable, brown eyes rimmed with gold, and braided hair piled close to six inches tall on her head. She wore one of the bread shop's aprons and bopped her head in time with whatever song played on her earbuds as she rolled out buttery sheets of dough, folding each leaf into thirds. The croissant dough required massive amounts of butter, which was rolled into the dough, which in turn was folded, chilled, rolled, then repeated. Each time the dough was rolled and folded, a new melt-in-your-mouth, flaky layer was formed.

I heard Olaya's voice in my head. "Cage-free eggs. Organic produce. Freshly ground flour. They are in the same category of artisan ingredients."

It was true. She and Felix packaged several types of flour to sell in the front of the bread shop. It always sold out by midday.

Mae Spelling and Taylor Wilson rounded out the morning crew. Mae had a bounce in her step and seemed to love early mornings in the kitchen. She was on the short and plump side—the complete opposite of Taylor, who was model tall. Mae thrived in the bread shop's kitchen, even though it meant waking up at five AM. It was clear, on the other hand, that Taylor wished she was back in bed. She had dark circles, lackluster skin, and was visibly jittery—probably from too much coffee. She didn't wear early-morning work shifts well.

The two young women bickered. "You're supposed to be working on croissants," Mae said when Taylor tried to elbow her way into Mae's workspace. Taylor retorted, "I don't listen to my parents anymore. I sure as hell don't need to listen to you."

Janae and the rest of the morning crew kept their distance. No one wanted to cross Taylor when she was bearish. Only Felix dared. He gave a sharp whistle to get their attention and said, "She's right, Taylor. I need you on croissants this morning."

Taylor's tired eyes pinched tightly, and she opened her mouth to object—but she changed her mind, clamping her lips together.

Olaya slowed her steps and surveyed Mae and Taylor, and for a second, I thought she might stop to intercede. She didn't, though. She nodded to Felix, then carried on, almost purposely blind to the inner workings of the kitchen. The fabric of her palazzo pants snapped against her legs as she marched into her office, a space big enough to hold only a small desk and chair, a mounted bookcase, and a mini filing cabinet. She held the door open for me. I slid past her and sat in the single, ladder-backed chair facing her desk. "What's going on?" I asked, more concerned now that I saw the dark circles around her eyes set into her drawn and pallid face. In the time I'd known Olaya, she'd never raised her voice to anyone. It wasn't in her nature, except that I'd just witnessed it, and in front of customers no less.

She drew in a slow, shaky breath. She exhaled and said, "Oh, Ivy. Life, it is not always good."

I'd also never heard Olaya speak so forlornly. It shook me. "What do you mean? Are you okay?"

"Me? Yes, yes. It is my brother, Guillermo, and my cuñada—my sister-in-law, Alessandra."

I couldn't help but react. I knew Olaya's two sisters, Consuelo and Martina, but none of them had ever mentioned having a brother and a sister-in-law.

Her lips quivered unexpectedly, and her eyes glazed. "They . . . they were in an accident a few days ago," she said. "Both . . . both are dead now."

I'd also never known Olaya to be a particularly religious person, but the moment the words left her lips, she crossed herself, holding together her thumb and forefinger as she pressed them against her forehead, her chest, then from her left shoulder to her right shoulder. She muttered something in Spanish before adding, "God rest their souls."

Shock and sadness surged through me. An accident. Her brother and sister-in-law, gone in the blink of an eye. I cleared my throat, swallowing my emotions. "I'm so sorry, Olaya. Can I do anything to help?"

"Guillermo and Alessandra, they have . . . had . . . one child. She is my goddaughter, Pilar," she said, pronouncing the i like a long e, rolling the r at the end. "She is fourteen."

"Oh no," I breathed. I knew what it was to lose a parent. And she'd lost two. My heart instantly broke for the girl.

Olaya rubbed the center of her forehead with the tips of her fingers. She let out a deep sigh. "We are her family now. She is coming here. To stay."

"Do you need to go get her?" I stood up and slung my camera strap over my shoulder. "Where do they live? I can drive you."

Olaya shook her head. "No, Ivy, pero I thank you. Consuelo and Freddy, they will bring her from San Diego. Soon. Very soon."

I sat back down, dropping my bag to the floor. "Okay. So what can I do?"

She heaved a heavy sigh. "I am not a mother, Ivy. None of us are. Only Guillo and Alessandra had a child."

Oh God. She was worried about how she'd be able to parent her niece. "You're a natural, Olaya. She must already love you—"

I broke off when Olaya pressed her lips together. Her nostrils flared as she drew in what looked like a bolstering inhalation. After an equally strong exhalation, she said, "Alessandra and I, we did not get along well. Because of this, I have not seen Pilar for ten years. More, maybe. I have not seen my brother. Guillermo has been a stranger to me."

They'd been estranged? This was, perhaps, a bigger shock than learning about Guillermo, Alessandra, and Pilar in the first place. Olaya was sanguine and even-tempered. I'd never seen her lose her cool . . . until this morning on the phone. How could they not have gotten along? "None of that matters now, does it? They're gone," I said softly.

"Pilar, she does not know me, or Consuelo, or Martina. We do not know her."

"She will get to know all of you. And she'll fall in love with you, just like I did." Olaya forced a small smile. It was clear she didn't believe what I said, but I doubled down. "Olaya. Your niece needs you and Consuelo and Martina. You are her family now."

She sighed, resigned. "Yes. This is not as it should be, but you are right. We cannot undo the past."

"You said you needed my help?"

"Yes, yes. Pilar, she will start school here in the fall. Until then, she will not know anyone. Maggie, she is no longer here. Consuelo and Martina and I, we all work. Too much work, but we must."

I stretched my arm across the desk, reaching for her hand. "It'll work itself out," I said. They'd all adjust eventually. "I'll help. I've been through what Pilar is going through."

"If I need to leave suddenly to help her—"

She broke off, the words clearly strange for her to utter. Olaya rarely took time off. She planned her days well, organizing her time carefully to ensure that all the baking she needed to do for her restaurant orders, catering jobs, special events, and the regular daily bake were completed. Errands during business hours didn't factor in, but Felix was always in the kitchen overseeing the morning bake, and if Olaya's niece needed her, that had to take priority over the bread shop.

"I can be here at a moment's notice," I said.

If Olaya was the mother of the bread shop, her sisters were the beloved aunts. They came by frequently to grab a cup of coffee before they headed to their respective jobs, or for a croissant or sweet roll between real estate deals Consuelo was making or during lunch for Martina. This morning, at just a few minutes before eight, Martina came in, stopping at the door to scan the tables. Only half were occupied, so there was plenty of room for her to stay for a morning treat. That had been her regular habit until a few weeks ago. "I am too busy these days," she'd said when Olaya commented that she hadn't been around as much lately. On the mornings she did come, she arrived earlier and earlier.

Of the three Solis sisters, she was the quiet one—and the youngest. Where Olaya and Consuelo were fairer and green-eyed, Martina was olive-complected and had big, dark eyes. Olaya had let her short hair go steel gray, Consuelo dyed hers dark brown, but Martina's long wavy locks were almost black. Olaya's bohemian and statuesque vibe contrasted with Consuelo's casual jeans and T-shirt look. On the other end of the spectrum was the refined Martina. I was a few years away from forty, but I knew I could learn a few style tricks from the much older Martina. She was in her late fifties, but she looked a decade younger. Despite their differences, the three women depended on each other the way flour depended on yeast.

"Buenos días, Ivy. Buenos días, Zula," Martina said. Behind her, the bell dinged. Martina turned to look at another early-morning customer entering before turning back. She drummed her fingers on the counter.

"Kemay haderki to you," Zula said, wishing Martina good morning in Tigrigna, the language she spoke in Eritrea.

"Kemay haderki, Zula," Martina repeated in a practiced tongue. They'd been offering each other this greeting for months now, sometimes alternating with Spanish, Martina's native language. She pointed to the upside-down stack of "to go" cups. "Just coffee today."

Zula handed her a cup. A perk of being the owner's sister meant everything was gratis. She moved aside to chat with someone while the next customer stepped up to the counter.

If the leaders of the Yeast of Eden village were all the people working for Olaya, the villagers themselves were the customers. We had a slew of regulars for whom Yeast of Eden was part of their daily routine. The A group came, bought, and left. Group B hung around for a little while and socialized with people who had become friends after so many encounters in the shop. And the C group settled in at tables and conducted their daily business.

When I worked the front of the shop with Zula, we took turns, one of us manning the old-fashioned register Olaya still used, while the other handled the customers' bread from the cases. This morning, I had on my nitrile gloves as I pulled and bagged sourdough rolls, croissants, baguettes, or whatever else was ordered. I'd come back to Santa Sofia to mourn the loss of my mother. Now I was engaged, worked part-time at Yeast of Eden, and was building my burgeoning photography business. And I'd grown an extended family from the ground up.

I smiled at each customer as they came up to the counter. One by one, we worked through the long line. The first several customers were soundly Group A. They bought and left. I caught the eye of Julia Prudell, who stood six deep in line. Group B. She'd made acquaintances over the months she'd been coming here, so she usually stayed to talk with one of the other regulars. Julia was one of those women who didn't appear to age. I couldn't say for sure whether she was thirty, forty, fifty . . . or somewhere in between. Her dark hair shone, she had flawless skin—and in a beach town where people worshipped the sun, wrinkles and age spots be damned, that was saying something. I lived and died by my SPF 50 face cream.

Nina Blankenship ran the mini-mall antiques store across the street and down a few storefronts. She was on the boisterous side of Group B, staying, chatting, laughing, and generally lifting the spirits of anyone who was around. She was like Mrs. Claus—a little round and a lot jolly. People like Nina changed it up every time they came in. I could rarely predict what Nina would order on any given day.

Kristin Spelling came in once a week. Like so many of the other Group A folks, there was no hemming or hawing. She knew what she wanted. She constantly scanned the dining area, her gaze often landing on one attractive man or another. A few weeks ago, she'd seemed especially committed to her search. I'd asked her if she was looking for someone in particular. "Just admiring the scenery," she'd said as she waggled her brows in the direction of a particularly handsome customer named Josh Prentiss. She'd thrown out a hearty laugh as she refocused on me and bent in conspiratorially. "Actually, my daughter works in the kitchen, but I don't want her to know I am here. She's doesn't like me eating bread. Too many carbs," she'd said, and then patted her ample hips.

The only two young women who worked in the kitchen were Mae and Taylor. Even if their matching surnames didn't give it away, the short stature and matching doughy bodies shared by mother and daughter did.

She'd lowered her voice to a whisper. "Don't mention to her that I was here, okay, dear?"

I'd turned an invisible key at my lips.

After that first meeting, she began putting her thumb and forefinger to her lips whenever she saw me, pinching them together and turning them as if she was locking the dead bolt on a door. She wanted her visits t. . .
We hope you are enjoying the book so far. To continue reading...
Bread Over Troubled Water
Winnie Archer
Copyright © 2023 All Rights Reserved
Also in this series
Also by this author