Don't Turn Back
You can cover up the truth but it won't stay buried forever.
Book info
Sample
Audiobook
Media
Author updates
Lists
Synopsis
You can cover up the truth but it won't stay buried forever.
A man is found bludgeoned to death in woodland by the village of Canwick, and the close-knit community is sent into shock. Detective Karen Hart, still haunted by the tragic loss of her husband and daughter nearby, is brought in to investigate the horrific murder.
It soon becomes clear that dark secrets lie behind Canwick's unspoiled appearance. When Hart begins to suspect that a modern-day slavery ring has been hiding in plain sight among the villagers, she faces a race to find proof before the culprits slip from her grasp. But when key witnesses start disappearing, it's obvious that there's a deep-rooted conspiracy to keep prying eyes away from the truth.
But in a village where everyone knows everyone, who knows more than they are letting on—and who can Hart really trust? She's in deep and she's never been more alone. She must confront the tragedy of her own past if she wants to catch the killers before it's too late. Because one thing's for certain—there's no turning back…
Release date: March 26, 2020
Publisher: Thomas & Mercer
Print pages: 327
* BingeBooks earns revenue from qualifying purchases as an Amazon Associate as well as from other retail partners.
Listen to a sample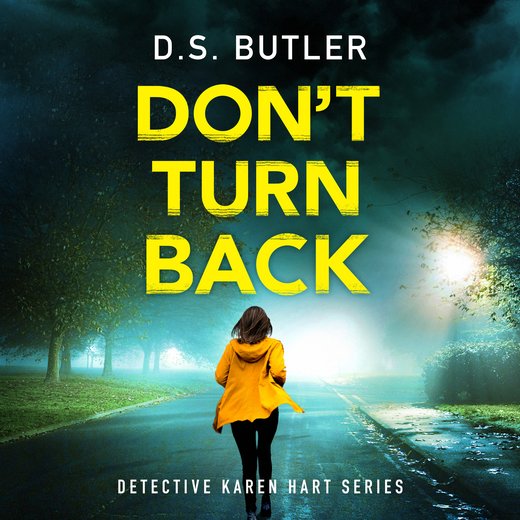 08:28:07
232.61 MB
9781799760023
March 26, 2020
Brilliance Audio
2020
Don't Turn Back
D.S. Butler
Prologue
He was going to die tonight.
But that didn't slow him down. His death might have been inevitable, but a primitive urge to flee kept his legs moving as he stumbled up the mist-cloaked escarpment.
Adrenaline flooded his system. Fight or flight. And there was no way he could fight, not against them, not now they'd realised what he had done. What he had taken from them. What a fool he'd been to think he could bring them down.
He clutched the blue leather notebook to his sweaty chest. Where could he hide it? He couldn't keep running forever. His legs were tiring, and the ache in his chest was getting worse.
They would catch up with him eventually anyway, and it would all be for nothing if they found the book.
He slipped and skidded as he desperately tried to climb the dew-soaked grass slope. Though lactic acid made his legs burn and a demand for oxygen made his chest tight, his muscles continued contracting and pushing forward as he climbed the hill.
He'd been running along the road first, his dirty trainers hitting the tarmac hard as he tried to escape the inevitable. Though his brain was a mass of jumbled panicked thoughts, his instincts had taken over. On the road, he was easy to spot, easy to catch. Before he reached the petrol station, closed and dark at this hour, he had turned and run into the open field.
A faint glow on the grey horizon told him dawn was approaching. It was still dark, but as the light improved, his chances of evading his pursuers fell even further. A sound made him pause.
He stiffened, his harsh breath sounding ridiculously loud in the early-morning silence. Then he heard it again – a dog barking. One of theirs, probably. Was it following his scent?
He was halfway up the hill when he realised another mistake: he was exposed in the middle of misty grassland. He needed cover of some sort. Camouflage.
There were plenty of trees and shrubs in the vicinity, but panic had made him stupid. He pivoted quickly. Too quickly. His knee gave out from under him and he crashed to the ground, dropping the book.
With a groan of pain, he snatched it back up and, muddied and bruised, headed for a copse of trees.
He hadn't had time to formulate a plan. Instinctively he'd been heading for the towering spire on top of Canwick Hill. A landmark that could be seen from all around. A monument to the lives and deaths of those who had served their country. But no one would mourn his passing.
He thought of his daughter then, regret hitting him even harder than his fear. A rasping sob tore from his throat. But still he pushed on, until beneath the trees, he paused. The dawn light gave the copse an unworldly, fairy-tale appearance. He could almost believe he'd be safe under the protection of the boughs of the old oak that towered above him. Almost.
But the sharp, eager bark of a dog, closer now, made him catch his breath. Dropping to his knees, he set the book down on a tuft of grass and began to scrape away at the earth with his hands. The smell of musty, damp, decaying plant matter reminded him of what was to come. What we all become in the end.
His fingernails broke as they scratched the ground, and the raw skin beneath began to bleed, but he didn't stop, clawing at the dirt over and over until the hole was large enough to hide the book in.
The next bark made him whimper. They were closing in. Almost there. He had only minutes left. Maybe only seconds. He shoved the notebook in the hole, bending the cover, not caring that dirt wedged itself between the pages. Then, hastily, he replaced the dark soil, frantically patting it down before covering it with bracken.
Pushing up, he staggered away. They couldn't discover him here, near the book. He couldn't let them find it.
Leaning against the rough bark of a beech tree, he panted as he tried to sort through his options. Fear had turned his brain to mush. But if he could just lure them far enough away from the buried notebook . . .
He moved, forcing his tired limbs to work as he darted out into the open again, crossing the grass and heading for the next group of trees, which were further down the hill. If he could get past them . . . then the road would be in view again . . . the B1188 out of Lincoln. If he was lucky, someone would be driving along, even at this time of the morning.
He might get away after all. He could flag down a car, ask the driver to call the police . . . Or he might even get as far as Canwick village and rouse some sleeping resident.
Hope gave him another burst of speed.
He ran at full pelt into the next cluster of trees, as young branches whipped and scratched at his face and chest. He stumbled over dips and roots, but still kept moving. The road was almost in view – safety was so close.
A larger branch slammed against his temple, making him cry out and stagger. Then the barking was right behind him. Snarling. A man's voice. The bouncing beams from a torch hit the trunk on a tree directly in front of him.
Terrified, he turned to face the snapping jaws and heard the cold laugh of victory – the sound of a man who'd caught his prey.
Chapter 1
Marissa Clerkwell shaded her eyes against the bright sunlight of the May afternoon. She'd headed out for her regular walk along the South Common later than usual, after waking up with a terrible hangover. She'd consumed half her body weight in coffee but still the nagging headache remained. All self-inflicted, she thought glumly as she trudged up the hill, watching her black dog, Toots, frolic happily, chasing a butterfly. If only she had the dog's energy, Marissa thought with a sigh.
Marissa had adopted Toots from a rescue centre three years ago. Her pedigree was uncertain, but Marissa suspected she was a German Shepherd and black Lab mix. Thanks to a deformed front paw, she'd been in the centre for months and had been overlooked by most people wanting to adopt a dog, but Marissa had fallen in love the moment she'd walked into the kennels. Toots's paw still caused issues from time to time. But today she was content racing up the hill. Marissa smiled. It certainly didn't hold her back.
Marissa managed to raise a polite smile for the couple walking down the hill towards her. They had a gorgeous grey Weimaraner on a leash. The alert dog strained and jumped enthusiastically as they approached.
'What a beautiful dog!' Marissa said as they passed.
'She is. Still a puppy at heart, though. If she decides to chase a rabbit, she'll be halfway across Lincoln before we catch up with her. That's why she's on the lead.' The man chuckled and leaned down to scratch the dog behind the ears.
Marissa paused and watched as the couple walked down the hill arm in arm, then turned her attention back to her own dog.
'Toots!'
The black dog halted immediately and turned in a tight circle before running back to Marissa's side.
'Good girl!'
Marissa leaned down to stroke Toots's black fur and looked into the dog's adoring brown eyes. Toots was the most loyal, loving dog, and despite her boundless energy was usually quick to follow instructions.
She straightened and clapped her hands, signalling Toots could continue to play. The dog dashed off up the hill.
The South Common was a pleasant place for a walk. There were always people around, so Marissa felt comfortable walking Toots on her own. Today, there were even more people than usual, owing to the fine weather. The early-morning mist had given way to a sunny afternoon, though the breeze was bracing. The fresh air was slowly helping Marissa feel more human again.
She probably shouldn't have anything to drink today, not after last night, but a Sunday roast really wasn't complete without a glass of red wine, in her opinion. Toots was still running ahead so she quickened her pace. Already breathless from walking up the hill on slightly uneven ground, she called out, 'Toots! Here, girl!'
Obediently, Toots returned to Marissa's side and was rewarded with pats and whispered endearments. But Toots's body was tense, her muscles longing to run and expend some of that seemingly inexhaustible energy. After Marissa's clap, Toots took off again, bounding up the grassy slope.
There was a man off to their right walking a Jack Russell, but apart from them, it was just her and Toots on the hill now, surrounded by grass, trees and a big, open blue sky.
Partway up the hill, Marissa paused and turned to look down at the city of Lincoln. The cathedral dominated the landscape, and the sun's rays caught it in a way that made the stonework appear to glow.
She took a deep breath and then turned back, continuing her walk up the hill towards the memorial spire and the International Bomber Command Centre.
Though she walked Toots on the common every weekend, she hadn't yet visited the centre. She kept meaning to go – it was one of those things on her to-do list that she never seemed to get around to. It must have been open for nearly a year now. She decided to take a look next weekend, when hopefully she wouldn't feel quite so queasy.
A sharp wind blew from the east, and she shivered.
Tugging her lightweight jacket tighter around her body, she quickened her pace after Toots. Telling herself she didn't really need to get right to the top of the hill today, she picked a spot near a cluster of trees where she'd turn around and make her way back down. That would be quite enough exercise for a Sunday. She was looking forward to relaxing with a glass of wine and her oven-ready roast.
'Toots!' she called out, noticing the dog was roaming a little too far, but the wind whipped away her words and Toots kept galloping determinedly towards a group of trees.
Marissa sighed. Had Toots heard and purposely ignored her? Usually well-behaved, the dog had a stubborn streak at times, and perhaps having sensed Marissa was planning a shorter version of their usual walk, was determined that wasn't going to happen. Sometimes she was convinced Toots thought she was the boss in their relationship.
Muttering under her breath, Marissa followed the dog and looked up just in time to see her black tail disappear into the trees.
She frowned. That certainly wasn't on their usual route. They didn't go into the woods. Well, they weren't woods really, just a few trees, but as a woman walking a dog on her own, Marissa tended to keep to open areas, those popular with other dog walkers. It was a sad state of affairs that she had to worry about such things, but in this day and age it paid to be careful.
Feeling slightly irritated with Toots, she entered the copse. Now that she was out of the sunshine, the chill of the afternoon crept over her. A shiver ran down her spine.
'Toots!' she shouted in a tone that meant she was not messing about.
Despite having a mischievous side, Toots was on the whole obedient and usually returned when Marissa called her, but this time there was no sign of the dog happily trotting towards her.
She turned, nervously scanning the trees. She was alone. There was no sign of Toots.
Tentatively, she took a few more steps into the woods. 'Toots! If you don't come here, there will be no doggy treats for you this afternoon,' she grumbled, as she walked into the dappled sunlight shining between the leaves of a huge beech tree.
She called for the dog again, and this time heard a bark in response. She turned to face the direction of the bark, and in the dim woodland light, among a cluster of fading bluebells, she could just about make out the familiar sight of Toots wagging her tail.
'There you are!' Marissa said with exasperation. 'Come here now, otherwise I'll put you back on the lead.' She waggled it in warning, but Toots ignored her, focusing on a spot of ground, scratching it with her front paws.
Melissa felt her stomach drop. Oh no. Not again. Toots had probably discovered some poor dead or injured animal. Last time it had been a dead baby squirrel, and the time before that, an injured crow.
She stomped through the wooded area, ordering Toots to leave whatever it was alone. She stopped abruptly when she got a better look at what was lying on the ground in front of the dog.
It wasn't an animal.
Melissa clamped a hand to her mouth and used her other hand to pat down her jacket, trying to locate her mobile phone.
There was a man lying on the ground in front of Toots. He must have collapsed here, maybe he'd had a heart attack . . . She'd taken a first-aid course, years ago, but her knowledge was hazy now. Was she supposed to put him in the recovery position? No, she had to check his airway was clear first . . .
Marissa had pulled out her phone and pressed 999 on the touchscreen before she realised that the man was beyond help. She stopped a couple of feet away from Toots, looking down in horror at the man's twisted body. Blood, cracked and dried now, coated his forehead and had soaked into the earth, making it look black. His skin had a deathly grey tinge.
She didn't need a medical degree to know he most certainly hadn't died of a heart attack.
She grabbed Toots by her collar, dragging the dog away. Whoever this poor man was, he'd been viciously killed. With a shaking hand, she lifted the mobile to her ear and waited for the call to connect, unable to tear her eyes away from the terrible sight. When a female voice answered, Marissa calmly reported what she'd found.
Only when she'd finished talking did she feel the weight of vomit in her throat. Dropping her phone, she fell to her knees and retched.
Chapter 2
Karen Hart wafted away an annoying fly as she stepped out of the conservatory into her garden. Today was going well. It was the first time since her husband and daughter had died that she'd hosted a barbecue. In the past she'd found it too hard, a harsh reminder of the two people who were missing from her life. But this afternoon had been a happy occasion, and she was pleased with how she'd coped. Not that they were banished from her mind. No, she could picture them clearly. Josh wearing his ridiculous chef's apron, insisting on making a special spice blend for his homemade burgers. Tilly eating a sausage in a bun, up and down like a yo-yo, unable to sit still for a second. Memories were everywhere.
Her brother-in-law, Mike, had offered to grill the meat, and Karen had gratefully accepted. She'd made a couple of salads, some spicy rice and garlic bread, and they'd all eaten until they were fit to burst.
Everyone was trying to make the afternoon as easy as possible for her.
Her niece, Mallory, shrieked with pleasure as she chased her grandad down the garden, squirting him with a water pistol. It was impossible not to notice the similarities between Tilly and Mallory. The curve of Mallory's cheek, the stubborn way she set her jaw when she didn't get her own way, the sun-kissed hair. She was so like Tilly that in unguarded moments it stole Karen's breath away.
She blamed the bright sunlight for the tears that threatened to spill.
'Silly old fool,' Karen's mother muttered, leaning back in the garden chair and loosening her floral chiffon scarf. 'He'll do himself an injury running around like that.' But she smiled fondly as she spoke.
'I don't know,' Karen said. 'It looks to me like he's having just as much fun as Mallory.'
She handed her mother a gin and tonic and then sat down beside her old boss, ex-DCI Anthony Shaw. His legs were stretched out in front of him and his head dropped forward as he dozed in the sun.
'I suppose we should consider ourselves lucky it's just the water pistol today,' her mother continued. 'It won't be long before Mallory is asking for the paddling pool again.'
Mallory loved the water. It didn't matter what time of year it was, she always wanted to go swimming, and absolutely adored splashing around in the water. Another thing she had in common with Tilly.
'I'm just thankful she's forgotten about the camera.' The motion-sensing security camera beside the front door had been installed a few months ago, and Mallory thought it was great fun to set it off and pull faces at the camera and watch them appear on the app on Karen's phone.
Karen had found it funny the first few times. The tenth time hadn't been quite so amusing.
The camera had been recommended by Anthony. He'd installed it and got it up and running for her, telling her it was a wonderful gadget and regaling her with a recent incident where he'd spoken to a delivery man using the security camera at his front door while he was in the supermarket. She suspected the real reason for the recommendation was because he worried about her living alone. Karen usually slept through the alerts at night. Not that that was a bad thing. It was sensitive, and typically the alerts were down to the neighbour's cat, and when it went off during the day, it was usually triggered by the postman or someone delivering leaflets.
There were raised voices from the other side of the garden. Karen's sister, Emma, was hovering beside her husband, issuing instructions as he finished grilling the remaining sausages and burgers.
'That one's burning. You need to flip it over.'
'If you think you can do a better job, you're welcome to take over, Emma,' he snapped.
Emma put her hands on her hips. 'Don't say I didn't warn you. Look! It's turning black!'
Karen caught her mother's eye and grinned. Karen had given Emma the nickname 'Little Miss Bossy Pants' when they were children, something her sister had never quite forgiven, but the name still suited her.
Emma was goodhearted and kind, but she had her faults. Namely, she thought she knew best about everyone and everything, and that could get a little annoying at times.
Karen said, 'I think I'll go and get Mike another beer. He probably needs it.'
Her mother chuckled. 'That's a good idea.'
She went into the kitchen and opened the fridge. She'd bought far too much food and drink for the barbecue. A large fruit-covered meringue took up a whole shelf. She'd give it another ten minutes before offering everyone dessert. She was stuffed, and Mike was still cooking even though no one could eat another bite at the moment.
They'd all have to take home some of the food to snack on later. There was no way she'd get through it all on her own.
She looked up as her sister walked into the kitchen. 'Another drink, Em?'
Emma nodded. 'Yes, I'll have another fizzy water. Thanks. I don't know what's wrong with Mike today. He's ever so touchy.'
Karen tried to hide her smile and pointed at the window, where they could see Mallory shrieking and laughing as she ran towards the house. It seemed grandad had grown tired of being the victim and decided it was his turn to use the water pistol.
'She's certainly enjoying herself. But I hope she realises she can't use the water pistol in the car on the way home.'
Karen handed her sister a bottle of fizzy water from the fridge. 'I'm sure she does. Besides, at this rate she'll be too tired to put up any arguments. I bet she falls asleep in the car.'
Emma smiled as Karen rummaged through a drawer, searching for the bottle opener. 'I expect you're right.'
'I'll just give this to Mike. He did a great job on the barbecue today.' Karen prised the lid from a bottle of beer.
'Wait,' Emma said, reaching out and putting a hand on Karen's forearm as she moved past. 'You know Mum is worried about you, don't you?'
Karen felt her good mood begin to evaporate. She bristled. 'Why? I'm fine.'
Emma rolled her eyes. 'You know why.'
'Emma, don't ruin today. It's been really nice.'
'I don't want to ruin anything. I just thought you should know Mum and Dad are worried.'
'There's no need. I'm fine, Em.'
'Are you, though? All you do is work, sleep, work, sleep.'
'There's nothing wrong with that.'
'Do you even have any friends outside work these days?'
'Yes, Christine. We go to the pub quiz every single week.'
Emma gave an exasperated sigh. 'Christine is in her sixties.'
'So?'
'Is there anyone on your pub quiz team under the age of sixty?'
'Scott goes sometimes.'
'Scott? Your boss?'
'Yes. What's wrong with that? Christine adores him. Apparently, his knowledge of British rivers is unparalleled.'
Emma gave a derisive snort.
'It's fun,' Karen insisted. 'I find it relaxing and they're a nice crowd. Who cares about their ages?'
'I'm just saying you need to enjoy life more. Get out and about.'
Karen tightened her grip on the neck of the beer bottle. 'I do.'
Emma raised an eyebrow. 'Visiting crime scenes doesn't count as getting out and about.'
'Look, I'd be perfectly happy if you stopped trying to shape my life into something I don't want. You know, maybe if you didn't nag as much, things would be better between you and Mike,' Karen snapped.
She regretted the words as soon as she'd spoken them.
Her sister paled, blinked rapidly and folded her arms over her chest.
'I'm sorry. I shouldn't have said that. It was a horrible thing to say.'
'I was just trying to help,' Emma said with a sniff.
Karen sighed and put the beer bottle down on the kitchen counter. 'I know. But you can't live my life for me, and I can't live yours for you. If I need your help, I'll ask.'
'That's just it. I can see you need help, but you never ask.'
Karen shook her head. There was no getting through to Emma sometimes. Karen was happy with her life the way it was. Yes, she worked long hours, but her job was rewarding and gave her little time alone to mope and think about the past. Everyone, including Emma, thought a new relationship would be just the ticket to fix her problems. But that was the last thing Karen wanted.
Surely she knew what was best for herself? She didn't want to be patched up and shoved back on the dating conveyor belt. The very thought made her skin crawl. Taking each day as it came, plodding onwards, one foot in front of the other, suited her just fine.
Emma's eyes filled with tears. Karen sighed again. No one could hold a grudge like her sister. She'd be upset and hurt for weeks.
Karen felt like the meanest person in the world. Snapping at Emma was like telling off a puppy. Emma didn't understand why her behaviour grated, and really was only saying these things because she cared. Karen was lucky to have her sister rooting for her, and her mum and dad in her corner. They were all concerned because they loved her, though at times they watched her so closely she felt like she was suffocating.
She picked up the beer again and held it out to her sister. 'Why don't you go and give this to Mike and tell him what a fab job he's done with the sausages?' Karen suggested with a wink.
Emma tried not to grin, but the edges of her mouth quirked upwards. 'I'll give him the beer, but I'm not giving him any compliments!'
'I think I'd better head home,' Anthony said, stifling a yawn as he entered the kitchen. 'I've eaten myself into a stupor. Fell asleep out there. Next thing you know, I'll be snoring. Oh . . .' He broke off and lifted his bushy eyebrows. 'Sorry, I'm not interrupting, am I?'
'Not at all,' Emma said briskly, sweeping past him and heading back to the garden.
'My timing is impeccable, as usual.' Anthony put his glass on the counter.
'It's not you. Emma would just prefer me to live my life differently.'
'Ah, I see. I'm sure that's just because she cares.'
'I'm sure it is too, but sometimes I wish she wouldn't care quite so much.'
'It's hard for normal folk to understand the job, Karen.'
She started to load glasses into the top rack of the dishwasher, and looked over her shoulder at Anthony. 'Is it bad that I'm hoping for a work call to get me away from Emma and her plans for my perfect life?'
He laughed. 'Yes, Karen, it is. Very bad. Now enjoy the rest of the day with your family.' He wagged a finger. 'That's an order.'
After Anthony had gone, Karen poured herself a glass of orange juice and carried it out to the garden. She was about to sit beside her mum when her mobile rang. She fished the phone out of the back pocket of her jeans and glanced at the display. It was DI Scott Morgan.
'DS Hart,' she answered as her mother shot her a sympathetic glance.
'Karen, it's Scott. A dead IC1 male has been found in woodland in Canwick, at the top of the South Common. He's been bludgeoned to death. I don't have any more information at this stage, but can you meet me at the scene?'
That was typical of DI Morgan. He wasn't one for small talk.
'Absolutely. I can be there in fifteen minutes.'
After she hung up, she saw the disappointed look on her mother's face and tried to match it.
'I'm sorry, Mum. It's work. You've got the spare key with you, haven't you? You can lock up?'
Her mother stood and gave Karen a peck on the cheek. 'Of course, darling. Just take care of yourself.'
'I will. Tell everyone I'm sorry I had to dash off. Enjoy the rest of the barbecue. Don't forget the meringue in the fridge!' Karen called over her shoulder as she headed inside to grab her car keys.
We hope you are enjoying the book so far. To continue reading...
Don't Turn Back
D.S. Butler
Copyright © 2023 All Rights Reserved
Also in this series
Also by this author