Deadly Obsession
He watches. He waits. He strikes.
Book info
Sample
Audiobook
Media
Author updates
Lists
Synopsis
A young Polish girl fixated on fame. A killer with a deadly obsession.
Detective Jack Mackinnon has his work cut out trying to track down missing student, Anya Blonski. As Mackinnon follows the trail of obsession and murder to the shady owners of the Star Academy, who thrive on society's obsession with reality TV shows, he realises the fame they offer comes at a price. When a second girl goes missing, Mackinnon is forced to consider a serial killer may be stalking the city.
Release date: January 16, 2014
Print pages: 248
* BingeBooks earns revenue from qualifying purchases as an Amazon Associate as well as from other retail partners.
Listen to a sample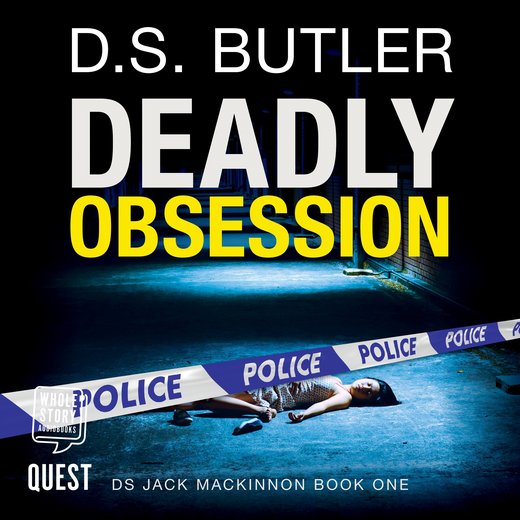 05:12:41
143.15 MB
August 29, 2019
W. F. Howes
2016
Deadly Obsession
D.S. Butler
CHAPTER ONE
THE MAN WAITED ON the corner of Queen's street, outside Oakland's Furniture Store.
He took a quick glance at his watch and smiled. Only a few more minutes to go.
Dressed like an American tourist, he blended in with the bustling crowds. He wore a pair of beige, baggy cargo trousers, and a faded, blue, loose cotton shirt with the arms rolled up. His Dodgers baseball cap was pulled down low, and wraparound shades hid his eyes. Despite the setting sun, he kept the glasses on. In London, thousands of CCTV cameras recorded the public's every move, and he didn't want anyone identifying him from the video footage.
He stepped to his right, moving out of the way, as a customer left the furniture store. He studied his reflection in the shiny store windows, hardly recognising himself.
The heat from the pavement seeped up through the soles of his shoes, making his feet hot and uncomfortable.
An expensive video camera hung from a thin, grey, nylon cord around his neck. He looked like just another visitor, taking in the historical sights London had to offer.
His video camera was a premium, state-of-the-art Nikon. He slipped the black cap off the upgraded lens. The zoom lens alone cost him over a thousand pounds. But it was worth it. He needed to get the shot right the first time. There would be no second chances. No reruns.
He raised a hand to his shirt pocket, and his fingers gripped the hard square of the spare memory card. That was good. The one in the camera already contained hours of entertainment, and it wouldn't do to run out of memory today. Not when he had such plans.
He licked his dry lips and closed his eyes. He could hardly bear the anticipation. If only she knew the effect she had on him. But of course, she knew. They all did.
He pointed the video camera at the entrance, so he would be ready when she left the building. His hands trembled so much, the picture in the viewfinder jumped and jerked around. He would have to hold the camera steady with both hands to get a decent recording.
Two women walked past him, city workers dressed in tight skirt suits and the kind of towering shoes that required a desk job. The taller woman glanced at him as she strode past. She tossed her long, brown hair and took a second look, staring at him with obvious curiosity, wondering what he was filming.
Nosy busybody.
The man turned away and pulled out a crumpled packet of Silk Cut cigarettes from his trouser pocket. He didn't want people watching him. He wanted to fade into the background. He had to look like he was just exploring the city. One of many sightseers London saw every day. Then no one would remember him.
It was important to go unnoticed today because if everything went as arranged…
A red, double-decker bus squealed to a halt at the bus stop in front of him.
The man crushed the cigarette in his fist. No! This was not part of the plan.
He watched as passengers clambered off the bus. One, two, three… They kept coming. No! Now there were too many people around. His plan was ruined. The intricate calculations, the careful consideration of possibilities, working out the timing – all for nothing. How could he concentrate with all these people squeezing up against him?
What if one of them remembered him?
"Yes, officer, there was a man lurking around. Of course, I can give you an accurate description…"
No, no, no. It wouldn't do at all.
He shot an anxious glance to the doorway on his right. Any moment now, she would walk through that archway. The culmination of weeks of preparation. It should be the perfect moment. A special moment he would remember for months. A memory he could relive, over and over; but all these people were spoiling it.
White-hot rage blistered in his chest. His hands shook as he tried to pluck another cigarette from the packet. Beads of sweat broke out on his forehead and down the length of his back. He threw the second cigarette on the floor and stamped on it. What was wrong with him? If he wasn't careful, he would ruin the whole thing. He needed to keep calm and stay in control.
It would be all right. If he could just keep a clear head, he might be able to pull it off. The bus pulled away, behind a transit van that belched out diesel fumes; and the passengers were leaving now, clearing a path for him. How considerate. Everything would work out perfectly. He allowed himself a small smile.
The door opened, and he caught his breath. There she was. Anya. His star.
Her eyes swept over him, then she looked away.
Oh, she was a good actress, pretending not to know him. Pretending she didn't know what was about to happen, as if she hadn't been communicating with him for weeks with those longing looks and secret smiles.
He switched on the video camera, and a blinking red light appeared in the corner of the screen.
How clever of her. She was sending him more signals today. Wasn't she wearing pink? She picked out that soft, rose-coloured cardigan that clung to all her curves just for him. It was a signal, a sign that she was ready, ripe for the plucking. She was telling him she was willing, telling him it had to be today.
Anya turned and began to walk away.
He felt a flash of fire in his chest. Then he took a breath, dispersing the anger, and smiled. Of course, this was all part of the game. She wanted him to follow her.
He would play along. For now. But soon she would realise that he made the rules.
He hung back for a few moments; then, with his heart pounding, he dropped into step behind her, unable to wipe the smile from his face.
He had waited for this moment for so long. He even dreamed about it. But this was no dream. He clenched and unclenched his fists. This was real.
Her long, fair hair tumbled down her back, swaying from side to side as she walked. She pulled off her pink cardigan and tied it around her tiny waist. She wore a bright blue, short skirt, which showed off her long, dancer's legs and rose a little higher with each step. He bit the side of his mouth. He was enjoying the game.
He kept his camera focused on her back, zooming in until she filled the frame.
At first, he stayed a safe distance behind her. From experience, he knew surprise was his best weapon. He followed quietly, a few feet behind her, crossing the road when she did.
She turned right into Bakers Lane. It was quieter here. The traffic from the main road was muffled. He heard the distant ring of church bells and the caw of a crow.
He waited for a moment, looking up and down the street, until he was certain they were alone; then he left the camera dangling from his neck and made his approach.
Hearing his footsteps, she whirled around. Her face was white, pinched and scared.
She put a fluttering hand to her chest and let out a little high-pitched giggle. "You scared me. I didn't realise it was you."
He smiled back at her, walking closer as his hand closed around the knife in his coat pocket.
"Well, I'd better be getting home," she said in her delightful accent.
How sweet! She was still playing the game. His thumb pressed lightly against the sharp edge of the knife.
Her baby blue eyes gazed up at him, wide and trusting.
But why shouldn't she trust him? She knew him, didn't she? At least, she thought she did.
And after tonight, she would know him better than anyone. And he would know every inch of her.
CHAPTER TWO
AT EIGHT FIFTEEN ON Wednesday morning, Henryk Blonski, watched the taxi pull up outside his block of flats on the Towers Estate.
After he stopped, the middle-aged taxi driver peered through the insect-splattered windscreen, looking uneasy. Henryk couldn't say he blamed him. It was a horrible area. For the hundredth time this morning, Henryk wondered why he and his sister ever left Poland.
Henryk walked towards the passenger side of the taxi and waited while the driver looked him up and down. The driver's eyes lingered over Henryk's crumpled jeans and t-shirt as well as the stubble on his chin.
Henryk had not had time for a shave this morning. Impatiently, he pushed his dark hair out of his eyes and rapped on the passenger window.
Obviously deciding Henryk looked safe enough, the driver unlocked the passenger door, and Henryk climbed into the sagging front passenger seat.
"Where to, mate?" the driver asked. His breath smelled of cigarettes and Polo mints.
"Wood Street Police Station," Henryk said.
The driver didn't look surprised by the request, probably assuming residents on this estate had to spend a good deal of time at police stations.
At first, the driver didn't try to engage Henryk in conversation, which was a good thing. Henryk Blonski had other things on his mind.
His sister, Anya, had not come home last night.
Henryk had not noticed she was missing until this morning. He felt his stomach churn. Anya was not the sort of girl to stay out all night. He'd taken a cup of tea into her at seven thirty, as usual, and dropped it on the floor when he saw her bed had not been slept in.
"So whatcha going to see the boys in blue for?" The taxi driver asked as he braked hard at a red light.
Henryk blinked and turned to the driver. Henryk guessed he was in his early sixties. There was a photograph of a couple of small children taped to his dashboard, maybe his children or grandchildren. A family man anyway.
"I'm sorry?" Henryk said.
"The police. Why are you going there?"
Henryk could have told the man to mind his own business, but instead, he bowed his head and said, "My sister. She is missing."
"Missing? I'm sorry to hear that."
Henryk accepted the man's sympathy with a nod.
The driver pulled away from the traffic lights and overtook a single-decker bus without indicating.
"So how long has she been gone?" "She didn't come home last night."
"Just the one night?" The taxi driver shrugged. "How old is she?"
"Nineteen."
The old man's face relaxed, and he smacked his lips together. "She'll be home, right as rain. She probably just pulled an all-nighter. You know what girls her age are like." The driver gave Henryk a wink.
"My sister is not like that," Henryk said, his voice stiff. "Well, no," the taxi driver shifted in his seat. "I don't suppose she is. I didn't mean any offence. I hope you find her."
Henryk stayed silent. "Where are you from?" "Poland."
The taxi driver was quiet for a moment. He drummed his fingers against the steering wheel. Then suddenly, as if coming to a decision, he turned to Henryk. "A little bit of advice, son, for dealing with the police."
Henryk nodded.
"You've got to handle them right. You need to have them on your side. I can see you're worried, and you're angry, but you need to keep your cool. Do you understand? I used to be a copper, so I know what I'm talking about. They'll want to help you, but they'll have to ask questions about your sister, questions you might not like."
Henryk only half-listened as the taxi driver spoke, his mind focused on what in the world he would tell his mother. How could he tell his parents that Anya was missing?
Henryk gave another curt nod and looked out of the window. Despite staring out at the road, Henryk wouldn't have been able to describe the route the taxi driver took between the Towers Estate and the police station; his thoughts were occupied by what he would tell the police.
He snapped back to the present as the taxi passed St. Alban on Wood Street and pulled up outside the City of London Police Station. He shoved a ten-pound note into the driver's lap and tried to open the door before the car had fully stopped.
"Hold your horses," the driver said.
Henryk ignored him, scrambled out of the car and ran up the stone steps to the entrance, which was flanked by two blue police lanterns. The door was open, and Henryk strode in and told the grey-haired officer behind the desk he needed to talk to someone urgently as his sister was missing.
The officer took down Henryk's name, then started tapping on his computer keyboard. The screen was facing the wrong way, so he couldn't see what the officer was typing.
Henryk looked around the reception area. The station was smaller than he expected. The floor was cream linoleum, and the walls were light grey and covered with posters and notices.
The officer behind the desk handed Henryk a form and nodded to the row of four chairs lined up against the wall on Henryk's right.
Henryk took the form and a black Biro and sat down. At the end of the narrow reception room was a blue door, with a security panel by the handle. Henryk kept one eye on the door as he filled out the form, expecting a high-ranking officer to come through at any moment. They would want to take down his sister's details as soon as possible.
He filled in the boxes on the form as quickly as he could, printing in capitals because his hand shook as he wrote, and handed it back to the man behind the desk. Then he sat back to wait.
At nine thirty, a group of small children were ushered into the reception area. They were escorted by two women, one short and plump, the other, tall and thin. "Stay together now, children, please. We'll see the police horses next," the tall one said.
After the school children were escorted away on their tour, Henryk looked at his watch. He had been at the station for almost an hour. Anything could have happened to his sister. Anything.
Henryk felt a sharp, stabbing pain behind his right eye. Where was she? Was she hurt? Had there been an accident? Had someone done something to her?
After he couldn't stand to sit any longer, he stood up and paced the narrow room. He looked at the posters for Police Community Support Officers and notices about suspicious packages.
He glared at the man behind the desk, who, oblivious to Henryk's rising anger, smiled back cheerfully.
Henryk wanted to throw something at him. Where was his sister?
He leaned across the reception desk. "I am still waiting.
Have you told anyone I am here?"
"Yes, sir. Someone will be down to talk to you shortly."
Henryk sighed heavily before sitting down again and rubbing his eyes. Why was this taking so long?
After another five minutes, the pain behind Henryk's eyes was so bad he could hardly think straight. He was ready to explode.
The blue side door opened, and a man in a shiny suit stepped out. He looked at the officer behind the desk, who nodded at Henryk.
The man in the shiny suit turned to face Henryk and held out his hand. "Henryk Blonski, I'm DC Collins. I understand your sister is missing."
Henryk jumped to his feet. At last!
"Yes. My sister, Anya, did not come home last night. You must understand; this is not like her at all. I think something bad has happened to her."
DC Collins opened the blue door again and ushered Henryk through the entrance.
As DC Collins escorted him through the station, Henryk told him about Anya.
DC Collins didn't speak until they walked inside a small room and he'd shut the door behind them. The furnishings were nicer than in the reception. The floor was carpeted, and the chairs were padded and upholstered, but as Henryk sat down, he barely noticed.
Collins pulled a pen out of his jacket pocket and started to write in his notebook. "So your sister's name is Anya Blonski. How do you spell that?"
We hope you are enjoying the book so far. To continue reading...
Deadly Obsession
D.S. Butler
Copyright © 2023 All Rights Reserved
Also in this series
Also by this author