Devoted Ladies
Available in:
eBook
Paperback
Audiobook
Hardcover
Book info
Sample
Audiobook
Media
Author updates
Lists
Synopsis
Jessica and Jane have been living together for six months and are devoted friends - or are they? Jessica loves her friend with the cruelty of total possessiveness; Jane is rich, silly, and drinks rather too many brandy-and-sodas. Watching from the sidelines, their friend Sylvester regrets that Jane should be 'loved and bullied and perhaps even murdered by that frightful Jessica', but decides it's none of his business. When the Irish gentleman George Playfair meets Jane, however, he thinks otherwise and entices her to Ireland where the battle for her devotion begins.
Release date: May 2, 2013
Publisher: Virago
Print pages: 320
* BingeBooks earns revenue from qualifying purchases as an Amazon Associate as well as from other retail partners.
Listen to a sample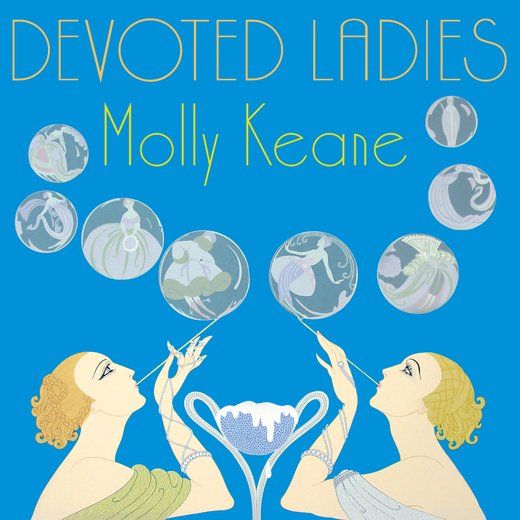 07:21:02
201.9 MB
April 8, 2021
Little, Brown
Devoted Ladies
Molly Keane
Devoted readers of M.J. Farrell's hunting romances – and there were many – who bought her new novel, Devoted Ladies, in 1934 to lose themselves in her singular and special world, that of the Anglo-Irish in Southern Ireland, and one to which she utterly belonged, were in for a rude shock when they first opened the book. And the word 'rude' is used throughout the book to denote shocking and aberrant emotion. It is also used to cover feelings and behaviour far removed from the incorrigibly 'natural' horsy habitat in which the heroines of her earlier books had ridden and danced and suffered the pangs of romance and the pain of loving. Those famous preoccupations of her four previous novels – horses, romance, snobbery, the world of the landed gentry in Ireland, the hunt as tapestry, the glorious backdrop to life, and the houses of Ireland lying like temples at the very heart of her books – seemed, in the initial stage of Devoted Ladies, to have been superseded by new and somewhat sensational interests. Her readers were transported to a fashionable flat in a chic quarter of London, to a party given by one Sylvester Browne – a jaded, gilded playwright – sounding like a fairly tiresome cross between Noel Coward and Charles Morgan with a dash of John Gielgud thrown in (who became in fact one of her great friends and directed the four plays she later wrote).

There had been a reassuring continuity in the highly successful books by this young Irish author Molly Keane, who seemed to have tumbled inadvertently into authorship – and indeed celebrity – and who kept her identity so well hidden from the general public under the pseudonym M.J. Farrell, which name she had casually adopted from a local pub sign. She felt that being a writer in her particular world would have brought ostracism. The choice of name shows either considerable naivety or a certain cunning, since as an Irish disguise it is perfect, being sexless, anonymous and carrying no overtones of gentry: and she was gentry, part of that small international community which was also parochial, that strange, select elite world called Anglo-Ireland, which hung poised between two cultures, sucking social sustenance and culture from the one – England – and using the other as the substructure for its easy edifice. From the beginning of what appears to be her almost unconsidered literary career she wrote about this society, taking its order for granted, in order, as the legend goes, to earn enough money to supplement her dress allowance.

Not that there was much money in it at the beginning. She sold her first book, The Night of the Cheerful Countenance, for £75; her second was bought by Mills and Boon for £100. 'I'd sent if off to an agent whose name I'd seen in the Times Literary Supplement and he'd thought it was O.K., but my feet left the ground when a publisher wanted to publish it.' Its title, appropriately enough, was Young Entry (published in 1928) and it is an accomplished piece of writing, though somewhat repellent in the behaviour depicted in it, the unbecoming attitude of the Quality towards the subclass of native Irish on which their elaborate superstructure rested, and rested as they were soon to see, somewhat precariously. The young, upper-class women who populate it talk in a tiresome and typical way, albeit with patronising affection, about the 'people' of Ireland. In this simulacrum of her real world everyone knows each other, their breed, seed and generation, and as her new books appeared, a central character from one book would occasionally pop up in a peripheral role in another, adding much to the sense of exclusivity and familiarity – a club in fact, open in reality only to a certain caste; but here thrown open by a member to any reader, whatever their sympathies. It was a risky thing to do – hence, perhaps, the pseudonym.

She was always as courageous a writer as she was a woman and rider, but her literary courage sometimes seems to have more to do with not recognising the hazards of how she writes about class and sex than with negotiating or outfacing those dangers. But she was not above poking fun at herself and in the opening pages of Devoted Ladies there is a moment of sly irony when Sylvester Browne recalls a moment of glory on a hunting day in Ireland.

Here there is a dust of gold in the gorse the darkest day in December, and excitement is a gold cry in the wind and danger a crown … Such thoughts were rude and fit only for some hysterical Irish novelist writing her seventy thousand words through which the cry of hounds reverberates continuously: where masters of hounds are handsome and eligible men and desirable young girls over-ride hounds continually, seeing brilliant hunts on incredible three-year-olds: and all – after even the hardest day – are capable of strong emotion at night.

Not a bad, though superficial, summing-up of her own books – and certainly what readers might expect of them. The joke continues – a key point in the plot hinges on the rich, young lesbian heroine's reading of Young Entry by M.J. Farrell, which she finds among a job lot of books and being fired by a desire to go to this strange, lovely place she discovers in the book. Jessica, her tough girlfriend, pounces.

'Jane, who could have sent you these books? All outdoor sports, my dear. And here's one just about girlfriends – Young Entry; how rude! Why should they expect any one to know what they mean by their dreary huntin'-talk? Perhaps Sylvester sent them for a bit of fun. He knew I'd get a good laugh out of them anyway … Girlish friendship and fox-hunting – now they're eating soda-bread – what's that? Oh we're in Ireland I see … It's worse, my dear. It's full of the lowing of hounds and every one stuffing themselves with buttermilk scones dripping with butter. Plenty of picturesque discomfort and cold bath water and those incredible Irish mountains always in the distance.'

It sounds a little as though M.J. Farrell had suffered rather at the hands of the reviewers, although in fact from almost the beginning she had had great success with her insouciant and stylish writing. In time Devoted Ladies was to get its share of acclaim too.

Infernally good … a worldly wise, witty and remorselessly cruel book. The landscapes are exquisitely done. I feel I could talk about a Farrell as one talks about a Corot … Certainly one of the most brilliant novels I have read in the last two years.

wrote Compton MacKenzie.

Devoted Ladies seemed to have strayed far away from those incredible mountains. The setting is chic, the tone brittle and the romantic interest hinges on the stormy relationship between a lesbian couple, one frail and dying of alcoholic poisoning, if not from her friend's pure spleen. Other cosy elements include a crudely-drawn homosexual valet and certain introspective musings about writing. Rude indeed. But for all the early change of locale and population, M.J. Farrell's fine gifts for atmosphere, description and evocation were manifestly in place and her ability to match her prose to the texture of the time and location. Devoted Ladies, set in the pale green and silver world of fashionable thirties London, is an art deco novel. Its hue, its designs, the lines of the book, the nonchalant languor of its inhabitants, their studied attempts at decadence seem the epitome of the period. The characters appear as though about to be photographed with arum lilies in the background. Everything is glittering, reflective, hard on the surface, fluid underneath. The year that the book was written one of Vogue's more memorable dictates was 'Your very important profile will have the windswept fleet lines of a speedboat or aeroplane' and this jaunty style exactly matches that of Jane, goofy to a degree and who with hindsight seems an archetypal image of the decade – a Mrs Simpson dressed by Schiaparelli. Jessica, her butch lover, though rather a caricature figure, is gradually, though not wholly successfully, revealed as a genuinely frightening figure from whom there can be no escape.

Molly Keane has always had a talent both for tuning her prose to the right pitch for the emotional weight she gave it to carry and for matching her tempo to the pace of the action. In Devoted Ladies the surfaces and shapes of things are described to brilliant effect and the action slides along propelled by electric energy. And the book is about appearances as much as about the pain behind the surface, the violence of emotions hidden behind the maquillage, about how a sudden crack in the glaze can show the disturbance beneath. (Auden's lines 'The crack in the tea cup, opens a lane to the land of the dead' come to mind.)

In some extraordinary way, considering how M.J. Farrell avoided much mention of sex or physical contact, there is something a little prurient in her treatment of the lesbian lovers, not unlike a child who has discovered a grown-up secret without quite understanding it. There is something a touch sophisticated about the 'rudeness' so that it doesn't ring altogether true – though there is a paradox here in that she successfully shows the mendacity and shallowness of the little world she seemed to stumble on – a place where there is little truth. 'I suppose I was rather curious and shocked by coming upon all that,' she says. 'Before then no-one thought anything of two elderly ladies setting up house together. I'd certainly never heard a murmur, though now everyone murmurs about everything. I was excited by finding out about lesbians and homosexuals. It was new. It made a subject.' She adds by way of explanation: 'I didn't know how to write and still don't. I found it very difficult – even the grammar. It took ages to write a sentence. My interest went in spasms, there would be a sudden arousal of interest that took over, something new – like this – that would be the start of a new book.' But it was literally just a start, for soon after the book opens Sylvester forsakes the louche life of London for the rich sentimentality of his version of Ireland and takes himself to his cousin's crumbling mansion where he can relish the left-over Edwardian life he finds there. Jessica and Jane follow him and we are back home safely in the old Farrell hunting grounds, almost as though the excursion into café society had never happened. Devoted readers could relax.

Except of course that M.J. Farrell's houses are never safe places, never sanctuaries, though they may appear so. These beautiful houses lying so vulnerably open in the haunted countryside of Ireland are full of old spirits and tensions and moods; the accumulation of ancient passions turns them into emotional archaeological sites, where an outsider stepping unwarily can set off shattering reverberations. And then too the fox is not the only hunted creature in this hunting territory. Jane is hunted. 'Some women', Molly Keane speculates 'like being bullied', but Jane, cornered in fright and piteous despair, realises that she, a far simpler, more ordinary creature than she had ever imagined herself to be, doesn't like being bullied at all. As she struggles to leave jealous Jessica, to get to good, kind, dull, rich, manly George Playfair (who talks to his dogs like women and no doubt to his women like dogs – an ideal Anglo-Irishman in fact), Jessica moves in for the kill. And the struggle between the two forces, one passive, traditional, conventional, obstinately strong, the other passionately active, eccentric, darting and vicious, begins. This engagement of power is a leitmotif in all of Farrell's books – only through such conflict can peace, or at least some kind of treaty for living, emerge.

In the book we are left in no doubt as to what would be the extent of George Playfair's recoil if he had had any conception of the real nature of the relationship between the two women. 'If he'd comprehended it – if he'd been able to – a man like that certainly would never have married her,' Molly Keane says. 'Well, he probably would have died. He was a very innocent gentleman – but the people were very innocent then, people like that.' So of course was she.

It was only when she was in her very late teens and early twenties, when staying with the Perry family at their home, Woodrooff, a great house in the Tipperary hunting country, that she began to find out about her own contemporary world. This beautiful and welcoming house was to her a haven, an escape from her curiously stranded existence in her parents' large house in County Waterford where her mother, a poet writing under the pseudonym of Moira O'Neill, remained utterly engrossed in her own nineteenth-century idea of the world and her father thought only of his horses and hunting. They took scant interest in their children who grew up passionate about riding but with little guidance about anything else. At Woodrooff, where she spent the greater part of six or seven years before her marriage to Robert Keane, she met a society that was new to her – cosmopolitan, fast, rich. Many of the people who came to stay there were part of, or on the fringe of, literary and intellectual London life, and when she in turn went to stay with these new friends she was introduced to a semblance of the world she was to depict in Devoted Ladies.

Though Molly Keane's characters were never drawn straight from life, John Perry, one of the Woodrooff children (who later helped her in the writing of her successful plays) is supposed to have been the original model for Sylvester Browne; and Joan the horsy, glamorous wife of the local M.F.H. in Devoted Ladies was also based on a famous Woodrooff habitué. In real life this dashing rider was much admired by all her young acolytes who copied her ways and aspired to be her favourite. 'That too was all very innocent,' Molly Keane says. 'There was nothing lesbian about it at all. Perhaps part of it was because there was a great scarcity of young men.' Here this queen of the hunt is subtly metamorphosed into a creature of infinite self-satisfaction and affectation, maliciously pinned down for our delectation. But perhaps the most inspired word-portrait in the book is that of the grotesque Piggy, also innocent, but whose innocence is without charm or appeal. Greedy, ungenerous, lacking self-knowledge, yet pathetic in her unrequited, ignorant loyalties and her pitiable search for love, she is remorselessly presented. It is a pruned and merciless portrayal of a woman (not alas all that exceptional in her context), who literally leaps towards love.

All the portraits, however disguised, seem so idiosyncratically recognisable that one imagines the book – indeed all M.J. Farrell's novels – must have been pored over by her contemporaries as a roman-à-clef. One wonders what the inhabitants of her Philistine hunting world and the fringe of literary London can have made of this artless-looking girl who cast such an artful eye over their shared territory, who wrote with such accuracy about their self-deceptions, yet who was finally so often affectionate and even tender towards her chosen subjects. And how did her old-fashioned parents react to a book like Devoted Ladies? 'Well, people in Ireland read very little,' she says drily. 'I don't think my mother read any of my books. They would have worried her and she avoided worry where possible. I'm quite sure my father read none of them. He only liked Surtees and history.'

The irony is that the great appeal of Surtees lies as much in his perception of life as a whole, his delivery of pertinent and devastatingly accurate observations about life in general, as it lies in his exquisitely funny accounts of hunting lives in particular. In the fusion of the two, often opposing, viewpoints we are given a remarkable and vivid social history. M.J. Farrell does precisely the same. Her parents never knew what they missed – an impeccable picture of what is to us a vanished world, but still full of relevance and revelation.

Polly DevlinBruton, Somerset 1983

Sylvester was giving a party.

His guests toiled up flight upon flight of dark stairs.

Jane was so accustomed to the smell of cats and ammonia on the stairs (there was a mews below) that she hardly noticed where they left off and where the expensive smells of Sylvester's rooms began. She had been there very often this summer, for Sylvester preferred to entertain in his own rooms to entertaining in restaurants or night clubs: 'It is more me,' he would say, 'and much cheaper, and much better – don't you agree?'

And here his friends would agree with enthusiasm. His food and his drink were always good. Not that Jane minded about food or drink either (so long as she could have enough drink). If you have always fed on the rarer and more expensive forms of food you will, by the time you are twenty-eight, have developed an intelligence about food or else you simply won't mind. Jane simply didn't mind. And her favourite drink was brandy; brandies and sodas followed by a mass of liqueur brandies rolling pleasantly in their large hot glasses.

It was not for Sylvester's good food and drink that Jane came to see him whenever she was asked, and often when she was not asked. It was because she hoped on and on in the face of constant disappointment that Sylvester would put her in a book or in a play.

She could never realise that the people Sylvester put in his life he did not put either in his books or in his plays. When he told her this he hoped that the flattery implied in the remark about his life might assuage her dismal greed for seeing herself as she wished him to see her.

But although he spoke to her softly and cunningly: 'Jane, you know I never put the people who matter to me in my books'; she would answer only: 'Oh, you are horrible to me,' in her rich South American voice, so teeming with feeling and so barren of words.

Yet in spite of his reluctance to enclose the substance of her flesh and her spirit forever in an aspic of words, Sylvester continued to be very sweet to Jane. Although his new revue was playing to good business and his last book doing well, the moment might yet arrive when he would require to borrow money from Jane, or at any rate make use of her cars or her houses or any of the many benefits which providence spends on very rich young women that very poor young men may thereby profit a little.

It was two years now since Sylvester had ceased to be a very poor young man, but he had not yet quite lost the habit. He was genuinely economical, just as he was genuinely a good writer and a competent playwright. But Jane was genuine in nothing. He believed even her complete stupidity was partly a pose of mind.

How much her affection for Jessica was a pose, a queer piece of exhibitionism, that he did not know.

Jessica and Jane were in Sylvester's bedroom now painting up their faces for the party.

Sylvester's bedroom was all shape and no colour. It was decorated in brown and grey and black. Jane always thought it inconceivably dreary, but Jessica, who thought she knew about house decoration, went into sullen rapture over the lighting. She struggled to impart her feeling to Jane in chosen difficult words. She always worked hard and deliberately for words, but Jane only said, 'I'll say it's horrible; I'll always say so.'

Jessica looked at Jane standing there in the colourless space of Sylvester's room. She looked at her and looked away again and back again. 'She's such a good shape,' she thought quickly – clothing for herself in words some indefinable excitement – 'Wherever she is she makes her own pattern.'

In the grey and black and brown room no doubt Jane did look well, for her lines were faintly geometric, as though flesh had been put on her body only to be ruled off again with extreme exactitude. Her bones were no more than small enough to justify the theory that she was ghostlike, not gaunt. As it was she escaped that unattractive state of body by very little. Her coarse fair hair was a lovely blanched colour and she arranged it with much care like a little girl's. Sometimes when in a particularly girlish mood she would even tie a piece of it up with a ribbon. But it was the scar of her hare-lip that gave to Jane's face its peculiar and distant expression of sadness, entirely redeeming her features from that dreary babylike prettiness in which but for this they were surely cast – this thread of a scar, pulling her mouth a little to one side and her nose faintly croo. . .
We hope you are enjoying the book so far. To continue reading...
Devoted Ladies
Molly Keane
Copyright © 2021 All Rights Reserved