Dark Passage
Cameron Cruz is a trained special ops sniper for the SFPD, dedicated to the pursuit of justice.
Available in:
eBook
Paperback
Audiobook
Hardcover
Book info
Sample
Audiobook
Media
Author updates
Lists
Synopsis
Cameron Cruz feels like she'll never recover when her lover, Diego, is killed during an undercover assignment—leaving her pregnant with his unborn son.
Back from maternity leave, Cameron is ready to rejoin her Special Ops team and work to shut down a human trafficking operation. But when she witnesses a fellow officer shot, she can hardly believe her eyes. Because the shooter is someone she trusted. Someone she loved. Someone she thought was dead . . .
Diego.
The evidence against him mounts. Evidence that he's guilty of kidnapping and imprisoning the very people he's sworn to protect and serve. Guilty of betraying their teammates, and the entire police department. Guilty of betraying her.
Despite what she's seen, Cameron's love for Diego is as alive as he is. She believes he's innocent—she just has to prove it. But the closer she gets to the traffickers, the closer her investigation comes to her department's front door.
Suddenly, she must question who she can trust.
And who is willing to risk it all to send her—and the truth—to the grave.
Release date: March 25, 2015
Publisher: Saddle Peak Entertainment
Print pages: 400
* BingeBooks earns revenue from qualifying purchases as an Amazon Associate as well as from other retail partners.
Listen to a sample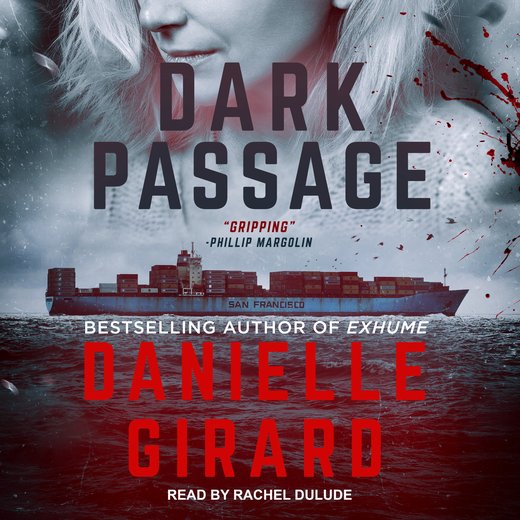 09:15:22
254.24 MB
May 31, 2018
Tantor Audio
2018
Dark Passage
Danielle Girard
CHAPTER 1
Heavy boots drummed on the floor, partially drowned out by the rasp of zippers and the sticky rip of Velcro. Inside the Ops van, the officers pulled on jumpsuits and tightened bulletproof vests. For Special Ops Officer Cameron Cruz, the red light had a calming effect. The raid was minutes away. In these moments, the energy of the officers built a charge in the air that was almost visible.
Despite it, expressions were guarded, cool. Tension was at a peak. As soon as they started moving in, the jokes would begin. The pranks and stunts would come after, the rowdy celebration that followed a successful raid.
Cameron was the only woman, always a little on the outside, and yet, she loved it. The adrenaline, the strategy, every minute a test. Then, reliving each second when it was done. No one talked about that beforehand. Superstition wasn't something any Special Ops member would admit to, but they all subscribed.
Tonight, they had a barricaded suspect. The red light protected their eyes, so they were ready for the darkness outside. Weapons loaded, Cameron smelled the acrid, grapefruit odor of sweat and the metallic scents of gun oil and ammunition. Already sweat ran along the line of her equipment belt and the weight cut into her hips. Two undershirts didn't prevent the familiar biting on her skin. The belt carried forty pounds of equipment, built for a man's hips, not hers. And even the extra-extra-small didn't hold the belt in place. Lately, though, it was getting easier. It had taken her until yesterday to figure out why.
"Four minutes," the sergeant called.
Silence buzzed inside the bus like the anticipation of tremors after an earthquake. Tonight, she would tell him. She surreptitiously crossed herself with a tiny motion of her index finger. It was a ritual for her. Everyone had one. She thought of Mama, Rosa, Diego, then of the unknown little person growing inside her.
The sergeant called the team's attention to a backlit board with a diagram that might have been for a complex football play. Cameron had intimate knowledge of the layout, as she had been on the reconnaissance team. On every job, the team was split into four duties: equipment; intelligence, who profiled the suspect; tactical, which coordinated the actual event; and reconnaissance. New officers began in equipment.
Reconnaissance was the fourth shop and the most dangerous. Not everyone was eligible for the recon team. Certainly they never risked the medics like Ambley. If something went wrong, medics were the last people the team could afford to lose.
"Lau, you're lead."
Ryan Lau's gaze swept across the team as he pulled his helmet over his black buzz cut. Lau was often lead. He was compact, maybe only five foot eight inches, but all wiry muscle, which made him easier to cover. The lead man was most at risk. He carried a fifty-pound ram to take out the door. If there was a shooter behind it, he depended on the team to cover him.
"Kessler does second, then Cruz." In many ways, Brian Kessler was Lau's opposite: taller and thick, built like a football player but also agile and quick. Sergeant Lavick went through the remaining list, eight in all. "Questions?"
Lavick ran his forearm across his face. He looked old. "Let's go, then. Gear on. We're moving in."
Cameron pulled the black helmet over her cropped blond hair. She patted her suit, fingered the reassuring bulge of her ammo. She signaled ready as the last of the weapons were checked, rechecked, and holstered. Hostile, agile, mobile was the recon credo. The door cracked open. The cool San Francisco night rolled into the van as the team moved out.
The perp was wanted for armed robbery. He had a weapons fetish and wasn't likely to go down without a fight. That's all she needed to know. Her job was to get him out. After that, he was someone else's problem.
The team stopped at the door, making their formation.
"Nuts to butts," Lau called back.
She tucked up against Kessler, felt Paules behind her. She was grateful it wasn't Diego. This was no place for distractions. Diego was behind Paules along with Daley, Ballestrini and Ambley.
The line was perfectly still. Sergeant Lavick stood to the side, his hand on his watch. After a beat, his hand went up. A breath shot through the group. He showed five fingers, then four, then three, two, one. Go.
The ram struck the door. The cheap composite buckled in the center, tearing the lock from the jam. Lau dropped the ram and drew his weapon. The wave of officers streamed in like high tide. The first two went right, the next two left, splitting to the two sides of the place. She and Daley cleared the first room, full of gym equipment, and then moved into the bathroom. She swung around the door, used the barrel of her rifle to pull back the shower curtain. Clear.
The next door was closed. She and Daley hesitated. Standing clear of the doorway, they waited for the team to gather. This must be the room. Lau arrived followed by Kessler. Lau raised one finger and pointed to himself. He would take the door. Cameron pointed right, ready to move around the doorjamb, keeping her back to the wall. Buttonhooking, it was called. Daley pointed left. He would cross the door to the left. It would leave Cameron in the best position to shoot. Gun raised, her finger resting flat along the trigger ring, she nodded to go.
Lau threw the door open and rolled into the room followed by Daley. Cameron came behind, then Kessler. She kept her back to the frame of the door as she hooked around the doorway and into the room. Her back was safe, her gun aimed and ready.
A string of shots fired from the closet. The angle was steep; the shots made a line of dust as they pierced high on the wall behind them. The shooter was sitting on the floor. Cameron aimed low and shot back. Three quick shots, then she paused. There was no response.
Cameron kept her aim still on the closet, while Kessler, Daley, and Paules moved past her. Daley took left and Paules right, as Kessler reached for the door. He nodded back to Cameron. She nodded in return. Just try it, you son of a bitch. I'm ready. Kessler slid the door open. A Heckler & Koch MP5 machine gun fell to the floor with a clank. Kessler and Daley pulled the shooter out. Dead.
"Suspect is down," Lau reported into his radio. "I repeat, suspect is down."
Without looking at the perp's face, Cameron lowered her weapon and left the room. Diego stood in the doorway smiling. "Nice work, Officer Cruz."
"Well, thank you, Ramirez," she said, trying not to grin like a schoolgirl.
She followed him out of the house, itching to get him alone.
CHAPTER 2
Diego and Cameron were always careful to leave the station separately. Usually she went first, but tonight, he begged off drinks with the group. "Seeing my girl," he said without looking at her.
"When we going to meet this invisible chica?" Paules asked.
Diego shook his head.
"You afraid of a little competition?" Kessler joked.
"That's it," Diego responded. "You're so smooth, I'm afraid she'd fall for one of you bozos."
Cameron took her time, packing up her bag and listening to the male banter.
Sergeant Lavick came in and shed his coat. He stood in front of his locker and stared at the lock.
Paules and Lau stifled their laughter.
Lavick spun the knob a few times. "Sixteen." Cameron folded her belt into her locker. "Twenty-seven," she said.
Lavick frowned. "I know my own damn combination."
Lau burst out laughing. Lavick picked up a baseball hat off the bench and flicked it at him like a Frisbee. "Watch it, Lau. Quarterlies are coming up."
Lavick turned to Cameron.
"Thirty-six," she whispered as her phone vibrated in her back pocket. Diego.
"You sure you don't want to join tonight?" Kessler asked, leaning against the locker beside hers.
"Not tonight."
She closed the locker and said good night. Only in the car did she read Diego's text.
PHNH in twenty.
Of course. She should have known they would go to the Potrero Hill Neighborhood House. It was one of Diego's favorite spots. During the day, it was a community center aimed at helping kids make good choices. It had been in use for more than fifty years. Diego had spent many afternoons there as a kid himself, before graduating and becoming a mentor. Now, he spent free afternoons at PHNH, talking with kids, helping with homework or playing basketball behind the house. At night, though, the center was closed, and the views of the city skyline were stunning. Tonight was the perfect night for it. No clouds and the temperature in the low seventies.
They might walk down the hill and have Cuban food at Fruitlandia. Maybe walk over to the park or climb the hill above the reservoir on the next block to get the extra twenty feet of view. The sun would set over the house, cutting down between the streets of the city and washing everything in pink and orange. And then, they would go home. Where in there did she tell him that he was going to be a father?
When she parked on De Haro, Diego was already on the porch, legs dangling over the banister exactly the way he told the kids they couldn't. He appeared lost in thought as she approached. He reached a hand back and helped her climb over the banister. She sat beside him, leaning into his warmth.
"Nice night," she said.
"Gorgeous." He smiled, but it faltered. Something in his brow was worried. He touched the hair along her face, slowly. Kissed her lips gently.
"What's wrong?"
He stroked her face, running his thumb along her jaw. "Nothing." He stared at the skyline and went quiet.
Normally, they would start in on the job, recount the moments from the day. He would talk about her kill shot. The banter before they got quieter, found the intimacy that they couldn't share at work.
Diego shook his head. "No, it's not nothing."
Cameron shifted away from him, waiting.
He didn't meet her eye as he spoke. "They're taking me undercover."
"What do you mean? Who?"
"ICE," he said. When she didn't respond, he added, "Immigration and Customs Enforcement."
She was in shock. "I know what ICE is."
"I offered to help with an ongoing investigation. Actually, I put my name in eight months ago. I got the call this morning."
"Where will you be?"
He looked at her without answering.
"You can't tell me?"
He held her gaze.
She thought about the baby, subconsciously crossed her arms. "How long?"
"Six weeks, maybe two months. It will seem like forever."
"It will." She thought about all the times her Papa had told her she shouldn't be training to be a police officer, when Mama pleaded with her to find a safe job. Telling him about the baby would be the same as asking him to stay. Two months from now she would be fifteen or sixteen weeks. It could wait. It would have to.
CHAPTER 3
Three months later
This was the hardest part of the day at work, the time when she felt Diego's absence most profoundly. While it used to be a time of celebration, the job accomplished, now it reminded her that she was heading into another night when she couldn't see Diego, couldn't even talk to him. Cameron heaved her equipment bag back onto the top shelf of the storage room.
"Need some help getting it up there?" Daley joked.
"Mine's done, but you sure you can reach your spot? I can give you a boost," she joked back.
She'd originally been given a spot on the bottom shelf, but since she was one of the tallest members of the team, they eventually moved her to the top shelf.
Lau laughed out loud. "She's got a few inches on you, Daley."
"And on you," he sparred back.
She chuckled at them, more at ease in this environment than in any she'd ever known. As a kid, her brothers told her she could never be a cop. Not a girl, certainly not a gringa so unlike any of the police in her tiny hometown of Bleakwood, Texas. Couldn't, to her, meant should, and she'd been easily baited. What better way to make a stamp on the world than to make it safer?
Cameron rubbed her hand across her head. Tonight, she was ready to go home and get a shower. The changes in her body had pushed her to the outside of the group again. Sometimes, before Diego went undercover, she had gone along for the celebratory round of drinks. Careful to sit on the opposite side of the room from Diego, she'd listen as the men spun short tales into tall ones.
She was always the quiet one. Previous boyfriends had complained about her reticence. Women were supposed to ooze emotion, but that wasn't Cameron's style. No one had been worth talking to until Diego. He'd simply drawn her out, and it had felt as natural as exhaling.
Even after he went undercover, she still participated in some of the team nights out. She went to the bar and ordered a Coke. Mostly, she listened, laughed, and called out the really big lies. These men had no idea how far Cameron had come from the reticent girl she'd been. They called her the shyest tough girl on the force, but she was accustomed to feeling strange about her quiet nature. Being in the middle of the rambunctious group of men was no different from growing up the quiet, white girl in a raucous Mexican family.
"You coming out, Cruz?" Lau asked.
"Not tonight."
She caught Kessler eyeing her midsection and quickly pulled on her coat. She had to tell her sergeant. She'd been hoping to tell Diego first, to hold off until she'd heard from him. But, the bump was getting too obvious.
She grabbed her pack and said good night, heading to the sergeant's office before she chickened out again. As she passed the captain's office, she saw Sergeant Lavick sitting across from Captain Margaret Ahrens. Not wanting to interrupt, she kept walking, but Captain Ahrens caught her eye.
"You have a minute, Officer Cruz?" Captain Ahrens called out.
Cameron stopped in the doorway. The team had little interaction with Captain Ahrens. She was seldom in her office, as she coordinated the team's efforts with other departments. This meant she spent most of her time in the main station on Bryant. It felt especially strange since they were the only two women.
"That was nice work today," Sergeant Lavick said, taking off his glasses and rubbing the red marks on his nose with long, thin fingers. The skin on his knuckles suddenly seemed too loose, like an old man's. His face was thinner, too. Maybe he was sick.
"I heard you did very well," Captain Ahrens added. Even behind her desk, she was formidable. Taller than Cameron, she had the build of a basketball player.
"Thank you."
"Come on in," Ahrens said, motioning to the empty seat in front of her desk.
Ahren's office was largely sterile. Commendations and diplomas, as well as several pictures of Ahrens, including one with Michelle Obama, hung on the walls. But, the only personal picture was the one framed on her desk, an eight-by-ten of a large German shepherd. Cameron knew that dog was named Kleina, because the dog's tag hung from Ahrens' keychain.
"You okay?" Captain Ahrens asked.
Cameron didn't answer at first. It was now or never. She stepped into the office. "I'm going to need some time off."
Lavick put his glasses back on. "You mean vacation time?"
She considered telling them to forget it when she felt the strange gurgling of the baby moving. "More like leave."
"Medical leave?" Ahrens asked, folding her hands on her desk and leaning forward.
Cameron nodded.
"Are you all right?" Lavick asked.
"I'm fine. I have a—I'm—" Cameron hadn't said the words out loud, except to Rosa. Even Mama didn't know yet, although Cameron knew she had to tell her soon.
"Lavick," Ahrens interrupted. "Will you excuse us for a moment?"
Lavick frowned. "I should probably stay—"
"Please, Michael," Ahrens interjected. "I'll call you back in a few minutes. I would like to talk to Officer Cruz."
"Like woman to woman?" Lavick said, nodding.
Ahrens raised an eyebrow. "Sure."
Lavick got up and left.
"How far along are you?" Ahrens asked as soon as the door had clicked closed.
Cameron didn't blink. "Twenty-one weeks."
"Wow, you've kept it well concealed."
Cameron didn't answer. She felt huge.
"You're keeping it."
"There was never any question."
"And the father?" she asked.
"I think he'll be supportive."
Ahrens cocked her eyebrow again. "He doesn't know?"
"Not yet."
Ahrens was quiet before she said, "I have a son."
"I had no idea," Cameron responded as she scanned the room for some evidence of the child. There was none.
"We're not in touch," Ahrens added and Cameron didn't ask more. Ahrens opened her desk drawer and pulled out a notepad. "Twenty-one weeks," she said out loud. "You've got leave from the state—a portion of it paid and some unpaid. You'll be okay for money?" She asked this without looking up.
"Fine."
"You can take up to six months after the baby is born without jeopardizing your position. I'll get the paperwork started and get you in touch with the benefits group. They'll help arrange a desk position until you deliver."
Six months after the baby. A desk job until she delivered. That was twenty more weeks. She might be away for a year. In seven years, she'd never gone more than nine days without shooting. How could she last a year?
Outside Captain Ahrens' office, Lavick stood talking to Kessler. "Everything okay?" he asked.
"Fine."
He was heading toward Ahrens' office when he said, "Oh, you got a letter. It came in the department mail. It's on my desk. Go ahead and grab it."
Cameron went into his office and found the letter. On the front, in Diego's handwriting, it said her name and the words "Personal and Confidential." No postmark. No return address. It meant he was close. Maybe coming home. Thank God.
Kessler filled the doorway. His blonde hair was cropped short, his brown eyes wide. Women stared at him when they were out with the team and friends in the department had asked about him more than once. He was good looking, if in a Nebraska farm boy kind of way. "Hey." He glanced at the envelope, but she quickly folded it and put it in her jacket pocket.
"Hi, Brian."
"I thought you might want to see a movie this weekend," he said. "The new Bond is out."
"I'm going to have to pass. I've got company in town this weekend."
"Family?" he asked, hopefully.
She nodded.
"Maybe next weekend."
She thought about how the captain and sergeant would tell the others about her news. She was glad she wouldn't be here. "Good night, Brian."
"Good night, Cameron. Have a good one."
She hurried down the hallway and out the door. As soon as she was in the night air, she tore open the envelope. She flattened the note in her hand, wondering if he knew about the baby. She scanned the page and caught the words "love" and "miss."
She tried to calm herself and read the first line.
If you're reading this, it means I'm dead.
We hope you are enjoying the book so far. To continue reading...
Dark Passage
Danielle Girard
Copyright © 2023 All Rights Reserved
Also in this series
Also by this author