Book info
Sample
Audiobook
Media
Author updates
Lists
Synopsis
Charlie Harris and his Maine Coon cat, Diesel, are embroiled in a new mystery when a cold case suddenly heats up in the latest installment of the New York Times bestselling series.

Charlie Harris is busy enjoying his new grandson when a mysterious man with a connection to Charlie's family starts visiting the library, bringing with him troubling questions about an unsolved murder...

Charlie may be a proud new grandfather, but he and Diesel still have work to do at Athena College and the small Mississippi town's public library. He's too busy to deal with true-crime writer Jack Pemberton, who wants Charlie as the subject of his latest book--and who won't take no for an answer.  

A more appealing proposition for Charlie is spending time helping a kind, elderly man navigate the library's genealogical database. But he's shocked when he learns that the visitor's search is focused on a member of his own family: his late aunt's husband.

Charlie befriends the man and considers inviting him to stay in his home, but he's soon given reason to question that notion. Jack is certain that Charlie's new houseguest was involved in a shocking homicide that took place years ago in a small town near Athena. As this cold case heats up, Charlie and Diesel have to uncover a killer who may already be too close to home...
Release date: February 20, 2018
Publisher: Berkley
Print pages: 288
* BingeBooks earns revenue from qualifying purchases as an Amazon Associate as well as from other retail partners.
Listen to a sample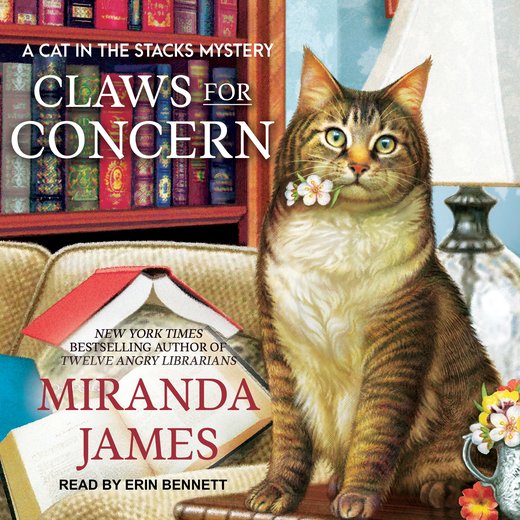 08:07:02
222.96 MB
February 20, 2018
Tantor Audio
2018
Claws for Concern
Miranda James
One

I couldn't stop checking the clock on the wall nearby. "Come on, three o'clock," I muttered under my breath. "Get here already."

The wretched clock refused to cooperate. It read two forty-seven, and the second hand seemed to be taking way too long to sweep around the clock's face. Thirteen minutes until I could pack up and head home.

Diesel, my Maine Coon cat and near-constant companion, warbled anxiously from the area next to my feet under the reference desk. He always picked up on my emotions, and I forced myself to calm down. There was no point in getting a nearly forty-pound cat all wound up. Nor myself, actually.

"It's all okay, boy," I told him in a low voice before I reached under the desk to scratch his head. "We'll be home soon." I think the cat knew what-or really, who-was waiting for us at home, and he was as eager as I to be there.

Clock check. Only eleven minutes to go. I could leave now if I really wanted to. I volunteered at the Athena Public Library. I did not earn a paycheck from the place. I knew, though, how much the director, Teresa Farmer, and the other staff appreciated my help on Fridays, and I wasn't going to cut my time short. I settled back into my chair for the remaining minutes and glanced around me.

On this late July afternoon, the only people I saw in the library were adults, mostly my own age or older. Some, no doubt, sought relief from the punishing heat. The soaring temperatures taxed air conditioners, and there were many elderly people in Athena who couldn't afford to cool their houses. I knew most of those who came into the library to get relief, at least by name.

One man was a definite stranger, however. I first noticed him a week ago. Tall, a bit stooped, with a shambling gait, he looked to be about ten years older than me, so that put him in his midsixties, though he might have been older. I'd not had any interaction with him last week, and he had not come near the reference desk today. He had glanced my way a couple of times, his expression a puzzled frown.

I wondered whether he knew me or thought that he might. I had never seen him before that I could recall, though there was an elusive familiarity about his face. Maybe I had run across him thirty years ago, I mused, before I left Athena to move to Texas for graduate school in library science. I couldn't place him, but I hadn't spent much energy trying. I had learned over the years to let such things resolve themselves on their own schedule. The answer to this particular puzzle, if I knew it, would occur to me in due course.

Earlier today I had thought about approaching him and simply asking him who he was, but I hesitated to follow through on that. He appeared reserved and perhaps shy, and I didn't want to intrude if he truly had no desire to talk to people. I glanced his way again, and he looked up for a moment. Then he dipped his head down, focused once more on the book in his lap, and I read that as a clear signal that he did not want to be interrupted.

Diesel chirped and laid a large paw on my knee, as if he were asking me the time, and I checked the clock. Two minutes to three. Bronwyn Forster, one of the full-time librarians, should be here to relieve me any moment now. Sure enough, when I looked toward the area where the offices were, I saw her emerge from the doorway and head toward us.

After we greeted her, and she and I exchanged places, Diesel stayed with Bronwyn while I went to gather my things. He had to be sure to get his full quota of rubs on the head and under the chin before we left. Bronwyn, like the other staff and many of the patrons, never hesitated to oblige him. No wonder he loved coming to work with me.

Back at the desk again, I spoke to Bronwyn. "Would you mind keeping him with you for a minute? It's so hot outside, I want to get the car started and cooling off before I put him in it."

Bronwyn gave me her habitual sweet smile. "Of course, Charlie. Diesel won't mind getting loved on for a couple more minutes."

I heard a happy warble from behind the desk and knew Diesel would be content until I was ready to take him out. "Back in a minute, then." I headed for the door.

The second I stepped outside the heat swarmed around me like a cloud of gnats. I could feel the sweat starting to form as I made my way through the parking lot to the far side where the staff usually parked. This morning I had found a spot beneath the largest tree that cast shade over the lot. That meant the inside of my car was a few degrees cooler than it might have been otherwise.

I backed the car out and drove it around the lot to the closest spot to the front door. I left the engine running and went into the building to retrieve my cat. The moment I called, he came running around the desk toward me.

I scooped him up in both arms and backed out the door, with one last farewell to Bronwyn. The temperature was too high today-hovering around the century mark-to let Diesel walk over the hot asphalt and concrete. In weather like this I carried Diesel to and from buildings where the sidewalks and parking areas were in the direct sunlight. I didn't want him blistering the pads of his feet.

The drive home took less than ten minutes, and once I had the car parked in my garage, I let Diesel out of the backseat. He preceded me into the kitchen where I knew we would find the object of our intense interest.

When I stepped into the room I saw my daughter, Laura, sitting at the table, feeding my grandson, and chatting with Azalea Berry, my housekeeper. Diesel approached Laura slowly. When he reached her side, he looked up at her and chirped twice.

"Hello, handsome boy," Laura said. "We're almost through here, and then I'll let you see him. How about that?"

Diesel warbled in happiness. He loved the baby and could sit near him and watch him for long periods of time. Until both he and the baby fell asleep, that is.

I greeted both women and put my things on the small table by the door. I moved closer to Laura and my grandson and watched for a moment. Then my vision blurred, and I had to slip my handkerchief out of my pocket to wipe my eyes.

"How is young Master Charles Franklin Salisbury?" I asked, my voice husky.

Laura laughed as she looked up at me. "Like his grandfather, always ready for a meal."

Azalea chuckled at that. "That baby sure is a chip off this old block." She slid a sly glance in my direction. "How about something for you, Mr. Granddaddy?"

I grinned at the silly nickname Azalea gave me not long after baby Charlie was born. We were all giddy with happiness over the arrival of this child. I hated that his grandmother and his great-great aunt weren't alive to see him, but I knew they were watching over him. I sometimes felt their presence here in the kitchen. Like now, when a whisper of air passed my right ear.

"I wouldn't mind a cold glass of water," I replied. "This horrible heat wave makes me thirsty."

"I'm glad to hear you ask for water instead of a diet soda." Laura smiled at me. "You were drinking way too much of it. It's good that you've cut back."

After a satisfying couple of sips from the glass Azalea handed me, I raised an eyebrow at Laura and sniffed. "You wouldn't say that if you hadn't had to give up the exact same beverage while you were breastfeeding my grandson."

"Ha-ha," Laura replied. "By the time this young man is off the breast, I will have completely forgotten what the ambrosia tasted like." She sighed. "No wine until then, either. That I will definitely go back to, believe me."

"I didn't think you had to cut caffeine out completely, though," I said as I took a seat across the table from Laura and baby Charlie.

"No, I don't, but it needs to be limited," Laura said. "I still have a little, mostly coffee or tea, but nothing like what my intake used to be."

I recalled her teenage years-and probably the years spent in California while she pursued her acting career-when she seemed to live on diet drinks, salads, wine, and cheese, with the occasional hamburger and french fries on the side.

"How is his rash?" I nodded toward the baby.

"Almost completely cleared up," Laura said. "His doctor said that infant acne is fairly common and usually clears up on its own."

"I don't remember whether you or Sean had that," I said. "I don't think you did, though."

"It's all due to maternal hormones," Laura replied. "His little face will be completely smooth again in another day or two."

Diesel chirped as if to acknowledge gratification at this news.

Azalea placed a stack of mail in front of me. "You hit the jackpot today."

"Half of it at least will go in the recycling bin." I eyed the pile with a jaundiced glance. There were three catalogs, several circulars, and four letters. I pushed the catalogs and circulars aside and picked up the envelopes.

"When I was a little girl," Laura said, "you used to give me all the mail you didn't want so that I could pretend it was my mail."

"Yes, I did." I laughed. "You would sit and read through it so solemnly."

Laura rolled her eyes. "I must have been adorable, thinking I was important enough to have mail like my father."

"You were, and still are, adorable," I told her.

"Mushy," Laura said, but she smiled.

The first two letters were junk mail. The third was a legitimate bill. The fourth, however, seemed to be of a personal nature. The return address and my name and address were all handwritten.

I glanced at the return address. The name was Jack Pemberton, and the town was Tullahoma, a smaller town about eighty miles southwest of Athens. I didn't recognize the sender of the letter. I couldn't recall ever having met someone of that name.

Curious, I opened the letter by tearing a small strip off one end. I extracted the pages inside, along with what looked like a bookmark. Pemberton might be a writer, I decided. Was he trying a direct-mail approach to selling books?

I examined the bookmark first. One side showed two images of book covers, both with slightly lurid illustrations. I laid the bookmark aside and opened the letter. I scanned it quickly, impatient as usual to figure out what the import was. Then I went back and read it more carefully.

I frowned and laid the pages aside.

"What is it, Dad?" Laura said. "Bad news?"

"Not news at all." I laughed, suddenly struck by the seeming absurdity of the letter writer's intent. "A man from Tullahoma wants to write a book about me."

"About you? Why?" Azalea asked, obviously puzzled. Then suddenly her face cleared and she scowled. "About all your murders, you mean."

Two

"They're not my murders, Azalea." I shook my head. "I may have helped solve them in some way, but I didn't go looking for trouble to get into. I can assure you of that."

"You might not have gone looking for it, but you didn't run away from trouble when you found it, Dad." Laura cocked an eyebrow at me. "I know it's not by choice, but you have to admit you got a lot of satisfaction out of figuring them out when the killer wasn't immediately obvious."

"I will admit that," I said. "I've been reading mysteries for nearly fifty years, so it's pretty hard to resist one when it practically falls into your lap."

"Or you stumble over the body." Laura grimaced. "Not something I want to experience ever again myself. Once was enough for me."

"I know, sweetheart." I remembered how upset she had been when she found her former boyfriend dead, the victim of murder.

"Kanesha might not be too happy to see you getting all the credit in a book, either." Laura wiped the baby's mouth, refastened her blouse, and then laid Charlie on her shoulder to burp him.

Laura referred to Kanesha Berry, chief deputy in the Athena County Sheriff's Department, and the official investigator of murders in the county. She also happened to be my housekeeper's daughter, a situation that Kanesha had never regarded with good grace.

Azalea snorted at Laura's observation. "That girl better thank the good Lord Mr. Charlie's been willing to help her out. Some of those murders were downright strange." She favored me with an oblique glance when she hit that last word.

"Strange murders or not, Kanesha got the credit in all those cases," I said. "I may have helped her solve them more quickly in some instances, but I have no doubt whatsoever that she would have figured them out all on her own. I also have no doubt that she would have preferred it that way."

"Then what are you going to tell the man who wants to interview you?" Laura asked.

"I haven't decided yet," I responded. "I want to talk it over with Helen Louise first."

Helen Louise Brady, owner of the best French bistro south of Memphis, was my best friend and also my girlfriend. Some might consider the word girlfriend old-fashioned, but I was an old-fashioned kind of guy in many respects, including romantic relationships.

"Now that she's cut back her hours at the bistro," Laura said, "you at least have more time to talk, instead of only late at night after the bistro's closed or when you go in there for a meal."

"You'd think so." I tried not to sound irritable. "But Helen Louise is having a harder time letting go of some of the responsibility than she expected."

"I thought she had worked everything out," Azalea said. "Isn't that young man been working there doing good as a baker?"

"Henry?" I said. "Yes, he's doing fine, but I think he's getting a bit exasperated with Helen Louise. She tends to hover and hang around later than she says she will."

"She's put so much of her life into that place," Laura said as baby Charlie emitted a burp. She and I exchanged smiles.
We hope you are enjoying the book so far. To continue reading...
Claws for Concern
Miranda James
Copyright © 2022 All Rights Reserved
Also in this series
Also by this author