Cat Me If You Can
Available in:
eBook
Paperback
Audiobook
Hardcover
Book info
Sample
Audiobook
Media
Author updates
Lists
Synopsis
Charlie Harris and his feline companion Diesel take a bookish vacation but discover that murder never takes a holiday, in this all-new installment of the New York Times bestselling series. 

Charlie and Diesel along with Charlie's fiancée, Helen Louise Brady, are heading to Asheville, North Carolina to spend a week at a boutique hotel and participate in a gathering of a mystery reader's club composed of patrons of the Athena Public Library. In addition to seeing the local sights, the members will take turns giving talks on their favorite authors. 

The always spry Ducote sisters, friends of the hotel's owners, are helping underwrite the expenses, and they've insisted that Charlie, Helen, and Diesel join them. Anxious to get Helen Louise away from her bistro for a vacation, Charlie readily agrees. While Charlie is looking forward to relaxing with Helen Louise and Diesel, other members of the group have ulterior motives including a long-standing score to settle.

When an intrusive, uninvited guest turns up dead, only one mystery club member with a connection to the deceased appears to have a motive to kill. But could the answer really be that simple? Charlie and Diesel, along with the detecting Ducote sisters, know that every murder plot has an unexpected twist.
Release date: August 25, 2020
Publisher: Berkley
Print pages: 304
* BingeBooks earns revenue from qualifying purchases as an Amazon Associate as well as from other retail partners.
Listen to a sample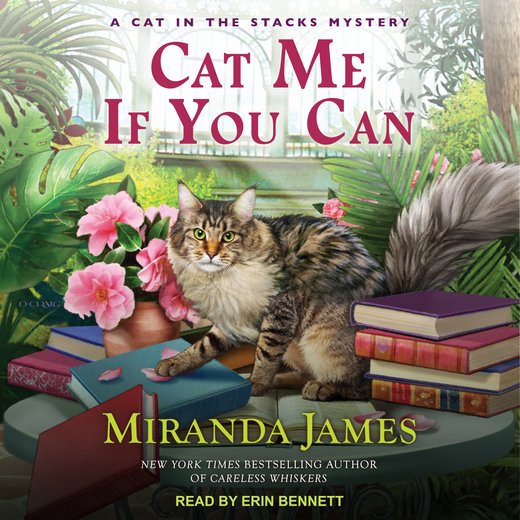 07:57:31
218.6 MB
August 25, 2020
Tantor Audio
2020
Cat Me If You Can
Miranda James
One
"Do you regret saying yes so quickly when I asked you to do this?" I glanced over at Helen Louise Brady, taking my eyes briefly from the highway ahead. I had to be careful because I wasn't used to driving in the mountains.
Helen Louise laughed, and in the backseat, Diesel, my Maine Coon cat, chirped loudly.
"I do admit to having second thoughts, maybe even third," Helen Louise replied, a note of mischief in her tone. "You caught me by surprise that night. I certainly wasn't expecting that question."
"No way you could have," I replied, my attention once again focused on driving. "I hadn't really planned it. You know how I am. Occasionally a thought hits me, and out of my mouth it leaps." I shot her a wry grin.
Helen Louise laughed again. "I do know how you are, and your ability to surprise me is one of the qualities I love about you. Asking me to go along with you on this, especially after popping that other question, came out of the blue."
I had asked Helen Louise to marry me a couple of months ago, and to my delight she had said yes. I had given thought to that question before I posed it to her. There was nothing spontaneous about it. We hadn't yet set the date, though the family knew a wedding was in the offing. Everyone seemed happy about the pending nuptials.
"I hope this isn't pushing you too far outside your comfort zone."
"It's been years since I've done any such thing," Helen Louise said. "Other than make occasional speeches at one of the local clubs or in a church committee, that is, but I used to do it frequently when I was practicing law."
"You feel comfortable with the subject, don't you?" I still felt anxious, worried that I had pressured her, though I had tried hard not to.
"Talking about books I love to other readers?" Helen Louise grinned. "I'm not a librarian doing readers' advisory, my love, but I think I can manage."
"I know you can," I said. "As long as you're sure you're okay with doing this, and I didn't push you into it, I'm happy."
"Then be happy, Charlie. You've never pushed me into doing anything before, and I doubt you will in the future. I'm not all that pushable." Helen Louise tapped my shoulder lightly. "I'm happy to talk about Elizabeth Cadell to the group. Frankly, I'm curious to find out whether anyone in the group is familiar with her work."
"I vaguely remember Cadell from my early public library days. I never read her, though, until you insisted."
"And you liked her."
I ignored the smugness and said simply, "Yes." Cadell's gentle blend of mystery and romance had charmed me, especially when I was in the mood for a cozy read.
Diesel again chirped from behind us, evidently in need of being noticed. Helen Louise twisted herself around to reach back and rub his head. He rewarded her with his deep purr, the source of his name.
"This is my first visit to North Carolina," I said when Helen Louise settled back into her seat and faced forward again. "I've always heard that the Asheville area is beautiful."
"I went there once, probably thirty years ago," Helen Louise replied. "Before I gave up law and headed to Paris to study French cuisine, of course. Had to depose someone who lived there. It is a beautiful area. I love mountains."
"After all those years in Houston, where the only thing close to a hill or a mountain is a freeway overpass," I said, my tone wry, "I am certainly enjoying the different terrain." I grimaced. "Though having to learn to drive in the mountains as we go is a bit nerve-racking."
"You're doing fine," Helen Louise said. "You had no problem during the pass down from the Gatlinburg area into Cherokee." Cherokee, North Carolina, was a town on the reservation of the Eastern Band of the Cherokee Nation, in the western part of the state just over the Tennessee border. We had stopped there briefly to look around before continuing our journey. We both wanted to return to Cherokee after our sojourn in Asheville to explore a bit more.
"Thanks," I said. "Honestly, though, I was so tense coming down, especially with that one guy in the truck going about three miles an hour. I felt like ramming him out of the way."
"I could tell," Helen Louise said, the barest tremor of amusement in her voice. "I'm glad you didn't succumb to temptation." She glanced at her phone and its GPS. "We're not that far from Asheville now. Only about another half hour, maybe forty minutes."
"That's good," I said. "This scenery is spectacular, I must say, but I'm not able to enjoy it as much as I'd like."
"I told you I'd be happy to drive," Helen Louise replied.
"I know, and I appreciate it," I said. "But I do better with heights if I'm at the wheel. Otherwise I can get a little too freaked out."
"Charlie Harris, you are a mess, a psychological mess," Helen Louise said in a mock-tragic tone.
"But you still love me anyway," I replied airily.
"Lord help me, I do." Helen Louise giggled.
A sound suspiciously like a snort came from the backseat. If cats could snort in derision, Diesel would certainly do it.
"That's enough from the peanut gallery," I said.
Diesel warbled in response. He always seemed to know when I was speaking directly to him.
"Ramses wanted to come, too, and he wasn't happy at being left behind." Ramses was a Christmas present from a young friend. He was still too kittenish to trust out of his home environment. Diesel was several years older and well seasoned.
"I'm sure he wasn't," Helen Louise said, "but Azalea will spoil him even more rotten than she already does."
"I've no doubt of that." Azalea Berry, my housekeeper, had become devoted to Ramses after claiming for years that she didn't like cats in the house. She even displayed affection for Diesel, calling him Mr. Cat for some reason known only to herself. Diesel didn't appear to mind.
"This should be a lot of fun," Helen Louise said. "It's nice to get away from the everyday routine for a few days."
"I'm happy to be having this time with you, and neither one of us distracted by work," I said.
"Henry promised to call me only in the case of an extreme emergency," Helen Louise replied. Henry managed Helen Louise's French bistro in Athena, and he was more than capable of running the business and baking up to Helen Louise's Paris-trained standards.
"That's good," I said. "I promise not to look for mysteries anywhere."
Helen Louise laughed. "We'll be talking a lot about mysteries every day, thankfully all fictional. That's enough for a vacation."
"No argument here." In recent years I had found myself involved in several murder investigations, and though I fancied I had a knack for solving them, I wouldn't mind if I didn't encounter another one for quite some time.
We chatted in desultory fashion, with the occasional feline comment thrown in, the rest of the way to Asheville. As soon as the highway exit came in sight, Helen Louise switched into navigator mode. She fed me the directions step by step to the boutique hotel where we would be spending the week.
"That's where we would turn to go to Biltmore." Helen Louise pointed to the left not long after we exited the highway. Biltmore, the Vanderbilt estate, was the major tourist attraction in Asheville. We would view it sometime this week, depending on the schedule set up by Miss An'gel and Miss Dickce Ducote, sponsors for the mystery week. The sisters, the leading lights of Athena society, were dear friends of ours, and it was thanks to their connections we would have a special tour of the Vanderbilt estate.
"Take the next left," Helen Louise said, "and then the first right after that. The hotel should be on the right about a block later."
"Easy enough." A few minutes later, I pulled the car into a circular drive before a lovely redbrick building. According to the information we had found online, the Hindman Hotel was originally built as a home for a local family of prosperous merchants in the late nineteenth century. At some point the family fortunes shifted and the house became the property of an ambitious hotelier. Alas, this building was all that was left of his once hopeful empire.
The Ducote sisters had reserved the entire hotel, with its twenty bedrooms, several of which were luxurious suites, for the week of our gathering. The pictures we saw online promised a beautiful setting for our stay here, and I had selected one of the small suites for Helen Louise, Diesel, and me. Miss An'gel had assured me that Diesel would be welcome at the hotel. I would have left him home otherwise, albeit reluctantly.
I opened my door, got out, then stuck my head in to ask Helen Louise if she wanted to go in with me. Diesel took that as his signal to jump into my vacated seat and then out onto the driveway. "You stay right there, boy," I told him in a stern tone. He warbled.
"You two go on in," Helen Louise said. "I'll stay here."
"Okay." I shut the door and glanced down at my cat. "You stay right by my side, you hear?"
Diesel warbled again, and he stuck by me all the way to the reception desk inside. He looked around the whole time, his nose occasionally quivering as it caught some intriguing scent. When I stopped at the desk, however, he sat by my feet and stayed there.
A young man stepped up to the desk from a door in the back. "Good morning, sir." He gave me a toothsome smile. "How may I assist you?" His name tag read Arthur. Tall, muscular, and handsome, he looked to be in his early twenties.
"Good morning, Arthur." I introduced myself. "I have a reservation for this week."
Arthur nodded. "Yes, Mr. Harris." His fingers tapped at the keyboard, and after a moment he said, "A reservation for yourself and Miss Brady, as well as a cat." He frowned. "There must be some mistake. We don't allow animals unless they are service animals. Is your cat a service animal?"
"No, he is not," I said.
"Then I'm afraid we can't allow him." Arthur frowned.
"I was assured that I would be allowed to bring the cat. Miss An'gel Ducote, who arranged to reserve the whole hotel for the week, told me so."
Arthur swallowed as his eyes grew wide. "Oh yes, Miss Ducote," he said, his voice almost a whisper. "Then there is no problem, Mr. Harris. My apologies." Arthur now became obsequious almost to the point of irritation. He babbled about numerous amenities, then tapped a bell for a bellman, and kept assuring me that I would love the hotel and so on.
I suppressed a grin. I had seen this effect before. Miss An'gel had a forceful personality, and not many, certainly not this youth, could withstand it.
The bellman, a man about forty, appeared, and Arthur directed him to the car. "Suite four," he said. "Thomas will bring your bags up to your suite, and if you'll leave him your keys, he will also park your car for you. Valet service is included."
"Thank you, Thomas," I said. "The keys are in the car along with the other member of our party, my fiancŽe, Helen Louise Brady."
Thomas nodded, his eyes fixed on Diesel, who had approached him to sniff at his shoes. "Does he bite or scratch?" Thomas asked, his voice steady.
"No," I said. "He's friendly."
Thomas rubbed Diesel's head after the cat sniffed his fingers. "He's the biggest cat I've ever seen outside of a zoo."
I explained about the Maine Coon breed, and Thomas nodded. I noticed that Arthur appeared rooted behind the desk, though he was peering over it at my cat.
Thomas left to take care of the bags and the car, and Helen Louise appeared moments later. Arthur escorted us to our suite on the second floor. He opened the door with a flourish and stepped aside, waving us into the room. "I'm sure you'll be very happy with your accommodations."
Diesel preceded us into the suite, and at first glance, I decided Arthur was correct. The suite had beautiful furnishings, reminiscent of a bygone era of luxury. Everything looked perfect.
Except for the body sprawled on the sofa.
Two
Helen Louise bumped into me when I stopped suddenly, aghast at the sight of an apparent corpse on the sofa. The woman lay supine on the sofa, her head turned into the back cushions, her right arm dangling onto the floor.
Oh no, not again, I thought. We've only just arrived, and already . . .
"What's wrong?" Helen Louise asked as she stepped around me. "Oh, good heavens. Is she dead?"
"Dead?" Arthur hurriedly moved past us, accompanied by Diesel. The cat trotted over to sniff at the hand lying on the carpet.
"She's not dead, not even dead drunk," Arthur said in an irritated tone as he bent over the body and gave it a shake. "Cora, wake up. Wake up, right this minute."
Relieved that we hadn't stumbled onto a corpse our first few minutes in Asheville, I watched in fascination as Cora woke slowly from her nap and pushed herself up gingerly into a sitting position. Obviously disoriented, she blinked at Arthur, then at us. Diesel rubbed his head against her legs, and she emitted a squeak of surprise. When she saw the cat, she smiled. She wore a scrap of cloth embroidered with lace on the top of her head, held in place with a large jeweled pin that reminded me of my grandmother's hatpins. The effect was decidedly old-fashioned, and she smoothed it into place with one hand while she continued to stroke Diesel with the other, with mixed results.
"I must apologize for this." Arthur frowned. "Cora has narcolepsy, you see."
"I'm real sorry." Cora's voice had a nasal twang. She got up from the sofa, her expression one of embarrassment. "Sometimes it just comes over me, and I can't help myself."
Helen Louise said, "We certainly understand. I'm sure it must be difficult for you."
Arthur continued to frown. He hissed something at Cora under his breath, and she turned an indignant look on him. "Of course I finished the room, Mr. Smarty Arty. I don't never fall asleep when I'm working. It happens when I stop. You oughta know that by now." She looked at us. "I sat down, only for a minute, you see, and before I knew it I was so tired I passed out like that."
We hope you are enjoying the book so far. To continue reading...
Cat Me If You Can
Miranda James
Copyright © 2021 All Rights Reserved
Also in this series
Also by this author