Book info
Sample
Audiobook
Media
Author updates
Lists
Synopsis
Bailey King, star of TV's Bailey's Amish Sweets, is building her dream candy factory in Harvest, Ohio. But no sooner is the frame of the new building up than she finds the dead body of a surly contractor who has a long list of enemies—including people in the Amish community. To add to the drama, Bailey is being filmed by a crew for her upcoming show . . .



When Bailey's TV producer pitched a reality show about building the factory, Bailey was shocked that the network picked it up. She's not shocked that many of the Amish working on the jobsite refuse to be on camera. However, local community organizer Margot Rawlings is ecstatic—because the filming coincides with Harvest's First Annual Blueberry Bash. Margot believes the media attention will make Harvest the most popular destination in Holmes County. But now, the county may become known for all the wrong reasons . . .



Bailey will have to sift through a crowd of angry villagers and thousands of blueberries to solve the murder, save her new venture, and protect her Amish friends. At the same time, she and her longtime boyfriend, Aiden Brody, are making big decisions about their future together—a future that may be in jeopardy if Bailey is the next pick on a killer's list . . .
Release date: May 23, 2023
Publisher: Kensington Books
Print pages: 304
* BingeBooks earns revenue from qualifying purchases as an Amazon Associate as well as from other retail partners.
Listen to a sample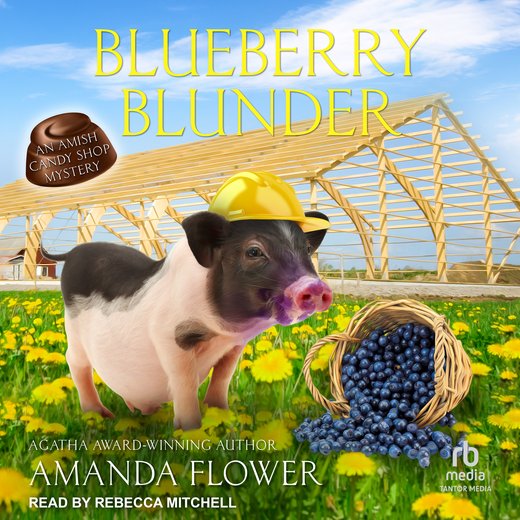 09:18:56
255.88 MB
May 23, 2023
Tantor Audio
2023
Blueberry Blunder
Amanda Flower
My heart was racing faster than the little pig that zoomed around the factory as if his curled tail were on fire.

"Jethro! Jethro!" I shouted at the polka-dotted black-and-white pig, but it was no use. He flew by me in a squealing blur. The sound of his squeals could break glass and grated on my very last nerve.

The blunt ends of Jethro's hooves clicked on the concrete slab like a tap dancer on Broadway, and the sound echoed through the hollow shell of Swissmen Candyworks. The candy factory that I had thought was such a wonderful idea months ago had now turned into a bit of a nightmare. When construction began in winter, I'd been excited and optimistic about the future of the candy-making business I shared with my grandmother, Clara King. Six months later, we were knee-deep into construction and I was beaten down by never-ending bills and delays.

At the moment, I had little more than the foundation and frame to show for my efforts to build the factory and open in record time. The project should have been much further along at this point. I had been told it would be all but done by now, the end of June. How wrong that was. The plan was for the factory to open at the end of August, so we could work out all the kinks in production before the busy holiday season, but since it was already summer and the interior walls still weren't up, it wasn't looking good.

Jethro buzzed around the cavernous space, and then around and around the multilevel scaffolding in the middle of the room as if it were a Maypole. The top platform was easily ten feet long and six feet wide. The Amish framers had used the scaffolding to raise the building's rafters, and even though I'd been told it would be removed a week ago, there it sat. It wasn't hurting anything by being there, I supposed, but it was just one more thing to deal with. I wondered if the workers installing the insulation could use it. Any forward motion at this point would be more than welcome.

"Jethro, stop!" I said, for what felt like the tenth time.

"This is great! This is great! Are you getting this?" Devon Cruz asked her cameraman as she brushed her bright frizzy hair out of her face and adjusted her glasses.

The cameraman, who just went by the name of Z, grunted in reply as he adjusted his large video camera on his shoulder. By the way he moved, it was apparent that he was used to the weight. It didn't hurt that he was six-foot-three either. I supposed the grunt meant that he was in fact "getting it."

I winced. My behavior didn't evoke the professional candy entrepreneur that I wanted to present on the show. "Are you sure this is good for the reality show? I'm not sure it gives the image we are looking for."

"Of course it is. Stuff like this is perfect for when the storyline slows down. Who doesn't want to watch an adorable pig on the screen?" She glanced around the room. "I have to record something. Nothing else is happening here."

She didn't even bother to hide the criticism in her voice.

As if I didn't have enough stress with the build, I had to deal with Devon's small film crew too. Devon and Z were there to capture the construction of the building for a new reality show on Gourmet Television that I very much regretted agreeing to.

I had worked with Gourmet Television and executive producer Linc Baggins, who did in fact live up to his name and look like a hobbit, for several years on my popular cooking show Bailey's Amish Sweets.

The show was inspired by recipes from Swissmen Sweets, the Amish candy shop in Harvest that I ran with my grandmother. She and my grandfather had opened the shop decades ago and lived in an apartment over the shop for the majority of their lives. When my grandfather passed a few years back, I left behind my big city job as chocolatier at world-famous JP Chocolates in New York City and moved to Ohio to help my grandmother.

I'd never thought for a moment when I left New York that the big city would come to Holmes County looking for me, but it had. A few months after my move, I was approached by Linc Baggins to film a candy-making show, and the rest was history.

When he had asked to make a show about the new factory, I'd been hesitant, but I hadn't felt that I could say no. This factory—which would take our family business to a global market—would never have been possible without Bailey's Amish Sweets because of the money and exposure I got from the show. Against my better judgment, I'd agreed, thinking at least I knew what it was like to work with Linc. The issue was that on the first day of filming, Linc hadn't been the one who'd knocked on my door. It'd been Devon, an eager young producer with neon-yellow hair, baggy jeans, and a driving hunger for her big break.

I had nothing against a person wanting to fulfill their dreams; I was certainly a dreamer myself. I wouldn't have been standing in an empty building at the moment if I wasn't a dreamer, but Devon was a tad more aggressive than I would have liked. She wanted to be with me every waking moment to catch every last second of my life. I suspected if it had been an option, she'd record me sleeping at night.

Now that I thought about it, I wondered if I would have better luck convincing the contractors to do their jobs if I was as aggressive as Devon.

"Don't worry. The running pig is B roll," Devon said. "It's always good to have filler when on a shoot. Lots of it ends up on the cutting room floor, but it's better to have too much than too little. When is Wade supposed to show up?"

Wade Farmer was my general contractor on the candy factory build. I had booked him because of the excellent construction work he'd done across the county, his glowing reputation, and to be honest, his low quote, but at this point, I was wondering who had been lying. When the project started, Wade had been on point. He answered my thousands of questions and seemed enthusiastic about the idea of building a factory from the ground up. It was true he could be a little rough around the edges at times, but that was something I expected from an English contractor who had almost solely Amish employees. The Amish could be direct and blunt when it came to work. This was especially true with Amish men, so it was no surprise to me that Wade had taken up that manner of speaking to his men and his clients.

Overall, we had a good working relationship until about three months into the project, when everything started to slow down. He claimed that it was materials delays and issues with employee retention. He told me that if I advanced him more money, he'd be able to continue the work. He claimed that the men he hired wanted higher wages, and the price of materials had skyrocketed.

I hadn't been a business owner for years without the ability to sense when something was off. I told him "no" and that we were going to stick to our original payment agreement. I would allow his next draw when the insulation was put in.

Apparently, it had been the last straw with him because work had come to a screeching halt. During April and May there'd been no movement on the building. Devon and Z had arrived the first week of June in the belief they would be documenting the end of the construction project, only to find we hadn't even made the halfway point yet.

To my credit, I'd warned Linc, the executive producer, that the building wasn't as far along as I'd hoped it would be by June. However, he said he was sending Devon and Z anyway to "capture the drama" or my nervous breakdown, whichever came first.

I touched the dark circles under my eyes. I hadn't slept a wink the night before as I worried over what I would say at this meeting with Wade. I had also worried over the fact he might not even show up, which was the root of the problem. With so many other things going on in the candy shop, my cooking show, and my personal life, I'd let the candy factory project get out of hand. I'd ignored the delays and assumed that Wade would take care of it. He hadn't, and when I finally got around to asking him about it, he avoided my calls, text messages, and countless emails.

I was at the end of my completely frayed rope and felt that he'd left me very few choices as to how I could deal with him.

"He'll be here soon," I said, forcing myself to sound positive even though I wasn't feeling that way in the slightest. Wade was already forty minutes late.

Jethro circled the scaffolding for what seemed like the fiftieth time.

Devon grinned at him. "Have you thought of taking the pig on call?"

"On call?" I asked as Jethro zoomed by.

"Yes, on audition in New York. He really has the potential to get a lot of parts, especially in press and media commercials. You should try it. There's a lot of personality in that little oinker."

She had no idea.

"He's not my pig," I said, praying she wouldn't mention this idea to the pig's real owner, Juliet Brook, the local pastor's wife, and my boyfriend Aiden's mother.

Juliet was already trying to make Jethro a star, and I saw nothing wrong with that. My problem was that Juliet would most likely expect me to take him to auditions. But I couldn't add anything more to my to-do list; it was already overflowing with endless details concerning my candy shop, building the factory, Bailey's Amish Sweets, and now this reality show I regretted.

"What is going on in here?" a man bellowed.

My heart sank. I hated how I cringed every time I heard Wade's gravelly voice. That alone should've told me it was time to cut my losses and find a new general contractor.

Jethro stopped running and flopped over onto the concrete floor as if he'd been shot. Perhaps the little pig thought Wade was a grizzly bear, and playing dead was the best option for survival. I couldn't say I blamed him. Wade did resemble a grizzly with full salt-and-pepper beard, angry growl, and fierce glare.

I scooped up the pig before he recovered and started running around the building again. The last thing I wanted was Jethro misbehaving in front of Wade. The little pig wasn't wearing a hardhat. It was against protocol.

Wade stepped into the factory from what would be the loading area. At this point, there was a concrete ramp there and little else. He was followed by a young blond Amish man, Naz Schlabach. Naz was lanky and seemed to be all arms and legs. He was constantly Wade's shadow on the job, so I wasn't surprised he was there. He held a clipboard and pencil in his hands. Naz smiled at me; Wade did not.

Wade scowled at Devon and Z. He then turned to me. "You think so highly of yourself that you actually believe someone will watch the construction of this building?" He glared at Z. "Get that camera off me."

Z stumbled back a couple of feet, but Devon put her hand on his shoulder to steady him. "Keep recording. He agreed to be part of this project, and he can't change his mind now."

She was right. Wade had signed the release form to be included in filming. He'd done it of his own volition. My guess was because his contracting business would receive free publicity. However, not all press was good. Z had caught on camera dozens of times how rudely Wade had spoken to me and how slow progress had been. I believed anyone who saw the show would think twice before hiring Wade Farmer.

Wade turned his angry expression to me. "Why did you drag me out here this morning? I'm a busy man and have several projects I'm working on. I can't run to an owner's side to coddle them every time they are bellyaching."

As he spoke, I knew this wasn't going to end well, but I decided to give him one more chance. I took a breath. "I'd like an update as to what is going on with the building. There's been no progress in weeks, and the target completion date is August twenty-seventh."

"Construction takes time. Ask anyone. There are always delays. Things go wrong. I could speed up the process if you were willing to put more money into it, but since you're not . . ." He shrugged as if it were my fault.

Naz made a note on his clipboard. I had no idea what he could have been writing. Perhaps, "Client is being a pain."

"We agreed on the estimate and the fund draw schedule. We have a contract. I shouldn't have to put more money into the project than was agreed upon."

He removed his ball cap and used it to wave away my concern. "When was the last time you built anything? This is my area of expertise. If you won't listen to what has to be done, the delays are on you."

I shifted Jethro under my arm and hoped I looked intimidating, even though I was holding a small pig like a football. "I understand delays, but there's been no movement for two months. This project has to be ready for the grand opening in August. We agreed to that. It's also in the contract."

"I agreed to try, but I can't make materials appear out of thin air. There are delays on all building materials now. Your loading dock door, for example, is on a three month back order. There's nothing I can do about it."

"I understand delays, but there must be a way to work around them. Cancel the order and get the garage door from another supplier."

He slapped his cap back on his head. "You don't tell me how to do business. I don't tell you how to make your little candies."

I squeezed Jethro tight.

"Anyway, you should never have scheduled the grand opening until we passed all the rough inspections."

"And when is that going to happen?" I asked.

"I don't know. We have delays," he shot back.

I was no longer trying to be nice. It was time to be firm. "You told me on more than one occasion that eight months was plenty of time. In fact, you said this project would be done in six months, not the eight I requested."

He shrugged as if it was none of his concern. "Things change. You have to be flexible. Not everyone is going to be able to move at the pace you need. Money makes business run better. You're holding back on that, and now you can see what's happened."

"What materials are we missing? If I knew what they were, I could help you look for other sources."

Naz opened his mouth as if he was about to answer my question, but after glancing at Wade, he snapped his mouth closed.

"You don't work in construction. You can't help."

"Making calls, asking if a company has something for sale, is not the same as driving a nail home. I do it all the time for my own business."

"This conversation is insulting," he spat. "I don't have to put up with it. When I say there are material shortages, you need to believe there are. I'm the general contractor."

"I need evidence. Can I see some evidence of these shortages?"

"Excuse me?" His face morphed to bright red.

"If it's really true your suppliers are experiencing such terrible delays, you must have an email, a letter, or something from them telling you so. I'd like to see that evidence."

He opened and closed his mouth as if he could not believe I would have the audacity to question him or to ask for corroboration like that. I couldn't believe I was the only client who had ever asked, especially if something was missing.

"I'm sure other things can be done while you wait for materials. What about the electrician? Can he begin to work on the wiring?" I asked.

"When a building is under construction, the work has to be done in a certain order. I don't expect you to understand. It's why you hired me. If you knew what to do, you could have built this place yourself."

"Burn," I heard Devon whisper.

I shot her a look. Weren't reality television producers supposed to be quiet and just capture the events unfolding in front of them?

I let out a breath. This conversation was going nowhere, and I knew there was only one thing left to do. "I'm sorry, Wade, but this just isn't going to work. I have a firm deadline for this project, and I need to get it done. If you can't make it, I have to find someone else who can. I'm going to have to let you go."

His eyes went wide. "You can't do that."

"I can. I've already called my bank and asked them to put a pause on any more draws to you until they receive my permission. I'm about to call now and tell them to remove your name altogether."

"You can't do that!" He shouted it this time. "We have a contract."

"We do, and it includes a termination clause. The lack of progress is grounds to end the contract. I'm going to have to ask you to leave." I sounded calm and in control, but on the inside I was shaking. Wade was unpredictable, and despite how hard he was to work with, I felt a little bit guilty over firing him. I really hadn't wanted it to come to this. I'd given him every chance I could, but I was out of options. I had to get this building up and running by the end of August.

Devon whispered something to Z, and the cameraman zoomed in on Wade's reaction, which was something to behold. His face flushed from bright red to purple to red again.

I took a couple steps back from him. Had I been alone with him, I might have been frightened. This was one time I was happy Devon and Z were present with their microphone and camera. If Wade tried anything, it would be on tape.

"This is so good," Devon whispered behind me.

"Thank you for what you have done so far on the job, but I need to go in a different direction," I said with finality.

He opened and closed his mouth as if he couldn't believe this was happening. Finally, his voice returned. He shook his fist at me. "I will sue you for breach of contract!"

Naz wrote so furiously on his clipboard that his pencil tip might've broken at any second.

I straightened my spine. "You can try, but I already had an attorney look over the contract, and he said I'm within my rights to let you go. I have plenty of documentation proving there's been no action on the jobsite in weeks. If anything, I could sue you . . ."

He glared at me. The sound of a racing engine filled the docking area, and a moment later we heard a car door slam shut. Margot Rawlings ran into the factory. Her short, curly brown hair bounced as she moved, and she was wearing her summer uniform of jeans and a solid-colored T-shirt. In the winter she switched out the T-shirt for a sweatshirt.

"Bailey! Bailey!" she said in a frazzled voice. "We have a blueberry emergency. A blueberry 911."

Of course, we did.

"We're in the middle of a conversation," Wade snapped at Margot.

She put her hands on her hips. "I'm sorry to interrupt, but I have a blueberry catastrophe on my hands. Bailey King is the only one who can fix it."

I wrinkled my brow. When had I become the go-to for blueberry emergencies? I didn't remember signing up for that. I had never been involved in a blueberry-related incident before. Leave it to Margot to appoint me to such a position. She was the community planner for the village of Harvest, and over the last several years, she'd been on a mission to make Harvest the number one tourist destination in Holmes County, Ohio.

Currently, the popular stops were Berlin with its extensive shopping, Sugarcreek, and Charm, but Harvest was getting there. A lot of our growing popularity was due to the weekend celebrations and events that Margot hosted on the village square, which was just two blocks from the candy factory.

Swissmen Sweets, my candy shop, was across the street from the square, which was the most prized and coveted location in Harvest. Up until the launch of Bailey's Amish Sweets, a lot of the candy shop's success could be credited to location. And my grandparents' delectable confections, of course.

I turned to Wade. "Thank you for coming in for this meeting, Wade, but I think our conversation is over. Please deliver any materials I have already paid for to the jobsite."

"This isn't over." He spat the words. "You will pay for this. This place will never get finished. I'll make sure of that! Let's go, Naz!" He stomped past Margot and out of the building.

Naz gave a little wave and hurried after his boss.

Margot stared after him. "What's his problem?"

I sighed. "I had to let him go. I need to find a new contractor. It just didn't work out."

"That sounds rough." She clapped her hands as if she was ready to move on to another topic. Her topic, of course. "I have something that will take your mind off that. Blueberries."

I shook my head. Margot had the uncanny ability to laser focus on one thing. It was really quite impressive. But she was right; I did want to get my mind off of firing Wade. It wasn't going to be an easy task finding a new contractor to work in the middle of summer. Because Ohio's winters could last from November to April, there was urgency to get things done in the summer, and it was the busiest construction season. I certainly was feeling the pressure. To make matters worse, I had a firm deadline for the August grand opening. It might be prudent to change my opening plans. The only problem was the reality show. I glanced at Devon. I couldn't see her letting me delay the event. However, it was possible neither of us would have any choic. . .
We hope you are enjoying the book so far. To continue reading...
Blueberry Blunder
Amanda Flower
Copyright © 2023 All Rights Reserved
Also in this series
Also by this author