Book info
Sample
Audiobook
Media
Author updates
Lists
Synopsis
The Blue Bloods are back— and their fangs are sharper than ever. After defeating Lucifer and sacrificing the love of her life, Jack, Schuyler wakes up back in New York safe and sound. Only it's not quite the New York she knows, and she's not in her regular body. She looks different and feels different, and so does everyone else. Schuyler soon discovers that in this world, her best friend has a different last name, her parents are both alive and happy, and the love of her life? Not so dead after all. The catch? Jack has no idea who she is. As it turns out, Schuyler is not in her New York. She's not even in her universe. This is an alternate reality. One where Lucifer is alive and well, Blue Bloods are hardly benevolent, and Jack may have turned to the dark side. Just when she thinks all is lost, Schuyler is contacted by a familiar friend—a friend from her world who actually remembers the Schuyler she used to be! But the friend also has a theory, and it's one she doesn't like: that Schuyler was sent here to defeat Lucifer. Again. And that she's the only person in this universe—or any universe—who can defeat him.
Release date: July 26, 2022
Publisher: Disney Hyperion
* BingeBooks earns revenue from qualifying purchases as an Amazon Associate as well as from other retail partners.
Listen to a sample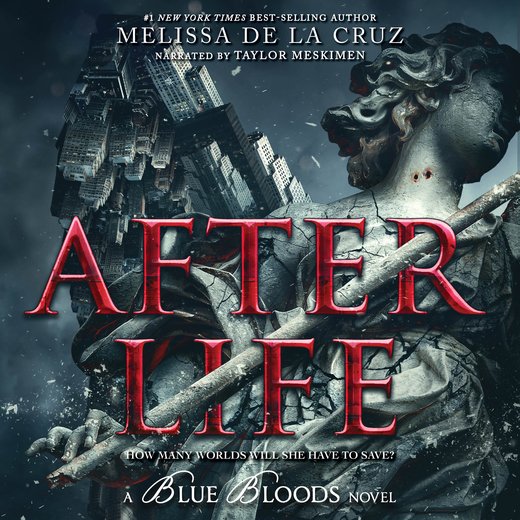 09:33:01
262.32 MB
9781368082273
July 26, 2022
Disney Hyperion
Blue Bloods: After Life
Melissa de la Cruz
ONE
Schuyler
Schuyler Van Alen jolted awake at the first clap of thunder. From flat on her back, she saw the roiling purple clouds churning like a witch's brew. Cold concrete under her back and raindrops on her face. Once, years ago, she'd fallen asleep on the M106 bus coming home from school, and it had taken her a startling moment to realize she'd missed her stop. Now a similar but more desperate panic gripped her heart.
She felt strange, disoriented like everything had turned upside down. Where was she? What was happening? Why was she lying on the street?
Another raindrop splattered on her cheek, and she wiped it away. She pulled herself up. Her head hurt, but her heart hurt more.
Her memories were hazy, but through the blur she felt an excruciating grief. Then it all came rushing back: the wet, bloody frenzy of the fight, the demons attacking as she rallied the Blue Blood vampires to her cause, the wolves arriving at the last moment, the Battle for Heaven at the Gates of Paradise, holding her sword aloft as the Dark Prince loomed before her. . . and. . . She caught her breath.
She remembered what happened like a punch in the gut.
What happened to Jack.
Jack.
She'd been holding the archangel Michael's flaming sword, and she'd been faced with a choice: save Jack Force, the love of her life—or kill Lucifer and save everyone else, ending the angelic war forever. Defeat the Morningstar and lead her people back where they belonged.
How beautiful Jack had looked, even then, at the end, his teeth clenched, his platinum hair plastered to his face. He had caught her gaze and nodded. He knew what she would choose, and he loved her for it. He'd reached out to her with his heart, assuring her that everything was going to be okay. He knew what was coming, and yet—it would all be fine. Always. Always and forever. And then the demon Danel drove his sword into Jack's back, striking him dead before he even hit the ground.
Schuyler gasped at the memory, at the shock of it. She remembered the look of surprise on Lucifer's face when she plunged Michael's sword through his chest in the next moment, the rattle of his final breath leaving his lungs, and the resounding explosion as the very fibers of the universe quaked with his death, the cacophony rivaling the scream that escaped her throat.
Lucifer's words had torn into her soul: You loved him and you let him die.
She had chosen.
The last thing she remembered was collapsing near Jack's body. All she had wanted was to be close to him. She looked into Jack's lovely but unseeing emerald eyes one last time, and then came darkness. But now she was awake.
Where was she?
Thunder rolled overhead, followed by a crack of lightning. Something was wrong.
What had happened? How did she get here? Where was here?
It was as if she was waking up to her immortal memories again. Blue Blood vampires believed themselves to be mortal until their teenage years, when they started to remember their past lives and started to come into their powers.
Headlights washed over her as she sat up to the sound of screeching brakes. A yellow cab rocked to a stop just inches away. The driver leaned out the window, silhouetted against the streetlights. He shook his fist and yelled, "Get out of the damn street!" before peeling off.
On unsteady feet, Schuyler stood up and looked around. The tops of high-rises disappeared into the storm clouds, but she'd have recognized the skyline anywhere. She'd grown up here, after all. New York City. Manhattan.
How was it possible?
She had just been in London. At the Gates of Hell.
One minute she was halfway across the world, the next she was in front of the Brooklyn Bridge. Her head ached with confusion, but she needed to find at least something that could explain what was going on.
A copy of the Sunday Times sat discarded on top of a trash can near an apartment building's front door. The headline stated DUNCAN DOMINATES DISSIDENTS above a black-and-white photo of a striking man with a strong chin and a charming smile standing behind a podium, waving to the camera. She didn't recognize him at all.
More raindrops splattered and darkened the front page; then the storm opened up.
She didn't have any money to take the subway, so she used the newspaper as a makeshift umbrella and began walking toward the only place she knew to go: home. Even though she hadn't been there in so long, it was one place where she knew she belonged.
Schuyler had grown up with Cordelia Van Alen, her maternal grandmother and guardian, in a town house on the Upper West Side.
A stern, severe Blue Blood, Cordelia had never been particularly warm or grandmotherly, but she had been there for Schuyler when the first signs of Schuyler's vampire form began to
manifest: the blue veins on her forearms, the fangs, the craving for human blood—all of it. Cordelia had been a model of guidance.
It was she and her estranged husband, Lawrence, who had first warned of the return of the Silver Bloods. In the end, the demons had killed Cordelia and Lawrence both. Silver Bloods were former Blue Bloods under Lucifer's command who entirely drained other vampires, consuming their blood and immortal lives in order to acquire more power, which ultimately transformed them into deranged creatures unable to distinguish between thousands of years' worth of memories.
Returning home, however empty it would be now that Cordelia had been dead for years, was all Schuyler wanted to do. To collapse into her own bed would be enough.
Usually, Schuyler didn't mind walking in the city, but tonight, the storm seemed determined to slow her down. The duct tape covering the hole on the right toe of her Jack Purcells did nothing to stop the puddles from immediately soaking her socks as she went. In minutes, the newspaper had disintegrated into mush and Schuyler threw it away. It wasn't doing much good anyway. Her black cardigan and long skirt had gotten drenched almost instantly.
The storm raged. The rain was brutally cold, and the wind whipped her long dark hair, stinging her skin. As she walked past the former tenement buildings of the Lower East Side and the East Village's Federal-style town houses, Schuyler began to notice that Manhattan was not what she remembered. Streetlights remained off despite the raging storm, and shadows dominated the landscape.
New York City had gone dark.
The city she'd always known was usually packed to the brim with people. Everywhere she went there would be signs of life, from the cars stuck in traffic on Third Avenue to parents pushing their babies in strollers, from brass-band musicians performing on the sidewalk for change to bike messengers careening through red lights.
However, the longer Schuyler walked, the more everything looked wrong. In one of the most populous cities in the world, there were few cars on the street, and most parking spots were empty. Residences and bodegas alike were boarded up with plywood and smeared with graffiti. Garbage, piled as high as snow mounds, gathered on street corners.
Dozens of identical posters covered a row of boarded-up windows. Upon closer inspection, they revealed themselves as campaign posters saying VOTE FOR ALDRICH BELPHEGOR DUNCAN, the words framing Duncan's head like a halo. It was the same man from the newspaper photo. With his chin raised and his visage depicted against a red, white, and blue background, he looked like a conqueror.
Popular places on her route, like the Strand Bookstore and the Flatiron Building, were closed.
Even Times Square was a ghost town.
The neon billboards, blank and unlit.
The
café chairs and tables, gone.
Restaurants and theaters, chained shut.
No swarms of people lined up at the TKTS booth, no pan-handlers jangling coins in cartons asking for spare change, no costumed characters having a smoke break by the Cohan statue in Duffy Square. It was as if everyone had simply vanished.
Manhattan was so empty that Schuyler was able to walk safely up the middle of Broadway. Everything was eerily still in the torrential downpour.
"What happened here?" she whispered.
New York City wasn't entirely abandoned, however. Every so often a cab or car went speeding down the street, as if wherever they were going, they needed to get there fast. And a handful of times, Schuyler spotted people, small clusters of two or three, who stuck to the edges of buildings, watching her warily. If she got close enough, they would disappear into the shadows.
One thing was clear: Something terrible had happened.
Schuyler quickened her pace. She passed Columbus Circle, skirted Central Park—at least the stinky gingko trees in autumnal bloom hadn't changed—and had broken into a flat-out run by the time she reached Riverside Drive.
The familiar yet imposing shape of home sent a wave of relief through Schuyler's body. The Van Alen domain looked unchanged, just as she remembered it, peeling paint and crumbling roof tiles and all. She climbed the stairs and rang the bell next to the front door. Hattie, the housekeeper, was always scolding her for forgetting her keys, and finally this time Schuyler had a good reason. But the bell wasn't working. She knocked on the giant double doors and waited, shivering uncontrollably by that point and so cold she couldn't feel her fingers anymore.
The latch on the lock clicked and one door creaked open just a crack. A man's eyes peered out at her. Schuyler didn't recognize him, especially since he wore a surgical mask over his mouth and nose.
"Hello?" she said reflexively, despite her confusion.
"You forget my lo mein?" he asked as he glanced at her empty hands.
Schuyler frowned. "What? I live here. . . . This is my house."
The man's eyes widened, startled, and he moved to close the door, barricading himself behind the wrought iron that stood between them.
"If you're not here to deliver my food," he shouted, "get off my property before I call the police!" His voice shook with each word.
"My" property? Schuyler thought, and double-checked the number of the address. She hadn't gotten it wrong; this was her home. And yet she felt that this stranger was telling the truth. There was something in the way his voice cracked and how the whites of his eyes were visible with fear. He wasn't a squatter who had broken in. This was his house.
"I'm warning you," he went on. "I'm giving you to the count of five!. . . Four!"
Before
he could get to three, Schuyler stumbled back, tripped on the step down, caught herself as she spun, and took off down the street. The sound of the door slamming echoed behind her. She kept running.
This wasn't home. Cordelia was still dead. And there was no loving housekeeper and loyal driver, no Hattie, no Julius. No Beauty—Schuyler's beloved bloodhound and guardian angel. No one.
Schuyler's home was gone.
This was not her life. This was not her world. She was alone.
Tears mixed with the rain as it pelted her face.
We hope you are enjoying the book so far. To continue reading...
Blue Bloods: After Life
Melissa de la Cruz
Copyright © 2023 All Rights Reserved
Also in this series
Also by this author