Beard Science
Extortion by the exalted Banana Cake Queen of Green Valley has taken him completely by surprise.
Book info
Sample
Audiobook
Media
Author updates
Lists
Synopsis
Make a deal with the devil and you might get what you want, but will it be what you need?
★★★★★ Goodreads Choice Award Finalist for Best Romance ★★★★★
★★★★★ Amazon Top 10 Romances of 2016 ★★★★★
★★★★★ AAR Top 10 Romances of All Time ★★★★★
From the NEW YORK TIMES, WALL STREET JOURNAL, & USA TODAY bestselling series
Jennifer Sylvester wants one thing, and that one thing is NOT to be Tennessee's reigning Banana Cake Queen. Ever the perpetual good girl and obedient daughter, Jennifer is buckling under the weight of her social media celebrity, her mother's ambitions, and her father's puritanical mandates. Jennifer is officially desperate.
And desperate times call for Cletus Winston.
Cletus Winston is a puzzle wrapped in a mystery covered in conundrum sauce, and now he's in a pickle. Despite being convinced of his own omniscience, extortion by the exalted Banana Cake Queen of Green Valley has taken him completely by surprise. So... what's a maniacal mastermind to do?
Likely, the last thing you expect.
Beard Science is book #3 in the Winston Brothers series. Each book is a standalone, full length (110k words), contemporary romantic comedy novel, and follows the romantic exploits and adventures of one of the six Winston Brothers.
Release date: October 11, 2016
Publisher: Cipher-Naught
Print pages: 424
* BingeBooks earns revenue from qualifying purchases as an Amazon Associate as well as from other retail partners.
Listen to a sample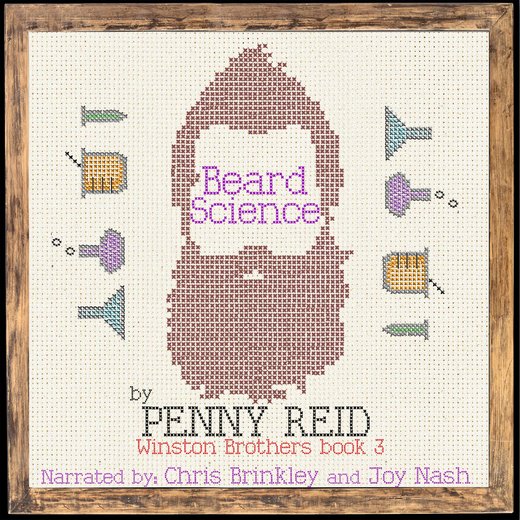 14:12:37
390.31 MB
9781987124262
October 11, 2016
Cipher-Naught
Beard Science
Penny Reid
"So the unwanting soul
sees what's hidden,
and the ever-wanting soul
sees only what it wants."
Lao Tzu
~Jennifer~
On any given day, I woke up and I baked cake.
If I had to bake cake I preferred not to bake in large batches. That's like batch-raising kids, expecting them to think and behave exactly alike, or trying to swim across every lake in East Tennessee at precisely the same time.
I preferred to focus on one cake. Each and every cake had its own personality. If you ignored a cake's personality the cake would ignore you. It'll be a rude, boring cake.
I avoided making rude cake. These days, I avoided making cake, period. But if I had to do it, I made great cake. Fun cake. Cake with big dreams, difficult to ignore. Special cake.
"Are you finished with the Knoxville order yet?" my momma bellowed from the other room. I hadn't heard her come in. Her tone was sharp and edged with panic, and that made me panic. "And, I swear on your grandma Lilly's fried chicken livers, if you're making one cake at a time again, I'm going to wring your neck."
I squared my shoulders, swallowing the rush of nervous saliva in my mouth. Grandma Lilly's fried chicken livers were no joke. Not only were they delicious and a closely guarded family recipe—like most of our infamous family recipes—they could also maim if thrown with enough force and deadly intent.
Employing great care, I placed the last of the cakes—the cakes I'd just baked and decorated one at a time—into a bakery box.
That's right. I'd baked one cake at a time. Did that mean I had to wake up at 0-dark-thirty and start baking? Yes, it did. Did I need to admit as much to my momma? No, I did not. Better to wake up at the butt crack of dawn than sell the good people of Barbern boring cakes.
"I'm just finishing up," I called and jumped into action. If she saw my six-quart mixer she'd have a fit. I stuffed the small-batch bowls and measuring tools into a tall cabinet at the back of the large, industrial kitchen. I returned for the six-quart mixer, hoisting it in my arms and stumbling under its weight.
The click of her heels grew closer and I knew I didn't have time to hide the machine like I wanted, so I lowered it to the ground and covered it with my apron, spinning around just as my momma appeared in the doorway.
"Thank goodness." Her hands were on her hips and she looked perfectly put-together, as was her habit.
Her blonde waves resembled a helmet, and in many ways they were. Her makeup was spotless and as thick as a layer of frosting, and as impervious as a hockey mask. A cloud of Chanel No.5, nail polish, and Aqua Net hair spray arrived three seconds after she did.
The way she made herself up was both weapon and armor.
She assessed the state of the kitchen, lingering for a long moment on the large-batch mixer. It was spotless.
"Where is everyone? Who cleaned all this up?"
"I did." I stepped over the smaller mixer, hoping she wouldn't spot it. "I sent the team home early, since it was just the one special order."
Her eyes cut to mine, vexation written on her features. "What are you wearing?"
I glanced down at myself, having forgotten what I had on. "Uh, overalls."
"Oh, Jennifer!" She said my name low and rough, as though it were a swear word. "A lady does not wear overalls."
"Nancy Danvish wears overalls." Nancy Danvish supplied our eggs and milk; her hens and cows were very happy, therefore they made the best eggs and milk. Happy eggs and milk make happy cakes.
"Nancy Danvish is a farmer."
"But she's still a lady."
"That's debatable . . ." my mother grumbled, almost rolling her eyes before catching herself. "And, goodness, your hair. And your face, ugh." Under her breath she added, "You know I wonder what planet you're from; Lord knows it ain't this one."
I pressed my lips together so I wouldn't say, "Thank you."
I tried my best to pretend unkind words were actually just erroneously expressed compliments, as it just made everything nicer for everybody. For example, my momma's latest comment could be rephrased to, You're cosmically stellar.
This habit of purposefully misunderstanding insults has served me well over the course of my life, around town, and at home. I'm sure it would have served me well if I'd gone to public school, but my momma homeschooled us kids instead.
For example, when Rhea Mathis called me "stranger than a vegetarian at a barbeque" during junior choir practice at church, I decided it was her own special way of saying unique. And when Timothy King called me a frigid prude outside the jam session when I was fifteen, I thanked him for praising my coolness and modesty. And when two of my fellow baking finalists at the state fair told me I was a no-talent hack, I smiled and accepted their kind remarks about my work ethic.
"Hello? Earth to Jennifer. Stop cotton picking and get a move on."
"What?"
My momma had retrieved her phone with one hand and was snapping at me with the other. "You have an appointment at the station with Sheriff James."
"I do?" This was news to me.
"Yes. You do. I ran into him at the Piggly Wiggly parking lot this morning and asked how he and his deputies enjoyed those cupcakes we sent over. And, of course, he couldn't stop talking about how amazing they were. One thing led to another and he agreed to a video testimonial."
"Oh . . ." I nodded faintly, my throat suddenly dry. I attempted a smile.
"What is wrong with your face? Do you have tummy trouble?"
"No." I tried harder to paste on a convincing smile. "But, Momma, you know I don't like doing those recordings."
"Speak up, Jennifer. You're low talking again. You know I don't like it when you low-talk."
I lifted my voice. "I don't like doing the recordings. I get nervous and the comments—"
"Don't read the mean comments, baby. There's always going to be nasty people, bless their hearts." She crossed to me and placed her hands on my shoulders, giving me a gentle shake. "Focus on how well the lodge is doing since we launched the social media campaign last year. Focus on how business is booming. Focus on all the money we're making. Focus on how famous and admired you are all around the world. You're a star."
"But it's so public. And people in town—"
"People in town don't matter. You and I, we're meant for bigger things. Come on now, you know you look pretty in those videos, and our subscribers eat it up. The camera loves your face, when you're wearing your makeup and don't look like a farmer, of course. Go on and change, there's a good girl. I told the sheriff you'd be there this afternoon."
"But can't you—"
"Jennifer!" My mother's fingers dug into my arms and she closed her eyes for a long moment before speaking. "You are trying my patience, baby girl. Do you know how many things I need to do today? Do I need to remind you we have investors coming for the lodge at the end of this month? I need you, Jennifer. You are the key. You fail me, everything fails. With your brother gone . . ." My mother's chin quivered and she glanced up at the ceiling, tears shimmering in her eyes.
Immediately, I was awash with regret for causing her distress. I knew how she struggled with my brother's defiance. I knew how hurt she had been—and continued to be—when Isaac cut himself out of our lives. My father seemed to get over the loss quickly, but my momma still grieved. My heart ached just thinking about how I missed my brother; I couldn't imagine how my parents felt.
She exhaled a shaky breath and sniffled, bringing her eyes back to mine. "Just, please, Jenny, please be a help to me. Please don't fail me."
I swallowed the last of my protests and rearranged my features such that my clenched jaw resembled a closed-mouth smile.
Her sigh was laced with relief and she cupped my face, giving me a cherishing smile. "Good, good. Go get dressed, get a video of you and the sheriff. Afterward you can spend the rest of the day however you like." Behind her mask of makeup I perceived her eyes soften with concern. "What time did you get up? You look tired."
"I'm fine."
She inspected me for a moment longer with maternal eyes before her watch buzzed; she glanced at it, huffed, and released my shoulders. "I have to get this call. Go see the sheriff. Perhaps write a letter to one of those pen pals of yours, or take a nap."
Maybe for the ten millionth time in my life I said, "Okay, Momma."
But she wasn't listening, she'd already brought the phone to her ear. "Hello? Hello, yes, this is Diane Donner-Sylvester. Yes, thank you for calling . . ." She left the kitchen, her voice diminishing along with the click of her heels.
Like the good girl I was, I did as I was told.
* * *
I'm a people watcher.
Partly because people, the things they do and say when they think no one is watching, are truly odd. But mostly, I'm a people watcher because hardly anyone in town talks to me about anything but cake.
"It's the Banana Cake Queen," Flo McClure announced in a flat voice. She was manning—er, womanning—the front desk of the police station and her eyes barely moved from the computer screen as I approached. Not looking at me or waiting for me to speak, Flo McClure instructed, "Take a seat, gorgeous. The sheriff is expecting you, but it'll be a few minutes."
"Thank you, Miss McClure."
The older woman's pine-bark brown eyes crinkled and her polite smile widened just a touch, letting me know she'd heard me but was too busy or disinclined to engage in small talk.
I live in a small town and everybody knows everybody. As an example, Flo—or Florence—McClure is known as the stubborn spinster sister to Carter McClure, the fire chief. People said she never married despite her string of would-be suitors because she didn't want to give up her independence.
I suspected it wasn't her independence she was afraid of losing. After watching her and Nancy Danvish engage in a furtive yet passionate argument at a Fourth of July parade five years ago, my money was on Flo McClure being firmly in the closet.
Anyway, everybody knows everybody, and everybody knows me. I'm the Banana Cake Queen. I make other kinds of cake, but I'm famous for my banana cake. I know this as fact because, when I'm introduced, it's usually like this:
"This is Jennifer Sylvester. You know, the Banana Cake Queen? She's famous for her banana cake."
But I digress.
I turned from Flo McClure and found a seat in the corner of the small lobby of the police station, setting the wrapped zucchini walnut bread I'd brought on my lap. I crossed my legs at the ankles and waited.
I liked the sheriff. He was nice. Despite being a man of few words, he asked after my well-being. His smiles were genuine and kind. I liked that he was a good father and husband. And he cared about the folks under his jurisdiction. He was a good person, so I made him baked goods whenever I knew we'd be crossing paths.
I spent the next fifteen minutes people watching, avoiding the social media notifications on my phone. I wasn't in charge of the accounts, but I still received all the alerts.
Hannah Townsend walked in, stormed to the desk, and argued with Flo about a speeding ticket.
A few moments later, the King brothers exited the big door leading to the main offices, whispering in hushed tones. I stiffened, bracing for an insult or an evocative proposition. It never came.
They looked ragged and maybe a little scared. Luckily, the pair didn't even notice me as they bolted for the exit, paying no mind to Flo and Hannah either.
I wasn't surprised to see the King brothers at the station. As low-ranking members of the Iron Wraiths—the biggest and most troublesome of the local motorcycle gangs—they were always in and out of jail. Ever since I was a teenager, when they spotted me on my own, I could count on aggressively suggestive remarks.
Not today, apparently. I exhaled my relief.
I turned my attention back to Hannah and Flo, their interaction becoming friendlier as the conversation turned to the subject of Hannah's momma.
Hannah's momma had been in a car accident several years ago and Hannah, even though she'd been just seventeen at the time, took care of her. Hannah had been working two jobs since: as a hostess at the local steak house and at the Payton Mills. About two years ago, she'd quit her job at the mill in favor of becoming a stripper at the Pink Pony.
The desk phone rang and Flo held up her finger as she brought the receiver to her ear. "Just a second, Hannah. Let me get this. Yes?" The older woman's eyes darted to me and away as she nodded, saying, "Yep, she's here."
I straightened in my seat because Hannah glanced at me. Her eyes flickered over my form and she stopped just short of rolling her eyes before looking away.
I didn't blame Hannah. I really didn't. We were the same age and in choir together growing up. I understood her scorn.
Outwardly, I was ridiculous: big, wavy bleached-blonde hair; acrylic nails always painted pink; high heels. My momma had me in full makeup (inclusive of false eyelashes) at sixteen, younger if you counted the pageants I'd participated in as a child. In public I was always attired in yellow or green—my signature colors since the age of four—and I always wore a knee-length dress and pearls.
I owned one pair of jeans and a pair of overalls, but had been forbidden long ago from stepping outside the house in anything other than Sunday garb. Momma said I was the face of the business, and pedestrian attire was bad for business.
I was a superficial caricature of a southern stereotype, but our customers loved it. They even hired me for parties. I'd stand behind the dessert table and serve cake with a bright smile and shaking hands. Nobody ever noticed my hands.
"Okay, I'll send her back." Flo nodded again, her gaze cutting to mine as she hung up the phone and flicked her wrist toward the door to the main offices. "The sheriff is ready for you."
"Thank you, ma'am."
She didn't respond, instead turning her attention back to Hannah. "Did you see that news crew up at the Winston house?"
"Yes, ma'am, I did," Hannah responded on a whisper easy to overhear. "It's on account of Jethro Winston getting married to that movie star."
Jethro Winston and Sienna Diaz, the Hollywood actress, had met at the beginning of the summer and subsequently become engaged two months ago. He was the oldest of the seven Winston siblings. After Jethro came Billy, next was Cletus, Ashley (the only girl), the twins—Beau and Duane—then Roscoe the youngest. Roscoe was my age and, if I'd attended school, we would have been in the same grade.
"Jethro already marry that lady?"
"No, not yet." Hannah leaned farther over the desk and lowered her voice. "But the rumor is she's already pregnant."
My heart twisted with envy.
It's not that I was jealous of Ms. Diaz. Not at all. I'd had no designs on Jethro Winston. Though he'd seemed nice enough to me, my father always said Jethro was the wrong sort and that I should avoid him.
And by wrong sort, my father meant Jethro wasn't ever going to be wealthy. A man was nothing to my father if he wasn't rich or had the potential for notoriety.
The truth was, I was jealous of Sienna and Jethro. If the rumors were true, despite meeting just five months ago, they were starting a family. They were having a baby, a little perfect person to love and take care of and cuddle and hold.
More than anything, I wanted that. I wanted a family of my own.
I crossed to the big door, my heels clicking on the linoleum, leaving the two women to their conversation while I fought to subdue my envy. I turned the knob and stepped through to the back office, scanning the space for Sheriff James. It was a busy place today, much busier than typical, and much bigger than what people might expect from a small town station.
The state of Tennessee mandates that each county elect a sheriff to serve for four years. Sheriffs are public servants with full police authority in a particular county. But if the cities have their own police departments, Tennessee sheriffs (and their deputies) usually keep their patrol limited to unincorporated areas of their counties.
Not so with Sheriff James. He and his deputies patrolled the entire county, were responsible for three incorporated cities within the boundaries of the county, plus had shared jurisdiction with the federal warden for the national park on the Tennessee side. He had a big job and a large team.
The administrative staff were huddled around one desk, whispering anxiously. Usually, the majority of the officers were out on the road, on patrol. Not today. I spotted at least five deputies milling about impatiently. The workplace held an unmistakable air of waiting.
"Jennifer Sylvester, always a pleasure."
I turned from the peppering of uniforms and found the sheriff walking toward me, a friendly and fatherly grin on his features.
"Sheriff James. I brought you zucchini bread." I held it out between us, pleased when his grin grew into a beaming smile.
"You didn't have to do that," he said, though he took the foil-wrapped offering readily enough. "Your momma said something about me recording a statement about your cakes?"
"Yes, sir. That's right. She'd like me to record you talking about the cupcakes we sent over, if you don't mind."
"I see. Are you going to be in it, too?"
I shook my head, even though I knew my momma wanted me to be in the video. But I'd come up with an alternate plan. "No, sir. I'll record an introduction later, but we'll get your testimonial now. I won't be in the shot with you."
He nodded, bending closer as I spoke as though trying to hear me better. "Ah, okay. Sounds fine. But let's go back to my office. It'll be quieter."
"Okay—"
At that moment, the door behind me burst open followed by a loud whoop. I turned just as Jackson James appeared, putting his hands on my hips and squeezing past.
"Excuse me, Jenn," the deputy said with a wink, stepping between his father and me.
Jackson James was the only son of Sheriff James and his wife, Janet. They also had a daughter named Jessica who, until just recently, had been a mathematics teacher at the high school where my father was the principal.
See? Small town. Everybody knows everybody.
Jackson waved a large manila envelope excitedly. "We got it, sir. I have it right here."
"That was fast." The sheriff's eyes lit and he traded his son the zucchini bread for the envelope, hastily opening it as the other members of the sheriff's office crowded close. I took a step back and to the side, not wanting to be in the way.
"Judge Payton rushed it through."
"We just got the evidence this morning."
"He said the photographs painted a clear picture and he was honored to be the one to sign the warrant." Jackson flicked the envelope with his fingers and swapped smiles with the other deputies. "So I guess the only question remaining is, who gets to arrest the bastard?"
The sheriff sighed, shaking his head like he couldn't believe what he was reading. "Call for backup from Merryville before you set out."
"I think the six of us can handle one scrawny biker," Jackson scoffed, but kept his tone respectful. "Plus Dale and Evans are already en route."
Dale and Evans were two other deputies, not currently at the station. At least, not as far as I could see. I took a moment to glance around at those present.
My heart stopped. Skipped. Stuttered.
I took a reflexive step backward. A twisting, uncomfortable heat crawled up my chest and bottomed out my stomach. I spotted a bearded man separate from the crowd, tinkering with a machine. It was a beard I'd recognize anywhere.
Cletus Winston, the third Winston brother.
As usual, he didn't see me.
When folks in town dismissed me, it didn't bother me much. Very few were actually petty, and most of the petty ones were girls my age that I'd grown up with, or their mothers. They'd affix fake smiles in front of my face and rolled their eyes at my back. I was used to this.
Cletus was different. He didn't see me at all. It was as though I didn't register on his radar, not even a blip, and this had been true my entire life. I was invisible to him.
But that was fine by me.
Cletus Winston was the sneakiest, most manipulative, most powerful, and—as far as I was concerned—the most dangerous man in East Tennessee. Problem was, virtually no one else seemed to realize it. Everyone in town thought he was odd, but mostly harmless.
Meanwhile, he blackmailed them into doing what he wanted, all the while tricking people into thinking it was their idea.
I knew this because I was a people watcher.
Don't get me wrong, watching Cletus was no chore. Was he handsome? Yes, he most certainly was. Like all the Winston boys, he was a looker.
Maybe, to most people, he wasn't nearly as favored as his other brothers with their tidy beards, lean builds, and classic good looks. At first glance you might overlook him because, with Cletus, it was necessary to probe beyond the surface to see the potential underneath.
He was shorter and stockier than his siblings, his frame thicker and more muscular. His beard was bushy and long, long enough to braid, like one of those Vikings. The man evidently didn't subscribe to beard maintenance other than brushing it, oiling it, and letting it grow.
His streaked chestnut hair was long, curly in some spots, wavy in others. It stuck out in all directions, several strands bleached blond by the sun. The locks covered his ears but didn't quite meet the back of his neck due to its constant state of skewedness. I thought, on anyone else, it would look adorable.
Before I'd realized how cold-blooded he was, I'd itched to tame his wild mane and trim his beard—just a little. Just enough to reveal the handsome man under all that chaos. I'd often wondered how much of his disorderly exterior was purposeful, meant to give him an innocuous, unkempt appearance. Obviously his misdirection worked because folks were fooled by it.
However, his eyes should have given him away. His eyes should have made it obvious to anyone really looking that he wasn't odd. He was maniacally clever. They were green or hazel—I wasn't sure which since he never met my gaze and hardly ever stood still for any period of time when I was close by—and were rimmed by ridiculously thick lashes. His lashes were so very pretty.
I think his pretty lashes confused people and made them overlook how his eyes were lit with an unnatural intelligence. He didn't miss much. And he was able to mask his expression and thoughts, misdirect others, because of how he used his eyes.
Regardless, maniacal intelligence and scruffy misdirection notwithstanding, Cletus Winston was remarkably attractive.
Yep. Definitely a looker.
But I didn't care much about that. I wasn't interested in lookers. The King brothers were lookers, too. Just because a person was a looker doesn't mean they're not a psychopath.
At present, Cletus's features were arranged in affable indifference, but his eyes told a different story. They were sharp and attentive. It was clear to me he was splitting his attention between the gathering of officers and the machine in front of him, eavesdropping though appearing oblivious.
While he watched them, I watched him. As my grandmother always used to say, "Best to keep an eye on the viper in a barn full of mice."
Especially if you're a mouse.
"Well, I guess y'all better get going," the sheriff said with reluctance, worry in his voice.
The officers started to move, the air ripe with anticipation as they traded excited glances. Deputy Chris Williams turned, stepping right in front of me then reeling back a bit. He gave me a big smile.
"Oh. Hello, Jenn. Didn't see you there."
I nodded at his greeting, my attention moving to Cletus. The third Winston wasn't looking at Chris and me, thank goodness.
Curious, I leaned forward and whispered, "Where y'all going?"
He puffed out his chest proudly. "Oh, no place special. Just off to arrest Razor, aka president of the Iron Wraiths MC."
My lips parted in surprise and I straightened. "Oh my."
If Cletus Winston was the most dangerous man in East Tennessee, Razor Blade St. Claire was the second. The main difference being Cletus kept clandestine control over his power, while Razor was brazen about most everything.
As the president of the Iron Wraiths motorcycle club, he'd skirted the law for years, always just out of reach. It was generally known and accepted that he was a murderer. And a drug trafficker. And a perpetrator of plenty other sordid crimes, each more unpleasant than the last.
Chris Williams's grin widened as he walked past. "That's right. The big dog."
The big dog . . . well, that was one way to put it.
A few of the deputies tipped their heads at me as they passed, but most appeared to be lost to the excitement of bringing in the head of the Iron Wraiths. Once they cleared, Sheriff James stepped forward and gave me a flat, distracted smile. He was still holding the envelope. His worry was completely understandable.
"Do you want to do this some other time?" I suggested, not wanting to impose when his mind was on more important matters.
"No, no. It's fine. In fact, I'm looking forward to it." He turned to Marion Davis, one of the administrative staff milling about, and waved her over. "Marion, will you take this to George in evidence for me?"
"Yes, sir." She smiled brightly, regarding the unsealed envelope with reverence.
The sheriff hesitated for a beat, then passed it over to her waiting hands.
"Come this way." He grabbed the foil-wrapped zucchini bread from where his son had left it and motioned me forward. I followed, casting furtive glances at Cletus Winston. Cletus's attention was on the sheriff. And then it was on the mail machine. And then it was on Marion Davis. And then it was on the sheriff again.
He was up to something and I didn't want to know what.
Once we were in the sheriff's office, I pushed thoughts of Clandestine Cletus from my mind and prepped the sheriff for the video. I set up the shot, wanting to place his face on one side of the frame so the viewer would see the station beyond.
One of the only things I liked about doing the videos and Instagram promotions were the fundamentals of photography and videography I was learning as a byproduct. Aesthetically, setting the subject to one side was more visually appealing than just a man's face in the center of the screen.
"Okay, are you ready?" I gave him an encouraging smile.
He returned it, crossing his arms. He uncrossed them and frowned. "What should I do with my arms?"
My grin widened. "Hold your right wrist with your left hand, in front of you. Yes, just like that. It looks very natural."
He nodded, like this was serious business, and gave me the sign to start recording. So I did.
The sheriff was a natural, which was surprising since he was typically a man of few words. Yet he had no problem talking about my cupcakes, and that warmed my heart. I had what I needed, so I didn't make him record a second testimonial.
We finished up. I left soon thereafter, noticing with relief that Cletus Winston was also gone. He posed no threat to me, but he still made me nervous. No one person should be allowed to be that pathologically intelligent and oppressively handsome.
After the station, I stopped by the Piggly Wiggly. I picked up my weekly crate of bananas and delivered them to the bakery. It was getting late and I was growing tired, so I carried the crate to the back cabinet of the industrial kitchen.
And that's when I remembered I'd stuck my small-batch baking implements in the cabinet. There was nothing for it; I needed to clean up before I could go home and crawl into bed.
But I was uncomfortable. My feet hurt and the dress I wore hurt my ribs. It had one of those built-in bone bustiers, which made my shape look really nice but also served as a torture device. My mother had confiscated my overalls earlier and everyone else was long gone.
So I stripped off my dress, kicked off my shoes, peeled off my false eyelashes, tied on an apron, and did the dishes in my undies and garter belt. Many might consider cleaning while nearly naked as odd behavior, but I did it often. I was frequently alone after dark (or before dawn) at the bakery.
I was just finishing up, washing the last of the bowls, when my phone rang. It was my mother, likely wondering where I was.
I used my pinky finger to answer the call because my hands were wet. "Hey, Momma. I'm just finishing up at the bakery."
"Are you working on those popovers for tomorrow? Already?"
I fought a groan. I'd forgotten about the big breakfast order. "Uh, no. Not yet. I'm . . . trying out a new recipe." I grimaced at the lie. I didn't like lying. It made me feel hot and sweaty, like I was walking on rocks and eating a chili pepper.
"Oh, that's good. You can tell me all about it later. I'm calling about that video, the one with the sheriff?"
"Yes, I—"
"Well, you're going to have to do it next week. It seems there's been a big to-do at the station."
I flipped off the faucet. Whenever my momma said the phrase big to-do, it meant she was about to gossip.
"Uh, what do you mean?"
"I guess some important evidence has gone missing, and Sheriff James, the poor man, is furious. Dolly Payton told me that the judge said he'd signed a warrant and everything for that wretched biker, Laser or something."
"Razor. Razor St. Claire." My heart jumped to my throat.
"That's the one, terrible man. Anyway, Dolly called the station to congratulate the sheriff and see if his boys were interested in a trifle to celebrate and, what do you think happened?"
"I . . . I don't know."
"That Flo McClure sassed her on the phone. Dolly finally got ahold of one of the back office secretaries and she told her that the evidence had gone missing and that the place was in an uproar. And well, you know . . ."
My momma was still talking, but I was only half listening because the hairs on the back of my neck were standing straight up. I dried my hands and tapped the touch screen of my phone, navigating away from the call interface as my mother continued her story while on speaker. I clicked on the video I'd recorded earlier that day and scrolled through the frames without pressing play.
My mouth fell open and my heart stopped and my palms started to sweat.
I knew what happened to the evidence—or rather, who happened to the evidence. I'd recorded the whole thing.
We hope you are enjoying the book so far. To continue reading...
Beard Science
Penny Reid
Copyright © 2023 All Rights Reserved
Also in this series
Also by this author