Ballistic Kiss
Available in:
eBook
Paperback
Audiobook
Hardcover
Book info
Sample
Audiobook
Media
Author updates
Lists
Synopsis
"I loved where Kadrey started with this series, but I love where he's going even more."-- NYT Bestselling author Cory Doctorow
Sandman Slim is back in Los Angeles and kicking more supernatural ass in this inventive, high-octane page-turner—the next to last volume in the popular and acclaimed fantasy adventure series from New York Times bestselling author Richard Kadrey.
As the battle between warring angels continues, James Stark is focused on seemingly simpler matters now that he's resurfaced on earth: an invasion of ghosts. L.A.'s Little Cairo neighborhood has suddenly been overrun by violent spirits, and Thomas Abbott knows if anyone can figure out why they've appeared—and how to get rid of them—it's Stark.
Armed with the Room of Thirteen Doors, Stark quickly learns that the answer may reach back to the 1970s and the unsolved murder of small-time actor, Chris Stein. As he begins to dig into the cold case, another area of Stark's life takes an unexpected turn when he becomes entangled with Janet, a woman he saved during the High Plains Drifter zombie attack.
Janet's brush with the living dead hasn't quenched her thirst for danger. She's an adrenaline junkie and a member of The Zero Lodge—a club that promises "there's zero chance you'll get out alive." The Lodge attracts thrill seekers who flock to perilous events such as night walks through the LA Zoo—with its deadliest animals uncaged. Joining the lodge to be with Janet, Stark makes a pair of crucial discoveries that could decide the fate of LA and Heaven itself.
To prevent the Little Cairo haunting from consuming the city, Stark must piece together the connections between the Lodge and a missing angel last seen in a Hollywood porn palace. But while he may dispatch the ghosts, Stark knows that without his help, the bloody war in Heaven could rage forever.
Release date: June 22, 2021
Publisher: Harper Voyager
Print pages: 368
* BingeBooks earns revenue from qualifying purchases as an Amazon Associate as well as from other retail partners.
Listen to a sample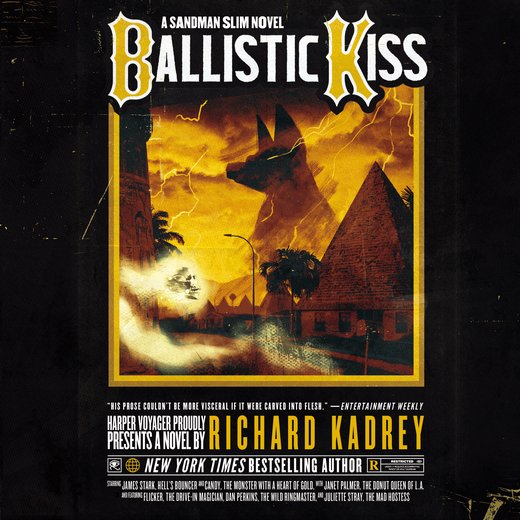 09:12:00
252.7 MB
9780063012653
August 25, 2020
HarperCollins
Ballistic Kiss
Richard Kadrey
When you're trying to hold off a hellbeast you better have something bigger than a meatball sub. Especially if it happens to be your only weapon.
I mean, this isn't even a good sandwich. A good meatball sub should be hard to hold. A crunchy, saucy, meat-filled football. This thing is skinny as a ferret. Probably from a chain restaurant in some Fresno mall. Only I don't go to malls. Or, for that matter, Fresno. And, seriously, the only people who'd buy this crap hate themselves, and I'm merely into self-loathing.
The difference is subtle but important.
Anyway, back to the hellbeast.
A huge blob of bruised purple skin and teeth like rotary saws. Spidery legs waving like they're trying to hail all the cabs in New York. Only the legs have teeth too. Shouldn't a hellbeast have teeth or scary spider legs? Both just seems rude.
Speaking of killing, that's what's about to happen to me.
I look around for something sharper than a sandwich, but there isn't anything. Maybe I could throw some hoodoo at the fucker to at least slow it down, but I can't think of any. Mind's a total blank. So, I rip the meatball sub in half and throw each piece into each nostril on its wobbly snout. It rears back and shudders. Stops coming after me. This is my cue to run like hell to the nearest exit.
Only there aren't any. I can't even climb up out of the arena because it's one big fucking dome.
What have I gotten myself into? How did I end up here, and more important, how do I get out with no doors and no hoodoo?
As I sprint, I sort of half-remember that I used to be good at hoodoo on the fly. Like, maybe I don't have to do anything complicated, like a hex. Just bark the words and something will happen. What have I got to lose?
I turn and point a defiant finger at the blob's face. A mix of English and Hellion and maybe some kind of Narnia stuff I make up as I go.
Nothing.
Zip.
Then a light flickers in the air. A flame that spreads out from a pinpoint to the size of a dinner plate. Where it stops. And falls onto the ground.
That was embarrassing.
I go back to fleeing.
Run about a dozen steps, trip, and fall flat on my face. That's sure to scare the beast off. Real tough-guy stuff, coming up with a mouthful of dirt. The good news is that what I tripped over is the top of a femur. I drag it out of the arena floor and wait for the hellbeast like a fucking caveman. A cracked-out Fred Flintstone.
Finally, the spidery bastard sneezes out both halves of the sandwich. It looks as pissed as a big purple blob can and charges me. From what I can see, it only has one big red-rimmed eye in its wobbly head. As much as I want to run, I stand my ground until it's close enough.
Then I throw the femur as hard as I can.
It flies end over end and gouges right through the hellbeast's eye. Yellowish jelly sprays down its face and when it howls, the ground shakes. That's my cue—I start running again. There has to be a way out of here. But as I run around the edges of the arena, pounding on the walls, all I feel is well-worn bricks. That means someone used hoodoo to get us in here. Great. If I could fucking remember some, I could hoodoo my way out. I try to think. Really think. But all I come up with is Clint Eastwood in The Good, the Bad and the Ugly saying, "God is not on our side because he hates idiots."
The blob's shadow falls over me. Even though it's blind, its big nose must make it easy to track prey by smell. Then I remember something.
Shadows. Walking through shadows. I can do that. How? The Room of Thirteen Doors. Yes! It's all coming back to me. I have a way out of this demonic shit pit.
Then the hellbeast wraps its legs around me and rips me in half.
I wake up screaming. My right hand hurts and my knuckles are bleeding.
Perfect. Another B-movie dream sequence to start the day. Why can't I ever win in these things? Instead, it's always some Jacob's Ladder outtake, and I want to talk to the director because the script needs a rewrite.
Glancing around, I see that I've punched a hole in the bedroom wall. That's going to take some spackle. But who am I kidding? I break things. I don't fix them. On the other hand, the hole is annoying and a reminder of the nightmare. I grab one of the paperbacks on the floor and shove it into the hole. The Black Dahlia by James Ellroy. There. Good as new.
I've sweat through the sheets. No going back to sleep now, so I get up and wander into the kitchen to make some coffee.
It's a nice place that I'm in these days. Big. The décor is hilarious. There's orange shag carpet and an avocado-green sofa. Lots of warm early seventies colors. I keep expecting Mike and Carol Brady to wander in to have a key party.
The rest of the place is even stranger. The walls are circular and the furniture is round to fit against it. It's a lot like living in a flying saucer. Thomas Abbot—big boss of the whole California Sub Rosa scene—loaned it to me. I don't know if it was pity or a bribe or if he's just being a nice guy, but I sure as hell need it right
now. I used to live above Maximum Overdrive, the last video rental place in L.A. Now I don't. It's a long dull story that has to do with my dying for a while and people moving on with their lives. I don't want to get into all that now—right now I need coffee. And maybe food. When did I eat last? I lose track of these things on my own.
While the coffee brews, I get some water and swallow a handful of pills. PTSD drugs from my friend Allegra. They're supposed to help with the nightmares and to keep my mood straight when I'm up and walking around. I don't know if they're doing anything. I don't feel any different. Any more relaxed or "less hypervigilant." I'm not sure what's so wrong with being hypervigilant. It kept me alive for twelve years in Hell and a year and a half in L.A. But I made a deal with Allegra, and she promised that they'd help me feel more human and get back into the world. I wouldn't mind that part.
The burbling sound of the coffeemaker is soothing after the dream. I wash the blood off my knuckles, but they're pretty much fine. I'm a fast healer.
My Colt .45 is spread in pieces on the kitchen counter. There are patches, cleaning solvent, gun oil, and a brush nearby. I run the brush back and forth through the barrel, trying not to think about anything but the smells and the feel of the metal in my hand. It doesn't work. The inside of my head is a mess.
I felt all right a couple of weeks ago. No more monsters. No more Wormwood. But I guess reality catches up with everyone. Two or maybe three weeks
ago I got back from Hell after being stuck there for a year. Just long enough for people to forget about you.
Candy is gone. Half-gone anyway, living with her girlfriend Alessa in our old place above Max Overdrive. The store is doing great without me. Vidocq is deep into some kind of research, so he's not around. Brigitte is remote. I don't know what that's about. Hell, even Kasabian on his creaky metal body thinks I'm a loser. He's the one who gave me the pile of old paperbacks stacked up in the bedroom.
Look how far I've fallen. I'm actually reading to pass the time.
Then there's Janet. I don't know what the hell is going on there. She's pretty and smart and it's nice talking to her. She works at Donut Universe, so I even get free apple fritters when I stop by, which I've been doing more frequently. Sometimes I think I should stop. Maybe tomorrow. Maybe not.
The phone rings, so I turn it over on its face. When the coffee is done, I pour a cup and drink it down, still a little too hot. That was dumb. My throat clamps shut and it makes me cough like an idiot.
I reassemble the Colt, load in a couple of slugs, and open the kitchen window. Put both shots dead center into a dusty pine tree on the hillside below. The jump of the pistol in my hand and the smell of the shots instantly brighten my mood.
The phone vibrates. Someone texted me. I ignore it. Pour more coffee.
I'm one step behind the world and it feels like I'll never catch up. Like I'm just going through the motions of my old life. You know that kid you were
friends with in grade school who never grew up? You kept them around because they meant something to you once and they'd be lost without you. But they're a burden. Someone you have to apologize for and explain to your other friends. I don't want to need explaining. I'd rather be back in Hell than be anyone's eternal fool.
Yeah, these PTSD pills are going great.
The phone rings while I'm pouring another cup of coffee. Annoyed, I flip it over. It's Candy. I hesitate but see that she's the one who called and texted earlier. I have to admire that kind of obstinacy. So, I thumb the phone on. She speaks right away.
"Hey, you."
"Hey yourself."
"What are you doing?"
"I just shot some trees."
"Sneaking up on you, were they?"
"Plus, one of them owed me money."
She laughs a little. Says, "Why, the nerve. I once had to slap a rosebush."
"For what?"
"It stung me with a thorn."
"That's what thorns are for."
"Is that what thorns are for? I thought they were tiny hooks for mice to hang their hats."
"Now you know better."
"Poor mice. Nowhere to hang their hats."
"Poor rosebush. You should apologize."
"I will when you will."
"To a tree? Never. They have gardeners and birds on their side. What do I have?"
"Me," she says.
I don't say anything for a minute, thinking. Then, "You sure about that?"
She sighs. Then, "Look, I know things are weird. But don't ever think I don't love you."
"I didn't say I did."
"Didn't you?"
"Is that what you really called me to say?"
"No. I called to tell you to get out of the damn house," she says, kind of insistent.
I sip my coffee.
"I get out all the time."
"No, you come here, get movies, and go right back home. Go out. See people. Go to Bamboo House of Dolls. Carlos misses you."
I pretend to consider it.
"Maybe. I'm way up the freeway these days. Bamboo House isn't walking distance anymore."
"Don't be a jerk. You stroll through a shadow and you're right there."
"Is that how it works?"
Candy sighs, not sad this time. Maybe exasperated. I do that to people.
"Okay," she says. "Here's another idea. Don't leave your house."
"I was already doing that and I'm really good at it. I could give lessons."
"Have a party."
"What kind of party?"
"You talked about having a movie night. Do that. Invite everyone."
"I don't know. It sounds scary and there are a lot of walls I haven't punched holes in yet."
"Listen, you goof. You go to the store. You get some drinks and some snacks. You put them on a table and people come over."
"It sounds easy when you say it."
"It is easy. You still have money, right?"
"Sure. Fifty grand I stole from Eva Sandoval."
"Then you can afford a cold-cut platter."
"What if no one comes?"
"Of course people will come. In fact, I'll ask them for you."
Maybe it's good I'm taking these damn pills. I get a weird cold feeling in my gut. Like fear. Like panic. Yeah, I get scared, but panic? No.
Fuck this.
"I don't know. I mean, I just had the shag carpet cleaned. You should see it. It's like walking on an orange musk ox."
"That sounds like an invitation to me. You're having a party tomorrow night."
The panic feeling gets more intense.
"Tomorrow? That's really soon. I still have to get my hair done."
"Tomorrow at eight," says Candy brightly. "Drinks and snacks. Can you handle that or do I have to send you pictures to remind you what food is?"
"I remember food. It's the stuff you chew."
"That's right. The stuff you chew."
"Never cared for it."
"Tomorrow at eight."
"I'll have to get some new movies. Company kind of movies."
"Come by anytime. Kasabian misses you too."
"Now I know you're lying."
"I love you."
I feel dumb. I want to talk like a grown-up but all that comes out is, "Got to go. There's trees that need killing."
"See you tomorrow."
I hang up, considering the sound of Candy's voice. It has a weird kind of hold over me. It always has. How does she do that?
And then it hits me:
Oh fuck. What did I just agree to?
That panicked feeling again. Friends. Here. I'm so out of practice. What if I've forgotten how to talk and just grunt like a damn ape? And shopping. Aren't there services that'll do it for you?
"Hello, Foods 'R Us. I'd like some meat and crackers. Also, a life. You're out of those? Then just send bourbon."
I take a cup of coffee and the Colt to the living room and set them on the table with the remains of my old life. The black blade. A na'at—my favorite weapon when I fought in Hell's arena. And my most prized possession: a single Malediction cigarette that fell through a hole in my coat pocket. I found it just the other day and I'm saving it for a special occasion. I could probably find more smokes if I went back to Hell, but I'm done with the place for now.
I use some of the gun oil on the joints of the na'at. It's a Hellion weapon, so it doesn't take much
maintenance, but it feels good to be doing something with my hands. I turn on The Texas Chainsaw Massacre 2 where I left off last night. It's a minor piece of work but charming in its own grotesque way. I clean my weapons and let sounds of chain saws and screams fill the room. I know it's probably not good for me, what with all the nightmares, but old habits die hard.
I stay that way for I don't know how long. Cleaning the knife and na'at. Glancing at the Malediction, tempted by its tire-fire aroma. My mind clears and I finally relax.
Maybe Candy is right and I should stop by Bamboo House of Dolls. I could do with a drink and food that isn't cold cuts and mayonnaise. The thought of being back somewhere familiar, listening to Martin Denny on the jukebox, and seeing Carlos immediately makes me feel better.
Which is when the fucking phone rings again. For a minute I feel a twinge of relief, hoping it's Candy with a good excuse to cancel the party. Instead it's Abbot. My landlord. His calls, I can't ignore. I put the phone on speaker and say hello as I continue cleaning the weapons.
"Hello," he says. "How's the house treating you?"
"Just great, thanks. Is this the eviction call?"
"Why do you say that?"
"No reason in particular. I'm still a little surprised that the Sub Rosa is being so generous with me."
"You're an asset, Stark. A mess, but an asset. People understand that."
"Also, it's a good way to keep track of me."
"That's a definite plus."
When the knife and na'at are sparkling, I set them aside. Pick up my coffee. It's cold.
"Are you calling to see if I'm stealing the towels?"
"Steal away. Haven't you noticed that, like the food, they replace themselves?"
"Yeah. I thought you just sent elves over or something."
"That's the deluxe service. You're not there yet."
"So, what is the call about?"
When he speaks again his voice sounds tired and worried.
"A situation has come up where we might need your help."
"Hellions, monsters, or skateboarders? I'm good with a garden hose. I can get those kids off your lawn."
"Ghosts."
I smile a little.
"You're telling me the Sub Rosa doesn't have a party bus of necromancers and exorcists ready to go at all times?"
"Firstly, it's an entire infestation of ghosts. And secondly, we've tried all the usual methods and nothing's worked. That's why we might need your help."
"I kill things. I don't deal with things that are already dead."
"We both know that's not true. But the important thing is that you know Hellion hex systems. That's one thing we haven't tried."
Fucking perfect. The last thing I want is to be on Scooby-Doo patrol. But as long as I'm living here for
free the Sub Rosa calls the shots.
"When do you need me?"
"The good news is that we might not. We're bringing in a coven from San Francisco. They have more experience with the unruly dead."
"Great. Have a latte and give them my best."
"I'll be sure to pass on your good wishes. We're going to give this another couple of days. But if they can't clean up the mess, I'll have to give you a call."
"As long as it isn't tomorrow night."
"What's tomorrow?"
"I'm having a movie night with the girls. We're going to do each other's nails."
"What movies are you watching?"
"I'm not sure yet. I'm thinking about Con Air or Face/Off."
"I've never seen those."
I almost spill my coffee.
"You've never seen Con Air or Face/Off? How are you allowed to even live in L.A.?"
"Goodbye, Stark. Have fun at your party."
"When your spooks are gone, go to Max Overdrive. Kasabian will set you up with some real movies."
"You know there's something called streaming, right?"
"Nope."
"Okay. I'll talk to you later."
I hang up and sit there for a minute. Abbot's a nice guy, but the idea of going back to work—and as a ghost janitor—is extremely unappealing. If he wanted me to punch some sewer monsters, fine. Set some kill-crazy vampires on fire, cool. I'd even pick up his dry
cleaning. But hanging around with a bunch of incorporeal fuckups sounds downright depressing, and I don't need more of that right now. Plus, has Abbot ever seen a movie in his life? How can I work for a complete illiterate? It's undignified.
Talking to him wrecked my mood. There's no way I'm going to Bamboo House now. I'd spend the whole time grousing and I've been doing too much of that lately. I don't need to inflict it on Carlos or anybody else. Instead, I grab all the movies in the house and step through a shadow so that I come out in front of Max Overdrive. Maybe trading these in for some new discs will put me in a better mood. And if it doesn't, at least I'll only bother Kasabian.
I try to psych myself up so I'll go into the shop all smiles. Not let anyone know what a delicate flower I've become. But Hollywood is Hollywood, and on a hot day on the right corner you can smell the shit a block away.
There's a new pretend dive bar for young media bros near the corner of Las Palmas. Outside, a muscular guy in new leathers is doing a belligerent Tom Hardy impression—like the most deranged audition in history—and has backed a smaller guy against the wall, jamming a finger over and over into his chest. I can't tell if the smaller guy is a friend, a younger sibling, or a lover. He's definitely someone Tom Hardy is sure he can dominate. Tom keeps pointing to a shiny new Harley Roadster with all the bells and whistles. I get the feeling that the little guy wasn't sufficiently impressed and Tom is trying to scream awe into him. When Tom takes a breath, the little guy tries to slip
away, but he's not fast enough. Tom gets hold of his arm and yanks him back hard.
So, I kick over the bike.
"Clumsy me. Sorry."
At the sound of crunching metal, Tom spins around. He lets go of the little guy and approaches me slowly, like his mind can't quite wrap itself around the carnage. Finally, he looks at me.
"Motherfucker, do you want to die right now?"
I put a boot on the bike and step over it, careful to leave a footprint on the pristine seat. When I'm kissing distance from Tom I look into his stupid, beer-addled eyes.
"Do you even know what death is, Tom?" I say. "It's dumb, and it's loud, and it smells bad; you're in Hell and you want to die to get away from it all, but you're already dead and there's nowhere to go. And what's worse is you know you're there because you deserve it, because you're such a fucking waste of skin and gristle. So no, I don't want to die. It's no fun and there's too many people like you there."
I'm not halfway through the sales pitch when he reaches for a knife. The little guy is still against the wall, too scared to make a run for it.
I say, "Why don't you let your pal go and I won't piss in your gas tank?"
Tom starts waving the knife around, all movie menacing. No way the little guy is going to run now. I know what he's thinking. He's worried that Tom is going to kick my ass and take it out on him later.
I slap Tom hard, and he takes a step back like he forgot that I have hands and can do things with them.
"It's okay," I tell the little guy. "He's not going to hurt you."
He takes a couple of steps. Looks at Tom and back to me.
Tom lunges at me with the blade. It's not much of a fight. He's as subtle as a one-eyed hippo. I smack his drunken hands away, bat the knife to the ground, and grab him by the throat. Lift him up so he's on his tiptoes. He does a funny little dance as he chokes.
I look at the other guy.
"Do you want him gone for now or forever?"
He hesitates. Then says, "Forever."
"Done."
"You're not going to kill him . . . ?"
I lift Tom up a little higher. He waves his arms around like he's trying to signal passing jets.
"There's too many people around," I tell the little guy. "But he won't bother you again."
He runs off.
When I drop Tom, he falls in a big leather heap. I get his knife while he's still trying to remember how to breathe and cut a hex into the palm of his left hand. A funny Hellion one you only use on people you find extra annoying.
The moment Tom catches his breath he's on his feet. Swings a big John Wayne roundhouse punch at my face. I stand there and let him connect. At which point, he screams. His hand has collapsed into a soft wad of hemorrhaging meat.
"You're going to want to watch your temper, Tom. From now on whenever you smack someone in anger, your bones are going to turn to chalk and come apart
like just now. Don't worry. They'll grow back, just not a hundred percent. And each time you break them, they'll get worse and worse until there's nothing left of you but a sack of rattling skin. Understand?"
"What?" he peeps.
"Never mind. You'll figure it out."
I leave him there nursing his putty hand and head to Max Overdrive. People are streaming out of the shop. Others mill around on the sidewalk as I go inside. I'm surprised when the place is empty.
Kasabian glares at me from behind the counter.
"Your usual graceful entrance," he says.
"He started it."
He shakes his jowly head.
"We've had this discussion. You're a shit magnet. You attract trouble."
"And I made it go away."
He sweeps his metal hand around, gesturing to the empty shop.
"Look, dumbass. You scared all our customers away. You're a walking calamity."
My heart is still pounding from the scene on the street. It shouldn't be doing this. I was in much worse situations in the arena and didn't break a sweat. But that guy got to me—and I wanted to hurt him. Bad. There's still more rage stuck in me than I wanted to admit earlier. I should talk to Allegra. Maybe try some different pills. Or maybe forget them altogether. What fucking good are they if all they do is jack up my heart rate and make me not want to hurt bullies?
I set the movies I brought with me on the counter, a little embarrassed that Kasabian might be right about
my scaring everyone out of the place.
I say, "Let me pick up some new stuff and I'll get out of your way."
"Thank you. We got some new special titles in."
Max Overdrive is known in the underground-movie-fiend community for its "special titles." A nice little witch friend of Candy's has contacts in other dimensional realms where movies that don't exist in this world are common. It's the only reason the place is still in business.
I look past Kasabian at the racks behind him.
"What did you get?"
"Kubrick's Napoleon."
I shake my head.
"Too big. Too serious. I want something for the party tomorrow night."
"I heard about that," he says.
"You're invited, you know."
He shakes his head slowly.
"I'll pass. I don't want to watch you beat up the hors d'oeuvres."
"What else did you get in?"
"Vincent Ward's Alien 3."
"The one on the satellite with the monks who have to fight the xenomorph with wood?"
"The very one."
"Cool. I'll take that for me. But I still need something, you know, company friendly. Con Air orFace/Off."
Kasabian's eyes narrow at me.
"Face/Off is strictly for film nerds who want to scream at its awfulness. ...
We hope you are enjoying the book so far. To continue reading...
Ballistic Kiss
Richard Kadrey
Copyright © 2021 All Rights Reserved
Also in this series
Also by this author