Book info
Sample
Audiobook
Media
Author updates
Lists
Synopsis
Sixteen bloodless bodies. Two teenagers. One impossible explanation. In this edge-of-your-seat mystery from #1 New York Times bestselling author Kendare Blake, the truth is as hard to believe as it is to find. Summer 1958. A gruesome killer plagues the Midwest, leaving behind a trail of bodies completely drained of blood. Michael Jensen, an aspiring journalist whose father happens to be the town sheriff, never imagined that the Bloodless Murders would come to his backyard. Not until the night the Carlson family was found murdered in their home. Marie Catherine Hale, a diminutive fifteen-year-old, was discovered at the scene—covered in blood. She is the sole suspect in custody. Michael didn't think that he would be part of the investigation, but he is pulled in when Marie decides that he is the only one she will confess to. As Marie recounts her version of the story, it falls to Michael to find the truth: What really happened the night that the Carlsons were killed? And how did one girl wind up in the middle of all these bodies?
Release date: September 21, 2021
Publisher: Quill Tree Books
Print pages: 304
* BingeBooks earns revenue from qualifying purchases as an Amazon Associate as well as from other retail partners.
Listen to a sample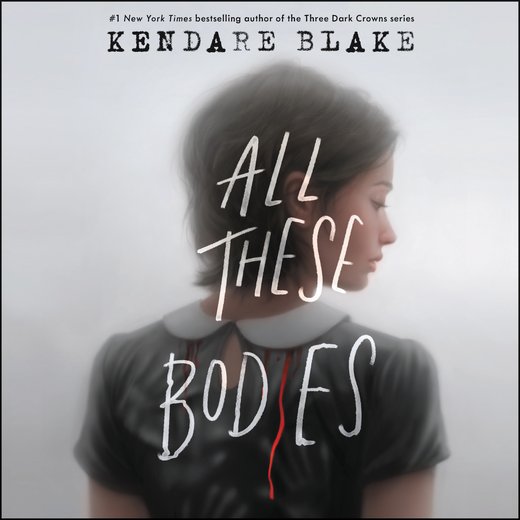 07:19:36
201.24 MB
9780063137202
September 21, 2021
HarperCollins
All These Bodies
Kendare Blake
C H A P T E R O N E
May 1, 1959
IN THE SUMMER of 1958, the murders that would come to be known as the "Bloodless Murders" or the "Dracula Murders" swept through the Midwest, beginning in Nebraska and sawing through Iowa and Wisconsin before turning back to my hometown of Black Deer Falls, Minnesota. Before it was over, the murders would claim the lives of seventeen people of different ages and backgrounds. All would be discovered with similar wounds: their throats slit or their wrists cut. A few sustained deep cuts to the inner thigh. Each of the victims died from blood loss, yet each of the crime scenes was suspiciously clean of blood.
Bloodless.
By the end of August, the murders had tracked eastward, closer and closer to the Minnesota border. We'd been following the trail in the papers, marking each new victim on the map. When those two college kids were found killed in an abandoned house outside of Madison, Wisconsin, it was like a sigh of relief. It was terrible, what'd happened to those kids. Richard Covey and Stacy Lee Brandberg had been their names. They'd been graduate students and engaged to be married. We were sorry that it had happened to them. That it had happened at all. But at least they'd been all the way over in Madison. The murders had passed us by, Minnesota had been spared, and whoever had done it—and however they had done it—they were probably most of the way up to Canada.
Black Deer Falls is only one hundred seventy miles from the Canadian border, back in the other direction. There was no reason for the killers to turn around, to cross another state line. We thought we were safe.
And then, on the night of September 18, the murder spree that had held the country in its thrall for the entire month of August ended here when it claimed the lives of Bob and Sarah Carlson, and their son, Steven.
The only perpetrator in the murder spree to be found would be apprehended that night: a fifteen-year-old girl named Marie Catherine Hale. She was found standing in the middle of the Carlsons' bodies, which, like all of the others, had been drained of blood. But unlike all of the others, we knew where the blood had gone: Marie Hale was covered in it from head to toe.
It was the story of a century. The story of a lifetime. It should have happened in Chicago or New York and been handled by cops and reporters who had seen it all before: the guys in movies ducking past speeding cars, hats pulled down and collars up against the rain. A short, silver pistol tucked up his sleeve and a cigarette burned down to his knuckles. It should have happened there, and been handled by them. Not in rural Minnesota, where nothing ever happened but more of the same, and not handled by my dad and our nearing-retirement public defender. Not handled, unbelievably, by me.
Michael Jensen. Seventeen-year-old nobody from nowhere, who wanted to be a journalist someday but hadn't gotten further than delivering papers. Unqualified. Untested. Take your pick of descriptors that mean a kid in over his head.
But sometimes the story chooses the writer, not the other way around. Or so says my mentor, Matt McBride—he's the editor of our local Black Deer Falls Star—and in this case it's especially true. Marie Catherine Hale chose me to tell her story. Me to hear it, when she could have had anyone—and I do mean anyone: Edward R. Murrow himself would have made the flight out.
So this is that story. Her story, taken down in the pages that follow. When we found her that night, in the middle of all those bodies, I didn't know who she was. I thought she was a victim.
Then I thought she was a monster. I thought her innocent. I thought her guilty. By the time she was finished, what she told me would change the way I thought, not just about her but about truth.
Tell the truth and shame the devil. I always thought that would be easy. But what do you do when the truth that you're faced with also happens to be impossible?
C H A P T E R T W O
The Night of the Murders
THE NIGHT THAT the Carlsons were killed I was over at my best friend Percy's place. It was a warmish night for September and we'd gone out to their falling-down barn so Percy could grab a smoke without catching a glare from his stepmom, Jeannie.
"So, what do you want to do?" Percy asked. Then he answered his own question as he stamped out his ashes to make sure he wouldn't start a fire in the old hay. "Not much to do."
"Never much to do," I said. I turned around in the barn and picked through one of his dad's piles of junk.
"Beats doing homework."
"I guess." I held up what looked to be a very old and half-empty can of motor oil. "Where does your dad get this stuff?"
"Wherever he can," Percy replied. Most of the barn was full of junk that Percy's dad, Mo, had picked up at auctions or off the side of the road or taken off the hands of neighbors. Everyone in town knew that if you had garbage you took it to Mo Valentine before you took it to the dump.
The Valentine house was a farmhouse, like most others that sat outside town. But it wasn't a farm. It hadn't been a farm in a long time, though they did have one cornfield rented out for someone else to till. The rest had been sold off or turned to swamp or let go back to forest that made for good deer and squirrel hunting.
"I swear he's got some kind of disease," Percy said. "That makes him see worth where there isn't any."
"Like, a fool's gold disease?"
"Yeah, exactly. My old man has fool's gold disease. Did you just make that up?"
I shrugged. Maybe I hadn't; it seemed like something that might really exist. I stuck my head out through the door and looked at the house. Jeannie was still up—I could see her sitting in the living room, paging through a magazine. I wanted to go back inside. Jeannie was nice, and even pretty, but Percy hadn't warmed up. She was Mo's third wife (which meant he'd had two more wives than most any man in town) and Percy's heart was rough now when it came to mothers, after his own ran off and another had divorced Mo and moved across town to pretend like the Valentines had never existed.
"You asked anybody to Homecoming yet?" Percy asked. "I heard Joy Davis say she wouldn't mind going with a certain sheriff's son."
"How'd you hear that? Or did you just ask her for me?"
He grinned.
"Thanks, Perce. But I can get my own dates."
"It hasn't looked like it lately. And now that Carol's stepping out with John Murphy—"
"What does that matter?"
"John Murphy is a senior. He's the football captain. Now that he's got your old girl you've got to—"
"Why do I have to?" I asked. "It's not like I can do any better than Carol anyway." Carol Lillegraf and I dated for almost three months last spring. She was the dream girl: long blond hair, red lips, long-legged, and tall, and dating me was a calculated move. Going out with the respectable sheriff's son was a good way to ease her Reverend father into the idea of dating altogether. I wasn't surprised when she ended things just before summer.
"She's a cheerleader now," I said. "So who am I supposed to date to compete? The head cheerleader?"
Percy came out of the pile red-faced. Rebecca Knox had just made head cheerleader, and Percy had been in love with Rebecca Knox since the fourth grade.
"We'd better get you home," he said, "before you say something you'll regret about the future Mrs. Valentine."
I chuckled. But as he snuffed out his smoke, Mo showed up at the door of the barn with their two black Labradors.
"You boys come on out to the truck." He looked at me. "Your mother just called and said your dad and the boys need help out at the Carlson farm."
"My dad?" I asked as we followed him out into the dark. We got into his pickup and he whistled for the dogs to jump into the back.
"What's happening?" Percy asked. "Why are we bringing Petunia and LuluBelle?"
"She said to bring the dogs. She said they were asking everyone to."
Percy and I looked at each other. The last of the Bloodless Murders had been three weeks ago to the day, long enough for people to start to relax, for the curfews to ease, for the gin-fueled posses sitting around armed on front porches to disband. It was over. That's what we thought. But Mo was spooked. He pulled out of the driveway so fast that the dogs banged against the side of the truck bed and Percy had to remind him to be careful.
It was a ten-minute drive from the Valentine place to the Carlsons' out on County 23, and by the time we got there, we could see it was something bad. Two cruisers were parked in the driveway with their lights on and my dad's old pickup was parked behind those. Other guys had gotten there before us and parked along the sides of the dirt road. They'd all brought their dogs, too, if they had them; I saw Paul Buell and his dad jogging up the driveway leading their friendly spotted mutt.
"Shit," Mo cursed. "I should've brought leashes. Percy, find something to use."
"Find what to use?" he asked, but we got out and looked. All we found was some old, half-rotten bailing twine in the bed of the truck. So we doubled it up and looped it through the girls' collars. Then we got them down and followed Mo toward the lights. I could make out the shape of his shotgun, pointed at the sky.
"Did you notice he had the gun with him?" I asked.
"He must've had it down by our feet," said Percy. "What the hell's going on out here?"
We got up to the house. All the lights were on inside. Across the driveway and yard, they were all on at the neighbor's as well: the war widow, Fern Thompson, lived in a tiny place so close to the Carlsons' that it might have been part of the same property. There were almost a dozen of us gathered in the driveway between the two houses. Besides me and Percy, Paul Buell was the only kid. The rest were fathers and I knew them all. It looked like my mom had called them off a list from church. They were all carrying shotguns.
"What's going on?" Percy asked again.
I looked at Paul and shrugged, but he only shrugged in reply.
I didn't know what it could be that would make my dad drag us out here, but he must have needed us in a hurry, or he would have called in help from the state patrol. It was chaos in the driveway: the dogs were barking, and the men half shouting questions over the top of the noise. Petunia and LuluBelle were excited to see the other dogs, and I kept one hand on LuluBelle's collar, afraid that the rotten twine would snap.
Someone crossed the driveway, headed toward Widow Thompson's place, and the Labrador lunged. It was Bert, one of my dad's deputies, and he was carrying a striped cat.
"Bert!" I called. "What are you doing?"
He ignored me and went on, and Widow Thompson met him at her door. He placed the cat in her arms. Bert was white as a sheet and looked unsteady on his legs, like any minute all two hundred eighty-five pounds of him was going to collapse onto Widow Thompson's front stoop.
"Rick!" one of the men shouted when he saw my dad. "Rick, what's happened?"
I looked back toward the Carlson house. My dad had just walked out of it and came toward us. I scanned his face, but it was no use. He looked like a cop that night. The only trace of my dad was a flicker in his eyes when he saw me, like he was surprised and kind of sorry.
"Thank you for coming out," he said. "We've got a real bad situation in there."
"What do you mean?" Mr. Buell asked. "Are Bob and Sarah okay? The kids?"
"They've been murdered," my dad said. There was a long beat of quiet. A few dogs barked. Especially one near the house, a black-and-brown-speckled hound that belonged to the Carlsons, and after a minute, Bert went over and got him and shushed him up. Those of us gathered in the driveway started to fire off questions again, and I looked at Paul Buell. He was crying. My mom shouldn't have called him. He was too close to Steve Carlson. But she didn't know.
"Listen, this is what I need," my dad said loudly. "Teams of two and three. Armed, no exceptions. Dogs if you have them. I've called in State Patrol and there are roadblocks going up, but if the killer fled on foot, they won't have men here in time. We're the best chance." He counted us off into teams and finished with me, Percy, and Mo Valentine. He gave Mo a longer look to make sure
he hadn't been drinking too much.
"I want you out in all directions. When you get to a neighbor, knock on the door but only to let them know you're out there. We don't need the whole county stumbling around in the dark. Check the creek and west toward the tree line." He pointed to Mr. Hawkins and Mr. Dawson. Mr. Hawkins had been in the army. "You two check the outbuildings."
"Who are we looking for?" Mr. Dawson asked.
"It looks like a Bloodless," my dad said grimly.
My hand slipped off LuluBelle's collar and Percy grabbed for her as the rest of the search party mobbed in on my father. It was impossible to imagine that what my dad said was true. That the Carlson family—Bob and Sarah, Steve, who I knew—was lying in there dead. And not only dead but murdered by the most famous killer in the country.
I stared at the windows, numb. As a hopeful future journalist, I followed the Bloodless Murders in the papers that summer even more closely than everyone else. But the articles didn't satisfy me. It was the same facts, the same victims' names, the same lack of conclusions. Sometimes they used the same word three times in a paragraph or the same phrasing in two different articles, as if the reporters were as terrified as we were, right there at their typewriters.
The curtains of the Carlsons' living room were drawn, and from where we were in the driveway I couldn't see much of anything. My feet slid right, and right another step. I drifted closer to the house until I could peer through the space between the fabric panels. I didn't see anything at first but part of the ceiling and some photographs hanging on the walls. And then I saw someone standing in the middle of the room. She had her back to me, and she looked wet. Like she'd been swimming in her clothes through red water.
I moved a little closer and saw Charlie, my dad's other deputy. He was pacing, farther into the room, and he was holding a baby. He was bouncing her and kissing the top of her head, and he had one hand out like a stop sign toward the girl covered in blood, which is what I realized she was coated in. But except for that hand, he ignored her like she wasn't there at all.
"The baby," I said. Everyone in the driveway looked at me and then toward the windows. "The baby's all right?"
"The baby is all right," my dad said, and held back a few of the men who tried to go past him. "You're not going in there. No one's going in there that doesn't have a star on his chest."
Who is that? I wanted to ask. Who is that girl? But my dad set his jaw. I wasn't supposed to be by the window. And I was supposed to clam up.
I looked back and the girl was staring at me.
It's impossible to describe what I saw in her face, even though I'll never forget what she looked like. She was drenched in blood. Slicked with it. Her hair was saturated, and the blood looked wet in places: on her neck and where it leaked from her hair to run down her cheeks. That was the first time I saw Marie Catherine Hale. We did not actually speak that first night. But I still count that as our first meeting. Sometimes a look is all it takes, and the look that she fixed on me wasn't the look of someone silently ticking off the new faces of strangers. She saw me like she already knew me. I could almost hear her say my name, "Michael. Hello, Michael," in her low, surprising voice. Looking back now, sometimes I think I really did.
My dad ordered us to start the search and I snapped back to attention. Percy and Mo called for me, and the teams went off in their designated directions. I looked toward my dad, but he didn't see me. He called to Bert, who was still minding the Carlsons' dog, and they went back into the house together.
"Can you believe this?" Percy asked when Mo ran back to the truck for a flashlight. "Steve. The whole family. I don't believe it."
"Not the whole family," I said. "The baby's okay."
"And thank god for that. Not even the Bloodless could kill a baby."
"Perce, go help Mo with the flashlight. I'll meet you down at the truck."
He looked at me a minute, holding on to both dogs. Then he dragged them away, grumbling that he didn't know what use a pair of duck dogs were going to be, anyway, when it came to tracking.
I lingered in the driveway a while longer. Just long enough to see Marie be escorted out to Bert's police cruiser. He'd put his jacket over her shoulders, and later he would tell me that he put a blanket down to cover the back seat, but the blood still leaked through. I remember wondering where it was that she was hurt. She was covered in red from head to toe, and I knew that not all of it could be hers. I thought perhaps she'd been cut somewhere on her head, where the blood seemed thickest. But I was wrong.
After they cleaned her up at the station, they found not a scratch on her. Not a single drop of it had been hers.
We hope you are enjoying the book so far. To continue reading...
All These Bodies
Kendare Blake
Copyright © 2021 All Rights Reserved