A Sea of Gold
Available in:
eBook
Paperback
Audiobook
Hardcover
Book info
Sample
Audiobook
Media
Author updates
Lists
Synopsis
1809. After his heroic actions during the retreat to Corunna, Captain Sir Thomas Kydd is the toast of London society. Here he falls in with the legendary frigate captain, Lord Thomas Cochrane. So begins a relationship, professional and personal, that will be unlike any that Kydd has known: a relationship that will lead him, almost simultaneously, to first glory, then ruin. The French fleet is massing in the Basque Roads in a near impregnatable position. The Admiralty orders Cochrane to command an attack, to the chagrin of more senior officers who object to being overlooked and Cochrane's reputation for daring. Cochrane insists that his new friend, Kydd, is in the forefront of the assault armada, a motley collection of rocket, bomb and fire ships that will set the anchorage ablaze - this despite Kydd's almost pathological fear of fire. The fallout from what follows will see Kydd financially ruined, with only his former shipmates, his oldest friend of all, Nicholas Renzi, and the whisper of hidden Spanish treasure promising the sea of gold that he needs to save himself.
Release date: November 1, 2018
Publisher: Hodder & Stoughton
Print pages: 324
* BingeBooks earns revenue from qualifying purchases as an Amazon Associate as well as from other retail partners.
Listen to a sample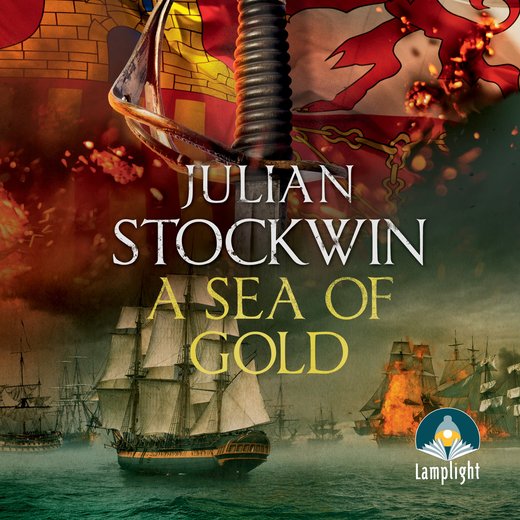 11:13:17
308.23 MB
9781473642553
July 1, 2019
W. F. Howes
A Sea of Gold
Julian Stockwin
*indicates fictitious character

*Sir Thomas Kydd, captain of HMS Tyger, a.k.a. Tom Cutlass

*Nicholas Renzi, Earl of Farndon, friend and former confidential secretary



London, spring 1809

'My dears! So amiable in you to grace us with your presence,' purred Lucinda Matcham, eyeing Lady Kydd's sheer muslin dress, exquisitely ruched with silver ribbon. She turned to Sir Thomas Kydd, the impeccably attired naval captain in Town for the Season. 'And to have you attend, sir, a sea hero of the age – as shall have them all talking for a month, I do declare!'

It was no small coup to have been invited by the noted society hostess and Kydd bowed with a smile, quite aware of the picture he and Persephone made.

'You are acquainted with my particular friend, Lord Farndon, Mrs Matcham?' He gestured to the tall gentleman standing nearby with his wife, her handsome dark looks drawing admiring glances, too. Lady Farndon was Kydd's sister, Cecilia. He and Persephone were staying with them at their Mayfair town house.

The two men's friendship had sprung from their time before the mast together, many years before.

'Not as well as I should like,' Lucinda said, raising her quizzing glass, 'as it must be admitted he's too retiring in society for his own good. We sometimes don't see him for months on end, he rusticating on his estate as he's wont to do. You really should get him out more, Cecilia dear.'

The exquisitely furnished drawing room, with its gold mirrors and ornaments in the finest porcelain, resounded to a well-bred hum of polite conversation.

'I make it my purpose to bring together those at a similar éclat in society – I find it answers well in the article of social intercourse,' Lucinda continued.

Meaning those lately in the public eye, Kydd mused. Others would be mercilessly cut as their usefulness receded.

'Ah, here is Colonel Bridgman, late of Corunna,' she said, with suitable awe. 'He is reviving still from his experience, poor lamb! Have you met Sir Thomas, at all?'

'Dear lady.' The aristocratic officer bowed. 'Well I know this sea gentleman. He stood upon the quarterdeck of the last ship to leave upon granting deliverance to we still alive in that species of Purgatory.'

Their hostess watched in satisfaction as they shook hands in quiet remembrance.

Bridgman turned politely to Persephone. 'Have you ever been to Spain, Lady Kydd? With its mountains and deserts, not a prospect for a gentlewoman, I'm persuaded.'

'Rather more of Portugal, sir.'

'Oh?'

'As being promised a passage back to England upon Lisbon being taken by the French, a faithless brute left me to journey overland on foot to Oporto, an adventure I vow sets me beside those on the road to Corunna.'

'Goodness me. Did you ever think of confronting the wretch on your return?'

'I did so, Colonel – and as a measure of retribution I married him. And now he must do as he's bade.'

Others about the room glanced towards the burst of laughter resulting.

Lucinda put her hand on Kydd's arm. 'We always have a lively admiration for your Jack Tar, Sir Thomas. This night there's more than a few at my little gathering, you'll notice.' She swept across the room and ushered over a bemused gentleman. 'And here's one – I'm sure you've much to talk about!'

Kydd bowed politely to Mulgrave, first lord of the Admiralty. But what small-talk could he conjure to engage the attention of the brightest star in the firmament of the Royal Navy's administration?

Persephone came to his rescue. 'Sir, you've no conception how delightful it's been to have my husband to myself since he returned from Iberia.' Her dazzling smile was irresistible.

'Why, madam, it is the god of war who disposes such things, not my own humble self,' he answered smoothly.

Kydd had escorted the Corunna convoy with its cargo of suffering back to Plymouth and since then had been awaiting orders. The Admiralty, in turn, was looking to the government of the day to decide what the future held – a complete evacuation of the Iberian peninsula to cut losses or a forlorn seaborne support for Lisbon to keep Wellesley in his token toehold on the continent.

Before Mulgrave could go on they were interrupted by their hostess tinkling a silver bell above the noise of the gathering. 'Supper! Supper, children …'

The servants began refreshing glasses and the dice players from the rooms above processed down the stairs.

'Oh! I wonder who that is,' Persephone whispered, in a curious tone, to Kydd, who wheeled about to see a figure of striking patrician bearing. Inches taller than six feet, the man had unrestrained red hair and a lean but well-muscled body. His eyes darted about the room as if to search out a hidden enemy. Of the same age as Kydd, he was undeniably a handsome creature and held Persephone's attention.

'I've no idea,' Kydd answered gruffly, put out that his wife should make notice of another man.

'Er, do excuse me,' Mulgrave said, and joined the gentleman. Glances were thrown in Kydd's direction, then the first lord brought him over.

'A distinct pleasure, if not honour, to be the one to make introduction of you both,' Mulgrave said smugly. 'As it sets me to the blush who might first be introduced to whom.'

'Fire away, sir,' the red-haired gentleman said airily. 'As I've a notion while we've never met we do know of each other.'

'Very well. Lord Cochrane – of Speedy as was – do meet Sir Thomas Kydd of Tyger.'

So this was the Wolf of the Seas, as Napoleon was calling him, the officer famed for taking his tiny brig-sloop against a Spanish xebec frigate boldly to make boarding with every man he had, except the surgeon left on the wheel – and prevailing. Kydd had heard of the fellow but their wakes had never crossed.

He acknowledged the recognition with a bow. 'The honour quite mine, my lord.'

'The vanquisher of three frigates at once off Prussia? I must dispute your judgement, sir.' There was no change in the cool expression.

'Your cruise in Pallas has been well remarked, sir,' Persephone put in demurely.

Cochrane's spectacular career on the Spanish coast, with its rich haul of prizes, had taken place while Kydd was striving to get his first frigate command manned and ready for sea, to take part in the climactic Trafalgar battle.

'I rather fancy Imperieuse is outshining even her, dear lady. Although what I shall do now the Spanish are no longer rightful prey I have no idea. What are you up to these days, Kydd?'

'Since the Cádiz Inshore Squadron is no more, I fear I'm wasting my days in idleness.'

'Which cannot in any wise be countenanced,' Mulgrave put in unexpectedly.

'Sir?'

'As you will be so informed in the very near future, gentlemen. The cabinet has decided that our reversal of fortune at Corunna should not be seen as anything more than a temporary check to our aspirations on the Continent. They desire to assume an offensive posture before the world and what better than to dispatch our two most distinguished frigate captains to the enemy shore to wreak havoc together? Gentlemen, your orders are being prepared, as I speak, for you to join Admiral Collingwood in Minorca for this very purpose.'

As they stared at him, he continued, 'And may I wish you both the greatest of good fortune in your endeavours?'

He took his leave and was lost in the throng.

'So – the Med again,' Cochrane said, with relish. 'To lay the French by the tail as is the duty of all red-blooded Englishmen.'

Persephone said nothing but her grip on Kydd's arm tightened.

'You're ready for the fray, Kydd?'

'Tyger and I both. You?'

'Imperieuse down to a split yarn to sail.'

'In Plymouth?'

'Aye.'

'And Tyger.'

'Then why do we wait?' Cochrane said imperiously. 'I've a crack frigate wants to smell salt water and rather fancy my pick of the berths in Mahon. As arriving first, that is.'

'I rather think not,' Kydd came back. 'Tyger's accounted a flyer in anything of a fresh gale, which is your Biscay and Atlantic both this time of year.'

'Oh? Then do recollect that Imperieuse knows the way, dear fellow.'

'And is Spanish-built and light in the scantlings, a sad liability in serious weather.'

Cochrane paused and narrowed his eyes. 'Why, this sounds very like a challenge, sir.'

'The first to make Port Mahon?'

'Hook touches bottom, stand down sea watches? I've ten guineas that it's Imperieuse.'

'And double that says it'll be Tyger,' Kydd found himself saying. Beside him came a sharp intake of breath from Persephone.

'My, and you're a chancer, Kydd. And I like that in a frigate man – you're on!'



'It'll cost ye, cully!' the old man cried, leading a nervous piebald gelding into the dark stableyard, then backing it into the shafts of a gig. It was past midnight and Kydd had thought he'd never get away from the designing Lucinda Matcham. What had made him wager such a sum against a thorough-going seaman like Cochrane he had no idea but, be damned to it, he'd see it through – and every minute counted.

A sleepy-eyed ostler appeared and completed the rig, stepping back as they clambered aboard.

Kydd's plan was to cheat the hideous traffic of the day by a speedy trot through the near-deserted pre-dawn streets to reach the outer edge of the capital and its transport to the west. There, he'd hire a fast post-chaise and have the jump by half a night on Cochrane.

The old man lit the candles of the twin riding lanterns, then held out his hand meaningfully. He'd been gulled before by harum-scarum dandy prats of the fancy taking his beauties for a night-time dash of high bobbery. While these two didn't seem the sort, he wasn't taking chances.

Kydd found his price and was handed a whip. The horse was jibbing, snorting, and took some coaxing to bring out through the gates on to the highway, but Kydd was having none of it and tooled the gig around for the run to the bridge and away.

It was harder than he'd imagined: only some of the streets had any kind of lighting, and but for a sulky moon, he would have been forced to a walk. He brought the beast up to a trot and when the bridge loomed it was thankfully ablaze with pillared lights, but there was a marked thickening of traffic that had him weaving through perilously.

He glanced at Persephone next to him, bundled under a rug the ostler had provided. She smiled back at him happily and his heart went out to her. If there was any kind of adventure to be had with him, she'd do anything not to miss it.

The traffic gave out on the other side but so did the lights. Undismayed, Kydd cracked on, making good speed, the clatter of hoofs echoing back from darkened buildings with an occasional white flash of a staring face.

On one corner he misjudged the angle and the vehicle swayed and skidded, the horse whinnying in terror. Persephone leaned over gently and took the reins. 'Let me give you a rest, my darling,' she said, addressing herself to the terrified beast. It quietened at her touch and they stepped lively onward.

As they arrived the post-house was waking, and a hire was arranged in a remarkably business-like manner, which puzzled Kydd. After they'd started out at a smart clip Persephone, clutching his arm with sparkling eyes, laughed, 'Silly billy – he thinks we're eloping!'

They slept through the first stage snuggled under Kydd's boat cloak, then enjoyed the early spring English countryside slipping by until suddenly it was Exeter and the Plymouth road. They changed horses at Ivybridge for the last stage – Persephone was not going to leave him until she had to.

As they ground off, Kydd roused himself to consider his next move. Tyger was moored in Plymouth Sound, conveniently close to the Lambhay victualling yard. They'd arrive in the late afternoon, and if he was quick, he could get his warrants in for a quick storing foreign, and at the same time be at his watering. He'd long ago replenished powder and shot, which was the most time-consuming, and Bray, his first lieutenant, could be relied upon to have the ship in fine trim for a rapid departure.

Say, two, three days?

Kydd held his impatience as they wound down the last hill before he could get a good view of the sprawl of shipping. He sought out Tyger, serene and graceful, and gave a sigh as he always did when returning to her. And Imperieuse would be somewhere on this side of the harbour.

Leaving Persephone to ransack the shops for his cabin stores – and some warmer clothing for herself – he took a wherry out to his command, leaping up the side-steps in his eagerness. When he appeared unannounced, there was only a surprised Brice, officer-of-the-day, to meet him.

'Where's Imperieuse lie?' Kydd demanded.

Wordlessly Brice pointed with his telescope.

Kydd knew the ship but had never paid her much attention until now. An eighteen-pounder fifth-rate, like themselves, a rather high beakhead and more ornamentation than he favoured – but otherwise as near as possible a precise equal.

'Is her captain on board?'

'Um, no, sir. In London upon business, I believe.' It was the job of every officer-of-the-day in harbour to acquaint himself with the ebb and flow of captains in case a senior officer was needed for some duty or other.

Kydd beamed. He'd done it! 'I'm to be told the moment he's back aboard.'

'Aye aye, sir.'

'Ship is under sailing orders, Mr Brice.'

This was a serious matter: every man now had the duty to be at his post when required to sail, his liberty curtailed, the Blue Peter at the masthead for all to see. Yet another of His Majesty's Ships upon some grave occasion of war.

The store demands went in, and Lambhay was used to ships in a hurry. An offer of extra hands from Tyger to expedite matters was duly accepted, and in the morning storing ship was put in train. And still no Cochrane!

Drake's Leat provided their water and the boatswain's requisites were delivered promptly before noon, gunner's spares and sailmaker's extras following soon after.

Persephone returned on board with Tysoe carrying parcels and set about Kydd's cabin, an affecting and enduring feminine touch for him in her absence.

'Sir?' The watch messenger stood in the doorway. 'Mr Brice's respects an' the captain of Imperieuse has just gone on board.'

Kydd hurried up to the quarterdeck to see Cochrane and others quickly going below. Minutes later her Blue Peter soared up. Kydd looked at his watch. Fourteen hours behind. A half-day at ten knots – that put Tyger ahead, something like twice the distance from Cádiz to Gibraltar!

The Tygers worked hard: it seemed their ship had been chosen for some desperate mission and they weren't about to let her down.

Not until the afternoon were victuallers seen around Imperieuse – Cochrane obviously hadn't been able to prime Lambhay in time. Kydd almost felt sorry for him: he himself could look to putting to sea on the evening tide on the morrow and be somewhere south of Brest before his rival could even consider setting sail.



The next day dawned. Kydd was gratified at the zeal the men were showing in turning to, and Bray's report that there were no stragglers adrift from liberty added to his good mood. At this rate he'd soon need to indicate he was ready to take on the Mediterranean station mail and—

'Sir. Imperieuse is getting under weigh,' Brice informed him, lowering his telescope.

'What? Let me have that!' Kydd gasped, snatching the glass. There was no doubt about it: the fo'c'slemen were winning their anchor and others stood ready at the masts to lay out and loose sail.

Her ensign and Blue Peter whipped down in perfect synchrony and sail blossomed fore and aft.

'She's anchors aweigh,' Brice said unnecessarily.

In stately progress Imperieuse was outward bound for her war station, a noble and inspiring picture.

'Damn it! What the … How's he managing that?' Kydd spluttered. Was the devil taking the chance to put out without a proper storing, forcing his men on short canny when it ran out?

'Er, what's that, sir?'

'Gets to sea, the next day he makes it to here! No victualling foreign, watering – he can't do it!'

'Captain Cochrane? Why, it's no mystery, sir.' Blinking in confusion at Kydd's sudden show of temper, Brice stammered, 'I was in the telegraph office at the time and understand he sent word to his first lieutenant to ready the ship for sea for when he arrived and—'

'The slivey toad!' Kydd ground out. A neat trick that turned the whole thing on its head. Cochrane was perfectly entitled to make use of the system for an impeccably valid purpose – but why hadn't he thought of it first?

'Sir?' Brice gasped.

'Ah, it's not as if to say … You'll keep this to yourself, but there's a wager between us as to which ship will down anchor in Port Mahon first. That is where we're headed, to join Admiral Collingwood's flag.'

'Oh, I see, sir.'

It was all around the ship in an hour. And while Kydd paced up and down the deck, men got out of his way, feeling for their captain.

In the hours after Imperieuse had disappeared around Rame Head on her way to the Mediterranean, a procession of well-wishers approached the quarterdeck.

Master's mate Maynard swore that he and a pair of quartermasters could be trusted to re-stow the hold to set Tyger half a foot deeper by the bows, which would increase the bite of the forefoot when beating to windward.

The sailmaker produced a set of topsails he'd been saving for when the current ones wore out. New sails didn't 'bag': taut and flat, they took the wind more powerfully.

But the knowing old sailing master came up with the best trick. 'We catches the earlier tide. It'd be night but in this freshening nor'-easterly we'd be fair for Ushant in one board.' Unsaid was the prospect of threading through the mass of shipping at anchor, a delicate enough matter in daylight but in the dark a hair-raising undertaking.

Kydd bade farewell to his wife by the light of the conn, too distracted to do more than wave at the indistinct figure in the wherry pulling away, guiltily hearing her faint cry borne to him on the night breeze.

Having previously taken the bearings of the nearer vessels, he made a cast to larboard with headsails spread and, in the crepuscular gloom, gathered way for the open sea. An unlit merchantman was laid to starboard before Tyger luffed up to scrape past a larger Indiaman, bringing cries of alarm from her deck.

Most ships were wind-rode at their cables, in this respectable breeze nuzzling into the wind and all facing in the same direction. But an odd-looking jackass barque with, contrarily, two anchors out, was fouling their track. Falling under its stern, Kydd lost his picture of the relative positions of the others, which, from the deck of Tyger, resembled overlapping blocks of shadow. Now it was all up to the lookouts, who could give warning only of minutes.

He had men in the foretop and on the fore-deck, as well as a pair lying on the beakhead gratings under the bowsprit looking up and forward to catch the looming black silhouette of rigging against the sky. All on the upper deck peered fearfully ahead.

It was over quite suddenly, with the glimmer of open water before them and the comforting sight of the Eddystone Light well out to welcome them to the deep sea.

Cochrane had the best part of a day start now. What would he do with it?

The wind was fair for the south, both would benefit, but there was one move Kydd could make. As far as he knew, Cochrane had never seen service in the Brest blockade. The frightful tangle of reefs and skerries off the Goulet was foreign to him and he'd no doubt take the passage that virtually all mariners used – around the lonely outlying island of Ushant.

Kydd would instead pass inside, braving the formidable chain of granite isles centred around the Île-Molène that reached to the mainland. This was dead foul for his course, but for those with the nerve – and the light of day – it meant a possible halving of the distance to the Goulet.

Dawn brought a strengthening of the wind, now a blustering north-easterly and a piercing touch of winter still about it. With the angling swell it was a trial for those on deck, but Kydd wasn't in the mood to indulge their comfort. All sail conformable to the conditions was set, with not a reef furled anywhere, the canvas hard and taut, the rigging humming at a high pitch. An exhilarating but unnerving rush.

Tyger's bow was shouldering aside the surging combers with contempt, her deep pitch and roll in satisfying harmony with the ocean. Imperieuse with her finer entrance at the bow would not be so comfortable with this weather, but Cochrane knew her well and would be husbanding his efforts for the transit of Biscay. All the time, then, it was possible Tyger was hauling her in.

Towards the middle of the forenoon the sprawling, overlapping low islands were raised inside the distant soft hues of storm-battered Ushant. Startlingly pale beaches, light-grey sea-washed rocks turning dark and brooding above the tide-line – but with the wind fair there was no hanging back.

For the cost of an hour or two's intense navigation they were through. Not much further on they had the satisfaction of surprising a brig-sloop of the Brest Inshore Squadron taken aback by the appearance of a frigate from where no cautious captain would go.

There was now little scope for other trickery, simply a hard beat across Biscay to the tip of Spain before rounding it for the passage south to Gibraltar.

The north-easterly, however, had other ideas. Point by point it veered until the ill-tempered bluster was abeam. The Atlantic swell directly in its teeth spent its white crests in streamers of spindrift thrown backwards while losing nothing of its spite. But Tyger was well able to stand against it, even if the drenching spume from larboard and the deep swell remorselessly from starboard held her to a never-ceasing roll that was stiff and wrenching.

As the day wore on the wind shifted further, and before they were halfway across the notorious bay, they were headed. Now more of a southerly veering westerly, they could never keep to a direct course for Finisterre no matter how close they clawed to the wind.

It was decision time. Most masters would wear about and head to sea on the larboard tack, as far out as they thought it was safe, then go about on the other tack to reach for the south. This prudence, though, had a penalty. It would be dead-reckoning all the way with no sight of the sun through the grey scud, and they'd be giving the deadly Costa da Morte seaboard a particularly wide margin to leeward before they moved.

Kydd had been in these waters in the same kind of blow and knew Finisterre – the 'end of the earth' – well. And there was one more trick up his sleeve. He knew his men, he knew Tyger. Instead of a long board out to sea, he'd make a much better approximation of their course by several tacks through the wind and deliberately heading for the iron-bound coast. It would be fraught with peril but the saving of miles under the keel could pay off.

Going about in such conditions needed furious hauling and split-second timing.

Through salt-sore red eyes Tyger's company raised the northern coast of Spain, barely visible through the wind-torn spume and fret. And, as he'd known, it was visible for miles out to sea in daylight, due to the betraying band of white at the base of the crags as the furious Atlantic waves exploded against land. It was a sight that had stayed with him since Tyger's terrible escape the previous year, chasing an enemy frigate in a storm and becoming entrapped on this coast.

'Close with the coast, Mr Joyce,' he told his sailing master. 'I mean to know where we are.'

It turned out to be just to the east of Roncadoira, its weathered and knobbled heights distinct and clear. Estaca de Bares, a dangerous headland flung well out in their path, lay not so very far on. But that was part of his plan.

'Hands to 'bout ship,' he ordered. Knowing where he was and confident just how close to the wind that Tyger could do – five and a half points in the best conditions – he was going to make a triangle out to sea of just the right length to raise Finisterre on the return leg, cutting to a bare minimum their distance over the ground.

In the late afternoon they'd made it, but clear of the infamous cape they caught the full blast of the south-westerly, which they fought like heroes.

Not for Kydd the long reach seawards to give a safe offing, he was doing it the hard way, tack by tack southwards and in sight of land. As darkness drew in the frigate reluctantly stretched out for sea-room. He was not going to risk complex sail handling aloft where a missed handhold could send a man into the sea for a lonely death in the wastes of the night.

No doubt Cochrane would rely on hard-driving sail handling and meticulous trimming to wring every knot from Imperieuse but this could only make a difference on long uninterrupted boards well out to sea at the cost of miles further to sail.



The morning saw Tyger lay Cabo da Roca to larboard – and an outlying frigate of the Lisbon squadron that could give them no news of Imperieuse. Was this because they'd passed her during their fight south? Or was it that, for any one of a number of reasons, that frigate had not sighted her?

With the wind shifting ever more to the west as they shaped course for Gibraltar around Henry the Navigator's Sagres, they could now stretch out close-hauled on one board.

Kydd would have given much to know where Cochrane was. He'd tried everything but nearly a day to make up was asking a lot. The likelihood was that by now Imperieuse was anything up to two hundred miles or more ahead through the Gibraltar strait, on her way to Minorca and victory.

But it was not over yet!

The south-westerly eased the further they converged on Gibraltar until the balmy influence that seemed to emanate from the Mediterranean enfolded them. At thirty-six degrees of latitude precisely, the old Moorish harbour and privateer nest of Tarifa firmed out of the haze ahead and they shaped course towards the Rock.

The evening was coming on when the winds dropped away even more. They entered the strait in a warm breath from the south-west, fair for the entrance to the inland sea, and before long the great leonine shape of Gibraltar loomed to larboard. Kydd had no intention of calling on the port admiral there and kept well clear, putting Tyger closer to the African shore.

Then from the main topmast head came an unbelieving shout and in a trice the deck dissolved into a chaos of . . .
We hope you are enjoying the book so far. To continue reading...
A Sea of Gold
Julian Stockwin
Copyright © 2023 All Rights Reserved
Also in this series
Also by this author