A Duke, the Spy, an Artist, and a Lie
Book info
Sample
Audiobook
Media
Author updates
Lists
Synopsis
Founded by the ton's most ingenious countess, the secret society The Widow's Grace comes to the aid of ill-treated widows and wives and helps them regain their fortunes, their families, and sometimes discover true love . . .



For adventurous heiress Cecilia Charity Thomas, marrying charming military lieutenant Viscount Gantry to save him from danger—and herself from mercenary suitors—was a painful mistake. Instead of a passionate life together, she's stranded at his chilly mansion with his unaccepting family. Worse, she finds he is actually a spy dedicated to duty over wedlock. So when she hears her sister has been driven to her death, Cecilia is determined to expose the powerful man responsible. Assisted by The Widow's Grace, she flees to Covent Garden with a new identity. But can she elude her formidable husband—even as the desire between them continues to flare even hotter?



Always calm, forever controlled, Gantry has put everything aside to hunt down the traitor who nearly killed him. It's only when Cecilia leaves that he realizes his real duty should have been to her. As she continually outwits him, Gantry realizes his wife is a resourceful, courageous woman he longs to truly know. But when her pursuit threatens influential enemies, will his and Cecilia's only chance to gain justice separate them once and for all?
Release date: March 29, 2022
Publisher: Zebra Books
Print pages: 368
* BingeBooks earns revenue from qualifying purchases as an Amazon Associate as well as from other retail partners.
Listen to a sample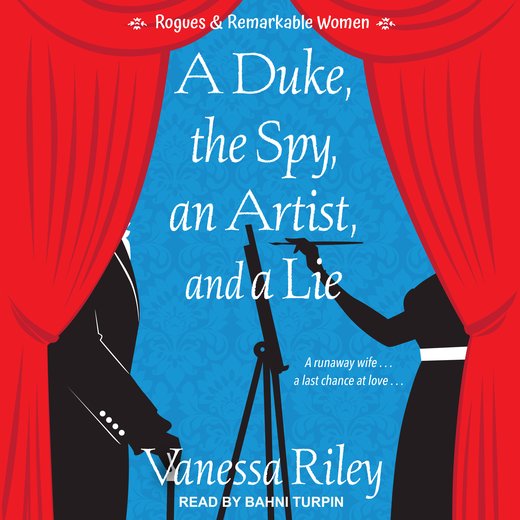 12:41:10
348.45 MB
March 29, 2022
Tantor Audio
2022
A Duke, the Spy, an Artist, and a Lie
Vanessa Riley
October 18, 1814

Fade into the burnished walls of the quaint study. Give nothing away about the painting or its artist. Pretend your soul has not been quickened by seeing her brush strokes.

"The Ashbrooks have given it to me." The Duchess of Repington stood behind Felton in this front room of Finchely House, the residence of Lord and Lady Ashbrook. "Lord Gantry? Are you well?

Don't flinch, David Felton Lance.

Don't move. Live to see another day.

His body stiffened as blood pounded in his ears. If he stepped closer to the painting would the hypnotic power of the artist and her honeyed scent come through the oils and command his pulse?

His resolve to admit nothing, to shield his heart from the damning questions gnawing at his chest took control.

Yet he couldn't break his stare and face the duchess.

How could he pretend to not know the artist? If he closed his eyes, he'd see Cilia's small, gifted arms stretching, her talented hands whisking a brush about a canvas as her perfect hourglass figure tolled that time was up for them, for their marriage, for the dreams he'd begun to imagine before she abandoned him.

Her Grace tapped his shoulder. "Lord Gantry, you don't seem well at all. Should I get a doctor?"

"No." It was all he could say. He'd come to fetch the duchess in service to his friend, the Duke of Repington. To look at Her Grace would give away his hopes. The torture of wishing for a different but similar countenance to look back at him would be his undoing.

Her footfalls tapped in front of him, blocking his view of the painting, the tropical landscape of the mythical Port Royal.

"You're not well. Some men cannot handle being around a woman with child. Even a military man can become squeamish."

That wasn't it. He was a career military lieutenant with years of service in intelligence for the Department of War and the Colonies. He'd seen all manner of things and done the indescribable in service to the Crown. "No, a pregnant woman is beautiful."

The duchess's tawny brow arched. She thought him lying.

This woman didn't know the pain in his heart. Cold and calculating to some, bumbling and joyous to others, withdrawn and analytical to most—no one saw his true nature . . . well, one person did.

Then she left him.

Her Grace nudged him. "Lord Gantry?"

It was best to be silent than to volunteer information that would make him look more of a fool or say something that could shock a lady.

"I know something is wrong. Tell me now. The duke and I and even the Widow's Grace will help."

Her voice was soft, as though she knew she'd summoned Felton from a nightmare, one that had consumed him for the past ten months.

The panic, the sheer terror of his Cilia being missing, being alone somewhere in England, made his skin tight, the scars to his shoulders pained.

Balling his hands behind him, he walked to the painting and took it off the wall. "Too many things on my mind. I think I've seen a copy of this somewhere. I . . . I should get you back to Sandlin Court."

Her Grace put a hand on his elbow. "I'm captivated by the beaches, too. The port city looks as if you can walk right into the canvas and be there. I'm mesmerized."

Mesmerized was a good way to describe what he felt.

"Sir, you do look pale, like you've seen a ghost."

"An Obeah spirit, Your Grace?" Definitely one of the past. "I haven't seen such detailed brush strokes in a long time. Look, ma'am, at the ice-blue waves curling to the land. The huts mingled with the wooden buildings with red and green shutters. It's the best of Jamaica. The legendary Port Royal with the dark clouds in the offing. That's destruction. The artist has a great imagination and a sense of irony."

She picked up the painting before he could stop her, but he grasped the edges. The duchess was in a delicate condition with her abdomen slightly beginning to show. She needed no strain.

"Yes. I see how the clouds change. It looks so true, like this was a window."

"Port Royal was joyous and then destroyed in a single day by a hurricane and an earthquake." Cecilia did have a wicked sense of humor, or was this her expression of them as a couple, happy and then ripped apart in a day? Guilt and memories and unrequited love dumped down his tightening throat. He coughed not to drown. "When did Lord Ashbrook say he purchased this?"

"I think recently. That's what Lady Ashbrook told me. It gives me hope that such talent is here in London."

Eyeing the proud woman of tawny complexion and small topaz eyes, he wondered who'd confess to recognizing the artist first.

The duchess retreated and took up her reticule and the cloth that her morning sickness might require if her jittery stomach didn't settle. "I'm ready to go, Lord Gantry."

Cradling the painting as if it were a child, like one of his daughters when they were babes, he led Her Grace to his carriage.

It was a silent drive to the duke's residence in Town. Neither he nor the duchess seemed to want full disclosure. Asking a pregnant woman about the artist's disappearance could lead to an upset in Her Grace's delicate condition that shouldn't be done. Like all the secrets he kept for the Department of War and the Colonies, he'd keep this one close while doing all he could to find his wife. It seemed Cecilia was alive and in London, painting again and perhaps ready to forgive and fight for their marriage.

October 20, 1811, Three Years Earlier

Felton liked all of his assignments in the West Indies—except the ones like this which could get him killed.

The heat of the day crept into the office he and his colleague had entered in the government building located in Stabroek, Demerara.

In the humid air, his long sleeves stuck to him as did his waistcoat and jacket. He needed to maintain the persona of an English gentleman coming to look at property in the colony, not that of a British operative.

Yeoman Johnson peeked through the cracked door. "We must hurry, Gantry. More people are gathering in the hall. I thought tonight's ball would keep them away."

"The information is not here." Felton eased the drawer shut. "And balls are dangerous things. Do you know how many matchmaking mamas are out there?"

"Not as dangerous as Dutch soldiers with guns. We need to leave." His friend laughed. It was quiet and merry. The transplant from Grenada loved life, justice, and his three-month-old son. "You might need to get in touch with one of those mamas, Gantry. You've been widowed now two years. You might want to think of being caught and staying home. Those two girls of yours would like that. I'm thinking of this too. We can't always be savin' the world."

The dark bronzed face lit with an internal glow when he smiled. He was wise and a good spy.

And he was right about Felton's girls.

Amelia, his precocious two-year-old, and Agatha, his pique-inducing three-year-old, would enjoy him not taking his long trips, but he was no good for them. His sister, Lady Jane, and his aunts, godsends, stepped in to help his now motherless girls.

A wife to soften him and help guide his young girls would be the best course of action.

Yet, that would play into his father's hands. The Marquess of Tramel would find him another wife and use her as a way to manipulate Felton. You'd think the man had enough time on his hands waiting for Felton's grandfather, the fourth duke of Tramel, to die.

His late Elizabeth was strong, but she fell privy to Tramel's influence and his purse, which controlled every decision, such as where Felton's family should live.

The loss of his practical, understanding wife changed everything, and he threw himself headlong into his work to assuage his guilt of leaving her alone too much during her last pregnancy.

"You've gone silent about a new wife. Gantry, did you fine something in that desk?" Johnson chuckled, a deep baritone laugh.

He shook his head. "Too many missions to remarry now. But if her face and fortune are fine, I could be tempted."

"Logical, Gantry. Always logical." Johnson leaned against the cracked door. "Perhaps when we're done, you might think of slipping into tonight's festivities. I hear Mr. Thomas is showing off his girls tonight at the subscription ball. It's the perfect place to hide until the streets clear."

"Save my boots, I'm dressed for it."

"You blend in. Nothing but white men coming to look for a wealthy man's daughters, particularly his mixed ones. If you're not particular on the color of the money, you'll find quite a few tidy sums and lovely backsides."

His friend talked a lot of guff for a happily married man.

"The woman who'd turn my head, Johnson, has to be special. She'd need to be understanding and loyal. I don't intend to give up my work, which means long absences for the Crown. I don't want to fret about her bringing special new friends to my cold bed or her being neglectful of my daughters."

Searching another desk and coming up with nothing, Felton folded his arms. "The information was to be here. The informant who is helping the blockade runner sink our ships needs to be stopped. Good men are dying."

The perspiration that dampened his brow began to pool at his collar and run cold down Felton's heated back. Hot natured all his life, he should revel in a climate made for shedding clothes and rolling up sleeves, but Felton remained buttoned. Smallpox scars marring his arms were hard to keep secret in sweat-inducing environments.

Johnson returned to the door. "More people. Someone has told them that we'd strike tonight. We're in trouble."

Felton's neck prickled. He adjusted the ribbon pulling back his hair. "We can't stay and find out. We are too far for the Department of War and the Colonies to send help."

Holding his hand out, Johnson signaled one, two, three, four, five. That meant there were five additional men milling in the dimly lit hall close to the office they burglarized. They were compromised. They had to become invisible.

Felton closed his eyes and slowed his breath.

Calm.

Think.

Plan.

That was the mantra that had always saved his life. He just needed to get himself and Johnson out of the building and to stay hidden from the soldiers until they could get out of Demerara. "I should've brought Old Brown, the best blunderbuss pistol."

"Let's go out the window, Gantry. You have girls to go home to. I've got my family, my new son. We survive this one, I'm done."

"That will be what we discuss on the boat out of here." He looked out the window. "We're up a story. It's going to be a bit of a jump."

"Like the cliffs in Grenada, just without the water. Remember?"

That was crazy, but he and Johnson and their comrade Watson survived. "You first."

Cracking open the shutters, Felton saw two soldiers doing rounds chatting. Their words were bits of Dutch, maybe French. "I'm rusty on anything but guilders."

"Ya one to know Dutch money, my friend." Johnson's accent was thicker, as if he practiced how to blend in with the locals. He'd become invisible. Felton would stand out. It would be difficult to survive the night, but they'd always been lucky in the Caribbean.

"Johnson, the soldiers have cleared. Out the window. Hide in the brush. Get back to the docks in the morning. Since I stand out, I'll be a bumbling drunk and make enough noise for you to get away."

"A drunk is not invisible, my friend. Not your usual approach but a white man has less chance of getting shot." Johnson clasped hands with Felton.

His soulful dark eyes said all that the two men would never voice—the respect and unspoken thank-yous for saving someone's hide, stopping a bar fight, or stymying a bullet. "Good luck."

His friend climbed out the window; the athletic fellow dropped then rolled until he made it undetected into the bushes lining the road.

Before he could join Johnson, guards came around again. He ducked down. His heart pounded, and he whipped his head from the office door to the window.

Times like this, with his chest gonging, he missed boring London and being a gentleman in the country. Johnson was right. How much longer could he do these missions with his girls needing him to stay alive?

They'd mourned too much.

He'd liked to think he'd stopped wars and disarmed attacks on the British vessels with the information he and his counterparts like Johnson purloined for the Department of War and the Colonies.

Maybe he had.

Maybe not.

Selfishly, the time away gave him the pleasure to be something different than a widower whose newborn son and wife died hours apart. He definitely escaped being a mild-mannered man with a demented father, rakish cousins, and an overly zealous sister.

How could he leave Amelia and Agatha, his beloved daughters, to that? Something needed to change.

If he lived, he'd talk with Lord Liverpool, secretary of the department. The man who recruited him from the battlefields had to be the one to let him quit.

No more noise outside the window.

No increased footfalls at the door.

His pulse slowed and he peeked again to the courtyard. The path was clear, but he stared at the leap which Johnson had made seem easy.

One foot out and then the other, he dangled from the sill for a moment then jumped for king and country.

His legs bowed.

A pain shot through him.

Since smallpox had left his limbs scarred and a little rubbery, he'd hoped they'd absorb the impact better.

Not so much.

He wriggled and hopped. Nearing his thirtieth year, he should still be nimble. Again, not so much.

He hobbled away and hoped no one noticed the window he'd left open.

Rounding the corner, he rammed into a raised gun.

Outside of the Demeraran government building, a soldier waved his flintlock under Felton's nose. "Halt, wie gaat daar naartoe?"

That was Dutch—angry, impertinent-sounding Dutch. White jacket and matching breeches with scarlet banding slung over his chest—the uniform the young man wore was very different from the one Felton donned when he was engaged in armed combat.

The soldier shoved him. The sharp smell of a cleaned barrel was lodged against Felton's nose.

"Wie gaat daar naartoe?"

Raising one hand slowly, Felton faked a stumble as if he were in his cups. Easy, with the pain radiating from his legs. "Oh. Sorry, old boy, I don't speak Dutch well."

"A Brit?" The soldier didn't lower the rifle. "I said, Halt, wie gaat daar naartoe? Halt, who goes there?"

With both arms lifted high, Felton pushed back from the gun. "Lord Gantry, the Viscount of Gantry. I'm a bit turned around."

"What are you doing behind this building?"

"He's looking for me." A sweet husky voice, a beautiful island voice, made both men turn to the vision coming closer.

Braided dark chestnut hair done up into a crown. Warm gold skin with topaz-chocolaty eyes, the young woman approached the soldier. Her blue and red floral tunic stretched with each step. "Yes, Officer, me."

Shaking his head, almost whistling, the soldier slammed the gun to his side. "Miss Cecilia. You know Mr. Thomas wouldn't want his daughter out meeting strangers."

"Georgy, I won't tell if you won't. You know I'm given to walking." The young woman's accent was light, but her silhouette was blessed with heavy curves. Very beautiful in the warm evening.

She came to Felton. "He's no stranger. He's my friend . . ."

"Lord Gantry."

"Yes, my Lord Gantry." Her slight Dutchy-island accent was intoxicating as were the green bits he now saw in her eyes. They surpassed topaz, more like polished agate stones.

"Why do these absentee Brits keep coming over here and scooping up the prettiest colored women?"

"Just lucky, I guess." Felton looped his arm with hers, leaning into her. "Miss Cecilia, I need a bit of help. I've lost my way looking for a girl like you. Would you do me the honor of escorting me to the ball?"

The lift of her brow made his palms more sweaty. He shouldn't have touched her, but he didn't seem to have another option, not with the gun being raised again.

The young lady went along with him this far, so Felton only needed a little more latitude to live. Well, that was what he'd begged with his eyes.

With her stare unchanged, he realized desperation wasn't one of her dialects.

"Sir, you don't remember your way or that we were to look at the stars before going to the ball?" Her voice was low, drawing him even closer.

"Yes, stars, Miss Cecilia. They are bright tonight." Felton feigned another stumble and towed her forward.

The more distance he could add between him and the soldier the better. Yet, if the fellow followed, it would give Johnson a better chance to escape. "Ma'am, you're a godsend. I've become completely lost."

Her smile returned, and she relaxed. "The subscription ball is in the building down the road, not the government building."

"Yes. My head was in the clouds waiting for you. Lead the way, my dear."

They started down the dirt road with big wood buildings and large homes dotting the side. It was an easy gait, like they'd done many walkabouts or promenades in each other's company.

Straightening, slipping away from his buffoonish manner, Felton slowed and watched her wiggle in her beautiful tunic. "Tell me of these stars, beautiful one."

"Sir, I see your stupor has cleared up. Miraculous."

In addition to saving his hide, she was smart with a sense of humor.

"Lucky, miss."

"You're welcome," she said in a whisper. "Well, I find walking very orienting when there's too much noise. Balls can be disturbing if my concentration is bad."

Very smart, to know how to restore one's sense of calm. "Thank you, miss." When he was sure they weren't being pursued, Felton took a full breath. They were halfway to this ball. He'd try to gain entry wearing boots; Almack's would never allow such.

"The soldiers enjoy giving everyone a hard time. It's better not to poke around. Save your adventures for the daytime when their actions aren't in the shadows. Where are you from?"

"England. It's a very fun place."

"That's what I heard. My sister married and left for that island last year. She's having so much fun, we haven't heard from her."

"That is a shame, ma'am, to lose touch." He peeked over his shoulder. No one pursued, but he didn't see Johnson. "I'm sorry. Were you truly out looking for stars?"

She stopped and pointed to the sky. "That is Cepheus. It looks like a house."

Felton craned his neck. "I suppose it is. My imagination is not great."

"It's not with most men." She started moving again.

He watched her. She was graceful, with hips rolling as if she heard some hidden music. "Wait, miss." He caught up and took her arm again. "The infantryman didn't seem to give you a hard time."

"No, they give us pretty colored girls plenty of problems. But my father is one of the wealthiest men in the colony. That keeps me from having problems."

He remembered Johnson's words. "Miss Cecilia Thomas? You're the one I'm here to see."

"Yes, that's my name."

"How might I repay your kindness?"

She squinted at him with stars reflecting in her bewitching eyes. "I need an adventure that will help me escape the next few hours. When I step into that ballroom, Papa will show me off like a prized sow to every headhunter that came to town. What am I saying? You're probably one."

"I understand your lack of enthusiasm. I have aunts that try to matchmake for my sister back home."

"Then give me a fun evening. Pretend to be madly in love with me. Keep all potential suitors away. Let me have an hour or two where I'm unbothered."

Felton looked back toward the government building. More soldiers had gathered. Johnson. Did he get away?

"That doesn't sound too hard, Miss Thomas."

"You think? I can't walk the grounds and look at stars without needing to rescue a stranger. Short of a promise for adventure, a simple thank-you is sufficient."

Intelligent with an easy wit. Maybe going inside this ball wouldn't be so terrible. "Pretend, aye? Doesn't seem too hard to feign becoming enamored of one of the prettiest women I've seen."

Miss Cecilia touched his brow. "You're fevered. That happens to newcomers sometimes."

Taking her hand from his face, he put his lips to her palm, warm and smelling of honey. "Yes, very pretty."

"Thank you, I just wanted you to say it again."

He couldn't help grinning at her. "Doesn't a woman want the attention of a host of suitors? How else will she choose who to marry, unless marriage is not something you want? Sorry. I know it's impertinent, these questions. We just met."

She tugged at the formfitting skirt. "It's an honest question. My older sister, she fell in love with her husband at first sight. I paint too much, so I think my eyes have dimmed. Hasn't happened to me."

"A good sense of humor is a wonderful thing to attract love. It seems only a matter of time—"

The woman stopped and put her hands to her hips. "Oh, I don't want just any laughing fool. Nor do I wish my father to choose. He'll pick someone to better his business. I'm not the sort wanting to be sold off because I have a dowry."

Felton rubbed his hands together. "A man can use a dowry. You'll have no problems being able to choose from a crowd of men."

With a shake of her head, she started walking again.

He caught her hand. "Sorry, but I feel it's true."

"Who wants to marry because a man is broke?" She looked away like the answers to life were in the dusty road or in the halos of torchlight used to light the way. "What if they stop me from doing what I want? I have dreams too."

"You seem young, Miss Cecilia. Are you sure you know what it is that will make you happy?"

She slowed and looked again to the sky. It was magnificent, a cloudless night with so many stars out, blinking and shining. "The constellations are so clear. I'll have to remember and paint it—and you."

Looking over his shoulder, he saw more soldiers surrounding the government building. His stomach clenched but he kept his face even. They needed to get inside the ball. And Johnson better stay hidden; he had a family that needed him to live.

Miss Cecilia didn't seem to want to move. He needed to become more visible, more interesting than stars that wandered the skies and remained untouched.

"Dear lady," he said. "The lack of access to funds or unwillingness to accept the terms of the money can lead to shallow pockets. I for one think a healthy dowry can speed things along, especially a courtship full of promise. I suspect you don't like delays."

As one hand clasped her arm, she rubbed her shiny smooth elbows—not a mark or scar marring the perfection. "Waiting can be a terrible thing."

He tugged on the lapels of his dark jacket. "I'll be honest. I could use a wealthy wife. Money does come in handy."

She grinned. "You seem too honest for a man I found sneaking about."

"If it led to meeting you, then aimless searching has benefits. And if I'd known I'd meet you, I would have found you a flower, some lover's token for you to remember me by. Let us go to this ball and allow me to claim all your dances." He lifted his arm to her, and she took it.

"It does seem a short shrift, sir . . ."

"Lord Gantry, David Felton Lance, but you can call me—"

"Felton? I like that one, it's different."

Suddenly, that one of his names became his favorite. "I like how it sounds on your tongue."

Lacing his hands with hers, he lifted them close to his cheek and sniffed her palm again. His large nose was handy for something. "What is that honeyed smell?"

"Lilac. It's how I wish jacarandas smelled. Jacaranda bloom is the perfect purple, vibrant and lively."

As she pulled away, her gaze went up to the night sky. When she lowered her lashes, he wondered if she'd prayed or wished for something.

Felton forgot his mission, the happenstance with the soldiers. Nothing seemed more important than learning what she wanted. "What is it you desire most?"

She looked at him with surprise. "Not many ask. I think it has to be adventure. To see things that will nurture my art. And to be treated like a queen because of my talents, not my father's assets."

"You must have great talents for queenly attention." He stared at her pleasing figure. "And your assets look fine from here."

Her laughter was musical, caressing his ears.

Funny, bright, beautiful, Miss Cecilia had the makings of fine trouble or an adventure of a lifetime. "You will be a fine queen someday. Your king will be lucky."

The sound of a gun blast echoed.

His heart failed. Johnson! Yeoman Johnson—his friend didn't get away.

Felton closed his eyes. He'd have said a prayer, but soldiers were marching toward them.

At the steps of the banquet hall, she started to go inside, but he kept her hand. "Let's enter those doors and go beyond pretense, straight to an adventure."

"What, my lord?"

"I know this is terribly fast, and I've admitted to being intrigued by your dowry and assets, but I can take you across the sea for a fine adventure. The other side of the world can be great fun. Plenty to see and paint. Ma'am, you won't be disappointed."

"What's the cost for this adventure besides my nice dowry, et cetera? Speak fast. We're about to be interrupted by at least three soldiers."

"A kiss for the man who wants to marry you."

Her head veered from side to side. "Sure. Where is he?"

It was a spur-of-the-moment decision, but a new bride was an excellent reason to leave the service . . . and to live past tonight.

"Here."

Felton swung her around and swept Miss Cecilia into his arms. Squeezing her tight about her small waist, he kissed her. She went willingly, and they kept at it until the footsteps . . .
We hope you are enjoying the book so far. To continue reading...
A Duke, the Spy, an Artist, and a Lie
Vanessa Riley
Copyright © 2022 All Rights Reserved