Book info
Sample
Audiobook
Media
Author updates
Lists
Synopsis
The acclaimed authors of the "emotional literary roller coaster" (The Washington Post) and Good Morning America book club pick We Are Not Like Them return with this moving and provocative novel about a Black woman who finds an abandoned white baby, sending her on a collision course with her past, her family, and a birth mother who doesn't want to be found.

Cinnamon Haynes has fought hard for a life she never thought was possible—a good man by her side, a steady job as a career counselor at a local community college, and a cozy house in a quaint little beach town. It may not look like much, but it's more than she ever dreamed of or what her difficult childhood promised. Her life's mantra is to be good, quiet, grateful. Until something shifts and Cinnamon is suddenly haunted by a terrifying question: "Is this all there is?"

Daisy Dunlap has had her own share of problems in her nineteen years on earth—she also has her own big dreams for a life that's barely begun. Her hopes for her future are threatened when she gets unexpectedly pregnant. Desperate, broke, and alone, she hides this development from everyone close to her and then makes a drastic decision with devastating consequences.

Daisy isn't the only one with something to hide. When Cinnamon finds an abandoned baby in a park and takes the blonde-haired, blue-eyed newborn into her home, the ripple effects of this decision risk exposing the truth about Cinnamon's own past, which she's gone to great pains to portray as idyllic to everyone…even herself.

As Cinnamon struggles to contain old demons, navigate the fault lines that erupt in her marriage, and deal with the shocking judgments from friends and strangers alike about why a woman like her has a baby like this, her one goal is to do right by the child she grows more attached to with each passing day. It's the exact same conviction that drives Daisy as she tries to outrun her heartache and reckon with her choices.

These two women, unlikely friends and kindred spirits must face down their secrets and trauma and unite for the sake of the baby they both love in their own unique way when Daisy's grandparents, who would rather die than see one of their own raised by a Black woman, threaten to take custody.

Once again, these authors bring their "empathetic, riveting, and authentic" (Laura Dave, New York Times bestselling author) storytelling to an unforgettable novel that revolves around provocative and timely questions about race, class, and motherhood. Is being a mother a right, an obligation, or a privilege? Who gets to be a mother? And to whom? And what are we willing to sacrifice for the sake of marriage, friendship, and our dreams?
Release date: June 13, 2023
Publisher: Atria Books
Print pages: 336
* BingeBooks earns revenue from qualifying purchases as an Amazon Associate as well as from other retail partners.
Listen to a sample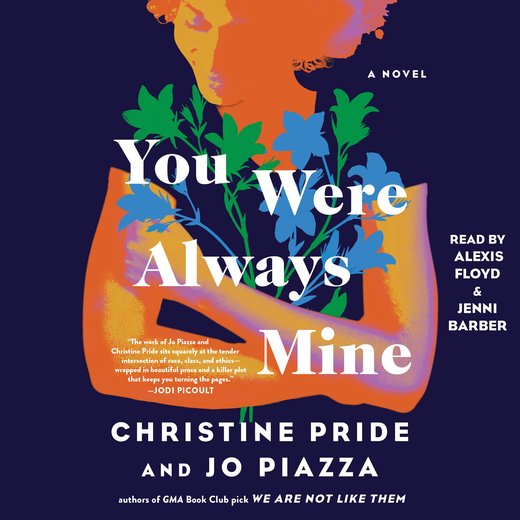 12:23:46
340.48 MB
9781797160498
June 13, 2023
Simon & Schuster
2023
You Were Always Mine
Christine Pride
Chapter One

CHAPTER ONE
Cinnamon Haynes can't remember when she stopped wanting things in life. When she was younger, she was filled with longing for silky straight hair that would slide around her shoulders, for bright-white Rollerblades with pink wheels, for her own room where she could paint her walls neon green or orange or whatever color she wanted and have one of those beds with a canopy over it and a slew of pictures in white frames made out of seashells. She would also have photos to put in those frames, pictures of her friends and family. She had none of that.

Perhaps her strongest longing was for her mother to come back from wherever she'd disappeared to when Cinnamon was barely out of diapers, leaving her with her sixty-two-year-old grandmother who passed away three years later. No, her strongest longing was actually for Grandma Thelma to return from the dead and save Cinnamon from everything that came after.

These yearnings used to be a roaring furnace deep within her, hot and constant and consuming. But at some point along the way the fire just burned itself out, slowly, little dying embers one by one, and what was left when the smoke cleared was acceptance: this was, and would always be, the life she got. It was almost liberating because with that resignation came the freedom of surrendering, come what may. It was pointless to pretend that she had any control over her circumstances, better to abandon herself to the current and let it carry her along while maintaining an almost detached curiosity about where she would eventually wash up, which turned out to be here: a pin dot of a town spitting distance from the Atlantic Ocean in a run-down but cozy cottage, listening to her husband snoring like a lawn mower in bed next to her.

Lucky and Cinnamon aren't two words that rightfully belong in the same sentence, but some higher force had a hand somewhere along the way. Because if you'd told her twenty years ago that this future was waiting for her, she would have laughed out loud and asked what you must have been smoking to see this in the cards. The statistics promised a very different trajectory for a girl like her: she was supposed to be alone, homeless, dead, on drugs, or some combination of it all. But somehow—through a rare and brilliant twist of luck, or grace or fate—she'd found herself in this life and let herself settle into it like a warm bath. Granted, it's not like her present circumstances are particularly opulent by any means—it's a little gold band on her ring finger, a roof over her head, and a "real" job at the local community college, with a desk and benefits, where she gets to help kids and maybe make a difference in their lives. Wasn't it something that that could feel like hitting the lottery?

This is why she's constantly reminding herself to have the good sense to appreciate what she has and wish every day that it doesn't get snatched away. Or more specifically, that no one discovers that she doesn't deserve it after all. Good, quiet, grateful. That's her mantra.

So why, then, is she being tormented by the same relentless dream night after night, the one that leaves her shaken and unsettled all day? Here she is now, blinking up at the ceiling, with a hammering heart and beads of sweat frizzing her edges before it's even crossed the sun's mind to make an appearance.

In the dream—nightmare, more accurately—she's riding an elevator in some impossibly high skyscraper in a gleaming, fancy city she's never been to. People get on and off as it climbs until Cinnamon finds herself all alone on the top floor. The doors refuse to open no matter what combination of buttons she jabs. Eventually the walls start to press in on her from all sides until the elevator shrinks to the size of a closet, then a coffin. It's a good day when she wakes up before the ceiling starts pressing down on top of her thick braids. Today is not one of those days.

She knows getting back to sleep at this point is about as likely as the Mega Millions ticket on her bedside table being a winner. So she slinks out of bed and pads down the hall to the tiny spare room at the back of the house. In the corner, behind a clutter of old junk they never cleared out when they inherited the place from Jayson's grandmother, there's a saggy corduroy beanbag chair nestled under the window. A teetering pile of books flanks either side. She affectionately thinks of this little clearing she's carved out for herself as her reading nook—emphasis on nook. If there were a place that embodied Cinnamon's lifelong quest to feel safe, it would be this one right here. Dark, tucked away, and all hers.

The book is just where she left it—hidden under the beanbag she settles into. Old habits die hard, and hiding things is one of them. She digs out the stained, dog-eared copy of Charlotte's Web, one of two possessions she's had since childhood. The other, Grandma Thelma's leather-bound Bible, she keeps in her bedside drawer like they do in hotels.

Reading is supposed to calm her. Books have always been her truest salvation and most constant companion. For some people it's drugs or booze. Cinnamon has always steered clear of those, maybe out of an innate sense of self-preservation—losing herself to them would have been too easy. As far as addictions go, reading was at least one that couldn't destroy her. And she'd bet good money it was as effective at soothing her as any of the drugs she'd never tried would be. Cheaper too. For as long as she had a book open in her lap, she had a portal to escape everything going on around her and in her mind. And so reading became her respite from the very first moment she made the wild discovery that she could string letters into words, words into sentences, and sentences into ideas. Since then she's had to have a book within easy reach, like a life jacket or fire extinguisher. Every time she settles down in this beanbag chair she might as well be ten years old, tucked away in the corner of the Wooten Hills Regional Library, which is where she'd stolen the book in her hands from. After reading it through eight times crouched in the back of the stacks, she didn't see how she had much of a choice. She simply couldn't live without it, without knowing she could devour Charlotte's Web at least a hundred more times, its pages warping with age. And it wasn't like anyone was going to buy her a brand-new meticulously wrapped copy for her birthday. Any guilt that she'd felt slipping it into her bag was offset when Sarah the librarian smiled at her on the way out. Cinnamon swore Sarah could see the book burning a hole in her bag and knew her secret. So when Sarah nodded and let her go, she figured the librarian—her favorite—understood. There were so few mercies in Cinnamon's young life—she couldn't be shy about grabbing on to one or two.

The problem is, reading is bringing her zero comfort this morning. The words just dance around the page like waving hands, whispering, Girl, wait—is this all there is? What is she to make of this sudden restlessness that came on like an itch she'll never be able to reach? This growing anxiety that even a book can't quell.

Lucia has decided this is all just the birthday blues ahead of Cinnamon's thirty-fifth birthday next week. Cinnamon had no intention of mentioning to her best friend how out of sorts she was feeling lately, but when Lucia caught her zoning out while sitting in her driveway a few weeks ago, some sort of explanation was required, so she admitted she was a little off. But Lucia's theory doesn't hold much water with Cinnamon. She's never had the time or luxury for existential angst.

Lucia had hopped in the passenger seat while Cinnamon was still in Lucia's circular driveway and had an immediate solution for her woes. "You know what'll break you out of this funk? A party! I'm going to throw you a big birthday bash. I'll do it on Friday, the night before, so Jayson can still sweep you away for something on your actual birthday Saturday."

Lucia has more faith in Jayson's planning than Cinnamon does. And her friend's offer was less about Cinnamon and more about Lucia having an excuse to throw a party, but putting her hatred of being the center of attention aside, Cinnamon agreed with the hope that it would work to snap her out of these doldrums. It will also be the very first birthday party Cinnamon has ever had, and it's fitting that it's being thrown by the first real and true friend she's ever had too. She can't tell if any of that is sweet or sad, but that's the case with so much, isn't it? A murky mix of the two.

Cinnamon abandons Charlotte's Web and gives herself fully over to the angst—it's like trying to fight the current anyway; there's really no point and ultimately it's more exhausting than just giving in. Tracing its source is futile too, but she can identify at least one likely culprit: her husband. The anger and resentment sticks to her like the film of tomato sauce you can't quite get out of the Tupperware no matter how hard you scrub. This, despite her best efforts to get past his shocking foolery. Cinnamon's worked as hard to forgive him as she has at anything else in her life. There's a stack of books in the recesses of her closet that's a testament to that commitment. How to Improve Your Marriage without Talking about It; Be the Spouse YOU Want to Have; Forgiveness Is for You. The goal was to read herself to a better place. If books can save your life, maybe they can also save your marriage. It just isn't working as fast or effectively as she hoped.

Well, the forgiveness book has helped a little. It could be the author's wisdom, but it could also be because Cinnamon well knows she can't afford to let herself stay angry at Jayson for any real length of time. Which is why it makes her laugh now to think just how mad she was after he dropped his bombshell last summer—mad enough to actually have packed her bags.

She'd also contemplated setting Jayson's clothes on fire, Waiting to Exhale style, on her way out. But that was a bridge too far, and she only got as far as the front porch anyway. Not even to the car. Because where would she even go? Move in with Lucia and Adam and the twins? Hardly, even if they did have the space in their McMansion. Was Cinnamon going to call all the family she didn't have? Was she going to call Reverend Rick and slink back to Atlanta and her attic apartment above All Souls Heavenly Fellowship storefront church? She'd come too far for that, and besides, the Rev had already done enough for her for several lifetimes. Her lack of options made her feel the same as when the elevator wall came pressing on her head in her nightmares, and she had a mighty headache to show for it.

So she'd set about the work of forgiveness, which was a new skill to Cinnamon. Given that the trail of people who've hurt and wronged her is longer than all the rivers in the world strung together, there was no way to muster enough energy for all the forgiving she would've had to do, so she'd never even bothered. But Jayson is a different story. With Jayson she doesn't have a choice. That's marriage, right? You have to keep on keeping on somehow? Or else… or else what?

Sometimes she tries to think of it this way: she should actually be grateful that Jayson messed up like he did. It balances the scales between them to be reminded that he isn't Mr. Perfect, as much as he'd like everyone to believe that. He also isn't the only one to have lied. In a way, it's a silver lining that his infuriating antics soothed Cinnamon's guilt about all the secrets she's kept from her husband. Except he came clean. And that makes one of them.

A shadow passes outside the door and Jayson appears in the hallway, as if her very thoughts conjured him, as if he just knew he was winding through her brain at 6 a.m. She tries to get her mind to just hush up, a futile task if there ever was one.

Jayson stands there a moment, watching her pretend to read before he speaks. "You good? A little early to have your nose in a book. Even for you."

"Yeah, I'm okay. Just couldn't sleep." She hasn't told him about the nightmares. Or the lingering rage.

"Is it early menopause?"

"JAYSON!"

"Girl, you know I'm just messing with you. We need to get you some melatonin tonight. You've been restless for a minute now."

"Yeah, maybe that'd help. I got a lot on my mind."

"Let me guess. Thinking about some drama with one of your students again?"

"Yeah, that's it." Her students and their constant struggles are always an easy scapegoat for any stress.

He squeezes in next to her even though there isn't room for two on this chair. "Cece, you know what your problem is?" Jayson doesn't wait for her to respond before leveling his familiar accusation.

"You care too much. About those kids. About their problems. You gotta learn to let go, to leave all that at work."

She scoots away from him, tucking Charlotte's Web back under the beanbag. "Yeah, you're right, Jay," she agrees. Even though she's lying—there's no such thing as caring too much. And it isn't the point anyway.

She swivels her head around, taking in the piles of boxes, the old yellow phone books, VHS tapes, and the scattered Styrofoam pellets that have leaked from the beanbag chair all over the floor. "We need to do something about this room."

"Too early for that too." Jayson yawns loud enough to wake the closest neighbors a mile down the road.

He promised he'd fix this place up as soon as they'd moved in three years ago. Jayson promises a lot of things. He has more plans and promises than most people have pants. His schemes and dreams are how they'd ended up back here in Sibley Bay, the little town where he was born and raised, where he got to be a big fish in a little pond instead of the goldfish in an ocean he'd been in Atlanta. Those schemes and dreams might also destroy them both, but she can't think about it right now. She's got to get to work—to the job that currently, and barely, supports them both, even though she doesn't want to think about that either.

"Well, it may be early, but I'm going to be late if I sit here too much longer."

She lets Jayson pull her up from the beanbag chair, if not out of this dreadful mood. It is nice to pause in his arms for a minute, breathing him in. Despite herself, the urge to stay nestled in the crook of his neck all day, warm morning breath on her face, comes on strong. But work awaits. She has an appointment with one of her students at 8 a.m. sharp, and Preeti is sure to be in her office fifteen minutes early, already in a tizzy about something or other.

Back in the bedroom, she digs out a tired old black dress, which feels right on so many levels and is the only thing she can think to wear to the work party she does not want to go to tonight. She does have a brand-new dress tucked away in the back of the closet that she got on a whim for her birthday party next Friday, but every time her eye catches the price tag, she vows to return it. And anyway, she wouldn't waste it on Vera's retirement bash. The woman's pale, pinched face and her string of different yappy "therapy" Yorkies have greeted visitors to the reception desk at Sibley Bay Community College since it opened its doors forty years ago, and now her reign is done and she's moving closer to her son somewhere in Texas. To which Cinnamon thinks, Good riddance. This is a woman who announced out of nowhere one day, "You know, Cinnamon, you're the first colored friend I ever had," with the proudest look on her face like she'd earned the hardest Girl Scout badge tying knots or some other useless activity. Cinnamon was not the least bit surprised by this information, nor by Vera's use of the term "colored," nor by the fact that Vera obviously expected to be rewarded for this confession, judging by the eagerness with which she awaited a reply. Cinnamon's "Okay, cool," apparently fell short of whatever Vera was hoping for. She was clearly supposed to be congratulating her on her valiant open-mindedness. But it was a helluva lot nicer than what she wanted to say, which was, "What on earth makes you think we're friends?"

Cinnamon slips the dress over her head and appraises herself in the wobbly full-length mirror leaning on the wall, twisting around to decide if she needs Spanx. Not that she would suffer Spanx for Vera, and anyway, her hips and butt are as narrow as they ever were. She takes in her perky breasts, smooth dark skin, and round doll-like eyes with highly batable lashes, if Cinnamon had ever mastered the art. Even the stray tooth that refused to fall in line somehow adds to the overall effect of her shy smile, which is good because braces weren't in the cards. Cinnamon allows herself her vanity, beauty being one of those things like a trust fund or royal lineage—it doesn't matter who's deserving; it is the luck of the draw, a blessing bestowed by fate, which overall, has not been particularly kind to her. So who is she not to acknowledge and appreciate this one saving grace? She doesn't take for granted the times it got her an extra kindness, or how it allowed people to assume things about her and her life. She's no fool—she knows it got her husband too. She had easily marked Jayson as the sort to want a pretty wife to show off and complete his "image." At least she had that to trade for love.

Suddenly, Jayson's voice floats over the racket he's making deep in the closet. "You know where the medium suitcase is?"

"It's nested in the larger one. Like always. Why do you need a suitcase?"

He reminds her about the deep-sea fishing trip he's going on this weekend that she'd fully blocked out after unsuccessfully trying to make the case that this was not the best use of the funds they didn't have. Jayson claimed Alex, one of his buddies who just got a big bonus, was bankrolling the whole group and renting some ridiculous yacht, a move Jayson described with equal parts bitterness and reverence. "You know how Alex loves to show off he's ballin' like that. White dudes and their boats, man. We make it far enough out there, it's going to be some middle passage shit. Can't wait to see Alex's face when I bring that shit up to mess with him."

When he emerges from the closet clutching their faded gray American Tourister, he looks confused. "Why you all dressed up? You usually wear those Oprah's Favorite Things leggings on Fridays."

It's her turn for reminders. "I'm going to be home late tonight. Remember? I have Vera's retirement thing."

"Oh man, that crusty cracker."

"Jay!"

"What? This is the woman who called you 'colored' to your face. If that doesn't qualify her as an ole crusty cracker, I don't know what does."

He gives her a playful tap on the butt. Jayson always jokes that he found the only Black girl with a flat ass in all of Atlanta.

"Well, I'm just glad you have a reason to wear something other than those tired pants. Lookin' all grown and sexy this morning. Actually, why don't you get over here and let me remind you just how fine you are." He kicks the suitcase away and makes a show of falling onto the bed and patting the mattress beside him.

His hungry eyes send a surge of love through her that scatters all the angst hovering over her this morning. It occurs to her that the key to forgiveness could be simpler than she was allowing. Maybe the path to settling herself down once and for all is to remind herself as often as necessary how much she loves her husband. She truly does. With his slow drawl and easy charm and the way he can tell the same joke a hundred times and still make it funny. Also, good Lord he has the most beautiful smile she's ever seen on a grown man, and damned if he isn't always smiling like he doesn't have a care in the world. Jayson is relentlessly upbeat, more than ought to be possible, given this world. He doesn't have the stone-faced expressions most brothers wear—either an affected swagger or an aggressive stoicism, world-weary or too cool or both. It was the first thing she noticed about him—that Labrador puppy energy—when he'd sidled up next to her five years ago during a packed book reading in a too-hot Barnes & Noble in Buckhead. All those teeth lined up like shiny piano keys when he turned to her, looking down at her sweatshirt, clearly ready to spit out his best game. "Spelman, huh? Smart and fine, I see." There was an honest-to-God actual sparkle in his eyes, along with a touch of hazel, or maybe the light was catching them just so, but Cinnamon felt that thing, a terrifying wooziness at the instant attraction and the shock that this good-looking man with his expensive-smelling cologne and Italian leather satchel was so interested in her. She'd looked down at the thrift store sweatshirt she'd forgotten she was wearing and nodded, only slightly, but her being a Spelman girl was still the first of many lies she'd let him believe about her life before they met.

Jayson's interest, attraction, and eventual love felt like a gift. It did then and it still does.

But as she meets his gaze again in the mirror now, a familiar question nags her: Did she fall in love with Jayson, or with the version of herself that he evidently saw—someone worthy of love and commitment? Her love is all mixed up with so many other complicated emotions—namely, a white-hot gratitude. Being loved, she fears, is something she may never get used to, even after all these years. But no one has to know that, least of all her husband.

"I don't have time for all that this morning, Jay." She eases the rejection with a smile at him in the mirror. "But how about I make you some eggs?"

She doesn't know how to account for this, but out of nowhere she wants to make her husband breakfast, even more so when he looks downright touched.

"For real? It's been a minute since you made me breakfast like you used to."

It's been more than a minute—it's been almost a whole year. Ever since the day he said those words, "Cinnamon, I have to tell you something." It was "Cinnamon" not "Cece," which stopped her cold. In the wake of his confession, she'd let up on her determined efforts to be some sort of perfect sitcom wife, television being her only real model of what marriage should look like. The desire to make her man eggs this morning is her vigilance returning to her. Swallowing her pride, being the dutiful wife, remembering to be grateful—these are the ingredients to make her feel safe. Good, quiet, grateful.

"Oh stop, I can make my man a couple of eggs now and then."

"Cool. I'll be down in a minute." Before she can get to the bedroom door, he calls out. "Unless… wanna come back and…?"

The eggs are one thing, but he's pushing it. She hesitates for a minute, trying to decide if she has it in her to peel off this dress, crawl back into bed, and give herself over to her husband. She knows Jayson's invite is only half-hearted; he's like a little kid finishing dessert—you always ask for extra even when you know the answer'll be no. But she's tempted. Tempted to lose herself under Jayson's weight, have all these discomfiting feelings washed away with sweat-soaked skin, hide in her body so her mind can't reach her.

As a consolation she goes back and kisses him. Jayson grabs her arm to hold her there. When he shoots her that lopsided grin, she knows a request is coming before his lips even fix to move. "Any chance you can swing by Sandy's on the way home after Vera's thing? I've been craving creole catfish bad."

"Yeah, yeah, no problem." She lets her tone sound all begrudging, but she means it. She could use a pile of creole catfish too. And they can watch an episode or two of Power they've been saving.

Cinnamon leans down and nestles her face in Jayson's soft waves. He reaches for her and pulls her back to kiss her lips, mumbling, "I love you." Though love was never really the problem. It almost never is.

The bird is an omen. Cinnamon will come to see that later, but for now she's not one to believe in signs or magic, or spells, or even wishes on birthday candles. The bird though. That bird. Sitting right there in the kitchen, smack in the middle of the table, perched on the towering stack of past-due bills like it's the most natural thing in the world. It is about the teeniest thing she's ever seen, bright neon yellow as a highlighter and as still as a ceramic figurine. In fact, she assumes it's a strange little statue until it suddenly cocks its head.

Cinnamon's eyes dart around their kitchen. The bird squawks, loud and urgent.

How in the world did this creature get in here and what does it want?

One of her foster dads, Doc Parker, had been an "amateur ornithologist." That's how she learned the word "ornithologist," which she eagerly added to her mental vocabulary collection that would eventually lead her to a near perfect verbal score on the PSATs, useless as being in the 98th percentile would prove to be. That new word was the best thing about living with the Parkers. It was the first time she'd ever lived with white people—Doc and his wife and their two blond children who stared at Cinnamon like she was a rare bird in a tree—and amateur bird-watching was nothing if not peak whiteness. It seemed crazy to take long drives to the middle of nowhere and try to spot birds in trees before they flew away. Somehow Doc Parker always took her out in his wood-paneled station wagon on days that were hotter than the devil's breath. Doc delighted in "exposing" her to a new hobby. White people were always very big on "exposing" you to things, as if they held a passport to a different world, which they basically did. The bird-watching grew on her in the six months she lived with the Parkers before Doc got relocated to a job in Portland and they left her behind like an old piece of furniture too unwieldy and impractical to bother to move. But those first few times they went bird-watching, she hated it. She felt like she was going to die of heat stroke or boredom, whichever got her first. There were a thousand things she'd rather be doing (namely, reading), but whenever he looked at her expectantly and asked if she was having fun, she beamed. "I am!" The lie came easily, a reflex and a survival instinct, for Doc Parker and everyone else. The lies were second nature by then; they flew from her lips as smoothly as all those birds taking flight: where her mother was (acting in Hollywood, or sometimes dead of cancer, depending on Cinnamon's mood), vacations she had taken (Paris, twice—as if), and activities she excelled at (ice-skating and horseback riding).

The reality: she'd never left the city of Youngstown, let alone the state of Ohio, before she was shipped to Atlanta at fifteen, and she had no idea where her mother was since she'd walked out the door when Cinnamon was three, leaving Grandma Thelma with a confused and heartbroken toddler. She could have been good with skates or horses if someone had given her lessons.

Cinnamon rationalized that her lies were harmless, victimless; it was more a game, all the ways she pretended that she had a better childhood than she had—like, for example, that she did get to go to college. She was so convinced of the alternative reali
We hope you are enjoying the book so far. To continue reading...
You Were Always Mine
Christine Pride
Copyright © 2023 All Rights Reserved