Book info
Sample
Audiobook
Media
Author updates
Lists
Synopsis
A Knives Out-style whodunnit with a twist of Taylor Jenkins Reid, You Must Remember This is an immersive Gothic mystery, with a long-ago love affair, icy death, and a rich family gone bad, from Kat Rosenfield, the acclaimed author of No One Will Miss Her.
On Christmas Eve, eighty-five-year-old Miriam Caravasios steps onto the ice that surrounds her seaside estate on Maine's Mount Desert Island. As a younger woman, she used to steal out on winter nights to meet her lover, walking across the frozen reach to their secret meeting place. She knows the way—but not the year. Miriam, her mind clouded by dementia, doesn't hear the snap of thin ice until it's too late.
Was it an accident? Suicide? Or worse: did someone lure the old woman onto the frozen reach, to her death?
There are plenty of suspects; Miriam's fractured and complicated family has gathered in their Bar Harbor mansion to celebrate what everyone believed would likely be the matriarch's last Christmas. The guests include Delphine, Miriam's granddaughter, a frightened and insecure young woman who adored her grandmother, and Miriam's live-in aide, Adam, whom Delphine has been secretly dating.  There is Miriam's former housekeeper, Shelly Dyer, who left the family's employment years ago under mysterious circumstances. There are Miriam's children: Theodora, who gave up everything to assume the role of caretaker; Diana, who seems just a little too eager to inherit her share of the estate; and Richard, whose longtime grudge against his mother has curdled into gleeful contempt at her deterioration. 
But it's Delphine who comes in for the greatest scrutiny when they learn the shocking news that Miriam's will cut off her children, leaving her granddaughter almost everything.
As tensions rise, Delphine is emboldened to start asking questions: not just about her grandmother's death, but about her life, and the love story that defined it as the rest of her memories faded. The trail will take her into the past, into dark places — and eventually, onto thin ice.
Release date: January 10, 2023
Publisher: HarperCollins
Print pages: 320
* BingeBooks earns revenue from qualifying purchases as an Amazon Associate as well as from other retail partners.
Listen to a sample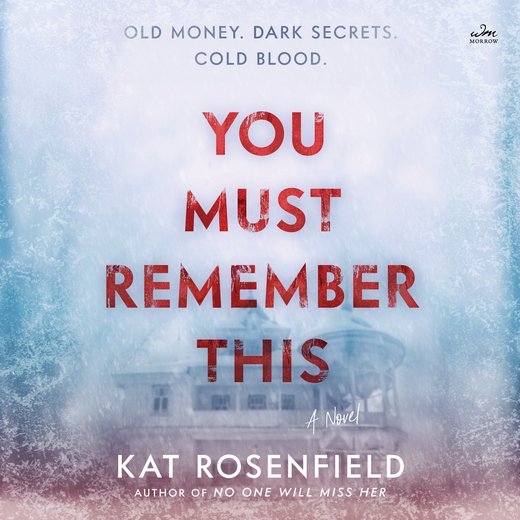 11:12:53
308.03 MB
9780063207424
January 10, 2023
HarperCollins
You Must Remember This
Kat Rosenfield
I woke to the sound of footsteps. Angry and rhythmic, a march back and forth right under my window.
I peeled my eyes open, reaching automatically toward the nightstand, grunting when the phone slipped out of my fingers and clattered to the floor. The house creaked and settled, buffeted lightly by the wind. I groaned along with it. I'd slept badly again, uncomfortable in a house and a bed that didn't belong to me. It had been easier in New York—if not easier to sleep, then easier to feel like it was okay that I didn't. Restless nights were just part of the constant noise and movement of the city; there, I was like a single cell that belonged to a huge, quivering organism as fidgety and restless as I was.
Maine was different at night. Too dark and too quiet, except for the eerie muttering that gave the house its name and that set my teeth on edge. I had been at the Whispers just over six months, but I wouldn't feel at home here if I stayed ten years.
Beyond the warped and wavy glass of my bedroom window was a copse of barren trees with a few dark evergreens nestled among them, the yellowing grass of the lawn. Beyond the trees, just a glimpse of cold gray water, where the bay crept inland and became a river. Mine was one of only a few rooms without a view. The house sat at the mouth of the harbor, perched on a high point with a steep descent toward the water on one side. Every room there was outfitted with porches and balconies so that its occupants could take in the sea, but my bedroom was on the other side, where a white gravel piazza spanned the length of the front facade, tapering at one end to a narrow driveway that snaked away through the trees.
This was the source of the noise: my mother was out there, marching back and forth on the gravel to a point about twenty feet from the front door—the place where a person would first be able to glimpse a car as it came around the curve approaching the house. I could see her through the window every time she reached her destination. Ten steps out, a pause, then a heel turn. Ten steps back, another turn, another ten steps, repeat.
Even from three stories up, the scuffing of feet was audible, and this was not an accident. Nervous noise was Dora Lockwood's preferred mode of communication when she was unhappy: taps, clicks, heavy footsteps, the conspicuous roar of the vacuum cleaner. Anything but actual words. One of my most vivid memories from childhood—one of the last ones my father was still around for—was of her sitting at the dinner table, methodically plucking ice cubes out of a glass and crushing them between her teeth. Not speaking, barely touching the food on her plate, just sipping at the melted ice water and then going to town on a new cube. Crunch, crunch, crunch.
It kept on until the glass was nearly empty and I thought I was going to scream. My father was pretending not to notice, but the tension in the room was unbearable, and I was sure that it was going to be a prelude to something—a conversation, an argument, a fistfight. My parents had been not talking about things for so long. But when the cubes were gone, Mom had just gotten up and cleared the dishes in a way that felt like the period at the end of a sentence, as though she'd said all she'd had to say.
Dad left for good pretty soon after that. I think he was already planning to, but if he wasn't, the thing with the ice would've pushed him over the edge. He lived in Santa Monica now and was married to a very blond, very tan woman who did crystal healing ceremonies for cats with emotional problems—or if not that, exactly, then something equally ridiculous, where the only thing more annoying than the existence of the job itself is how happy and #blessed the woman doing it seems to be. My father and the cat whisperer had two kids, twin girls. Vivacious and well-adjusted eighteen-year-olds. They looked just like their mother and ran a moderately successful YouTube channel where they posted hair-braiding tutorials. I tried one once, but all I ended up with was a rat's nest that took an hour to comb out and took about half my hair with it, which seemed like it should be a metaphor for something. The YouTube twins were my father's greatest creation. Me, I was the rough draft that got stuck in a drawer when it turned out that no amount of work would ever make it into something good.
I was only nine at the time of the ice-crunching incident, and it took me a while to realize what a significant moment it was, a first glimpse at some essential truth about the woman who'd given birth to me. My mother's unhappiness was like a cage, but not one she was trying to escape. She just liked to rattle the door to remind you that she was in there. Crunching ice cubes, clicking her fingernails, walking back and forth on the loud driveway in a pattern that just happens to pass underneath her sleeping daughter's window: all of these were ways of signaling her anxiety without ever having to talk about it. God forbid she do something about it.
I once told my therapist that Mom was a living lesson in the difference between communicating and making noises. I was pretty proud of that, I thought it was clever, but the therapist made this sniffing noise and said wasn't my phrasing interesting, since many languages sounded like nothing but noise to people who didn't understand them.
"Have you ever tried talking about this with your mother?" she asked.
"She'll just turn it around on me," I said. "I don't need to hear another lecture about what a disappointment I am, how I don't have any direction and need to be more of a go-getter."
"I see," the therapist said, and then glanced at her watch. "Ah, well, our hour is nearly up. We'll continue this next week."
I didn't keep that appointment. Among other things, I was pretty sure that it would involve another snotty comment about how my perspective was interesting, which we all know is therapist-speak for Actually, you're the asshole. But it was probably for the best. It wasn't long after that things in New York fell apart and I had fled up the coast to Bar Harbor, tail tucked firmly between my legs. That was June. Now it was December, and Mom and I were still living in the big ramshackle mansion that had seven bedrooms and four parlors and expansive grounds and a wide-open view of the sea, yet somehow it still felt not quite big enough for the both of us. If I was going to unpack my childhood issues, it could wait until we were back in different area codes.
I found the phone where it had fallen and picked it up, unlocking it with a swipe. It was almost dead. I'd fallen asleep without plugging it in, mid-scroll, eyes glued to the social media feeds of people who weren't my friends anymore—or, if I was really being honest, never had been. The screen said it was 10:28 A.M., but the sky outside the window was the same depthless gray that it had been yesterday afternoon. The color wouldn't change until the sun went down somewhere behind the cloud cover, and the gray became black. It was my first New England winter, and I hated it. New York had been cold, too, but at least it still felt alive, with the traffic rushing and the stoplights blinking from green to yellow to red, the storefronts full of twinklinglights, the streetlamps decked out with colorful banners that flapped in the wind as it howled down Fifth Avenue. The apartment I'd shared with roommates in Greenpoint was always warm—usually too warm, superheated by an ancient radiator that sometimes got overexcited and spewed hot water all over the carpet—and there was always somewhere to go, something to do. But here the arrival of winter felt like the whole world dying, the color bleeding out of everything until it was all just shades of stone, slate, granite. The seasonal businesses in town went dark when the last of the leaf peepers left, their windows all shuttered, and the trees without their leaves looked like skeletal hands, clawing at the sky. Even the house was made of yellowed stone that could look almost golden when the summer sunlight hit it just right, but by the time Thanksgiving rolled around, it had faded, too, to the dirty, desaturated color of an old corn husk.
The footsteps outside paused and I leaned closer to the window to peer down at the driveway, only to find myself locking eyes with my mother, who was staring up at the house with her arms folded across her chest. She waved impatiently, then pointed at her wrist, which was bare, but the message was clear enough: It's time. Get down here.
I extended my index finger, mouthing the words one second, and paused with my legs dangling over the side of the bed. I looked at the phone again, tapping the text message icon even though I already knew there would be nothing new.
There was nothing new.
My thumb hovered over our last exchange. His message read: Goodnight babe. Mine said: Night. I'd been trying to seem nonchalant, but now it felt like a trap: if I followed it up with Good morning, I'd look too eager and lose the upper hand.
Five minutes later, I stepped out the front door, hugging my arms across my chest. My hair, untouched by a stylist since I left New York, was returning to its natural state like a garden that someone had stopped bothering to take care of—dark, lank, perpetually tangled. I'd pulled it unbrushed into a messy bun and thrown on yesterday's jeans with ankle boots and a thin sweater with a high neck that looked vaguely Victorian, something I bought on impulse with my thumb when it popped up in a targeted Instagram ad. I'd been doing a lot of that this year. I'd tried to pretend that moving up to the coast would be like my own personal Walden, an escape from the unrelenting grind of late capitalism to a world of wool sweaters, muddy boots, no makeup, long walks on the beach at dawn. But this was all bullshit; I didn't suddenly start living my best life in Maine. I was just bored and cold, and spent most of my abundant free time wrapped up in a blanket and sweats on the sofa, shopping for clothes that I had no place to wear—except when I drove an hour to visit Mimi at her living facility on the mainland.
For the past three months, I'd been making that drive nearly every day and staying as long as I possibly could.
Mom greeted me with a frown. "Oh, honey, get your coat, it's too cold," she said. Then, after a beat: "You look nice, though. Is that new?"
I ignored this, knowing that a yes would eventually come back to bite me in some future conversation about how I needed to learn financial responsibility, which always struck me as funny given the giant seaside mansion looming behind us like a giant flashing sign that read: THESE PEOPLE HAVE TOO MUCH MONEY. My mother had always worked, but not because she needed the income; she just wanted to feel normal among the other PTA parents in our New Jersey suburb, where everyone was comfortable, in a normal upper-middle-class sort of way, but nobody had the kind of wealth that made things weird. I was an adult before I learned the truth. My great-grandfather had been a rich man; his daughter, my grandmother, had been a savvy investor; and her three children, of whom my mother was the youngest, would inherit a life-changing amount of money when she died, a fact that was getting harder to ignore as my grandmother sank deeper into the grips of dementia. Some families had skeletons in the closet; mine had a twenty-million-dollar elephant in the room. One night not long after I'd moved in, my mother had gotten a little bit drunk and admitted that one of the bitterest bones of contention in her divorce was the existence of a prenup, which ensured my dad didn't get a dime when they split up. Apparently Mimi had insisted on this. She also hadn't missed the opportunity, when it was all over, to say I told you so.
I gestured back at the house. "Couldn't we just wait inside?"
"Mother will want us to be here to greet her."
"We are here to greet her. We could even come out as soon as we see the car. She doesn't need us lined up out here like the staff of Downton Abbey."
I hugged myself tighter and traced my mother's steps, looking out toward the road—still no car—and then moving left, out to the point where I could look past the house toward the bay. December had been raw and wet. We'd had two snows, and there were still drifts here and there on the lawn, long stripes of white where the shadow of a tree had shielded it from the sun. But mostly it was misty. In the past week the water had been invisible more often than not, and the property seemed to end abruptly just beyond the lower garden, obscured by a wall of fog pressing in from the bay. Quiet mornings were punctuated by the blaring horns of unseen barges as they passed through the harbor toward the river.
But today the view was clear, and I could see that the dark water was half-frozen. Big chunks of loose ice bobbed sluggishly with the current, and farther out, the islands that dotted the bay looked like they were edged with gray lace.
According to my grandmother, the stretch of water between the mainland and the islands used to freeze solid in the winter, so you could walk clear across. On my last visit, I'd heard all about how she used to cross the ice under cover of dark in her youth. She would sneak out to meet her lover, the man who would eventually become her husband, carrying a lantern to light her way across the frozen reach. My grandfather had been dead for fifty years, but Mimi seemed to remember their love affair like it was yesterday—while struggling to recall things that had actually happened yesterday or last week or even within the last decade. That was all right with me: I loved losing myself in her past, all the stories I had never heard because she'd always been too busy traveling or serving on this or that charity board to be an ordinary grandma. Her life was more vibrant and interesting than mine had ever been, or probably ever would be, and she would talk to me for hours about her childhood, her travels, her family, her husband. Especially him. Theo, the love of her life. The look on her face when she said his name was something magical, and the way they'd been robbed of a long life together was downright cruel while also being incredibly romantic. He'd been killed in a boating accident when Mimi was in her thirties, and she loved him so much that she'd never remarried. It was like something out of a movie, the most gorgeous, tragic love story. Compared to that, what happened to me in New York was nothing, the emotional equivalent of a stubbed toe.
Most important, not only was Mimi happy to share, but she was always happy to see me. Even on the days she didn't recognize me because she was lost somewhere in the past, she'd still greet me warmly, like a girlfriend who'd stopped by for tea and gossip. In all my months of visits there had been only one bad moment, when I walked through the door to her apartment and she sat bolt upright and screamed at the first glimpse of me. "You!" she'd shrieked. "You viper, you bitch! I know what you've done!"
I had made the mistake of taking a step toward her, and she sprang up like she wanted to fight me, lurching dangerously to one side, nearly colliding with a table. She didn't seem to even feel it. She hissed at me, "Get out," and then the hiss was a howl. "Get out, get out, get out!"
My sprint to the nurse's station down the hall was the fastest I'd run in years. But when I went back with an aide to my grandmother's room, Mimi was sitting down again. She just looked at us and said, "Oh, hello," like nothing had ever happened.
The staff called it "an episode." They said it was just one of those things, and we were lucky that it wasn't a regular occurrence, and that we would be luckier still if it didn't happen more frequently as her condition got worse. Mom got nervous then and started saying that maybe I should limit my visits if they were upsetting her—but less time at Willowcrest would have meant more time here, ...
We hope you are enjoying the book so far. To continue reading...
You Must Remember This
Kat Rosenfield
Copyright © 2023 All Rights Reserved