You Feel It Just Below the Ribs
Available in:
eBook
Paperback
Audiobook
Hardcover
Book info
Sample
Audiobook
Media
Author updates
Lists
Synopsis
A haunting, provocative novel, You Feel It Just Below the Ribs is a fictional autobiography in an alternate twentieth century that chronicles one woman's unusual life, including the price she pays to survive and the cost her choices hold for the society she is trying to save. Born at the end of the old world, Miriam grows up during The Great Reckoning, a sprawling, decades-long war that nearly decimates humanity and strips her of friends and family. Devastated by grief and loneliness, she emotionally exiles herself, avoiding relationships or allegiances, and throws herself into her work—disengagement that serves her when the war finally ends, and The New Society arises. To ensure a lasting peace, The New Society forbids anything that may cause tribal loyalties, including traditional families. Suddenly, everyone must live as Miriam has chosen to—disconnected and unattached. A researcher at heart, Miriam becomes involved in implementing this detachment process. She does not know it is the beginning of a darkly sinister program that will transform this new world and the lives of everyone in it. Eventually, the harmful effects of her research become too much for Miriam, and she devises a secret plan to destroy the system from within, endangering her own life. But is her "confession" honest—or is it a fabrication riddled with lies meant to conceal the truth? A jarring and uncanny tale of loss, trauma, and the power of human connection and deception, You Feel It Just Below the Ribs is a portrait of a disturbing alternate world eerily within reach, and an examination of the difficult choices we must make to survive in it.
Release date: November 16, 2021
Publisher: Harper Perennial
Print pages: 384
* BingeBooks earns revenue from qualifying purchases as an Amazon Associate as well as from other retail partners.
Listen to a sample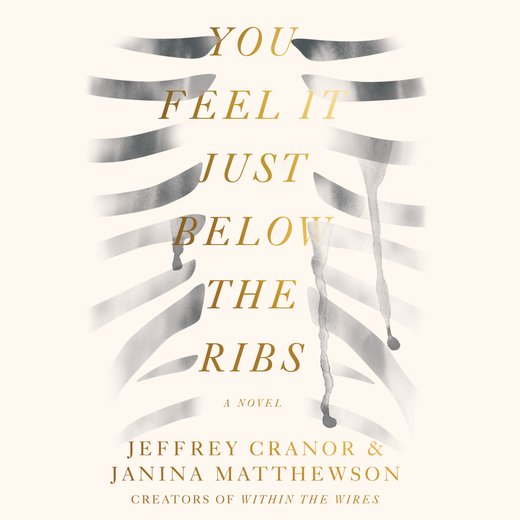 09:22:31
257.51 MB
9780063066649
November 16, 2021
HarperCollins
You Feel It Just Below the Ribs
Jeffrey Cranor
I WAS BORN INTO THE APOCALYPSE.
It's probably unhelpful to throw around a word like "apocalypse," and to be honest I couldn't tell you whether it's even apt.
It looks like an apocalypse from here. Or from now. From a distance, it looks like the world ended. Maybe it did.
But—and I suspect that this isn't something people like to admit; I've seen a lot of people who lived through that time not admitting this—it didn't feel like an apocalypse.
It just felt like life.
For the most part anyway. I'm sure there were moments, you know, I'm sure there were times when the constant presence of catastrophe shook my bones, but for the most part it went unnoticed. Familiar. Like a nearby train that passes every day.
Moments pass. And it's hard to focus on the chaos about you—war and disease for miles around—when what's in front of you is so close.
I grew up at the end of the world, and all that mattered was what was for dinner.
The generations who did not experience the Great Reckoning think of it as a cataclysm with a clear beginning and end, like a curtain opening and closing on a forty-year-long epic tragedy. But the end of the world comes with neither whimper nor bang. It unfurls its blossoms slowly, majestically, one moist black petal at a time.
When I was an infant, the Reckoning was merely a war,1 born of allies and treaties, of minor uprisings leading to fists pounding podiums across continents. The war was messy and sprawling, having nothing to do with land or resources or acquisition. It was driven by nationalist identity crises and temper tantrums. It was waged by vast families with hurt feelings and destructive weapons, standing under flags.
I was born into war, and I grew up in something much, much worse.
People tend to look at events of mass eradication as if they're simple. Finite. A pandemic kills a hundred thousand. An earthquake kills five thousand. And then it's done. We tend not to look too closely, so we miss the fact that disease, wars, and storms linger long after they're gone.
The tornado passes, and you are unscathed. Only you die weeks later because of dehydration, malnutrition. You fall ill and seek assistance, but what medical facilities remain are overwhelmed by those with missing limbs or shattered bones.
The idea of an apocalypse is a comfort, because it makes death seem like something we can all experience together, in a single moment, a colorful firework burst. But mostly death is something you keep to yourself. In reality, the apocalypse is most likely to be you, alone in a room with the flu.
I have known death all my life. I fear it, of course. But it is familiar. Death is a stray dog I have taken in and fed—not because I love it but because I don't want it biting me out of hunger.
I HAD A FAMILY ONCE. These days no one has families, so when I tell people about mine, it is all they want to talk about. That and what the war was like, I suppose. I can't help them, though. At this distance, all I remember of my family is their deaths.
"Miri, did you love your family no matter what?" is one question people ask me. "Even if you didn't like your family, did you still care for and protect them?" is another. "Is it true that families are tribes, and tribalism is inherently violent?" is another.2
Honestly, I do not know. It has been decades since my family was alive. I am sure I felt something for them, but I can only recall for you my experiences. I remember being with my family. I remember huddling under the broken lumber of our home, hiding from German soldiers. Or maybe they were English. Maybe they were French. They were men with guns. That's all that really matters.
I remember foraging in open fields, crouching in tall grass, my mother slapping my mouth if I spoke too loudly. I remember entering our neighbors' home through a shattered window after learning they had all succumbed to illness. I remember eating their food and wearing their clothes and reading their books. I remember the books were mostly medical journals. I remember my father forbidding us from speaking to anyone. I remember hiding, mostly in silence.
I remember remembering them over and over again.
How many times can you filter a memory before it's really just a fiction? How can you tell how many times your memories have been filtered?
A strange thing to consider when you've sat down to write out your own memories. What is the point of doing this if memory is so unreliable? But there is a point. I have to tell someone. I have to—not confess, exactly, because confession doesn't require action. And I need someone to take action.
I have wanted to get the truth out for years. I have tried once or twice. Not as hard as I should have. I don't have much time left, so I suppose I'm using the time I have to write out the truth so that someone can read it and do something. But I'm selfish and I want to be understood, so I'm starting here. At the beginning. With my earliest memories. I'm starting here so I can trace the entire path that led to my greatest accomplishment. My greatest crime.
Maybe none of this is relevant, but it's mine to tell, and there's no one to stop me telling it however I want.
So. This is what happened. This is everything I remember happening. And you can judge me if you like. But, whoever reads this—I have left pain in this world. Someone needs to fix it.
I HAD A SISTER ONCE. Her name was Elizabeth. My parents were named Keith and Ewa. I do not remember loving them or being loved by them. I remember being disciplined and fed and taught. So in that way I remember familial love.
My father knew how to grow things from the earth, even after the earth was poisoned. My mother knew how to manipulate things into other things, into whatever you needed. She could craft a tent out of sofa upholstery; she could make a bed out of gathered heather and shopping bags.
I'm sure they could do more than that, of course. I'm sure they had more to them—but time reduces memories to their least complex forms. "What do you remember about your parents, Miriam?" I remember they grew things. I remember they made things. I remember they made us survive. For a while.
Elizabeth and I used to play together. She had a doll that I wanted. I had a doll too, but I had played with it too hard. It was battered and broken and barely a doll anymore. My sister kept her doll perfect, protecting it from dirt and rough play. She cleaned its face and restitched loose threads along its body.
Sometimes she would hold her doll out to me, as if to let me take it, but at the last minute she would snatch it away and run off on her long fast legs, the doll held tightly to her chest, laughing at me as I tried to keep up with her.
I remember crying as I ran after her, gasping for air, my cheeks red in the cold, my legs aching. I remember going inside and curling into a pile of blankets—I guess we didn't have heat that year—and watching my mother cook dinner. I remember, I think, my sister coming inside and sitting beside me. I remember her reading me a story and then braiding my hair. I remember her giving me some of her meat at dinner.
It plays like a film in my head; it plays like it happened all in one day. Maybe it didn't happen at all. It doesn't really matter.
One day Elizabeth got sick. Hundreds of thousands of people got sick then,3 and my sister was one of them. We took her to a hospital, and there weren't any beds, so she lay on a mattress on the floor and she died.
Sadness took over me, I presume. I remember a period of inactivity, but I do not exactly remember the sadness that caused this. Perhaps those feelings evaporated under the heat of time.
I got Elizabeth's doll after all, but I do not remember playing with it. I was selfish, to be sure, but I was raised in the apocalypse, and selfishness helps you survive. I was my only concern. If my parents could grow food and make shelter and keep me occupied with games, that was helpful to me.
I remember moving somewhere else after my sister died. I don't remember why. I suppose the fighting came too close.4
I remember the new place was broken. The war had been through and left nothing behind. Nothing but battered houses and empty people.
My father made a garden there—as he made a garden everywhere. He worked in the earth with his hands, and the earth delivered life to him.
And eventually, it turned out, death. My father cut his fingers on shrapnel left behind in the poisoned soil. A deep scratch that bled for days. He bandaged it and went on working, but we saw dark veins like oak limbs grow across his hand and up his forearm. During his sleep, he gasped and clutched his breast. My mother and I burned his body in accordance with the new laws.5
I remember being alone with my mother, and I remember holding her. She had lost her husband and her oldest daughter, and she cried most days. She could not cook anymore, and neither of us could grow vegetables as well or as consistently as my father had been able to. She stopped crafting, and she seemed to find contentment in her sorrow. Something like contentment. Despair, maybe.
I held her whenever she felt sad, and soon, I was holding her every night. Mourning was her escape, her reason not to do anything. She regressed toward infancy, and she turned me into her mother. We were alone together for long enough for it to feel normal.
In all this war, she was the only one of my family to die through violence—although the war didn't kill her, not directly. She was outside our home, praying to a god she had either recently discovered or invented altogether, when a man approached her and asked for food. She said she could not spare any food. He asked for money, and she said she had no money. He asked for shelter, but my mother grew upset at being so needed. She was the one with needs. She no longer knew how to give, and she told him to leave.
This man was a desperate man, one of the many. Someone who had seen horrible things happen to those he loved and who, like my mother, was too broken to help himself. Bereft of anyone to help him, he was also too broken to grieve his terrible circumstances. All he had left was rage. He struck her, and she fell. She did not cry out, because she was confused. He hit her again and kicked her. And eventually she did not cry out because she was unconscious.6
I remember their deaths. If memory is ever true, that is how my family died.
Keith. Ewa. Elizabeth.
I did not say their names again for a long time.
WHAT I DON'T REMEMBER IS how it felt to be alone. I don't remember my first moment of being just me, just Miri, all alone. I remember disciplining myself, feeding myself, and teaching myself.
I think I was only twelve, though—maybe younger, eleven maybe or ten—so I must have been afraid. Where should I sleep? How should I get food? How do I protect myself from those who have nothing left but rage?
There were still shops operating at that point, I think, but how would I get money? My parents had never seemed to use money, but they must have traded something. Their skills, perhaps. Things they had grown or made. They had taught me to do those things, but I couldn't do them as well. I couldn't do them as quickly.
I don't know how long I tried to survive like this. Tried to survive like my family, without my family to survive with. I don't know how long I tried to use their tools to keep my own life going.
Probably not long. Well, no amount of time seems long to me now.
Sometimes you get to the point where surviving takes so much work that you begin to ask yourself if it's worth it. Or you would, if you had the energy.
I'm not talking about depression, really, though I suppose there are similarities. I mean simply that sometimes, for some people, the amount of labor it takes to accrue the supplies you need to live through a day outweighs the value of the day itself. You spend each day working, striving, fighting to live—only to wake up faced with another day you have to survive.
Can we blame a person for trying to lessen that burden? For trying to redress the imbalance? For trying to make sure that the labor is worth it?
I suspect there's one child in a million who wouldn't end up doing what I did to survive, in the end. If you're alone at that age, if you have to look out for yourself, if you're in the middle of a war and there's no one around to care for lone children, you go a bit feral. You have to.
Manners are for peace. A conscience is for peace.
It started small, of course, it started cowardly. A stolen loaf of bread. A lie told to claim shelter. Promises broken. The gullible manipulated. I got better at it. It got easier—both practically and morally. I found weapons. I grew bold. Ruthless.
Sometimes in war it comes down to you or someone else, and both of you are innocent. Or neither of you are. It's the same thing, really.
The world was ending, so what good were values? What good was neighborly sentiment?
You're probably shocked, reading this. I'm not even telling you details, and you're probably judging me. "It's in times of strife that our true goodness can shine through," you're probably thinking. I've heard people say that. Countless times I've heard that said by youngsters who have never seen so much as a backyard brawl.
By idiots.
Whether you're on the battlefield or in the aftermath, no one comes out of a war with their hands clean. Not a war like that. You do the best you can, and the only morality you have to cling to is the knowledge that you didn't choose to be there. A set of powerful men, who never even knew you existed, put you there. And why? For power? For a bit more land they'd likely never even walk over?
My sins, if I have sins, can be cast at their feet—at least in part.
Those men and their nations destroyed the world. All I did was survive it.
We hope you are enjoying the book so far. To continue reading...
You Feel It Just Below the Ribs
Jeffrey Cranor
Copyright © 2022 All Rights Reserved