Book info
Sample
Audiobook
Media
Author updates
Lists
Synopsis
Set in small-town Oregon, the latest in the charming Witch Way Librarian series from Amazon bestselling and acclaimed author Angela M. Sanders features a spellbinding heroine, a clever cat familiar, colorful locals—and of course, murder. Perfect for fans of Bailey Cates, Adele Abbott, Juliet Blackwell, and all cozy mystery lovers with a taste for the supernatural.



Josie is eager to show off Wilfred's delights to her visiting sister, Jean—even though Josie must conceal her magic from her. In any case, Jean is excited to attend Cookie Masterson's trademark "Ready-Set-Go!" workshop on becoming a life coach. Then there's the grand reopening of Darla's Café, where the doors are thrown open to reveal . . . a dead man, stabbed in the back. That was definitely not on the revamped menu . . .



Even more worrisome, the sheriff receives a report of a fresh corpse at the retreat center. Maybe murder isn't so uncommon in Wilfred anymore, but two unfamiliar bodies within an hour certainly is! Josie's willing to let law enforcement take the lead—after all, she's gotten into some trouble from the hints the library's spellbound books keep feeding her about the patrons. But when her sister receives the killer's chilling calling card, she'll use everything within her otherworldly powers to divine just who in town has homicide as his new slogan . . .
Release date: May 23, 2023
Publisher: Kensington Books
Print pages: 304
* BingeBooks earns revenue from qualifying purchases as an Amazon Associate as well as from other retail partners.
Listen to a sample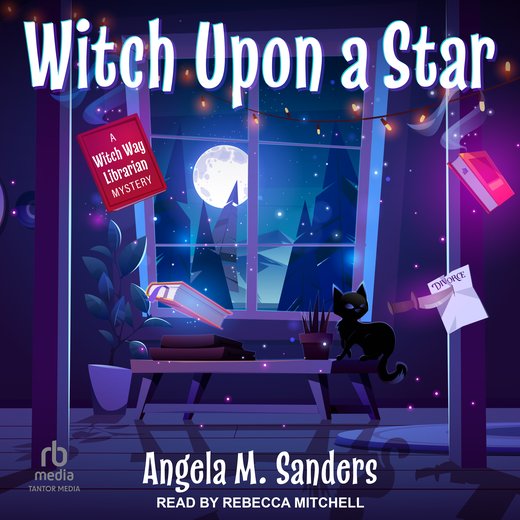 09:21:50
257.2 MB
May 23, 2023
Tantor Audio
2023
Witch upon a Star
Angela M. Sanders
I shivered in the parking lot of Darla's café. Heavy-bellied clouds, threatening snow, blocked any hint of the new moon. Tomorrow, at the café's grand reopening, the lot would be full, but tonight it was nothing but frosty gravel—and me. Waiting for my sister.

Mom had given me firm instructions about Jean. "Watch her carefully. That outfit is a cult, I know it. Your sister is too gullible. What kind of workshop leader is named Cookie, anyway?"

"Mom," I'd told her, "It's only a workshop. How much trouble can she get into?"

"That's what your father said when she went to camp. Remember? She came home with a broken arm and three kittens."

"She was twelve. It wasn't her fault her bunkmate got homesick and climbed a tree to hide." Jean had crawled up to convince her things were going to be okay. The kittens I couldn't account for, except that Jean's heart was so soft that during rainstorms she'd circle the block, lifting earthworms from the sidewalk so they wouldn't get trampled.

"And no talk about magic," had been Mom's last warning. "On no account are you to tell your sister you're a witch. She already feels like she'll never catch up to you and Toni."

Headlights appeared down the road that bisected town. The lights grew nearer, and my breath quickened. At last, the shuttle bus pulled into the parking lot, crunching gravel as it braked and opened its doors.

"Jean!" I enveloped my little sister in a hug before her feet even hit the ground.

"Josie," she said, her laughter steaming the December night air. "I thought I'd never get here."

Duke was at the wheel. "You have everything?" Driving the retreat's shuttle bus was part of his portfolio of side hustles as the town's jack-of-all-trades. I made out the shapes of a few other people in the bus's darkened interior.

Jean lifted her duffel bag. "Right here. Thanks, Duke."

The shuttle bus's doors closed with a pneumatic whoosh, and the bus circled the parking lot to disappear up the access road to the retreat center.

"It's so good to see you. Let me carry that." I swung Jean's duffel over my arm and leaned back to take her in. Despite Mom's warnings, she didn't look like the soon-to-be victim of a life coaching workshop scam. Her strawberry blond waves gleamed in the parking lot's mercury vapor lamp. She smiled, her upper lip slightly thicker than her lower, giving her the air of a friendly cherub.

Jean examined me in return. "You look different."

"In a good way, I hope?"

"Yes. Like someone turned up your dimmer switch. Not that I can see much right now." She glanced at the dark café and storefronts across the road. "Where do you live?"

"There. A five-minute walk." I pointed up the hill to the Victorian mansion that housed the library and my apartment. Only its tower showed above the cottonwoods along the river.

Arm in arm, we climbed the road to cross the stone bridge over the Kirby River. We took a right through a copse of fir trees. In the clearing, dotted with oaks, squatted a solid house with a wide porch.

"Is that it?" Jean asked.

"That's Big House. The library's straight ahead."

Across the lawn on the other side of Big House lay the caretaker's cottage and, finally, the library, as prim and upright as a turn-of-the-century duchess. Lights shone from my top-floor apartment in the former servants' quarters.

"Who lives in Big House?" Jean asked. She turned her head toward me, her breath hanging in the air. She'd sensed something, probably my unrequited crush on Sam, Big House's owner and the town sheriff.

It was going too far to say my sisters and I could read each other's minds, but we had an unusual connection. Years ago, my older sister Toni was in a car accident. Both Jean and I ran to the living room window from our separate corners of the house before the phone even jangled with news of it. Fortunately, Toni wasn't badly hurt. All the same, we'd known.

"Sam Wilfred, the town's sheriff, lives there," I said as nonchalantly as I could and added quickly, before she pressed for details, "That's the library, straight ahead."

Jean shifted her attention and inhaled sharply. "Oh, I love it."

A circular driveway fronted a porch, trimmed in gingerbread fretwork, with a square tower rising above it. The mansion was built from an Italianate Revival pattern in a book of house plans I'd found in the bottom drawer of a desk. When I'd opened the drawer, the book shouted "ta-da!" and flipped open to the library's floor plan.

We took the side entrance to the former servants' staircase.

"I'll give you the full tour tomorrow. You must be exhausted. Let's get you to bed."

Inside, the library's warmth brought out the scent of wood and books. We climbed to the third floor, and I unlocked the door to my apartment. Before entering, Jean leaned over the wooden railing to gaze into the atrium. The stained glass–windowed cupola glowed with dull reds and blues.

On the two floors below us, open doorways showed books. Thousands of books, from romance novels and cookbooks to car repair manuals and art history tomes. They filled the air with centuries of story and knowledge, and they whispered greetings to me, a whoosh of voices only I could hear. This was my home and my favorite place in the world.

"Something has changed about you." Jean peeled off her coat, a vintage princess-cut jacket with a daisy-patterned lining and bell sleeves. She culled her wardrobe from thrift stores, yet had more style than found on the racks of Beverly Hills boutiques. If I did the same, I'd look like I'd spent the night under a bridge.

"What do you mean?" I asked.

She laid her coat over the Eastlake sofa that would be her bed for the week. "For instance, this. Your old apartment in DC was beige and boring. Your books were the only interesting part of it. But this . . . Look."

She ran a finger through the fringe on the embroidered piano shawl over the sofa's back before taking in the thrifted portraits of anonymous women I'd hung here and there. A mid-century lamp glowed from next to a heavy marble bust of a woman I'd decided was Emily Dickinson. The faint scent of incense and woodsmoke clung to the air.

"Things have changed since then." That was an understatement.

Jean yawned. I squeezed her once again in a big hug. My baby sister was here at last. I glanced at the clock. It was way too late to call Mom, three hours ahead on the East Coast.

Once again, Jean guessed my thoughts. "Mom asked you to check up on me, didn't she?"

It wouldn't be any use to deny it. "You know how she worries."

"Josie, promise me. You have to trust me. I know everyone thinks I'm not capable of doing anything on my own, but I am. Okay?"

It was too late to argue—too late in the day and too late to persuade Jean not to attend the workshop. At least she was here. I could hang out with her for a week.

"I know Mom thinks this workshop's a scam and I'll lose my money for nothing, but she's wrong," Jean added. "Life coaching is huge. This certification will change my life."

"I don't know. I—"

"Don't worry," she said. "You'll see. I've got this."

I woke to the series of booms and rattles of the furnace kicking in. Within minutes, warm air coursed through my apartment. I threw back the down comforter and nosed my feet into my slippers. The old furnace, converted decades ago from one fed by sawdust, had its quirks. Lyndon, the library's caretaker, had told me where to find instructions on resetting it if it misbehaved while he was on his honeymoon in England with Roz. So far, I hadn't had to use them.

"Josie?" Jean called from the adjoining living room.

Rodney, my cat, blinked sleepily and stretched. After a few licks to make sure his fur was as luxurious as always, he jumped from the bed to follow me.

Still on the sofa, Jean clasped her hands behind her head and smiled. Rodney leapt up beside her and purred as Jean stroked his head. "You didn't tell me you had a cat. A black one, too."

"He was here when I moved in. He sort of adopted me." I dropped into the armchair across from her. "You look happy."

"Why shouldn't I be? I get to see you. Plus, the workshop. Today is the first day of the rest of my life, you know."

I hesitated before speaking. "Is that something your coaching guru says?"

"No, dummy. It's a cliché." She sat, and Rodney jumped to the back of the couch.

I smiled. Sisters.

"What's this?" Jean held up a boxed set of CDs of Verdi's La Traviata. "I didn't know you liked opera. I don't remember you listening to music at all, actually."

"A friend lent it to me." Sam. In return, I was guiding him through the classics of vintage crime novels. He was turning into a diehard Raymond Chandler fan.

"A friend?"

"He's introducing me to opera. The music is great, but you should hear some of the stories that go with them."

"He's teaching you?" She sat straighter. "A man?"

"Never mind," I said quickly. "Anyway, the library's closed today, so I have lots of time for you. I thought I'd show you around town this morning, then we could pick up something for dinner. I'll walk you to the retreat center at noon."

"What are you going to do while I'm at the workshop?"

"Today's the café's grand reopening."

"Wow," Jean said. "You Wilfredians really know how to party."

"It's a huge deal." Rodney jumped from the couch and trotted down the hall, probably headed toward his food dish. "The café's more than a breakfast spot. It's the community center. Last spring a flood closed it down. It needed a total rehab." I went to the window to pull back the curtains. A light was on in Big House. Sam must be preparing a bottle for Nicky. Over the bluff, orange morning sun illuminated the mist rising from the river. I turned to Jean, quilts still piled on her lap. "Let's talk about you. Tell me about the workshop."

Her face animated with excitement. "I'm going to be a wellness coach. It's a big deal. I make a little investment now in the certification program, and I can earn hundreds of thousands a year, like Cookie does."

Mom's warning rang in my ears. "Come to the kitchen and tell me more."

Jean, in men's red flannel pajamas, followed me to the landing, where I silently bid good morning to the books. She stopped again at the banister to take in the view, brighter now with day breaking.

"This place is paradise," Jean said. She pointed to the full-length oil portrait hanging above the atrium's main entrance. "Who's that? She's gorgeous, if a little intense looking. Love the flapper dress."

"Marilyn Wilfred, the library's founder."

"She has a black cat, too." Jean pointed to Rodney's double, forever immortalized at her feet.

"Weird, huh?" I'd done a double take the first time I'd noticed it. Now almost nothing about the library surprised me. "Come on. I bought green tea just for you." In the kitchen, Jean settled into the banquette while I put water on. "So, what is a wellness coach?"

"Someone who helps other people achieve their best health."

"Like yoga?" Jean was a yoga teacher.

"That, and nutrition and meditation. A coach meets with clients regularly and puts them on a plan."

"And that makes you rich?"

"Cookie's model has several parts. Besides meeting one-on-one, people can buy monthly subscriptions to her coaching club and pay for online workshops. I could do the same. It builds up. You should see how Cookie lives—she gives lectures throughout the world. She's a huge inspiration."

"What does the workshop get you? Coaching doesn't sound like anything you couldn't figure out on your own."

"Oh," Jean said. "Cookie really knows how to build a coaching business. She does podcasts, is super-active on social media, has a membership program—everything. I've been following her for months."

Cookie Masterson, a periodical whispered. Celebrity coach, multimillionaire.

"How much does this Cookie Masterson charge you?" I asked.

"Have you been talking to Mom?"

"Of course. She's happy we're spending time together," I hedged.

Jean pressed her lips together. "The workshop's a bargain when you consider the money I'll be making once I'm certified as a life coach. Plus, I got a discount for staying with you instead of at the retreat center."

"In other words, the tuition put you in debt, and you don't want to tell me." I might be the middle sibling, but I was still Jean's big sister.

She studied the table's wooden top. "I used Grandma's inheritance." She shifted her gaze to me. "But it'll pay off. It will. Cookie almost never does small workshops like this. Usually she takes over convention centers. I was really lucky to get in."

I pulled my coffee mug near. "It doesn't sound like the retreat is about wellness at all."

"No," Jean said, her excitement returning. "It's about Cookie's special coaching method called Ready-Set-Go."

"Ready-Set-Go," I repeated, doubt in my voice. Grandma's money was going into something kindergartners recited on the playground?

"Yes. She talks about it in her podcasts. She has millions of followers. She was on Good Morning, Hollywood."

Rodney stuck a paw in his water dish and splashed some on the linoleum. I still didn't understand why that was so fun for him.

"You're really excited about this, aren't you?"

"I am." She tugged the sleeve of my chenille bathrobe. "Mom thinks I'm making a mistake. She had one of her premonitions"—Jean said this in a voice meant to belittle it—"and tried to convince me to stay home. You'll support me, won't you?" When I didn't respond right away, she added, "I know what I'm doing. I've dreamed about this for a long time. It's what I'm meant to do with my life."

"I see." I returned to the table and held my mug between my palms.

"You have books. You've been settled on your path your whole life. Toni's a doctor. She's helping tons of people, plus she has a family. All I have is a part-time job teaching yoga at the community center. I want to do more than that. I want to help regular people be the best they can. It's in me, Josie. It's what I'm meant to do."

Although she didn't know it, magic flowed through Jean's blood. Her magic might be less potent than mine, but she was a healer, just like Toni. And like Grandma, who shared the star-shaped birthmark on my shoulder as well as the heightened power of my own magic. Besides, who was I to judge how Jean spent her money? I'd blown Grandma's inheritance—modest as it was—to escape to Wilfred a year earlier. Maybe this was what Jean needed to grow into her full self.

"I get it, I really do. Now, drink up. We have lots to do before the workshop starts."

I understood Jean's desire to be a wellness coach, but it didn't mean I trusted this Ready-Set-Go scheme. Mom's premonitions had been on target more than once.

I waved an arm over the view. "This is Wilfred." From the bridge crossing the Kirby River, Jean and I surveyed the town. To the right of the lazy highway running through Wilfred spread a few square blocks of modest houses, some with woodsmoke drifting from their chimneys. Stately Douglas fir trees rose here and there.

"It must feel strange to live in such a tiny town after DC," Jean said.

"It was—at first. Everyone knows your business, and it's a drive if you want decent sushi. Now, I love it. Maybe I can't buy aspirin without someone asking about my health later that afternoon, but I also feel they care for me. People have each other's backs here."

It was true. Wilfred felt like an extended family, complete with crazy uncles and nosy aunts. Over the year-plus I'd lived here, I'd considered returning to the East Coast, but the fresh air, gorgeous countryside, and most of all, friendly neighbors kept me in town. In Wilfred's library, I'd found my home.

Jean pointed to what looked like a treehouse. "What's that?"

"Mrs. Littlewood's bird-watching platform. That's the church spire just beyond it."

Spire might have been too ambitious a word. The church was barely larger than the Grange Hall, and its spire was a wooden cupola. The pastor served the entire county, and as a result, we had services only once a month.

"That's where the shuttle bus let me off." Jean pointed toward the café on the highway's left.

"Exactly." I looked forward to the café's reopening, not only for the food, but because the library's kitchen had become Wilfred's replacement town square. It was a full-time job keeping the beer out and feet off the table. "The trailer park behind it is called the Magnolia Rolling Estates. Beyond that is the meadow. See how the river curves? You can just about make out the retreat center on the other side."

Looking at the log building in the distance, Jean's eyes lit up. "Cookie's there right now."

"I hope you're not going to be disappointed," I couldn't help but say.

She shot me a warning glance. "We already talked about this."

"Fine." I nearly sighed, then realized I was starting to sound like Mom. "Let's go to the grocery store and pick up a few things for dinner. Are you still vegan?"

"No, but I don't take gluten or nightshade vegetables, and I eat raw food only, especially macrobiotic. Do you have a juicer?"

"Seriously? There's no way I—"

"Kidding! I try to stay away from too much sugar and red meat, but that's it."

A few minutes later, we pushed open the door to the PO Grocery, named because it had taken over the shuttered post office when the mill had closed. The word Wilfred and our zip code still studded the wall in bronze letters above the dairy case. Elvis's "Viva Las Vegas" played quietly over the store's sound system.

"Let's make soup." All I'd have to do is unpack my grocery sack, and a dozen cookbooks would shoulder for attention to suggest recipes. We were loading our basket with butternut squash and kale when a man's forceful voice prickled the hair on my arms.

"Leave him alone."

Onion in hand, I glanced at Jean. The voice came from the aisle behind us, on the other side of a pet food display. In the background, Elvis's baritone continued to praise Vegas.

"Calm down. I'm simply—" began a woman's voice, with an earnest Midwestern accent.

"I saw you last night at the airport. It's not right."

The woman's boots shuffled on the linoleum. "I don't even know you. Leave me alone or I'll call the police."

"This is your last warning," the low, smooth voice said as the store's soundtrack shifted to Mac Davis warning "baby" not to get hooked on him. "You don't want to find out what happens when you don't do as you're told."

My breath caught in my throat. Jean crept to the shelf and stealthily parted cans of chicken pâté cat food. We knelt in front of the opening but, thanks to an inconveniently placed bag of maxi-pads, couldn't make out more than the midsection of a man's zip-up green jacket. A woman's hand, still red from the cold outside, lifted in a "stop" motion. Silver gleamed from her ring finger. Both people were strangers to Wilfred.

Jean and I shared a glance, and our thoughts raced into each other's minds. Should we step in? I wondered. No. Wait just a moment, I read in her eyes.

"What do you want? Money?" the woman said.

"I told you what I want. Lay off."

"Keep your voice down." The woman's head swiveled, and we ducked. "It's not that easy. We'll talk about it later."

Both people shuffled, and Jean and I hurried to the vegetable display to study the mushroom bin as if we hadn't heard a thing. At the ding. . .
We hope you are enjoying the book so far. To continue reading...
Witch upon a Star
Angela M. Sanders
Copyright © 2023 All Rights Reserved