Book info
Sample
Audiobook
Media
Author updates
Lists
Synopsis
Kurt Vonnegut made his mark as one of America's most influential writers with novels such as Slaughterhouse- Five—named one of the 100 best English-language novels by Time. Published posthumously, While Mortals Sleep is a collection of 16 short stories, written early in Vonnegut's career, that further cements his status as an American literary icon.
Release date: January 25, 2011
Publisher: Delacorte Press
Print pages: 272
* BingeBooks earns revenue from qualifying purchases as an Amazon Associate as well as from other retail partners.
Listen to a sample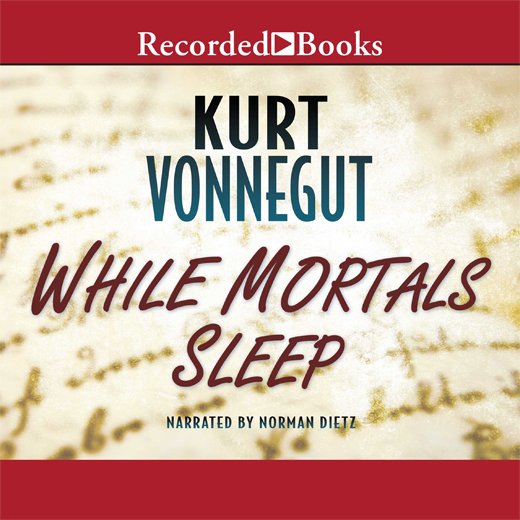 07:32:36
207.2 MB
January 25, 2011
Recorded Books
2011
While Mortals Sleep
Kurt Vonnegut
JENNY

George Castrow used to come back to the home works of the General Household Appliances Company just once a year--to install his equipment in the shell of the new model GHA refrigerator. And every time he got there he dropped a suggestion in the suggestion box. It was always the same suggestion: "Why not make next year's refrigerator in the shape of a woman?" Then there would be a sketch of a refrigerator shaped like a woman, with arrows showing where the vegetable crisper and the butter conditioner and the ice cubes and all would go.

George called it the Food-O-Mama. Everybody thought the Food-O-Mama was an extra-good joke because George was out on the road all year long, dancing and talking and singing with a refrigerator shaped like a refrigerator. Its name was Jenny. George had designed and built Jenny back when he'd been a real comer in the GHA Research Laboratory.

George might as well have been married to Jenny. He lived with her in the back of a moving van that was mostly filled with her electronic brains. He had a cot and a hot plate and a three-legged stool and a table and a locker in the back of the van. And he had a doormat he put on the bare ground outside when he parked the van somewhere for the night. "Jenny and George," it said. It glowed in the dark.

Jenny and George went from appliance dealer to appliance dealer all over the United States and Canada. They would dance and sing and crack jokes until they'd collected a good crowd in a store. Then they would make a strong sales pitch for all the GHA appliances standing around doing nothing.

Jenny and George had been at it since 1934. George was sixty-four years old when I got out of college and joined the company. When I heard about George's big paycheck and his free way of life and the way he made people laugh and buy appliances, why I guessed he was the happiest man in the company.

But I never got to see Jenny and George until I got transferred out to the Indianapolis offices. One morning out there we got a telegram saying Jenny and George were in our neck of the woods somewhere--and would we please find them and tell George his ex-wife was very sick? She wasn't expected to live. She wanted to see him.

I was very surprised to hear he'd had a wife. But some of the older people in the office knew about her. George had only lived with her for six months--and then he'd hit the road with Jenny. His ex-wife's name was Nancy. Nancy had turned right around and married his best friend.



I got the job of tracking Jenny and George down. The company never knew exactly where they were. George made his own schedule. The company gave him his head. They just kept rough track of him by his expense accounts and by rave letters they'd get from distributors and dealers.

And almost every rave letter told about some new stunt that Jenny'd done, that Jenny'd never been able to do before. George couldn't leave her alone. He tinkered with her every spare minute, as though his life depended on making Jenny as human as possible.



I called our distributor for central Indiana, Hal Flourish. I asked him if he knew where Jenny and George were. He laughed to beat the band and said he sure did. Jenny and George were right in Indianapolis, he said. They were out at the Hoosier Appliance Mart. He told me Jenny and George had stopped early morning traffic by taking a walk down North Meridian Street.

"She had on a new hat and a corsage and a yellow dress," he said. "And George was all dolled up in his soup and fish and yellow spats and a cane. You would of died. And you know how he's got her fixed up now, so's he knows when her battery's running down?"

"Nossir," I said.

"She yawns," he said, "and her eyelids get all droopy."



Jenny and George were starting their first show of the day when I got out to the Hoosier Appliance Mart. It was a swell morning. George was on the sidewalk in the sunshine, leaning on the fender of the moving van that had Jenny's brains in it. He and Jenny were singing a duet. They were singing the "Indian Love Call." They were pretty good. George would sing, "I'll be calling you-hoo," in a gravel baritone. Then Jenny would answer back from the doorway of the Mart in a thin, girlish soprano.

Sully Harris, who owned the Mart, was standing by Jenny with one arm draped over her. He was smoking a cigar and counting the house.

George had on the dress suit and yellow spats Hal Flourish had laughed so hard about. George's coattails dragged on the ground. His white vest was buttoned down around his knees. His shirt bosom was rolled up under his chin like a window blind. And he had on trick shoes that looked like bare feet the size of canoe paddles. The toenails were painted fire-engine red.

But Hal Flourish is the kind of man who thinks anything that's supposed to be funny is funny. George wasn't funny if you looked at him closely. And I had to look at him closely because I wasn't there for a good time. I was bringing him sad news. I looked at him closely, and I saw a small man getting on in years and all alone in this vale of tears. I saw a small man with a big nose and brown eyes that were just sick about something.

But most people in the crowd thought he was a howl. Just here and there you'd see a few people who saw what I saw. Their smiles weren't making fun of George. Their smiles were kind of queer and sweet. Their smiles mostly seemed to ask how Jenny worked.



Jenny was radio-controlled, and the controls were in those trick shoes of George's--under his toes. He would punch buttons with his toes, and the shoes would send out signals to Jenny's brains in the moving van. Then the brains would signal Jenny what to do. There weren't any wires between Jenny and George and the van.

It was hard to believe George had anything to do with what Jenny was up to. He had a little pink earphone in his ear, so he could hear everything anybody said to Jenny, even when she was a hundred feet away. And he had little rearview mirrors on the frames of his glasses, so he could turn his back to her and still see everything she did.

When they stopped singing, Jenny picked me out to kid around with. "Hello, tall, dark, and handsome," she said to me. "Did the old icebox drive you out of the house?" She had a sponge rubber face at the top of the door, with springs embedded in it and a loudspeaker behind it. Her face was so real, I almost had to believe there was a beautiful woman inside the refrigerator--with her face stuck through a hole in the door.

I kidded her back. "Look, Mrs. Frankenstein," I said to her, "why don't you go off in a corner somewhere and make some ice cubes? I want to have a private talk with your boss."

Her face turned from pink to white. Her lips trembled. Then her lips pulled down and dragged her whole face out of shape. She shut her eyes so she wouldn't have to look at such a terrible person. And then, as God is my judge, she squeezed out two fat tears. They ran down her cheeks, then down her white enamelled front to the floor.

I smiled and winked at George to let him know how slick I thought his act was, and that I really did want to see him.

He didn't smile back. He didn't like me for talking to Jenny that way. You would have thought I'd spit in the eye of his mother or sister or something.



A kid about ten years old came up to George and said, "Hey, Mister, I bet I know how she works. You got a midget in there."

"You're the first one who ever guessed," George said. "Now that everybody knows, I might as well let the midget out." He motioned for Jenny to come out on the sidewalk with him.

I expected her to waddle and clank like a tractor, because she weighed seven hundred pounds. But she had a light step to go with that beautiful face of hers. I never saw such a case of mind over matter. I forgot all about the refrigerator. All I saw was her.

She sidled up to George. "What is it, Sweetheart?" she said.

"The jig is up," George said. "This bright boy knows you're a midget inside. Might as well come on out and get some fresh air and meet the nice people." He hesitated just long enough and looked just glum enough to make the people think maybe they were really going to see a midget.

And then there was a whirr and a click, and Jenny's door swung open. There wasn't anything inside but cold air, stainless steel, porcelain, and a glass of orange juice. It was a shock to everybody--all that beauty and personality on the outside, and all that cold nothing on the inside.

George took a sip from the glass of orange juice, put it back in Jenny and closed her door.

"I'm certainly glad to see you taking care of yourself for a change," Jenny said. You could tell she was crazy about him, and that he broke her heart about half the time. "Honestly," she said to the crowd, "the poor man should be dead of scurvy and rickets by now, the way he eats."

An audience is the nuttiest thing there is, if you ever stop to think about it. Here George had proved there wasn't anything inside Jenny, and here the crowd was, twenty seconds later, treating her like a real human being again. The women were shaking their heads to let Jenny know they knew what a trial it was to get a man to take care of himself. And the men were giving George secret looks to let him know they knew what a good pain it was to have a woman always treating you like a baby.

The only person who wasn't going along with the act, who wasn't being a boob for the pleasure of it, was the kid who'd guessed there was a midget inside. He was sore about being wrong, and his big ambition was to bust up the act with truth--Truth with a capital T. He'll grow up to be a scientist someday. "All right," the kid said, "if there isn't a midget in there, then I know exactly how it works."

"How, honey?" said Jenny. She was all ears for whatever bright little thing this kid was going to say. She really burned him up.

"Radio controls!" the kid said.

"Oooooo!" said Jenny. She was thrilled. "That would be a grand way to do it!"

The kid turned purple. "You can joke around all you want," he said, "but that's the answer and you know it." He challenged George. "What's your explanation?" he said.

"Three thousand years ago," said George, "the sultan of Alla-Bakar fell in love with the wisest, most affectionate, most beautiful woman who ever lived. She was Jenny, a slave girl.

"The old sultan knew there would be constant bloodshed in his kingdom," said George, "because men who saw Jenny always went mad for her love. So the old sultan had his court magician take Jenny's spirit out of her body and put it in a bottle. This he locked up in his treasury.

"In 1933," said George, "Lionel O. Heartline, president of the General Household Appliances Company, bought a curious bottle while on a business trip to fabled Baghdad. He brought it home, opened it, and out came the spirit of Jenny--three thousand years old. I was working in the Research Laboratory of GH at the time, and Mr. Heartline asked me what I could provide in the way of a new body for Jenny. So I rigged the shell of a refrigerator with a face, a voice, and feet--and with spirit controls, which work on Jenny's willpower alone."

It was such a silly story, I forgot it as soon as I'd chuckled at it. It took me weeks to realize that George wasn't just hamming it up when he told the story from his heart. He was getting as close to the truth about Jenny as he ever dared get. He was getting close to it with poetry.

"And, hey presto!--here she is," said George.

"Baloney!" the scientific kid yelled. But the audience wasn't with him, never would be.

Jenny let out a big sigh, thinking about those three thousand years in a bottle. "Well," she said, "that part of my life's all over now. No use crying over spilt milk. On with the show."

She slunk into the Mart, and everybody but George and I toddled right in behind her.

George, still controlling her with his toes, ducked into the cab of the moving van. I followed him and stuck my head in the window. There he was, the top of his trick shoes rippling while his toes made Jenny talk a blue streak in the Mart. At nine o'clock on a sunshiny morning he was taking a big drink from a bottle of booze.



When his eyes stopped watering and his throat stopped stinging he said to me, "What you looking at me that way for, Sonny Jim? Didn't you see me drink my orange juice first like a good boy? It isn't as though I was drinking before breakfast."

"Excuse me," I said. I got away from the truck to give him time to pull himself together, and to give me time, too.

"When I saw that beautiful GHA refrigerator in the Research Laboratory," Jenny was saying in the Mart, "I said to George, 'That's the flawless white body for me.'" She glanced at me and then at George, and she shut up and her party smile went away for a couple of seconds. Then she cleared her throat and went on. "Where was I?" she said.

George wasn't about to get out of the cab. He was staring through the windshield now at something very depressing five thousand miles away. He was ready to spend the whole day like that.

Jenny finally ran out of small talk, and she came to the door and called him. "Honey," she called, "are you coming in pretty soon?"

"Keep your shirt on," George said. He didn't look at her.

"Is--is everything all right?" she said.

"Grand," George said, still staring through the windshield. "Just grand."
We hope you are enjoying the book so far. To continue reading...
While Mortals Sleep
Kurt Vonnegut
Copyright © 2023 All Rights Reserved