Book info
Sample
Audiobook
Media
Author updates
Lists
Synopsis
From the author of Where the Rhythm Takes You comes a delightful enemies-to-lovers, contemporary romance set during Trinidad's Carnival celebration. 
There are two things Tess Crawford knows for sure: 
She's destined to be a great Trinidadian Carnival costume designer like her renowned uncle, Russel Messina, and will one day inherit leadership of the family's masquerade band, Grandeur. 
Her classmate, the popular social media influencer, Brandon Richards, is the bane of her existence. Everything about him irks her, from his annoying nickname for Tess ("Boop") to his association with David, her awful ex. 
But when the future of Grandeur nears the brink of collapse in the face of band rivalry, Tess finds to her chagrin that she must team up with Brandon in a desperate attempt to revive the company. 
As Tess and Brandon spend more time together, Tess begins to wonder if everything she thought she knew might not be so certain after all…. 
Set in lush, gorgeous Trinidad, this is a novel about finding love in the most unexpected places. 
Release date: May 30, 2023
Publisher: HarperCollins
Print pages: 336
* BingeBooks earns revenue from qualifying purchases as an Amazon Associate as well as from other retail partners.
Listen to a sample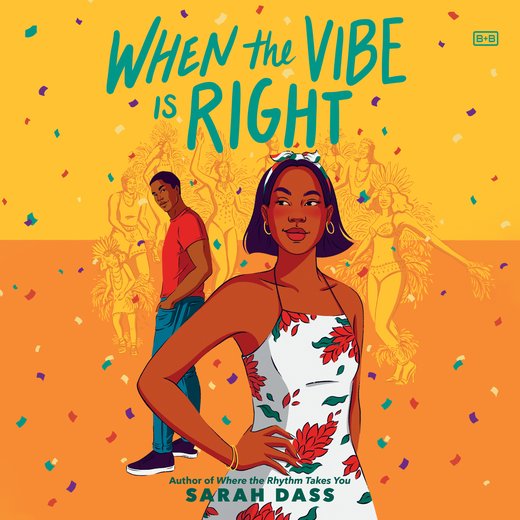 10:17:20
282.6 MB
9780063018600
May 30, 2023
HarperCollins
When the Vibe Is Right
Sarah Dass
"Why are you on the ground?"
It was a good question. The simple answer: there were no chairs available. The long answer: I'd been trying to find a peaceful spot to work when an impromptu dance party broke out around me. It hadn't been easy to focus on anything with a Machel Montano song blasting through Kate Melville's phone, the soca music tinny but loud in the empty community center hall. But the alternative to work was to join them. And that wasn't happening.
"Tess, get up." Sherlyn charged over to my hiding spot, behind the potted monstera bush. "You're going to dirty up the gown."
"Relax, I have my bookbag under me." I didn't bother looking up from my tablet. My stylus remained steady as I continued to sketch on the open design app. Normally, I'd never treat a piece of clothing this badly, but the gown in question was the same color as a potato sack, and just about as flattering. "Besides, even if I did dirty it up, I doubt anyone could tell."
"Ay, we do our best. The drama club budget is tight."
"Oh, I can tell."
She folded her arms. "Do you have any idea what I went through to borrow these?"
"Since you're the president of the drama club, I'm guessing not a lot." Then again, I wouldn't have put it past Sherlyn—the personification of a clenched fist—to take the process of borrowing a few stage costumes and props way too seriously.
For this year's Literatures in English project, we had to pick an adaptation of Romeo and Juliet, identify a change made to the original play, and examine how it impacted the story. Extra points if we took it a step further and highlighted this impact by making an adaptation of our own.
We'd been randomly assigned into groups, and I'd gotten dumped into the one with Sherlyn as a leader. Her pain-in-the-butt need to overachieve had us working on the assignment months before the deadline. Rather than a simple essay or quick presentation, she'd pushed us into filming a few scenes from the Baz Luhrmann movie. Whereas the film changed the setting and kept the dialogue, we kept the movie's settings and gave the dialogue a Trinidadian twist. Sherlyn even secured permission for us to shoot a few scenes in the community center not too far from school.
Unfortunately, Sister Thompson, our literature teacher, was running late. In her absence, Kate had pulled up a soca music playlist and turned the rehearsal into a small fete.
Sherlyn swatted the monstera leaves aside to glare at me. "For your information, it was not easy borrowing the costumes. I'd never abuse my power and take them just so. Our club had a vote." She leaned forward to see my tablet. "What are you doing over here anyway?"
I covered the screen. "Why are you harassing me? I don't even have any lines. Shouldn't you be rounding up your stars for rehearsal? Chris is somewhere outside. And Brandon and Kate have been doing nothing but wining and grinding on each other for the past thirty minutes—"
"What's that?" Brandon called out. "You talking about me?"
Damn it. How did he even hear that? Up until a minute earlier, he'd been dancing with Kate. The slinky gold Cleopatra costume she'd donned to play Lady Capulet was undeniably eye-catching, and Brandon had been effectively caught.
"What's your problem?" he asked me, stretching one arm across Kate's shoulders. "I'm only trying to get into character."
"You're trying to get into something," I muttered.
"What's that?" Brandon leaned forward, cupping his ear.
"I said you're trying to get into something." I raised my voice, enunciating each word to make sure he and the rest of the project group heard me. "By which, I meant her pants. In case that wasn't clear."
That earned me a couple of snickers and a few sighs. By this point, our classmates were more than used to our squabbles. I paid them no attention, holding Brandon's narrow-eyed gaze just as stubbornly as he held mine.
"Whatever," Sherlyn said, backing away. "Make sure you're ready for your s
cene when it comes up."
Ready for what? My brief appearance in the background, pretending to sing? Yeah. Okay. I'd get right on that.
I unlocked my tablet and returned to my other project—the one that actually mattered, not the farce unraveling around me.
While working, I didn't notice anyone approach. But I should've known he'd come over. No matter the place, the time, the circumstances—Brandon Richards never passed up an opportunity to annoy me. Whenever I least wanted him, there he was.
"Not bad," he said.
I hugged the tablet to my chest, blocking the screen. Brandon had slipped behind the plant pot, crouching next to me. I glared up at him. His smile, which was slightly crooked and unfairly pretty, betrayed his evil intent. The fact that he was currently dressed as the devil only reinforced it.
"No need to hide," he said. "I've already seen it. You're picking up the family business now?"
His tone sounded more amused than curious. I examined the situation from all angles, searching for any nefarious reasons he might have for asking the question. If he'd laid a trap, I couldn't see it.
"Yes," I said.
"Isn't it a bit early to be thinking about Carnival? It's only September."
I snorted. He had no idea.
Every year, in the two days preceding Ash Wednesday, tens of thousands of people filled the streets of Trinidad in a stunning array of costumes for the annual Carnival festival. There were traditional characters like dragons, devils, sailors, and Moko Jumbies, each with their own history and legends. Some costumes were elaborate and others simple. Some masqueraders played on their own, others in organized groups called mas bands. My family owned and ran one of these bands, called Grandeur.
For most people, those days of Carnival passed and then it was over. But for those of us who dedicated our lives to the festival, Monday and Tuesday were just the culmination of the rest of the year. Making Carnival costumes was an artform that took months of work, time, and commitment, and the process began days after the last festival ended.
I'd been fascinated with costumes for as long as I could remember. People thought they hid who a person was; I believed the opposite to be true. What you chose to wear, and what to project to the world—scary, sexy, cute, funny, not trying at all—said a lot about who you were under the flash and makeup.
Take Brandon, for example. When I'd heard he'd skipped on Romeo to play Tyb
alt, I'd been surprised he didn't leap at the chance for more attention as the lead. But now that I'd seen his devil outfit– black suit, red shirt, and horns—I understood. While others bought into his Prince Charming routine, I'd spotted the demon in him a long time ago.
Brandon slumped against the wall so he could be a little closer to my eye level. "You know what I think?"
"I'd never presume to know what you thought. That is assuming there's any thinking happening at all—which, from what I've seen, is doubtful."
"I think it's not fair that the rest of us are all contributing to the project," he said. "Meanwhile, you've chosen a role with no lines. Almost no camera time. And during rehearsals, you're working on something else."
"Or—and stay with me on this, because I know it's hard for you to focus on anything that's not the sound of your own voice—you could stay out of my business."
No power on earth could get me in front of a camera. Especially not Brandon Richards. Revealing my intense camera shyness would be like handing him ammunition to use against me.
"Clearly, you have an interest in costumes," Brandon went on like he hadn't heard a thing I'd said. He was good at that–brushing me off like nothing. "From what I've seen, you're not bad at designing them. So why didn't you offer to make some for this project?"
"I have an even better question," I said. "Why don't you go back to entertaining Kate? It looks like she misses her dance partner." I'd noticed her shooting me irritated looks from the corner, like I'd stolen him away from her.
"Don't be jealous, Boop," he said, using his ridiculous nickname for me. Through some ungodly means, he'd discovered my full first name was Beatrice. From there, he'd started calling me Betty, then Betty Boop. Then just Boop. If anything could illustrate how annoying he was, this would be it.
I glared up at him—into the face I'd grown to hate. To my regret, it wasn't a bad one. Brown skin, black hair, dark eyes. The angles of his jaw and cheeks were a little too sharp, his mouth a little too wide, and yet they came together to form a picture far too pleasing. As if I'd needed any more proof of the unfairness of the universe. I wanted to hate everything about him, so the fact that I found him attractive only made me angrier.
"Okay, first of all, what I make is a different kind of costume. The ones with feathers and beads and so on. I'm sure you're familiar."
Not that I couldn't make stage costumes too. My mother taught me to sew before I could write, but he didn't need to know that.
"Second, why would I bother going through the trouble of making something new, when we have such a beautiful wardrobe kindly provided by the school's drama club."
He tipped his head to the side, the way he did when he wanted to be extra
condescending. "You know you're wearing a burlap sack, right? My jacket smells of mothballs. And Chris's metal suit has been leaving rust spots on everything."
"And? What about it?"
He threw his hands up, finally displaying some frustration. I felt a twinge of pleasure at making him break.
"You could contribute something," he said. "Anything."
"Look," I said, done with this conversation. "I didn't ask to be in this group. Believe me, if I had a choice, we wouldn't have ended up together. Hell, I'd prefer working alone."
"That sounds like a good idea to me," Sister Thompson said.
We both turned to our teacher and the rest of the literature group who'd all paused to watch our argument. At some point, the music had stopped. I hadn't noticed.
"I agree with Brandon," Sister Thompson said. "If you're not contributing to this project, you shouldn't be getting credit for it."
"I wasn't—" I started to protest, but she held up a finger to silence me.
"I put you into groups because I believe that for any project, collaboration is beneficial. Working with others is just a part of life that you need to learn. But I do not condone leeching." Her gaze slid to Brandon. "Can you still shoot your scenes today without her in it?"
"Yes," Brandon said, his lips tight.
"Good," Sister Thompson said. After one last disapproving look at me, she clapped her hands. "Okay, everyone. Let's get started." She led the rest of the group to the middle of the hall and I was left in the corner, alone. "Tess," she called back. "Feel free to leave whenever."
My skin burned with embarrassment.
I stood up and snatched my bag off the floor. After stuffing my tablet inside, I marched across the room, refusing to acknowledge any of them. I shoved open the door to the pool area. It slammed against the wall, the sound echoing throughout the building.
I searched for Hazel. Absolutely livid, I wanted nothing more than to vent about the crap that just went down. But my cousin wasn't alone. At some point, she'd acquired a knight in dull armor, and while I'd had mixed feelings on Chris's inclination toward nineties-esque sporty outfits, I could easily admit that this particular anachronistic look did suit him.
Sunlight poured through windows and ventilation blocks, casting patterns along the floor. Chris looked almost gallant kneeling beside Hazel, his floppy black hair falling across his forehead. Hazel sat on the edge of the pool, the legs of her jeans pulled up, her bare feet gently kicking in the icy-blue water.
They'd been classmates since preschool, but they only recently bonded over SAT classes. Both were applying to attend schools in New York the following year.
Something about the scene at the poolside felt private. Intimate.
Too bad I had to bust it up. "Time to go!"
Hazel turned to face me. "You're done already?"
"Can't be," Chris said. "They'd need me. And Sister T isn't here yet."
"She just got here."
"Oh!" He stood, the process slow and clunky because of his armor plates. A small rust stain remained on the tiled floor. "I should go then." He paused, smiling down at Hazel. "You'll come, right? The theater gave Brandon a bunch of tickets when he promoted their movie club cards. The only catch is that he has to use them tonight."
"Yeah, I don't know . . ." Her gaze darted toward me.
Chris noticed it. "Oh, Tess—you can come too, of course. It's just a movie lime with a few of us. We'll hang out. Free popcorn. But I'd need to check with Brandon first. Make sure he has enough tickets left."
Somehow, I suspected, if Brandon knew the ticket was for me, he'd find himself with none to spare. Not that I wanted to go anyway.
"I don't think so," I said. "And Hazel and I have a thing tonight, so she can't either."
Hazel blinked. "A thing?"
"Yes. A thing." When she still didn't pick up my hint, I added, "You know, the thing with your father. The one that would cause problems if you went out tonight with Chris."
"Oh. That thing." Hazel's expression flattened with exasperation. "You know what? Since I refuse to acknowledge that thing—because it's silly—I think it'll be fine."
"Uh . . ." Chris shuffled his feet. "Was that a yes? No?"
"It's a maybe." Hazel smiled up at him. "I need to check with my parents first. Can I call you later?"
"Chris!" Brandon shoved open the side door and stuck his head through. "Come on, nah! We ready."
"I coming!" Chris backed away, his eyes still on Hazel. To her, he said, "You should know, I would really like it if you joined us tonight. If that makes a difference."
"Oh, for crying out loud," I said. "She said maybe, okay? Just take it and keep moving."
Chris's smile slipped a little. But he still threw Hazel a small wave before jogging off, his metal plates rattling.
Brandon glared at me, pushing the door wider to let his best friend through.
God, he was the worst. He'd probably known Sister Thompson had been listening to us the whole time. Now, thanks to him, I had to think up a whole new project on my own.
After the door shut, Hazel continued to stare at it. She sighed dreamily.
I snapped my fingers in front of her face. "Pull it together. You're down so bad right now, it's embarrassing."
"I know." Hazel pressed her hands to her cheeks. "But he's so pretty, Tess. Has he always been so pretty?"
Chris? He was fine, I guess. If you liked the bland, generically handsome type—which, to be fair, a lot of people did. He played practically every sport, which gave him a muscular, broad build. And he had the perpetually cheerful attitude of a puppy, w
ich I personally found annoying.
I held out a hand and helped her up. "I think Chris is exactly as he always has been." That seemed to be the most tactful answer I could give.
"I know!" She stood up and retrieved her sandals. "That's the strangest part. How can I like him so much now, when he's been there the whole time?"
"Well, to be fair to you, he does give off the impression of a . . ." I tried again. "He can sometimes . . . seem like . . ."
"You're trying really hard not to use the word himbo right now, aren't you?"
"I don't want to reduce him to his looks, but when he calls her Sister T, he makes it really hard."
She sighed, scooped her purse off the ground, and followed me across the room. "Chris has more interests than sports, okay? Like music. He's taken up DJing."
As if I needed more reasons to object to this relationship. "Hazel . . ." I pushed the outer entrance door open and waited for her to pass through first. "Do you remember what I told you when you first expressed these feelings toward Chris?"
"Yes."
"And what did I say?"
"Don't."
"Exactly." I made a beeline for the car, more than ready to leave. The sooner I got away from my former groupmates—and out of this awful costume—the better. "Not only is Chris best friends with Brandon, but his mother has married into that family. By associating with him, you're effectively a traitor on multiple levels."
She unlocked the car door. "Don't you think you're being a little overdramatic? No one buys into that whole rivalry thing but you and Daddy."
"Because we're the only ones in our family that care about Grandeur."
"That's not fair," Hazel said. "I care about the mas band. I just, you know, don't want to design costumes. Or make them. Or have anything to do with the business."
"Exactly." I slipped into the car. "But you're wrong. The Kingstons are just as invested in this war as we are. Didn't you see the cheap shot they took at your father in the newspaper last week?"
The article had been a profile of the Kingston family and their mas band, Royalty. It had mostly focused on Mr. Kingston's son, Prince—the twenty-one-year-old who was all set to take over his father's company. They'd called Prince the face of the next generation of Carnival.
In the article, Prince had praised his father for being innovative and adapting to the changing times. It was because of this, he'd said, that his father remained relevant in the industry, unlike some of his father's contemporaries.
"We don't know he was talking about Daddy," Hazel said.
"Of course he meant Uncle Russell. Who else would he be talking about?"
The history between Mr. Kingston and Uncle Russell dated back to the 1990s. Mr. Kingston used to be Uncle Russell's apprentice, until they had an epic falling out. The details of that argument remained a mystery. However, after Mr. Kingston left to start his own company, rumors from his camp circulated that Uncle Russell was using Mr. Kingston's designs without giving credit.
Uncle Russell—being Uncle Russell—only addressed this rumor once. He denied the claim and argued that all anyone had to do was look at Mr. Kingston's work to know no one was going to bother stealing from him.
"When Chris's mother married into that family, he became the enemy," I said. "So, don't."
"Are you . . . forbidding me to date him?" She slid me a sly look as she started the car. "Because if there's one trope I love, it's forbidden romance. It makes everything so much hotter."
"Oh, God."
She laughed, maneuvering the car out of the parking lot. Almost immediately we hit a line of traffic leading into Port of Spain. "He's like my very own Romeo. We're star-crossed lovers from rival families, kept apart by circumstances beyond our control."
"You do know how the play ends, right?" I had to ask. "And star-crossed lovers don't end up together. People have been misusing that term for ages. Think less Jane and Rochester and more Catherine and Heathcliff. If you're going to be a romance writer, you should know this."
"Heathcliff," she said, testing the name on her tongue. "Hang on." She reached across to pop open the glove compartment and grabbed a pen. After removing the cover with her teeth, she wrote Heathcliff on the back of the hand balanced on the steering wheel. Just below it had another scrawl, this one faded. It seemed to read something like reverse fake date, whatever that meant.
"Okay, seriously," I said. "Just use your phone to take notes like a normal person. Scribbling all over your hand is so weird."
"Hey," she said, her teeth clamped on the pen cap. "I believe the correct term for writers is eccentric. Oh shoot." The cars in front of us started to move. She tossed the pen and cover into my lap and returned her attention to the road. She hit the accelerator a little too hard.
"Hazel!" I shouted. The belt cut into my torso as we jerked forward. "Watch what you're doing. Please."
"Sorry," she said quickly. The car slowed as we slipped into more traffic. She glanced over at me. "Are you okay?"
"Yeah," I said, even as my heartbeat thundered in my ears. I focused on breathing slowly, deeply. Seconds passed as I willed the fear to ebb away. Hazel kept looking at me, checking on me. Rather than letting the silence grow awkward around us, I said, "My point is—where is your family loyalty?"
"Must've left it in my other purse."
"Along with your good sense?" I recapped the pen and returned it to the glove compartment. My heartbeat returned to a normal pace. "How do you know Chris isn't a spy? He might be using you to get information on our new designs. What if he's working for the enemy?"
"One word," she
said. "Hot."
"I'm not going to talk you out of this, am I?"
"No. But you can come with us to the movies tonight. Use it as a chance to get to know him better."
"No, thank you. If you want to go, fine. But I'm not about to subject myself to more time with my classmates than I already have to spend with them. And I'm sure they feel the same way about me."
"I wish you wouldn't say things like that," she said. "Maybe if you considered opening up a bit, and letting people see how great you are—"
"Dear, sweet cousin. I don't care what anyone thinks about me. Especially not my classmates."
She didn't look satisfied. "Okay. But for the record, I think you're great."
"Ugh. Don't get mushy on me. Please."
She sighed. "Fine. Forget it."
"Thank you," I said. "Just promise you'll let me be there when you tell Uncle Russell about you and Chris. Your father is going to be so pissed."
A sly smile stretched across her face. "Yes, I know."
Lord help us.
We hope you are enjoying the book so far. To continue reading...
When the Vibe Is Right
Sarah Dass
Copyright © 2023 All Rights Reserved