What We Buried
Available in:
eBook
Paperback
Audiobook
Hardcover
Book info
Sample
Audiobook
Media
Author updates
Lists
Synopsis
Told from the split viewpoints of Liv and Jory, Kate A. Boorman's What We Buried is a psychological thrill ride that deftly explores how memories can lie, how time can bend, and how reconciling the truth can be a matter of life or death.
"Do you ever just want to be believed?"
Siblings Liv and Jory Brewer have grown up resenting each another. Liv—former pageant queen and reality TV star—was groomed for a life in the spotlight, while her older brother, Jory, born with a partial facial paralysis, was left in the shadows. The only thing they have in common is contempt for their parents.
Now Liv is suing her mom and dad for emancipation, and Jory views the whole thing as yet another attention-getting spectacle. But on the day of the hearing, their parents mysteriously vanish, and the siblings are forced to work together. Liv feels certain she knows where they are and suspects that Jory knows more than he's telling…which is true.
What starts as a simple overnight road trip soon takes a turn for the dangerous and surreal. And as the duo speeds through the deserts of Nevada, brother and sister will unearth deep family secrets that force them to relive their pasts as they try to retain a grip on the present.
Release date: February 26, 2019
Publisher: Henry Holt and Co.
Print pages: 320
* BingeBooks earns revenue from qualifying purchases as an Amazon Associate as well as from other retail partners.
Listen to a sample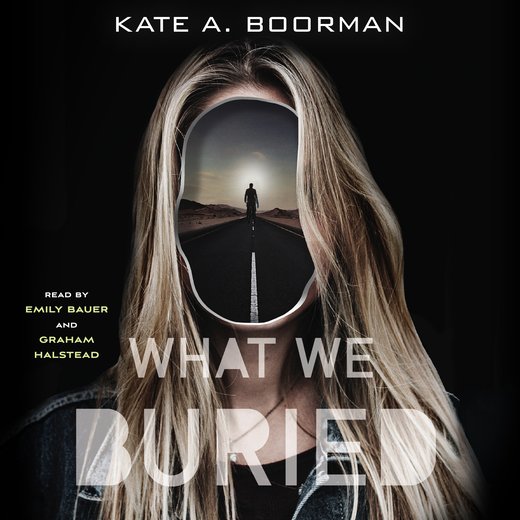 08:18:18
228.12 MB
9781250309938
February 26, 2019
Macmillan Audio
2019
What We Buried
Kate A. Boorman
JORY


MY DAD SNAPPED the radio off as we pulled into the parking lot of Princess Liv's Spectacle of Justice, otherwise known as the Clark County courthouse. It wasn't to spare us some sort of upsetting news story on an "already upsetting" day; my dad generally wasn't aware of those kinds of things—you know, other people's realities or emotions? No, he was trying to read the parking instructions to see if he could pay by credit card, and the radio was irritating him.

Not that my reality was affected either way. Some random news story held as much relevance for me as this court date; the only one emotional about today was my mom. And as I stared at the courthouse through the tinted window of my backseat prison, I couldn't remember why I'd agreed to waste my time.

My dad cursed and began rummaging for change in the console, and I peered at the building, which shimmered and danced in my vision like it was threatening to wink out of existence. It was a trick of the light, a common sight in Nevada—land of infernal sun and dry, cracked earth—but something about the way it wavered made me want to look harder, make sure it was real.

It made me want to do the same to myself.

My chest tightened. Sinking into the leather of my dad's SUV, I squeezed my fist tight and watched two tendons appear on my forearm as the muscles strained. I closed my left hand around my wrist and squeezed harder, feeling my pulse thud, picturing the blood rushing through the vein toward my fingers and back toward my heart.

You know the saying "seeing is believing"? It's a problem, when you think about it. I mean, it's reasonable for people to want proof before they accept something they've been told. I do. I'm a fan of logic and demonstrable facts. But the idea inherent: that you can believe what you see? That's majorly flawed, because people usually have no clue what they're looking at. It's why people think my sister is a lovely, tragic victim. It's why they so often assume I can't tie my own shoes.

"We're here, Jory-boy," my mom announced belatedly, glancing back from the front seat. "It's time." My mom was a classic stater-of-the-obvious. I relaxed my hand without meeting her gaze and said nothing, even though I knew she was hoping for some reassuring response. This was her new thing. The moment my sister had filed her lawsuit, I'd materialized before my mom's eyes.

Now I existed.

My dad's cell went off—his ringtone was the first four bars of "Janie's Got a Gun," which gives you an idea of how irritating he is—and he answered it as he parked, turning away from my mom dismissively.

She was used to that. We all knew that plastic forks and printed paper napkins and whatever other party supplies were distributed by my dad's company, Par-T-Own, didn't sell and ship themselves.

But lately, my dad's phone calls had become louder, more excruciating to witness. His volatility hadn't ever been completely contained to the home front—it bled into customer relations from time to time—but this seemed next level. He was less cocksure, a bit desperate even, and I wasn't going to hang around and listen to him swear or, worse, wheedle.

I opened the back door to freedom, and a breath-stealing blast of heat, and stared at the blurry courthouse, forcing it to come into focus.

There. Solid as the asphalt trying to melt the bottom of my Nikes: a nondescript building with no imposing columns or archways. It blended into the surrounding box stores dotting this strip of road like it was trying to appear as if it was for common people. Ironically, it was also situated on the outskirts of Vegas—where the common people's transit didn't run.

Not that I'd take transit. People on the bus are the worst for staring.

I slammed the door of my chrome-rimmed holding cell and headed for the shade without waiting for my mom. As I climbed the front steps, a shadow passed over the entryway—dark fingers trickling along the stucco overhead like cool water.

My pace slowed. It was a cloud passing over the sun—I knew that—but I had the sudden urge to put a hand on the railing and grip the metal tight. Maybe lie down on the steps, feel the concrete.

Stop it.

The air felt heavy, like the very rare time rain was imminent.

"Hotter than a snake's butt in a wagon rut," my mom observed, catching up to me. She was breathing hard and clutching her oversize purse. The tassels and bits of bling swung, hitting her elbow and her side alternately.

The saying was "snake's ass," but my mom never swore. She said it didn't reflect well on a person's character. I guess for my mom, words spoke louder than actions.

The entry led into the open-air atrium of the courthouse. In the center, concrete planters surrounded a fountain in the shape of a decidedly nonaquatic lizard, which spouted water from its mouth. Fitting, for Vegas—where nothing was too incongruent or illogical.

"Let's wait here for your dad. He'll just be a second."

I looked at my watch. It was twenty to ten; our court appearance was at ten o'clock. The fact that my dad had taken that call spoke volumes about his opinion of the court date. The fact that my mom didn't protest when he took it spoke volumes about … everything else.

She plunked herself down on the edge of the concrete, like she needed a rest after a hard-won battle, and glanced around. A weird mix of disdain and concern crept over her face. "She sure doesn't draw the crowds like she used to." The look morphed into alarm. "I hope to heck she doesn't wear her hair up."

The hell?

"She knows her ears stick out too much for that."

As I digested the complete inanity of that comment, my mom's first observation registered. She was right: there hadn't been any media outside the courthouse, and the atrium wasn't empty, but it certainly wasn't packed. It didn't seem like throngs of rabid fans had shown up to see this all go down.

Huh. Maybe the case wasn't as big a deal as Liv had hoped. Maybe, after three identical lawsuits pitting ex–beauty pageant kids against their parents, public appetite for this kind of spectacle had waned.

Awkward.

Liv had been texting all week, trying to confirm I'd be here. Her last message was full-blown desperation: Need to talk. Can I come over?

I hadn't answered. I had no idea why my presence mattered that much. Maybe she was thinking of the family photo op: the triumphant queen and her big brother, united in justice. There wouldn't be a shred of truth in the image, but who cared? The illusion was what mattered. Liv's entire existence proved that.

"I need caffeine." My mom fished around in her purse and extracted a twenty-dollar bill. She waved it at me, gesturing with her other hand at the coffee bar in the corner of the atrium. "It's gonna be a long morning, Jory-Jore." The layer of makeup she'd caked onto her eye-bags was shiny in the heat. "And it sure would help my nerves."

Because caffeine is a proven relaxant.

"Not sure I can get in that courtroom without a little help." She punctuated this with a dramatic sigh. "Not sure I can get in there at all, actually."

I studied her. She did look unsteady, like that moment last week when she'd had a panic attack at the grocery store. I took the bill from her outstretched hand. "What do you want?"

She dug in her purse again, found a fan, snapped it open, and started to flap. Her free hand fluttered up to fiddle with her necklace. "A Frappuccino—Grande."

Of course. I crumpled the twenty in my fist. Of course it had to be a Frappuccino.

"Get yourself something, too!" she called as I turned away.

The atrium was shaded by a variety of umbrellas and awnings that did nothing to combat the heat; I could feel my collared tee sticking to my back and hoped the checked pattern actually was sweat camouflage like the label promised. Maybe a cold drink wasn't a bad idea. It wasn't in my Sixty-Day Shred regime, but: one, I hated buying bottled water, and two, I had worked out twice yesterday, so didn't it all balance out? I worked out because I didn't want to feel weak on top of everything else, and I used the regime because it was good to have a schedule, but I didn't portion out my meals or worry how my clothes were "accentuating my progress."

I wasn't screwed up like my sister.

Before me, a table and umbrella wavered in and out of focus.

I paused and stared, willing it to stop. An unpleasant splintering feeling was working its way through me, bringing an equally unpleasant thought: I was looking at an imitation of the actual table with umbrella. The wavering I saw was the veil between this copy and the real thing, and the veil was drawing back …

Dry eyes: that's what it was.

I pulled a small bottle of artificial tears from the front pocket of my jeans. The relief was instant but, as always, the blurriness took a while to subside. It was hard to decide what was worse for clinically dry eyes: the heat or the air-con. In summer, I was screwed either way.

That's probably what had happened as we parked; my eyes had been drier than I thought, and the heat did its mirage thing. No need to get all metaphysical. I mean, I was into that kind of thing: my film club was always discussing illusion, the line between real and the hyperreal, and, honestly, I considered myself a bit of an expert on it all, considering everything. But today was going to be surreal enough without me questioning my grasp on reality.

I put the artificial tears back in my pocket and joined the line at the coffee bar.

The girl at the register looked a couple of years older than me. She was cute: dark auburn dreadlocks, huge eyes, and a cheek piercing. I turned slightly to the right so she was looking at my best side.

As I waited for the line to move, a shadow passed over the courtyard again. The air was denser still, and the smell in the air … it was definitely going to storm. Bizarre. I glanced up to look for the clouds, but like some hapless moth to a light bulb, my gaze was drawn instead to three girls cutting across this corner of the atrium.

My sister, Liv, and her entourage.

They walked with textbook posture, confidence radiating off them like nuclear waves, and they were all done up in faux defiance of perfection: designer tops, teased hair that was supposed to look careless. But the most obvious crack in their rebellious facade was how their flat dress shoes slapped the tile together; they were pacing one another in perfect unison.

You can take the girl out of the pageant—hey, you can convince her those pageants caused her "irreparable and lasting harm" worthy of a million-dollar lawsuit—but you'll never fully take the pageant out of the girl.

I glanced back toward the fountain. My dad had arrived; he stood with one dress shoe on the edge of the fountain, leaning forward, hand to his ear. He was still on his call. My mom was facing away from us.

They hadn't seen her, and Liv had probably deliberately avoided them. She'd been staying with her friend Asia, the blond—or was the red-haired one Asia?—ever since the hearing date was set more than nine months ago, so she hadn't had to endure my mom's histrionics. I mean, sure, she had endured them for years—so did everyone who tuned in to the reality TV show Darling Divas—but Mom's more recent antics? The spontaneous crying and binge eating and impulse buying? My sister hadn't had to deal with any of that, even though her court case was ground zero for Mom's psychosis.

Liv saw me and raised her hand in greeting. She didn't smile—she knew better than that—but I saw her confident expression falter when I didn't return the gesture. She wasn't going to come over here, was she? To "talk"?

"What can I get you?"

I turned back to the counter, caught off guard and forgetting my sideways trick, which gave the hot barista a clear look at my face. There was the usual moment of pause followed by an obviously forced this is totally normal smile.

To her credit, she didn't look around to see if I had an aide, if I should've been standing in a coffee line on my own. And that smile dimpled in the side of her cheek where the silver stud was, pretty much killing me. I forgot all about Liv.

"One Venti iced tea," I said slowly, "and one Grande Frappuccino."

There was a silence. Her eyes flicked to her screen. Back to me. "An iced tea? Venti?" she asked.

I nodded.

"And…" She cocked her head forward, gesturing to her ear with a raised finger like the reason she didn't know what I wanted was because she hadn't heard me. "Was that a mochaccino?"

I thought about changing the order, picking something easier to say—I mean, "Frappuccino" has got to be the stupidest goddamn word for a drink in the first place—but a spike of irritation killed that idea. Lately, going out of my way to make sure other people didn't feel uncomfortable was getting old.

"A Frappuccino." I was trying not to care about her reaction, but she was concentrating really hard on my mouth, and I could feel my face getting hot.

Her eyes lit up. "A Frappuccino!" She said it like she'd figured out the cure for cancer, which should've grated on me, except that dimple … Okay, she was so hot her glee was kind of adorable.

I nodded. "Grande."

She paused for one more second, then tapped the screen. The cash register drawer popped open.

"I like your ink." She looked at my outstretched arm as she took my twenty.

A tattoo of a two-toned, oblong ouroboros—a snake eating its own tail—stretched along the inside of my forearm. It symbolizes infinity, life from death, creation from destruction. The universe in balance.

Sort of.

I wanted to ask her if she knew what the symbol was, if she knew what book it was from, and there was a crazy moment where I imagined she answered yes to both, and then she asked why it was oblong and not a perfect circle, and I told her the reason, and she thought that was cool. And then she asked me out, which wasn't weird because she assumed I was eighteen on account of the tattoo.

"Where'd you get it done?" She gave me my change, grabbed a cup from below the counter, and started scribbling on it.

"Revolt."

She cocked her ear forward again and grabbed a second cup.

"Revolt Tattoo."

She marked the cup and set both aside, sucking in her bottom lip like she was thinking hard. "Oh! Revolt!" she said. I take cute back; she was gorgeous. Her eyes were a light brown and her skin was lightly freckled, like she'd been dusted in whatever they put on the top of the whipped cream—

"Sorry," she said. "I'm sorry." For not understanding me, she meant.

Spell: broken.

I stuffed the change into my pocket and moved along the counter toward a different barista—a guy with dyed blond tips who had picked up the cups with my order on them. The hot girl greeted the next person in line.

"Your name?" the guy with the terrible frosted hair asked, cup in hand, Sharpie at the ready. "She forgot to ask."

Forgot, or didn't want the hassle.

"Jory." I didn't look back at the barista. I hoped she stayed distracted.

He squinted. "George?"

"Jory."

He pursed his lips, like he was deciding whether or not this was even worth his time. A hot feeling crept into my throat. He scribbled on the cups in turn and set them aside.

I moved along to wait at the far end, forcing myself to count down from ten, like our family doctor insisted. My parents hadn't taken her advice to find me a shrink, so she'd tried to help me herself.

"Outwardly expressing anger is new for you," Dr. Levy had said. "It's important we find techniques to help you do that it in an acceptable way."

Technique number one: count down from ten.

I wasn't exactly sure if she knew what she was talking about, but I'd figured it was worth a try. I didn't want to end up flying off the handle and doing something I regretted.

Technique number two: while counting down from ten, unpack the situation that made you feel angry.

Okay, the interaction with the girl at the register hadn't gone the way I'd wanted. That wasn't anything new. I was also used to people apologizing for not understanding me. So …

My train of thought paused as I scanned the atrium.

Liv had disappeared.

"Rory!"

I counted again before stepping up to the counter and taking the drinks: a Venti iced tea and a Grande Frappuccino. For Rory.

I guess my parents couldn't have known when I was born that I'd always have trouble pronouncing my own name—that a J, for someone with paralyzed sixth and seventh craniofacial nerves, was a bitch of a consonant to negotiate, second only to plosives—consonants like P and B and T. The one surgery helped my left side a bit but came nowhere close to fixing my pronunciation. If I'd done the series of surgeries, like the doctors had suggested, my own damn name wouldn't have been such a challenge. There was even a chance I could've smiled—or something close. But then, my parents would've needed to see it as an investment. You know, like a Child Glitz Pageant?

Like that.

I walked back toward the wrinkled silk pantsuit that was my mother. My dad was still on his call.

"I understand that!" he snapped into the phone. "And I said I'd sort it out. I need time. You need to give me that—" He pushed off the fountain with a dress shoe that needed a serious shining—the round buckle was dusty, another sign that he was unraveling by the minute—and strode out of earshot.

I looked at my watch again; it was now ten to ten.

"We'd better get in there," my mom said, dropping her necklace back against her throat and reaching for the drink. She made no move to get my dad's attention. "Judas Priest, but I'm all aflutter."

Aflutter was a hilarious understatement; she knew what was coming. Liv's lawyer had won three straight cases in a row the past three years: all beauty pageant kids who'd participated in the Darling Divas reality TV show. And none of those girls had the footage Liv had.

Even my parents' lawyer had advised us all to prepare for Liv winning. He meant emotionally, I think. As in: prepare yourselves for Liv's legal emancipation and the estrangement that would follow, because after this circus was over and all that was left were crumpled popcorn boxes, we were going to be sad little clowns indeed, without our main event—our Liv.

Well, at the end of summer I was moving away from all this and restarting my life at Boston University, so, yeah, I'd prepared. I looked down at the hand that gripped my iced tea. Blood pumped oxygen through my veins, along my wrist, into my palm, my fingers, and back. A continual loop. Never-ending. I was a walking ouroboros.

It was the courthouse, with its ironically cheap stucco, that was temporary; it was what it stood for that was ephemeral.

About a year ago, Liv told me that she had learned from her new friends ("pageant survivors," she called them) that it isn't selfish to want retribution; that if you've been wronged, bringing light to the issue by punishing the perpetrators helps those who've been similarly wronged.

I didn't tell her we would first need to agree on a definition of "wronged" before I'd concede that she was enacting a public service. There was no point in having that conversation; Liv would never understand that justice was slippery and conditional, that it only existed for certain people in certain circumstances.

She didn't realize that she was, still, firmly center stage in an inane and self-absorbed fiasco. All that was missing was the mile-high tiara.


Copyright © 2019 by Kate A. Boorman
We hope you are enjoying the book so far. To continue reading...
What We Buried
Kate A. Boorman
Copyright © 2022 All Rights Reserved