Book info
Sample
Audiobook
Media
Author updates
Lists
Synopsis
The Two Lives of Lydia Bird meets This Time Next Year in a sliding-doors style romance and coming-to-self story about fate, chance, and the choices we make.

What if "meant to be" happened twice?

Lucy is at a crossroads. The same night she quits her thankless job she meets Caleb, a local photographer in her seaside town, and has a run-in with Max—the once love of her life. As Lucy decides the right path forward—finally pursue her dream of becoming a writer, or move to London and revive her career—her choice will change her life in unimaginable ways.
 
Stay. After a decade of trying to run from her dream, Lucy is finally facing her fears and putting pen to page. With her budding romance with handsome, artistic Caleb, she has more inspiration now than ever. But can Lucy and Caleb open themselves up after their past heartbreaks? And will their different paths take them to the same place?
 
Go. Lucy can't believe her luck when a room in her best friend's London house share opens up and she lands a job at the prestigious Supernova. It gives her the courage to face Max, who's serendipitous encounter still has her reeling, and ask what really happened almost a decade ago? But does she really want to know, when being together feels like fate?
 
In concurrent storylines that track what would have happened if Lucy chose to Stay or Go, What Might Have Been is a sweeping story that poses the questions: is it destiny or chance that decides who we are meant to be, and who we are meant to love? And is there such a thing as a soul mate?
Release date: January 18, 2022
Publisher: G.P. Putnam's Sons
Print pages: 368
* BingeBooks earns revenue from qualifying purchases as an Amazon Associate as well as from other retail partners.
Listen to a sample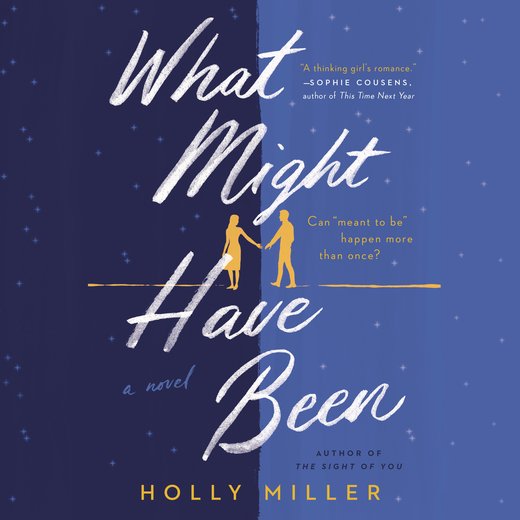 12:35:21
345.78 MB
9780593552483
January 18, 2022
Penguin Random House
What Might Have Been
Holly Miller
One

"You did what?"

I pause next to the pub's chalkboard craft beer menu, phone pressed to my ear. "I quit," I repeat. "Just now. I mean, ten minutes ago."

"You handed in your notice?"

"More like . . . stormed out."

My sister yogic-breathes for a couple of seconds. "Wow. Okay . . ."

"I couldn't take it anymore, Tash. It was one time too many."

I picture her nodding, trying her best to understand.

"Something will turn up," I say, with a confidence I definitely don't feel.

"Let me guess: the universe has got your back?"

I manage a smile, but it wobbles a bit. "Here's hoping."

The bus back to Tash's isn't due for an hour, so I've taken cover in The Smugglers with a Virgin Mary. I stay sitting at the bar after my drink comes. The Smugglers is something of a Shoreley institution: it's the first place I ever got served, heard live music, met boys who werenÕt school friends.

I'm starting to feel conscious of just staring into space, so I tap absent-mindedly into the horoscope app on my phone. Checking my horoscope has become my latest guilty pleasure, like watching trashy TV, or eating crumpets in bed. The kind of thing you'd never admit to in front of someone you fancied. But it is slightly addictive. A bit like playing the lottery. Maybe this time . . .

I read today's prediction, and my heart does a little tap dance through my chest.

Today will see you head off on a new career path. If you're single, this could also be the day you bump into your soulmate.

And then, as if in slow motion, it happens. As I'm lifting a hand to catch the barman's attention for another, the person next to me gets up, letting someone new slide in. "Pint of Guinness please, mate."

The barman hesitates, then glances at me. My new companion turns, and our eyes meet.

"Ah, sorry." He smiles broadly, the friendliest apology ever. "Didn't see you there."

It's the oddest thing: I feel as though I know him. That we have met before. But I can't place my finger on when, or how.

He's the type of good-looking favored by knitwear adverts-all dark stubble and ruffled hair and dewy eyes. His expression as he looks at me-amused and intense all at once-combined with the sweet haze of his aftershave, makes me draw breath.

"Hi. No. You go," I say.

"What are you having?"

"Oh, you really don't need to-"

"No, I insist."

"Well. A Virgin Mary, then. Thank you."

To his credit and my relief, he doesn't attempt to tack a vodka shot onto my order, or crack a lame joke about pubs traditionally being for boozing in.

When the drinks arrive, he glances around the room, then shrugs and stays where he is on the stool next to me. "Do you mind? It's packed tonight." He raises his glass to mine. "I'm Caleb, by the way."

I don't recognize the name.

"Lucy." I smooth back my beachy mess of hair, wishing I'd at least thought to glance into a mirror before storming out of the office earlier. It's super-stuffy in here, swarming with bodies between the thick walls and low ceiling, and I suspect it's only a matter of time before I start wilting in the warmth.

I imagine Tash face-palming at this, despairing at my unkempt mane, my crumpled dress. I've always thought of my sister as the slightly more polished version of me: she has three extra inches on my average height, hair a shade or two blonder, skin with a few more lumens' worth of gleam. Still, Caleb seems relaxed, like he probably doesn't care too much about smooth hair, or lumens, which is just as well.

"I remember when this was a proper spit-and-sawdust place," he's saying, sipping from his pint, his gaze alighting on the dazzling wall of gin bottles behind the bar. "Now it's all craft ales and signature cocktails and wood-fired pizzas."

"And perfectly staged Instagram posts."

"And ridiculous bar snacks." He slides a bowl across the bar toward me. "Wasabi pea?"

I laugh and shake my head, trying to ignore the fluttering in my chest. "I'm more of a Scampi Fries kind of girl."

Smiling, he raises a fist and we bump knuckles, his hand dwarfing mine.

"So, you're local?" I ask, wondering if I might be able to find out whether we know each other, somehow.

He nods. "You?"

I nod back.

"This your Friday-night haunt?"

"Not exactly." I hesitate, but then the words start spilling into the space between us. "I actually . . . just quit my job."

His eyes widen. "Wow. Okay. So you're in here . . . drowning your sorrows?"

"No. I mean, it was a good thing, quitting. A point of principle."

"Well, then, congratulations." He lifts his glass, and then-for just a millisecond-we are looking right into each other's eyes. I feel my breath flex in my chest, a spread of warmth across my skin. "Good for you."

"Thank you," I manage, and then-possibly to distract either him or me from my fluster, which must surely be visible-I say, "So, how about you-are you gainfully employed?"

He nods. "I'm a photographer."

"Really? For a living?"

He laughs. "Believe it or not, we do exist."

"Sorry," I say, mortified. "I just meant . . . there are a lot of people who dream of doing that, so . . . I'm impressed."

He smiles and nods a thank-you. "Well, you're free now . . . so what do you dream of doing?"

I hesitate. I could tell him-I've always really wanted to write a novel-but that would turn me into the kind of person people try to escape at parties. "Actually, I'm not sure yet."

"What did you do before you quit?" He's swiveled round on his stool to face me now, his eyes attentive and bright.

"I worked for an ad agency."

He sips from his pint, eyebrows elevated. "We have those in Shoreley?"

I laugh. "Just the one, actually. We liked to think of ourselves as small but mighty."

"And you quit because . . . ?"

I hesitate, and just as I'm thinking of the best way to explain it, I freeze.

No. It can't be.

I blink rapidly, trying to make out if what I'm seeing is real.

Because, from out of nowhere, on the section of street visible from where I'm sitting, I spot the last person on earth I'd have expected to see.

Halfway across the window, he's paused to look at something on his phone. As I watch on in shock, I feel my heart start to beat a little faster.

It's definitely him.

Max. Max Gardner.

"Excuse me," I murmur, pushing back my stool with a scrape, so hard it almost falls over. I abandon Caleb and my drink, elbowing my way through the crowd and finally out onto the street. The coldness of the air after the warmth of the pub draws a gasp from my mouth that feels like my heart leaping to my throat.

"Max" is all I say.

He looks up, and I take him in-black woolen coat, pinstriped suit, same gleam to his gaze, same sharp jawline, no trace of aging on his handsome face. Tall, fair, gravitas just standing still. Briefly, he is motionless. The moment has cast its spell.

I rummage in my stomach for my voice. "Hi."

He smiles gently, steps toward me. "Oh my God. It's really you. Hi."


Two

We air-kiss, which is ridiculous, because Max and I used to laugh at people who did that, and then stand back to take each other in. For the second time tonight, I curse the fact I'm looking decidedly less than sharp, that particular kind of frazzled you become when you've had way too much on your mind.

Max and I aren't connected on social media, and like any good lawyer, he keeps his Facebook and Instagram private. I've never been able to bring myself to friend or follow him, but I do check his Linked-
In from time to time. It never changes: Real Estate Litigation Lawyer at Heyford West White, or HWW if you're into acronyms, an American law firm with its UK offices in the City.

His profile picture-professionally shot and classic Max-matches up pretty well to the man standing in front of me. Killer jawline, sandy hair, devilish gaze. The kind of expression that confirms he'll take your case seriously, but with a glint that hints he'll be celebrating hard when he wins.

The person you were meant to be with, my heart whispers without permission. The one that got away.

"What . . ." I say eventually, because one of us has got to start speaking. "What are you doing here?"

"Work. Well, sort of." He rubs his jaw, looks uncharacteristically sheepish. "I had a meeting just off the M2, then I thought . . . might as well carry on, take a trip down memory lane."

Memory lane. You were thinking about me.

"I was actually debating trying to get in touch with you, but . . ." He trails off. "Wasn't sure if you lived here anymore, or if you'd even want to see me, or . . ."

"No, it's . . . Of course I'd want to see you." I smile, emotions quick-stepping around inside me. "What was the work thing? Anything fun?"

He laughs. "Not even slightly. Just a site visit. High-rise office development. Allegedly stealing light from neighboring buildings. All very dull."

I smile at the allegedly. "You achieved your dream, then. To be a lawyer."

As he smiles and nods, I catch a glimmer of pride in his eyes, which is more than merited. I feel oddly gratified by the sight of lawyer Max, in his smooth white shirt and charcoal-gray tie, thriving and smart, everything he ever wanted to be.

We catch up for a few minutes, about his life in London, and the strange turn my professional life has taken today, before it starts to feel a bit ridiculous that we're having this conversation standing out on the pavement, a Friday-night tide of people forced to part around us.

I clear my throat. "Listen, do you fancy getting a drink, or . . . ?"

"Actually," he says, checking his watch and grimacing gently, "I have to get back to London. I've got a flight at stupid o'clock tomorrow, and I've not even packed. This was all a bit . . . spur-of-the-moment."

The thrill in my chest subsides. Maybe his old urge to escape me still lingers. But I make myself smile. "Lucky you. Anywhere nice?"

"Seychelles. Two weeks."

"By yourself?" It's out of my mouth before I can help it.

He shakes his head. "Diving. It's a group thing."

"That sounds amazing," I say, privately relieved-though of course it's not my right to be-that it's not a romantic getaway for two. "Well, maybe when you get back we can-"

"Definitely," he says, looking right into my eyes, making my stomach twitch with pleasure. "We've got nearly ten years to catch up on."

For a moment our gazes clamp together, and I find it hard to look away.

"This is kind of crazy," I say, eventually. "How many people are there in Shoreley on any given day?"

"Hundreds? Thousands?" he says, smiling. He must be thinking what I am-how could he not? "And yet . . . here we are."

We swap numbers, and then I watch him walk off along the cobblestones, a squall of thoughts inside my head. Could it be possible that my stupid app was right-have I just bumped into my soulmate? I've so often thought that, for me, Max was simply the right guy at the wrong time.


Three

"You did the right thing," Jools assures me, when I tell her I walked out of my job yesterday. "They've been stringing you along for long enough."

I'm still in bed, video-chatting with my oldest friend, the person who's been by my side since primary school, who never fails to reassure me in times of uncertainty.

"Thanks," I say, biting my lip. "Feels a bit hasty in the cold light of day, though." I'm not, as a rule, someone who makes rash decisions. I might occasionally drink coffee late at night, try a bold shade of lipstick, or pick an item at random off a takeaway menu, but that's generally as risky as I get.

Jools sips her tea. Like me, she's not been awake long. Her hair is falling loose from its knot, and she pushes it away from her face. "So, what did Georgia say, when you told her you were quitting?"

"Not much, actually. I think she was in shock."

When I first started at Figaro nine years ago, it seemed like luck I didn't fully deserve-a role at Shoreley's only creative agency mere months after dropping out of university. I originally applied for a writing job, but Georgia employed me as a planner, because she had a vague idea her fledgling agency wouldn't get very far without one. I said yes straightaway-I was so grateful to be offered a job at all-and vowed I'd mention a writing role again once I was settled and had proved myself. There were just six of us at the start, and together we grew the business to the forty-strong outfit it is today. And for most of those years, it was good. Fulfilling on many levels. But deep down, I wasn't a planner: I'd always wanted to write. It was in my blood. The whole time I was researching products and industries, liaising with clients or composing briefs, I knew my heart really lay in writing. I'd scribble down headlines, feed creative angles to the team, sometimes draft copy to help the writers out.

It all came to a head yesterday afternoon, when I discovered Georgia had recruited an external copywriter. She'd promised the job to me on five separate occasions over the years, and now she'd given it to someone else.

I stormed into her office to demand an explanation, whereupon she informed me weakly that the timing wasn't right, that she couldn't afford to lose me from planning. So-surprising myself as much as anyone else-I simply walked out.

"So, what now?" Jools says, biting into a slice of toast. "Are you going to move to London?"

"London?" I echo, like she's just said the moon.

"Yeah. Didn't that big-time agency contact you a couple of weeks ago?"

I nod. "Only because they're looking for a planner."

As it happens, a recruiter for the crème de la crème of creative agencies, Supernova Agency of Soho, did message me a fortnight or so ago. Its staff is like a roll call of the industry's hottest talent, and it regularly competes for the biggest accounts in the country, winning pitch after pitch, award after award. Famously ruthless, Supernova has a fierce reputation: for poaching staff, demanding regular all-nighters, and refusing to acknowledge weekends. But the pay is eye-watering and the office has its own bar, gym, and nail station. Plus there are the legendary all-expenses-paid staff away trips.

I've received similar messages from various recruiters over the years, but they all seemed to coincide with reasons why I shouldn't leave Figaro – another promise from Georgia about making me a writer, a pay rise, Shoreley being voted the best place to live in the UK, a Guardian article about Londoners fleeing the city in droves. And to be honest, I've been pretty happy in Shoreley, living with Tash and her husband and my nephew. I've never seriously considered moving to the capital.

"This is perfect timing, Luce," Jools is saying. "We've got a room going free. Literally, today. Cara's moving out."

Jools left Shoreley for London nearly twelve years ago to study nursing, and never came home. For the past three years she's lived in a house-share in Tooting. Like me, she's been saving to buy her own place, and in the interim a house-share's cheaper than a one-bed flat. Plus it's just a street away from the hospital where she works.

She's had various housemates and flatmates over the years – all too often a source of amusement for us – but her current lot seem pretty decent. I've met them a handful of times. Cara in particular was warm and sharp-witted, with a guttural laugh and a penchant for making cheese-on-toast in the middle of the night.

And Jools' house is nice. Yes, it's scruffy and well-worn, with peeling wallpaper and over-trodden carpets and a permanent symphony of drips and leaks. But there's a warm and homely vibe there, too. And it's always full of people. It's a place I can imagine feeling safe.

Jools tells me Cara's going travelling. South-East Asia, then Australia.

My stomach swings as my gaze flicks to my bedroom window. An instinctive search for air, an escape route.

I take a couple of steadying breaths, then look back at my phone. "Are you serious?"

"Yes! Get that high-flying agency job and move in with me."
We hope you are enjoying the book so far. To continue reading...
What Might Have Been
Holly Miller
Copyright © 2022 All Rights Reserved