Until Fountain Bridge
What started as a childhood crush on her older brother's best friend soon bloomed into full-blown infatuation.
Book info
Sample
Audiobook
Media
Author updates
Lists
Synopsis
From the New York Times bestselling author of On Dublin Street and Down London Road comes a new novella about finding love in familiar places…
Ellie has been in love with Adam Sutherland for as long as she can remember. What started as a childhood crush on her older brother's best friend soon bloomed into full-blown infatuation. Unfortunately, it also meant full-blown heartache, as Adam refused to fall for Braden's little sister.
But it took a crisis to make Adam realize he's wasted too much time denying his feelings for her. Unwilling to waste a second more, he decided to make Ellie his, no matter the consequences. Now happily settled with the woman he's pined after for years, he's about to find out what their ten year courtship was like for her, through the journals she kept during their ups and many downs. And though Adam may have Ellie now, he has no idea how close he came to losing her…
Includes a preview of Down London Road!
Release date: June 18, 2013
Publisher: InterMix
Print pages: 103
* BingeBooks earns revenue from qualifying purchases as an Amazon Associate as well as from other retail partners.
Listen to a sample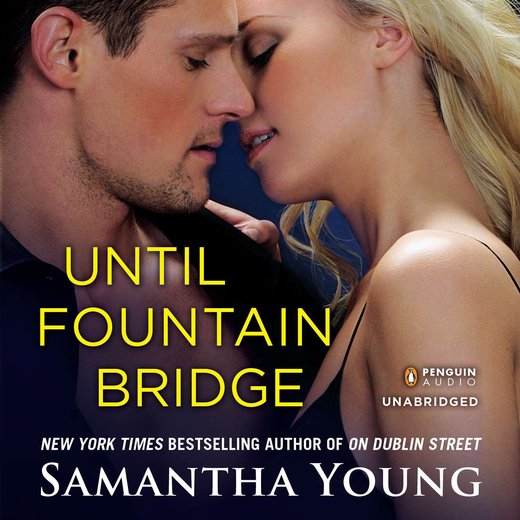 03:04:30
84.46 MB
9780698141742
June 18, 2013
Penguin Random House
Until Fountain Bridge
Samantha Young
Chapter 1
It was always the same when you were looking for something in amongst a big pile of some things—the something you were after was at the bottom of that big pile of some things. I finally dropped the last box on the other side of the room and wiped a streak of sweat from my forehead.
When I'd moved in with Adam three months ago I'd promised him that all the boxes of junk that I put in his spare room would be sorted out and tidied away within a couple of weeks. I'd unfortunately reneged on that promise and wasn't ashamed to say I was still leaning on my tumor scare to get me out of the admonishment that should have followed. I'd been diagnosed with my benign—and yet still terrifying—brain tumor eight months ago, a diagnosis that not only traumatized my family and friend, Joss, but had kicked Adam, my brother's best friend, swiftly up the behind. He'd finally admitted to everyone he was in love with me, and we'd hardly spent a day apart since. Although our relationship had changed, we were still us and Adam tried not to treat me like I was made of glass. However, I'd noticed he let me away with things he wouldn't have before—such as cluttering up his clutter-free, swanky duplex with all my rubbish—and I didn't know if this was because of the scare or because we were a couple now and he was compromising.
I swooped down on the last box with a grunt of triumph and ripped off the packing tape. Inside I found exactly what I was looking for and smiled. I'd already upended the box and sent my old diaries cascading across Adam's hardwood floors before it occurred to me that upending a box of diaries might cause scratches. Wincing, I did this silly little dance over the falling journals as if this would somehow, magically, soften the impact of their rapid descent.
It didn't.
I dropped to my knees and picked up the books, checking the floors. Nothing. Thank God. Adam was an architect and that meant he liked his space a certain way, and he liked that space in pristine condition, especially when it cost him a fortune. Hardwood flooring wasn't cheap. Adam had already changed his life for me, doing a three-sixty from the ultimate player to devoted boyfriend, from bachelor and proud clutter-free homeowner, to doting partner and proud owner of a stylish duplex covered in weird crap his quirky, overly-romantic girlfriend picked up in random places, including charity shops. He'd allowed me to put my stamp in every room, so damaging his floors wasn't exactly a nice way to pay him back. I kissed the tips of my fingers and pressed them against the floor in a gesture of apology.
"Els, what was that noise? You okay?" Adam's deep voice could be heard from across the hall. He was in his office working on his and Braden's current project.
"Uh-huh," I called back, flipping through the diaries to make sure I had every single one of them. I was so lost in what I was doing I didn't hear Adam's footsteps.
"What are you doing?" His voice was suddenly right above me and I jumped, startled, only to lose my balance, falling onto my bottom with an "oof."
I heard him smother a snort and glared up at him. "I need to get you a bell."
Ignoring me, Adam crouched down onto his haunches, his eyes taking in the diaries. As always when I studied him I got a little flutter in the pit of my stomach, and my skin tingled. With his thick, dark hair and great body (honed from daily visits to the gym) Adam was a good-looking guy but the kind of good-looking that immediately transformed to hot when you started to talk to him. He had a toe-curling wicked smile, intelligent dark brown eyes that twinkled when he was interested in what you were saying, and a rich voice that took direct pathways to a woman's erogenous zones. Those gorgeous eyes of his lifted to smile into mine. "I haven't seen you with one of these in a while."
"My diaries?" I nodded, trying to sort them into chronological order. "I stopped writing."
"Why?"
"I stopped after we got together. There didn't seem to be any point in them any more since they were basically just an outlet for my feelings for you."
His lips quirked up at the corner. "Baby," he murmured and reached over to tuck a length of short hair behind my ear. I frowned at the reminder my hair was short. Before the tumor, I had a head of long, pale blonde hair. I'd loved my hair, and I knew Adam had loved my hair. But the surgeons had shaved a patch of it off my head to cut into my brain unobstructed. I'd covered the patch with a headscarf but had eventually stopped wearing them as the hair grew back out, and I allowed my mother to talk me into getting "a chic pixie cut".
I was horrified when I walked out of the hair salon, and only somewhat appeased when Adam told me he thought my new hair was sexy and cute. I was completely appeased when Joss told me anything was better than a tumor.
She was right. If my tumor had taught me one thing about life it was to not sweat the small stuff. That didn't mean it wasn't damn annoying waiting for my hair to grow back in. At the moment it was barely to my chin.
"So why are you looking at these?" Adam asked, picking one up and absentmindedly flicking through it. I didn't mind. I was a pretty open person anyway, but especially with Adam. I wasn't embarrassed by anything I wrote. I trusted him with the very depths of who I was.
"For Joss," I replied brightly, feeling giddy about the whole thing.
Last night, Joss and I had been hanging out at her and Braden's flat—my old flat on Dublin Street—and she'd told me her manuscript was coming along nicely. Joss was American, a writer, and she'd come to Edinburgh to escape a tragic past. Her story broke my heart. When she was fourteen she'd lost her entire family in a car accident. I couldn't even begin to imagine what that must have been like for her. I just knew it had a left a deep mark.
I'd liked Joss immediately when I interviewed her to be my flatmate, but I'd known then there was something broken about her, and I'd decided I wanted to help somehow. She'd been pretty closed-off but when she started dating my big brother, Braden, I watched her slowly change. She said Braden and I both changed her, but really it was him. He'd helped her so much that she'd even begun to write a story based on her parent's relationship. That was a huge step for her, and she'd told me last night she couldn't believe how much she was enjoying writing it. It had given me an idea for her next project.
"Why for Joss?"
"Because inside these diaries is the history of us." I grinned at him. "It's a good romance story. I think it should be her next novel."
I could see Adam was dying to laugh and I had no idea why so I ignored it. "Next romance novel?"
"Next as in follows the previous romance. The story about her parents is a romance."
"Still, I'm pretty sure Joss wouldn't classify herself as a romance writer. In fact, I've heard her say as much."
"So have I." I tossed my first diary back in the box since it wouldn't aid Joss's research considering I was seven when I scribbled in it. It was mostly about my Barbies and Sindy dolls and my issues with Sindy's flat feet and the impossibility of her and Barbie sharing shoes. It used to drive me nuts. "And I do believe the lady doth protest too much. She's definitely a romance writer. I've primed her to be a romance writer, subjecting her to so many romantic dramas it would be a miracle if she didn't become a romance writer."
He chuckled at me and lowered himself to the floor so he was sitting with his knees bent, my diary still open in his hands. His eyes scanned the pages. "So you wrote about me in all of these?"
Yes, yes I had. I'd had a big old crush on Adam since I was ten and he was seventeen. That big old crush had transformed into an even bigger crush when I was fourteen and then had just snowballed from there. I threw another diary from my childhood in the box and reached for the next one in the pile. "I've loved you for a long time, my friend," I murmured.
"I want to read about it," he replied softly, the solemnity in his tone bringing my head up, my eyes to his. They glittered at me, full of tenderness and emotion that never failed to make me breathless. "I want every piece of you. Even the stuff I missed without even knowing I was missing it."
I felt myself melt. I was a romantic to the very bone and although it would surprise anyone who knew him, Adam catered to my romantic side with a dedication that thrilled me. He had a way with words that turned me to mush… and then usually turned me on so it was a complete win-win for him.
Giving him another soft smile I turned to the diaries and quickly flicked through them until I discovered the one I wanted. Skimming it, I found the exact entry I was looking for and then held it out to him, holding its place open for him. "Here, start with this. I was fourteen."
Adam raised an eyebrow, I assumed at the thought of reading my fourteen-year-old thoughts, and took the diary from me. I knew what he was reading. I remembered it like it was yesterday.
Monday, March 9th
It's been a really strange day. It started like every other day. I got up just as Clark was rushing out to work, I helped Mum with Hannah since she's got her hands full with Dec at the moment, and I tried to feed myself as I fed Hannah. This meant I had to change my school shirt because Hannah thinks porridge is for decoration only. I wish that had been the only incident today, but it wasn't. As soon as I caught up with Allie and June at the school gates, I just knew something was wrong…
As soon as the bell rang for lunch break I launched myself out of my seat and hurried out of Spanish class as if the hounds of hell were nipping at my feet. I tried to hold in the tears, I really tried, because I didn't want any of these idiots to know they'd gotten to me, but as I burst out of the school main entrance, the flood gates opened.
All the whispering and name-calling… it was horrible. I'd never had that happen to me before. Not like that. People generally liked me. I was nice! I wasn't… well for one I wasn't a "whore". I cried harder as I heard boys in the year above me laugh at me as I passed them at the gates. Fingers trembling, I pulled out the phone Braden had bought me for Christmas and called my big brother.
"Els, you okay?"
As soon as I heard his voice another sob burst forth.
"Ellie?" I could hear his immediate concern. "Ellie, what's going on?"
"Bri—" I struggled to draw in a breath through my tears. "Brian," my cries continued to interrupt me, "Fairmont… he-he's a fifth year and he-he told everyone he had s-s-sex with me at Allie's birthday p-party on Saturday night." I stopped and huddled against a garden fence now that I was far enough away from the somewhat expensive prep school my absentee father paid for me to attend every year. It was only a twenty minute walk from my parent's home on St. Bernard's Crescent and I was more than tempted to cut school and hide in the house for the rest of the day.
"That little shit," Braden hissed, his anger actually radiating down the phone and into my hand.
"They're all calling me a whore and a slut, and whispering and laughing at me. Now June isn't speaking to me."
"Why the hell is June not speaking to you?"
"She fancies Brian. I didn't even… Braden I spoke, like, four words to him on Saturday night. He asked for a snog and I said, "In another reality maybe.""
"Was there an audience when you said that to him?"
"His friends were there, yeah," I sniffled.
"So you turned the little perv down and he started a rumor." Braden cursed again. "Okay, where are you just now?"
"I'm going to go home. I can't take another three hours of this."
"Sweetheart, you can't go home. Braebank Prep doesn't like its pupils to cut class. Wait at the gates just now. I'll get this sorted out." I could tell by his tone that Brian Fairmont was about to learn you did not mess with Braden Carmichael's little sister.
I hung up and wiped at my face, glad for once that Mum wouldn't let me wear mascara, or any kind of makeup for that matter, until I turned fifteen. Even then, she said I was allowed to wear mascara and concealer but no foundation, and definitely no lipstick until I was sixteen.
My friends thought she was weird.
Waiting on Braden, I felt a little better knowing he was coming to my rescue. My big brother was really just my half-brother. We shared the same father—Douglas Carmichael. Dad was a big deal in Edinburgh, he owned an estate agency and restaurants and a lot of property that he rented out to people. He was loaded, and although he gave time to Braden, he seemed to think spending money on me was a good enough apology for neglecting me the entire fourteen years I'd spent on the planet. His neglect hurt. A lot. But I had Braden, who'd practically helped raise me with Mum, and my step-dad Clark. Mum married Clark five years ago, and since the moment he'd come into Mum's life he'd made it clear he wanted to be my dad. And he was. More than Douglas Carmichael ever would be.
I sometimes wondered how it was possible me and Braden were spawned from him. We were both too nice to be Douglas's kids. Take Braden for instance. After purposefully avoiding working for our father, a few years' ago he suddenly decided he wanted to take a role in the Carmichael 'empire', which meant he worked his bloody arse off to make our father happy. Not only did he work a lot, he was wrapped up in this girl he was dating. Analise. She was an Australian student and they'd just started dating. Braden seemed to really like her. Still, he always found time for me. Say, to rescue me from hideous situations like the one I was in.
"Ellie," a familiar voice, and not the one I was expecting, caught my ear and I turned my head as a car door slammed. My eyes widened as Adam Gerard Sutherland rounded the hood of his six year old Fiat—a car Braden said was a stupid drain on Adam's finances considering Adam was a student at Edinburgh University and getting parked in the city was a nightmare.
Adam Gerard Sutherland, by the way, was Braden's best friend.
I'd had a wee bit of a crush on him since I was ten so I was more than a little mortified that Braden had sent him to rescue me from this situation. Not that I should have been surprised. The two of them had traded that job back and forth since I was tiny.
"Adam," I blanched, wiping at my face to make sure I'd gotten all the tears.
The way his dark eyes studied me and his jaw clenched, it didn't matter. My eyes felt puffy and red and obviously were. "Braden's sorry. He's in a meeting he can't get out of," he said as he approached. He wore a clean, wrinkle-free t-shirt and faded jeans. Adam was too clean and neat to become a typical grungy student. Even his old banger of a car was clean and tidy inside. "He phoned me. I have a free afternoon. Come here, sweetheart." Without asking, he pulled me into him and I immediately nestled my cheek against his chest and held on tight, trying not to cry.
"So where is this little shit?"
I pulled back from him, suddenly wary now that he was here and obviously furious. "What are you going to do?"
"He's fifteen?"
"Sixteen."
"Sixteen." He curled his lip in anger. "I can't hit him, but I can scare the absolute fuck out of him."
Braden and Adam cursed a lot, and they'd always cursed a lot in front of me. Mum would kill them if she ever found out how much they cursed. Luckily for them it had been drilled into me since the age of zero that you didn't curse in front of Elodie Nichols, and I'd never repeated the words Braden and Adam used around me. To be fair they limited their curse words to the basics—I'd heard way worse at school. Today in fact, and they'd been directed at me.
I felt my eyes start to water again.
Adam saw and his eyes narrowed. "Els, where is this boy?"
I sighed heavily. "Around the back of the building, behind the lunch room."
"Right." Adam strode in through the gates and I hurried after him, ignoring the curious gazes of my fellow students, and the excited chatter as they guessed that the clearly older Adam was here on my behalf and something was about to go down.
My cheeks burned with embarrassment, while my heart pounded in anticipation for a little retribution for the worst morning in the history of my entire school career.
When we rounded the corner of the building, Adam stopped and stared into a crowd of seniors. The fourth and fifth years gradually turned their heads towards us, their eyes widening at the sight of me with Adam.
"Which one?" Adam asked flatly.
"Brian is the one with his blazer tied around his waist."
"The tall, blond kid with the bottle of juice in his hand? The one that looks like a prick?"
"That would be the one."
"Little…" Adam growled under his breath and marched toward Brian, hands clenched into fists at his side. Brian's friend nudged him and he turned toward Adam and instantly paled at the sight of him. When Adam reached him, he towered over Brian by at least five inches. He bent his head, his face close to Brian's, and whatever he said made the seniors around him grow wide-eyed.
"Well?" Adam suddenly asked loudly.
Brian mumbled something.
"Louder, you lying little shit."
"I didn't have sex with her," Brian cried. "I didn't touch her!" He turned and caught sight of me watching and his eyes seemed to plead with me to call Adam off. "I'm sorry! I lied, alright!"
We hope you are enjoying the book so far. To continue reading...
Until Fountain Bridge
Samantha Young
Copyright © 2022 All Rights Reserved
Also in this series
Also by this author