Book info
Sample
Audiobook
Media
Author updates
Lists
Synopsis
Emma Reed and her beloved Corgi move from London to Cornwall with the dream of opening a tea shop—but first they'll have to collar a criminal in the first book in a charming new series.



Emma leaves London and her life in high finance behind her and moves to an idyllic village in Cornwall, with its cobblestone streets and twisting byways. She plans to open a village tea shop and bake the recipes handed down to her from her beloved grandmother, and of course there'll be plenty of space for her talking corgi, Oliver, to explore. Yes . . . talking. Emma has always been able to understand Oliver, even though no one else can.



As soon as Emma arrives in the village she discovers that the curmudgeonly owner of the building she wants to rent for her shop hates dogs and gets off on the wrong foot with Oliver. Although some might turn tail and run, Emma is determined to win her over. But when she delivers some of her homemade scones as a peace offering, she finds the woman dead. Together, Emma and Oliver will need to unleash their detective skills to catch a killer.
Release date: December 29, 2020
Publisher: Berkley
Print pages: 336
* BingeBooks earns revenue from qualifying purchases as an Amazon Associate as well as from other retail partners.
Listen to a sample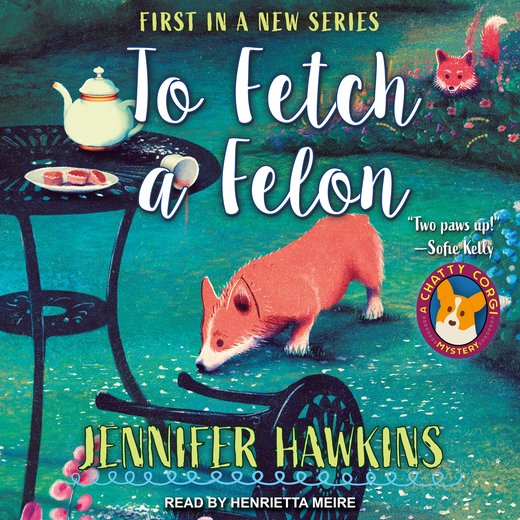 09:53:36
271.75 MB
April 6, 2021
Tantor Audio
2021
To Fetch a Felon
Jennifer Hawkins
1
"You, there!" The shout exploded in Emma's ear.
"Gah!" Emma jumped half out of her skin. Beside her, Oliver barked and jumped as high as his stubby legs allowed.
A woman popped up from behind the ancient garden wall along the side of the old high street and pointed her muddy trowel directly under Emma's nose.
"That dog must be on a lead!"
Oliver, the dog in question-specifically the brown and white Pembroke Welsh Corgi in question-barked again.
"I told you, Emma!" he said. "I said somebody was there!"
He also wagged his curling tail and opened his mouth in the way that made corgis appear to be laughing and always charmed the onlooker.
Well, usually charmed the onlooker. As it was, the gardening woman glowered at Oliver like he'd just dragged something unmentionable across her carpets. She had a round face, a stout build, and a mop of gray curls held back in a blue bandana. She wore a faded blue blouse with the sleeves rolled up and a flowered apron. Taken all together, she looked like someone who should be baking ginger biscuits for her beloved grandchildren.
At least, she would have, if she didn't also look like she'd be willing to lace those biscuits with a dose of arsenic.
"You need to be careful with this one," Oliver went on. "She's not happy. And she's rude."
Fortunately, the only person who understood Oliver when he spoke was Emma herself. This woman, whoever she was, would probably not appreciate his current line of commentary.
"Ah, um, hello!" Emma plastered a polite-apology smile on her face. She also reached down and patted Oliver's head. "Not now, please," she whispered.
Now was not a good time for a person who might become a neighbor to start noticing Emma was . . . quirky. That being the polite term for a person who heard her dog-not to put too fine a point on it-talk.
"I'm so sorry, I didn't see you there," Emma added to the gardener. "You startled us a little."
The gardener sniffed. It was a sharp, eloquent sound, and it probably had the capacity to wilt the resolve of grown men. After twenty-five years in London's financial sector, however, Emma was not intimidated. At least, not very.
Oliver growled uneasily. "We shouldn't stay here."
"Quiet, Oliver." Emma gave his head a final rub. "Good boy," she added for affect.
"And you're right, of course," Emma said to the gardener, a little more loudly than she needed to. "He should be on his lead, and I do have it here-" She pulled the bright red lead from her overstuffed handbag.
"But you just thought you'd let him race about and get into people's gardens to destroy years of hard work!"
Emma took a deep breath and concentrated on keeping her tone level. "I understand your concern, but he's really extremely well-behaved . . ."
"He's a public menace! And plainly takes after his owner," sneered the woman. "Like every other day-tripper who comes traipsing through here!" She waved her trowel up the curving high street toward the village center, scattering clods of soil in all directions.
"Oh, I'm not a day-tripper, I'm moving to Trevena." Emma bit her tongue, because she had the sudden feeling now was not the best time for this woman to find that out either. "I'm opening a tea shop," she added.
From the woman's look of terror, Emma might have just as well have added, "And I plan to make meat pies of the neighbors."
"A tea shop!" she cried. "Well, we'll see about that." She leaned forward over the wall. "You're one of Maggie Trenwith's Londoners, aren't you?"
Emma felt her spine stiffen. As a matter of fact, Maggie Trenwith was the estate agent she'd been working with, but what did that have to do with anything? Who, exactly, did this woman think she was? Emma had dreamed of owning her own tea shop for years. Trevena, the site of her summer holidays as a child, had seemed the perfect choice to make that dream come true.
She hadn't entirely reckoned on the idyllic Cornish village having its own local busybody.
Emma opened her mouth, but the woman made a slashing gesture with her trowel. "Don't bother. I can spot one of you a mile way. Maggie Trenwith will rent to anybody. Probably didn't even get proper references. But you'll see I'm not so easily fooled." She brandished the trowel again. "I've got my eye on you now, and that dog. You make sure he stays off my property, or I'll call the constable on you both!"
Of course, that was the moment Oliver decided to charge the garden wall.
2
Humans, at times, could be quite bewildering.
Take this strange lady human who smelled of earth and roses, fertilizer and all sorts of plants Oliver couldn't name. What in the world was she so angry about? They were in the middle of an excellent place. If she and Emma had been sensible creatures, they would have been playing together by now. But all she did was shout and wave her arms and that digging thing.
Humans wasted so much time. The air was full of green, growing and salty smells-even more smells than Hyde Park on a Sunday-and they weren't paying attention to any of them. There were dog smells as well, lots and lots of friendly dog smells, new and old, all up and down this wall. Every part of him wanted to follow the trail and investigate all its layers.
Of course, being a corgi, Oliver was a dog of noble warrior heritage. His foredogs had sailed with the Vikings, and his royal brothers guarded the Queen's Majesty every day, just like he guarded his best human, Emma.
So, obviously, Oliver was not about to leave Emma's side at this crucial moment. In fact, his first instinct was to make it clear to the angry digging lady that it was not acceptable to shout at Emma.
But noble warrior corgis absolutely never barked or growled or bared their teeth when their special human needed them to keep quiet. They certainly did not run under closed gates, even if they could. Noble corgis stayed at their posts, no matter what, and . . .
What's that? A new smell on the breeze, a wild, bitter, copper-tinged smell, a . . .
"Better watch your step there, mate."
A fox.
Oliver dropped his muzzle and pricked up his ears. There was a hole in the stone wall, low down near the walk. The fox crouched on the other side, grinning.
Fox! Instinct shouted. Duty pressed it back down. Stay!
"This one, she really don't like your sort," said the fox.
A noble warrior corgi stays at his post. A corgi is strong and disciplined. A corgi is . . .
"Fox!"
Oliver charged, barking. Shouty Lady screeched, but that wasn't important. Now Emma was the one shouting. Oliver still couldn't stop. His paws were moving faster than his brain.
Fox!
He dove through the hole-at least, he tried. His nose made it, and the hole smelled of lots and lots of fox, and if he could just dig a little more room, he'd be on the other side and then and then . . .
"Oliver! No!"
But just a little farther . . .
"You get that dog out of here!" screamed the shouty lady. Emma grabbed his scruff and dragged him backward as he paddled the air frantically.
"But I can get him! I can!" Oliver barked. "Fox! Fox!"
"Oliver!" shouted Emma. "Sit! Bad dog!"
"But there's a fox!"
Emma put her hand on his back and pushed, and Oliver knew she meant it. Worse, she was right.
"But . . . I mean . . . Oh, crumbs." He slumped down onto his belly. "Sorry, Emma." He put both paws over his nose.
"I'm calling the police!" shrieked the woman. "I'll have him put down!"
Emma was busy untangling the Lead. A small whine escaped Oliver, which was not noble either, but he couldn't help it.
"I'm so sorry," Emma gasped as she clamped the Lead onto his collar. "Really. He must have caught a scent . . . maybe a fox . . . ?"
"Out!" screamed the bad lady, waving her digging thing. "Out!"
"Of course. Come on, Oliver." Emma tugged on the Lead. She smelled worried. He jumped to his feet. "Again, I'm so-"
"Out!"
Emma hurried down the street and Oliver trotted to keep up, watching her anxiously. Emma shouldn't be worried. He'd keep her safe from the shouty woman.
And the fox. That fox was still out there. Next time, he would not get away.
3
Emma Reed had not always been able to talk to the animals. Well, she didn't actually talk to the animals. She spoke with her corgi, which was different, although the results did not change. To her, Oliver-an otherwise perfectly normal corgi dog-spoke perfectly comprehensible English.
As a puppy, he had only said a word here or there, and the incidents were scattered enough that Emma had been able to tell herself it was her imagination. But as Oliver got older, he started speaking in-or at least, she started hearing him in-complete sentences, spoken with an ever-so-slight hint of a Welsh accent.
Still, she actively avoided explaining that to people, because it never failed to sound just a teensy bit mad.
She had tried to bring the subject up with her brother, Henry. Sort of. Over the phone.
"So, Henry, do, um, you know if we'd ever, I mean, maybe Mum and Da, um, were there ever any relations we might have who were a little . . . different?" Henry was seven years older than Emma, and he knew more of the family myths and legends than she did.
"Different how?" She could hear him frowning through the phone.
"Oh, you know, just . . . eccentric?"
Henry had laughed. Emma's brother was unimaginative and utterly dependable-the epitome of the old-school stiff-upper-lip sort. When their father had retired, Henry had taken over the family accounting firm like he'd never thought of doing anything else, which he probably hadn't. He even went around the house in a cardigan and slippers. A generation back, he probably would have smoked a pipe, but his wife, Vivian, would have none of it.
"Come on, Em. You know none of our lot was ever rich enough to be eccentric. Now, mind you, Mum did say her aunt Margery was a little strange. Did you ever meet Margery? I think I remember she died when you were pretty young. Anyway. Mum never said she was dangerous or anything. Just, well, quirky."
"Quirky how?"
"Firmly believed she could hold actual conversations with her Jack Russell terrier. Harmless enough, I suppose, but Mum did say it could get a little awkward at Sunday lunch."
Emma thanked him and immediately asked about Vivian and the kids and the junior football league Henry coached on Saturdays, then made sure to hang up before he could remember to ask why she'd wanted to know about quirky Great-Aunt Margery.
The conversation with Henry didn't actually change anything. It had been five years since Emma and Oliver found each other, and she still heard him talk. She also loved her feisty, gossipy, zoomy corgi and wasn't going to give him up for anything. So, in the end, she decided she was simply going to have to learn to live with it.
And truth be told, it was nice to have someone to talk to on Sunday walks who didn't want a choc ice every five minutes, like her nieces, or wasn't trying to hide their disappointment with the fact that she wasn't slimmer, younger, and/or richer, like some of the men she (very occasionally) tried dating.
"Where are we going now, Emma?" Oliver trotted happily beside her. His pointed ears barely reached her knees, and his legs were so short he couldn't get up on the sofa without help, but that never stopped him trying. "That garden was infested with dangerous and shockingly rude vermin, and what I mean to say is, there was a fox. Did I tell you there was a fox? I could have got him. I did try, but I was interrupted," he added pointedly.
"I know, I know." Emma sighed. "But we couldn't . . ."
But Oliver had already started pulling hard on the lead.
"Ooo . . . that's a good smell! That's fish! Fish! And a fish lady!"
Trevena village was old Cornwall with all the trimmings. The village meandered along the rugged coastline. The ancient cottages nearest the cliffs put their backs to lanes of clapboard, brick and whitewashed stone buildings that dominated the high street. From here, Emma could even make out the battlements of the truly ludicrous building that had been the pet project of a long-dead sweets manufacturer who had wanted to re-create "King Arthur's Castle."
Hedge-lined fields spread out over the hills like massive coattails. Farther up in the hills, tracts of semidetached houses clustered in places where they could have a view to go with all their modern conveniences. A local boom sometime in the nineteenth century had given birth to a few grand stone houses that still stood between the modern estates.
When Emma was little, her family had holidayed here every year. Emma had spent summers playing in the ruins of the medieval fortress on the spit of land that stuck out into the sea. She had devoured Rebecca and Jamaica Inn at what was probably an inappropriately young age and would hang about the docks for hours, trying to spy on the locals to see if any of them were still smugglers or, better, wreckers. She begged to be allowed to explore Merlin's Cave just once. That was strictly forbidden, so she'd spent her time diving into every nook and cranny of the landscape she could get to on her own, giving her parents and her staid older brother fits when she vanished for hours at a time. She always cried when it was time to go home.
When she finally decided it was time to get out of London and finance, Trevena was the first place she thought of.
Emma and Oliver had reached the point where the winding country road turned into cobbled high street. A woman stood in the doorway of the chip shop that occupied the corner of a row of low, whitewashed buildings. The hanging shingle above the door read The Towne Fryer. The scent of hot oil, battered fish and potatoes, which Oliver had detected several meters back, reminded Emma how hungry she was.
"Welcome to Trevena village!" the woman said. "Every new arrival comes with a free scolding by Victoria Roberts."
We hope you are enjoying the book so far. To continue reading...
To Fetch a Felon
Jennifer Hawkins
Copyright © 2022 All Rights Reserved