Book info
Sample
Audiobook
Media
Author updates
Lists
Synopsis
In the picturesque New England town of Shady Creek, Vermont, fall is in full swing, and Sadie Coleman, owner of the literary-themed Inkwell pub, is serving up delicious food and drinks—with a side of sleuthing . . .



As the last leaves fall from the trees, the town is gearing up for a new festival: A Taste of Shady Creek. Pub proprietor Sadie Coleman is looking forward to visitors coming to sample her literary-themed cocktails. What if her mom doesn't like Sadie's adopted town—or her new boyfriend, Grayson Blake?



Those concerns are overshadowed when a food critic is found dead at Grayson's craft brewery. Curiouser and curiouser—the victim is linked to Grayson's past as a private investigator, and all the evidence points to him as the killer. While Grayson lays low, Sadie starts some investigating of her own. Was it a bad review that made the killer mad as a hatter? Or are there other motives at play?



In between serving Kiss of the Cider Woman cocktails and book-minded bites to festival goers, Sadie is striving to clear Grayson's name. But it'll take more than a dash of ingenuity to prevent the festival from fizzing out completely—and stop a killer from downing another innocent life
Release date: November 29, 2022
Publisher: Kensington Books
Print pages: 352
* BingeBooks earns revenue from qualifying purchases as an Amazon Associate as well as from other retail partners.
Listen to a sample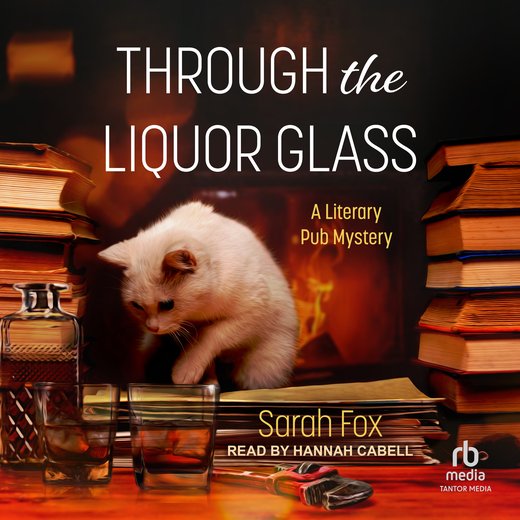 07:48:49
214.62 MB
January 17, 2023
Tantor Audio
2023
Through the Liquor Glass
Sarah Fox
When I entered the town hall, I didn't expect to walk into an autumn wonderland. It was as if I'd stepped into another world. Outside, most of the leaves had already fallen from the trees, and the cold bite in the air suggested that winter wasn't far off. Here in the town hall, however, fall was still in full swing, and there was a magical, fairyland quality to it.

A latticework archway curved over the doorway that led from the vestibule to the main room. Yellow and orange sunflowers had been affixed to the arch, along with garlands of fall leaves and white fairy lights. The flowers and leaves were all artificial, but the archway still looked great, and from a couple of feet back, it was hard to tell that the decorations weren't real.

The doorway was only the beginning. In the spacious main room, the decorating committee had gone all out. Strings of orange and white lights stretched across the ceiling and tablecloths in autumn colors covered the folding tables set out along the perimeter of the room. Rustic lanterns filled with micro lights adorned the tables, while bales of straw, pumpkins, and gourds decorated the corners of the room and the spaces between some of the tables.

Although the decor as a whole impressed me, what really drew my eye was the maple tree in the middle of the room. I didn't know for sure what it was made of—papier-mâché, maybe—but it stood at least twice as tall as me, its branches reaching right up to the ceiling. Fake leaves graced the branches, which were also strung with lights.

"Whoa." Booker James stopped short when he entered the room, a pumpkin held in each of his muscular arms. "It's like fall exploded in here."

"I'll take that as a compliment." Mel Costas joined us in the room, gazing around with a satisfied expression.

Mel worked at my literary pub, the Inkwell, but she was also a talented artist and had volunteered to head the decorating committee for our town's first annual food and drink festival, A Taste of Shady Creek.

"It's definitely a compliment," Booker assured her before addressing me. "Where should I put these pumpkins, Sadie?"

I turned in a slow circle, reading the banners hanging from the tables until I spotted the one designated for my pub. "Right over here." I led the way to the table and set down the box I was carrying.

Booker placed a pumpkin at each end of the table. He worked at the Inkwell too, as a chef, and he'd offered to help me transport a few items from the pub to the town hall.

From my box, I unloaded some gourds and a vase holding a bouquet of dried flowers in fall colors. Then I removed a smaller box full of Inkwell fridge magnets and a stack of postcards that featured a photo of the Inkwell on one side and a partial menu on the other, listing some of the literary-themed food and drinks available at the pub. I'd be offering samples of a few drinks at the table, but I wanted festivalgoers to know that they could enjoy a wider variety of options if they stopped by the Inkwell.

Mel expertly arranged everything into a nice display while I tucked the box beneath the table, where it was hidden from view by the tablecloth. The box also held cups and napkins, but I wouldn't need those until the event officially opened the next day.

Voices drew our attention toward the door as several people entered the room.

"Hey, Mel, got a minute?" a woman called out.

"See you guys later," Mel said to me and Booker before jogging across the room.

I surveyed the table. "I think that's it for now."

I glanced Booker's way and realized he wasn't paying any attention to me. He was taking in the sight of the room as a whole, a far-off look in his eyes.

I nudged his arm with my elbow. "Everything okay?"

His attention snapped back to the here and now. "Everything's great. Do you need help with anything else?"

"No, that's all for today," I said. "Thanks for lending me the use of your muscles."

Booker grinned. "Any time. See you at the pub."

He set off out the door. I took a moment to admire all the decorations again and then followed in Booker's footsteps. By the time I got out the front door of the town hall, he was already out of sight.

I still had a couple of hours before I needed to open the pub for the day and I knew exactly how I wanted to spend that free time. I walked across the village green, enjoying the fresh, crisp air and the hint of wood smoke carried by the slight breeze. Although I wasn't eager for the temperature to plummet, as it no doubt would when winter arrived, I found something to enjoy about every season here in Shady Creek, Vermont. Autumn brought stunning colors, evenings cool enough to snuggle up in front of a fire, and the town's annual Autumn Festival. That event had already passed, but now there was A Taste of Shady Creek to look forward to, as well as Halloween, my birthday, and my mom's first visit to my adopted town.

When I arrived at the Village Bean, I waved to the owner, Nettie Jo Kim, and got in line behind two other customers. While I waited, I noticed that Nettie Jo wasn't her usual relaxed self. She kept darting glances toward the back of the coffee shop while she served the customers at the counter. When it was my turn to place my order, her smile was strained.

"Hey, Sadie," she greeted as she shot another glance across the room. "What can I get you?"

I looked over that way but couldn't tell what kept drawing her attention. There were customers seated over there, but they didn't seem to be doing anything that wasn't expected from customers at a coffee shop.

"Two large lattes, please. One pumpkin spice and one pistachio."

Nettie Jo gave me a more relaxed smile and grabbed two cups, less distracted now. "Got a date with Grayson?"

She knew that my boyfriend loved her pistachio lattes.

"Not exactly," I said. "But I'm going to stop by the brewery."

Grayson owned the Spirit Hill Brewery, located next door to my pub.

I paid for the drinks and then wandered down the counter to wait for them. It didn't take long for Nettie Jo to set them in front of me. I thanked her, and then noticed her dart another glance toward the back of the shop.

"What's going on?" I asked quietly. "You seem . . . uneasy."

She grimaced. "Maybe a little nervous." She discreetly tipped her head toward one of the tables, where a dark-haired woman sat on her own, her attention focused on her phone as she sipped at a hot drink. "That's Dominique Girard," Nettie Jo whispered.

The name didn't ring a bell, and I'd never seen Dominique around town.

"Should I know who she is?" I asked.

"She's a food writer. Pretty well known in New England. These days she writes for Foodie Fare."

I'd heard of the magazine, although I'd never read it.

"She's in town for the festival?" I guessed.

Nettie Jo shrugged, her gaze on Dominique. "Most likely. But at the moment she's right here."

"And you want to make a good impression." I figured that was a safe assumption.

"I'll say."

A blast of cool air tickled at my skin as someone entered the coffee shop.

"Oh no," Nettie Jo said under her breath, her gaze on the door.

"What is it?" I asked.

A man I recognized but didn't know had just come into the shop, but I couldn't see any reason why that was a cause for concern.

Without answering my question, Nettie Jo scurried along the counter to greet the new customer. "Hi, George," she said with what sounded like false cheeriness. "What can I get you today?"

"A large black coffee," George replied. He was about to say more when he clamped his mouth shut and stared hard at Dominique.

Alarm flashed in Nettie Jo's eyes as George's face flushed.

"Ignore her," Nettie Jo whispered, sounding desperate for George to listen to her.

If he heard, he didn't heed her advice.

Apparently forgetting about his order, he marched over to Dominique's table, his generous cheeks now a worrying shade of red.

"You!" he spluttered. "You dare to set foot in this town?"

Dominique looked up from her phone, her expression one of mild surprise.

"Sorry," she said, completely unruffled. "Do I know you?"

George's face flushed even more. "You're not welcome here!" he bellowed. "You ruined my life and now you think you can waltz back into this town like you own it?"

Dominique remained composed. "I'm simply trying to enjoy a cup of coffee."

Nettie Jo darted out from behind the counter and grabbed George's arm, trying in vain to tug him away from Dominique's table. I was afraid that George was about to have a heart attack or stroke. He really didn't look well. His red cheeks were almost purple now.

"I'm afraid you'll have to leave, George," Nettie Jo said, tugging his arm again.

George shook her off and was about to yell at Dominique again when a woman's voice drew our attention.

"What's going on here?" A tall woman strode into the coffee shop. "George?"

"Oh, thank goodness you're here, Miranda," Nettie Jo said, her relief almost palpable. "Could you please get your husband to leave my other customers alone?"

When Miranda got close enough to see Dominique, her brown eyes hardened. "You!" she seethed.

Nettie Jo's expression of relief vanished. She squared her shoulders. "All right. That's it. George, I won't ask you again. You need to leave." She turned to his wife. "Miranda?"

Miranda glared at Dominique, but she took her husband's arm and guided him toward the door. "Come on, George. It's not worth wasting our time on her."

The two of them stormed out of the coffee shop.

Nettie Jo blew out a breath and looked around her. All eyes were focused on her and Dominique.

"Sorry about that, everyone," Nettie Jo said, attempting to smile. She wasn't very successful.

As the other customers turned back to their drinks and snacks, I edged closer to Nettie Jo and Dominique.

"I'm so sorry," Nettie Jo said to the other woman. "Let me get you a refund for your drink."

"Thank you, but that's not necessary," Dominique assured her. "I really don't remember that man, but I'm guessing he must be a chef or restaurant owner?"

"Former restaurant owner," Nettie Jo confirmed.

"Ah. I can figure out the rest then. Thank you for defusing the situation."

"It's the least I could do."

Dominique turned back to her phone, so Nettie Jo left her in peace and headed toward the cash register. No one was currently waiting to be served, so I rested an arm on the counter and leaned closer to her.

"What was all that about?" I asked in a low voice.

Nettie Jo sighed as she wiped down the counter. "George Keeler used to own a restaurant here in Shady Creek. Dominique came to town a few years ago and wrote an unflattering review of his establishment. Not long after that, his restaurant went bust."

"Ouch."

Nettie Jo nodded. "As you witnessed, he still harbors a grudge."

A group of three customers bustled into the coffee shop, laughing and chatting.

Nettie Jo cast a nervous glance in Dominique's direction. "Hopefully, today's drama won't give her a bad impression of this place."

"I doubt it will," I said. "You handled the situation well."

The newly arrived customers lined up at the counter, so I let Nettie Jo get back to work. On my way out the door, I crossed my fingers, hoping for Nettie Jo's sake that what I'd said about Dominique would turn out to be true.

With my drinks in hand, I continued on my way to visit Grayson. After crossing Creekside Road, I followed the long driveway up the hill to the cluster of brewery buildings. Even though it was barely midmorning, the parking lot was already more than half full. I didn't doubt that it would soon be packed.

The Spirit Hill Brewery had enjoyed great success in the time that I'd known Grayson, and the business had prospered even more ever since the brewery was featured on the television show Craft Nation. With the food and drink festival about to start, Grayson would be even busier than usual. I hoped I would have a chance to do more than simply hand off his drink to him today. I'd barely seen him so far this week, and when I didn't see him on a daily basis, I missed him terribly. One of the many signs that I was in love.

I stopped in at the main office in case Grayson was working there, but his receptionist directed me to the tasting room, which was located in a building of its own. The spacious tasting room had high ceilings and large windows that offered a beautiful view of the forest. When I arrived in the building, I spotted Grayson right away. He stood behind one of the tasting counters, chatting with a middle-aged couple. Two of his employees were also busy offering samples of beer to eager customers.

I caught Grayson's eye, and my heart gave a giddy skip when his face lit up at the sight of me. I nodded toward the display of merchandise, letting him know that I'd wander around until he could spare a few minutes. It wasn't long before the middle-aged couple made their way over to the display of beer for sale. Grayson tucked the used glasses out of sight, quickly wiped down the counter, and came over to meet me. He slipped an arm around my waist as we headed for the door.

"Pistachio latte," I said as I handed him his drink.

"My favorite," he said with appreciation.

As soon as we were outside, he tugged me around the corner of the building, out of sight of anyone coming or going from the tasting room.

He brushed his lips against mine. "Also my favorite."

Fortunately, I managed to keep a firm hold on my latte when he gave me another kiss, this one much longer and deeper.

"What have you been up to so far today?" he asked, several blissful moments later.

"Um . . ." It took a second to get my dreamy brain working again. "Not much. But there was some drama at the Village Bean. There's a food writer in town and she and George Keeler got into an argument. Apparently, she wrote a negative review of George's restaurant a few years ago. Not long after, he had to close the restaurant."

"I remember hearing something about that," Grayson said. "It happened before I moved here."

I picked at the edge of the lid on my take-out cup. "I hope the writer doesn't punish Nettie Jo with a negative review of the Village Bean because of George's behavior."

Grayson echoed what I'd said earlier at the coffee shop. "I doubt that would happen."

"What if she comes to the Inkwell? I don't want to end up in the same boat as George, having the place go belly-up because she wrote a negative review."

Grayson pulled me close and gave me a squeeze. "That's not going to happen. Everyone loves the Inkwell and the negative review wasn't what caused George's restaurant to go under."

"It wasn't? I got the sense that he thinks it was."

"Everyone always said that his restaurant would have gone bust, anyway. I'm pretty sure the business was in deep financial trouble long before that review was written."

I digested that information. It eased my nerves, but didn't banish them completely.

I swirled my half-finished latte around in the cup.

"Hey." Grayson tucked my red hair behind my ear. "Is the food writer really what you're worried about?"

"It's not all that I'm worried about," I admitted.

He set his latte on a window ledge and pulled me close again. I rested my head on his shoulder.

"Let me guess," he said. "You're nervous about your mom coming to visit."

"A little bit," I confessed. "Or maybe more than a little bit." I sighed. "I really want her to approve of everything."

"Including me?"

I raised my head and smiled, putting a hand to the side of his face. "I honestly don't know how she couldn't approve of you."

"I am quite charming," Grayson said with the grin that always sent butterflies fluttering in my chest.

"You are," I agreed.

"And devastatingly handsome."

"I'm not arguing with you there."

I melted into him as he kissed me.

A burst of laughter startled us apart. A cheery group of tourists had exited the tasting room. I stepped back from Grayson as they reached the corner of the building and came into sight.

"I'd better let you get back to work," I said with reluctance.

"Unfortunately."

Caleb Jollimore, one of Grayson's employees, emerged from the building that housed the brewery's offices.

"Hey, Caleb," Grayson hailed him. "Do you have a minute?"

Caleb altered his path to head our way.

I quickly gave Grayson another kiss and then took a step back. "See you soon?"

"Definitely."

I said a quick hello to Caleb, and then left them to confer about some brewery-related matter as they headed toward the building where the brewing process took place. I'd barely made it halfway across the parking lot when Juliana, the brewery's public relations manager, came rushing out of the main office.

She stopped when she spotted me. "Sadie, have you seen Grayson?"

I pointed at the building over my right shoulder. "He and Caleb just went inside."

"Thank you."

"Is everything okay?" I asked before she could hurry off.

"Great." She glanced around and lowered her voice. "I got word from the tasting room that Phoebe Ramone is here. I'm sure Grayson would want to know."

"Who's Phoebe Ramone?"

"A well-known food critic." Juliana was practically jittery with excited energy. "If we can make a good impression on her, it would be great for the business." She dashed off, calling over her shoulder, "See you, Sadie!"

It seemed I was out of the loop. Before today I hadn't known about Dominique Girard or Phoebe Ramone. Maybe I needed to read more foodie magazines.

On my walk to the Inkwell, I enjoyed the remains of my pumpkin spice latte, savoring the delicious flavor and the fall weather. The forecasters were predicting a series of storms in the near future, but for now the sun was shining and the color of the leaves that remained on the trees seemed even brighter than usual. Although I sometimes felt homesick for Tennessee, where I grew up, I couldn't deny that Vermont was beautiful, especially in the fall. In my opinion, the old stone grist mill that housed my pub and apartment was the most beautiful part of all.

Silence greeted me when I let myself in through the front door of the Inkwell. Puzzled, I glanced at the time on my phone. Booker should have arrived for his shift already. Usually by this time he was busy with prep work in the kitchen, and he almost always sang enthusiastically up until the pub opened. Then he contented himself with humming or singing quietly.

I made my way across the pub and pushed open the swinging door that led to the kitchen.

Booker stood at the prep counter, tossing Red Cabbage of Courage salad in a large bowl.

"Hey," I greeted. "It was so quiet I didn't think you were here. Is everything all right?"

"Sure." Booker flashed me a smile. "I guess I'm thinking instead of singing today."

"Thinking about good things or bad things?" I asked.

"Good. I hope."

I found his response a bit cryptic, and that sparked my curiosity, which wasn't hard to do. Booker didn't seem eager to say anything more on the subject, however, so I left him to his work. I wandered around the main part of the pub, admiring the books I had displayed on the shelf that ran around the room and making sure that everything was ready for the day's customers.

I was straightening books on the shelf when Mel arrived for her bartending shift. Her electric blue and blond hair wasn't quite as short as she usually kept it, and she had it brushed back instead of standing up in spikes.

After she dropped off her jacket in the back, she stationed herself behind the bar, checking to make sure we had clean glasses ready for customers when they arrived. I was still straightening books and occasionally brushing my feather duster along the shelf.

"Everything looks great, Sadie," Mel said.

I stepped back and scrutinized the books. "My mom arrives in a couple of days."

"And you really think she's going to examine every book for microscopic dust particles?"

"No," I admitted with a faint smile. "Not quite."

Mel came out from behind the bar and rested her hands on her hips. "Either she's going to like this place, or she isn't. The alignment of the books on the shelf won't change that."

"You're right." And I knew she was. "But I really want her to like it."

"When she sees how happy you are here, she won't be able to help but approve."

I hoped that was true.

My mom had never understood my decision to move to Shady Creek and purchase the pub. She would have preferred it if I'd pursued a more practical profession like dentistry or practicing law. Maybe this visit would help her understand that those paths weren't for me, that I was right where I wanted to be and where I was meant to be.

Only time would tell.

Mel flipped the sign on the door, and our first customers of the day arrived soon after. Getting settled into the rhythm of my workday helped to keep me from dwelling on my mother's impending visit. We were nearly run off our feet during the lunch rush, and even in the middle of the afternoon we had a decent crowd. In the evening, after Mel's shift ended and my other bartender, Damien Keys, took over for her, business picked up again, to the point that I opened up the overflow rooms so there would be enough tables and chairs for everyone.

I was so busy mixing cocktails, taki. . .
We hope you are enjoying the book so far. To continue reading...
Through the Liquor Glass
Sarah Fox
Copyright © 2023 All Rights Reserved
Also in this series
Also by this author