This Place Is Still Beautiful
Available in:
eBook
Paperback
Audiobook
Hardcover
Book info
Sample
Audiobook
Media
Author updates
Lists
Synopsis
A sweeping debut novel about first love, complicated family dynamics, and the pernicious legacy of racism. Perfect for fans of Tahereh Mafi, Jandy Nelson, and Emily X.R. Pan, with crossover appeal for readers of Brit Bennett's The Vanishing Half and Celeste Ng's Everything I Never Told You.
The Flanagan sisters are as different as they come. Seventeen-year-old Annalie is bubbly, sweet, and self-conscious, whereas nineteen-year-old Margaret is sharp and assertive. Margaret looks just like their mother, while Annalie passes for white and looks like the father who abandoned them years ago, leaving their Chinese immigrant mama to raise the girls alone in their small, predominantly white Midwestern town.
When their house is vandalized with a shocking racial slur, Margaret rushes home from her summer internship in New York City. She expects outrage. Instead, her sister and mother would rather move on. Especially once Margaret's own investigation begins to make members of their community uncomfortable.
For Annalie, this was meant to be a summer of new possibilities, and she resents her sister's sudden presence and insistence on drawing negative attention to their family. Meanwhile Margaret is infuriated with Annalie's passive acceptance of what happened. For Margaret, the summer couldn't possibly get worse, until she crosses paths with someone she swore she'd never see again: her first love, Rajiv Agarwal.
As the sisters navigate this unexpected summer, an explosive secret threatens to break apart their relationship, once and for all.
This Place Is Still Beautiful is a luminous, captivating story about identity, sisterhood, and how our hometowns are inextricably a part of who we are, even when we outgrow them.
Release date: June 7, 2022
Publisher: HarperCollins
Print pages: 368
* BingeBooks earns revenue from qualifying purchases as an Amazon Associate as well as from other retail partners.
Listen to a sample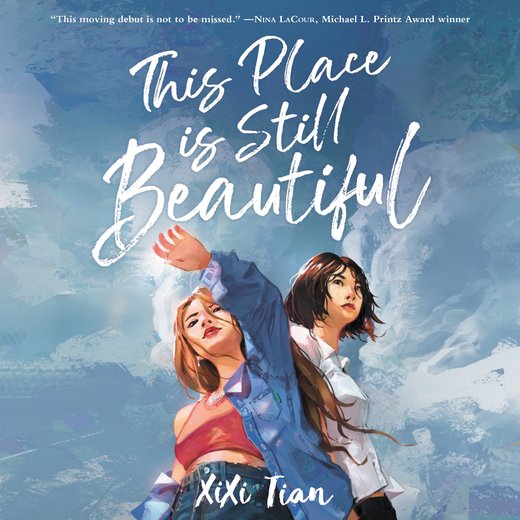 10:15:50
281.92 MB
9780063086050
June 7, 2022
HarperCollins
This Place Is Still Beautiful
XiXi Tian
The predicted rain on the first day of summer never comes, meaning I can count on two things: my mother spending most of the morning in the garden, and Thom Froggett coming by the Sprinkle Shoppe for a double scoop of Rocky Road in a waffle cone.
My mother is endlessly good at gardening, which is why she spends an unreasonable amount of her free time furiously deadheading her prize-winning golden roses in the backyard. My sister, Margaret, is endlessly good at school, which is why she charged through high school as valedictorian and class president, signed up for a double major in economics and political science with a minor in gender studies at NYU, and is now spending the summer before her sophomore year at a fancy summer internship with a McBain-type consulting firm in Manhattan.
I, on the other hand, am a B student, a second-chair flautist who sometimes still goes right when I should be going left in the drill set for marching band, and I suppose, above average at applying eyeliner with one swipe using the rearview mirror of my car in the mornings.
One thing I am better at than both Mama and Margaret is scooping ice cream (mainly because they're lactose intolerant, so they never eat ice cream), and thus, I have a summer job at the Sprinkle Shoppe. I am determined to use my unremarkable talent to do something remarkable: catch the attention of a certain Thom Froggett, soccer star and hazel-eyed underwear model look-alike.
Thom and I have been in each other's lives peripherally since elementary school because his last name and mine (Flanagan) are close to each other in the alphabet, although always with a certain Justin Frick right in between. So from grades one to eight, we were almost together when we lined up every day. Except instead of chatting up Thom, I endured a slow transition of first-grade Justin flicking spitballs into my hair to eighth-grade Justin trying to convince me to be his girlfriend.
On the other side, Thom was always blissfully oblivious, except for when the barrier of Justin was removed. The few days a year that Justin stayed home sick were the greatest days of my young life. Sadly, waiting for spongy chicken nuggets and plastic, stab-able bags of chocolate milk in the hot lunch line was not the ideal backdrop for a grand romance, and the young love of my formative years went unrequited.
In high school, we didn't have lunch lines anymore and we were in different classes, so we were separated by more than the unfortunately placed Justin Frick. Puberty hit Thom like a freight train, and basically overnight, he shot up a foot in height and learned how to style his dark blond hair so that it swooped gently over his forehead with the blessed curve of an angel's wing.
He got a girlfriend at the end of freshman year. And that was that, until they broke up this past January of our junior year, as I found out approximately four days later from my best friend, Violet (whose particular prowesses are Filipino home cooking and finding out about people's personal lives when social media doesn't give them away).
Violet had told me her plan after school as we shouldered our backpacks and headed out the door. "This is it," she said. "Your chance."
"The way you've delivered this news is a little creepy," I told her, wincing against the sharp midwestern wind as we climbed the hill toward the parking lot. "Like I've been stalking him my entire life."
She shrugs unrepentantly.
"I just think that it seems crass to jump on this right after his breakup."
"You snooze, you lose. That boy is going to go faster than hotcakes. You don't want to still be formulating your plan when Cheerleader Number Two catches his eye."
"They have names, Violet. Besides, I don't want to be a rebound."
"Worrying about being a rebound is an abstract concern right now. It's like worrying about whether you'll like the weather in Georgia enough to go to college there before you've even applied to any schools. You deal with that problem later."
"Fair point," I acknowledged.
We stuffed our snow-dusted selves into Violet's tiny Honda Civic and cranked up the heat before continuing our plot.
"Look, here's what you should do," she said. I should not have been surprised that Violet already had a plan.
Essentially, it was to work at the Sprinkle Shoppe, because Violet and Thom did have a class together, and he mentioned to her once that he went there for ice cream on summer afternoons, like it was his job, and ordered the same thing, right after his daily run, because it was on his way home. "He loves ice cream," Violet said triumphantly, as if she had just invented a new element for the periodic table.
I paused and thought about it. "Vi, this is a supremely stupid plan."
"No, it's not!"
"Yeah, it is."
"Well," she said, turning toward me defensively, "feel free to contribute. Do you have a better idea?"
I didn't.
"Just apply when the time comes," she instructed bossily.
On my first day at the job, the Sprinkle Shoppe greets me with a blast of cold air when I push the door open. The little silver bell over the door tinkles.
Aside from just providing me a paycheck and an opportunity to stake out Thom, I like the place. The building is small and brick in downtown, with an old-timey vibe. The name is in big curving letters, slightly chipped white paint, on a wooden sign that hangs beneath the sharp angle of the eaves in front. I like the heavy silver handle of the door and the cabinets, the checkered black-and-white floor, and the scalloped trim that overhangs the serving counter. It reminds me of one of those wholesome fifties hangouts, where teenage boys in letterman jackets would take girls out on ice cream dates and ask them to go steady.
Audrey is already behind the counter in her apron. Audrey is one of those cheerleaders who Violet was concerned about. She has wavy hair the color of rust and these long golden eyelashes resting on the lightest dusting of freckles, like sprinkles on top of an ice cream cone. Incredibly pretty, except right now she's scowling at me.
"You're late," she says.
I check my phone. "No, I'm not."
"Two minutes by my watch."
I think about saying something rude, like I'm sure the Sprinkle Shoppe was totally inundated in those one hundred and twenty seconds of time that I wasn't here, but I decide it's not worth the effort. I have to be around her all summer, after all. "Sorry."
"Whatever."
Audrey has worked here the last four months. For the Sprinkle Shoppe, that's practically forever, because most people just work the short summer months when business ramps up. It's just my luck that she and I have the same shifts, so she gets to tell me what to do.
"You," she says, jabbing an ice cream scoop in my direction like a dictator, "are going to scoop the ice cream. I'll handle the payments."
No arguments here. Math was never my strong suit.
She hands me the silver scoop. It looks pretty self-explanatory, but then the first customer who comes in asks for a scoop of mint chocolate chip and a scoop of regular chocolate. I don't get as full a scoop of ice cream as I need to for the mint chocolate chip, and I don't pack the scoop of regular chocolate tight enough onto the first, so it tumbles to the ground with a soft splat. This is apparently harder than it looks, and I also apparently oversold my scooping skills.
Audrey has to clean it up. She rolls her eyes so many times in the next two hours that I'm afraid she's just going to start looking at me with her eyeballs already fixed toward the ceiling to save time. But by the tenth customer, I've pretty much gotten the hang of it.
I feel almost like a natural when the door swings open.
It's him. Just like Violet promised.
At that moment, I silently thank her for having so much foresight. She's wise after all. I owe her a gallon of free cookies 'n cream.
Thom is in his running clothes. My eyes automatically move to the hard outline of his calves as he strides toward the counter, shaking his hair, darkened with sweat, out of his eyes. I think about my next move. I think about taking his order. I think about doing literally anything other than stand here like a buffoon.
Audrey sweeps past me and seizes the ice cream scoop right out of my fingers. I'm so startled I don't put up any resistance.
"Hi, Thom," she says, smiling with all her dimples. Scooping ice cream isn't too menial for her when it's Thom's order she's taking. It occurs to me that other people—namely, Audrey—might be using the same plan and might be better at it than me.
I've lost my chance. I can't undermine Audrey's authority, so I slink away. She motions sharply for me to move to the register. Like Violet said, you snooze, you lose.
"Would you like the usual?" I hear her say.
"You know it. Thanks." His voice is friendly. I strain to hear any hint of flirtation like a thirsty person strains for the last drop of water in a canteen. I don't think he's looked in my direction, even though I'm right here.
I watch Audrey pile two perfectly round scoops of Rocky Road into a waffle cone as if she's competing in the Olympics of ice cream service. She deserves the gold.
Thom takes the ice cream gingerly and moves down the line until he's at the register. Right in front of me. I snap to attention.
"Hi," he says, all tanned skin and white teeth. Even though he's coming off a run, he smells good, a magical combination of musk and apples. Can sweat smell good?
My heart tumbles down into my gut and is lost. What does one say in response to hi?
"It's been a while since the junior high lunch line, huh?"
"Yeah," I say, surprising myself. "I barely know what to do without Justin Frick in between us."
I make him laugh. It feels really good.
"You're working here, are you?"
"Yep. Needed a summer job."
"Well, you should know that I come here every day."
I resist the urge to say, So I've heard. Because that would be extra creepy, and even I have some sense of self-preservation. "Okay, should that be a problem for me?"
"I hope not." He's grinning. We're flirting. This is unbelievable! From the other side of me, Audrey is glaring daggers at me, but I can't be stopped.
By now there's another customer behind him who's already gotten ice cream. I remember that I'm supposed to be ringing him up. I look down at the cash register in amazement, because I realize at that moment that I have absolutely no idea how to use this archaic-looking machine. I'm afraid if I push something wrong, it'll just break.
Helplessly, I glance back up at Thom. "I'm sorry," I say. "This is my first day, so I have no idea what I'm doing."
"No problem," he says. "I have cash, and I know how much this costs." He hands over three crumpled dollars and two quarters.
I take it. "I trust that you're not pulling a fast one and giving yourself a discount, because I really don't know how much two scoops costs."
"I'm not," he says as he turns to go. "But for the record, it actually costs three dollars and thirty cents. You can keep the change, though." He winks at me, and I die a thousand deaths internally.
Nothing Audrey does can ruin my summer now.
"Just admit it. I'm a genius," Violet crows as I open the door to let her in a few days later.
"It wasn't a bad idea," I admit as she blows past me.
Violet has come over every afternoon in the summer since we were kids. This year, since I've finally been pushed toward a job, we've had to scale back our daily rendezvous, because afternoon is prime ice cream shop boom time in the summer, and I'm scheduled for Mondays, Wednesdays, and Fridays. "Which means Tuesdays and Thursdays without Thom," I say, sighing.
"Sure," Violet says. "Some friend you are. I hook you up with the jock of your childhood dreams, and you don't even so much as bat an eyelid when you ditch your BFF three times a week. Are you going to be the person who completely flakes on everyone when you and Thom start dating?"
I roll my eyes.
"Don't give me that attitude!"
I escort Violet into the kitchen, swing open the freezer, and plop a sweet, sweet full tub of cookies 'n cream on the countertop triumphantly. "Courtesy of the Sprinkle Shoppe. Is that enough of a thank you?"
Violet's eyes practically bug out of her head, and her lips split into a wide grin. "It's a start."
My mother slides open the screen door to the backyard and ducks inside. She's wearing a wide-brimmed hat and grimy yellow gloves that she sheds and tosses onto the deck behind her.
"Hi, Violet," Mama says, spotting us.
"Hi, Auntie," Violet replies, waving.
"Oh, before you leave, I have things for your mama. Don't let me forget."
Violet and I have been friends for so long that it's pretty normal for Mama to send her home with a cut of new roses or a container of fresh stir-fry for dinner. And Violet's mom is the same when I am there. We're like extended family.
We take our bowls of ice cream, heaped high because it's summer and because nobody's around to watch our gluttony, onto the deck. I love feeling the warmth of the stained wood under my bare feet, channeling the heat of the summer sun. I curl my toes. The ice cream is sugary and cooling. Everything feels so good.
"Your mom's roses are really taking off, huh?" Violet says.
"Early summer is the best time." Mama is almost religious about her flowers. Margaret told me she started growing them after our father left, when I was too young to remember. Since then, she's become virtually professional. She spends a good part of the warm summer months outside, inspecting, pruning, mulching, watering, and fertilizing the soil with the perfect blend of compost material to achieve ideal acidity.
Actually, one of the things I like best about our house is the backyard full of roses. The golden ones are at peak bloom in June, and they really are magnificent.
We admire the Garden of Eden for a while. Then we scrape the final liquidy residue from the inside of our bowls and step back onto the cool linoleum of our kitchen floor and drop the bowls into the sink.
The real reason that Violet comes over in the afternoons is so we can watch our favorite baking competition show on Food Network, and my house is super quiet, whereas her house is jam-packed with her younger siblings scurrying around. It's been our tradition for years and will probably continue until we go to college or Food Network finally cancels the show.
It's the show that first got me into baking. We watch, and I usually jot down the interesting ideas for me to try and re-create on my own. Violet can always count on a new batch of something sweet every week.
"I can't believe this idiot is trying to make a napoleon," Violet groans. "Does anybody actually watch the show before they go on it? Judges hate it when you make a napoleon. So unoriginal. You might as well whip out a package of Toll House cookies and bake those instead."
"Don't be a hater. There are plenty of interesting things you can do with a napoleon."
"Please don't make that this week," she says. "Make the lady's dessert. The peach cobbler. Looks to die for. And goes great with ice cream."
I shove her playfully. "I'm not taking orders at this time."
"You don't have to. Just putting it out there in the universe, in case a certain someone wants to continue showing her gratitude for her brilliant best friend, hooking her up with the boy of her dreams."
"I'll see what I can do," I say. "Besides, don't you think you're jumping the gun a bit? Thom and I have had something like two conversations."
"You're going to be together before we even hit July," she predicts.
"How are you so confident?"
"Well, first, because I know things. And second, jeez, are you really going to play dumb? You're gorgeous. There's no way he hasn't noticed."
"I'm not!" I'd kill for Violet's perfect long curls, which shine in a mass of glossy black down her back. We've had countless sleepovers, and I know she wakes up like that. Plus, she has perfect arched eyebrows that don't require any shaping.
"Yeah, you are. It's why the Sprinkle Shoppe hired you the minute you walked in, and why I would never be able to get a job there. You realize they only hire attractive people, right?"
Violet's self-deprecating bluntness makes me uncomfortable. I know she isn't trying to fish for compliments or make me feel bad. It's just how she is.
Violet, who was the first person to march up to me in third grade when she moved here from New Jersey and declare friendship when everybody else ignored me. Who steadfastly insisted on bringing kare-kare and pork adobo to school in her lunch box even though the other kids called it smelly and weird. Who probably knew from the minute she was born that she was going to grow up to be an environmental scientist and date and marry her boyfriend, Abaeze Adebayo, easygoing and soft-spoken, basically the opposite of Violet in every way.
It's one of the things I love the most about her, because she's always honest with me.
And it makes me wish I were like her. To just know what I want and be able to say exactly what I'm thinking.
If I were like that, I'd tell her that I'm not so sure about Thom liking me one day, because there's nothing particularly special about me, the girl who's the second best at everything.
Instead, I just laugh and say she should start preparing for plan B in case I botch this one.
She says, "Don't you worry, Annalie Flanagan. I'm always ready with plan B."
The manager gives me a call the morning of my Wednesday afternoon shift the next week, swearing about Audrey not being able to make it and asking me if I can hold down the fort myself.
"Of course," I exclaim. My voice comes out higher and squeakier than I mean it to, because hello, nothing seems better than having the entire shop to myself when Thom comes by. My excitement betrays me.
"Are you sure?" He sounds skeptical, and I can imagine his face. "This is, what, your fourth or fifth full shift?"
"I can definitely handle it," I say confidently. Because really, how hard can it be? I've mastered scooping, and I've even mastered the cash register. And I feel like those two things are pretty much the sum total of the job. It's not like we're doing brain surgery here.
"You have my number if anything goes wrong."
"What could go wrong?" I ask, right before everything goes wrong.
I show up for my shift, after spending two hours deciding what to wear and how to do my makeup. I didn't want to look too dolled up, like I was trying super hard. But I did want to add a little oomph to my normal look. I watched probably four YouTube makeup tutorial videos. I tried on three separate outfits. I redid my eyeliner twice. I thought about putting on subtle falsies, and then decided they were too obvious. I braided my hair, and then undid it because it looked too cutesy.
It ends up not mattering at all because there's a line of people out the door, including the entire softball team, and my hair is sticking to the back of my neck from sweat as I rush to scoop ice cream and check people out at the same time.
I'm running between scooping ice cream and running the dirty scoops under the faucet. The cones are getting low, and I have to dash to the back to get another bag of them. A family comes in with little kids, who are screaming with impatience. I'm so warm. I'm afraid that my makeup is entirely sliding off my face.
After what feels like an eternity, the softball team finally gets all the way through the line. The family sticks around, but most of the shop empties out. Luckily, there's not a lot of seating. There are a couple of tiny round tables crowded by rickety old chairs, but in general, the idea is to encourage people to get their ice cream and then get out.
I'm trying to wipe my sweat and double-check my face in my iPhone camera on selfie mode when Thom walks in. Three o'clock, on the dot. As usual, he's sweaty (which makes me feel better about myself), in his running clothes, and just about the hottest thing I've seen this side of the sun. He catches my eye behind the counter and melts into a slow grin. I melt right along with it.
"I guess you're starting to become part of my daily routine, A," he says.
Nobody calls me A. And I kind of hate it when people give me nicknames that I didn't come up with. Sometimes people want to call me Anna for short. I'm definitely not an Anna. Nor am I an "Ann" or an "Ally" or a "Lia." But Thom calling me A sounds so sweet.
"Just like old times," I say, smiling. "Double scoop of Rocky Road?"
"You got it, babe."
I like "babe" even better.
Stop grinning like an idiot, I scold myself, but I'm immune to my internal sober voice of reason.
"Where's Audrey?" he asks.
"She's out, and the manager couldn't get anyone else to sub in. But I've been okay so far. Busy day, though."
"How come I've never seen you work at the Sprinkle Shoppe before?"
"This is my first summer."
"I can see that. What made you decide to take a job here?"
Well, I can't give him the truth there. It's somewhere between Desperationville and Stalkertown. I shrug. "Needed something to do, and this seemed like a pretty low-key summer job."
"I'm glad you did."
I feel my face redden. I'm grateful it's hidden under a layer of full-coverage foundation, although it may have partially melted off already.
The scoop slides into the bucket of Rocky Road effortlessly—too effortlessly—just as the person in line behind Thom pipes up, "Hey, why is it so hot in here?"
Thom frowns. "It is really warm in here today."
And then it dawns on me, slowly, that the hum of the air-conditioning unit on the side of the window is gone. Instead, all I hear, as if the entire store is straining to listen, is silence.
"Um," I say. "I think the air-conditioning might be broken." I look down at the buckets of ice cream in pastel colors lined up behind the glass, and some of them are starting to get a bit . . . sludgy. "Oh shit, oh shit, oh shit."
One of the women who has a kid in tow throws me a dirty look, but I don't have time for that. I check the thermostat on the chiller that holds the tubs of ice cream for serving. It's at eight degrees Fahrenheit, which is normal. I breathe a sigh of relief. At least the ice cream isn't all going to melt into liquid in a couple of minutes. But then I run over to the window unit, the only air conditioner in this single-room brick bungalow. As I feared, it's not blowing any air. I try flicking the switch. Nothing happens. And the forecast today said it was supposed to hit ninety outside. No wonder it feels like hell itself in here.
"What's the verdict?" Thom calls over.
"It's broken. Totally broken."
He jogs over and checks it out himself. "Well, it's plugged in. Don't know what to tell you. Looks like the thing is busted. It looks pretty old."
I swear again. "Sorry, Thom."
"You should say sorry to that mom over there who looks like she's going to call the cops on you for your language." I glance over in the direction he's pointing. He's right. She's scandalized, as if I swanned up to her three-year-old and started showing him porn on my phone. I ignore her. I'm sure the Sprinkle Shoppe will miss having her as a patron. But. Bigger fish to fry at the moment.
The manager let me have the shift to myself once, and I've already screwed it up. I'm trying to think of what to do, and I'm coming up empty except to call him and confess my sins.
So I do.
He picks up after one ring, like he was waiting by his phone, expecting me to screw up. I put it on speaker, not because I want Thom to hear my humiliation, but because I'm desperately trying to hustle people out of the shop at the same time. "Jesus, Annalie. You had literally one job."
"Please don't fire me!" I say. "I didn't touch anything. It's not like I broke it myself."
"We'll see how bad the damage is. I'll call the repairman in to come fix it later." I hear him audibly exhale in a crackle, like he was expecting something bad to happen just because I was on the job.
I'm so embarrassed. Even more embarrassed to be yelled at in front of Thom, who must think I'm useless.
"Hey," Thom says, leaning over my phone, his eyes flashing with anger. "Don't be a jerk. She couldn't have known that the AC would break. Maybe you should be better about maintenance."
I can't stop a small smile from growing on my face. I'm definitely going to be fired now, but also . . . it was totally worth it to see Thom so mad on my behalf. His brow is furrowed, and he's frowning.
"Who's that?" comes from the voice on the phone.
"A valued customer," Thom says firmly.
"Whatever. Calm down. Just put the tubs in the freezer, clean up, and try not to mess anything else up when you close the store. I'm not going to fire you, Annalie."
"Thank you," I say meekly.
"Don't thank me. Thank the fact that there aren't enough people on payroll right now to cover your absence." He hangs up.
"Well." I look over at Thom with a sheepish grin. "That went well. Thanks for defending me."
"I'm at your service," he says, and I'm melting again. "Let's finish up."
We head back behind the counter and start slapping lids on all the open tubs. I lift them out of the trough. Heavier than I thought. Thom helps pull open the freezers in the back, which are luckily still running and blast icy-cold clouds in my face as we take turns shoving the endless flavors onto the shelf.
After we're done, it's just the two of us. My heart starts speeding up, and not because I just lifted twenty tubs of ice cream into the freezer.
"So, it sort of looks like your afternoon schedule has freed up." He's nonchalant. I'm not. Is he asking me if I'm free? He's smiling from his feet to his eyes. The boy really can lay on the charm.
"Yeah, it looks like it," I say carefully, trying not to be too eager. I want to act relaxed and cool. Instead, I feel like I have actually transformed into an awkward beaver. What are people supposed to do with their hands?
"Want to hang out at the park for a while? It's a beautiful day."
Do I?! Yes! Yes! Yes!
"Let's do it," I say, breezy as can be.
We walk out of the Sprinkle Shoppe together, I put up a Closed sign, and lock the door. I'm so light, I might as well be flying.
It's hard for me to imagine a more perfect afternoon than this. Thom and I settle on a park bench in view of younger kids playing baseball. His leg is four inches away from mine. Even though he's already gone on his run, he smells good, so wildly good. Not like gross boy gym, more like musky man supermodel. I wrap the scent around myself like a blanket under the sun. I just want to inhale him.
I try not to get distracted.
Close up, his hair is a dark blond with a slight curl at the ends. It looks a bit like a mop—a beautiful mop—and the light glinting on it makes it light up. He has smile lines that bracket his mouth. He has the kind of eyelashes that make girls jealous and make boys irritated because they catch all manner of dust and rainwater. His eyes are a shifting hazel, the color of spring puddles. The bridge of his nose is a little red from the sun. I think that in these few moments, I've completely memorized every aspect of his face.
"Well, I've finally gotten you somewhere away from the ice cream shop. I was trying to figure out how to do that."
"I guess I should thank the AC for breaking at just the right time," I tease. I can't believe I'm making him smile.
"And that Audrey wasn't there."
"Right. Can't wait to see her again and get chewed out separately."
"Is she mean to you?"
"Oh," I say, surprised. "Not really. I mean, she's not the friendliest." Even though I don't like Audrey and she is especially dismissive of me, I still feel weird talking about it. I wonder for a minute if Thom is just trying to get more information about her. Maybe this is a fishing expedition to learn more about her.
"She's like that to everybody. Don't take it personally. And I think she hates me a little bit because I don't pay her as much attention as she would like. But let's stop talking about her. I want to hear about you."
I flush for the millionth time and fumble for anything to say about myself. "There's not much to know."
He leans in. "I think there's plenty to know. It's been years since we've been close to each other in the lunch line, after all."
"I can't believe you remember that."
"Well, I do. You're a hard person to forget. You've just been dodging me all this time since then."
Me? Dodging him? "I definitely haven't been dodging you."
"I was so glad to see you at the Sprinkle Shoppe last week. I've just been trying to come up with an excuse to strike up a conversation with you."
I'm speechless. "Are you always this good at your conversation striking?"
His laugh is the most delicious sound in the whole world. "I'm glad you think so."
"I know it's hard without Justin Frick in between us."
"Yes, that. I guess we'll just have to get used to it. I think we can manage. So what are your plans this summer?"
"I don't have much planned," I admit. "Working this job. And then trying to figure out what I want to do with my life, since it's time to start applying to colleges in a few months. You?"
"Me too on the college thing."
"Where do you think you'll want to go?" I have this brief, intense fantasy of us going to the same college. Holding hands on the first day and facing the scary world of adulthood together. Maybe we'll end up dating in college. Maybe he'll propose to me senior year and then we'll be one of those couples that were high school sweethearts everyone awws at.
"Probably wherever I end up getting a good soccer scholarship. My dad went to Duke, so he's pretty into me going there."
"Do you want to go to Duke?"
"It's fine, I guess." He shrugs, as if he hasn't really given it much thought. "I've been there a bunch of times with my dad for games and stuff."
It's clear that Thom has known forever where he would go. I'm kind of jealous. Margaret was the same way. She knew, probably from when she was seven years old, that she was going to go to New York City, either Columbia or NYU. "I'm moving to New York, and I'm never coming back to this backwater," she announced in high school to Mama. To her credit, she followed through on it. She won't even come back this summer.
Me, on the other hand . . . I have always thought it would be great to see somewhere new. And yet. Some part of me finds it hard to say goodbye to this place. Margaret might not have been able to, but I see the beauty in where we live. I love the warm-weather sunsets, the golden stretches of corn in late summer that go so far that they seem to touch the edge of the horizon. I don't know how you could go out on a crisp winter night and not love the soft, deep silence that coats a small town after a heavy snow. I would miss being somewhere I know every corner of. There's magic in those things too.
"Where do you think you'll want to go?" Thom asks.
"I don't know." For a second, the fear of the future completely overwhelms me, but then Thom pats my hand. My heart flutters, and I'm back in the present.
"You'll figure it out," he says, confident. This close to me, I can see his light brown freckles against his tan skin. I want to get even closer.
My phone rings. It's Mama. A flash of annoyance. Why is she calling me now? I want to ignore it, but I have this thing where I can't reject phone calls, because I'm convinced it's an emergency and something terrible has happened.
Of course, it's usually just that she wants to know what to make for dinner, or something equally unimportant.
"Sorry, it's my mom," I say to Thom, and I answer the phone. "Hello?"
"Jingling," Mama says. Her voice is quiet and muffled.
I'm immediately alert.
"Mama, what's wrong?" I say urgently.
"Can you come home?" she says softly in Chinese. My mother is normally upset in only one direction: angry. The only time I've ever heard her cry was when Margaret left for college. She didn't even cry when Dad left. I'm alarmed to hear her voice wobbling on the other end of the line.
"What's wrong?" I repeat again, louder.
"Bad men came to our house."
My insides crawl with panic. "Call the police. I'm coming home."
"Police won't help. They're already gone, Jingling. Come home now." She hangs up.
My ears are ringing. I don't know what's happened, but I know that it's bad.
I turn to Thom. "I have to go home right now."
He looks really concerned, and we exchange phone numbers just in case I need anything. I'm so stressed that I don't even have it in me to be excited that Thom now has my number. "Can you call me so I know you're okay?" he says as I start walking to my car.
"Yeah, of course," I say, but it comes out without thinking. He's the farthest thing from my mind. All of a sudden, this day has completely changed.
The entire drive home feels like a never-ending dream. It's a miracle I don't run any traffic lights or get into an accident. But then again, I'm so used to the roads in this town that I could probably drive home with my eyes closed.
My mind is racing the whole time. Did someone break in? Is Mama hurt? Did anything get stolen? Even though my family isn't rich, Mama likes to keep some valuables at home. I know she keeps a hidden lockbox of gold jewelry in her bedroom. Twenty-four-carat gold. Real gold, she used to say, all heirloom jewelry from her mother in China. She took it out once to show my sister and me. She said she was keeping it for when we get married. She doesn't trust putting it at the bank. She wants it where she can see it. I can't imagine how she'll feel if somebody stole that.
We'll be able to find it, I tell myself. We'll file a police report, and surely, they'll be able to catch the guys who did it. This town is small, and people talk. It's not even sundown. Somebody must have come in broad daylight. Somebody will have seen.
I turn the corner on our street in slow motion. The house comes into view. It's a small Craftsman, the same one that we've lived in since I was a baby. I know every inch of it.
I know the parts of the front railing that have white paint chipped off, leaving the wood exposed.
I know the panel of vinyl siding that has fallen off, which we've never bothered to replace.
I know how the drainage pipe on the side of the house is slightly askew.
I would be able to identify anything different about it in a heartbeat. But I don't have to look very close to see what happened.
Our house faces west, which was not Mama's preferred direction, but my dad had talked her into it. This tidbit surfaces to me, because I'm starting to believe that west might not have been auspicious after all, just like Mama believed: the afternoon sun shines bright on the front, like a spotlight, revealing everything.
The white garage door is marred with an ugly spray of bright red paint. At first, it just looks like scribbles of random graffiti, but then I read what it says.
CHINKS.
Initially, it doesn't even register, like it's a word in a foreign language, or one that I've never read before. I read it again and again. I think it must be a mistake. Or a misspelling. Or maybe they meant something else.
My second thought, stupidly, is that I forgot until just now that I am Chinese.
The inside of my throat grows hot. My fingers are numb as I pull up onto the driveway, trying to shield the garage with my car. If it was a burglary, I'd know what to do. But I sit there for a minute, frozen. I keep staring at it, as if I've misread or I can divine another meaning if I just reread it enough times.
The word rings through my head, drowning out all other thoughts. I can't interpret it. I can only listen to it endlessly in the prison of my skull.
I should call the police, but I don't know if I even can get the words out of my mouth. I have to go inside and find Mama. But I can't get out of the car.
So I do the only thing that swims through my confusion and pain. Hands shaking, I call my sister. And when she picks up, I start to cry.
We hope you are enjoying the book so far. To continue reading...
This Place Is Still Beautiful
XiXi Tian
Copyright © 2022 All Rights Reserved