Book info
Sample
Audiobook
Media
Author updates
Lists
Synopsis
Thinking outside the box resulted in the best night of my life. Until I discover the man I spent it with is my new boss.

Attending a secret party where clothes are optional wasn't a life goal of mine. But when the exclusive invitation ends up in my mailbox by accident… well. Who wouldn't be curious? It's not like I'm going to do anything. The handsome stranger I meet has different plans. One glance across the crowded party, and an hour later we're stretched out on silk. Our night together is glorious. No names and no regrets. But I'd forgotten there's always a price to pay for pleasure. I find out the cost when I start my internship. Tristan Conway, aka my handsome stranger. Powerful, determined, intriguing... and single. Oh, and he wants to see me in his office.
Release date: June 7, 2021
Print pages: 233
* BingeBooks earns revenue from qualifying purchases as an Amazon Associate as well as from other retail partners.
Listen to a sample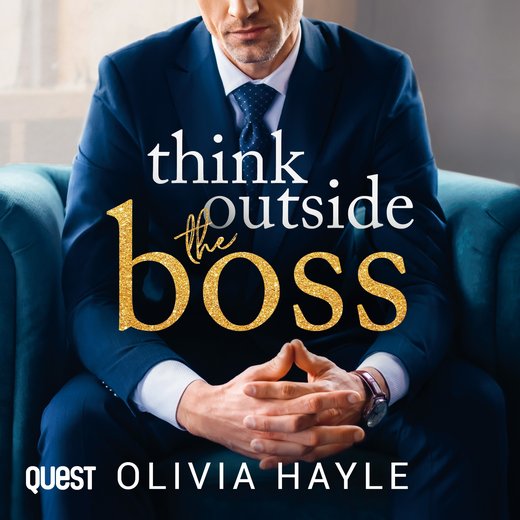 07:33:14
207.48 MB
October 28, 2021
W. F. Howes
2021
Think Outside the Boss
Olivia Hayle
I'm sorting through junk mail when my fingers gloss over a thick golden envelope. My address is handwritten on the front in sprawling black letters, but there's no name. Mentally, I run through all my friends who might be getting married… no, no and no.
Golden envelope in hand, I sink onto my kitchen chair and flip it over. It has a black wax seal. Stamped into it is a mask, the kind people wear to fancy masquerades in movies. I've never received anything like this.
If this is junk mail, it's gotten very classy.
Can it be to the previous tenant? I've only lived in this studio for a month. Best to make sure… I tear the envelope open with a kitchen knife and pull out a card-stock invitation with gold, printed lettering.
Dear Rebecca Hartford,
It's a new month, and that means new sins to explore. Join us at the Halycon Hotel at ten p.m. the following Saturday and wear the accompanying mask as proof of invitation.
Don't forget that secrecy is fun, phones are not (no one likes a tattletale), and everyone looks better in lace. Or disrobed. But we're getting ahead of ourselves…
Yours in pleasure,
The Gilded Room
Oh God.
I read the invitation twice to sort through all the innuendos.
The Gilded Room? Everyone looks better disrobed? Rebecca Hartford, you minx!
This might be the most elaborate practical joke I've ever been on the receiving end of. Peering into the envelope, I find a mask lined in delicate black silk, two feathers curling above the cut-out eyes like eyebrows. Black jewels crust the bottom half, and three words are written in gold cursive along the edge. United in pleasure.
Okay.
Maybe not a practical joke.
I open my laptop and type the Gilded Room in the search bar. A bunch of newspaper articles have been written about the organization, but not a single one of them features pictures. I click open the one entitled A night in the elite's world of pleasure.
What I read makes my eyes widen. The Gilded Room is one of New York's best kept secrets, primarily because those in it don't want to be known. They don't want to be seen, heard, and especially not pictured. The Gilded Room guarantees anonymity to its high-flying members, many of whom pay over twenty thousand dollars for their yearly memberships.
I scroll down, my eyes scanning paragraph after incredible paragraph.
Rules are simple. No one is invited that isn't rich, beautiful, or both. Anyone caught with a phone is immediately expelled… and women have all the power at these parties. There are whispers of politicians attending Gilded Room parties, football players, billionaires and media tycoons… but if they have, the journalist couldn't find anyone willing to talk. It seems this is the only venue among New York's upper echelons where name-dropping isn't the norm.
I close my laptop and stare down at the mask and invitation, now lying on my sofa table. Who had Rebecca Hartford been, to be invited to a party like this? I know for a fact that the previous tenant had left the country, my landlord telling me she'd been offered a job in Hong Kong. Contacting her about this feels out of the question.
What if I go myself?
The idea makes me smile. Secret sex parties for the rich? I'm not rich, nor a partier. I am sex-interested, though. It's been a long time since I last…
What am I thinking? Of course I'm not going.
I toss the invitation and the mask in the paper-basket and the lid closes decisively behind them. Besides, I have things to do, like preparing for the internship of a lifetime. I'd worked too hard to get accepted into Exciteur Global's Junior Professionals program, and my first day as a trainee is on Monday.
I have things to do before then.
Get three new pairs of stockings to go with my professional outfits. Unpack the last of the moving boxes. Schedule a time at the DMV to update my driver's license to New York instead of Pennsylvania.
Attend secret sex party is nowhere on that list.
I make it almost an hour and another moving box unpacked before I fish the invitation and mask back out of the paper-basket. Standing in front of the bathroom mirror, I put on the black, feather-adorned mask.
I look moderately pretty. Thick, dark hair, and more than my fair share of it, thanks to my Italian mother. Quite short, but I like to think I'm just petite. Eyes that are a muddy sort of green. It did say you had to be rich or beautiful to get in…
I tug at my ratty old T-shirt to make a V-shaped neckline. Courtesy of an unusually large chest, I never wear anything that revealing. But I had just unpacked the black dress I got on sale last year. The one that showed a lot of cleavage… Could I pass for Rebecca Hartford? Or at least beautiful enough to gain admission?
"An adventure before the real one starts on Monday," I tell my masked reflection.
* * *
I once heard it said that women have three forms of showers. The first, a quick body wash. The second, a quick hair and body wash. The third? That's the date-shower, where things get scrubbed and shaven and deep-conditioned.
As it turns out, I've discovered a fourth shower, the help-I'm-going-to-an-elite-sex-party shower. It has a lot of elements from shower number three, like shaving and scrubbing, but includes a few minutes of panicking on the shower floor.
My mind clings to the words I'd read online, that women have all the power. If I don't like it, I'll leave. The Halycon Hotel is one of the nicest in the city, so it's not like I'm walking into an organized crime syndicate.
At least I tell myself that.
It's nearly ten-thirty when I arrive at the hotel. My high heels click on the floor as I walk to the reception. My invitation and mask are both safe and secure in my clutch, ready to be whipped out in lieu of an ID.
"Good evening, miss," a hotel attendant says. His eyes dip to the deep V of my black dress before returning to my eyes.
And that's why I usually wear high necklines.
A flush rises on his neck. "You're here for the private party?"
I tug my coat shut. "Yes."
"The elevator to your left," he says, "and straight up to the thirty-second floor. Have fun, miss."
"Thank you." And because I can't resist, I add, "I plan to."
I ride alone in the elevator, my eyes tracking the ever-increasing number of floors on the display. It's become a surefire way to keep my fear of heights at bay. Focus on the floors I'm passing and soon enough, it's over. I still breathe a sigh of relief as I step out.
Showtime, Freddie.
I put the mask on and tie the silken strings together, ignoring the way my heart runs amok in my chest with nerves. The scene that awaits me is exceedingly normal. An empty corridor and an open doorway with a pretty, dark-clad woman in front, her face radiating calm professionalism.
She tucks an iPad under her arm. "Welcome, miss."
"Thank you."
"One performance has already concluded, but the next one should be starting just now."
I nod, like I understand what she's referring to. "Terrific, thank you."
She holds her hand out with an expectant look in her eyes. "Right," I say, digging through my clutch to hand her my invitation card. Don't ask for ID, don't ask for ID…
But she just looks it over and gives me another smile, this one more friend-to-friend. "Welcome, Miss Hartford. Don't forget to check your phone in on the right, after you enter."
"Of course."
She pushes aside the curtain blocking the door. The contrast is sharp from the bright corridor outside to the dimly lit, smoke-filled rooms beyond. A scent hangs in the air… something thick, like magnolia and incense.
A man dressed only in a pair of black slacks and a tie, no shirt to cover up the broad chest on display, welcomes me. "I'll check your coat, miss."
"Yes, thank you," I say, shrugging out of it. He hangs it up and returns, a hand extended. "Oh! Right." I hand him my phone.
His answering smile makes me think I'm not masking my nerves as well as I thought. "I'll put your phone right here," he says, opening one of a hundred identical security boxes. "The code is automatically generated, and you'll get a printed receipt with it… here you go. Only you know this. Don't lose it."
"All right," I murmur. "Awesome."
He gives me another encouraging smile, this time tinged with humor. "Enjoy yourself, and remember that we're here at any time if you need help or you have any questions."
"Thank you."
Gripping my clutch tight, I walk into the main space. The first impressions strike me in flashes. White lace and high heels. Drapes of black silk from the ceiling. Men in impeccably fitted suits and dark masks.
People mingle, some standing, some reclining on sofas. A beautiful woman strolls past me in lingerie. It's the imposing kind, with garters and thigh-highs.
"Champagne, miss?" a waiter asks, holding out a tray of flutes. Just like the man working the coat check, he's shirtless.
"Yes, thank you," I murmur. Walking through the throngs of people in a dazed sort of wonder, I think I see people I recognize. It's difficult to tell with the masks, but not impossible, and a few have discarded theirs entirely. One woman is a news anchor and I've seen her on TV dozens of times. A tall, broad-shouldered man has the face of a football player. If I'd been more sports interested, his name would have come to me, but as it is I settle on furtive glances his way. Bottles of champagne with golden labels line an entire wall.
This is wealth like I've never seen it before. It's a rich person's playground, a study in how the wealthy amuse themselves.
Then I see it.
The performance.
There's a raised stage in the middle of the room, and what's taking place on it makes my high school drama club's rendition of Macbeth look like child's play. Two lingerie-clad women circle a man on a chair, his hands in cuffs behind him. One runs proprietary nails over the man's sculpted chest, the other sliding her hand up his bare thigh.
My eyes are glued to the scene.
And yet all around me, guests of the Gilded Room continue to mingle in varying states of undress as if three people aren't currently engaged in very public foreplay in front of us.
A masked woman in her mid-forties walks past me, pulling a man along behind her by his tie. She shoots me a triumphant look. "The next performance should have pyrotechnics," she says.
I give her a weak smile. "Just what this party needs. Fire."
"I like you!" she calls over her shoulder. "Feel free to join us later!"
Join them, wow. I smile into my champagne and look across the room, hoping to spot more famous people. There is no way my friends will believe me, but I still want to make sure this night turns into the best anecdote possible.
My gaze lingers on a man on the other side of the room. Like most men here, he's in a suit, but he's one of the few not wearing a mask. Not speaking to anyone, either. He just leans against the wall and watches the performance with arms crossed over his chest.
Looks like he's sitting this one out.
I turn in my empty glass of champagne for a full one and lean against the wall opposite him. There's nothing familiar about him, and yet I can't seem to look away.
His gaze snaps to mine, and the laser-focus makes it clear he's well aware of my staring. He raises an eyebrow.
My lips curve into the universal sign of hi, there. It's the smile you give a man in a bar to let him know you want him to come over. It's brazen.
A group of guests stop in the middle of the room and it sunders our eye contact. I look down into my champagne with a heart that's suddenly pounding. I'd come here to observe, without any plans of participating…
But a girl can flirt, can't she?
When I see him again, he's no longer alone. A woman runs her hand down his arm in a manner that would be easy to read even if we weren't at an elite sex party.
I push off the wall and take a lap of the room. There's a steady, pounding beat emanating from the speakers, heady in its power. More than a few of the mingling guests have moved on from simple conversation, and I pass by a man taking off his partner's bra while discussing New York real estate.
I find a dark corner of the space to retreat to, far away from the couples in varying states of undress. I've never watched other people… well. Perhaps it's time for me to declare this little adventure finished.
That's when he appears by my side, a crystal tumbler in hand.
Brown hair rises over a strong forehead and the square of his jaw covered in two days' worth of stubble. Up close, it's even harder to look away from him.
He raises that eyebrow at me again, but says nothing. He just leans against the wall beside me and we gaze at the crowd in silence.
I take another sip of my champagne to keep my nerves at bay. Who is he? A media mogul? A celebrity I don't recognize? The scion of a political family? For the night, he's a stranger, just like me.
"So?" I ask, watching him through the slitted eyes of my mask. "Are you planning on introducing yourself?"
His lips quirk like I've made a joke. "Eventually," he admits. "Though talking is often one of the less enjoyable pastimes at these events, comparatively speaking."
I wet my lips. "Not if it's done well."
"Which pastime?" he asks, amusement an undercurrent in the rich baritone of his voice. "Doing things well is one of my favorite hobbies."
"Being modest is not, I'm guessing?"
He turns, and I have to look up to meet his dark gaze. "Modesty is forbidden at the Gilded Room."
"Is that in the rulebook?" I ask. "I think I missed that point."
His lips curve into a crooked smile. "I don't think you've read the rulebook at all, considering it's your first time here."
"What makes you think that?"
"You asked me if I was planning on introducing myself."
"And that gave me away?"
His smile widens. "There are only two iron-clad rules at these parties. The first is complete anonymity. The second? Women initiate. Men can't speak unless spoken to."
Oh. Women wield all the power. Right.
Groaning, I lean back against the wall. "I gave myself away that easily, did I?"
"Not yet, you haven't," he says, amusement glittering in his eyes. "What are your thoughts so far?"
"Of the Gilded Room?"
He inclines his head in a yes.
I look out over the mingling guests. People are shifting into separate corridors and rooms, and on the stage, one of the women is now—oh. Wow.
She's going down on the man tied to the chair. His head is thrown back in pleasure as hers moves in a practiced rhythm.
"I had no idea what to expect when I came here tonight. Didn't know how… controlled the hedonism would be." I tear my eyes away from the choreographed performance. "I've also come to the sad realization that I probably think I'm more open-minded than I actually am."
He raises an eyebrow, faint crow's-feet fanning out around his eyes. Thirty, perhaps, or thirty-five. No more than a decade older than me. "Not used to seeing other people have sex?"
"Not in person," I admit.
He smiles at my words. "There are no musts here. You could spend your first time just admiring the scenery. Enjoying a few drinks. Making conversation."
My expression of dismay must have been clear, because he raises an eyebrow. "That doesn't interest you?"
"Well, I don't think I like the idea of being a voyeur. It seems intrusive, somehow."
He turns his face, but I catch the smile. "Most people here enjoy being watched. A closed door means off-limits, but open ones mean anyone is free to watch or join."
"Another one of the rules I don't know," I say, taking a sip of my champagne. Now that I'm here, now that I'm talking to this man… I'm not nervous anymore. It's like an out-of-body experience, and the Frederica Bilson who should be nervous doesn't even know she's here. I left her out in the corridor.
"There aren't many rules."
"Enlighten me?" I ask. "I'd hate to embarrass myself further."
He smiles, a slow and wide thing that makes my stomach tighten. The dim lighting casts shadows over his face. "It would be my pleasure," he says. "You already know the first one, and the most important one."
"Women initiate conversation?"
"Yes, as well as sex," he says. "Men can suggest it, if they've been spoken to, but it's considered more proper for the woman to speak the words."
I swallow against the dryness in my throat. "The Gilded Room is big on consent, then."
"It is, not to mention security. You won't see them, but there are guards stationed throughout the party."
"There are?"
Slowly, giving me time to react, he reaches over and puts his hands on my shoulders. They're warm and steady as he turns me toward the opposite corner. "The man in the back. Masked, wearing a leather loincloth?"
"That's security?"
"Yes. See the earpiece?"
I narrow my eyes. His hands are still on me, hot through the thin fabric of my dress. "No. He's too far away."
"Well, it's there. And you should get your eyesight checked."
"Hey, that's not nice."
His chuckle is hoarse as he turns me toward the bar. "One of the men sitting down, nursing a scotch. He's wearing a suit."
"They drink on the job?"
His hands slip from my shoulders. "It's likely apple juice. No one here wants to feel guarded, so they blend in. All part of the illusion."
"The illusion?"
"That we all just happened to be here tonight, that this is a real party, that we're not vetted and screened."
There's truth to that, I suppose. Security guards in uniform would ruin the mood. "So they step in if anyone gets too rowdy?"
"Yes, but that rarely happens. Few pay to get in here only to tempt a lifetime ban." He lifts his crystal tumbler and drinks, the long column of his throat moving.
"You're not wearing a mask. Wasn't that one of the rules?"
He shoots me a look. "Some rules can be broken."
"By the right people?"
He lifts a shoulder in an elegant shrug. Not denying it, not confirming it. A suspicion grows in my mind, and I narrow my eyes at him. "You're not the owner of the Gilded Room, are you? The operator?"
"Christ, no."
"You know a lot about how it works."
"It's not my first party," he counters. A second later and I feel the warmth of his hand on my arm. "Care to sit down?"
He nods to an empty couch nearby, further concealed in shadow. A pounding of nerves explodes beneath my breastbone. His hand falls away. "Women have all the power," he reminds me. "You say the word and I'll leave you alone for the rest of the night."
"What's the word?"
"'Go away' usually works, but that's two words."
I laugh. "I'll stick with that, then. Though it's not very polite."
"You can add please to it, if you like."
"How kind of you." We sink down on the couch, the leather cold under my legs. I cross them and clasp the champagne to my chest like a weapon. "So you're a regular?"
"I suppose you could call me that." He drapes his arm along the back of the couch, hand resting somewhere behind my head. We both look out over the crowd of people. What had seemed so orderly when I first arrived is now broken up, people divided into pairs or smaller groups. And dear God, a woman is completely naked on a couch across the room. Completely, one hundred percent nude. She's draped over a man's lap, his hands on her breasts. Another is working between her splayed legs.
I swallow at the sight. "Performers, too?"
"I doubt it," he murmurs. "They just got inspired."
Perhaps my silence says it all, because he laughs quietly, stretching out long legs in front of him. "I have to say, gorgeous, that you have me curious."
"Curious?"
"Yes. How did a woman like you end up with an invite to the Gilded Room."
I frown. "A woman like me?"
"So clearly strait-laced," he says, meeting my gaze with one of his own. "Someone who loves being in control. Who fears letting go."
"I don't fear letting go."
He raises an eyebrow, and I blow out a breath. "All right, I do, but I'm sure everyone does to some degree. Do you think it's holding me back here tonight?"
"I don't know. Do you think it is?"
"I'm not sure," I say. "So far I'm watching a performance of live sex… well, almost-sex, while having a conversation with a perfect stranger. I'd say I'm letting go already."
His smile flashes. "It's not almost-sex anymore."
I look at the stage and then quickly away, my gaze settling back on his face. His smile widens at my expression. "I'm not shocked," I protest.
"Sure you're not."
"Not strait-laced at all."
"Then look," he challenges.
So I do. I turn full toward the stage, to where one of the women is riding the man handcuffed to the chair. The look of pleasure on his face makes it clear he bears the weight of restraint gladly. The pounding of my blood rises as I watch them, the silky movement of her hips and the glaze in his eyes. The way they revel in us observing them.
"Okay," I murmur. "I get it."
"The appeal?"
"Yes."
His deep laughter rolls over my skin like soft thunder. "Not so opposed to being a voyeur after all."
"I suppose it has its appeals." I wet my lips and drag my gaze from the stage to him. "You know, I think anonymity does too."
"It certainly does," he agrees. "Even if you know someone inside of here, you're not allowed to acknowledge it."
My eyebrows rise. "Let's say I knew your name. I wouldn't be allowed to call you by it?"
"No. Some people do break that, though."
"The couples who come here must."
"They're the worst offenders." He tips his head back and drains the last amber liquid in his glass, a thick watch on his wrist. It looks expensive.
"But you're not here with someone?"
"I'm not," he confirms, reaching past me to set down his glass. The movement brings with it the scent of whiskey and sandalwood. "Nor are you."
"How are you so sure?"
"I doubt a partner of yours would leave you alone this long."
"Well, I doubt I'd have a partner who put so little faith in me that he had to watch me constantly."
His eyes spark. "Oh, that's not what I meant. No, he wouldn't be able to stay away from the trouble you might be getting into."
I glance down into my champagne glass and away from the force of his gaze. "You're good at this."
"At complimenting a woman?" He snorts, but I think it's more at himself than at me. "I try my best."
I tilt my head and observe him. Here in the dark alcove, with the incense of the party mixing with heady intimacy, it feels like I could ask him anything. "What do you usually do at these parties?"
"Searching for inspiration?"
"Perhaps I want to know who I'm dealing with," I murmur.
He leans back on the sofa, pulling his shoulders back. "What happens at these parties doesn't leave them."
"Well, we're at a Gilded Room party," I say. "So talking about past exploits wouldn't break that rule."
His lip curves, an acknowledgment of the loophole. "You know, I keep trying to figure out if you got into the Gilded Room because of your brains or your beauty, and it's damn difficult to decide."
"It has to be one or the other?"
He sweeps an arm at the party. "Most people here pay for membership, men more often than women, after they've been approved by the selection committee. But there are always a few women who don't, and who are granted membership solely from their looks."
"Well, that seems sexist."
He laughs, the hand behind me brushing the bare skin of my shoulder. "So you're not one of those women. You could be, though."
I frown at him, which only makes him grin wider. "So I'm one of the women who could have benefitted from a loophole that is in and of itself pretty sexist?"
"I never claimed my compliments were politically correct."
"No, you didn't." Ignoring the nerves resurfacing, I slip out of my heels and pull my legs up on the sofa. His fingers don't leave my shoulder. "I saw you speaking to a woman earlier. You'd been approached by someone?"
"Several someones," he acknowledges. "But you'd already smiled at me from across the room. I told them I was called for."
The nerves ranch up a notch. "Oh. Was I that intriguing?"
"I'd never seen you here before."
I make my voice teasing. "And you saw someone who looked like she needed guidance? How kind of you to reach out."
"I'm a saint."
"I told you I liked this anonymity thing," I say, "and I do. The idea that we have no idea what the other person does during the days. Perhaps you spent the whole day working as a surgeon at a children's hospital."
He raises an eyebrow. "I wasn't honest when I said I was a saint."
"Then perhaps you spent the whole day evading the New York Police Department, because you're the head of an organized crime ring."
I turn toward him on the couch, and he responds in kind, his free hand landing on my thigh. The touch is casual, but the racing of my heart it sets off isn't. "You think I'm about to make you an offer you can't refuse?"
"You're welcome to try. But it's exciting not knowing, don't you think?"
"It is. Do I have a European princess beside me? A young Hollywood actress? A surgeon who works at a children's hospital?"
"We'll never know."
"A complete mystery," he agrees.
"I like it. Although it does feel odd not to have a name to call you, or even refer to you in my head."
His eyes flash with heated amusement. "There are a ton of things you can call me."
I shift closer, leaning against the back of the sofa. "You know, you came over to talk to me. Even though you weren't allowed to."
He raises an eyebrow. "I did. But I waited for you to speak first." His voice grows deeper, something I should hear from a Jumbotron, narrating a movie, reading me my favorite audiobook. It slides over my skin like a dark caress.
"Despite all the women who approached you. Despite the… fascinating performance currently on display."
His hand slides an inch higher on my thigh, the only place we're touching. A thumb brushes across the hem of my black dress. "Is there a question here somewhere?"
"I'm not sure if I'm ready to ask it."
"I'm perfectly comfortable where I am," he murmurs. "So no need to ask me anything."
"I could rephrase it, actually. So it's more like a hypothetical."
His lips quirk again. "A hypothetical? Sure."
"Considering you approached me, and considering what you usually do at these parties, I—"
"What you think I usually do at these parties," he interjects. "I have the feeling a lot of it is conjecture."
"You're telling me you don't participate?"
His smile turns wolfish, an eyebrow raised. "I participate."
Nerves mixed with heady, dizzying want sweep through my stomach. What would his hand feel like higher up my leg? His lips on mine?
Am I brave enough to do this?
"Of course you do," I say. "You're probably in high demand."
He reaches up with a free hand to run it through short, dark hair, thick through his fingers. "I'm rarely complimented by women."
"Do you enjoy it?"
Shaking his head in disbelief, he takes my champagne glass out of my hand and lifts it to his lips. There's amusement in his eyes as he takes a large sip.
"Stealing my drink?"
"I think I need it more than you do."
"I'm that challenging?"
"No," he says, his thumb moving in a circle on my knee. "And yes. This conversation isn't anything like the ones I've had at the Gilded Room before."
"Oh." I narrow my eyes at him. Are they all discussions about sex, then? Although I suppose that's what we're talking about as well, but not very directly.
"I can see you thinking again," he says. "Strait-laced."
I frown. "That can't be the nickname you're giving me."
"Oh? What would you like me to call you?" Seeing my expression, he chuckles again. It's just as dark as the other times. "I'll surprise you, then."
I clear my throat. "I still haven't asked you my hypothetical question."
"You were wondering if I wanted to sleep with you," he says. "And the answer is yes."
My throat goes dry, but I don't look away from his steady gaze on mine. "Oh. Right. Okay."
"I saw you across the room, the way you smiled at me, and I knew I wanted you beneath me."
I wet my lips. "Is this more similar to how your conversations with women usually go here?"
He shakes his head. "No, they're far more clinical."
"Well, I suppose you rarely have to seduce anyone here," I murmur, still reeling from his earlier words. His hand slides higher, settling around the curve of my outer thigh.
"I'm finding it enjoyable."
"So that's what we're doing, then." I trace my finger along the edge of the champagne glass, and his eyes track the movement. "Seducing one another."
"Isn't all conversation a form of seduction?"
"Definitely a mafia boss," I breathe.
His surprised chuckle feels hot against my skin. "You're welcome to think whatever you like about me."
I put a hand on his broad chest and watch it there, my fingers flat against the strength beneath his shirt. He's more tangibly male than the men I usually interact with, as if he's been baked and hardened into steel. If this is what men in their thirties are like, I've been missing out. Or maybe it's just the kind of men who frequent places like the Gilded Room?
"I don't know if I'm daring enough for this," I admit.
His smile is reassuring. "We'll just have to try and see. Another rule of the Gilded Room is that there are no expectations."
I slide my hand up to his neck, tentatively running my fingers across the rough, five-o'clock shadow that coats his square jaw. "There are some things we can try from the comfort of this couch."
"I agree. But let's get rid of this first…" He reaches up slowly, giving me time to object. I don't, holding still as he unties the mask and slips it off my face. "There," he murmurs. "Much better."
We hover, nearly touching, as the sweet sensation of closeness washes over me. My eyes flutter closed as he braves the distance between us and presses his lips to mine. The kiss is competent and warm, and my body reacts to it like a flower to the sun. Heat spreads through my limbs and my mouth opens to him on a soft exhale.
His tongue sweeps across my lower lip, his hand curving around my thigh in a tight grip. My nerves melt away in the face of this, no match at all against his skill, his heat, the way my body warms.
This is the easiest thing in the world.
He lifts his head, just enough to speak. "I don't think kissing will be an issue," he murmurs.
I reply by kissing him again, capturing his answering chuckle against my lips. My hand slides up into his hair, the thick strands silky through my fingers. He growls into my mouth as I tug.
This is a risk worth taking. There's no telling when I'll have a man like this touch me again, a handsome man who exudes power and competence and dark, sly wit.
"I'm not this girl," I tell him.
His hands grip my hips, pulling me tight against him. "I know," he says, voice hoarse. "It only makes me want you more."
The words send delicious shivers over my skin. High on him, on my own bravery, I sling one leg over his lap and straddle him. We might be concealed in this dark alcove, but we're still at a party, and there are people milling about.
His hands run up the sides of my dress, ghosting past my breasts. "Kiss me again, Strait-laced."
"Not my nickname," I tell him, and he grins. I cover it with my lips and we're lost once more to the chemistry between us, to whatever magic happens when his lips and mine meet. My desire pounds in tune to the beat of the music, hypnotic and sensual. Beneath me, the hard length of him is evidence of his own. The surprise makes me break away.
He doesn't skip a beat, shifting to my neck instead. A large hand cups my breast and smooths a thumb through the fabric, finding the tight point of my nipple without effort. "I want you," he says, lips against my skin. "Do you want to find an unoccupied room?"
I swallow against the dryness in my throat. "There's still a third performance. I heard there will be pyrotechnics."
"I think," he murmurs, "that we have all the fire we need right here."
We hope you are enjoying the book so far. To continue reading...
Think Outside the Boss
Olivia Hayle
Copyright © 2023 All Rights Reserved