Book info
Sample
Audiobook
Media
Author updates
Lists
Synopsis
 Sweeping across generations from the 1600s to the present day and inspired by the true story of the leader of the infamous Gunpowder Plot, Nicola Cornick's latest historical mystery combines past and present story lines that fans of Philippa Gregory and Susanna Kearsley will devour.

1605: Anne Catesby fears for her family. Her son, the darkly charismatic Robert, is secretly plotting to kill the king, placing his wife and child in grave danger. Anne must make a terrible choice: betray her only child or risk her family's security…and her very life.

Present Day: When her dreams of becoming a musician are shattered, Lucy takes refuge in her family's ancestral home in Oxfordshire. Everyone knows it was originally home to the notorious gunpowder plotter Robert Catesby. As Lucy spends more time in the beautiful winter garden that Robert made, she starts to have strange visions of a woman in Tudor dress, terrified and facing a heartbreaking dilemma.

As Lucy's and Anne's stories converge, a shared secret that has echoed through the centuries separating them will change Lucy's life forever…


Release date: October 25, 2022
Publisher: Graydon House Books
* BingeBooks earns revenue from qualifying purchases as an Amazon Associate as well as from other retail partners.
Listen to a sample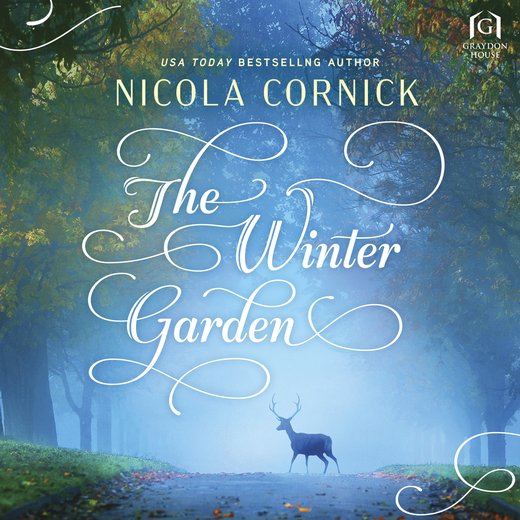 11:04:08
304.03 MB
9781488215209
October 25, 2022
HarperCollins
The Winter Garden
Nicola Cornick
One
Lucy
The Present
Late July
The house looked exactly as she remembered it.
Immediately ahead of her was a low wall of chalk and sarsen stone, overgrown with a tangle of white and gold honeysuckle, pink wild rose and white star jasmine. Tall pink-colored hollyhocks bent confidingly close toward one another, almost blocking the little wooden gate. Beyond that, a path of irregular flagstones cut across a wide lawn—almost a meadow because the grass was so long and dotted with wildflowers—up to the pale green-painted door, which nestled beneath a flat porch. The windows were irregular too, two of them set on each side of the entrance, their Georgian casements reflecting a gleam of lamplight within.
Gunpowder Cottage. The pale cream of the chalkstone walls, burnished honey gold in the late, low sun, gave the house a timeless, ethereal appearance, as though it had been settled in the landscape forever. Lucy could almost hear the centuries whispering to her.
It was a beautiful place, but she'd rather be almost anywhere else in the world right now.
"It's the perfect place for you to have a break," her sister, Cleo, had said warmly, when she had rung to tell Lucy that she had arranged it all. "I've spoken to Aunt Verity and cleared it with the lettings agency. They're not taking bookings at the moment because there's some major work being done in the gardens. Aunty Verity did mention she might be heading back from Australia in a few weeks, but for now the place is all yours."
Lucy hadn't replied because there were tears crowding her throat, tears of combined guilt, gratitude and frustration. When she failed to speak, Cleo had continued breezily: "You don't need to worry about a thing, Luce. All you have to do is rest."
"Right," Lucy had said. Then, thinking this sounded ungrateful, "Thank you, Cleo. You're a star."
"I know you're not used to taking it easy," Cleo said, a hint of reproach in her voice, "but this time you really are going to have to stop, Lucy."
"Yeah," Lucy said. Admitting the truth was hard, even to Cleo, especially to Cleo, perhaps, since normally Lucy was the organizer and her little sister was swept along in her wake. She could hear the subtext in Cleo's words, the echoes of friends and family:
"Poor Lucy, she's such a workaholic, so driven... No life outside of her music... What will she do now?"
It was a good question. Lucy didn't know the answer. Not yet. She hadn't even really accepted the reality of it yet, how a month of pneumonia and the complications that had followed it had ended her musical career so brutally. Her entire life plan had been derailed by a jumped-up flu virus.
"New talent Lucy Brown lights up the Barbican concert hall," one review had said, a week after she had been hospitalized. "The new Benedetti!" another raved. "Full of promise. We can't wait to hear more from the London Gala Orchestra's new star..."
But there would be no more violin solos and the critics would forget her soon enough because there was always someone else coming up through the ranks. Meanwhile she had to get over it and get on with her life.
Lucy set her hand to the latch of the gate. The now-familiar twinge of pain shot up her arm, and she gritted her teeth against it. The illness had left her with a legacy of fatigue, aching joints and muscles, breathlessness, a whole shopping list of problems that were unfamiliar and exhausting. To start with she had tried to return to rehearsals but the excruciating pain had changed music from being a sublime pleasure to a painful trial. In the end she'd been forced to admit defeat and had cried with fury and frustration.
Her consultant had been matter-of-fact:
"Post-viral fatigue," he had said briskly. "We see a lot of it after the flu, or viral pneumonia like yours..." He shrugged. "It's similar to long COVID, that tail of symptoms that carry on after the initial infection has gone. I'll prescribe you some steroid treatment, but you need to rest."
Whilst she was still feeling bewildered and scared he had glanced toward the door as though hoping or expecting an interruption, and Lucy had realized that it wasn't that he had not cared, simply that this was all new and frightening to her but for him it was a daily occurrence and he needed to move on to the next patient.
Lucy dropped the latch, the ache faded and the gate swung open smoothly and silently. She had been expecting the squeak of rusty hinges to match the neglected garden. Then she reminded herself that the cottage was usually let for holidays and longer periods; of course it would be kept in good working order even if the grass needed a cut.
Her wheeled suitcase bumped and stuck fast on the rough path and she pushed the handle down with an impatient snap. Ancient charm and uneven flagstones were all very well but the case was heavy and she was very tired. She'd declined Cleo's offer to give her lift from London for no reason other than pure pride. She'd wanted to do something for herself, to prove that she was still capable. It was annoying that she now felt exhausted. The train journey from Paddington to Swindon had seemed interminable. From the station she had taken a taxi to Knightstone, watching the golden twilight settle over the Berkshire Downs to the south as the car had eased out of the Swindon traffic and taken the twisting route through the Ridgeway villages. Down in the Vale of the White Horse, the ripening corn had glowed in a perfect sunset. Beside the road, the ancient hedgerows faded into dusk, the gnarled old trees bent eastward with the prevailing westerly wind.
It was almost fifteen years since she had been in this part of England, the forgotten corner of Wiltshire, Oxfordshire and Berkshire that nestled between the Downs and the Vale. As the taxi turned off the road to Wantage and headed downhill on the tiny lane overhung with arching beeches, she acknowledged how beautiful it was and how little she wanted to be there. Instead of this quiet she ached for the buzz of a concert hall packed with people and anticipation, the gleam of chandeliers on the rich old wood of the violin as it came to life beneath her hands...
She picked up the suitcase to heave it over the final few flagstones. The muscles in her arm cramped and the case bumped heavily against her leg for the remaining few steps to the door. She ducked into the cover of the porch and was immediately struck by an unexpected memory of childhood summers spent at Gunpowder Cottage. Perhaps it was the poignant scent of the jasmine, heavy in the evening air, that transported her. She felt helpless, an unfamiliar sensation, as though the past had reached out completely unexpectedly and snared her. In a flash she remembered that the spot where the grass grew less thickly at the base of the ancient apple tree was where she had sat reading in the summer evenings, her back pressed against the warm, rough bark. The lichened staddle stone by the wall, which as a child she had thought was a giant mushroom, cast an elongated shadow across the grass. She remembered that it had once supported the old granary at the back of the cottage, keeping the corn off the ground and safe from the rats. It was one of the many stories that her aunt Verity had told her about Gunpowder Cottage. Verity's tales of queens, knights and dragons had enchanted her on every visit and she had been caught up in the magic of it all.
"I want adventure!"
It was almost as though she could hear her own voice, high and excited, carried to her by the winds of time. What an eager, happy child she had been. And Verity had been a role model—a woman whose entire life seemed one big adventure, who, after a long army service commitment, had set up her own highly successful explosives and demolitions business. Even now that she was semiretired, Verity was still much in demand for her expertise, hence her current trip to Australia, where she was consulting on a mining operation in New South Wales.
Lucy took a deep, bracing breath. She had promised herself that she wouldn't give in to self-pity. She had achieved her own adventure in her own way and it had been brilliant even if that journey had now been cut short. Like Verity she would move on to something new. Except that it felt too soon; she didn't want to think about that now, about the blankness of the future. But she did know that she wasn't going to stay here too long. She'd find a fresh purpose. She didn't want to become one of Cleo's lost causes, like a rescue kitten in need of rehoming or a dead cactus that her sister would insist was only wilting. This was a strictly temporary stay.
A cool breath of breeze from the Downs tiptoed along her spine. In contrast to the now-chilly garden, the lamplit room inside the cottage looked warm and inviting. It had been thoughtful of Verity to arrange for someone to leave some lights on to welcome her. Evidently someone was keeping an eye on the cottage whilst it was empty.
Lucy dug in her bag, her fingers closing around the front door key. It should have been a big iron antique to fit the appearance of the cottage, but Verity wasn't old-fashioned when it came to security. There were two keys, a mortice and a latch. Lucy took them out with a jingle of metal.
The door opened before she could insert either key into a lock. Light spilled across the step, mingling with the dusk of the garden. A black Labrador rushed past Lucy and cocked his leg against the apple tree. Lucy dropped the keys with a clatter on the step. The dog turned his head at the sound and stared at her, his eyes shadowed and dark in the night garden. He wasn't young; gray hairs were beginning to show around his muzzle, but he was very handsome all the same.
The dog gave a little yelp of excitement to see her and dashed back across the garden, wagging his tail madly, beating it against Lucy's leg in an orgy of delight.
"Hello," she said weakly, crouching down to pat him whilst he stared at her with his big soulful brown eyes. "You're very friendly, but what are you doing here?"
The dog pressed closer to her, his big body warm and reassuring. He smelled of a familiar dog smell, which gave her a pang of longing. It was years since she had had any sort of pet—her lifestyle hadn't allowed for it—but when she and Cleo had been children there had been a succession of dogs of many shapes and sizes. Their parents currently owned a Welsh terrier called Tal, short for Taliesin. This dog, she saw from the tag glinting in the faint light, was named Geoffrey.
A shadow fell across them. Geoffrey looked up, panting, his whole body wagging now. A man stood framed in the doorway, a disheveled tawny-haired giant wearing nothing more than a bath towel about the waist. His hair was wet and droplets clung to his broad shoulders. His narrowed hazel gaze scanned Lucy with incredulity before moving to the bag and violin case at her side. He frowned ferociously.
"Who are you?" he said.
It was not the warmest of welcomes and it was not what Lucy needed right now. She kept her gaze firmly fixed on his face despite an instinct to look lower.
"Lucy Brown." She considered extending a hand to shake and decided against it. Who knew what would happen to that towel if he took it? "My aunt Verity owns Gunpowder Cottage and has leased it to me for a few weeks—this cottage," she added in case he was particularly dense, or didn't know the name of the house he was squatting in. "So perhaps I should be asking who you are?"
Surprisingly, his expression lightened at that. In fact he almost smiled. It was disarming. "My name's Finn MacIntyre," he said. The faint Scottish burr Lucy had detected when he first spoke was more pronounced now. "I'm the gardener. I'm also at a profound disadvantage." He gestured to the towel. "Would you like to come inside whilst I get dressed?"
"I don't think so," Lucy said pointedly. "You say you're the gardener but you could be anyone."
Finn acknowledged that with an inclination of the head. "Fair enough. Give me a moment, then, and I'll put some clothes on so we can talk out here. You could call your sister though," he added. "She'll vouch for me."
He disappeared inside leaving Lucy and Geoffrey on the doorstep. The dog gave a little yip and took a few steps into the hall as though trying to invite her to follow him inside. Lucy smiled at him, but the smile faded as she took out her phone.
Cleo had told her that the cottage was free and yet here was Finn MacIntyre not only in residence but saying that Cleo would vouch for him. And Verity, whom Lucy had spoken to the week before, had also neglected to mention that there was a lodger at Gunpowder Cottage. She wondered what the hell was going on. She paused on the verge of pressing Cleo's number. Her sister had mentioned a big garden project taking place at the cottage, which was why it hadn't been let for the summer as usual. Presumably this Finn MacIntyre had some role in that. He certainly wasn't being employed for his charm.
With a sharp, vicious stab at the contacts list she called Cleo.
"Hi!" her sister answered at the first ring. There was music playing in the background, Taylor Swift, Lucy thought, although her taste had always run more on the classical side of music. Chalk and cheese, she and Cleo, though they could not have been closer as sisters and friends. Even now, when Lucy was reeling from the sudden changes in her life and Cleo was trying to organize her, she felt an overwhelming affection for her little sister.
"Are you at the cottage?" Cleo had muted the music now. "How was the journey? How are you feeling?" There was a thud that Lucy identified as the sound of a pile of books falling. She could visualize her sister in her flat above the bookshop she ran in the small market town of Highworth, a few miles away. Cleo had wanted Lucy to stay with her when she came out of hospital, but there was no room. Books, stray animals, Cleo's artwork and her girlfriend, Sam, filled all her living space.
"I'm fine," Lucy lied. "And yes, I'm at Gunpowder Cottage, but Goldilocks is already here."
"What?" Cleo's fairy tales were more contemporary than hers. "Who?"
"Finn MacIntyre," Lucy said. "He says he's the gardener. He's Scottish. Abrupt. Apparently, he's staying here?"
"Oh!" Cleo sounded suddenly excited. "Finn! Yes, of course. I met him a few weeks ago. He's the garden historian who's leading the archaeological excavation on the site, but I thought he was staying in the barn conversion, not in the house."
Lucy tried mentally to sort out these various pieces of information, but her brain felt too foggy and slow. The only thing that really mattered to her at this juncture was where she could find a bed and how quickly she could fall into it. Her entire body ached and all she wanted was to curl up and sleep. Detailed questions could wait.
"Is there a dog?" Cleo, her mind as butterfly light as ever, was going down a path of her own. "A Labrador called Geoffrey?"
"He's right here," Lucy said, as Geoffrey wandered back to her and sat down with a heavy sigh right on her foot.
"Isn't he adorable?" Cleo said. "You'll love having a dog around, Lucy. You always said you wished you could have one."
"Yes." Lucy struggled slightly. "Geoffrey is lovely, but, Cleo, this wasn't what we agreed on. I thought the cottage was empty. If this Finn person is here, I can't stay."
"Like I said, Finn and Geoffrey are living in the barn," Cleo said. "Are you sure you haven't made a mistake?"
"There's no mistake," Lucy said. "A seminaked man opened the door of Gunpowder Cottage to me. He is clearly in residence. As is his dog, lovely or otherwise."
She turned to see that Finn had reappeared, fully clothed in a crumpled white shirt, jeans and boots. Geoffrey was greeting him as though he'd been away for months.
"Is that Cleo?" he asked.
"Yes," Lucy said. "She's trying to vouch for you but she's not very articulate." She ignored Cleo's shriek of protest. "The only thing she's said so far that makes sense is that you're supposed to be staying in the barn conversion, not in the cottage."
Finn's mouth turned down at the corners and he looked as grumpy and intimidating as when he had first opened the door. "Yeah," he said. He rubbed the back of his neck, looked at Geoffrey, and sighed. "She's right, we should be at the barn. Look—" He made a slight conciliatory gesture. "Why don't you come in and I'll explain?"
Lucy shook her head. She felt drained. The post-viral exhaustion was like that; it came on suddenly and left her numb and shaking with tiredness. All she wanted was to be alone to sleep until she felt a bit better.
"We'll sort it out," she said to Cleo. "I'll see you tomorrow."
"Okay, sweetie." Cleo sounded concerned. "You know where I am if you need me. Call me and I'll come over and fetch you back here."
"Thanks, Cleo," Lucy said. "Love you."
"We can talk tomorrow," she said to Finn. "I'm sorry if I sound abrupt, but if you're not living in the barn conversion, I presume it's free? I'm happy to stay there instead."
"Of course." Finn was watching her. She could feel his gaze on her, too observant for comfort. He'd seen how deep her tiredness went. It made her feel vulnerable to a near stranger and she didn't like it. "Are you sure?" he added. "Geoffrey and I can go down there and kip for the night, and move our stuff in the morning. The only reason I moved up here was—"
Lucy cut him off with a quick gesture. She was feeling a bit dizzy. "Sorry, can this wait? I'm almost literally dead on my feet. Verity told me the barn's fabulous. I'm sure I'll love it." At that moment she was prepared to lie down on a park bench, she was so tired.
Finn reached for her case. "Then let me take this around for you," he said.
Lucy gripped the handle tightly. "I can manage, thank you. And I know the way to the barn."
Once again she had the feeling that Finn saw and understood far more than she wanted him to do. Their eyes held for a moment and then he nodded. "The key to the barn is in the safe. I'll drop by and see you tomorrow."
The door of Gunpowder Cottage closed, leaving Lucy in the shadowed garden. Twilight had crept closer during the time they had been talking and it was now a place of secrets and mysteries. She shouldered her violin case and dragged the suitcase back down the path to the gate, going out onto the road again and almost immediately turning left along an unmade narrow track that curled downhill around the edge of the cottage garden. On her right was a paddock; a curious donkey stuck its head over the gate and viewed her with an intelligent gaze as she rumbled past.
At the bottom of the small hill stood Gunpowder Barn. The jumble of derelict farm buildings that Lucy remembered from her childhood had been swept away with the largest one converted into a holiday home. It was the perfect combination of traditional and modern, comprising huge glass windows, exposed beams and original stonework. Where Gunpowder Cottage wrapped you about with an intimate sense of time past, the barn was an elegant fusion of the past and present that looked mainly modern. And yet... Was that not a whisper of something else, something much older, in the breeze that stirred the leaves of the gnarled trees in the orchard? Lucy thought she heard the echo of a voice calling and the patter of footsteps. A shadow slipped from the corner of the path and melted into darkness. But it was only a cat, stopping to wash its paws and view Lucy with its impenetrable gaze.
She found the key safe on the wall by the garden gate, opened the cover and realized that she'd forgotten to ask Finn for the combination. Damn, she really didn't want to have to walk all the way up to the cottage again and disturb him. If he was a gardener, he'd probably been hard at work since first light and wouldn't welcome another interruption to his evening.
She turned on the torch on her phone and squinted at the keypad. She'd try the obvious first: 1605, the year of the Gunpowder Plot. Verity had always been convinced that there was a link between the name of the cottage and the Plot although she hadn't been able to discover anything definite to confirm it. But the name had been one of the reasons Verity had bought the house, saying that she felt an affinity with the plotters as a result of her own career in explosives engineering. This had always struck Lucy as funny, though when she pointed out that terrorism rather than engineering had been the prime concern of Robert Catesby, Guy Fawkes and the rest of them, Verity had got a bit huffy with her.
There was a pleasing click as the compartment opened and a shiny silver key fell into Lucy's hand. ...
We hope you are enjoying the book so far. To continue reading...
The Winter Garden
Nicola Cornick
Copyright © 2023 All Rights Reserved