Book info
Sample
Audiobook
Media
Author updates
Lists
Synopsis
At Grimrose Académie, a fairy-tale curse has deadly consequences …
Nani, Yuki, Ella, and Rory have discovered a curse that's leaving a trail of dead bodies at Grimrose. But the four friends know nothing of its origins, or how to stop the cycle of doomed fates.
And each girl harbors her own secret. One is learning why she was brought to the school. One struggles to keep her new and deadly power under control. One knows exactly how much time she has left.
And one, trying to escape her dark destiny, will come even closer to fulfilling it.
Can the girls change their own stories and break the curse? Or must one of them die to end it forever?
Release date: November 1, 2022
Publisher: Sourcebooks Fire
Print pages: 404
* BingeBooks earns revenue from qualifying purchases as an Amazon Associate as well as from other retail partners.
Listen to a sample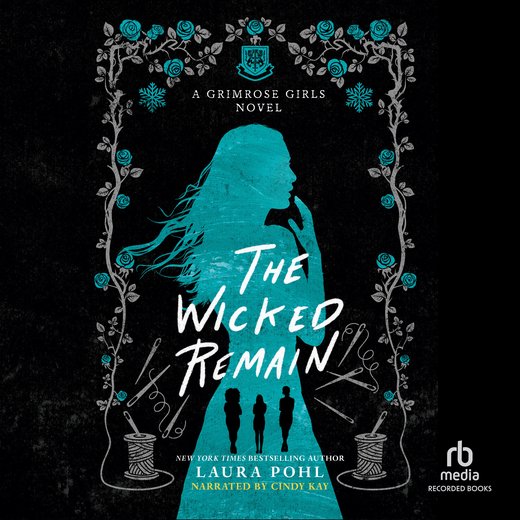 11:35:39
318.47 MB
November 1, 2022
Recorded Books
2022
The Wicked Remain
Laura Pohl
Chapter One
Ella
The story started with Ella.
She hadn't thought of it that way when she'd first picked up the fairy tale book last year, the one they now called the Black Book, but she realized it as soon as she explored the pages of its twin, the White Book.
The book's first tale was her own, "Cinderella," in nicely flourished writing. After its last page, there was a ink portrait of herself, Eleanor Ashworth, when she was a little younger than she was now, when her hair wasn't cut short to stay out of the way of cleaning, when there was a faint smudge on her cheek, which could have been ash, or something else, for those who knew better.
She didn't think that her tale being first was relevant. It didn't feel like the story belonged to her.
Yet when she'd opened the White Book, the one Penelope had held on to, she couldn't help but fixate on this particular thing: The two books were almost exactly the same.
Except the White Book had the portraits.
And the happy endings.
As Christmas came and went, and then the New Year, there was not a single day where Ella did not think of the books hidden away in her friends' rooms in the castle at Grimrose Académie. Finding the White Book had changed everything.
After Ariane had died at the beginning of last year, they'd found the Black Book among her things. It had felt like the key to the mystery of her death. She'd written down a list of names that correlated with the tales in the book, and by the end, Ella, Yuki Nani and Rory had learned that each girl was represented inside—each of them had their fates written in those pages and were doomed to bad endings, unless they could find a way to break the curse.
Yet, on the first day of classes after Christmas break, Grimrose Académie felt as it always had. There was no sense of an imminent threat, no clock striking midnight, no hedge of thorns growing to imprison its students. There was nothing out of the ordinary in Eleanor Ashworth's last semester, though the ordinary was already extraordinary considering she was at an exceptionally exclusive boarding school inside one of the most resplendent castles in Europe.
Ella came in through the front hall, hearing the chatter of her classmates, several "nice to see you" spoken her way. There was no evidence that there had been deaths, plural, in the past year. The school grounds outside were still covered in the relentless snow that buried the woods, the mountains, and the trees in blinding white.
When Ella stopped by a window, she could see the intact surface of the lake.
The memory came in a flash, and Ella swallowed it down, stopped her hands from shaking and losing composure. Blood, the white dress, the snow covering their tracks. Yuki's eyes, dark under the moonlight.
And drowning. Ella felt the choke hold of the lake on the back of her throat, as if it could pull her down if she wasn't careful, as if the black waters were still trying to claim her.
Someone put a hand over her eyes, and Ella jumped, her heart speeding up. She elbowed the person back instinctively.
"Ouch!" Freddie's familiar voice echoed through the hall. "Sorry!"
Ella immediately relaxed, breathing deeply through her nose. This was school, and for now, with Penelope gone, school was safe. There were no impending threats. No messages written in candy wrappers, no dead bodies waiting for them in the corridors.
There was still the curse, but Ella didn't know how to sort that away in a convenient box yet.
Ella looked up at Freddie's bright smile, which she hadn't seen since the ball. She'd told him she couldn't leave home, which was true, but it was more than that: She hadn't wanted to see Grimrose itself. She didn't want to be reminded of what had happened on the last day of school before break.
"What does that say about us, that the first words to come out of my mouth are an apology?" Freddie said, taking her silence as a cue to keep talking. He leaned in for a kiss, and Ella's heart leapt as she felt the taste of the soft curve of his mouth against her own, something out of a dream. "So. Hello, beautiful."
Ella laughed. "Hello, tall stranger."
"I was expecting 'handsome.' Maybe 'attractive.' I would even accept a 'comely,' but I wouldn't like it a lot."
"I see you've been reading the thesaurus over the holidays."
"Affirmative."
Ella laughed, and Freddie leaned in for another kiss, smiling all the way through it.
"You elbowed me really hard, by the way," Freddie said, good-humoredly. "Didn't know I was dating a trained assassin. I'll be careful not to surprise you in the
future."
It was the smallest mention, but Ella faltered, thinking about what happened to Penelope. Maybe she hadn't done the act, maybe she hadn't plunged the knife, but she was part of it all the same. She did it, and the worst part was that Ella wouldn't have changed anything. If Yuki hadn't done it, maybe Ella would have. She couldn't trust herself not to. Not when Ella had done what she did to protect all of them.
Ella promised to save them all, but she'd already started wrong. She hadn't saved Penelope.
She hadn't wanted to save Penelope, and now that decision would haunt her forever.
"You okay?" Freddie asked, bringing her back to reality, back to the laughter in the corridors, the swishing of uniform skirts and talks of holiday manors and skiing stations and island vacations and the beginning of the semester. All the students continuing on as if a few of them weren't missing. As if they were already beginning to forget because life went on. It always did.
That was part of the curse. Or maybe it was just normal life.
Ella couldn't tell anymore which was which.
"Yes," Ella lied. "I'm fine."
Chapter Two
Yuki
The darkness came mostly while she was sleeping.
It was creeping into Yuki's edges now that she'd let it in, now that her mirrors and perfection had shattered, and all her fears and wants had come spilling out. She'd kept them inside her for so long, afraid of where they might lead. Afraid of what she was capable of.
She knew it now, and the darkness did not let her forget.
It appeared in the shadows, in the broken mirrors, but mostly, it appeared in her sleep as a smile on Penelope's lips, tainted with her blood in the last seconds when Yuki had held her with one arm, and with the other, the knife that had killed her. Somehow, it had felt exactly right. In her dreams, the blood was the color of Yuki's lips.
You asked me what I wanted, Yuki had told her. I wanted you dead.
Penelope had smiled before staring into the void ahead of her. Penelope, whose real name Yuki didn't even know. She'd replaced the real Penelope, taken her life and her belongings. She'd taken everything that the original Penelope had shunned and brought them into her own fairy tale. Except she hadn't gotten a happy ending, not when Yuki's hand had sealed all their fates.
The body of the real Penelope had been found near the train station, identified by the police. But by the time the police arrived at Grimrose to investigate, the girl pretending to be her was long gone. Everyone at school assumed she'd fled as soon as she heard the news, vanishing in the middle of the night without leaving a trace, exactly how she'd first appeared.
When Penelope's blood had been spilled into the lake on the night of the ball, Yuki had felt that it was fair, because Penelope killed Ari, because she'd killed the others and threatened Ella, and most of all, because Penelope had thought she was on Yuki's level.
Yuki could feel power that flowed in her veins. She'd feared it, feared losing control and showing her true self, but it was too late for that fear now
—it had dissipated, just like Penelope's plots and manipulations, just like Yuki's illusion that she could still be perfect. She wasn't.
Yuki had killed someone, and she did not regret it.
Yuki knew she wasn't supposed to go back to the lake, but the darkness there seemed to draw her in. They'd promised to keep away, and with the Christmas holidays, Grimrose had been half-empty, since most of the students had gone back to their families. Ella had been shut inside her house, and Rory had gone back to her own castle. In their room at Grimrose, there was only Yuki and the new girl, Nani. Yuki hadn't spent that much time with Nani, though she was undoubtedly a part of their group now: she knew all their secrets and shared their story.
Instead, Yuki had walked around the lake. She'd forgiven Ari for what she'd said, and the ache felt resolved, dulled. Yuki watched out for any cracks in the ice, for any voice that could come back to haunt her, but the lake was always empty, spectral.
I won, she thought to herself, looking down at the thick layer of ice covering the waters. I'm not afraid anymore.
And yet, winning felt empty. Winning felt like nothing, because even though Penelope was dead and couldn't threaten them anymore, Yuki knew the threat went far beyond her. She had killed the others in the name of someone else, in the name of gaining something. Yuki had to find out what.
All that Yuki and her friends had gained was the White Book and even more questions.
Yuki couldn't deny the curse now, not when everything pointed to it. The ritual, the sudden appearance of her magic, and the things Penelope had said, hinting at a mysterious force behind it all, someone who was responsible for this curse. Penelope's killings had only accelerated the workings of the curse, but Yuki knew she couldn't escape forever.
"Aren't you cold out here?" a voice asked from behind her. Yuki snapped her head around, black hair whipping as her stepmother Reyna approached, huddled inside a black coat with a fur collar, her hands shoved inside her velvet pockets. "It's freezing."
Yuki didn't really feel it. "I'm okay."
Reyna walked forward to stand with her. Yuki knew she should go back upstairs to her room. Classes were starting again—another semester, her last one at Grimrose. She was supposed to do something after that, choose what life she was going to lead. But Yuki didn't know, because all her choices would end up disappointing the people closest to her. She'd grown tired of expectations and legacies. They were a burden she didn't care to carry anymore.
"It's a nice view down here," Reyna said, standing as close to Yuki as she dared, but the distance was always there. "I'm going to miss it."
Yuki turned sharply. "You're leaving?"
"Well, you're leaving for college too," Reyna pointed out, serene. "I'm sure we'll figure out our next destination when you make your choice."
Yuki sensed Reyna's big brown eyes examining her face. She didn't let herself hide or falter or turn away. Her heart beat a little faster, the darkness calling to her, knowing she was hiding. Knowing that even though she'd given in to it, Yuki hadn't really showed herself to anyone.
Nobody knew the vastness of it yet.
Nobody knew she was only one blink away from letting it all out.
"You shouldn't leave just because of me," Yuki managed to say. "I'm eighteen now. You don't have to take care of me."
"I know," Reyna replied. "But this is the most grown-up I've seen you. It's hard to get used to it."
Reyna shook her head, looking out into the lake. Yuki frowned slightly. Reyna was getting nostalgic. On the day of the ball, she'd seemed sad too.
Even if Reyna didn't realize it, Yuki knew all of it was going to come to an end, sooner or later. They'd have to break the curse, even if Yuki didn't know how.
All Yuki had was her hands, her will, her darkness.
They would have to be enough.
We hope you are enjoying the book so far. To continue reading...
The Wicked Remain
Laura Pohl
Copyright © 2023 All Rights Reserved