Book info
Sample
Audiobook
Media
Author updates
Lists
Synopsis
Solving crime isn't only for the living.
In turn-of-the century New York City, the police have an off-the-books spiritual go-to when it comes to solving puzzling corporeal crimes.... Her name is Eve Whitby, gifted medium and spearhead of the Ghost Precinct.
When most women are traveling in a gilded society that promises only well-appointed marriage, the confident 19-year-old Eve navigates a social circle that carries a different kind of chill. Working with the diligent but skeptical Lieutenant Horowitz, as well as a group of fellow psychics and wayward ghosts, Eve holds her own against detractors and threats to solve New York's most disturbing crimes as only a medium of her ability can.
But as accustomed as Eve is to ghastly crimes and all matters of the uncanny, even she is unsettled by her department's latest mystery. Her ghostly conduits are starting to disappear one by one as though snatched away by some evil force determined to upset the balance between two realms and most important — destroy the Ghost Precinct forever.
Now, Eve must brave the darkness to find the vanished souls. She has no choice. It's her job to make sure no one is ever left for dead.
Release date: November 27, 2018
Publisher: Rebel Base Books
Print pages: 368
* BingeBooks earns revenue from qualifying purchases as an Amazon Associate as well as from other retail partners.
Listen to a sample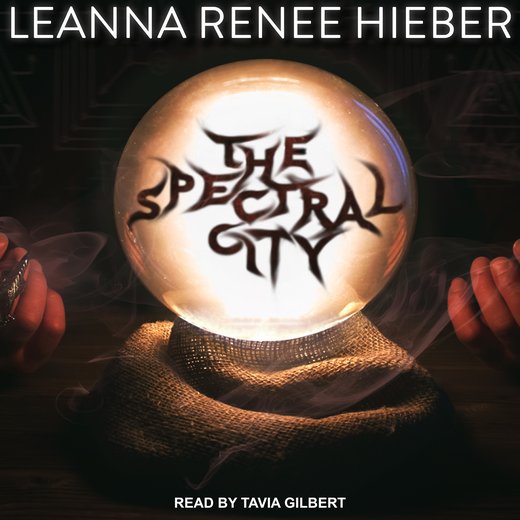 10:14:36
281.35 MB
November 27, 2018
Tantor Audio
2018
The Spectral City
Leanna Renee Hieber
Prologue

Manhattan dinner parties in the gilded 1890s had become a studied spectacle in opulence for the ruling class of the country's wealthiest city. The bustling, ever striving, never sleeping metropolis's class of most fashionable, up-to-date, technologically accessorized, bejeweled and beholden to no one but themselves were the kinds of company that the Prenze family kept, curating people and their statuses like one might think of assembling a stock portfolio.

That's how it appeared to Margaret Hathorn as she floated into the parlor for light aperitifs and a bit of music and chatter before dinner. She knew the types, their predilections, and their concerns. Margaret had been born into wealth, and during her young life she'd been quite enamored of high society's trappings, dalliances and luxuries, their petty dramas and the consequential ways their decisions affected the city. From her vantage point, she could see the full scope.

She had seen and learned much since those days of carefree and impetuous youth. Not only had she come to understand the tired adage of money not buying happiness, but she realized that Poe had been on to something with The Masque of the Red Death. There were dangers in being too shielded, too gilded, too able to make up one's own rules for life, too easily sheltered away from the horrors and cares of the world. She could feel a sense of dread here, as if the Red Death were lurking in the hallway just beyond. Maybe it was, clad in some beautiful House of Worth gown or some finely tailored frock coat with satin lapels.

It should be noted that Margaret Hathorn, herself, was dead. Her perspective was one of two worlds, and for nearly two decades, she had floated between the living and the dead. Once, on the heels of her untimely and harrowing murder, she had nearly decided to seek out the light and go unto that great, sweet Summerland that the legitimate Spiritualists spoke of. Heaven. Peace. Almost . . . The corridor of light had opened before her and she had almost sought out forgiveness in the oblivion of some great and unknowable thing.

But the spectral city kept drawing her back. New York was a body she felt destined to orbit; an otherworldly magnet. There was so much to do. There was so much to learn. There was so much to fix, to reveal, to fight for that she now knew had deep meaning; meaning that had been lost to her in a life looking into gilded frames and too many mirrors in which she'd primped lustrous curls.

Looking into the mirror here, gazing into the center of its wide gold frame and etched glass detailing, as she floated in this gaudy and ostentatious mansion she'd been drawn into, she saw a wisp of herself. Nearly entirely transparent, there was just a slight contouring of the air where her figure floated. She was nothing but a slight shade of glowing lines delineating features frozen in youth.

She had agreed to stay a consistent New York City haunt because of the living. Her ongoing work with family and friends gave her a purpose and mission she'd never had as an admittedly vapid socialite whose ill-advised curiosity had killed her like the most inelegant of cats.

But to say she had full command over her immortal coil would be a lie. Take this evening, for example. She'd been drawn into a stranger's mansion and found herself floating about a fine parlor bedecked in marble, velvet, and seemingly unending gold trim, with no idea why.

Spiritualists, as the uniquely American version of the sect had been born of Quakers, would often utter that they spoke "as the spirits moved." Sometimes the spirits too, were moved. By unseen forces and unfathomable hands. She had been moved here for reasons she hoped would reveal themselves. Surveying the room, floating along behind the present company at a sufficient distance so as not to strike up complaints of drafts or chills, offered Maggie the clues of family name and fortune. A few framed images on the parlor walls featured images of beautiful women in frothy day-dresses holding decorative bottles trimmed with golden filigree, boasting the great calming and healing powers of Prenze Tonics.

This is where she was. The Prenze mansion. This family had been on her mind. Something wasn't right about this place. About this family. And the spirit world knew it.

Maggie had followed a series of incidences and instincts to this mansion, all in a rush. There were secrets to be exposed. She now floated by a mantelpiece littered with objects d'art from around the world, and watched the festivities unfold.

There was a medium present, or at least she was costumed as such, with an embroidered set of robes, a turban, and too much eye makeup. The most theatrical ones who appropriated religious aspects of other cultures and muddied the meaning right out of them with fetishistic Orientalism tended to be the most fraudulent ones, so Maggie was certain it wasn't the medium who had summoned her directly into this space.

No. Fellow ghosts had drawn her in. Two of them, children, one dressed in traditional garb of a skirt and vest, and the other in shorts with shoulder straps, straight out of a Bavarian folk tale. Fellow ghosts appeared to Maggie's eyes as fully greyscale figures, their features more solid and clear than any reflections she could see in mirrors.

The Grimm storybook children pointed to the mantel, towards a specific object. There, between a set of candelabras, sat a simple box with a latch; an etching in the wood proclaimed it to be something of smoking supplies.

"Open it," the little girl begged.

"You're a potent spirit," the boy, likely her brother, added hopefully.

"We've been weakened here and nothing responds to our touch. Open it. Show everyone. Throw it. This family can't keep hurting all of us."

Maggie knew from working with ghost colleagues and mediums on a spate of recent mysteries that living subjects under possible investigation react in vastly different ways to poltergeist activity. She had no idea what she was about to set in motion, but she also didn't have anything to lose.

Dear Eve, the young lady to whom Maggie had pledged the work and gifts of her spirit, would be cross with her for acting on a hunch without informing her. "There are protocols, paperwork, one can't just barge in and begin levitating family belongings," she'd chide gently as if she were a bemused mother and not a nineteen-year-old taskmaster; a brisk old soul in a youthful body.

But every time Maggie had an instinct about this mansion and the people in it, results eluded her. It's why she'd never brought the Prenze name to Eve's attention. She wasn't going to send Eve's new Precinct on a wild goose chase when she was trying to prove herself. Here was the opportunity to engage with an actual object that might be hard evidence and not conjecture. No detective could work with conjecture—she'd learned it was their least favorite word and a liability they couldn't afford.

It was clear that none of the living people in the room saw the three spirits, as there were no indications, no shudders, no looking around as if suddenly unsettled, no brushing down the hackle of small hairs up the backs of their bejeweled or satin-swathed necks. A poltergeist would prove the most surprising, unsettling, and least expected event of the night. The fact that the 'medium' didn't look around or sense any presences when Maggie or the children appeared revealed the woman as a fraud.

The trick would be mustering the energy, the momentum, to move an object. She'd long since forgotten what being corporeal felt like, and that had always been the easiest way, to simply interact with an object just like you would have done in life, feeling a phantom limb in reverse.

Overthinking it was also a curse, so she just allowed herself to rifle through a memory box of every time she'd been humiliated or patronized at an event like this during her corporeal life. Just because she'd been in high society didn't mean it had ever been kind to her. It treated young, eligible women as pretty cattle sold to the highest bidder in the marketplace of social climbing. This surge of frustration was enough. She swatted a weightless hand at the metal box. It went flying and landed in the center of a floral Persian rug, opening and spilling its contents—a stack of photographic images.

Cries went up, everyone, all eight adults in the room, reacted with a jump or a vocal start at the crash of the box. Bodies leaned in, but no one approached the box or its contents—they simply stared.

The photographs were recent, by their finish and the lack of yellowing around the edges.

Maggie took a moment to stare at the pictures she'd revealed to the company. Something bothered her deeply about their nature. They were all posed, with props and scenery, costumes and crowns or halos. There was something too stilted about the figures, something eerie about their features.

Postmortem photography. When it was so common, one learned to tell the difference between images of the living and the photographs of the dead. Often a photograph of a dead loved one was the only picture a family had of them. But these were more elaborately staged than Maggie had ever seen. Far more than was any sort of custom.

Maggie stared at the ghosts of the two young children—six, perhaps seven years old—who had fierce, defiant looks on their faces as they took in the horrified expressions of the living. She saw a photograph lying there of the two of them, in their Bavarian garb, posed with a shepherd's crook and a prop sheep. Their eyes were closed but their eyelids had been painted with eyes as if they were open.

A tall, thin, dour-looking man in a fine umber brown suitcoat strode forward, his long face elongated in a frown, his auburn hair greying at the temples. The man scooped up the strewn images with an irritated sigh, glaring in the direction of Maggie, but not directly at her. This man, she determined, must be a Prenze patriarch.

"What . . . what were those . . .?" a young woman sitting on a velvet settee asked, leaning forward curiously, her blue silk gown pooling around her.

Everyone stared at their host, who offered a thin-lipped smile. "Confiscated property from a recent wayward friend. I have been known to minister to those among my station who are lost. This is a friend's collection. What an unfortunate fetish; to covet deceased who are not his kin. I took them away, lest he be haunted. Perhaps I have brought a haunt upon us instead. What an ungodly thing. Isn't that right, Madame Nightstar?"

Maggie nearly snorted at the unoriginal stage name.

The man turned to the medium, who was white as a sheet. "Oh . . . of course . . . Mr. Prenze. Of course."

Maggie wanted to interject that there was nothing inherently 'ungodly' about a spirit in the least, but the man ushered everyone out of the room to go on to dinner, saying he would be right with them all. They did so, looking warily at the upturned box, at their host, and at the 'medium' before obeying and filing out to a feast.

Once the parlor door had closed behind the last guest, the towering man closed the distance between himself and Maggie in two easy strides.

"Ah, naughty girl," the man clucked his tongue, staring at Maggie directly, eye to eye. That answered whether or not she could be seen by him. He hadn't given her any clue before. Wily. "How did you get in?" he pressed.

Maggie turned toward the children. They were gone.

"Just passing by," Maggie replied, unsure if he could hear her.

"Well, now that you're here, stay indefinitely—" the man said with a leering grin. He moved to the door, to a switch along the wall that surely controlled the lighting. She had assumed from the opulence of the home that the lighting was electric; it was too bright and had a harsher quality, and the man made it only more so as he turned a knob and the lights grew even brighter. Impossibly so. The room grew blinding. Maggie squinted, raising an incorporeal arm over her eyes as if she could shield herself.

Along with the bright light came a hum, a rising, whining, whirring, grating noise like a mechanical roar. The sound hurt. The light burned. She felt as though she were being torn apart . . . she opened her mouth to scream . . .

And then . . . utter darkness.

Chapter One

Manhattan, 1899

Only the ghosts surrounding Eve Whitby could cool her blushing cheeks as the inimitable Theodore Roosevelt, Governor of New York, stood to toast her before a host of lieutenants, detectives and patrolmen, all of whom found her highly dubious.

Many of these same New York Police Department officers found Roosevelt just as problematic. He wasn't Police Commissioner anymore—he'd used the notoriety from having cleaned up corruption within police departments and ridden it straight to the governorship, but as some detractors noted, the man couldn't leave well enough alone. So here he was meddling again with the police, and Eve was at the center of it.

While Eve tried to appear confident in most situations, being at the center of a crowd made her nerve-wracked and flushed. She was surer of her mission than she was of herself. When one followed a calling, passion was often a driving force greater than self-assuredness.

Whole departments turning to her and lifting glasses made her stomach lurch and waver like the transparent, hovering ghosts glowing about the room who made her work possible. She looked down at the hem of her black dress—simple light wool attire of clean lines and polished buttons she'd designed to look like a police matron's uniform, but in the colors of mourning. When she took on this department, she donned mourning. Not out of sorrow, but in celebration of her co-workers, the dead.

I am a woman of particular purpose . . . she thought, an internal rallying cry. Any moment Roosevelt was going to make an announcement about The Ghost Precinct, the project she'd put everything in her young life on hold to spearhead.

Taking a breath, she steadied her feet, shifting the heel of her black boots on the smooth wooden floor. She glanced in a mirror and tucked an errant thick black lock of hair back into her bun, trying to shift her pallid, nearly sickly-looking expression to something that appeared more commanding lest her wide green eyes give away her concerns.

The manner in which the three ghosts at the edges of the room were bobbing insistently in the air meant something. They had something to say and were her most vocal operatives. Vera, Olga, and little Zofia, who was actually wringing her hands. Eve had asked that her operative spirits not come tonight, for fear of distraction, but they had come regardless. She ignored them, though their behavior made her nervous. Something was wrong. But she couldn't ask what. Not now. Not in the spotlight in front of a crowd who didn't trust her.

Roosevelt, dressed in a white suit with a striped waistcoat, his iconic moustache moving with his expressive face as if it were punctuating his dialogue, adjusted his wire-rimmed glasses, lifted a glass, and bid his fellows do the same.

"I give you Miss Evelyn H. Whitby, daughter of Lord and Lady Denbury, and I bid you toast the inception of her Ghost Precinct. Now, because we live in an age of skeptics and charlatans in equal measure, we're not going public about this Precinct beyond our department heads here. We don't need undue fuss, we don't need hysterics. What we know conclusively is that this young woman's talents aided in solving two brutal murders to date. As we near a new century, no one knows what new crimes will come with it, but one thing we can count on is that there will always be the dead, with a perspective none of us have. It's foolish to leave such a resource untapped, especially as this city grows by the thousands every month.

"We await many more resolutions and have directed her to cases that have gone cold. Perhaps, dare I say, she and her colleagues may even garner a few premonitions to stop a crime before it's even begun! To the young lady and her ghosts! Whether you're a believer or not, she has assured me there's nothing to be afraid of!"

There was a polite if less than enthusiastic clap of hands.

Nothing to be afraid of . . . she repeated to herself. That's exactly your purpose on this earth, to make ghosts a less frightful reality for those who do believe. For those who can see, for those who want to know. You are the voice of the departed, you are their champion. Be proud. Show these people how proud you are to be the advocate for the dead.

Eve nodded to the politician, squared her shoulders, lifted her flute, and allowed herself to enjoy the distinct, sweet bite of a good champagne, feeling the chill of the dead on the air. If her spirits could not calm her nerves with their presence, at least their drastic temperature wafting towards her warm cheeks made her appear more poised and stoic than nervous in the spotlight.

While she was fairly certain she was the only one present who could fully see and interact with her spirit department, she didn't rule out that some members of the force might be aware that they were being watched from beyond the veil. While the ghosts had disobeyed Eve's orders to stay entirely away tonight, at least they were keeping their distance from the attendees, as some of her friends and family were too affected when more than one was in the room. When she had agreed to be noted in tonight's reception, she'd done everything in her power to avoid a scene.

The intense, inimitable Mister Roosevelt had never tried to convince the New York Metropolitan Police Force that creating a 'Ghost Precinct' was a good idea; he had simply done it. He made it Eve's purview and ensured, thanks to powerful allies, that she had access to departmental services, support, and resources. He had also kept the press out of it lest the Precinct become, as he'd said, "an unnecessary rodeo. I don't want to field calls for you to contact departed loved ones unless they can solve crimes." Roosevelt wasn't a man who much cared what other people thought when he was committed to a cause, and that quality was maybe the only thing she had in common with the bombastic legislator.

When Roosevelt had told her family he wanted to honor Eve and the Precinct, her grandmother Evelyn, whom she was named for, had taken control of the arrangements to ensure the reception was held in the grand downstairs foyer of The Players Club, Edwin Booth's beautiful brownstone complex in Gramercy Park, established in hopes of making the theatre more respectable—a much harder sell after his brother had killed President Lincoln.

While most of the city's grandest clubs were for men only, as was the Players Club's regular membership, Eve fought additional stigma regarding Spiritualists, mediums, psychics and the lot—a hierarchy of respectability that kept a celebration like this relegated only to theatrical spaces. Whether they were believed or exposed as frauds, people passionately loved or hated a woman who spoke with the dead. There was hardly a middle ground. She could not be entirely lauded, and would always be considered suspect. Eve had heard one detractor say that people like her were for 'parlor tricks, not politics'. The man had been a New York congressional representative and had stood in the way of her department when it was first being finalized with the police commissioner. Roosevelt had ignored him and had bid Eve do the same. She was hardly as positioned or as powerful as the Governor, but she tried to follow his lead.

Her parents, Lord and Lady Denbury, were sitting off to the side of the richly-appointed foyer. Poised on cushioned benches against the wood-paneled wall, they watched uncomfortably, in elegant but subdued evening dress, matching the tone of mourning dress Eve had taken on out of the kind of respect and engagement she hoped would ensure spirits' ongoing help. The mourning, she felt, was not only a uniform for this work, it was a mission.

To either side were her grandparents, Evelyn looking on in beaming pride in a stunning black gown direct from France, taking the mourning cue from her granddaughter. Her grandfather Gareth looked pleasantly baffled in a plain black suit, choosing to cope with a strange world by way of detached bemusement. This attitude had served him well thus far and kept relations with his clairvoyant wife at their most pleasant.

Eve's parents had come to know the paranormal by violent force. By murder and horror. Her father was a titled English Lord who had been targeted by a demonic society, her mother was a middle class New Yorker. She and Gran had been the only ones who had helped him and it was incredible they had survived at all, having both been targeted by abject evil. They'd survived thanks to cleverness, good friends and Gran's help. They'd fallen in love, married and remained in New York, hoping to have a normal life with their newborn Eve, praying none of what they went through would be passed on to her. They would never fully accept a life lived with ghosts at the fore and Eve could not expect them to.

The gifts Eve manifested placed a distinct strain on the family. Not wishing to bring such loving parents any inconvenience, let alone pain, she had tried to block out her gifts, once.

That effort had nearly killed her at age nine. When she'd tried to stop hearing the dead, migraines had seared her head for weeks, and she couldn't eat or sleep. Only when she opened back up to hear the murmurs of the spirit world could she breathe again, her fever breaking and life returning to her paranormal normal.

The reality of this precinct meant she could never go back on her talents. The dead would never let her. Her parents knew it, as she could tell by their haunted gazes. A new chapter had begun.

Roosevelt was staring at her. So were her ghosts, expectantly. So were all the men.

"Would you like to say a few words, Miss Whitby?" Roosevelt prompted.

"Ah." She wouldn't have liked to, really, as nerves always got the better of her if she was put on the spot in such a manner, but it was necessary.

Taking a deep breath, she thought about what was best to say. The absence of trust in the room felt like an impossible gulf to cross. She wanted to thank her mediums but that seemed odd after not having invited them. She didn't want the patrolmen, detectives and lieutenants to look at a group of four young women of vastly different backgrounds and judge them all as a threat. She wanted that pressure to land solely upon herself, and keep her Sensitives sensitive, not defensive.

Taking a deep breath, she reminded herself that this department was her mission, it was not about her. It was about respect for the great work of mediums and all the good the dead could do for the living. Just like Edwin Booth had sought to lift up the profession of theatre by this grand space. This freed her to speak with a calm, crisp tone.

"In this day and age of charlatans and magicians in the guise of Spiritualism," she said. "I blame no one for their skepticism. In fact, I encourage it. Skepticism offers investigative integrity. A questioning mind solves a case. My specific and unprecedented Precinct hopes to earn continued trust by the thing we can all always agree on: solving crime and easing suffering."

She could see the unsure faces before her, some bemused, some seeming openly hostile. Every woman entering a predominantly male field had encountered these same faces, even without her subject matter being additional fodder for derision. Her nerves crested but she kept talking. She believed, above all, in her mission, and no critic would change that.

"However unorthodox the means," she continued, raising her voice and commanding more of the room, "however unprecedented the methods, our aims are mutual and always will be. Ghosts are far too often misunderstood, and I hope that by working with them in proven, positive ways, our work can begin to change the perception of hauntings. Spirits can walk where we cannot, hear what fails our mortal senses, and keep the most vigilant of watches when we must take our rest. I hope you will see them as a help, not a horror." She finished not with a request but a demand: "Thank you for your support."

"Hear, hear!" said Ambassador Bishop, a tall, striking, silver-haired man across the room. Impeccably dressed in a black silk tailcoat and charcoal brocade waistcoat, the diplomat to England and lifelong friend of the family lifted his champagne glass for a second toast. It was Bishop who had gotten Roosevelt involved in the first place, since his present ambassadorship did not carry the same legislative control as when he had been a New York senator. In those days he'd have seen to such a department himself.

Bishop's wife, Clara, a sharp-featured woman many years his junior, with dark golden hair that matched the gold core of her piercing eyes, stood at his elbow in a graceful plum gown. Clara stared at Eve with a fierce pride that held none of her family's hesitance. Eve owed more to Clara than either of them would admit to anyone but each other. Clara nodded at Eve as if she knew she was passing off work she could no longer do herself.

"Hear indeed, Ambassador!" Roosevelt exclaimed, grinning at the Bishops. "Now enjoy refreshments and the fine company! I'll be here if any of you men need me and Miss Whitby has been gracious enough to agree to answer some questions from the department present, provided they are posited with all due respect. Respect, and transparency. I didn't clean this filthy force up for nothing. Well, I reckon the Ghost Precinct will be our most transparent department yet! Ha!" Roosevelt slapped a hand on a serving table and enjoyed his pun amidst a few groans.

When asked Eve's opinion on Mister Roosevelt, she had once replied that he was a man who wanted to preserve wilderness so he could shoot things within it. That summed him up, she concluded. She found many o. . .
We hope you are enjoying the book so far. To continue reading...
The Spectral City
Leanna Renee Hieber
Copyright © 2023 All Rights Reserved