The Snow Child
Available in:
eBook
Paperback
Audiobook
Hardcover
Book info
Sample
Audiobook
Media
Author updates
Lists
Synopsis
Alaska, 1920: a brutal place to homestead, and especially tough for recent arrivals Jack and Mabel. Childless, they are drifting apart-he breaking under the weight of the work of the farm; she crumbling from loneliness and despair. In a moment of levity during the season's first snowfall, they build a child out of snow. The next morning the snow child is gone-but they glimpse a young, blond-haired girl running through the trees.
This little girl, who calls herself Faina, seems to be a child of the woods. She hunts with a red fox at her side, skims lightly across the snow, and somehow survives alone in the Alaskan wilderness. As Jack and Mabel struggle to understand this child who could have stepped from the pages of a fairy tale, they come to love her as their own daughter. But in this beautiful, violent place, things are rarely as they appear, and what they eventually learn about Faina will transform all of them.
Release date: November 6, 2012
Publisher: Little, Brown and Company
Print pages: 400
* BingeBooks earns revenue from qualifying purchases as an Amazon Associate as well as from other retail partners.
Listen to a sample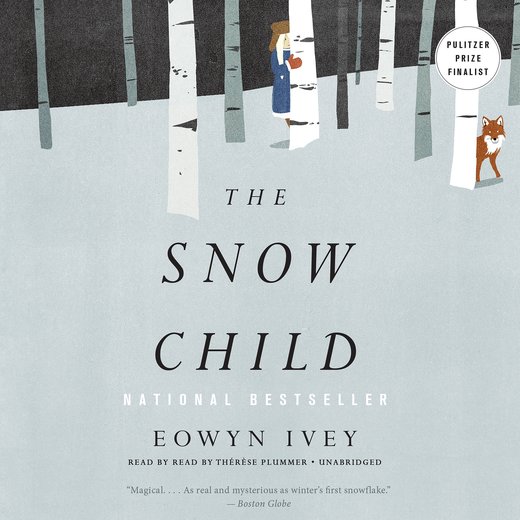 10:57:26
300.96 MB
9781549119118
July 31, 2018
Blackstone HBG
The Snow Child
Eowyn Ivey
"If Willa Cather and Gabriel García Márquez had collaborated on a book, The Snow Child would be it. It is a remarkable accomplishment—a combination of the most delicate, ethereal, fairy-tale magic and the harsh realities of homesteading in the Alaskan wilderness. Stunningly conceived, beautifully told, this story has the intricate fragility of a snowflake and the natural honesty of the dirt beneath your feet, the unnerving reality of a dream in the night. It fascinates, it touches the heart. It gallops along even as it takes time to pause at the wonder of life and the world in which we live. And it will stir you up and stay with you for a long, long time."

—Robert Goolrick, New York Times bestselling author of A Reliable Wife

"The real magic of the story is that it's never as simple as it seems, never moves exactly in the direction you think it must…. Sad as the story often is, with its haunting fairy-tale ending, what I remember best are the scenes of unabashed joy."

—Ron Charles, Washington Post

"A stunning and startling adult novel, full of wonder, longing, hope, pain, and beauty…. Readers will be drawn in by the mystery and Ivey's elegant language. The cold and remoteness are deliciously rendered, the imagery fantastic…. In Ivey's capable hands, The Snow Child will keep you frozen in its spell until the very last word."

—Sarah Willis, Cleveland Plain Dealer

"Bewitching…. Ivey's intimate knowledge of the Alaskan wilderness… infuses her novel with an intangible beauty. Despite the thick desperation of her characters, Ivey focuses on the bright yet fleeting light that enters their lives, and as one character urges, chooses 'joy over sorrow.' "

—Meganne Fabrega, Minneapolis Star Tribune

"Ivey, a native Alaskan, knows how to make the frost glow in a window, how to describe light flickering through birches in a way that plays with the reader's imagination…. The book is full of reflections in dark windows, lamplight, alpenglow… Ivey sets up the two most powerful forces in any story: fear on the one hand, potential for the miraculous on the other."

—Susan Salter Reynolds, Newsday

"Ivey's prose is beautiful and precise; her descriptions of the landscape evoke a wilderness that changes with the weather and reflects the emotional state of the people who live there. Sometimes it's glorious… sometimes it's terrifying…. Mabel is not just a woman who longs for a child; she is a woman who longs to find her purpose in life…. Through Ivey's magical telling, her longing feels as real and mysterious as winter's first snowflake."

—Buzzy Jackson, Boston Globe

"The Snow Child keeps the once-upon-a-time quality of a fairy tale while just skating the edge of magical realism…. While fairy tales don't normally run on so long, Ivey peoples hers with kindhearted characters it's a pleasure to spend four hundred pages with."

—Yvonne Zipp, Christian Science Monitor

"Ivey's writing captures an Alaska that is at least as strong as any of the characters challenging the wilderness. She writes lyrically and lovingly of hardship, friendships, and the bond between neighbors. Mabel and Jack's love for their new home grows gradually but as surely as the reader's love for the characters and the story they live."

—Robin Vidimos, Denver Post

"A fresh and exquisite adaptation of the snow maiden folktale in which a child is brought to life from a figure made of snow…. An exquisite tale of love and transformation set against the harshness and beauty of 1920s Alaska homesteading."

—Shelf Awareness

"A fluid, absorbing, beautifully executed debut novel; highly recommended."

—Library Journal (starred review)

"A magical yet brutally realistic tale."

—Karen Holt, O, the Oprah Magazine

"Unwinding alongside the mystery of Faina is the very palpable reality of Alaska. Ivey's depictions of the state she was born in are literally breathtaking. You feel the snow and cold in your lungs, as if you've inhaled the place's icy air, or spent time crunching through pure white blinding snow that comes up to the knees. Very rarely has the beauty and unyieldingness of nature been described so sensuously. The reader also cares about Ivey's characters…. such a splendid, magical book."

—Arlene McKanic, BookPage

"This will easily be one of the best novels of 2012…. The story grabs from the beginning and does not let go. Readers will find it hard to put the book down, so gripping is the narrative."

—Anita J. Firebaugh, Roanoke Times

"A magical story…. We loved the wild beauty of the snow child, and the relationships that grow around her."

—San Francisco Chronicle

"The Snow Child is a wonderful and unusual book…. The author, herself a lifelong Alaskan, has captured the harsh landscape of beauty and danger with stunning detail, from windblown snow, brilliant fireweed, lurking and starving animals, to the sadness of now middle-aged Mabel…. Ivey's prose is all the more delicious because it is so seasoned with a place she knows and loves, yet she understands its dangers. A fabulous first novel…. Readers everywhere are going to enjoy this book."

—Susan Richmond, Yakima Herald-Republic

"Ivey's writing sparkles, and her plot and subplots ensorcell. Her prose is reminiscent of F. Scott Fitzgerald: seductive in its swift, punchy passages of dialogue and its depiction of the ferocious, shimmering wilderness as a vivid character in its own right…. This absorbing narrative of people surviving in the midst of merciless beauty is a worthy and rewarding use of your winter nights."

—Sheila Anne Feeney, Newark Star-Ledger

"Blends the practical with a feeling of enchantment…. Ivey has found a lovely balance between the harsh realities of life in 1920s Alaska and the lush dreaminess of a fairy tale…. This debut novel serves as a grand reminder of the beauty of winter—and the power of a single wish."

—Pennie Clark Ianniciello, Costco Connection

"The more magical elements lend a mystic, weighty quality to the text…. Ivey's descriptions of the flora and fauna of Alaska are rich…. Literarily, Ivey is to the natural world of the Far North what Charles Frazier has been to the South."

—Ben Anderson, Alaska Dispatch

"A stunning debut novel…. We drift in and out of uncertainty as the whole spellbinding story unfolds."

—Gill Hudson, Reader's Digest

"The mystery feels less important than Ivey's character portraits. The story spans more than a decade, and provides lovely looks at the comforts of old relationships and the fire of new love, along with exploring the challenges of children becoming adults and of adults remembering childish joy…. But the moral is that all beautiful things are fleeting and finite, and people who gain joy from experiencing them shouldn't feel too much sorrow for their passing."

—Samantha Nelson, A.V. Club

Wolverine River, Alaska, 1920

Mabel had known there would be silence. That was the point, after all. No infants cooing or wailing. No neighbor children playfully hollering down the lane. No pad of small feet on wooden stairs worn smooth by generations, or clackety-clack of toys along the kitchen floor. All those sounds of her failure and regret would be left behind, and in their place there would be silence.

She had imagined that in the Alaska wilderness silence would be peaceful, like snow falling at night, air filled with promise but no sound, but that was not what she found. Instead, when she swept the plank floor, the broom bristles scritched like some sharp-toothed shrew nibbling at her heart. When she washed the dishes, plates and bowls clattered as if they were breaking to pieces. The only sound not of her making was a sudden "caw, cawww" from outside. Mabel wrung dishwater from a rag and looked out the kitchen window in time to see a raven flapping its way from one leafless birch tree to another. No children chasing each other through autumn leaves, calling each other's names. Not even a solitary child on a swing.



There had been the one. A tiny thing, born still and silent. Ten years past, but even now she found herself returning to the birth to touch Jack's arm, stop him, reach out. She should have. She should have cupped the baby's head in the palm of her hand and snipped a few of its tiny hairs to keep in a locket at her throat. She should have looked into its small face and known if it was a boy or a girl, and then stood beside Jack as he buried it in the Pennsylvania winter ground. She should have marked its grave. She should have allowed herself that grief.

It was a child, after all, although it looked more like a fairy changeling. Pinched face, tiny jaw, ears that came to narrow points; that much she had seen and wept over because she knew she could have loved it still.



Mabel was too long at the window. The raven had since flown away above the treetops. The sun had slipped behind a mountain, and the light had fallen flat. The branches were bare, the grass yellowed gray. Not a single snowflake. It was as if everything fine and glittering had been ground from the world and swept away as dust.

November was here, and it frightened her because she knew what it brought—cold upon the valley like a coming death, glacial wind through the cracks between the cabin logs. But most of all, darkness. Darkness so complete even the pale-lit hours would be choked.

She entered last winter blind, not knowing what to expect in this new, hard land. Now she knew. By December, the sun would rise just before noon and skirt the mountaintops for a few hours of twilight before sinking again. Mabel would move in and out of sleep as she sat in a chair beside the woodstove. She would not pick up any of her favorite books; the pages would be lifeless. She would not draw; what would there be to capture in her sketchbook? Dull skies, shadowy corners. It would become harder and harder to leave the warm bed each morning. She would stumble about in a walking sleep, scrape together meals and drape wet laundry around the cabin. Jack would struggle to keep the animals alive. The days would run together, winter's stranglehold tightening.

All her life she had believed in something more, in the mystery that shape-shifted at the edge of her senses. It was the flutter of moth wings on glass and the promise of river nymphs in the dappled creek beds. It was the smell of oak trees on the summer evening she fell in love, and the way dawn threw itself across the cow pond and turned the water to light.

Mabel could not remember the last time she caught such a flicker.

She gathered Jack's work shirts and sat down to mend. She tried not to look out the window. If only it would snow. Maybe that white would soften the bleak lines. Perhaps it could catch some bit of light and mirror it back into her eyes.

But all afternoon the clouds remained high and thin, the wind ripped dead leaves from the tree branches, and daylight guttered like a candle. Mabel thought of the terrible cold that would trap her alone in the cabin, and her breathing turned shallow and rapid. She stood to pace the floor. She silently repeated to herself, "I cannot do this. I cannot do this."

There were guns in the house, and she had thought of them before. The hunting rifle beside the bookshelf, the shotgun over the doorway, and a revolver that Jack kept in the top drawer of the bureau. She had never fired them, but that wasn't what kept her. It was the violence and unseemly gore of such an act, and the blame that would inevitably come in its wake. People would say she was weak in mind or spirit, or Jack was a poor husband. And what of Jack? What shame and anger would he harbor?

The river, though—that was something different. Not a soul to blame, not even her own. It would be an unfortunate misstep. People would say, if only she had known the ice wouldn't hold her. If only she'd known its dangers.



Afternoon descended into dusk, and Mabel left the window to light an oil lamp on the table, as if she was going to prepare dinner and wait for Jack's return, as if this day would end like any other, but in her mind she was already following the trail through the woods to the Wolverine River. The lamp burned as she laced her leather boots, put her winter coat on over her housedress, and stepped outside. Her hands and head were bare to the wind.

As she strode through the naked trees, she was both exhilarated and numb, chilled by the clarity of her purpose. She did not think of what she left behind, but only of this moment in a sort of black-and-white precision. The hard clunk of her boot soles on the frozen ground. The icy breeze in her hair. Her expansive breaths. She was strangely powerful and sure.

She emerged from the forest and stood on the bank of the frozen river. It was calm except for the occasional gust of wind that ruffled her skirt against her wool stockings and swirled silt across the ice. Farther upstream, the glacier-fed valley stretched half a mile wide with gravel bars, driftwood, and braided shallow channels, but here the river ran narrow and deep. Mabel could see the shale cliff on the far side that fell off into black ice. Below, the water would be well over her head.

The cliff became her destination, though she expected to drown before she reached it. The ice was only an inch or two thick, and even in the depths of winter no one would dare to cross at this treacherous point.

At first her boots caught on boulders, frozen in the sandy shore, but then she staggered down the steep bank and crossed a small rivulet where the ice was thin and brittle. She broke through every other step to hit dry sand beneath. Then she crossed a barren patch of gravel and hiked up her skirt to climb over a driftwood log, faded by the elements.

When she reached the river's main channel, where water still coursed down the valley, the ice was no longer brittle and white but instead black and pliant, as if it had only solidified the night before. She slid her boot soles onto the surface and nearly laughed at her own absurdity—to be careful not to slip even as she prayed to fall through.

She was several feet from safe ground when she allowed herself to stop and peer down between her boots. It was like walking on glass. She could see granite rocks beneath the moving, dark turquoise water. A yellow leaf floated by, and she imagined herself swept alongside it and briefly looking up through the remarkably clear ice. Before the water filled her lungs, would she be able to see the sky?

Here and there, bubbles as large as her hand were frozen in white circles, and in other places large cracks ran through. She wondered if the ice was weaker at those points, and if she should seek them out or avoid them. She set her shoulders, faced straight ahead, and walked without looking down.

When she crossed the heart of the channel, the cliff face was almost within arm's length, the water was a muffled roar, and the ice gave slightly beneath her. Against her will, she glanced down, and what she saw terrified her. No bubbles. No cracks. Only bottomless black, as if the night sky were under her boots. She shifted her weight to take another step toward the cliff, and there was a crack, a deep, resonant pop like a massive Champagne bottle being uncorked. Mabel spread her feet wide and her knees trembled. She waited for the ice to give way, for her body to plunge into the river. Then there was another thud, a whoompf, and she was certain the ice slumped beneath her boots, but in millimeters, nearly imperceptible except for the awful sound.

She waited and breathed, and the water didn't come. The ice bore her. She slid her feet slowly, first one, then the other, again and again, a slow shuffle until she stood where ice met cliff. Never had she imagined she would be here, on the far side of the river. She put her bare palms to the cold shale, then the entire length of her body, until her forehead was pressed to it and she could smell the stone, ancient and damp.

Its cold began to seep into her, so she lowered her arms to her sides, turned from the cliff face, and began the journey back the way she had come. Her heart thudded in her throat. Her legs were unsteady. She wondered if now, as she made her way home, she would break through to her death.

As she neared solid ground, she wanted to run to it, but the ice was too slick beneath her boots, so she slid as if ice-skating and then stumbled up the bank. She gasped and coughed and nearly laughed, as if it had all been a lark, a mad dare. Then she bent with her hands on her thighs and tried to steady herself.

When she slowly straightened, the land was vast before her. The sun was setting down the river, casting a cold pink hue along the white-capped mountains that framed both sides of the valley. Upriver, the willow shrubs and gravel bars, the spruce forests and low-lying poplar stands, swelled to the mountains in a steely blue. No fields or fences, homes or roads; not a single living soul as far as she could see in any direction. Only wilderness.

It was beautiful, Mabel knew, but it was a beauty that ripped you open and scoured you clean so that you were left helpless and exposed, if you lived at all. She turned her back to the river and walked home.



The lantern was still burning; the kitchen window glowed as she approached the cabin, and when she opened the door and stepped inside, warmth and flickering light overcame her. Everything was unfamiliar and golden. She had not expected to return here.

It seemed she was gone hours, but it was not yet six in the evening, and Jack hadn't come in. She took off her coat and went to the woodstove, letting the heat sink painfully into her hands and feet. Once she could open and close her fingers, she took out pots and pans, marveling that she was fulfilling such a mundane task. She added wood to the stove, cooked dinner, and then sat straight-backed at the rough-hewn table with her hands folded in her lap. A few minutes later, Jack came through the door, stomped his boots, and dusted straw from his wool coat.

Certain he would somehow know what she had survived, she watched and waited. He rinsed his hands in the basin, sat across from her, and lowered his head.

"Bless this food, Lord," he mumbled. "Amen."

She set a potato on each of their plates beside boiled carrots and red beans. Neither of them spoke. There was only the scraping of knives and forks against plates. She tried to eat, but could not force herself. Words lay like granite boulders in her lap and when at last she spoke, each one was heavy and burdensome and all she could manage.

"I went to the river today," she said.

He did not lift his head. She waited for him to ask why she would do such a thing. Maybe then she could tell him.

Jack jabbed at the carrots with his fork, then swabbed the beans with a slice of bread. He gave no indication he had heard her.

"It's frozen all the way across to the cliffs," she said in a near whisper. Her eyes down, her breath shallow, she waited, but there was only Jack's chewing, his fork at his plate.

Mabel looked up and saw his windburned hands and frayed cuffs, the crow's feet that spread at the corners of his downturned eyes. She couldn't remember the last time she had touched that skin, and the thought ached like loneliness in her chest. Then she spotted a few strands of silver in his reddish-brown beard. When had they appeared? So he, too, was graying. Each of them fading away without the other's notice.

She pushed food here and there with her fork. She glanced at the lantern hanging from the ceiling and saw shards of light stream from it. She was crying. For a moment she sat and let the tears run down either side of her nose until they were at the corners of her mouth. Jack continued to eat, his head down. She stood and took her plate of food to the small kitchen counter. Turned away, she wiped her face with her apron.

"That ice isn't solid yet," Jack said from the table. "Best to stay off of it."

Mabel swallowed, cleared her throat.

"Yes. Of course," she said.

She busied herself at the counter until her eyes were clear, then returned to the table and spooned more carrots onto Jack's plate.

"How is the new field?" she asked.

"It's coming." He forked potato into his mouth, then wiped it with the back of his hand.

"I'll get the rest of the trees cut and skidded in the next few days," he said. "Then I'll burn some more of the stumps out."

"Would you like me to come and help? I could tend the stump fires for you."

"No, I'll manage."



That night in bed, she had a heightened awareness of him, of the scent of straw and spruce boughs in his hair and beard, the weight of him on the creaky bed, the sound of his slow, tired breaths. He lay on his side, turned away from her. She reached out, thinking to touch his shoulder, but instead lowered her arm and lay in the darkness staring at his back.

"Do you think we'll make it through winter?" she asked.

He didn't answer. Perhaps he was asleep. She rolled away and faced the log wall.

When he spoke, Mabel wondered if it was grogginess or emotion that made his voice gravelly.

"We don't have much choice, do we?"

The morning was so cold that when Jack first stepped outside and harnessed the horse, his leather boots stayed stiff and his hands wouldn't work right. A north wind blew steadily off the river. He'd have liked to stay indoors, but he had already stacked Mabel's towel-wrapped pies in a crate to take to town. He slapped himself on the arms and stomped his feet to get the blood flowing. It was damned cold, and even long underwear beneath denim seemed a scant cotton sheet about his legs. It wasn't easy, leaving the comfort of the woodstove to face this alone. The sun threatened to come up on the other side of the river, but its light was weak and silvery, and not much comfort at all.

Jack climbed up into the open wagon and shook the reins. He did not look back over his shoulder, but he felt the cabin dwindle into the spruce trees behind him.

As the trail passed through a field, the horse seemed to trip on its own feet, and then it tossed its head. Jack slowed the wagon to a stop and scanned the field and distant trees, but saw nothing.

Goddamned horse. He'd wanted a nice mellow draft, something slow and strong. But horses were scarcer than hen's teeth up here, and he didn't have much to choose from—a swaybacked old mare that looked to be on her last legs and this one, young and barely broken, better suited to prancing around a ring than working for a living. Jack was afraid it would be the death of him.

Just the other day he'd been skidding logs out of the new field when the horse spooked at a branch and knocked Jack to the ground. He barely missed being crushed by the log as the horse charged ahead. His forearms and shins were still tore up, and his back pained him every morning.

And there lay the real problem. Not the nervous horse, but the tired old man. The truth squirmed in the pit of his stomach like a thing done wrong. This was too much work for a man of his age. He wasn't making headway, even working every day as long and hard as he could. After a long summer and snowless autumn, he was still nowhere near done clearing enough land to earn a living. He got a pitiful little potato harvest off one small field this year, and it scarcely did more than buy flour for the winter. He figured he had enough money left from selling his share in the farm Back East to last them one more year, but only if Mabel kept selling pies in town.

That wasn't right either, Mabel scrubbing her own rough-cut floors and selling baked goods on the side. How different her life could have been. The daughter of a literature professor, a family of privilege, she could have studied her books and art and spent her afternoons consorting with other fine women. Servants and china teacups and petit fours baked by someone else.

As he rode through the end of a half-cleared field, the horse jerked again, tossed its head and snorted. Jack pulled back on the reins. He squinted and studied the fallen trees around him and beyond them the standing birches, spruce, and cottonwoods. The woods were silent, not even the twitter of a bird. The horse stamped a hoof on the hard ground and then was still. Jack tried to quiet his breathing so he could see and hear.

Something was watching him.

It was a foolish thought. Who would be out here? He wondered not for the first time if wild animals could give that feeling. Dumb beasts, like cows and chickens, could stare at a man's back all day and not give a prickle on his neck. But maybe woodland creatures were different. He tried to picture a bear shuffling through the forest, pacing back and forth and eyeing him and the horse. Didn't seem likely, getting this close to winter. They should be looking to den up.

His eyes caught now and then on a stump or a shadowy spot among the trees. Shrug it off, old man, he told himself. You'll drive yourself crazy looking for something that's not there.

He went to shake the reins, but then peered one last time over his shoulder and saw it—a flash of movement, a smudge of brownish red. The horse snorted. Jack turned slowly in the wagon seat.

A red fox darted among the fallen trees. It disappeared for a minute but popped up again, closer to the forest, running with its fluffy tail held low to the ground. It stopped and turned its head. For a moment its eyes locked with Jack's, and there, in its narrowing golden irises, he saw the savagery of the place. Like he was staring wilderness itself straight in the eye.

He faced forward in the wagon, shook the reins, and let the horse gather to a trot, both of them eager to put the fox behind them. For the next hour, he rode hunched and cold as the wagon bumped along through miles of untouched forest. As he neared town, the horse picked up its pace, and Jack had to slow it to keep the crate from spilling out of the wagon.



Back home, Alpine wouldn't have been called a town at all. It was nothing more than a few dusty, false-fronted buildings perched between the train tracks and the Wolverine River. Nearby, several homesteaders had stripped the land clear of trees before abandoning it. Some went off to pan gold or work for the railroad, but most had hightailed it home with no plans of ever returning to Alaska.

Jack carried the crate of pies up the steps to the hotel restaurant, where the owner's wife opened the door for him. Well into her sixties, Betty wore her hair short and mannish and ran the place like a one-woman show. Her husband, Roy, worked for the territorial government and was rarely about.

"Good morning, Betty," Jack said.

"It's ugly as far as I can see." She slammed the door behind them. "Colder than hell, and no sign of snow. Never seen anything like it. Got some of Mabel's pies?"

"Yes, ma'am." He set them on the counter and unwrapped them from the towels.

"That woman sure can bake," she said. "Everybody's always asking after them pies."

"Glad to hear it."

She counted a few bills from the till and put them on the counter beside the crate.

"So I know I'm risking. . .
We hope you are enjoying the book so far. To continue reading...
The Snow Child
Eowyn Ivey
Copyright © 2022 All Rights Reserved