Book info
Sample
Audiobook
Media
Author updates
Lists
Synopsis
ONE DETECTIVE. ONE MURDERER. BUT WHICH IS WHICH?
'Fresh, gripping and addictive! An absolute gem' ALLIE REYNOLDS
'If there is a finer crime debut this year, it will be a surprise' DAILY MAIL
'Clever and bold' LISA GARDNER
'The book everyone's going to be talking about' KAREN DIONNE
'A brilliant debut from an excellent new voice ' MY WEEKLY

________________

Remie Yorke has one shift left at the Mackinnon Hotel in the remote Scottish Highlands before she leaves for good. Then Storm Ezra hits.

As temperatures plummet and phone lines go down, an injured man stumbles inside. PC Don Gaines was in a terrible accident on the mountain road. The only other survivor: the prisoner his team was transporting.

When a second stranger arrives, Remie reluctantly lets him in from the blizzard. He, too, is hurt. He claims to be a police officer. His name is also Don Gaines.

Someone is lying and, with no means of escape, Remie must work out who. If the cold doesn't kill her, one of these men will get there first . . .
________________


What real readers are saying about The Second Stranger


'Plenty of heart-stopping moments, twists and turns. A fast-paced story, atmospheric, intriguing, with a great ending. I loved it' ⭐ ⭐ ⭐ ⭐ ⭐

'I enjoyed the excellent descriptions of the hotel, weather and conditions . . . I felt every gust of wind and slammed door' ⭐ ⭐ ⭐ ⭐ ⭐

'A swiftly moving and menacing plot. The remote, atmospheric and unsettling backdrop make this eerie, chilling and unpredictable suspense' ⭐ ⭐ ⭐ ⭐ ⭐

'The suspense and drama build throughout . . . Very clever and unexpected' ⭐ ⭐ ⭐ ⭐ ⭐

'I could not put it down. Would definitely recommend!' ⭐ ⭐ ⭐ ⭐ ⭐
Release date: January 19, 2023
Publisher: Little, Brown Book Group
Print pages: 70000
* BingeBooks earns revenue from qualifying purchases as an Amazon Associate as well as from other retail partners.
Listen to a sample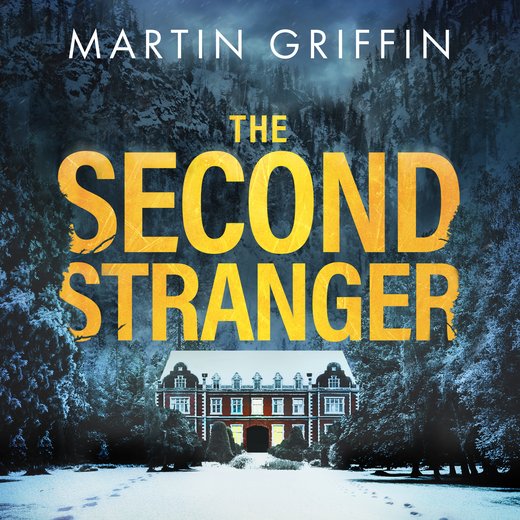 08:16:03
227.08 MB
January 19, 2023
Little, Brown
2023
The Second Stranger
Martin Griffin
Since the night was going to be a milestone for me, I poured a plastic cup of wine and took a moment to watch the storm.

It was a quarter to seven, I'd handed my notice in twenty-eight days before and I was about to begin my final ever night shift. Leaning against the snow-covered balustrade of my balcony, I was dreaming of the following morning; of packing my meagre belongings, driving my Nissan into Aberdeen, and dropping it off with its eBay buyer. Car sold and cash in my purse, I'd be at the airport for my 11 a.m. flight. A hop to Heathrow, on to Madrid for my connection, and then heading out to Santiago, Chile, by tomorrow evening. Tomorrow evening.

The wild possibility of this unburdening, an escape I'd dreamt about for fifteen years, made me dizzy. I sipped the wine. Thinking like this felt something close to lunacy. My final night at the Mackinnon. It was a chance to say goodbye to my old self; to escape abroad a new person. I might not have box-ticked the other expectations associated with one's early thirties – I had no career any more, no permanent home, no children and, after tonight, no job – but my final shift felt like it was the start of something. Live-in staff all got attic rooms with balconies, but the remainder of my colleagues had started their leave so I was the third floor's only occupant. It seemed somehow appropriate, given the course of my life so far, that I was marking this special occasion alone, a woman in a winter jacket and beanie hugging herself against the snow.

The wine was the cheap stuff that came in minibar bottles, but it tasted good enough as I cast my eyes across the Mackinnon's grounds for what might be the final time. On summer days my quarters had a beautiful view, but early February was different. Loch Alder was frozen over the colour of Lakeland slate, a silent presence between our two mountains: Bray Crag on its far shore, snow-covered and wild, and, rising above the hotel on this side of the water, the peak of Farigaig. Tonight it was nothing but a silhouette on tracing paper, though the tangle of its steeply forested flanks came all the way down to the hotel's perimeter fence. The sight of the loch, the mountains and the distant prison had become my life this last eighteen months. Most of HMP Porterfell was hidden by the pine plantations of Farigaig's foothills, but the lights of the exercise yard were bright points haloed by driven snow, and the north watchtower was visible. I raised my cup in its direction in a final silent toast to Cameron and sipped, relishing the warmth of the alcohol.

I was still staring at the place when I heard the klaxon's wail.

The sound was a familiar one. When trouble flared at Porterfell, as it often did, overcrowded and outmoded as it was, the first signs were always barking sirens and strobing lights. I felt a sudden rush of memory. I had to set my cup down and steady my pulse with big, deep breaths. A year ago, a Porterfell riot had killed my brother. The same wail of sirens had marked its beginning. Back then there'd been the flicker of fire against distant brickwork, a windborne roar of crowd noise and a night punctuated by the droning engines of security vehicles going back and forth along the mountain road. I hadn't known Cameron was dead at first. Next of kin weren't informed until later. In a fifty-five-inmate brawl, it's apparently impossible to finger the murderer of a particular individual and, because unlawful killing was hard to prove, Cameron's passing was recorded as misadventure. So now my brother was gone, his death remained unpunished and I'd been stranded here, a thirty-three-year-old woman working night shift at a highland hotel, studying the place that had penned him in.

I watched the distant buildings, listening to the moan of the siren. Through curtains of snowfall across the loch, I could see the intermittent flicker of lights. The prison gates were open now. Three distant vehicles were pulling out; a car either side of a van that looked like a high-security transport. That might explain the disturbance. An inmate leaving, violence erupting as desperate scores were settled. The siren continued its looping moan and I watched the convoy turn left towards us, setting off along the mountain road in our direction. I thought about the drivers, thought about my two-hour drive tomorrow. I'd have the advantage of daylight, but we'd had plenty of snow in the last week and plunging temperatures had hardened the drifts into sculptured pack. The wind had changed direction, polar air from Siberia triggering red weather warnings, and Storm Ezra had arrived, bringing new snow and turning the old into ice. Driving on a night like this was surely an act of desperation.

By morning it would be clearer, though. It would be. Everything ended in twelve hours. At 7 a.m., Mitchell, my colleague on the day shift, would park his Fiat 500 outside reception and trot across the tarmac in his brogues and hotel livery. In the course of a fifteen-minute handover I'd bring him up to date for the last time, put my bags in the boot of my car and go.

I retreated back into my room, shutting the noise out and warming myself at the electric heater before shucking off my coat and dressing for work. I tugged a vest on beneath my blouse for extra warmth, pulled on my trouser-suit and buttoned my jacket before removing my badge. Remie Yorke, it said. Underneath, the gold plastic was embossed with, How can I help? The Mackinnon's last two guests knew me by name so I left the badge on my bedside table next to the few items I hadn't yet packed: my pro-turf hockey ball, my Eyewitness guide to Chile and Easter Island, my Spanish phrasebook. Locking my door behind me, I followed the third-floor corridor past empty rooms to the old service stairs. The prison sirens must have stopped; the only sound as I descended was the old hotel creaking in the rising wind.

The Mackinnon is sixteen guest rooms in a grand Victorian lodge tucked into a dell at the bottom of Farigaig, steep-roofed, with turret windows and two spires rising above squat chimneys. Guests adore the conical clocktower, the formal gardens and the wisteria across the entrance. When I'd arrived to take up the post of night manager eighteen months ago, all I'd needed was somewhere to work that was driving-distance from my brother Cameron's prison cell. To find instead this loch-side curio had been a sliver of good news in a world of bad. At first, I'd cherished the hope I might actually fall in love with the place – my flat in Leith had always felt temporary and, even though I didn't visit often, I'd felt cast adrift when Mum and Dad split up and the Northumberland family home was sold – and those first few months at the Mackinnon really had seemed like they might be a fresh start. I'd almost allowed myself to relax. Once or twice, I'd even woken in the morning refreshed. Then there'd been the violence at the prison and Cameron's death. After that, I'd been forced to return to my previous existence of permanent, exhausted vigilance. But those days were nearly over now. In sixteen hours, I'd be on a plane.

Downstairs I checked reception then took the main corridor towards the bar. The grandfather clock stood sentry outside the garden room. The kitchens still smelt of roast game and garlic even though the catering staff had spent the afternoon buffing worktops and freezing leftovers in preparation for the winter break. Across from the kitchens, at the Mackinnon's loch-facing side, was the bar. As the night manager I was responsible for its running until last orders. It was a task I relished; the fire banked high, the logs stacked and drying, the leather chairs warm.

I tended to get the place to myself, our only February customers being prison staff taking a dram on the way home, and I was looking forward to some solitude. I was to be disappointed. There was a figure at the taps. Jaival Parik – Jai – one of our two remaining guests; late thirties, wearing a blazer over a cashmere sweater. He'd brushed his hair back into a bun and sported a pair of thick-rimmed glasses and a single AirPod. He'd been in the bar last night too, and we'd introduced ourselves. Jai had sat with his back to the near-empty lounge, eyes on his screen while he scrolled emails and worked his way through a large glass of Malbec. He was particular about his wine, it turned out; we'd covered South American reds briefly – I knew nothing but I'd told him about Santiago and he'd recommended a vineyard tour. We'd talked walking routes up Farigaig, and mountain biking. And of course we'd discussed the topic on everyone's lips: Storm Ezra.

'One night left!' he beamed at me as I entered. 'I was going to buy you a drink to celebrate but I guess you're on duty.' I rounded the bar, smiling, and he ordered another Malbec, thumbing his phone.

'Had a good day?' I asked as I poured his drink.

He nodded towards the French windows at the far side of the bar, locked up against the weather. 'It's been kind of restricted,' he said, grinning. 'I'm starting to regret my timing.'

I knew exactly what he meant. I thought of the airport and nearly screamed at the cruelty of it. Instead I took a breath and said, 'I'm sure you'll be able to get some walking in.'

He sipped his wine and swirled his glass. 'Let's hope so,' he said. 'So, what brings you out to the middle of nowhere? Got family up here?'

I thought about Cameron, about Porterfell. 'Guess I just grew sick of the city.' I said.

'Know what you mean. Cairngorms are majestic. When you can see them through the snow.' We laughed. I tidied the bar and he resumed. 'Do you find the place a little remote, though? No shops, no internet.'

I wasn't one for sharing. I shrugged. 'It's beautiful. And the net's only down because of the weather.'

He indicated his phone. 'Could do with some connectivity,' he said. 'Few things I need to deal with. Seen a recent forecast?'

Not since earlier in the day, when talk of possible snow slips had sent the site manager scurrying to the maps on the Scottish Avalanche Information Service. The space between Montrose and Inverness bristled with pins every year and the Mackinnon was right in the heart of red-pin country. Each night I'd been checking the five-day forecast. The latest had Storm Ezra easing by midnight. The main roads east of here had apparently been well gritted. I kept telling myself there was a good chance tomorrow's drive to the airport would be safe.

'News 24 will have one,' I said.

'If the TV still works,' Jai quipped. As he pushed himself up to cross the lounge and turn the TV on, he brushed his phone with the heel of his palm. It glowed alive, though he was oblivious to the fact as he left his seat. Its pale light drew my eye and I felt a slow tremor of alarm. The red line of the voice memo function was unspooling as the timer ticked forward.

He was recording our conversation.

I stared, holding my breath. Normal men didn't tape women in hotel bars. I put together what I could recall of Jai. As my shift had ended early this morning, I'd seen him sipping coffee in the breakfast room with a backpack at his feet, a New York Yankees cap and his Culloden OS map folded into a weatherproof pocket. He'd looked a younger, hipper version of the standard hiker-birdwatcher; nothing unusual. I swallowed, my throat dry. He must have hit record in error. A mistake, that's all. I moved away to polish tumblers as he wandered back from the TV, and I watched him turn his phone screen-down on the bar when he returned.

'Not looking good for tomorrow,' he said, twisting his beard between thumb and forefinger. 'Red weather warnings. Further heavy snowfall, strong winds for at least another five hours.'

I smiled, trying to keep my voice light. 'You'll be able to stretch your legs by morning,' I said. 'There's a route along the shoreline of the loch that'll be beautiful once the storm clears.'

'Yeah, I was checking the map.' He gave a whistle. 'So remote. There's pretty much nothing out there until Braemar. Except the prison.'

And there it was. The mention of Porterfell. I felt my anxiety thicken, thinking, this is about Cameron.

My brother was born when I was seven. When he was little, the four of us were happy; a proper family. But after Cam's troubles at school, and then his first arrest at fourteen – possession with intent to supply – my father's strategy was simple: disown him. Cameron responded by doubling-down. He became the family's bringer of shame and breaker of reputations; a troubled teen on a mission to turn career criminal. Dad gave up, Mum broke down. Which meant after Cam's eventual imprisonment, I was the one to sacrifice my career and move up from Edinburgh, the one who'd worked with the lawyer on the appeal, the one who'd visited three times a month.

Then my brother had been killed. Prison violence was normal enough not to be national news but in the aftermath of his death there'd been some media attention; a local journalist had made her way up here to interview me and I'd turned her away. The staff on reception had a script in case they got calls about me, and they'd had to use it on a couple of occasions. All that had been a year ago now, and since then it had been quiet.

Except a man at the bar was recording me as he steered the conversation towards Porterfell. I was steeling myself against further questions when the oddest thing happened.

The reception buzzer sounded.

It was unexpected. The sign at the top of the hotel drive told passers-by we were closed and the website made it clear we weren't accepting guests until we re-opened for the spring. I was the hotel's sole staff member until the morning. Whoever was out there, I'd be turning them away. I excused myself and left Jai cradling his drink.

I wasn't frightened as I walked to reception, past the trolley of dust sheets and paint pots left out for the decorators during close-season, and down to the front desk. I can't admit to any premonitions of danger. What I actually felt was a temporary relief at having avoided a conversation with Jai, a feeling still strong as I settled myself at the reception desk.

My lack of concern seems ludicrous now.

'The Mackinnon,' I said into the intercom. 'I'm afraid we're in close-season and not taking guests. Is there anything I can help you with?'

There was no answer, just dead air. It had been dark for hours and the hotel's interior lights were reflected in the floor-to-ceiling windows of the modern lobby-extension. The glass was as black as a polished loch. I could detect, just beneath the surface, a flash of swirling snow but whoever was out there could see me clearly, and I was light-blind. Thankfully I'd locked the revolving doors.

I pressed the intercom button and tried again. 'Hello. The Mackinnon. I'm afraid we're in our close-season now and aren't taking bookings. How can I help?'

Again nothing. Something about that black absence made me nervous. I tried to ignore it as I crossed to the doors. From ten paces the glass looked opaque but at arm's-length I could make out shapes in the night. The turning circle and fountain flitted intermittently through the dark. I could see the squat outline of the old larch; over two centuries old, they said. The tree's base was a wizened knot and the trunk a vast map of creases and clefts. It had been tall in its heyday, over two hundred feet, but its highest sections had been badly damaged in a storm a couple of years ago and, after a spat with the council over a preservation order, surgeons had removed them so the old thing was barely the height of the hotel now. I squinted further out. Up the drive, huddled amongst black woods, I could just discern the guest garages, empty for the winter. Beyond more shrouded darkness; sentinel silhouettes of Scots Pine.

I took a few steps to the left and right, aware of how I must look to the visitor; a woman in a suit with tied-back hair and an uneasy expression. I didn't much like this exposed perspective of myself so I returned to the desk. It occurred to me the appearance of a phone call might be helpful. Picking up the receiver, I cradled it between shoulder and cheek and pretended to stab a number in. It took me a second to notice the outside line was dead. The inside line, wired-up in the fifties after they took the bell-pulls out, was a weatherproof closed circuit but Mitchell had warned me about outside lines coming down in bad weather. The mute emptiness at the end of the phone caught a thread of fear in me and pulled. For the first time, I preferred the prospect of bartending, defending my secrets from Jai.

The reception buzzer came again, making me jump. I replaced the phone, pressed the flashing intercom button and picked up. 'The Mackinnon. How can I help?'

A breathy voice said, 'Police officer.' Local accent. 'I need to come in.'

I looked into the reflective pools of glass. There was a male shape there now, one shoulder against the frame of the rotating doors, leaning in. He was standing in the dark but I could see a heavy ski jacket, collar upturned against the wind.

'I had an accident up on the mountain road,' the figure said. He paused, breathing hard like he might be in pain. 'My radio's down. I need access to your phone.'

My mind slipped its gears and raced free. 'I'll have to ask for ID,' I said. 'Hotel policy.' I thought about phone lines. It was possible to get a mobile signal from some of the upper rooms if the booster was still operational but chances were the officer would be out of luck.

'Gaines,' said the voice. The figure pressed a card up against the glass. 'PC 4256 Gaines, Police Scotland. Open the door please, miss.' The man's silhouette was slewed and I realised he was putting his weight on one leg, raising the other. He was injured.

'Give me a minute.'

I crossed the lobby and unlocked. He was a black bulk in the revolving doors like a penned animal in a slaughterhouse turnstile. Once inside, he became a man again; six feet tall, broad-shouldered and bulked out by a stab vest beneath his police-issue snow jacket. A ripped flap swung from the trouser at his right knee, exposing damaged skin. He had a weathered, forty-something face.

'Thanks,' he said, limping past me, rounding the reception desk. He smelt of petrol.

I followed. 'You're hurt,' I said, feeling a stab of alarm. 'Can I get you bandages? Antiseptic?'

He ignored me, checking the phones and grimacing at the silence at the end of the line before looking across the lobby. A quarter-circle of snow, driven in as he entered, was melting on the rug. 'You need to lock up.' I nodded and returned to reception's revolving doors, fixing them shut.

'Your phone is dead,' he said as I crossed back.

'Lines are down,' I told him. 'You can sometimes get a mobile signal from the third floor. What's going on exactly?'

The officer was scanning the expanse of the lobby, giving the space a narrow-eyed assessment of risk and safety, lines of sight, points of entry. 'Can we shut these lights off?'

'I guess,' I said. 'Why?'

'How many guests are staying here?'

'Just two. And me.'

'And you are?'

I remembered I'd chosen tonight to leave my badge upstairs. 'Remie Yorke.'

'No other visitors tonight, Miss Yorke?' I shook my head, perplexed by his brusque urgency. 'Can you kill the lights please? Along the whole front of the building. You look like a Christmas market from out there.'

'That's the point,' I said, aiming for levity. He furrowed his brow, wearing the kind of expression I knew from bitter experience police officers used when delivering bad news. 'I can switch the lights off,' I reassured him. 'What's happening?'

'I have reason to believe we may have an escapee.'

I thought of the Porterfell siren's wail and felt a tug of concern in my stomach. 'A what?'

The police officer – Gaines, he'd called himself – straightened, hands on hips. I took him in anew; the stiff-collared grubby white shirt, polyester tie. Blond beard, grey along the jawline. A heavy leather belt across a paunch. His holster was empty and the pockets of his stab vest – I'd seen officers carry pepper spray, radio or torch in th. . .
We hope you are enjoying the book so far. To continue reading...
The Second Stranger
Martin Griffin
Copyright © 2023 All Rights Reserved