Book info
Sample
Audiobook
Media
Author updates
Lists
Synopsis
A runaway bride dumps a duke and rewrites her own love story in this enchanting Victorian historical romance from the author of The Duke Undone.
 
Pretty and pampered, Lavinia Yardley always dreamed of becoming a duchess. But family disgrace forces her into marriage with the most vile duke in England, and she finds herself desperate for a way out. When a rustic stranger mistakes her for globe-trotting botanist Muriel Pendrake at a train station, Lavinia has a split second to decide whether to submit to her fate or steal someone else's.

Neal Traymayne spent his youth traveling the world as Varnham Nursery's most daring plant hunter. Now he runs the nursery and is ready to settle down with a like-minded wife who'll fit right in with his large, happy, down-to-earth family. His correspondence with Muriel Pendrake proved they're the perfect match. Odd that the woman in the flesh seems more like a society belle than a scientist.

As they tramp the Cornish moors together, Lavinia and Neal discover a wild and rare desire. But this blossoming love is rooted in lies, and when the real Muriel Pendrake shows up, they can't hide from who they are. The truth may wither their hopes of happiness, or it may bloom into the sweetest love of all.
Release date: January 18, 2022
Publisher: Berkley
Print pages: 368
* BingeBooks earns revenue from qualifying purchases as an Amazon Associate as well as from other retail partners.
Listen to a sample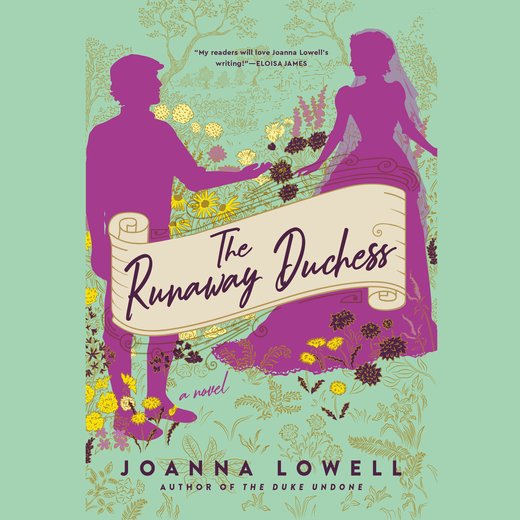 11:10:13
306.81 MB
9780593456668
January 18, 2022
Penguin Random House
The Runaway Duchess
Joanna Lowell
Chapter One
Bodmin, Cornwall
One month later
"Your Grace?" The maid at her elbow was young and pretty. All the maids in service to the Duke of Cranbrook were young and pretty. This one—Beth, Bess, something like that—had tried to play nurse in the train compartment. If Lavinia so much as twitched, she brandished the bottle of lime water or leaned in with a dripping cloth. By the time the train reached Reading, Lavinia's bodice was soaked and she'd declared herself recovered, just to escape the girl's clumsy ministrations.
She lifted a hand to her tight, inflamed face. She was not recovered. Every step further impressed the fact upon her.
"You're going in the wrong direction. The carriage is behind you."
So it was. Lavinia kept threading her way along the crowded platform. Porters trotted back and forth, unloading the ducal luggage. A fat red hen ran over her right foot and a moment later a shrieking young boy in feverish pursuit ran over the left. She stopped short and the maid trod on her heel. Too much. Lavinia wheeled about.
"Give me space." Her voice emerged as a growl from her parched throat, and the maid fell back a step, a fretful line appearing between her brows.
"Apologies, Your Grace," she said.
"I don't want your apologies. I want you gone." Lavinia felt a familiar wave rising within her, hot and heady. Her fits of temper had been legendary in the Yardley household. And extraordinarily effective. Papa had hated to see her cry. Even as a woman grown, she'd found that a storm of sobbing was all it ever took to produce her heart's desire. Up to a point. There were some things Papa couldn't fix. She could cry until the end of time, but no one could bring the dead back to life.
"Very well." The maid rested her chin on her interlaced knuckles, a childish gesture. She was little more than a child, really. Round-cheeked. Blond. If she wasn't in livery, getting scolded, and Lavinia in a pink silk faille day dress, doing the scolding, onlookers might have mistaken them for sisters.
"Shall I tell His Grace . . . ?"
Tell him to go to the devil.
"Tell him I went to the station house." Lavinia said it softly, becoming aware of those onlookers. West Country families in homespun clothes gaping or chuckling knowingly. She knew what they saw. A high-handed lady berating her poor, long-suffering servant. How dare they judge her! It wasn't like that at all. If they only knew the night she'd had . . . that this was her first full day as a married woman and that it was vying to become the most awful day of her life.
The maid persisted. "Are you seeking refreshment? There are still cakes and sandwiches in the basket. I could—"
"I'm seeking the water closet," Lavinia snapped. "Or do you prefer I call a porter and vomit in a hatbox?"
That silenced her. And produced a guffaw from a pair of market women. A loutish farmer in a smock shook his head. Lavinia tried to strike a gentler note.
"I'll be along shortly. Thank you, Beth."
"Nan." The maid shrugged, blue eyes flicking toward the farmer. He took the pipe stem from between his teeth.
"No water closet," he called, grinning. "Privy across the tracks, by the brown oak."
Nan grinned back, then curtseyed to Lavinia, thin-lipped.
"I will tell His Grace you've gone to the privy," she said, and whirled, the spring in her step mildly suggestive of a flounce.
Disrespectful chit. Lavinia spun on her heel, stalking in the opposite direction. It didn't matter one whit whether or not she got off on the right foot with the staff. Not when her relationship with the master of the house was already doomed.
A railway worker was moving down the train, smearing something that looked like butter on the wheels. Soon the train would pull away, her last connection to London, to her old life, disappearing. Her stomach lurched. She intercepted the gaze of another farmer—Cornwall was experiencing an epidemic of smocks—and tossed her head. Nan might flirt with laborers, but she did not stoop.
As she swept past, the farmer's jaw dropped. In London, the men didn't let their chins hang so low. Couldn't. All those chins were propped by collars. Another benefit of civilization.
"Do you intend to address me? Or does your mouth always hang open?" She paused, fisted hands on her hips. She'd already yelled at a maid to the general amusement of henwives. Why not set down a bacon brains?
The farmer looked behind him doubtfully as he straightened.
"Yes," she said icily. "You."
She waited for abashed stammering. Chagrin. Amazement at her condescension. The farmer, however, did not seem overawed. And, like any shallow-pate given a chance to act on the stage of life with his betters, he botched his lines. What emerged was not a stuttered paean to her beauty.
"I've never seen 'em that bad before." He peered at her more closely, then whistled through his teeth. "And 'ee came from Lunnon, did 'ee?"
He turned to a stout, travel-stained woman approaching with a basket and jerked his thumb at Lavinia.
"What do I always say about Lunnon?" He shook his head. The woman stared at Lavinia, eyes widening.
Lavinia's hand flew to her cheek. Of course. She must look a monster. The blood rushing to her face renewed the itching. Mortified, she whirled.
The farmer's eager voice pursued her. "I hear as they've got 'em in Buckingham Palace."
She clambered gracelessly up the steps of the footbridge, bunching her skirts. The farmer was still spouting.
"Cook the mattresses!"
She reached the far platform, heart pounding. That farmer thought she'd been chewed up by bedbugs. She'd been terrified of bugs at the Rossell Hotel, but thank heavens she'd never been bitten. If she had been, she certainly wouldn't speak about it. The Cornish were dreadful people. And Cornwall was a dismal, backward, common sort of place. Good for boors, dullards, and invalids. Small wonder Cranbrook retreated here whenever he could. Nothing for an aged widower to do but lie out on the patio in flannels taking the sea air. Fondling the maidservants. Only a Bluebeard would dream of bringing a wife to such a place for their honeymoon.
She eyed the station house, an unprepossessing building. No water closet indeed. Probably still lit with oil lamps, and the agents nailed up charms to guard against the pixies. Sighing, she paced past the station house to the platform's edge. Trees started up low and gnarled, their crowns the dense wet green of mashed peas. A gust of wind disarranged the branches and cold droplets scattered down. Nan had her bonnet. Blast the girl. Butterfingered Florence Nightingale. Belle of Bodmin Station. Out of habit, she raised her arms, shielding her curls, then she let them drop. A little late to worry about her coiffure. Lank hair befitted a ghoulish countenance.
Let the rain pelt.
She glared at the countryside. Which was the "brown oak"? The trees were all brown. They were trees. What made one oak browner than another? You had to solve a riddle to use the blasted privy. Not to mention soak your shoes wading out into the mud.
Although . . . She pressed her middle experimentally. Perhaps she wasn't going to vomit after all. Simply crossing the tracks—putting the train between her and Cranbrook—had soothed her stomach. Stopped its shivering.
"Oh!" She sucked her breath, jolted by an impact. The biggest dog she'd ever seen knocked her sideways so that her foot splashed in a puddle. A sharp bark accompanied the splash.
"Alfie! Alfie!"
At the sound of his name, the shaggy, filthy creature bounded off. Farmers were bad enough on their own, but they all seemed to travel with retinues of sheepdogs and poultry.
She daubed ferociously at the pawprints on the pink silk. Habit again. She gave the skirt a final shake. Her eyes wandered to the wagonettes and station flies parked on the grass, doors open. In one fly, a small child curled on his mother's lap, head on her breast. The father was standing in a wagonette, helping the porters load boxes, suitcases, umbrellas, rugs, and handbags. She'd like to sleep as that child slept, secure in the knowledge that his parents were close, that everything had an appointed place, that long journeys ended in joyous reunions and soft beds.
She'd scarcely closed her eyes in days. The night before the wedding, she'd sat up in a chair listening to her mother's even breathing, wrestling with her bitterness. How could she rest so easily? Last night, she'd retched and scratched, moon-faced and wheezing.
The wedding ceremony had unfolded like a bad dream. Four hundred bejeweled guests packed into the church. Bustles overspilling the pews. Fans fluttering. Cora, Agnes, and Elise had buzzed around her in the antechamber, plucking at her veil, effusing sweetly on the joys of second attachments. She understood them perfectly. Once tarnished, she'd never be welcomed back into their set. Marriage to Cranbrook wouldn't restore her shine.
Mercifully, the reception was small. Cranbrook's friends and family circulated through a pair of flower-decked rooms at Harcott House. Her mother murmured ceaselessly with Lady Chatwick and Lady Sambourn about God knew what. As for herself, she had remained motionless in the corner of the salon, refusing to be drawn into conversation. Ignoring the snickers of Cranbrook's half-grown sons. Each passing second weighed on her. Finally, she'd broken from her trance and stumbled out onto the balcony for air.
Cranbrook and fat Lord Browning had been leaning on the railing, their backs to the room.
". . . damiana, phosphide of zinc, cocaine, and syrup of ginger. That's the tonic I take for a cockstand. So, old boy, shall I send a crate?" Browning was clapping Cranbrook's shoulder.
"No need." She could hear the smile in Cranbrook's voice. "I married the best tonic I could find. Do you want to know the secret?"
She'd watched, horrified, as Cranbrook drilled his index finger into Browning's chest.
"Fresh ingredients." He chuckled. "Fresh. Ingredients."
More clapping. Snuffles of laughter.
"Ho, is that the secret? These days, I wouldn't know." Browning sighed with mock envy. "Well, get to it, you scalawag. Don't you have a train to catch?"
Cranbrook drained his glass of champagne.
"Indeed. But if we miss it, we'll go tomorrow. You can't rush the first time. It's when a man makes his mark."
Browning was laughing again.
"Soften the wax," he crowed. "Press the seal down hard. No wiggling. Eh, Cranbrook?"
Her heart didn't change its rhythm as she stole away. But the beats sounded darker. Doom-doom. Doom-doom.
Her heart was still beating darkly. Doom-doom. Doom-doom.
Tonight, Cranbrook would claim what he'd been denied. And he would discover himself deceived.
Her gorge rose. Pure panic. No way to purge it.
"That's not ours." The father had climbed over the side of the wagonette to wave away the porters, a trunk suspended between them.
"Oh." Before she could think, she'd darted forward. "Oh, that's mine."
The porters sidled toward her and lowered the trunk to the ground. Tears sprang to her eyes. Her trunk. The one piece of luggage that didn't bear the Cranbrook coronet. Dear God, it had almost been lost, and with it the gowns she'd worn in happier times, her diaries, her notebooks, her albums and fashion magazines. Home. She wanted to throw her arms around it, greet it like an old friend.
"Sorry about the mix-up," said the father, unnecessarily. No fault of his. But she nodded at his courtesy. He was blond, with an extravagant mustache, his clothing neat, his expression cheerful. His eyes skipped tactfully over her face as he smiled at the middle distance. A Londoner, a banker or stock dabbler, she'd wager, with a Cornish wife and a large, young family. Off to visit the country cousins. She'd always enjoyed embellishing upon observable reality, scribbling her fancies in those packed-away notebooks. This family seemed to have stepped from the pages of a storybook about jolly summer adventures. More children kept tumbling out from between the trees, boys and girls, both sexes armed with sticks that they clattered together with alarming ferocity.
"Surrender!" The command rang out again and again as the melee approached the station house, followed by the inevitable chorus.
"Never!"
Lavinia's lips curved, tugging the little blisters. Smiling hurt.
"Time to go." The father began to wrangle his progeny, grabbing at the ones who rampaged too close. "All of you. Even Admiral Nelson."
The smallest girl threw down her stick in disgust. After many more shouts, no surrenders, and one tragic death performed in several heroic stages, they'd all packed into the flies and the cabmen were whipping the horses. The flies rolled away from the station, and Lavinia let loose the breath she'd been holding. She felt emptied out. A profound loneliness, akin to a more uncanny feeling.
Inexistence.
She was no longer Miss Lavinia Yardley. But she wasn't—couldn't be—the Duchess of Cranbrook.
The crowd on the platform had thinned. She bent down to lay a hand on the trunk's lid. How silly she was. Trying to derive comfort from a leather box. She should stand up straight. Summon the porters. Walk back across the footbridge. Cranbrook—Peter, he'd told her to call him, her husband—awaited. She laid her other hand on the trunk. She closed her eyes.
"Mrs. Pendrake?"
Her eyes opened and she rose, dusting her gloves. Another rustic, this one approaching at an alarming clip. He wasn't smocked, but his brown canvas hunting jacket flapped open, and she could see his shirt, the collar flopping, tied loosely with an olive-green scarf.
He'd emerged—like the boys and girls—from between the trees. Did Cornish woods possess some strange power to multiply children and produce men out of thin air?
"I've kept you waiting. The train's always late, but then . . ." The rustic slowed as he drew up beside her. "I was later," he finished, ingeniously. He dropped his bags, shook his hair from his eyes. His chest rose and fell, but he didn't sound remotely out of breath. Or, for that matter, overly repentant. Strong hands gripped hers.
"Mrs. Pendrake," he said with unaffected warmth. "I am delighted to meet you."
He wasn't Cornish, not by his accent. But no young gentleman from town would tramp about hatless, in a canvas jacket. Nor had any gentlemen from town ever met her gaze with such . . . levelness. Not that he was short. He was medium tall and had to look down into her eyes. But he did so without any superiority and without a trace of supplication. As though social distinctions-to which she and her erstwhile friends had always paid such jealous attention-were so much frippery. He saw through it all. He saw her.
We hope you are enjoying the book so far. To continue reading...
The Runaway Duchess
Joanna Lowell
Copyright © 2022 All Rights Reserved