Book info
Sample
Audiobook
Media
Author updates
Lists
Synopsis
For a Pennsylvania Amish family whose faith has been tested, the blessings of marriage, home, and togetherness seem impossible. Patricia Johns brings her trademark warmth to this story of love's powerful redemption.

With her preacher father in prison for fraud, Elizabeth Yoder's life in the community of Bounti-ful has been painfully uprooted. Mindful of wearing out her welcome with her family, she jumps at the chance to stay with elderly Bridget Lantz while the woman's daughter is away. Elizabeth has secret plans to leave for another Amish community where she might get a fresh start, but here with Bridget, she feels comfortable--until Bridget's strapping grandson, Solomon, returns from eight years with the English, and inspires feelings that shake Elizabeth's resolution...

Solomon has had his own trouble with the law, after falling in with some bad influences. He's paid the price, despite his innocence, but the Amish are even more wary of him than they are of spirited Elizabeth. With good reason, he supposes--he's not sure he's ready to commit to this way of life again, especially since the Englishers are the ones offering him solutions. The only thing that seems certain is his attraction to Elizabeth. As they strive to find their places in the community, and with each other, can they open their hearts to the blessing of love?
Release date: May 25, 2021
Publisher: Zebra Books
Print pages: 200
* BingeBooks earns revenue from qualifying purchases as an Amazon Associate as well as from other retail partners.
Listen to a sample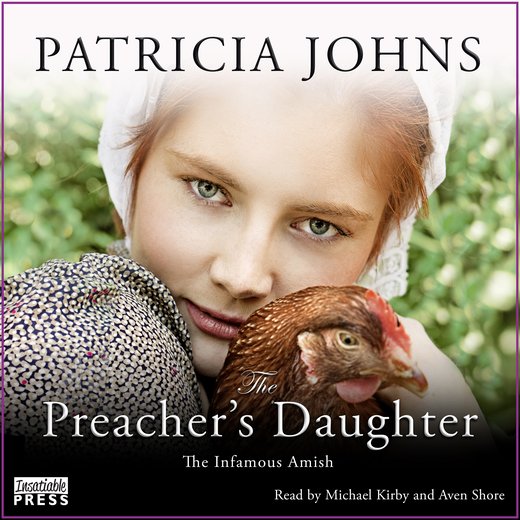 09:25:55
259.07 MB
9781624618628
January 25, 2022
Insatiable Press
2022
The Preacher's Daughter
Patricia Johns
Solomon Lantz had been given a plastic bag containing his personal belongings on his way out of Forest State Correctional Institution: a pair of jeans, some scuffed-up running shoes, a white T-shirt, a comb, some ChapStick, a pair of suspenders because he never was able to get used to wearing Englisher belts, and his wallet with exactly $107 in cash. He was surprised to get the money back at all but was grateful all the same—it was going to pay his cab fare the rest of the way home. The prison had provided a bus ticket to Bountiful, Pennsylvania, and he was on his own after that.

His palms were sweaty and his stomach roiled from the movement of the taxicab. Outside the window, July sunlight warmed the rolling, green fields of ripening oats. He knew the area well—he used to walk down this road to get to school every day when he was a kid. They were close . . .

The car slowed as it moved around a buggy, and Solomon dropped his gaze and sat back. He'd meet people soon enough—after he'd seen his mamm again.

Solomon hadn't seen his mamm since her last visit to the prison six months earlier. Mamm, sitting there with a yellowed telephone receiver in one hand, contrasting with her crisp, white kapp, and her teary eyes fixed on him through that thick, prison glass.... She'd been like the first crocus in spring—the first bud on a naked, gnarled tree. But she'd had some choice words for him, the worst of which were, "What would your daet think if he'd lived to see you like this? You'd have broken his heart! He wanted more for you—I wanted more for you. You could be working a good job, finding a wife . . . You could be starting your life properly, but instead you're in a jail cell, and you have no one to blame but yourself. You knew better, Solomon! I taught you better than this! And me coming here to visit isn't any help at all. I'm only making it easier for you. So I'm not coming back. You can face your consequences alone."

Tears had welled in Solomon's eyes when his mamm hung up that dingy phone and walked stoically away, her gray shawl pulled close around her and her black shoes squeaking against the polished linoleum floor. He sat there by the glass, his breath stuck in his throat, waiting for her to turn—waiting for her to look back....

"Are you Amish?" the cab driver asked, pulling him out of his own thoughts. The driver glanced at him in the rearview mirror, and Solomon self-consciously pulled his hand through his short-cropped hair. He didn't think he looked Amish anymore, but he'd been told more than once he still sounded Amish. He talked more slowly, and his words still had that Dutch roundness to them.

"I used to be," Solomon said.

"Yeah? Are you one of those . . . what do you call them . . . those Amish runaways?" the driver asked.

"Not really. It's been too long to call me that. I'm just coming for a visit," Solomon said.

A surprise visit. His mamm had no idea he'd been let out early. He wouldn't let the prison officials notify anyone on his behalf. He wanted to come home on his own terms—and didn't want to give his mamm a chance to not come pick him up. That would have hurt too much. So he'd decided to come to her instead, and she'd be forced to look him in the face.

"So what do you like better, regular life or Amish life?" the driver asked.

Solomon shut his eyes for a moment, looking for patience. "I don't know."

He didn't care. His mind was already moving toward thoughts of home cooking—his mamm's brown buttered noodles, and her blueberry crisp, and those little sugar cookies she made when the weather cooled off....

"Seems like a lot of work to be Amish," the driver said. "A lot of extra work for nothing if you ask me. Like, why take a horse and buggy when you can just drive somewhere and be comfortable, you know? I don't have to feed and groom this car. And why make farming that much harder than it has to be? I don't get it."

"Your car doesn't breed and give you a free replacement either," Solomon said.

"What?" The driver looked back in the mirror at him, then a grin split his face. "Ha! Yeah, you're right there. Okay, you got me . . ."

As if it was a joke. Solomon stifled his annoyance—he'd had plenty of experience doing that over the last thirteen months in prison. He was out on good behavior. His full sentence had been two years, and he'd spent half his time in jail hiding behind his big, hardcover Bible. But fighting couldn't be avoided, even with a Bible in his hands, and he'd learned pretty quickly to start working out in the gym and learn how to defend himself.

Solomon saw his mamm's drive coming up. The same old green mailbox sat out front, and behind it, wild raspberries grew up out of the underbrush.

"Right there, on the left," Solomon said.

The cab slowed and turned onto the drive. The two-story house sat on a slight hill, a clothesline stretched from the side porch, out over a length of verdant grass and out to a pole at the edge of a vast garden. The clothesline was decked in fluttering kitchen towels, and as the cab came to a stop, Solomon's breath was stuck in his throat.

"That'll be thirty-four dollars," the cab driver said.

Solomon counted out the cash and handed it over, then grabbed his bag and got out. The cab driver gave him a salute and started to pull out when Solomon saw his mammi at the side door. She shielded her eyes with one hand. Bridget Lantz was a short, plump woman with iron-gray hair and a pair of thick glasses she kept pushing up on her nose.

"Sol?" she called, bewildered. "Is that you?"

"Yah, it's me. Hi, Mammi," he said.

His grandmother came carefully down the stairs and then hurried across the rocky ground toward him. He bent down to give her a hug, and she clamped her arms around his neck and rocked him back and forth with a strength that surprised him.

"Are you really here?" she said, pulling back and looking at him tearily.

"Yah, I'm here," he said.

She pulled him back down into another fierce hug, then released him.

"You look like a fool dressed like that," she said, gesturing to his clothes.

Solomon couldn't help but laugh at that. "I guess it all depends on who you're talking to."

"So . . ." She put her hands on her hips. "Are you here to stay?"

"I—" Solomon licked his lips. "I was hoping to see Mamm."

His gaze moved toward the house again, and this time he saw movement at the door. But it wasn't his mother's familiar shape—this was a different woman. She was slim, with brown hair pulled back under her kapp, and wary eyes fixed on him. Was that Lizzie Yoder?

"Where's Mamm?" he asked.

"Your sister, Waneta, just had the triplets," Mammi said. "Your mother went to help with them. Actually, your mamm left the beginning of March to help out while she was on bed rest. One of the little mites isn't doing as well, and he's been in the hospital. It's to do with his lungs. They weren't developed enough. So your mamm is helping your sister keep things afloat, what with the babies at home and the other little one in the hospital and all the travel in between . . ." Mammi's voice faded, and she reached out and touched his hand. "I'm sorry. I know you must be missing your mamm."

"Waneta's okay, though?" he asked.

"Yah. She's healing up really well. And the baby in the hospital is almost ready to go home, your mamm said in her last letter."

"I'd wanted to surprise her," he said, trying to sound cheerier than he felt.

"Yah . . . well . . ."

"I missed you, too, Mammi," he said, closing his hand around hers. "And I'm starving."

"I imagine you would be!" Mammi said, and a smile broke over her face. "Come inside. Elizabeth made pie this morning—cherry. Oh, I should mention—Elizabeth Yoder is staying with me until your mamm comes back."

Solomon looked up again. So that was Lizzie Yoder—all grown up now. She wasn't the same teenager he remembered, always so prim and proper. Her daet was a popular preacher, and she'd always been proud of that, but trying to hide her pride because it wasn't properly Amish. But looking at her standing in the doorway, her dark gaze locked on him with a wary look, reminding him of how English he looked right now. She'd be judging that. He looked down at his blue jeans, feeling uncomfortable.

"Come on," Mammi said. "Let's get you inside and fed."

Solomon followed his grandmother toward the house, and Lizzie disappeared inside.

"When is Mamm coming back?" Solomon asked, and his grandmother slowed her steps.

"As soon as your sister can handle things on her own," Mammi replied. "Soon. You can write to her and tell her you're back."

Did he want to do that? An image rose in his mind of his mother's back as she walked away from him. If her own son's desperation hadn't changed her mind, another letter wouldn't either. Maybe even surprising her wouldn't make a difference.

"I'm not really good with letters," he said.

"Your mother will be glad to see you, Sol," Mammi said softly.

But he wasn't sure about that. He'd already disappointed his mamm almost beyond repair.

"Maybe I'll just wait and see what happens when she gets back," he said.

Mammi looked up at him sadly. "She loves you."

And he knew that his mamm did, but sometimes love was tough. Sometimes love imposed its own shunning. She'd wanted him to come home and be properly Amish again—and he was home now, wasn't he? He might never be properly Amish, but maybe she'd be able to see that he was trying to mend his ways.

Solomon followed his grandmother into the house and sat down at the table, where a pie was cooling. Mammi fetched him a plate and a fork, then cut him the first piece. His stomach rumbled as he took a large bite, followed by a second in quick succession.

"You're out of prison, then?" Elizabeth said.

"Yah."

"Hmm." She didn't say anything else and turned away. He was getting a lot of that lately—people turning their backs on him. But this wasn't just any woman—he'd known her rather well back when they were teenagers, and he wasn't about to be pushed around by her, too.

"Lizzie Yoder," he said with a small smile. "It's been a while."

She looked back at him over her shoulder. "Yah. A long while."

"Have people been talking about me?" he asked. He could only imagine what the gossip about him had been like. He left home at seventeen and went English, then got caught up with the wrong people. They'd been doing some petty theft, and Solomon tried to keep clear of that part of things, until one day they jumped in the car and told him to drive. Legally speaking, that was accessory to a crime.

"People always talk, and you gave them plenty to discuss." She met his gaze easily. "You're home now? Ready to reform?"

"I'm visiting," he said. "So you don't have to worry about me upending everything. I won't be here long."

He caught his grandmother's gaze locked on him, and he read the disappointment there. She pushed up her glasses on her nose again.

"For as long as you're here, you'll have a bedroom and a grandmother," Mammi said quietly. "This is your home, Sol. It always was and it always will be."

That was what he'd needed his mamm to say—to reassure him that he was hers, no matter what, even if he'd let them all down. That was what he'd come back to hear . . . and while he loved his grandmother deeply, it was his mother who'd turned her back.

"Thanks, Mammi," he said. "Do you mind if I take another piece?"

Mammi cut another ample piece of pie and dished it onto his plate. At the very least, while he was here with Mammi, he'd eat.

Elizabeth stood by the counter and watched as Solomon took another big bite of cherry pie. His gaze flickered in her direction as he chewed. He looked different now—almost English. His hair was cut short and he looked bigger than regular Amish men looked. That was the kind of muscle that came from a gym, not farmwork. That was the kind of muscle that was for appearances, vanity, and she wasn't supposed to be appreciating it . . . But she couldn't help but notice the bulk of his biceps as he lifted another bite to his lips.

"I'm surprised you came home," Elizabeth said. It sounded blunt, but she really was surprised. He'd left their community years before he got into trouble.

Solomon's chewing slowed. "Why?"

"It's been . . . five years? I thought you'd have gone back to your English life. I thought you . . . liked it there."

She'd heard a few rumors—some of the local young people had seen Solomon a few times over the years. They always said the same thing—he liked living English. He could do as he liked. There were no elders or bishop to curtail his activities. He'd been a rebel, and they'd all simply accepted that fact.

"There wasn't much to go back to," Solomon said, and he dropped his gaze and scraped his fork across the plate, picking up the last of the cherry filling. "I got caught up with the wrong people. It's fun while it's fun, but when things go wrong, they don't exactly wait for you. A couple of them are in prison, still."

Mention of prison brought up goose bumps on her arms and she looked away.

"I'm starting over," he added. "Putting all that behind me."

"Oh . . ." She wasn't sure what to say to that.

"You believe that?" he asked.

"I don't know what to believe," she said with a faint shrug. "So you're going to be Amish again?"

"Maybe not," he replied. "I don't think the Amish community here in Bountiful is going to accept me—"

"You don't know that, Sol," Bridget broke in.

"Mammi," Solomon said, and his gaze softened as he looked over at his grandmother. "I'm not holding my breath, okay? Besides, I'm not sure I make much of an Amish man anymore."

Elizabeth had to agree there—he didn't. The Amish community protected their way of life, and Solomon had not only gone English, he'd gone criminal.

Yet she had her own family taint in that respect, too. Her father was in jail for fraud, and she'd believed so earnestly in his innocence for far too long. Now, she knew the truth about her daet—he'd defrauded members of their community purposefully. He'd known what he was doing, and it was fueled by his own sense of vengeance because the community hadn't helped her mamm get the medical interventions necessary to save her life.

And here was another man fresh from prison.

"If you're turning your life around, and giving your heart back to Gott, then you need to come back to our community," Bridget said. "That is how you make it right—you come home."

"There was a Catholic priest who'd come do a worship service at the prison," Solomon said. "It was different. They . . . they have something called a rosary? And they dress differently, too. Anyway, he was a really wise man—humble, kind, strong—and he talked to any of us convicts who wanted to discuss faith with him. And he suggested that I should turn my life around and become Catholic."

The room was silent for a moment. Catholic. He might as well suggest becoming a fence post. Amish didn't become Catholic! They did become Mennonite sometimes, though . . .

"Oh, Sol!" Bridget shot him an annoyed look. "Very funny."

"There was a Baptist minister who'd visit, too," he added. "No Mennonite minister, but I mean, that's always an option for us Amish, isn't it?"

Solomon shot Elizabeth a wry smile and winked. She could see the humor in his gaze, but she didn't find it amusing. Bridget didn't seem to either, because the old woman's cheeks flushed and she shook her head in annoyance.

"You're not funny," Elizabeth said.

"I am a little bit," he replied. "But my point is, there are a good many ways to turn a life around. And I left our Amish life because I was frustrated with all the restrictions. Well, I can see the point of them now, but that doesn't mean there aren't other ways of living that could help me do better, too. There are other people who believe in Gott who order their lives to live better."

"You're just trying to argue now," Bridget said. "You've come back. That's the right thing to do, and there isn't anything else to say on the matter."

"I don't want to argue," Solomon said, and he sobered.

"Good. Then no more mention of that," Bridget said.

"I'm just happy to see you, Mammi," he said, and Elizabeth could see Bridget relax. Solomon always had been charming.

Elizabeth went to the counter and pulled down some bread. Solomon looked hungry in the way he was scraping that plate, and she slathered a thick slice of white bread with sweet Amish peanut butter, then brought it to the table.

"Oh . . . thank you." Solomon accepted the plate and gave her a grateful smile.

"When did you last eat?" Elizabeth asked. "Really?"

"Yesterday," he replied.

"Yesterday!" Mammi pushed herself to her feet. "I'm going to whip up a proper meal now, Sol. My goodness . . ."

Solomon took a bite of bread, followed by a second bite before he'd swallowed.

"They don't feed you there?" Elizabeth asked. In prison was what she meant, but she didn't want to say it.

"I was nervous," he said, swallowing. "Excited. I was getting out. I couldn't choke anything down."

She nodded. "I can understand that."

"How's your family?" Solomon asked, taking another bite, and then speaking past the food. "I haven't kept up with anyone lately."

So he didn't know about her father either . . . the one person in this community who didn't know the worst about her family. Was it wrong of her to want to keep it a secret?

"Elijah got married to Bethany Glick," she said.

"Bethany Glick . . . wasn't Micah courting her?" he asked. "Someone told me that a long time ago."

"Things change," Elizabeth replied. So many things had changed, including who she felt she was . . . including her confidence in the woman her father had raised her to be. "Micah actually went English a few months back."

"Really?" Solomon sobered. "I didn't know that."

"So did my sister," she added.

Solomon eyed her, and he looked genuinely shocked. "Lovina went English?"

"Yah."

"She was younger than us, so maybe I didn't know her well, but . . . your family always seemed like the last ones to have kinner jump the fence," he said. He paused for a moment. "Did Micah and Lovina leave together? Like, were they in a relationship or something?"

"No, they went separately," she replied. "And we haven't heard from Lovina since, so . . ."

"I'm sorry I joked about it," he said quietly. "I thought I was the only one."

"Far from it," she said, then sighed. "But if you came back, maybe they will, too, right?"

Solomon didn't answer, and she searched his face for some hope that his return might mean something about the others. But Solomon's situation was so much worse than anyone else's. If Lovina went English and things went moderately well for her, she might not return. She might have no reason to . . .

"She hasn't written?" Solomon asked.

"No—not beyond what she wrote in the note when she left us."

"That's not a good sign . . ." he said. "No one has looked for her?"

"Where would we look?" she asked. "I talked to the Englisher police and they took down the information, but when an Amish person leaves, the police just think it's another runaway not wanting to live Amish anymore. And maybe they sympathize with it."

Solomon nodded. "Yah. They don't understand out there. They think that Amish teens deserve more than our communities offer. They think it's awful we stop schooling at eighth grade."

Elizabeth dropped her gaze. "They think a lot of things."

Solomon finished his bread, then pushed back his chair. "Mammi, can I help you with the outdoor chores?"

"Yah." Bridget beamed over at him. "You'll be the man here, Solomon. I'd much appreciate it if you stepped in."

Solomon's gaze rested on Elizabeth for a moment, and a smile tickled one corner of his lips.

"It's nice to see you again, too, Lizzie," he said softly.

Before she could answer him, he headed for the door, and she watched him leave—looking so very English going out to do an Amish man's duty.

"Elizabeth?" Bridget called.

Elizabeth startled and turned toward the old woman, hoping that the heat in her face wasn't visible. Bridget clasped her hands in front of her apron, and she looked slightly sheepish, her glasses slipping down her nose. She took them off and put them on the counter.

"I knew he was coming," Bridget said, and she licked her lips. "I knew it months ago."

"You knew?" she said.

"He wrote that he might get out early on good behavior. I didn't know when or anything, but I knew it might be a possibility. But my daughter would never have let me see the letter if I'd handed it over to her, and she'd likely burn it and not answer, so I—" Bridget licked her lips again. "I opened it and I answered it myself. He said in the letter that he might be able to get out early and I said he should come home."

Elizabeth nodded. "I understand . . ."

"When my daughter went to help Waneta, I asked for you to come stay with me because—" Bridget picked at her white apron. "I asked for you because I thought you of all people might understand Sol a little better. If he were to come back when Anke was away, that is. It was just a . . . guess."

"You thought I'd be more sympathetic to him because of my daet," Elizabeth surmised.

"Yah, because of him," Bridget agreed. "You know that someone can go wrong but still be a part of the family. And you know that someone can make a mistake and still need love."

Perhaps Bridget had given Elizabeth a little more credit for her forgiving heart than she really deserved. Her feelings toward her father right now were complicated at best.

"My daet isn't returning," Elizabeth said.

"Don't be so sure about that," the old woman replied.

"What do you want from me, then?" Elizabeth asked. "Is Solomon being home a secret or something?"

"No, not a secret," Bridget replied. "People will find out soon enough. But now that he's back, he's right about having a hard time settling in. People won't just forget what he did, and they won't just trust him after he's been in prison. It'll be hard for him—anywhere he went, it would be hard. I just hoped that maybe you could help him feel . . . welcome."

So Bridget's request that Elizabeth come stay with her while her daughter was away had been more than simple kindness to one of the grown Yoder kinner, reeling after their father's incarceration. This had been more calculated.

Bridget reached for her glasses on the counter and put them back on her face.

"How would I make him welcome?" Elizabeth asked. "This is your home, Bridget. I'm only helping you out."

"Be kind to him," Bridget said softly. "Don't treat him like he's different. Let him just be Amish, a regular man. Let him feel what it would be like to step back into this life. I think it would mean the world to him to have one person besides myself who sees him as he really is."

"You think I'll be able to?" Elizabeth asked hesitantly. "My daet's sins don't make me sympathetic to people who break the law, you know."

"I think if you looked dee. . .
We hope you are enjoying the book so far. To continue reading...
The Preacher's Daughter
Patricia Johns
Copyright © 2023 All Rights Reserved