Book info
Sample
Audiobook
Media
Author updates
Lists
Synopsis
Twins Ana and Nan are lost after the death of their mother, a renowned author who seemingly killed herself by jumping out of a window. Everyone knows who drove Elena to suicide - her long-time literary critic, Eben. But the twins need proof if they're going to get their revenge.

When Eben requests access to Elena's diaries at the National Library where the twins work, desperate to clear his name, they see an opportunity. With careful planning and just a little outside help, the twins lock down the labyrinthine building, trapping their colleagues, the public and most importantly Eben inside. But as a rogue security guard starts upsetting the plan and freeing hostages, Ana, Nan and Eben find themselves pushed to the limit. And what began as a single-minded act of revenge blooms into a complex unravelling of loyalties, motives and what it is that makes us who we are.

Hauntingly written, with a fresh, captivating voice, The Library Suicides is an intensely memorable and provocative literary listen for fans of high concept thrillers that break the mould, and books about books and the concept of the written word.

(P) 2023 Hodder & Stoughton Limited
Release date: January 19, 2023
Publisher: Hodder & Stoughton
Print pages: 320
* BingeBooks earns revenue from qualifying purchases as an Amazon Associate as well as from other retail partners.
Listen to a sample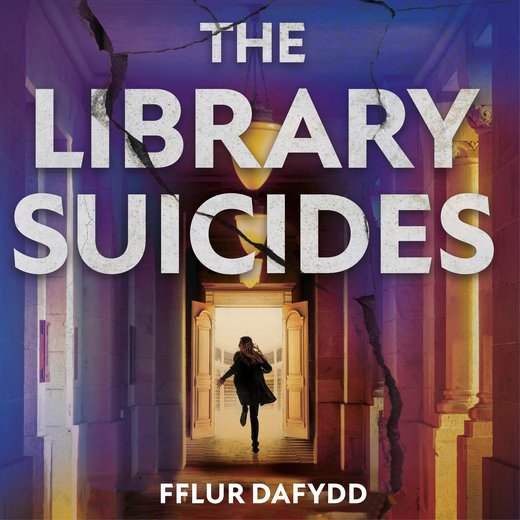 09:59:59
274.67 MB
9781399711098
January 19, 2023
Hachette UK
2023
The Library Suicides
Fflur Dafydd
Ana and Nan

9PM

The twins always saw themselves in the seagulls, even as children. Their feathered doppelgängers would come and sit on the bathroom ledge every evening and stare in at them as they had their bath, watching them with their curious pink-rimmed eyes. There would be a flash of recognition between both parties. Something vermin-like, something poisonous, would pass between them. Rats with wings, their mother would shout, before shooing them away. But the birds always came back; unlike their mother, who – six months ago – wasn't able to navigate her own drop from the ledge with quite the same ease.

There was a strange comfort in it now for Ana and Nan; to have the seagulls there during their bathing ritual, those webbed feet padding confidently across the cramped space where their mother had once stood. The twins watched these rolling resurrections with fascination, gazing at their feathered aggressors jostling each other, pushing each other off, with each ousted bird returning seconds later as though the fall meant nothing.

Ana and Nan could see the gulls trying to decipher – with every twist of their ugly, slanting heads – why two identical women would sit opposite each other in the bath every evening, conjuring stiff white peaks from their fingers until the suds obscured each one's view of the other. The shape afloat on the water was a replica of that building on the hill where the twins worked. They saw themselves as architects of foam, carving out from the amorphous mass the contours of a library in miniature – weaving windows from the fine white webs, moulding scented stacks and stairwells, their fists firming up each angle, their fingernails scraping away space for reading rooms and archives, all the while ensuring the egg-white roof was sturdy enough not to collapse on top of it all, and wash away their efforts.

What the gulls could not see was that this was more than mere bath play. Tonight, Ana and Nan were preparing themselves for the day that was nearly upon them, a day when they would take charge of the library, and expose its delusions of grandeur, of safety, for the soap-mirage it always was.

'When do you think we'll next have a bath?' Nan asked, as she straightened her right palm in order to forge a lower level into the structure, a squeaking subterranean corridor, the concrete version of which they would soon enter.

Ana knew what Nan was really saying was: There will be no baths in prison. None of this intimacy, none of this togetherness. No more of each other.

'Could be years, I suppose,' said Ana, wiping sweat from her cheek. 'A small sacrifice,' she added, taking her fingers for a leisurely stroll around the back of the building, imagining herself entering there as they had planned, Nan around the front. She used her left thumb to smooth out another step, then her right pinkie to make an outline of the doorframe.

'I know you're thinking about Mum,' Ana said, moving a little too suddenly so that her left breast bulldozed away half the North Reading Room. 'Wondering what she'd make of all this, aren't you?'

Nan sunk lower into the foam, kicking the library basement away with her toes, her hair morphing into a dark overgrowth on the library's roof. The structure was crumbling now; the suds having become limp and shapeless, even the gulls no longer interested. Nan hated the way Ana insisted she could read her mind, as if Nan's brain were a vacant room through which Ana was free to roam as she liked, opening and shutting doors, ransacking through cupboards, running her fingers over everything. Nan could never read Ana's mind; the doors were always shut, the windows dark.

'Yes, I suppose I am,' Nan lied, relieved that if nothing else, she owned her own mind.

'I think she'd approve, you know. Of all this. It's what she would have wanted. I don't think we need to be scared.'

Nan was not scared. If anything she was excited. Whatever happened, however things eventually played out, it would be the end of something. The start of another.

'If we just stick to the plan,' Ana continued, 'we'll be fine. Nothing's going to go wrong.'

Everything would go wrong, Nan thought. And this is how she knew her sister couldn't really read her mind. Because her sister still believed that Nan would carry things out in exactly the way they'd planned, when Nan had no intention of doing so – she was going to do things her way, even if it meant a longer sentence; and forgoing her right to a bath forever more. She had long imagined herself with that gun in her hand, taking control of it all; desperate to know how it would feel when she finally got to pull the trigger.

'Whatever we do, we do together,' Ana continued. 'After all we're the same person, you and I, aren't we?'

Ana's foot swam towards her. Nan lifted her own foot and pressed against it. She knew Ana saw this as a moment of unity, but for Nan it was the opposite: a real, physical sign of the boundary between them. Where one thing broke away and became another.

'Ana and Nan. One person. One soul. Palindromes.'

Nan hid her smile in the froth. Ana was obsessed with the fact that their names could be read forward, and backward, that they could formulate no other possible sounds. Ana was convinced that their mother had chosen them so that no one could interfere with their names; that their identities remained strong, unshakeable. Nan didn't see it like that. She saw their names as dull and uninspiring in their plainness; neutral as anything. As a young child she'd always dreamed of having a longer, greater title, something complex, multisyllabic. Something that spoke of revolt. Something like Arianne – a silvery wheel of a name; or Gwenivere – a girl glowing in the dark. Something that enticed yet terrified you.

'Palindrome,' Nan echoed quietly, as she opened her mouth to ingest the rest of the soap ruins.

*

As she tapped on the bath plug to drain the water, Ana saw that the doppelgänger gulls had flown away, leaving in their place a strange, black-headed seagull. She'd seen him several times before, parading the promenade near the flat, squawking at day-trippers, boasting his tar-tipped head. He'd never dared to come and stare at them like this before, either. Ana thought he must know what they were up to, wanted to be a part of it.

'Just ignore him,' Nan said. 'He's desperate for your attention; don't give it to him.'

Ana couldn't resist, somehow. She found herself sneaking a look at him every now and then as Nan finished rinsing the soap out of her hair. It felt like he was mocking them; the way he'd scared off the gentler gulls, just to assert his individualism, his singularity. It was as if he was saying that the sisters' doubleness wasn't right in some way – for there to be no birthmark, no scar, no blemish that set them apart, it was as if he was making out they were the freaks, rather than him. She stood up suddenly, hoping her nakedness would scare him off, but he wouldn't budge.

'Shoo!' she shouted, like her mother had once done. 'Shoo!'

'You've still got a bit of conditioner in there,' Nan said. 'Sit back down.'

'Shoo!' she said again, now determined to get rid of him, her breasts squished up against the window.

Still the black-headed gull refused to budge. He cocked his head; again Ana felt that he was waiting for something, waiting to be consulted about their plans, perhaps.

'OK, well you can sort your own hair out, then,' Nan said, standing up suddenly, hoisting one leg out of the water.

'Help me get rid of him,' Ana pleaded with her, grabbing on to her sister's slick, wet arm.

Nan reached over to open the window wide, knocking the seagull off his perch. It should have been the end of it. But the gull saw the open window as an invitation and glided smoothly past them and into the bathroom. They both went into a blind panic then, the bird flapping and squawking in the air above them as they grappled with him, entangled in one another's nakedness, their fingers sticky with feather and soap, both shrieking, the gull breaking away, fleeing this way and that before suddenly coming to a halt at the bathroom mirror.

It was perhaps the first time the black-headed seagull had seen his own reflection. Perhaps he thought this was the way of things; that in entering the twins' world, this is what happened – everything, everyone doubled. Became a perfect, clear, luminous reflection of each other. He perched there on the side of the sink a while, staring, trying to work things out.

'Grab him,' Nan said quietly, as though the bird might hear their intent. 'Do it now.'

Ana was frozen to the spot. She couldn't take her eyes off him, as he began to peck away at the reflection, disturbed by how easy it was to replicate himself. Nan eventually pushed her out of the way and grabbed him herself, but instead of hurling him back out of the window, she pulled him towards her and forced him down into the diminishing bath water. Ana backed away, watching as he thrashed relentlessly against Nan's hand, knowing somehow that if he held fast the water would soon be gone. But Nan had other plans, swiftly wringing his neck as the last of their soap structure died in the plughole.

'I didn't know you knew how to do that,' Ana said. Her sister was, for this one moment, no longer a twin; suddenly merely herself, just like the black-headed seagull.

'Neither did I,' Nan replied, with a curious calm.

There was a strange smell in the room now, the stench of pavement and death mingled with the perfumed steam coming off their bodies. Nan handed the bird to Ana.

'You can get rid of it,' she said, wrapping herself in a towel and marching out of the room, leaving Ana alone with the executed bird hanging limply from her hand.

Ana almost couldn't bear to touch it, and so she hurled it back out through the open window as fast as she could. She shut the window firmly and leaned her head against it. She tried not to think of the dead bird's ungraceful descent through the air, the final, dirty slap. How it had come in alive, and gone back out dead, all because of them.

A few minutes later, after checking the doors and the lights, Ana returned to their bedroom to find Nan already fast asleep, her back turned away from her. She was disappointed that the evening had ended so abruptly, but she supposed that the incident had exhausted them both, and they would need to conserve their energy to carry out all they had planned, for they had not slept well these last few months. She clambered in next to Nan, shuffling around to see if she could rouse her; but no, she was a dead weight across the mattress. Ana lay down next to her and tried to clear her mind and assume the inertia of a normal person, a person for whom tomorrow was just another working day. But those people were all fools, she thought; because their lives would never be the same. And there would be one fool in particular walking among them along that red carpet. The fool who had brought all this upon them in the first place; the fool who was finally going to get what he deserved.

Before long, she found herself entering the deadening dark that was both her friend and co-conspirator, the only place she could really be alone. Where only one vision awaited her, a vision that recurred all night, just beyond the thin veil of her eyelids; that of the library of soap and feathers evolving, sud by sud, feather by feather, brick by brick, into the National Library up on that hill; a building shining brightly into the darkness, bold and fearless in the face of night, without the faintest idea of what the morning would bring.

Eben

7AM

Eben had decided that today would be the day he would make a start on those daily affirmations his therapist was so keen on. He had attempted, and tried countless times before, of course, but because she had insisted that these affirmations needed to be carried out first thing, he had not been able to face it. The mere thought of having to heave his early morning, blotchy, bloated self over to the mirror in his pants and T-shirt was too much for him. No one in their right mind, he imagined, would consider it an image worth affirming.

Today, however, he knew he had to put those anxieties to one side. It was absolutely paramount that he walked into the National Library with his head held high, convinced of the fact that he belonged there and that he was not doing anything wrong. And in the absence of anyone else around him to affirm his decision – apart from his disinterested cat – it was simply up to him to tell himself that there was nothing sinister in his request to access these materials in the National Library. And that it was a means of atoning for something he knew he hadn't done. A kind of belt-and-braces response to the accusation.

He had been awake for hours, just staring at the Artex swirls on the ceiling, trying to avoid the moment when he would come face to face with his own awfulness. What the therapist simply didn't consider in all this was how much it actually took to get him functioning in the morning in the first place. He had a crick in his neck that needed rectifying before he could do anything else, and so he hauled himself to the bottom of the bed to grab his trusty rolled-up towel, placing it behind his neck and hoisting it up until he felt the familiar clunk of his head sliding back into place. Then he reached for his nasal spray to relieve some of the congestion that had built up overnight, but somehow managed to squirt most of it into his eye, leaving him squealing in pain as he tried to redirect it into his nostrils. The final undertaking in his self-assembly was to choose between his contact lenses and his glasses, a decision made easy by his watering eyes, but he paused before putting them on, as the thought struck him that the therapist hadn't actually specified that he had to take 'a good look at himself' with twenty-twenty vision.

He approached the mirror with caution. In front of him was a blurred image. For all his therapist's smugness, she obviously hadn't foreseen this particular loophole in her self-affirmation nonsense. He now realised he could cope with talking and looking at himself if all he was dealing with was a haze of colours and contours, which could very well have been anyone. Even someone worth affirming. He kicked himself he had not thought of it before, this half-acknowledgement of himself, half-blindly accepting he was enough. 'Perhaps I'm simply a person who does do things by halves,' he said to himself, quietly congratulating himself on coming up with this rather original affirmation.

'I feel,' he said out loud now to the blob in the mirror, trying to get used to the sound of his own nasal voice in the dry air of the flat. 'I feel confident in every situation.'

He was suddenly aware of the cat staring at him from the corner of the bathroom, unconvinced.

Eben lowered his shoulders, trying to assume a more authoritative poise.

'I like who I am,' he said, with more conviction this time, although he considered it to be the least true of the many affirmations on his therapist's list.

And finally, at the therapist's request – because he needed to utter a minimum of four, she said – he forced his parched, reticent mouth to deliver the words:

'I am not responsible for the death of Elena Oodig.'

He felt the heat of shame prickling up his neck, imagining a cacophony of other voices echoing across the town, all uttering the affirmations they'd been prescribed by the town's one and only therapist. What power she held, from that battered-looking leather chair of hers, knowing everything about the people in this town, hoarding every little secret they had. Who else did she have telling their reflection that they had not killed anyone? He imagined he was not alone in this; yet at the same time he had felt hopelessly alone in the whole debacle for months. It brought to mind another affirmation he had been asked to try, but quickly disregarded: Nobody else has my unique skill set. That, at least, was true. Nobody else had been accused of snuffing out an author on the basis of several scathing attacks in the press; no one else's words had been hailed as a 'hate crime', said to have driven a woman out of a window, out of her mind, and then over a ledge.

Today, however, he hoped to put all that behind him. Or at least to put his unique skill set to good use. It was his interest in her, the therapist had eventually convinced him, that had led to what others erroneously considered to be his annihilation of her. He had come around to the idea that he had been simply doing his job; was it not a critic's job to dissect a writer's work, draw those weaknesses to the surface, bring them to the attention of the less observant reader so that they could demand more of their writers in future? Was he not also trying to get Elena's attention by doing so; highlighting that he expected more from her; that, in fact, he knew she was capable of something deeper, better? Had his intent not been to push her to the brink of her own genius, rather than off the ledge of her bathroom window?

He shuddered again at the image, recalling the details of the fall he had read online. How some of her brain had been exposed on the pavement. The frontal cortex – that brilliant place where all her plots had been concocted – rolling right out of her skull, before being descended upon by seagulls.

Stop it, Eben, he told himself, trying to breathe through it and erase those images from his own, still-intact brain. All that mattered right now was that he was, at last, going to be able to read Elena Oodig's diaries. The very first person to get access to them.

He'd sent several requests of course; all of which had initially been denied. Eben eventually realised he needed a project in order to justify his research, and had written a lengthy letter to her daughters to ask for their permission to write Elena's biography; a task he insisted would be near impossible without access to private materials. After a long silence, he'd received confirmation via the library that they were happy to grant permission – and that he alone would be given the exclusive right to undergo the research, with a view to publishing her biography, if her girls approved of his angle. He saw this as an absolution of sorts: it perhaps indicated that her daughters were sensible enough not to hold him responsible for her death, the way others did, and that they, perhaps, saw better than most that there was no one better positioned to write about her than her most involved (not obsessed, as others said) critic.

He took a shower, deciding against a shave for fear of mishaps – under the circumstances it was hardly appropriate to arrive at the library dripping with blood – and then set about putting on his suit. The formal outfit was a departure for him, as he never usually gave any thought to his library attire, but he felt like the occasion demanded it. You had to dress properly if you wanted to be taken seriously as a biographer. A crisp, navy-blue blazer and a mustard-coloured tie to show that you had a modicum of personality, but not too much. No one wanted a biographer to have too much personality, for such a thing could eclipse their subject. But you wanted something for onlookers to latch on to. Your subject was dead after all; you were the only visible link. That's why he chose the mustard colour. And it wasn't the colour of the strong, brash mustard like you'd get in the bigger countries, the kind that would get up your nostrils and make you cry – but a gentler, taste-bud-teasing thing like they still made here in his own country – mixed in with honey.

It was exactly the sort of endorsement he hoped the book would get. A honey-mustard offering of a biography, sweet and sharp. He would ask a friend of his, Frankton, to write it. Frankton had made himself an expert on all things literary in this country, despite having no literary credentials of his own. He had fashioned himself into a critic, using the internet to create just the right persona, while he sat in his pants at his laptop eating jam tarts, typing away with little care or consideration for others. He was always open to offers; writers could actually pay him to write a good review and to rubbish their rivals – a great system that a certain group of male writers had benefited from for decades, boosting sales of the most mediocre books. But everyone knew you had to keep him onside. Having someone like Frankton offside simply was not an option. He was a word-filled grenade waiting to go off in your face and his castigations would fly your way like shrapnel, to lodge in your literary reputation forever.

Eben had met Frankton at one of Elena's book launches around a decade ago, where Frankton – his teeth blackened with red wine stains – had grilled him on his thoughts on Elena's work. Having seemingly passed some sort of test he hadn't been aware of, Eben was then invited by Frankton to be part of an underground collective called 'The Smotherhood', a group of reviewers who could snuff out the writers who annoyed them, making sure they were too insecure to write anything ever again. It didn't work with all writers of course. It made the odd one more determined, drove their success even; but there had been some small triumphs. And one great big colossal victory, depending on which way you looked at it.

'I am not responsible for the death of Elena Oodig,' he told himself again in the mirror.

Dan

7.30AM

His first task, every morning, was to complete a circuit of the empty library before the visitors arrived. For Dan, this was one of the rare perks of an otherwise shit job; the thrill of superiority as he took ownership of the vast, valuable emptiness around him. He would parade through the newly polished, deathly silent North and South reading rooms, relishing that they were not yet sullied by their readers' sweat and whisperings; before padding up the luxurious red-carpeted stairs into the main gallery, where he could fool himself, momentarily, that this was his own property, and that all the artworks there had been purposefully chosen by him, to enjoy at his leisure.

But his roleplay only lasted a few minutes before a beep on his security device told him to move on, through the door that linked him to the archives and storage areas, and then on to the basement of the library; the darker side of the institution no one wanted the public to see. From there on, the building that had been so plush and cavernous closed in on you, became a haunting labyrinth, where there was seemingly no order to anything, dead writers' memorabilia stacked in boxes, awaiting to be allocated a place, yellowing manuscripts lying like corpses on top of each other on dusty shelves, and the paintings no one knew what to do with scattered haphazardly behind filing cabinets, the eerie eyes of historical figures looking accusingly at you as you sauntered through in the dark. This part of the library, Dan thought, seemed to resemble the bowels of a ship; and those on its spacious, clean, orderly deck had no idea of the mechanics of it, of what it took for a place like this to function.

And that's where he came in. It still surprised him that they trusted him to be the only one alone in the building first thing in the morning like this, just as they trusted Glyn, the rather paunchy porter who was so partial to a kebab delivery, to complete the night shift alone before him. There had been a time when they'd needed two porters to be on duty at all times in order to make sure the other one didn't simply doze through a night's duties; but with the recent cuts, and the advancement of the new wireless porter-cams – which tracked each porter's movement throughout his shift – the building was now deemed safer than it had ever been. The porter-cams, clipped to each porter's belt, meant that others could stream their live actions, seeing what each porter saw in front of them as they went about their rounds. As well as watching them, the management team could also listen and hear everything they said through the microphone located in the device, making sure each porter had to watch his mouth, even when he was alone. Even if Dan managed to slip out of view of the CCTV for a while, that noose around his waist meant he was never truly free, and might as well still be in prison. It was perhaps the arch-porter's smugness about this new foolproof wireless security that had driven Dan to start exploring the configurations in the programme, determined to find some loophole in the technology, to see if there was a way he could somehow reconfigure the dismal present he found himself in.

Before embarking on the circuit around the building and taking over from another porter, the security handbook noted – rule 45 – that all porters should be briefed on the events of the previous shift, even if there was little to report.

'All right, Glyn?' Dan said, plonking himself down next to him in front of the CCTV screens. 'Busy night last night?'

'Seagull impaled itself on the flagstaff,' Glyn replied, pointing to the screen on the far right, showing footage of the library's roof. 'Hell of a mess up there – I didn't notice it until around seven thirty, so I thought I'd leave it to you to clean up, otherwise I'd be doing overtime.'

'Oh, and we couldn't have that, could we, Glyn?' Dan replied, trying to make out how much of the mess in question could be seen on the grainy footage, zooming in on a burst of feathers and blood clinging stubbornly to the metal pole. It was probably a two-minute job, Dan thought, if that.

'Anything else I should know?'

'Don't think so, no,' Glyn said, heaving himself up off the chair, belly flopping over the rim of his trousers. He then flung the security contraption at Dan, whipped up his coat and left without saying goodbye, leaving a waft of body odour in his wake.

Dan got up and scanned the security device against the strip of metal to clock in for his shift, activating the locking and unlocking function on the device via his staff ID. It was one thing Dan still couldn't get his head around, how there were no more keys, now, because they were seen as hoarders of bacteria, a complete health hazard. Dan missed the jangling of a good set of keys in his hand, the cold coupling of steel and skin. He had liked the sound as you hoisted them out of your pocket when you approached a door; the way the jangle of keys announced an arrival. Certainly in prison it had been a symphony of sorts; it signalled your warden was coming to release you, to give you some much-needed time outside; it signalled movement, change, anything but the awful humdrum of his cell. This silent contraption made from antibacterial plastic that the porters were asked to hand over to each other just didn't have the same effect. It reminded Dan, with its single white stripe across its black plastic head, of those nuns who'd visited the prisoners when no one else would – and of that one sister in particular who had advised him that the best way to secure an early prison release was to volunteer for the library's security training while he was still inside.

'People who show an interest in libraries are usually good people,' she'd said, looking up at him with her kind, unassuming eyes. Dan had turned away, then, suddenly emotional with the idea that someone could think him capable of being a good person. She knew what he'd done; and he was grateful that she had kept coming to visit him in spite of it, so much so that he'd agreed to apply for the library scheme.

Not that he'd ever seen her again, either, after that day, but he honoured the memory of her by referring to his security device as the nun or the sister, though the term had not particularly caught on with the other porters, who mainly referred to it as 'the whats. . .
We hope you are enjoying the book so far. To continue reading...
The Library Suicides
Fflur Dafydd
Copyright © 2023 All Rights Reserved