The Late Train to Gipsy Hill
Book info
Sample
Audiobook
Media
Author updates
Lists
Synopsis
Gary Nelson has a routine for the commute to his rather dull job in the city. Each day, he watches as a woman on the train applies her make up in a ritual he now knows by heart. He's never dared to strike up a conversation . . . but maybe one day.

Then one evening, on the late train to Gipsy Hill, the woman invites him to take the empty seat beside her. Fiddling with her mascara, she holds up her mirror and Gary reads the words 'HELP ME' scrawled in sticky black letters on the glass.

From that moment, Gary's life is turned on its head. He finds himself on the run from the Russian mafia, the FSB and even the Metropolitan Police - all because of what this mysterious young woman may have witnessed. In the race to find out the truth, Gary discovers that there is a lot more to her than meets the eye . . .

Praise for Alan Johnson:

'Charming' Mail on Sunday
'Johnson's writing style is easy, relaxed, self-deprecating . . . impressive' Observer
'Johnson writes wonderfully' Telegraph
'This boy can write . . .' The Spectator
Release date: September 2, 2021
Publisher: Headline
Print pages: 352
* BingeBooks earns revenue from qualifying purchases as an Amazon Associate as well as from other retail partners.
Listen to a sample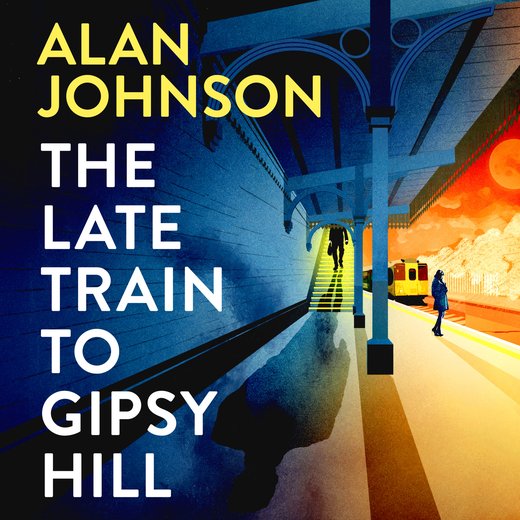 08:50:30
242.86 MB
9781472286161
September 2, 2021
Hachette UK
The Late Train to Gipsy Hill
Alan Johnson
There is a cat in the Strand Hotel that is said to be fifty years old. It arrived in the Swinging Sixties when the hotel was at the epicentre of London's cultural renaissance, and was named Oskar after its German owner who managed the hotel at the time.

Rarely have the myths about the Strand matched reality but there is usually a sliver of accuracy. For instance, the Beatles are supposed to have stayed there in the 1960s whereas the truth is that Brian Epstein spent one night at the hotel in 1961, not long after he'd met the band and well before they were famous.

It is similarly claimed that Terence Stamp once had a suite of rooms where he'd partied with Julie Christie and Alan Bates. In fact, one of the cameramen working on the movie Far From the Madding Crowd had a room for a week during a break from filming in 1966.

As for Oskar, far from being fifty years old, he is simply the latest in a long line of hotel cats with identical colouring – pure white with a splash of tortoiseshell on head and back. Since that first cat arrived in the sixties, successive Oskars have sat sphinx-like in the hotel foyer or wandered through the bar, restaurant and reception rooms bearing witness to the comings and goings at this busy auberge.

The elegant, sixty-bedroom hotel in Pimlico trades upon this harmless folklore, even displaying a photograph of the feline methuselah in a brochure that repeats the inaccuracies that add such charm to its impeccable reputation.

But on Friday, 10 July 2015, murder would be committed at the Strand Hotel. For once, what would undoubtedly become part of the myth would be a reality, with the cat a passive observer.

On that fateful morning, Oskar wandered into one of the smaller reception rooms on the first floor which Denis Smolnikov, a Russian visitor who had long frequented the Strand, had booked for an hour from 11 a.m.

Mr Smolnikov, a barrel-chested man with a deep voice and imposing presence, was a famous producer of documentaries and claimed to have been commissioned by CNN to make a film about the suppression of political opposition in Russia. He was there to meet Igor Golovin, the well-known human rights activist who had been exiled in London ever since attracting the enmity of the Russian President a decade ago. The slight, cerebral Mr Golovin arrived at 10.45, bending down to stroke Oskar before vigorously shaking hands with his host.

Two other Russians arrived at the same time as Mr Smolnikov. The journalist Sergei Dzyuba had flown in from Amsterdam where he'd lived in exile since writing an article exposing the extent of Russian criminal activity in London. Known to both Golovin and Smolnikov, Dzyuba was principally responsible for brokering the meeting. His long, greasy hair fell almost to his shoulders and from beneath its dishevelled fringe his tired hazel eyes gazed around the room suspiciously. The other Russian was Stanislav Miranchuk, the film-maker's assistant. He wore black horn-rimmed glasses, had a small blue tattoo under his ear lobe and carried with him a discernible air of menace. This quartet chatted amicably, quaffing tea and scoffing pastries as they discussed the important issues of liberty and free speech that the documentary was going to explore.

Oskar sat under the trestle table, from where a young waitress was dispensing refreshments. She was a strikingly attractive girl with long, ash blonde locks bunched into a hairnet in accordance with the hotel's rules on hygiene. This accentuated her perfectly round grey eyes and high, pronounced cheekbones. Her accent suggested that she was possibly Russian, certainly Eastern European.

Oskar watched as Denis Smolnikov gave the waitress precise instructions as to how and when to serve the next round of hot drinks: which cups of tea or coffee were to be placed where. Indeed, Mr Smolnikov had spent so much time at the trestle table that an observer such as Oskar could be forgiven for thinking that he was one of the hotel staff.

The men were left in peace to conduct their business for half an hour until a commotion erupted. Several revellers decked in the colours of CSKA Moscow, the Russian football champions who were playing a friendly match at Chelsea that evening, burst into the room chanting their allegiance. They'd clearly started on the vodka early. Some carried open bottles of the stuff and were liberally pouring measures into the tea and coffee of their new-found friends. But Oskar noticed the bottles of water that they all seemed to have jammed into the back pockets of their jeans.

The men at the table raised their cups in salutation and there was laughter and good-natured banter as the football fans weaved around the reception room.

Oskar barely blinked. He saw a bearded man in the distinctive blazer of a Strand Hotel manager enter the room and leave again silently a few minutes later without appearing to have spoken to anybody. Smolnikov's assistant, Miranchuk, followed him out.

Oskar observed Denis Smolnikov giving the waitress final instructions, ensuring that she knew which cup of coffee to place before Igor Golovin, before being drawn into the melee caused by the chanting football fans. Smolnikov was a Director of CSKA Moscow and was due to attend the match that evening.

Oskar, watching carefully, was almost sure that the flustered waitress had put the cup meant for Golovin in Smolnikov's place.

It would take Denis Smolnikov six days to die from the 30.5 micrograms of polonium-210 he consumed at the Strand Hotel that morning.

Gary Nelson lay awake contemplating his uneventful life. He'd passed the point where sleep usually prevailed and begun his futile night-time pursuit of reflection. The streets of Crystal Palace had settled into silence as he stared at the ceiling, following the shapes projected by the headlights of an occasional passing car.

Gary was twenty-three and the most adventurous thing he'd ever done was leave the dull provinciality of Aylesbury and the council house he'd shared with his mother to strike out alone towards excitement and opportunity in the big city. That was three years ago and all that had materialised was monotony.

He understood his personal deficiencies all too well, but on restless nights like this he couldn't help analysing them. He was tall, but an inch or two shorter than he'd like to be; slim, but a few pounds heavier than he should be. His dark curly hair was okay (apart from having been cut too short by the Turkish barbers up on Westow Hill) and his round face with its green eyes and aquiline nose was pleasant enough for him to be described as 'good-looking'.

But it was character that troubled Gary more than looks. He considered himself to be a reasonable specimen of the human race; compassionate and even-tempered but with something missing. Something indefinable that he nevertheless sought to define in his sleepless introspection. There was a meekness, a propensity to always concede the point. Often described as being good-natured, he yearned to be bad-natured – just for a change. He'd never had much of an idea what he wanted to do with his life, only that he wanted to live it with gusto. The best way he could describe it to himself was that he wanted a big life and the one he was leading now, even after making the move to London, seemed very small.

As for his love life, it mainly consisted of a series of one-night stands; of first dates that rarely led to a second. Gary was a romantic without a romance; an adventurer more reticent than intrepid where women were concerned; a buccaneer who'd yet to find his way to the sea.

He shared this house at 27 Mount Street with three others. Jason Cowan-French was the eldest and the only one over thirty. He had the kind of self-confidence that always disconcerted Gary whenever he encountered it. Jason had apparently once served in the armed forces, but now worked in the City, earning more than enough, his housemates assumed, to live on his own in one of those soulless luxury apartments around Canary Wharf rather than share a house in this unfashionable part of south London beyond the reach of the underground.

Knuckles was the newest housemate. He'd signed all the paperwork as 'Mr I. Murray' but announced, 'They call me Knuckles' upon arrival, with no further elaboration. A stick-thin Ulsterman from Belfast, he was around the same age as Gary but with his prematurely thinning hair and the wire-framed glasses he wore, looked much older. Knuckles was currently working as a runner for a media company and described himself as an apprentice TV star.

Melissa Thomas was the youngest housemate. Blonde, petite and barely twenty-one, she'd come to London from South Wales and worked in advertising. Mel (as she liked to be called) read constantly, loved music and seemed unaware of Gary's silent admiration.

The four of them shared a house built when Joseph Paxton's magnificent glass construction was first attracting people and prosperity to what had until then been known as Penge Common. But now, like most of the elegant buildings in Crystal Palace, it had been divided into flats, although 27 Mount Street, unusually, had a large communal living room and kitchen. Jason, Knuckles and Melissa had rooms below this central feature, whilst Gary had to climb a narrow staircase to the room he was in now. It wasn't the best in the house, but it was the biggest and being high up suited him. He'd always been fascinated by the stars and was willing to sacrifice comfort to be closer to them.

Having lain awake since 11.30, Gary had already gone over every detail of the Tuesday evening he'd just spent with two of his housemates that had contributed to his restless mood. They'd devised the ritual of a once-a-week gathering to discuss domestic issues in reasonably pleasant surroundings. The original idea (Jason's) was that they'd go to a different pub every week, but for months now they had used the same one – the Dog and Pheasant on the corner of Anerley Road, where the beer was better than average and Knuckles could get the pickled eggs that he had a strange (and, to the others, incomprehensible) yearning for.

It was rare for all four of them to be present at these Tuesday gatherings, but Jason had drawn up a list of Standing Orders that included the requirement for any two housemates to attend for the meeting to be quorate. This week only Knuckles was absent, working late on a show called Celebrity Stitch-Up in which (he'd told his housemates) stars demonstrated their sewing and crocheting skills, competing for the title Knit of the Year.

Jason and Melissa were already settled in the saloon bar when Gary arrived, delayed by a faulty train outside Balham. He worked in the Accounts Payable department of a national newspaper. The office was in Covent Garden and Gary had to endure the misfortune of Southern Rail on a daily basis, whereas Melissa and Jason were both fortunate enough to travel to and from work in the City on the more modern and reliable London Overground.

Gary had applied for his job while still living at home in Aylesbury and always meant to get something else once he'd arrived but, with typical inertia, never had. That evening he'd felt the familiar pang of inferiority tinged with jealousy as he walked into the pub to find Jason and Melissa giggling together. He was peeved by the secret joke that they made no attempt to share. Then, as Gary settled opposite them with his pint of Fosters, Jason announced that the meeting had concluded.

'One decision has been made, which is that we install a sink tidy purchased from communal funds.'

'Two questions,' said Gary after taking his first gulp of lager. 'One, what the hell is a sink tidy, and two, which communal funds would those be?'

Jason explained how triangular plastic 'tidies' were once a feature of every respectable sink in the land and were essential for good hygiene and the future of the planet.

'As for communal funds, I should have said that another decision has been made in your absence; that each tenant be asked to pay a pound a week into a petty-cash fund for small necessities.'

Gary, already irritable, got into a silly argument about whether a decision on financial matters should require unanimity. This provoked a fierce response from Melissa.

'Oh, perhaps we should introduce a single transferable vote. It's only a frigging pound, Gary. For a sink tidy, for God's sake.'

Her mellifluous Welsh accent made the cursing seem more hostile than it was probably meant to be, and Gary was shamed into silence. The sink-tidy row set the pattern for the evening and, for that matter, so many other evenings at the Dog and Pheasant.

Tall, confident, double-barrelled Jason, broad of shoulder, relaxed of manner and revelling in a natural sense of authority, would poke fun at Melissa, causing Gary to intervene on her behalf only to be shot down in flames by the woman he was desperate to impress.

On this occasion Jason had plucked the book that Melissa was reading from her handbag, announcing author and title loudly and disparagingly. 'A. S. Byatt, A Whistling Woman,' he pronounced slowly. 'Bet this is a page-turner.'

'Part of her Frederica Quartet and far too sensitive for you, Jason,' Melissa said, nonchalantly sipping her gin and tonic. 'I'd stick to the stuff you're bound to like – macho stuff like Hunter S. Thompson or the orcs and elves in Tolkien, presuming you've ever read a book, that is.'

'Nothing wrong with sensitivity anyway,' Gary interjected. 'I love Jane Austen.'

'I hate Jane Austen,' Melissa said, snatching the book back from Jason and heading off to the Ladies'. Gary had never actually read any Jane Austen but felt as wounded as if he had. Later on, just before closing time, the conversation turned to sport. Melissa was ridiculing Jason's devotion to rugby.

'Rugby players aren't as tough as they pretend to be anyway,' she said. 'I once went out with one who was such a hypochondriac he went to A & E because he thought he was peeing blood. It turned out he'd eaten some beetroot.'

'Couldn't have been much of a rugby player if he ate salad,' observed Jason. 'Anyway, you're Welsh. You're supposed to love rugby.'

'Licensed thuggery – I hate all sport . . .'

'Me too,' agreed Gary. 'Especially football.'

'. . . except football,' Melissa concluded her sentence.

After an awkward silence she said, 'Me and my dad were season-ticket holders at Swansea.'

Once again Gary's obsequious dissembling (far from disliking sport, he was passionate about cricket) had got him nowhere.

On the way back to Mount Street, Melissa put her arm through Jason's – two protagonists united by mutual respect. Gary mooched along beside them thinking of all the witty things he should have said over the course of the evening.

Now, two hours later, he could feel sleep descending at last. Another day lived without incident. All the excitement in life lies in the unseen future rather than the disappointing present? Who was it who said that? He couldn't remember. Perhaps it was an original thought. He fell asleep slowly reciting the words in his head, like a mantra.

It may have only been a friendly match, but a decent crowd had arrived at Stamford Bridge to see it. The evening was balmy and the atmosphere benign. With nothing to play for but pride, there was no edge to the usual rivalry amongst supporters.

For Chelsea fans the terrible drought of the non-footballing weeks between May and August was almost over. Their team were league champions and this match was a tasty hors d'oeuvre for the feast of football to come.

Moscow's fanatical supporters relished the opportunity to see CSKA play against one of Europe's elite teams, whose owner, Roman Abramovich, had been associated with their club when they'd lifted the UEFA Cup in 2005. It was the tenth anniversary of that great victory, the finest in their long history.

The two sets of fans streamed along the Fulham Road, most in shorts and T-shirts as if heading for the beach. Older Chelsea fans could remember when the league season ended in April and didn't begin again until it was almost autumn; a time when many professional footballers were able to switch to cricket for the three months of summer.

As for the more mature amongst the CSKA supporters, there was nostalgia for the old days when their club was the official team of the Soviet Army.

But for them all, tonight was not about seasons past but the season to come; an opportunity to see new players who'd arrived in the close season and assess their team's chances of achieving even greater glory over the coming months.

Denis Smolnikov arrived in the Chairman's Suite at Stamford Bridge ten minutes before kick-off, sweat glazing his fleshy face, his full lips and clear blue eyes forming an apologetic expression. As a Director of CSKA Moscow he'd been invited to the dinner hosted by Abramovich for visiting VIPs which had just concluded in his absence.

Smolnikov was a popular man. His fame and charismatic personality quickly attracted an audience. Russian colleagues had been concerned by his late arrival, but he explained that in the course of a frantically busy day several meetings had overrun. He mentioned the CSKA fans who'd come to the Strand Hotel that morning and joked that they'd been responsible for his disrupted schedule.

Several attractive young women vied for his attention. Amongst the Russian women at the dinner there appeared to be none who failed to meet such a description. Smolnikov, the famous film-maker, was a man to be admired, and courted, and seen with. His fame had begun with a TV series following the lives of ten Russian children born in 1990. It had some of the highest viewing figures ever recorded and became a token of the new Russia emerging from the Soviet years. Everything he'd done since had enhanced his reputation and increased his influence.

The Russian ambassador pushed through the coterie to shake the hand of the latecomer. There had been pressure on Chelsea to cancel this match because of the political fallout from Russia's annexation of Crimea the previous year and the ambassador had worked hard to make sure it went ahead. His presence this evening was symbolic and Smolnikov paid him due deference.

The match was about to begin and as the assembled VIPs moved en bloc towards the cushioned seats of the Director's Box, Smolnikov hung back to talk to his assistant Stanislav Miranchuk, who'd been with him at the Strand Hotel that morning and who had been the most agitated about his boss's late arrival.

The two men moved to a far corner of the suite to converse in Russian, away from the staff who were busily preparing the room for the next bout of hospitality at half-time.

Miranchuk removed his horn-rimmed glasses and as he polished the lenses with his CSKA scarf said, 'What happened?'

'I'm not feeling a hundred per cent, but never mind that, where did you get to this morning? You left the Strand without telling me.'

'I saw something. A guy with a beard came into the room in a Strand blazer; someone I've never seen at the Strand before. I followed him out of the room and saw him take off his jacket and leave the hotel, which made me even more suspicious.'

'Who was it?' asked Smolnikov.

'I don't know, but I got Morozov to follow him. Now we know where he lives and will soon be paying him a visit.'

There was a roar from the Moscow fans as their team forced a corner.

'Was everything administered properly this morning?' Smolnikov asked.

'Yes, that bastard will feel the first pangs in a day or so. Just a little nausea at first and perhaps the beginning of a headache. Nothing much. He'll put it down to travel sickness. It's good that he'll be well out of the country before experiencing the effects. We don't want to spoil our patch.'

'No,' Smolnikov agreed, 'or burden the NHS.'

Laughing, the two men sat on a couple of stray chairs, lighting cigarettes (in contravention of the No Smoking signs) and stretching their legs.

Miranchuk said, 'Sometimes I think we can do anything we like in London. It is ours – we own it.'

'Careful, my friend,' Smolnikov responded, sitting up straight and grabbing a saucer to use as an ashtray. 'I'm not sure the President is entirely happy with our activities.'

'But that doesn't stop him using us when he wants to. Anyway, you're his buddy, so what's the worry?'

'Our President is ruthless,' Smolnikov said. 'Doesn't matter if you're friend or foe or even family. If he sees you as a threat . . .'

'But why would he see us as a threat?' Miranchuk protested.

The two men reflected for a moment, blowing smoke rings.

'He didn't authorise what we did today. Today we deal with our enemy, an enemy of Krovnyye Bratya,' Smolnikov said, referring to the biggest and most vicious arm of Russian organised crime operating in the UK. Also known by its abbreviation as KB, it had been formed by the siloviki, a clan of former KGB men, to be a kind of organised-crime component of the Russian state, but had begun to exercise greater independence after the KGB had been renamed (but hardly reformed) as the FSB when the Soviet Union collapsed. Miranchuk worked for Krovnyye Bratya and Denis Smolnikov had formed a close association.

'But you're right. He has no reason to see us as a threat,' Smolnikov continued. 'We supplement his power – we don't challenge it.'

'And we have links to the police here that our FSB friends will find very useful,' Miranchuk added.

'That's right. While it's unwise to embarrass the President, causing him a little consternation once in a while shouldn't cause us any problems. Well done today.' Smolnikov placed a hand on his colleague's shoulder. 'And now I must join Mr Abramovich in his private box. One of his lackeys told me he was expecting me there, and Roman is not a man to be kept waiting.'

*

As Miranchuk was finishing his cigarette after Smolnikov's departure, another man slipped quietly into the chair beside him. It was the slim, impeccably tailored figure of Ivan Ilkun.

'Ivan, I thought you'd be here somewhere. You should have come over to meet Denis. I could have introduced you,' Miranchuk said, shaking hands with his new companion.

'I am just a humble agent of my country, not worthy of the attention of such a famous man,' Ilkun said, brushing a stray piece of ash from the lapel of his dark blue suit.

He was a handsome man, square jawed with a high forehead and deep-set eyes. The two men were almost exact contemporaries and had known each other since their army days. But whereas Stanislav Miranchuk had then laboured in the lower orders of the security services, Ilkun had risen to the rank of colonel in the foreign intelligence division of the FSB. He'd recently taken on a looser, more unspecified role that had brought him to London at the turn of the year. Hav. . .
We hope you are enjoying the book so far. To continue reading...
The Late Train to Gipsy Hill
Alan Johnson
Copyright © 2021 All Rights Reserved