Book info
Sample
Audiobook
Media
Author updates
Lists
Synopsis
A gripping, terrifying road trip through the heat of the post-apocalyptic American desert from the author of Netflix's The Silence
With global warming out of control, large swathes of North America have been struck by famine and drought and are now known as the Desert. A young woman sets out across this dry, hostile landscape, gradually building an arcane apparatus she believes will bring rain to the parched earth.
Jesse lives alone, far from civilization. Once, he too made rain, but he stopped when his abilities caused fatalities, bringing down not just rain but scorpions, strange snakes, and spiders. When his daughter Ash inherited this tainted gift, Jesse did his best to stop her. His attempt went tragically wrong, and he believes himself responsible for her death.
But now his estranged wife Karina brings news that Ash is still alive. And she's rainmaking again. Terrified of what she might bring down upon the desperate communities of the Desert, they set out to find her. But Jesse and Karina are not the only ones looking for Ash. As the storms she conjures become more violent and deadly, some follow her seeking hope. And one is hungry for revenge.
Release date: July 19, 2022
Publisher: Titan Books
Print pages: 352
* BingeBooks earns revenue from qualifying purchases as an Amazon Associate as well as from other retail partners.
Listen to a sample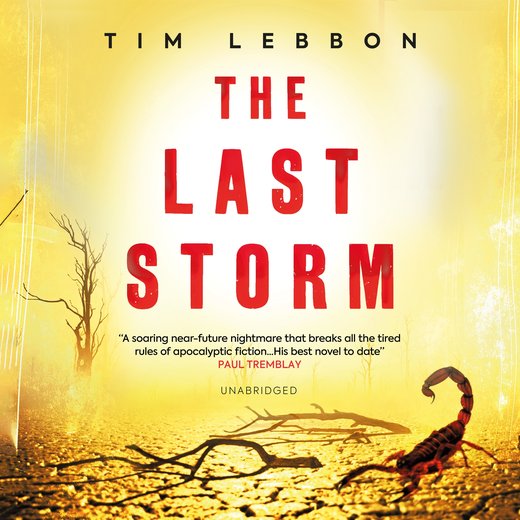 09:48:01
269.19 MB
9798212017947
July 5, 2022
Blackstone Audio
The Last Storm
Tim Lebbon
JESSE
The room was full of bad things. Three wooden crates stacked in one corner contained zip-locked bags of drugs. The lid had slipped from the top crate, and no one seemed concerned. There was nothing hidden here. The table pushed against the opposite wall was strewn with empty liquor bottles, overflowing ashtrays, a cracked mirror dusted with what looked like heroin, a fat roll of dollar bills stained with something that wasn't water, and a handgun. Propped against the table was an AR15 with a bump stock. Jesse wondered if it was there to intimidate him. It was probably just there.
"So you're sure you can do this?" the man asked. He was one of the bad things in the room. He sat on a plastic chair, right ankle resting on his left knee. He was heavily bearded, hair expensively cut, and a delicate ring glimmered in his left nostril. He'd said his name was Wolf. It was ridiculous, but Jesse didn't feel like laughing. A man and a woman stood just behind Wolf. Neither of them had spoken, but they both watched Jesse with calm weariness. He did not know their names, and didn't want to know. He thought of them as Snake—the tall white guy with a bald head and tattoo of a python eating his left ear—and Harley, the short, muscled black woman in a Harley Quinn T-shirt.
"Yes," Jesse said.
"Only, we've let you in now," Wolf said, glancing around the place as if it was anything other than a wretched fucking pit. But he didn't mean the room. "Let you see. Let you know. And you can't unsee and unknow."
"I don't see anything," Jesse said. "And like I told you, it works best outside."
"I don't want you doing it outside," Wolf said. "People might see."
"Who?" Jesse asked. Perhaps there was too much challenge in his voice. Snake crossed his arms. Harley shifted from her left foot to her right and back again. Stay calm, Jesse thought, even though calm was the last thing he felt.
"People," Wolf said, drawing the word out. "Eyes in the sky."
The man's alleged concern made no sense. It was absurd. The small blockwork building stood within acres of poppy plants, and if anyone saw Jesse out there doing his thing, they'd also see them. Maybe the guy's own product was making him paranoid.
Jesse felt sweat running down his back. I'm such an idiot. He should have turned the other way when this opportunity arose, but when contact was first made he and Karina were too broke for him to accept what he was getting into—the secrecy, the guns, and the murdering thugs. And when he realised, he was already in too deep. When he tried to go back on his agreement, they threatened his family with violence. In the end, he had no choice.
The only positive was that he was doing this a thousand miles from home. Karina and his sweet little Ash didn't even know where he was, and until this was over and he returned home with a wad of much-needed cash, that was how it would remain.
"Don't worry, nobody knows me," Jesse lied.
Wolf looked him up and down. Jesse let him, glancing instead at Snake and Harley. He wondered how many people they'd killed between them—and how—and cursed his vibrant imagination. They returned his gaze, expressionless.
He had to stay calm, level, unruffled. It wouldn't work otherwise.
But he looked at the AR15, and the dusting of heroin, and the roll of stained cash that was probably meant for him, and realised again what a total idiot he'd been.
"Outside, then," Wolf said, standing from his chair. He clapped his hands together and grinned. "But not for long."
"It'll be quick," Jesse said. Another potential lie. He never really knew how long it would take, and that piled on more pressure. Once, in Omaha, he sat on his own in a dry riverbed for almost five hours before the first patter of light rain speckled the dusty ground.
Snake picked up the AR15 and handgun and left the hut. Harley inclined her head at the door to indicate Jesse should go next, and she and Wolf followed him out. Over his shoulder, Jesse carried a small wooden case on a leather strap. The strap was worn and darkened from years of use. The case was inlaid with an intricate design of a large tree, canopy and roots mirroring each other. Different types of wood had been used to create the design, and over the years some of it had shrunk and fallen out, leaving only a shadowy memory. He had no idea who had made the case or where it came from. It had called to him from an old antique store. It had been empty, and he had filled it with his apparatus.
Wolf had not told his minions to search inside the case. He knew what it contained.
Outside, the heat struck Jesse a physical blow. He squinted, dropping the sunglasses from his forehead back down over his eyes. He plucked the cap from his back pocket and pulled it tight onto his head.
Everything was dust. It coated his damp skin, scratched its way into his eyes and ears, his nostrils, and the cracked creases of his lips. He felt it inside his clothing, settling into the contours of his body and chafing when he walked. It was the dust of dead things. Jesse looked down as he walked and kicked up dry, sterile grit, the ground begging for water to bring it back to life. The sun beat at the back of his neck, seeking to dry him out, leach from him the waters of life. Everything he did was to prevent that from happening, and to stop it from happening to others. He told himself that, time and again. He told Karina and thought she believed him, hoped she did. He needed her to believe. Jesse needed the firm understanding that everything he did was from a position of control. That was the only way it would work. Confusion, stress, tension, fear: all were the enemy of his gift.
Stretching in every direction were row upon row of sickening poppy plants. Suspended above them on a grid of bamboo struts and wires, just above head height, were other creeping plants. He didn't know their species, only that they too were almost dead. There were irrigation channels and a network of flexible hoses trailing beneath the loose planting structures, but many of the hoses were old and desiccated in the intense, unrelenting sunlight. Wolf had told him that for many years they'd been tapping into the nearby river: then, when that dried up, the reservoir six miles away in the hills. Last year, that had also gone dry. The shrubs used to camouflage the crop had dried and died first, leaving the poppy fields exposed to aerial surveillance. It was only a matter of time before they were found out.
That was why Jesse was here, with his apparatus in the wooden case slung over his shoulder. He had come to make rain to save the crop and fill their water storage facilities. For that, Wolf had promised him sixty thousand dollars.
The art of his gift was what drove him, but there was also the money. And there was also his unspoken certainty that, whether his attempt worked or not, this crop was doomed. If he could not bring rain, the plants would not last another month. If he could usher in a downpour, it would not only be a mere shower. That was not how it worked. His level of control was not quite as refined as he had claimed to Wolf. If and when his rains fell, they would do so in a storm that might wash away the loose, dried soil, flood the fields, strip away and drown many of these illicit crops.
Jesse knew he was an idiot. He only hoped he could take the money and run before the full deluge arrived and Wolf realised what he had done.
"Where?" Wolf asked.
"Here is fine," Jesse said.
"You're sure?" The drug farmer was eager and excited to see what Jesse could do. It was a normal reaction, but Jesse didn't regard Wolf as a normal man.
Snake and Harley moved away, giving him distance and space as he stood looking around. The suspended camouflage crop was mostly pale, a sandy colour with occasional wan green patches where some plants clung to life. It was a familiar scene. The drought was deep and long; the world continued to change and, however much Jesse tried to help, he was little more than a speck of sand on a vast beach.
"So, what happens now?" Wolf asked.
"I set up," Jesse said. He paused, looking directly at Wolf. "I need peace. And quiet. And solitude."
Wolf gazed at the wooden box hanging from Jesse's shoulder.
"Is it true you have to stick needles in your arms?" Wolf asked.
"It's nothing like that," Jesse said, trying to keep the disgust from his voice. But as Wolf shrugged, turned, and walked away, he had to wonder whether it was more similar than he'd care to admit.
Jesse breathed deeply a few times and turned his face to the sky. It was clear and pale blue, scorched almost cloudless by the unrelenting sun. He remembered his mother doing the same, and he had a rich, living memory of the first time he'd asked what she was doing. He'd been maybe five years old then, and she had been five years away from the flames that would consume her.
I'm wishing upon a cloud, she'd said, laughing as Jesse assumed the same position. See that one, son? It looks like an elephant.
He saw no elephants now. There were a few scattered cirrus clouds so high up that they were barely smudges against deep blue infinity. Other than that, the sky offered no signs of rain.
Jesse shrugged the box from his shoulder and opened the metal fastenings. Placing it carefully on the dusty ground, he knelt before it and opened the lid. The lid's underside was still vibrant with the inlaid tree design, as if only the outside had been weathered and worn away by time. He sometimes wondered whether he was also like that. He was approaching forty, but sometimes it felt as though he'd already lived two lifetimes.
Continuing his deep breathing, he took out the apparatus. It was light and small, the length of his forearm, comprised of a series of tubes and bulbs, electrical components and brass casings, and other pieces gathered and gleaned from many sources. He'd built it as a teenager, hearing his mother's whispered encouragement in his mind with each element he added, the turn of every screw. At one end was the focus, and he turned the dial that extruded the small, pointed horn that would aim at the sky.
Closing the lid of the box, he placed the locator pins in their corresponding holes, and then he was almost ready.
Almost.
He took two long wires and unspooled them, ensuring that both ends were connected correctly to the apparatus. Then he extracted two sterile needles from their lined container on one edge of the device and fitted them to the ends of the wires.
He glanced up to see Wolf watching from twenty metres away.
"I need to be on my own," Jesse said.
"Right. On your own." Wolf scuffed the dried soil with one of his boots, kicked at a plant stem. It crumbled beneath his foot, showering crumpled stem and leaves to the ground. "Just fix my place," he said, and he turned away.
It was a strange turn of phrase. It almost left Jesse feeling sorry for him.
He pumped his fist, pushed one needle into his right forearm and stuck it there with surgical tape, then did the same with the other. A tingle of anticipation made him shiver, even in the heat. Twin droplets of blood ran around his arms and dripped to the dusty ground, and were sucked down into the parched land. He wondered how much blood had been spilled into this arid soil, then he closed his eyes and shut away the idea. That was not his business. He dealt not in drugs, but in rain, and his rush was not balanced with pain.
Feeling the sun stretching the skin on his face, sweat running down his neck and torso, and the dusty, gritty reality of this dying land, Jesse closed his eyes and brought himself inward.
Soon, he heard the inner tides of his own personal storms as the thrilling flow began to build. He drifted with those tides. He let them carry him, knowing that he would always remain afloat, comfortable. Sometimes, he believed it was the only safe place. Even when he was with Karina he felt exposed and in danger. Everywhere he looked he saw the world stealing back control from humanity, punishment for so many years of abuse.
Jesse opened his inner eye to view the vague, dark pebbly beach he could not feel beneath his feet, the sea he would never smell, and the distant shadow of tall cliffs to his right. He felt himself balanced perfectly between them all. This was his place. He called it The Shore.
At some distance he heard the soft whirl of his apparatus starting to spin, turn and cycle, and smelled the faintly familiar tang of ozone on the air.
Eyes still closed, he waited for the first drops of rain to fall.
* * *
When Jesse opened his eyes, Harley was crouched before him, pointing a pistol at his face.
"I call bullshit," she said. "I don't know how you were ever taken in by this."
"Have faith, Lucy-Anne," Wolf said from somewhere behind Jesse.
The name didn't suit her. It was too nice. She didn't look nice.
Harley tilted her head slightly. "He's awake."
"I don't sleep," Jesse said.
"We've been calling your name," Harley said.
"And like I told your boss—"
"His name's Wolf."
"Like I told Wolf, I need peace and silence, otherwise it might not work."
"You've had over an hour of peace and silence."
Jesse was shocked at how long had passed, but he could see that she was right. The sun was dipping towards the western hills. Shadows were longer, the heat was heavy and old as a memory, and he shivered as a bead of sweat ran down his back.
"Have faith," Wolf said again, this time from just behind him. Jesse heard the man kneeling in the dust. "But how long, Jesse?"
Jesse glanced down at the apparatus. Dials turned lazy revolutions, a bulb emitted a low illumination. The needles in his arms tingled as they transmitted low power from him into the device and back again, an arcane symbiosis.
"Soon," he said.
"Make it sooner," Wolf said. "Lucy-Anne, don't be an asshole."
Harley lowered the gun but remained squatting close in front of him. There was an ugliness in her eyes that was reflected in Wolf's and Snake's. Maybe violence left its mark in your soul, like blood on dirty money.
"Let me—" Jesse began.
"Just fucking do it!" Wolf's shout was so loud, close and unexpected that Jesse fell forward, almost sprawling across the apparatus. One of the wires tautened and tugged at the needle in his right forearm, and he yelped as a trickle of blood emerged from beneath the tape.
"Okay!" Jesse said. He straightened himself, trying to ease his beating heart. The bulb glowed brighter. The dial span faster. A noise came from the apparatus, like an engine grinding on dirty oil, parts wearing and corroding.
"That mean it's working?" Wolf asked.
"Yes," Jesse said, because to answer any other way would buy him pain—or worse. He looked up to the sky where a grey sheen dulled the deep blue, and the first hint of clouds had begun to form.
How could he tell Wolf the truth?
Did he even want to?
Jesse craved the rains as much as anyone else. This was his art, his living, and each time he attempted to make rain it felt like a treat. Even when he wasn't sure it would work. It didn't always. His was a fickle talent.
"Faster!" Wolf said, flicking the back of Jesse's head.
"Look, boss!" Snake said. Standing off to Jesse's left, surrounded by dead and dying plants, he was looking up at the sky like a kid watching plane trails.
"I see," Wolf said. "Faster! It's working!"
Jesse tried to ignore the pain where the needle entered his right arm, and the fear growing inside at what he had begun here. It was something different from before, something wrong, and the knowledge that there was no going back sat in the pit of his stomach, a hot knot growing, eating. Getting worse.
"Yes!" Harley said. She'd holstered her gun and was also looking up. "It's good, boss. Gonna be good!"
Gonna be good, Jesse thought, and the apparatus ground as its components spun and spat. I should stop. Sparks tickled his forearm, dancing from the needles and along the wires. He smelled hair singeing across his skin. This all feels wrong. His ears rang with distant thunder, and he knew that it only sounded inside, rolling along The Shore as if announcing something bad.
It had been like this several times before—a feeling of dread, an unknown danger looming from The Shore—and he'd always been able to stop. If he stopped now, he'd end up feeding the poppies with a bullet in his skull.
The first spot of rain struck his forehead and ran down beside his nose.
"You asked for this," Jesse whispered, and he didn't know what this was, and wasn't sure that any of them even heard beneath the sudden, sweet sound of falling rain.
Snake started jumping up and down and whooping. Harley stood with her head back and tongue out. Wolf was more restrained, talking on his phone and instructing someone to prepare the rain catchers, ensure the irrigation controls were set, oversee the storage of as much water as they could catch and save.
Jesse waited. The fear, the sickness, had not abated at all, and he knew the storm he had seeded was far from over, and far more than a simple storm. The Shore remained distant but something about it was altered.
Jesse closed his eyes and let his apparatus spin and grind and whirl him back to that place. Until now, anything he'd sensed of The Shore had been a part of him—the soft hush of the sea was his pulse in his ears; the tang of that distant beach was the fresh hint of rain on the air. Now, though, he was more there than he had ever been before. The thick, oily seawater surged, dipping and rising as if something huge was striving to thrust through the thick surface. Where it broke on The Shore the water seemed to become pebbles, rolling black beads washing up the beach. To his right the cliffs loomed, a solid wall that seemed to tug on the whole scene with their gravity. Creatures flitted through the air and scampered across the ground, but they were as vague as memories, so fast and fleeting that he couldn't focus on them.
Far along the beach, in a hazy distance where reality faded to dream, several groups of huddled shapes stretched taller and turned grey faces his way.
He had never noticed The Shore noticing him before. And it was terrible. ...
We hope you are enjoying the book so far. To continue reading...
The Last Storm
Tim Lebbon
Copyright © 2022 All Rights Reserved