The Last Heir to Blackwood Library
Available in:
eBook
Paperback
Audiobook
Hardcover
Book info
Sample
Audiobook
Media
Author updates
Lists
Synopsis
 "Weaves a spell of darkness that's mysterious and magical, and binds it with a knot of deathless love." —New York Times bestselling author Susanna Kearsley on A Lullaby for Witches

In post–World War I England, a young woman inherits a mysterious library and must untangle its powerful secrets…

With the stroke of a pen, twenty-three-year-old Ivy Radcliffe becomes Lady Hayworth, owner of a sprawling estate on the Yorkshire moors. Ivy has never heard of Blackwood Abbey, or of the ancient bloodline from which she's descended. With nothing to keep her in London since losing her brother in the Great War, she warily makes her way to her new home.

The abbey is foreboding, the servants reserved and suspicious. But there is a treasure waiting behind locked doors: a magnificent library. Despite cryptic warnings from the staff, Ivy feels irresistibly drawn to its dusty shelves, where familiar works mingle with strange, esoteric texts. And she senses something else in the library too, a presence that seems to have a will of its own.  

Rumors swirl in the village about the abbey's previous owners, about ghosts and curses, and an enigmatic manuscript at the center of it all. And as events grow more sinister, it will be up to Ivy to uncover the library's mysteries in order to reclaim her own story—before it vanishes forever.

Lush, atmospheric and transporting, The Last Heir to Blackwood Library is a skillful reflection on memory and female agency, and a love letter to books from a writer at the height of her power.
Release date: April 4, 2023
Publisher: Graydon House Books
Print pages: 339
* BingeBooks earns revenue from qualifying purchases as an Amazon Associate as well as from other retail partners.
Listen to a sample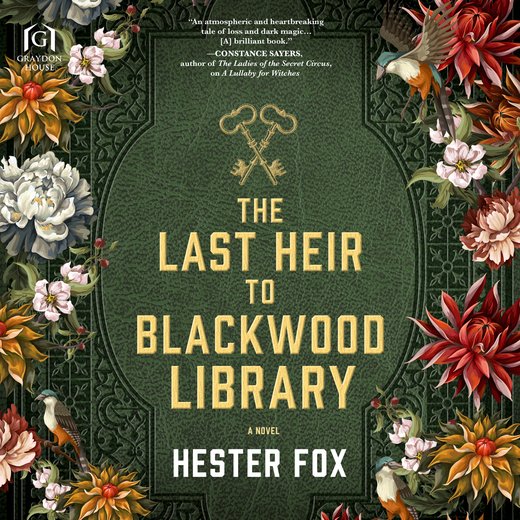 11:41:59
321.36 MB
9781488218323
April 4, 2023
HarperCollins
The Last Heir to Blackwood Library
Hester Fox
PROLOGUEYorkshire, England, 1349
They bricked her up on Saint George's Day.
An expansive blue sky stretched over the rolling moors, the distant bleating of sheep echoing through the valley as Matilda had taken her vow of solitude and entered confinement as an anchoress. It was an auspicious day, given Saint George's patronage of books and England, and then a sheep had passed a bezoar, and the nuns had passed the smooth, polished stone between them, marveling at its singular beauty. Father William had immediately hailed it as a blessing from God himself, a cure for the plague which was spreading throughout the world, creeping ever closer to the remote abbey of Blackwood. But the sisters of Blackwood were in good spirits, and even reports of the Black Death could not dampen them as they helped Matilda prepare by dressing her in a simple white robe and headscarf.
Mellow sunlight filtered in through the small porch window, enjoyed equally by the sparrows that flit about the gardens and the languid abbey cat watching them. The breeze carried with it the sweet scent of lavender and the ringing of the Terce bells. Matilda dutifully knelt at her prie-dieu and recited her prayers. Then, rising, she arranged herself at the small desk that would be her confessional, her anchor, and her oasis for the decades to come.
The bishop had blessed the cell, swinging his pendulous incense and filling the small room with the intoxicating scent of myrrh and other exotic spices. Her fellow sisters had queued to say their goodbyes, kissing her smooth, unlined cheeks and leaving her humble gifts befitting an anchoress, such as pots of ink, candles, and hard cheese. They might have still resided under the same roof as her, but henceforth Matilda would be as a stranger to them, a ghost of a woman who once was, confined to the small cell. As soon as the last brick was in place, her only contact with the outside world would be the food and gifts left by the pilgrims who would come to seek advice from the porch window. This would be the last time she would feel human touch, join her sisters in song and worship. Afterward, only Sister Alice had lingered, her sweet blue eyes wet with tears, and Matilda had had to look away, lest she lose her resolve.
But the truth was, the world was as large as one allowed it to be. The four walls of her cell might have been no more than a fingertip's reach in each direction, but Matilda's horizons were broader and brighter than those of the lord of Blackwood, who lived on a vast estate yet never bothered to look up from his account books. A single oak leaf blown in through the window was a wonder to behold, the delicate veins an intricate and divine network unrivaled even by man's highest cathedral. The birdsong that carried on the breeze was as rich and haunting as any Te Deum or devotional, a celestial hymn composed by God himself.
Matilda's world had not always been thus. As a child, she had fallen ill with a fever from which the physician had told her parents she would never recover. While on her sickbed, she had received visions of Christ on the cross. But rather than being frightening or grotesque such as the carvings in the church might have her believe, Christ appeared content, ebullient, even. After all, he was a harbinger of eternal life, joyous in the prospect of offering her such sweetness, such happiness in the hereafter as she could not even comprehend. When she had arisen from her sickbed, Death held no power over her, for she knew what came next, and would welcome it when the time came.
And as for the days in between those visions and her last mortal breath? Well, she would fill them with learning, with joy, with humble exultance of the beautiful world created by a beneficent God. She would walk into the Kingdom of Heaven knowing that she had not wasted nor taken for granted one precious moment.
So she had taken orders and given her earthly body over to Christ. But still, it was not enough. There were so many distractions, such petty squabbles within the Church and among the nuns. How could she devote her mind and time to the beautiful questions of the universe if she constantly had to attend to bureaucratic nonsense?
It was no small thing to become an anchoress, and it had taken some persuading on her part and more than some prayerful intervention on God's part, but she had finally convinced the bishop that having an anc
horess in Blackwood would elevate their small abbey, and bring in much-needed funds. She would dispense wisdom to pilgrims who would come to hear of her visions, and the sisters would sell them charms and badges, proof that they had made the journey and received the word of God from his humble vessel.
As the years stretched on, the gentle passage of time left its mark. She had no looking glass, but touching her fingers to her face, Matilda could feel the softening of her skin, and she smiled as she traced the contours of time across her cheeks and under her eyes. Learned men and women traveled from afar to hear of her visions, and in return, they brought her knowledge from all corners of the world. She learned of crusades and battles from the men, philosophy and advancements in medicine. New ways to measure time, including a mechanical horologe from the East. Machines that could do sums greater than the human mind could conceive. But it was the women who brought her the most valued knowledge—that of herbs and plants, little miracles that could cure most any ailment if one knew how to apply them properly.
When she had exhausted her studies of herbs and plants and the creatures that lived among them, Matilda still had a keen hunger to learn more. So every clear night, when the bells for Vespers had ceased ringing, Matilda would look to the sky.
What she saw there astounded her. It was not a static mural, but an ever-changing mosaic of dark and light, celestial players forever dancing and gliding on the stage. Every living thing on earth had a part to play, and it was the stars that guided their courses. Such strange flowers bloom at night in the shape of stars, she mused. Therein lay the answers to the questions that so captivated man—life and how to extend it, cures and remedies for almost any ailment, and most importantly, a map of what was to come. Stars, just like seasons, never died completely, simply slumbered for a cycle to be born once again. World without end, indeed. She spent endless hours charting plants and their blooming times, the migration of birds, the changes in weather, and the stars that shone above them all.
But such knowledge immortalized on parchment was powerful, and power in the wrong hands could be dangerous. Too many men had come to her window under the guise of seeking some remedies for their wives and lovers, and she had seen them for what they were: wolves, hungry for knowledge that would harm rather than help. John Webb had been such a man. Mild-mannered and unassuming, he had a constellation of pox scars across his temples and drooping eyelids. With a gift of candle wax, he had beseeched Matilda for her help in easing his wife's pain caused by stones in her stomach. He had prayed to the Virgin Mother to no avail, and his wife was suffering, both bodily and spiritually. Would Matilda help him? Could she help his wife along to the loving arms
of Christ? She should have known that a man asking for help on behalf of a woman was suspicious, but even with a proxy, Matilda would not deny being of service to another woman. So against her better judgement, she agreed, and gave him instructions to make a tisane that would ease his wife into eternal slumber.
Not one fortnight later, the seeds of her charity bore fruit. Even in her cell, she could feel the reverberations of excitement, the whispers running through the abbey. When the little kitchen maid had brought Matilda her nightly meal, Matilda grabbed her hand through the slot, staying her.
"What has the abbey in such a clamor?" she had demanded.
"'Tis John Webb's wife," said the maid. "She's been found dead, and John Webb is crowing that she took her life into her own hands, leaving him a free man."
Matilda had let the startled maid go, rocking back on her heels in thought. God forgive her, she had blood on her hands.
So she would record everything she learned, but she would put safeguards in place, just as the quail hides her eggs in the abandoned nest of another bird. Who might find her work after her aching hands had set aside her pen for the last time? She hoped Alice would someday read her words, would understand why she had made the choice she had, but there were generations beyond her to consider. Someday, perhaps, the right woman would find Matilda's life work and share it with the world, illuminating long-forgotten secrets.
Matilda ran her hands over vellum as soft and pure as buttermilk, a gift brought to her by pilgrims from the Levant. Inks in oyster shells and bottles lined the desk, each painstakingly ground from beetle shells and dried flowers, plants and ores. Yes, the room was small, but the world spread before her, vast and full of promise. Dipping her nib into the black ink, she set quill to parchment, charting the bounds of knowledge.
1London, 1925
Ivy trudged down the soggy gray street, abandoning any pretense of trying to stay dry. Women selling flowers stood under dripping awnings, and a bus rumbled by in a splash of crimson, street water sloshing in its wake. Men sat on the wet ground, the world flowing around them like rapids around a rock. Some had signs and cups, but most just sat, eyes glazed, faces set. A twinge of guilt ran through her as she hurried past a man with one leg, his trouser tucked around the missing appendage. He had fought for his country in the Great War, and now he was reduced to begging for change on the street, as invisible as the pigeons that flocked around the city. Would that have been James, if he had come back from France? No, of course not. He would have had Ivy. She would have taken care of her brother, no matter what.
Plunging her numb hands deeper into her pockets, Ivy put her head down against the rain. Miserable rainy days were meant for curling up inside with a cup of hot tea and a good book, not tramping across the city with only one's thin coat for protection. Never mind that the interior in question had leaky windows and a cranky landlady, and everything perpetually smelled of mildew. Inside was always preferable, simply by virtue of there being books.
If she'd had the fare money, Ivy would have taken the Underground, but curiosity and more than a little apprehension propelled her through the driving rain and the busy Piccadilly sidewalk. Her hand curled around the paper in her coat pocket, the unexpected missive's words already seared into her mind.
Miss Radcliffe, your presence is respectfully requested at the reading of the late Lord Hayworth's last will and testament.
Signed,
Mr. Cecil Duncan, Esq.
Most things in life could be distilled down into a simple pattern, and there was comfort in that. Whether it was walking the same route to the employment office to receive the same answer every week, or eating the same tinned herrings and biscuits every night, predictability was something Ivy did not take for granted, not after the last few years. But letters like this did not simply appear out of the blue. She didn't know any Lord Hayworth, and certainly not well enough to be included in a reading of his will. Perhaps the solicitor had the wrong Ivy Radcliffe. Well, she would go and clear up the misunderstanding and fall back into her pattern. She skirted a line of men snaking around the front of a benefits office, hats pulled down low over their faces. The wind chased her down a respectable street with modest homes and offices, well-kept front gardens and pubs boasting flowering window baskets.
She stopped in front of a row of brick offices. Checking the soggy note one more time, she took a deep breath and let the brass knocker swing.
The door cracked open, and a small, hawk-nosed woman with spectacles on a chain around her neck peered out into the rain. She looked Ivy up and down, her shrewd gaze taking inventory of Ivy's worn coat and battered shoes. "You have an appointment with Mr. Duncan?"
Ivy shifted her weight, trying to appear respectable despite the rain plastering hair into her eyes. "Yes, ma'am."
The woman nodded for Ivy to follow her and led her into a blessedly dry and warm office. "Have a seat. He'll be right in."
Gratefully, Ivy lowered herself onto a chair and removed her soggy hat. After the damp of the street, the small office was like heaven, with leather chairs and cheery electric lamps, the carpet plush beneath her wet shoes. There was a comfortable, lived-in feeling, with piles of books stacked haphazardly on every shelf, and teacup rings staining the varnished desk. No sooner had she peeled her gloves off and tucked her straggling hair back, than the door opened and a jowly middle-aged man with receding brown hair and a healthy paunch bustled inside.
"Miss Radcliffe, thank you for your patience." He stuck out his hand and she rose to accept it. "I'm Cecil Duncan, solicitor and executor of the Hayworth
family," he said in a slightly nasal upper-class accent. "Nasty day out, isn't it? I do hope you didn't have to come too far."
His introduction did little to illuminate any questions she might have had about why she had been summoned. Taking her seat again, Ivy watched him settle behind his desk. "You'll have to forgive my confusion," she said, when he didn't say anything, "but you see, I don't know any Hayworths."
Mr. Duncan had produced a thick envelope from the desk drawer and was in the process of leafing through the contents. At her words, he looked up over his half-moon glasses. "I don't suppose you do, Miss Radcliffe. But the fact of the matter is, you are actually a distant relation of the great family, the last living relation for that matter."
She absorbed this, as he resumed rifling through papers, then shook her head. "I still don't understand. I received this letter, asking me to come here. How did you even find me?"
"Oh, we have our ways." At her dubious expression he broke into a smile. "Your address was publicly listed."
"And this family...the Hayworths, who are they exactly?" Her friend Susan religiously read the society and gossip pages, but Ivy couldn't bring herself to care about the lives of people far above her, and how they spent their time and wasted their money. The Hayworths might have had their name splashed across the pages every week, and Ivy would have been none the wiser.
Setting aside the papers, Mr. Duncan leaned back in his chair, a kindly expression softening his already-round face. "You'll forgive me, Miss Radcliffe. Sometimes we lawyers forget that not everyone operates in the same circles that we do, and that what might be standard procedure for us, is in fact, a life-changing event for someone." He tented his fingers, sighing, and Ivy resisted the urge to leap across the desk and shake the answer from him. "I will do my best to explain it simply," he said finally. "The late Lord Hayworth of Blackwood, Yorkshire, passed away leaving no issue. Tracing the lineage back, it appears that your late father was..." He broke off as he peered down his glasses at the paper in front of him. "Ah, here it is. Your late father was a third cousin of Lord Hayworth's." He paused, as if waiting for Ivy to confirm the impossible story that she was now hearing. When she didn't say anything, he continued. "Of course, the line would pass to your elder brother, but I believe that he is likewise deceased?"
Ivy cleared her throat, her mouth suddenly dry. "Yes."
"My condolences," Mr. Duncan murmured. "Usually in these circumstances the estate would then revert back to the Crown, but I am not sure if you are aware that the laws of investiture have recently changed, meaning that under the new law, women can now inherit titled land."
A faint buzzing began to build at the base of Ivy's neck. Mr. Duncan leaned forward in his seat, his eyes locking on hers over the rim of his glasses. "Miss Radcliffe, you are the sole heir of Blackwood Abbey, seat of the Hayworth family in Yorkshire."
If there was a pattern to everything, then the pattern of Ivy's life was one of deaths and disappointments, and by the age of twenty-five, she had resi
gned herself to an existence of poverty and struggle. Surely, she would have heard about a wealthy relation before, however distant? Possibilities whizzed before her eyes: being independently wealthy, not needing to beg for a job or find a husband. Comfort. Stability.
"Miss Radcliffe? You look very pale." The lawyer rang a bell and a moment later the spectacled woman appeared again. "Mrs. Harvey, please bring a cup of tea for Miss Radcliffe, she's received some very startling news."
Mrs. Harvey shot a curious look at Ivy before retreating and closing the door behind her. A clock on the mantel ticked. Mr. Duncan was going on about bloodlines and titles, something about a stipulation in the will which required she live at the abbey. But Ivy hardly heard him.
Her eyes drifted closed. How very far away from her monotonous life in the East End she was. She stood, teetering on the edge of a gilded world, cold and hunger and want at her back. What would her parents think if they could see her now?
The plan had been for her mother to emigrate to England and land herself a peer; her American money paired with a revered yet impoverished bloodline. The only problem—and luckily for Ivy—was that she never made it to the altar. Instead, she met and fell in love with a handsome young man who shared her passion for the written word, and happened to be a destitute professor. She sold her train ticket, wired home that she would not be wedding a lord or earl or what have you, and was promptly disowned without a penny.
Ivy's family often teased that Ivy had inherited her American mother's sentimentality. But that was the joke; her mother was pragmatic and unreserved, someone who would make the journey across the Atlantic to the unknown. It was from her father that Ivy inherited her romantic notions, the gentle slant through which she viewed the world. Ivy knew that the Radcliffes were an anomaly, a tightly-knit group that considered themselves friends as well as family, and who enjoyed spending time together in the evenings reading and laughing. No boarding schools or being sent off to work for the Radcliffe children. If they struggled, they struggled together.
What might have been minutes or hours passed when the door opened again, and Mrs. Harvey brought out a tray with wobbling teapot and cups. Ivy received the teacup with shaking hands. She had little appetite after the news, but she wasn't about to pass up something hot to drink.
"There now, that helps, doesn't it?" Mr. Duncan was regarding her with something between apprehension and pity. "Do you have any questions for me? Is there any way in which I might put your mind at ease?"
She thought of her friend Susan and the flat they shared, all the things they'd been through together. Between Ivy's small war pension and Susan's dancing money, they got by, but they were always one missed rent payment away from destitution. Susan insisted that she had no interest in marrying, and Ivy was of the same mind, but how long could two young women realistically survive in a world that c
losed all the doors to employment to them? Jobs were for the war heroes, the boys who came home. Women might have stepped in to do their bit during the war, but now that it was peacetime, it was back into the kitchens and bedrooms for them.
"You said I would be expected to live in Yorkshire?" Ivy managed to ask. The place brought to mind bleak moors and howling winds, summer heather and castle ruins. Romantic maybe, but far from everything that was familiar to her.
The shadow that flitted across the solicitor's face was quick, but Ivy caught it all the same. "Erm, yes. There is a stipulation in the will that the heir live on the premises."
"Is that normal in these types of situations?"
"It's a little unusual, but not unheard of. It won't be as daunting as it sounds. I believe prior to Lord Hayworth's death, the abbey was being used as an infirmary for the wounded in the war. Many landowners are finding that selling some of the land, or letting the buildings as hotels is more financially judicious. Of course, the house is not what it once was, but it is an abbey of some significance all the same. My firm would be more than happy to help you, perhaps by finding tenants for cottages. Regardless, it should be a pretty source of income for you."
Rain smeared down the window, casting London in dreary monochrome. Automobile horns blared at each other, and she could practically hear the disgruntled mutters of pedestrians navigating their way around ankle-deep puddles. Perhaps a change of scenery would be good for her. Her mother was buried in a small churchyard in Bethnal Green, and her father lay on some anonymous field in Europe where he had fallen. As for James, Ivy didn't know where he was. What did it matter if she mourned them from her flat with the peeling wallpaper, or a cold, empty estate in Yorkshire? She wondered why she had never heard of her relations before. Had the Hayworths lived like kings the whole time her family had been scraping by? Why had they never reached out? Had her parents even known about them? Well, Ivy intended to find out.
Nodding, she reached for the pen. "Where do I sign?"
Mr. Duncan's brows rose. "To accept the bequest? Are you certain you don't want to read everything first? I would hardly be doing my due diligence if I didn't make certain you understood exactly what you are signing."
But she shook her head. Reading the giant packet of papers would only give her time to second-guess herself.
With obvious discomfort at her rash decision, Mr. Duncan flipped through the pages, indicating the lines where she needed to sign. By the time she'd finished, her hand was cramped and smudged with ink.
She sat back in her chair, heart racing. Mr. Duncan scanned over the last of the papers before looking back up. "Congratulations, Miss Radcliffe. You're now Lady Hayworth, sole owner, proprietor, and heiress of Blackwood Abbey."
2
Thoughts as jumbled as the London traffic ran through Ivy's head as she bid Mr. Duncan goodbye and left the warm office. He'd sent her off with a small envelope containing a letter of introduction and enough money for train fare. Back in the rain with her shoes quickly soaking through again, it was as if the surreal meeting had never happened. A warm shop window boasting rows of books shone like a beacon in the dreary gray afternoon, stopping Ivy in her tracks. She lingered briefly, debating whether to go in and browse before meeting Susan. But books were dear, and if she didn't have the money for the soldiers, she certainly didn't have the money for something as frivolous as books. Perhaps once she was lady of Blackwood she would be able to afford books, fill a library with them. But until then, she would have to make do with what was left of her father's collection, which lived in a trunk beneath her bed.
Susan was waiting for her in the bow window of their favorite tea shop, a warm cup already in her hands. Ivy's friend was enviably untouched by the London weather, her dark bob immaculate, her light brown skin powdered and glowing. In a sea of dark coats and somber expressions, Susan stood out like a brightly plumed bird with her orange cloche hat and red lipstick. A quick glance at her reflection in the window told Ivy that her own blond bob was irreparably tousled, and no amount of makeup or clever styling would do anything for her drowned-cat appearance.
Ivy sat heavily down in the chair, her sopping coat dripping onto the linoleum floor. Steam curled invitingly out of a teapot, and Susan pushed a cup toward her.
"Bless you," Ivy said, gratefully wrapping her frozen fingers around the cup. ...
We hope you are enjoying the book so far. To continue reading...
The Last Heir to Blackwood Library
Hester Fox
Copyright © 2023 All Rights Reserved