The Infinite Sea
Available in:
eBook
Paperback
Audiobook
Hardcover
Book info
Sample
Audiobook
Media
Author updates
Lists
Synopsis
The riveting follow-up to the New York Times bestselling The 5th Wave, hailed by Justin Cronin as "wildly entertaining."
How do you rid the Earth of 7 billion humans? Rid the humans of their humanity.
Surviving the first four waves was nearly impossible. Now Cassie Sullivan finds herself in a new world, a world in which the fundamental trust that binds us together is gone. As the 5th Wave rolls across the landscape, Cassie, Ben, and Ringer are forced to confront the Others' ultimate goal: the extermination of the human race.
Cassie and her friends haven't seen the depths to which the Others will sink, nor have the Others seen the heights to which humanity will rise, in the ultimate battle between life and death, hope and despair, love and hate.
Release date: September 16, 2014
Publisher: G.P. Putnam's Sons Books for Young Readers
Print pages: 320
* BingeBooks earns revenue from qualifying purchases as an Amazon Associate as well as from other retail partners.
Listen to a sample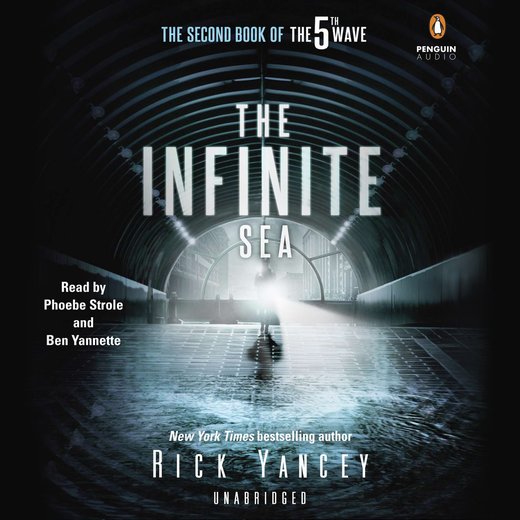 08:13:24
225.89 MB
9780698154872
September 16, 2014
Penguin Random House
The Infinite Sea
Rick Yancey
1.

THE WORLD IS a clock winding down.

I hear it in the wind's icy fingers scratching against the window. I smell it in the mildewed carpeting and the rotting wallpaper of the old hotel. And I feel it in Teacup's chest as she sleeps. The hammering of her heart, the rhythm of her breath, warm in the freezing air, the clock winding down.

Across the room, Cassie Sullivan keeps watch by the window. Moonlight seeps through the tiny crack in the curtains behind her, lighting up the plumes of frozen breath exploding from her mouth. Her little brother sleeps in the bed closest to her, a tiny lump beneath the mounded covers. Window, bed, back again, her head turns like a pendulum swinging. The turning of her head, the rhythm of her breath, like Nugget's, like Teacup's, like mine, marking the time of the clock winding down.

I ease out of bed. Teacup moans in her sleep and burrows deeper under the covers. The cold clamps down, squeezing my chest, though I'm fully dressed except for my boots and the parka, which I grab from the foot of the bed. Sullivan watches as I pull on the boots, then when I go to the closet for my rucksack and rifle. I join her by the window. I feel like I should say something before I leave. We might not see each other again.

"So this is it," she says. Her fair skin glows in the milky light. The spray of freckles seems to float above her nose and cheeks.

I adjust the rifle on my shoulder. "This is it."

"You know, Dumbo I get. The big ears. And Nugget, because Sam is so small. Teacup, too. Zombie I don't get so much—Ben won't say—and I'm guessing Poundcake has something to do with his roly-poly-ness. But why Ringer?"

I sense where this is going. Besides Zombie and her brother, she isn't sure of anyone anymore. The name Ringer gives her paranoia a nudge. "I'm human."

"Yeah." She looks through the crack in the curtains to the parking lot two stories below, shimmering with ice. "Someone else told me that, too. And, like a dummy, I believed him."

"Not so dumb, given the circumstances."

"Don't pretend, Ringer," she snaps. "I know you don't believe me about Evan."

"I believe you. It's his story that doesn't make sense."

I head for the door before she tears into me. You don't push Cassie Sullivan on the Evan Walker question. I don't hold it against her. Evan is the little branch growing out of the cliff that she clings to, and the fact that he's gone makes her hang on even tighter.

Teacup doesn't make a sound, but I feel her eyes on me; I know she's awake. I go back to the bed.

"Take me with you," she whispers.

I shake my head. We've been through this a hundred times. "I won't be gone long. A couple days."

"Promise?"

No way, Teacup. Promises are the only currency left. They must be spent wisely. Her bottom lip quivers; her eyes mist. "Hey," I say softly. "What did I tell you about that, soldier?" I resist the impulse to touch her. "What's the first priority?"

"No bad thoughts," she answers dutifully.

"Because bad thoughts do what?"

"Make us soft."

"And what happens if we go soft?"

"We die."

"And do we want to die?"

She shakes her head. "Not yet."

I touch her face. Cold cheek, warm tears. Not yet. With no time left on the human clock, this little girl has probably reached middle age. Sullivan and me, we're old. And Zombie? The ancient of days.

He's waiting for me in the lobby, wearing a ski jacket over a bright yellow hoodie, both scavenged from the remains inside the hotel: Zombie escaped from Camp Haven wearing only a flimsy pair of scrubs. Beneath his scruffy beard, his face is the telltale scarlet of fever. The bullet wound I gave him, ripped open in his escape from Camp Haven and patched up by our twelve-year-old medic, must be infected. He leans against the counter, pressing his hand against his side and trying to look like everything's cool.

"I was starting to think you changed your mind," Zombie says, dark eyes sparkling as if he's teasing, though that could be the fever.

I shake my head. "Teacup."

"She'll be okay." To reassure me, he releases his killer smile from its cage. Zombie doesn't fully appreciate the pricelessness of promises or he wouldn't toss them out so casually.

"It's not Teacup I'm worried about. You look like shit, Zombie."

"It's this weather. Wreaks havoc on my complexion." A second smile leaps out at the punch line. He leans forward, willing me to answer with my own. "One day, Private Ringer, you're going to smile at something I say and the world will break in half."

"I'm not prepared to take on that responsibility."

He laughs and maybe I hear a rattle deep in his chest. "Here." He offers me another brochure of the caverns.

"I have one," I tell him.

"Take this one, too, in case you lose it."

"I won't lose it, Zombie."

"I'm sending Poundcake with you," he says.

"No, you're not."

"I'm in charge. So I am."

"You need Poundcake here more than I need him out there."

He nods. He knew I would say no, but he couldn't resist one last try. "Maybe we should abort," he says. "I mean, it isn't that bad here. About a thousand bedbugs, a few hundred rats, and a couple dozen dead bodies, but the view is fantastic. . ." Still joking, still trying to make me smile. He's looking at the brochure in his hand. Seventy-four degrees year 'round!

"Until we get snowed in or the temperature drops again. The situation is unsustainable, Zombie. We've stayed too long already."

I don't get it. We've talked this to death and now he wants to keep beating the corpse. I wonder about Zombie sometimes.

"We have to chance it, and you know we can't go in blind," I go on. "The odds are there're other survivors hiding in those caves and they may not be ready to throw out the welcome mat, especially if they've met any of Sullivan's Silencers."

"Or recruits like us," he adds.

"So I'll scope it out and be back in a couple of days."

"I'm holding you to that promise."

"It wasn't a promise."

There's nothing left to say. There're a million things left to say. This might be the last time we see each other, and he's thinking it, too, because he says, "Thank you for saving my life."

"I put a bullet in your side and now you might die."

He shakes his head. His eyes sparkle with fever. His lips are gray. Why did they have to name him Zombie? It's like an omen. The first time I saw him, he was doing knuckle push-ups in the exercise yard, face contorted with anger and pain, blood pooling on the asphalt beneath his fists. Who is that guy? I asked. His name is Zombie. He fought the plague and won, they told me, and I didn't believe them. Nobody beats the plague. The plague is a death sentence. And Reznik the drill sergeant bending over him, screaming at the top of his lungs, and Zombie in the baggy blue jumpsuit, pushing himself past the point where one more push is impossible. I don't know why I was surprised when he ordered me to shoot him so he could keep his unkeepable promise to Nugget. When you look death in the eye and death blinks first, nothing seems impossible.

Even mind reading. "I know what you're thinking," he says.

"No. You don't."

"You're wondering if you should kiss me good-bye."

"Why do you do that?" I ask. "Flirt with me."

He shrugs. His grin is crooked, like his body leaning against the counter.

"It's normal. Don't you miss normal?" he asks. Eyes digging deep into mine, always looking for something, I'm never sure what. "You know, drive-thrus and movies on a Saturday night and ice cream sandwiches and checking your Twitter feed?"

I shake my head. "I didn't Twitter."

"Facebook?"

I'm getting a little pissed. Sometimes it's hard for me to imagine how Zombie made it this far. Pining for things we lost is the same as hoping for things that can never be. Both roads dead-end in despair. "It's not important," I say. "None of that matters."

Zombie's laugh comes from deep in his gut. It bubbles to the surface like the superheated air of a hot spring, and I'm not pissed anymore. I know he's putting on the charm, and somehow knowing what he's doing does nothing to blunt the effect. Another reason Zombie's a little unnerving.

"It's funny," he says. "How much we thought all of it did. You know what really matters?" He waits for my answer. I feel as if I'm being set up for a joke, so I don't say anything. "The tardy bell."

Now he's forced me into a corner. I know there's manipulation going on here, but I feel helpless to stop it. "Tardy bell?"

"Most ordinary sound in the world. And when all of this is done, there'll be tardy bells again." He presses the point. Maybe he's worried I don't get it. "Think about it! When a tardy bell rings again, normal is back. Kids rushing to class, sitting around bored, waiting for the final bell, and thinking about what they'll do that night, that weekend, that next fifty years. They'll be learning like we did about natural disasters and disease and world wars. You know: 'When the aliens came, seven billion people died,' and then the bell will ring and everybody will go to lunch and complain about the soggy Tater Tots. Like, 'Whoa, seven billion people, that's a lot. That's sad. Are you going to eat all those Tots?' That's normal. That's what matters."

So it wasn't a joke. "Soggy Tater Tots?"

"Okay, fine. None of that makes sense. I'm a moron."

He smiles. His teeth seem very white surrounded by the scruffy beard, and now, because he suggested it, I think about kissing him and if the stubble on his upper lip would tickle.

I push the thought away. Promises are priceless, and a kiss is a kind of promise, too.
We hope you are enjoying the book so far. To continue reading...
The Infinite Sea
Rick Yancey
Copyright © 2023 All Rights Reserved