Book info
Sample
Audiobook
Media
Author updates
Lists
Synopsis
In a lonely village in the Peak District, during the onset of a once-in-a-lifetime snow storm, Constable Ellie Cheetham finds a body. The man, a local ne'er-do-well, appears to have died in a tragic accident: he drank too much and froze to death. But the facts don't add up: the dead man is clutching a knife in one hand, and there's evidence he was hiding from someone. Stranger still, an odd mark has been drawn onto a stone beside his body. The next victims are two families on the outskirts of town. As the storm rises and the body count grows, Ellie realises she has a terrifying problem on her hands: someone - or some thing - is killing indiscriminately, using the storm for cover. The killer is circling ever closer to the village. The storm's getting worse. . .and the power's just gone out.
Release date: November 8, 2022
Publisher: Angry Robot
Print pages: 400
* BingeBooks earns revenue from qualifying purchases as an Amazon Associate as well as from other retail partners.
Listen to a sample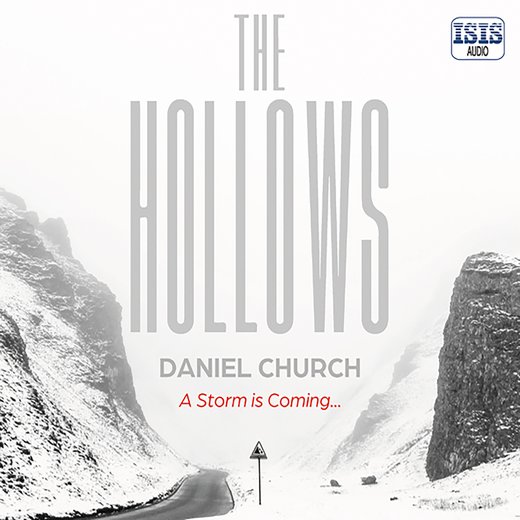 15:55:54
437.59 MB
9781399149235
February 1, 2023
Isis Publishing Ltd
2022
The Hollows
Daniel Church
1.
White sky stretched from Wakeman's Edge, across the wedge-shaped valley of Thursdale, to Slapelow Hill. Drystone walls and bare black trees marked the blanket of snow; nothing broke the silence. The only signs of life were a police Land Rover parked halfway up the hill road, and a policewoman in a grey fur hat, peering over the crash barrier.
Ellie crouched and squinted down the slope. The man lay on one side, doubled up around the base of a tree in the beech coppice below. He wore a donkey jacket, jeans and Wellington boots, dusted by the snow that clogged his tangled hair and covered his upturned face.
The air was clear and sharp, the afternoon cold and still.
The two hikers who'd called it in were huddled together in the back of the Land Rover. Only idiots went blundering around the Peaks in this weather; at least stumbling over the corpse had stopped them from getting lost in the snow while Ellie and Tom Graham spent the night out looking for them. Or adding two more bodies to this year's total, because some idiot always thought he or she knew better – especially, for some reason, when it came to this part of the Peak District. It was usually hikers who came to grief, although a couple of years ago some amateur archaeologist looking for the ruins of Kirk Flockton had drowned in the marshes on Fendmoor Heath. Every year, it seemed, there was always at least one.
But a body was a body: somebody's husband, somebody's son. Someone, somewhere, would be missing the poor sod. Hopefully. There was always the possibility that nobody was, a prospect so depressing Ellie never cared to contemplate it for long. Either way the body would be retrieved, but not just yet. Ellie had no intention of risking a Christmas in hospital by trying to shift the body single-handed. Tom was en route, with Milly Emmanuel; Milly would help her move the body and cast an eye over the scene besides.
Ellie tramped back over to her vehicle. She was a small, sturdy woman in her forties, her dark hair salted grey, and there were days where she felt every one of her years and every degree of cold. This was one of them.
In the Land Rover, the boy was crying, the girl hugging him. Ellie softened a little: they were kids, after all. Seventeen, maybe eighteen at the outside: Richard would be that old now, if he'd lived. Better she was called out for them because of this than because they were injured or dying.
Ellie opened the Land Rover's tailgate, making the kids start at the sudden sound. Knowing she'd be out for a while, she'd filled two flasks before setting off and stowed them in the back; she took them out and shut the tailgate, then opened the driver's door. "Hot chocolate?"
"Please," the girl said.
Ellie handed her a cup. "Careful," she added. "Hot." Which should have been obvious, but she'd learned long ago never to take the general public's intelligence for granted.
The girl cradled the cup and sipped. The boy, wiping his eyes, eyed it with some envy, so Ellie sighed, took the cup from the other flask and poured out a measure for him. "Let's go over it again," she said.
"We weren't going far," said the girl. "I just wanted to show Rick the Height."
Rick: an unwelcome jolt passed through Ellie at the name. Just coincidence, but still unpleasant, after the similarity in the boy's age. The moment passed, and Ellie was glad to see it gone; she leant against the doorframe and breathed out.
"Are you okay?" said the girl.
"Fine," grunted Ellie. The wind was blowing hard along the hill road and making a low, dull moan. She climbed into the front seat and shut the door. "So," she said, "the Height."
"Yeah. You know –" The girl gestured up the road.
"Yeah, I know where it is." Ellie tried not to sound snappish. "Where were you coming from?"
"Wakeman Farm," said the girl, now gesturing down the road.
"Grant and Sally Beck?" said Ellie, then remembered they had a girl away at university. "You're the daughter?"
"Kathleen Beck. Kate." The girl took the boy's arm. "Rick came up to stay. I wanted him to see it."
Ellie nodded. Maybe the girl, at least, wasn't as thick as she'd thought. Wakeman Farm was close by on Spear Bank, which ran from the bottom of the hill road across Thursdale to the Edge. Even that wasn't without risk in these conditions, but it wasn't as dangerous as a longer hike. "You tell your folks where you were going?"
Kate shrugged.
"You need to," Ellie said. "Main roads are gonna be cut off for the next couple of days, and there's more snow coming. You get caught out in it and get in trouble, right now there's exactly two coppers in the area." Or one, if she included Tom Graham.
The girl's story was simple enough. They'd stopped for a short rest, as the hill road was pretty steep; before setting off again, the boy had gone to the road's edge to study the view, and seen something lying in the snow.
"Took me a few seconds to realise what it was," said the boy, wiping his eyes again and giving Ellie a shy smile. "Sorry about that. Gave me a bit of a shock – never seen anyone dead before."
Town lad – a bit soft, maybe, but polite. Well-mannered. The kind you'd bring home to meet your parents.
"Happens sometimes round here," said Ellie at last. "You get used to it. What happened then?"
"Managed to get a signal," Kate said. "So we called it in."
"Lucky again," said Ellie. "Reception's a nightmare round here, specially when it's like this."
She had no idea what else to say, so she looked out through the windscreen. To her relief, an olive-green BMW X5 came round the hill road's bend and drove down towards them. Barsall Village had two full-time officers and one official vehicle, so at times like this Tom Graham's own 4X4 – a seven-seater SUV, no less, a proper Chelsea tractor – was pressed into service; a blue police light had been hurriedly mounted on the roof, but, as usual, he'd forgotten to switch it on.
The BMW halted beside Ellie's, and Tom got out. "All right, Ell. What have we got?"
Ellie trudged over and pointed. "Body, Sarge."
"Oh, yes." He scratched the back of his neck. "You did say."
He looked lost – as usual – so Ellie, once again, stepped in. "The young lady and gentleman over there found him. I thought if you took them back to the station and got their statements, Dr Emmanuel and I can retrieve the body."
"Oh. Yeah. Makes sense." Tom gave the kids an amiable if vacant smile, then frowned at Ellie, or more accurately the fur hat. "For God's sake, will you stop wearing that bloody thing on duty?"
"It keeps my head warm and the regulation cap doesn't. I like having ears."
"I wouldn't mind so much if you'd take that off it." He had a point, given that the hat was Soviet-era Red Army surplus, complete with a hammer-and-sickle-emblazoned red star badge Ellie had never trusted herself to remove without tearing a gaping hole. "Ernie Stasiolek's gonna think you're the bloody Stasi one of these days and take a pot at you."
"Ernie Stasiolek's Polish, Tom. The Stasi were East German."
"All right, clever clogs." Tom took a step towards the kids and called out. "This way, you two. Nice cup of tea when we get in, eh?"
He probably hadn't even noticed the cups they were already holding, but you could never have enough hot drinks on a day like this. The kids followed him back to the X5 as Milly Emmanuel climbed out of it, hidden under multiple layers of clothing culminating in a neon pink puffa jacket and matching ski-hat that rendered her almost globular. She waved to Ellie and waddled over as Tom managed a clumsy three-point turn before driving back up the hill road towards Barsall.
"Afternoon, Constable," she called.
"All right, Doc. Got enough layers on?"
"It's all right for you. My Dad was from Jamaica, remember? I'm not half fucking penguin like you are. So where's the patient?"
Ellie pointed. Milly peered over the crash barrier. "Think we might be a bit late to help."
"What would I do without you?"
"Many a true word."
"Oh, sod off."
"So what's the plan? Please tell me you can call someone in."
Ellie shook her head. "Phone and radio reception's up and down like a whore's drawers and the main roads are snowed up anyway."
Milly groaned. "Don't suppose we could just shovel a bit more snow over him and leave him till the spring?"
"I wish."
"Great. So, heavy lifting duty, then?"
"That and your medical expertise, Doc."
"I'm not a pathologist –"
"You're the closest I've got."
"Fair enough." Milly's breath billowed in the air. "But you'd better have some decent wine in for later."
"Do my best. Got some hot chocolate in the meantime, if you want it."
They got in the Land Rover and Ellie drove down to the bottom of the hill road. She cleared space in the back, spread a blanket out there, folded another over her arm and picked up a small black pack. She opened it and checked the contents – latex gloves, evidence baggies, a pair of small flashlights – then slung it over her shoulder and turned away. Ellie wasn't expecting to find any evidence of foul play – chances were a drunk had slipped and fallen on the path, and the cold had done the rest – but it was best to be prepared.
Milly had already climbed over the crash barrier and was waiting. Ellie climbed after her. Intermittent snow drifted down. Ahead of them a narrow footpath ran along the hillside, past the edge of the Harpers' land, towards the silent trees.
2.
Pinched between the hillside on the right and drystone walls and wire fences on the left, the path, rocky and uneven at the best of times, was slippery with ice and impacted snow.
The body lay at a point where the hillside bulged and became a gentler slope, which a brave soul might be able to climb up to the hill road. The slope extended down beyond the path, over about thirty yards of woodland, before flattening out at the edge of the drystone wall encircling the Harpers' fields.
Ellie saw a wide deep furrow, not quite hidden by last night's snow, scoured through the drifts on the path and down the slope to the trees. "Watch your step here," she told Milly, and picked her way down the incline, following the slide mark.
While the body was clearly visible from the road, once among the trees Ellie could barely make out the fields or the farmhouse beyond. Chances were the Harpers hadn't ventured outside all day, but even if they had, they could have stood at the very edge of their property without seeing the dead man. Ironic, really, as Ellie was fairly certain who this was.
"Wonder if they've even noticed he's missing?" she said aloud.
Milly frowned, then followed her gaze. "Think it's one of them?"
"Pretty sure it's Tony Harper."
"Shit. He was all right."
"Comparatively. When sober."
Milly chose not to get onto the topic of the Harpers, or Ellie's long and not entirely pleasant history with them. She crouched by the body and tugged experimentally at the booted feet; the legs were stiff as wood. "He's well into rigor mortis."
"So, time of death?"
"Guesswork at this stage, Ell. You know that."
"I'm not gonna hold you to it."
"Rigor sets in two to six hours after death – it's usually complete within twelve, and this fella's stiff as. So – tentatively –" she glanced at her watch "– I'd say he died around two a.m. today at the latest. Although that's not factoring the cold in. Could have been here longer, but there's no sign of animal predation."
"Plus," Ellie looked at the furrow in the snow, "if it'd been before last night there'd be no trace of this. Or him, probably – he'd have been buried and those kids would never have seen him."
"Probably should have been," said Milly. "But any snow covering him would have been knocked off when he fell."
"Come again?"
"Gimme a flashlight." Ellie handed one over and Milly shone it over the corpse. "Look at his posture. One leg's out straight. The other's pulled up at the knee. See? And his back's straight too."
"And?" Then Ellie saw. "He was sitting up?"
"Yeah. He died somewhere else, rigor set in, and then he fell."
"Or someone brought him out here and dumped him." Ellie groaned. "Why couldn't the snow have fucking buried him? Then I wouldn't have to deal with this bollocks until it was warm."
"If it wasn't him, it'd be someone else," said Milly. "You know what it's like. Every sodding year, like clockwork." She sighed. "People never seem to learn."
"I know. I know."
Neither spoke for a few seconds. Snow drifted down and settled on the body.
"Why dump him here, though?" Milly said. "Not exactly the perfect spot."
Ellie shone the other flashlight along the slide mark. Then she frowned and followed it back to the footpath before moving the beam up the slope above. "Milly? Think I might've found the answer."
Milly floundered back up to her side, catching her arm for balance. "What you got?"
Ellie played the flashlight beam over the dead vegetation on the slope above the path. Snow had clogged it since last night, but they could both see that a section of it was badly crushed.
"He fell from above?"
"I reckon. Maybe somebody slung him from the road?"
"Maybe." Milly sounded doubtful. "What's that, though? See? There?"
She pointed. Ellie moved the beam further up the slope. The snow hadn't covered it as extensively as the lower section, so she couldn't see any slide marks, but there was a ledge about ten feet below the road barrier. It was twelve feet across, and looked as though someone had chiselled a neat oblong out of the rock.
"Remember his posture?" Milly said. "Back straight, one leg out, one drawn up..."
"Like he was sitting down," said Ellie. "How wide's that ledge look? Couple of feet?"
"If that."
"So you pull a leg up to brace yourself, make sure you don't topple off. But what was he doing there to start with?"
Milly didn't have an answer. The cold was creeping in, along with the awareness of what lay ahead, and Ellie didn't like either. She'd have to visit the Harpers, which wasn't her idea of fun at the best of times. And it mightn't be just the standard death knock either. "All right. Let's get some pictures of the scene then get back."
Milly nodded down at the body. "What about him?"
"I'll have a word with Plant-Pot at the Co-op. See if he's got any room in the meat freezer."
Milly grimaced. "That's turned me veggie for the duration. Hey! Where you going?"
Ellie pointed up. "I'm gonna head back up the road, get some shots of that ledge from above. If he was up there –"
"Fair enough." Milly eyed the body and grimaced again. "Just don't be too long, okay?"
"Quick as I can."
Ellie made better time heading back to the car; negotiating footpaths like this was another thing she had more experience with than her friend. She parked by the spot overlooking the woods, leant over the barrier till she had the ledge in view, then took a series of wide-angle shots on her phone, with and without the flash, before zooming in for close-ups.
Tom Graham would have bothered with none of this. He'd already have decided he was dealing with an accident and nothing more. But Ellie believed in doing her job. She didn't have much else. Besides, she still had some instincts left, and they were prompting her to look more closely.
She zoomed in on sections of the ledge, again photographing both with and without the flash, moving from one end to the other. Harper would have been sitting against the end to her right – it'd been his right leg drawn up for balance, so the drop would have been on that side of him.
She zoomed in closer, and if she hadn't she'd have missed it. One area of rock that had remained clear of snow was smudged with what looked like soot and patched with lichen, against which smears of dried blood showed. To capture those Ellie had to straddle the crash barrier and lean out to an almost life-threatening degree, but she managed.
When she did, she saw that the soot wasn't a smudge at all, but a symbol of some kind: a straight vertical line, with three shorter horizontal ones pointing off from it to the left. Made using charcoal, maybe. She didn't recognise it, whatever it was. She tightened the focus on the symbol and took more pictures.
"You quite finished up there, David fucking Bailey?" Milly shouted up from the path.
Ellie climbed back over the barrier. "I'm done. You?"
"Been stood here watching you like piffy on a rock bun for the last five minutes."
Ellie drove back down and trotted up the footpath to Milly. "Anything?" she asked as they ventured back down through the trees.
"Yes and no."
"What?"
"There's some cuts and scratches – one on the forehead that bled a bit."
"A fight?"
"Or just a fall. Easy enough in this weather, especially if you've had a few."
"Which, knowing Tony, he had."
"Bit of a piss-head?"
"Only at weekends, but last night was Friday night. So if I know him, he'll have been up past closing time at..." Ellie stopped and frowned, peering through the trees.
"What's up?"
"Tell you in a sec. You were saying – why's it yes and no?"
"The injuries are inconclusive. But look at this."
Milly shone her flashlight. She'd brushed the snow from the dead man's face. He'd been swarthy – although less so now, with death's pallor – and handsome in a sharp, bony, not-quite-conventional way. Blue-black stubble, long black hair, a gold ring gleaming in one earlobe. Tony Harper, and no other.
Milly had cleared the snow from his right arm, too, which had been half-buried. His hand was clenched around an open clasp-knife with a handle made from an old shotgun shell.
"Let's get him on the blanket and get out of here," Ellie said at last.
It took them nearly twenty minutes to carry the body back to the Land Rover, manhandling it over the crash barrier before loading it onto the blanket in the back. Ellie covered Tony with the second blanket and slammed the tailgate shut.
By the time Milly got into the passenger seat, her teeth were chattering. Ellie turned on the heater and passed her a Thermos. "Get some of that down you."
"Thanks."
Ellie waited till Milly had filled her cup and restoppered the flask before beginning the drive back to the village.
"What's up?" Milly said.
"Nothing."
"Come on, Ell. I can always tell."
"Rhyming now?"
"I'm a poet and I didn't know it. Come on. What?"
"For a start, Tony Harper's the only half-decent – was the only half-decent – bloke out of that family. Until he's had a few, and then he gets rowdy. But I've never known him pull a knife. I mean, he'd have killed someone by now otherwise, and there'd be one less Harper to worry about."
"Well, there is now."
"Huh." They passed the slope above the coppice. "No, but when it comes to fighting he's always used his fists. Well, and the odd boot."
"Not last night he didn't."
"You know he made them himself?"
"Huh?"
"The knives. Used to flog 'em round the village for beer money. I've got a couple at home." Ellie snorted. "Course, you can guess who had to deal with him when he drank the money and got in a fight. Talk about making work for myself. Plus, there's two pubs in Barsall and Tony's barred from 'em both – only place he can go drinking is the Bell up on the North Road. He'll get rat-arsed there, then walk home. But the track to the farmhouse is on the other side of the valley, and..."
"And he ends up over here, freezing to death halfway up the hillside," Milly said. "Someone chased him?"
"Yeah. And he didn't fight them. He tried to run and hide..." Ellie thought of the slope. "If he'd got the rest of the way up to the hill road, he could have made it to Barsall. So there must've been more than one attacker. He was surrounded, and got the knife out to keep them back."
"Keep who back?"
"Well that's the big question, isn't it?"
Ellie had, despite herself, rather liked Tony. There'd been a good lad in there under it all, despite a family background practically designed to beat it out of him. And rowdy or not, he'd been brave. He'd got into a brawl with his brothers when Paul Harper had tried to assault a local girl, come out of it with a broken arm and still been struggling with them when Ellie had arrived on the scene. And yet he'd been driven back from his own front door and died cornered on the ledge.
They reached the bend in the road, near the hill's summit. "Oh my Lord," said Milly, and pointed.
The Height was a flat shelf that stuck out beyond the bend, dotted with snow-caked litter bins and picnic tables, with a safety railing round the edge. The view from there, over Thursdale, Wakeman's Edge and Fendmoor Heath – marred only by the pylons that marched from the Edge over Fendmoor, in a line that grew crooked where it skirted the Heath's marshes – fetched in a small horde of tourists every summer, but what commanded Ellie's attention now was the wall of black cloud advancing towards the peaks across the valley.
"More snow tonight," said Milly.
Ellie didn't answer. Around the bend from the Height, the hill road became Halliwell Way: the road to the village. Closer to home. She pressed down on the accelerator. She had work to do, and it would soon be dark again.
3.
Andy Brailsford had shaken Barsall's dust from his feet twenty years earlier, vowing never to come back. Whether he'd really shouted "Later, losers!" from his car window while departing was open to debate, but no doubt the attitude had been there: at twenty-one you thought you knew it all and could conquer the world by sheer force of will.
Five years ago he'd moved back, complete with pot belly, male-pattern baldness and a family. He'd done a number of things in the interim, but among them had been managing two failed garden centres, as a result of which someone – possibly someone who remembered his alleged parting words – had christened him "Plant-Pot", a dubbing so popular that even his wife was now rumoured to use it.
Plant-Pot had become a store manager for the Co-Op; how willingly or otherwise he'd accepted the posting to the same store he'd once stacked shelves in for an out-of-school Saturday job was another debatable topic, but there was no disputing his lack of enthusiasm at using the Co-Op's freezer for body storage. He cleared a space for Tony Harper's body nonetheless; Milly was a GP, not a pathologist, so there'd be no post mortem until the roads were clear.
The unpleasant task of searching the body yielded a wallet containing a driver's licence and National Insurance card in Tony Harper's name; Ellie sealed them into separate evidence bags and slipped them into her jacket pocket.
"Still on for tonight?" Milly said.
"'Spect so. Couple of stops to make first."
"Harpers?"
"Yeah."
Milly poked her arm. "Just be careful, okay?"
"Don't worry about that." Ellie grimaced. "Pity sometimes we can't go armed."
"Don't forget to get some decent wine in."
Ellie drove on to the station, to find Tom Graham setting off with the girl and Rick. "All right there, Ellie. Just running them home."
"I'm heading up to the Bell, then I'll go break the news to the Harpers."
"Fair enough." If Graham wondered why she was going to the Bell, he didn't ask. To him, coppering was a simple job that Ellie overcomplicated by worrying too much. He'd have missed half the things she and Milly had noticed at the scene, and even if he hadn't, he'd still have decided Tony Harper had got lost in the snow and frozen while drunk. "Don't be too long. Latest weather report says it'll be another bad one tonight – worst yet. Even the hill road might get cut off. Don't want to get caught in that."
"Any word on when?"
"Six-ish at the latest."
"Kay. Thanks, Tom."
In the back of Tom's X5, Rick and Kate huddled together. The girl gave Ellie a wan smile and raised her hand in a wave. Ellie nodded back, and watched them drive away.
Light, intermittent snow continued to fall. It was just after three o'clock; one and a half to two hours before dark, and – in theory – three before the snowstorm hit, but Ellie knew better by now than to gamble her life on the accuracy of weather reports. She wanted to be home no later than five, and even that felt as though she was cutting it close. "Better crack on then," she muttered, and drove to Longhowe Road.
Derbyshire's little local police stations had closed years earlier in favour of larger central stations, like the one in Matlock Ellie and Tom were nominally based at. They were usually assigned the Barsall area anyway since they lived there; knowing the territory could be crucial when searching for those lost hikers.
The old station should have been sold off, but there'd been trouble finding a buyer and then the council decided to turn it into a museum or heritage centre. But nothing came of that either, so although the blue lamp and any other identifying signs had been removed, Longhowe Road Station was still the Derbyshire Constabulary's. It mainly served to store emergency equipment and, when weather cut the village off, as now, as a base of operations. A relic of a different time, stuck in a kind of limbo; Ellie could relate to that.
Julie Robinson was behind the old sergeant's desk with a cup of coffee. She ran the Post Office with her husband Phil, but mucked in at times like this as an impromptu dispatcher and point of contact. "Oh. Hi, Ellie."
"You heard about Tony Harper?"
"Mm." Julie sighed. "Poor lad."
"He was in the Bell last night, so I'm gonna go get a statement off the Famuyiwas. After that I'm doing the death knock at Barrowman Farm."
"God." Julie grimaced. "Rather you than me."
"Yeah."
Serious crime was rare around Barsall; the standard gear of pepper spray, extendable baton and handcuffs usually left Ellie feeling over-equipped, but since those rare serious crimes were usually the Harpers' work, not today. She picked up a two extra pairs of cuffs, just in case. Until earlier this year, they'd had a couple of tasers in storage, but Matlock had taken them back. More was the pity, right now.
On her way back through the village, she stopped at the Co-Op again to pick up two bottles of Merlot. A promise was a promise, and she'd need a drink later anyway. She grabbed a cold pasty too, and ate it as she drove.
Ellie overtook Tom, who was proceeding at his usual snail's pace, and followed the hill road past Wakeman Farm and along Spear Bank, to the North Road that ran along the foot of Wakeman's Edge.
The hills and passes the North Road led through were vulnerable to the winter storms, often cutting Barsall off from the outside world. One of the reasons for the strong sense of community in the village – which was one reason Ellie liked it – was that you had little choice but to look to one another to survive. According to the local vicar, Madeleine Lowe, even that hadn't always been enough, as one particularly prolonged and harsh winter – the "Bad Winter", as she always called it, the capital letters always clearly audible – had left the village almost depopulated back in the Middle Ages, with only a handful of survivors left by the spring.
Still, this section of the North Road, at least, was still clear. Even in better weather than this, though, it could seem long and unfriendly, and the prospect of breaking your journey for a pint or pub lunch was always appealing, especially if you were stopping to refill your tank anyway. The Bell dated back to the seventeenth century, but the landlords had moved with the times, hence the petrol station next door.
The Famuyiwas had bought the roadside inn from the previous owners five years ago and kept it going, but the reliance on passing trade meant they couldn't afford to be choosy about their clientele, especially not in winter. Which was why it had been Tony Harper's usual watering-hole.
Ellie couldn't see anyone inside the petrol station, but the pub's windows were lit and a brand-new Volvo, clearly a city car, was parked outside. The place was a welcome sight given the weather, and did a decent pub lunch, too; under other circumstances, she'd have abandoned the remains of the pasty and gone in to order the bangers and mash. But there was the weather warning to consider, and the Harpers still to see. She couldn't spare the time. Ellie locked up the Landrover and entered the pub.
The snug was empty, apart from an elderly couple sipping coffee over the remains of a meal in one corner – presumably the Volvo's owners – and Charlotte, Joda's daughter, polishing glasses at the counter. Ellie stopped at the old couple's table to confirm their destination; they were heading for a village three miles to the south, the road to which was so far still clear. Having made sure they knew about the weather warning, she crossed the snug.
The worn red carpeting really needed replacing, but it had been hoovered and shampooed; the oak-panelled walls and the brasses hung on them were polished and bright. From beside a heavy old pendulum clock mounted above the fire, a stuffed pike glared at Ellie from its glass case as if it were her fault it had ended up here. Don't look at me, pal: you should've had a closer look at what you were putting in your mouth. As the bishop said to the actress.
Ellie leant on the counter. "Hi, Charlotte."
"All right."
"You on the bar last night?"
"No. Thank God. Dave took me out for dinner." Dave Chapple, at twenty-three, was six years older than Charlotte. He worked for his dad, who owned half the rental properties in Barsall, so he wouldn't have been a bad catch if he'd shown any signs or even any understanding of the concept of sexual fidelity. Ellie had no idea what Charlotte knew or suspected about that, but the poor girl still seemed to think Dave was her ticket back to the bright lights of Manchester. Ellie had thought of saying something more than once, but what seventeen-year-old listens to her elders? You think you know everything at that age. Ellie had.
"Would it've been your Dad, then?"
"Wouldn't have been Mum, would it?"
"Oi." Ellie had always liked Charlotte and would put up with a certain amount of cheek, but there were limits. "No need for that."
Charlotte sighed theatrically. "Soz. I mean," she added with exaggerated formality, "hang on, Constable Cheetham, I'll go and get him for you now."
She came out from behind the bar. Beyond it were an extra half-dozen dining tables for the rare busy times that came with the summer trade, a pool table and the stairs to the upper floor. She lifted, then replaced, the chain with its sign marked PRIVATE – STAFF ONLY and ran up. Ellie wished she could allow herself a drink. Or that she still smoked. Or that you could still smoke in pubs.
A cold draught, and a voice called "Bye." Ellie turned to see the old couple slipping out through the door. It clicked shut, cutting off the moaning wind, and outside the window, a few seconds later, the blue Volvo pulled out onto the North Road. Safe journey, folks. The snow was falling steadily now, and thicker than before. She turned back to the bar as someone clumped across the landing overhead and started down the stairs.
Joda Famuyiwa stepped over the chain at the foot of the staircase and clomped over to the bar. He wasn't a giant, but it was close: he stood six feet five in his socks and nearly three feet wide at the shoulders, and although just past fifty, he was still mostly muscle. He had the same model of home gym as Ellie – in fact, she'd bought hers on his recommendation, given that he clearly knew whereof he spoke. The only signs of softness on him were the small paunch straining his lumberjack shirt and his plump round face.
"Hello, Ellie." He looked tired, but then he often did. Between the pub, his wife and his daughter, there were a lot of demands on his time. There were crow's-feet at the corner of his eyes Ellie was sure hadn't been there the last time she'd seen him, and a little more grey hair at his temples and in his neatly clipped moustache.
"Joda." They shook hands, as always; he was curiously formal like that. "How's Barbara?"
"Much the same. Maybe a little worse."
"I'm so sorry."
He shrugged. "It is what it is. How can I help?"
"Charlotte said you were minding the bar last night?"
"She had to go out with her young man." Joda placed a pause before, and an emphasis on, the words to indicate that he could think of several better terms to describe Dave Chapple, none repeatable in polite company. "It was quiet, and Barbara was having one of her better nights."
"Was Tony Harper in?"
Joda sighed. "What's he done now?" Like Ellie, he'd always had some time for the black sheep of Clan Harper. Tony had reciprocated his respect, at least to the extent of only getting into fights in the car park, rather than inside the actual pub.
Ellie evaded the question. "Any bother from him?"
"Actually, no," said Joda. "And I thought there would be a couple of times. We had three or four boys in from the village. Don't know why they were here – maybe they're barred as well – but they were mostly playing pool in the back, and Tony just sat there –" Joda nodded at the snug "– drinking in a corner. One of the boys even spilled his drink – accidentally, I mean, they weren't looking for a fight – and he let it go."
"How many had he had by then?"
"Six or seven."
By that stage of things, Tony was usually on the fine border between being everybody's friend and decking anyone who looked at him the wrong way. "Something bothering him, maybe?"
Joda shrugged. "He didn't really talk except to ask for another drink, but that's how he looked."
"What time did he go?" Joda often stayed open till the early hours of the morning at this time of year, to get the most out of the reduced trade.
"Midnight exactly." Joda pointed to the pendulum clock. "You know what that thing's like – strikes the hour like Big bloody Ben. He was sort of slouched over the table and I was wondering what to do about him – I was starting to think he'd fallen asleep."
"Tony, fall asleep in a pub? That'd be new." Pity, really. He mightn't have been barred from as many. "How much had he put away by the time he left?"
"His usual – ten, eleven pints. But he seemed to wake up when he realised the time. Finished his drink, said 'goodbye' very politely, and out he went."
"What about the other drinkers?"
"Hardly noticed he'd gone. They were all here until nearly two o'clock."
By which time Tony Harper would already have been dead. "Got names for any of them?"
Joda remembered two, which Ellie jotted dutifully down. "Thanks, mate. Give my love to Barbara."
"Will do. What happened? Is he in trouble?"
She shook her head. "Couple hikers found him out by the hill road this afternoon. Looks like he froze to death."
"Oh, God. That poor young man."
"Yeah."
Joda didn't bother to spare a thought for his mother, but then, like Ellie, he'd met Liz Harper. If he wondered why Tony had been out by the hill road, he didn't ask. He had problems of his own.
Outside, Ellie jogged to the Land Rover. The snow was thicker still, and the sky above even darker. She didn't know if that was because of the approach of night or that of the storm, ...
We hope you are enjoying the book so far. To continue reading...
The Hollows
Daniel Church
Copyright © 2023 All Rights Reserved