The Fragile Ordinary
Tobias has a dark past and runs with a tough crowd—and none of them are happy about his interest in Comet.
Book info
Sample
Audiobook
Media
Author updates
Lists
Synopsis
I am Comet Caldwell.
And I sort of, kind of, absolutely hate my name.
People expect extraordinary things from a girl named Comet. That she'll be effortlessly cool and light up a room the way a comet blazes across the sky.
But from the shyness that makes her book-character friends more appealing than real people to the parents whose indifference hurts more than an open wound, Comet has never wanted to be the center of attention. She can't wait to graduate from her high school in Edinburgh, Scotland, where the only place she ever feels truly herself is on her anonymous poetry blog. But surely that will change once she leaves to attend university somewhere far, far away.
When new student Tobias King blazes in from America and shakes up the school, Comet thinks she's got the bad boy figured out. Until they're thrown together for a class assignment and begin to form an unlikely connection. Everything shifts in Comet's ordinary world. Tobias has a dark past and runs with a tough crowd—and none of them are happy about his interest in Comet. Targeted by bullies and thrown into the spotlight, Comet and Tobias can go their separate ways…or take a risk on something extraordinary.
From the New York Times bestselling author of The Impossible Vastness of Us and the On Dublin Street series comes a heartfelt and beautiful new young adult novel, set in Scotland, about daring to dream and embracing who you are.
Release date: June 26, 2018
Publisher: Harlequin Teen
Print pages: 384
* BingeBooks earns revenue from qualifying purchases as an Amazon Associate as well as from other retail partners.
Listen to a sample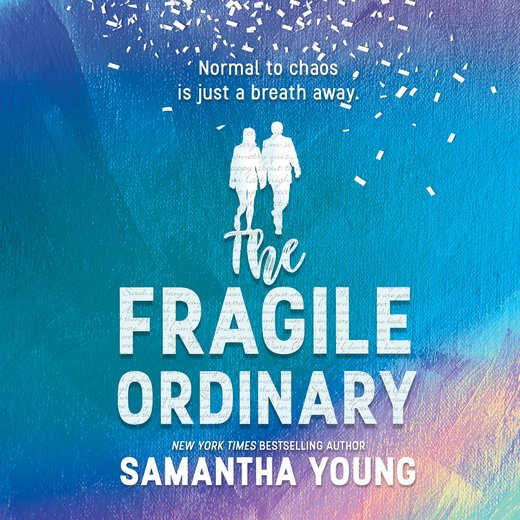 10:50:11
297.64 MB
9781488204852
June 26, 2018
HarperCollins
The Fragile Ordinary
Samantha Young
Chapter One
Out there she's just a zero,
Observed. Judged. Promptly erased.
In here she's always the hero,
Understood. Respected. Embraced.
—CC
Edinburgh, Scotland
I am Comet Caldwell.
And I sort of, kind of, absolutely hate my name.
People expect something extraordinary of a girl called Comet. Someone effortlessly cool and magnetic. Someone who lights up a room and draws attention the way a comet does when it blazes light and fire across the sky.
But a comet, when you break it down, is the opposite.
It's an icy body that releases gas and dust.
Comets are basically great big dirty snowballs. Or, as some scientists have taken to calling them, snowy dirtballs.
Yup. A snowy dirtball. That makes more sense.
I was not a blaze of light and fire across the sky. I was just your average sixteen-year-old high school girl. An average sixteen-year-old who was spending the last day of summer uploading her latest attempt at poetry onto her anonymous blog. The one with the comments turned off so I wouldn't be subjected to public opinion and ridicule. "The Day We Caught the Train" by Ocean Colour Scene blared out of my laptop as I worked. I had a thing for nineties and early noughties indie music.
My phone vibrated. I ignored it, making sure the typeset on my latest post was just right. Because that's what I really cared about. The typeset. Not the poem. Or that people would stumble across my blog and scorn the words torn from my beating heart.
The buzzing started up again and I sighed in irritation.
Vicki Calling.
As one of my only two best friends, Vicki didn't deserve to be ignored. I put my music on mute and picked up. "I hope you know you're interrupting Liam and I, but keep it on the down low. Miley doesn't know about our secret love."
Vicki gave a huff of laughter. "Babe, I'll take it to the grave."
"So what's up?"
"What's up is Steph and I have been standing outside your house for the last ten minutes, ringing your doorbell. We can hear the music you dug out of a time capsule and Kyle has peered out the window at us and shooed us away twice."
Kyle was my dad. Although I thought of him as Dad in my head, I never actually called him Dad. My parents had taught me to call them Carrie and Kyle from the moment I could make vowel sounds.
Of course my dad had waved my friends away. Because answering the door for people who weren't there to see him would be too much like hard work.
I hopped off my bed, hurried out of my room and down the hall to the front door. As I swung it open, I was blasted by the familiar scent of the salty sea beyond our garden gate along with a rush of cool wind. I hung up my phone.
Vicki eyed my outfit carefully and then decided. "Nice."
To say I had a quirky taste in fashion was putting it mildly. I was currently wearing a white blouse with a Peter Pan collar underneath a preppy lilac cardigan. Very 1950s. I'd matched it with a turquoise multilayered silk petticoat, and a pair of Irregular Choice Victorian ankle boots. They were lilac and instead of laces they were adorned with turquoise satin ribbons tied into large bows.
Steph stared at Vicki as if to say, Are you serious? and then she gave me a pained smile. "Dude, surely Carrie notices you in that outfit?"
I chose not to be insulted.
Steph was petite with an enviable bra size and a butt that actually filled out her River Island jeans. She wore her long honey-blond hair in carefully arranged loose curls, and her makeup was always perfect. Fashion-wise she mostly wore on trend clothes from the more expensive stores in the shopping center but dipped into high-end designer when her lawyer dad felt like spoiling her.
Right now she was wearing skinny jeans with purposely placed rips in them, knee-high brown leather boots with a low heel and a Ralph Lauren bomber jacket.
Unlike Steph, Vicki, the wannabe fashion designer, appreciated my attempt to be different. Although to be fair it wasn't really an attempt on my part. Or even an attempt to get Carrie to notice me—I didn't think it was anyway. I just wore whatever jumped out at me from my wardrobe that day.
Plus, 195 days out of the year, I had to wear a school uniform. The days when I didn't, you bet your ass I was going to have fun with my outfits.
Wearing an oversize thin cream sweater with an angled hem, paired with bright green leggings with skulls on them, Vicki was more adventurous like me. But she was naturally cool. This was a girl who could pull off the name Comet. She wore loosely laced black leather biker boots, large gold hoops in her ears and a bright green suede crossover body purse. Her tawny skin was flawless, so Vicki didn't wear as much makeup as Steph, whose pale white skin tended to blemish. At that moment, like usual, Vicki was wearing only a few coats of mascara on the thick lashes of her hazel eyes, and a touch of gloss on her full lips. Her dark brown afro danced above her shoulders in the wind as she turned to raise an eyebrow at Steph.
"What?" Steph shrugged.
"Filter," Vicki reminded her.
"It's fine." I waved off Steph's comment. We all knew Carrie wouldn't notice me if I ran through the house with my petticoat on fire.
"We didn't come here to pass judgment on your cool as shit outfit," Vicki emphasized for Steph's benefit, but our friend just rolled her eyes. "It's the last day of summer, Comet. We're going to a party. You're coming with us."
"A party?" I asked. The thought of going to a party to hang out with a bunch of our classmates who would either ignore me or make fun of me, when I could finish posting on my blog then curl up with the book I was in the middle of reading, made me want to slam the door in their faces and pretend I'd never answered my phone in the first place.
As if she saw the thought on my face, Steph shook her head. "Uh. No. Dude, you have to come to the party."
"Steph, stop saying dude. You aren't American. And this isn't the 1990s." Although I wondered if I wouldn't have been better off as a sixteen-year-old in the 1990s. There was the music, of course. Oasis, hello! Need I go on? And then of course there was the lack of social media. I think there might have been instant chat back then. But if instant chat was a tiny school playground, social media was a city made up entirely of school playgrounds. There was plenty of laughter, games and messing around…but there was also that dark corner where the quiet kid got pushed around by a bully.
"Speaking of American. That's why you need to come to the party. Cute American boy is going to be there."
"And who's that when he's at home?"
"We so need to plug you in," Steph tutted as she tapped her phone screen, alluding to the fact that I avoided most social media platforms. After a few slides of her finger over the screen she held it up to me.
It was a blurry photo of some girl with her arm around some guy.
"What am I looking at?"
"Cute American guy," Steph replied in her duh voice.
I huffed, "You can tell he's cute from that picture?"
"Uh no. You miss everything. Everyone who has met him is talking about how cute he is on WhatsApp. When are you going to download it?"
A niggle of worry pierced at me but I just shrugged. "I'll get around to it."
"You say that all the time."
The truth was I didn't want to download WhatsApp and join our class group. The thought of my phone binging every second with a notification made my toes curl in my shoes with irritation. And yes. I was aware I was an anomaly among my kind.
"Anyway," Vicki said, taking pity on me. "You're coming, right?"
I really, really just wanted to get back to my book. The heroine had a crush on this boy at this new boarding school she'd been sent to, and I was at this part where it looked like he might like her back. "Whose party is it?"
My friends shared a look.
"Well?"
Steph sighed dramatically. "It's Heather McAlister's…but what she did was so long ago, Comet. You really need to get over it."
"Her words," Vicki pointed to Steph, "Not mine."
Hurt pierced me. While Heather no longer bothered me, having made the decision sometime ago to pretend I didn't exist, there was a time that she was my mortal enemy. She'd taken a dislike to me in our first year at high school for whatever reason and had tortured me for a year. Hid my uniform after P.E. class so I had no choice but to finish the rest of the school day in my gym clothes. Told Stevie Macdonald that I had a crush on him, prompting him to come up to me in the hall to let me down. He told me he was flattered but I wasn't really his type.
What he really meant was I was a geek and he was already having sex with girls older than he was.
Not that I'd had a crush on Stevie.
And let's not forget the time the teacher asked us in English what our favorite book was and Heather said, in front of everyone, that my favorite book must be Matilda because I could relate to having parents who hated me.
I'd suspected at the time that Steph had let something slip about my relationship with my parents when she'd attended Heather's thirteenth birthday sleepover. Vicki, like a true friend, had turned down the invitation, but Steph had said she thought that would be rude.
She didn't think it would be rude. She was just afraid of not being popular.
I was mad at her but I hadn't said anything. Vicki said enough for the both of us, Steph stopped talking to us for a few weeks, and then after a while we were all friends again. Like nothing had happened.
But Steph's attitude now brought it all flooding back. "If she'd called you STD Steph to your face and behind your back for an entire year, would you have forgiven her by now?"
My friend's cornflower blue eyes widened. "Did she call me that?"
"Probably," Vicki muttered.
"I'm making a point. The girl chanted 'Comet, Comet, she makes me want to vomit' at me every day for weeks."
Steph exhaled. "Look, Com, I didn't mean to be insensitive. I know she was mean to you. But she hasn't bothered you in years. Come to the party."
If it was Heather's party, that meant the guests would be every kid at our school who had no idea who I was. Meaning the ones who were involved in extracurricular stuff like…sports. Their social adeptness, their ability to walk into a room and just start chatting and laughing with complete strangers, was foreign to me. I was socially awkward and pretty certain no one was interested in hearing anything I had to say anyway.
Why would I put myself in an uncomfortable position, go to a party that would make me insecure and miserable, when I could be reading a book that made me feel giddy with anticipation?
"I can't." I shrugged, stepping back into my hallway. "I have to have a shower and get stuff ready for school tomorrow."
Vicki frowned at me while Steph threw up her hands. "What was the point?"
I flinched but shrugged, trying to appear as apologetic as possible.
"C'mon." Steph grabbed Vicki's hand. "It's freezing standing here. Let's go."
Vicki gave me a half-hearted wave and one last look I couldn't decipher, but hoped wasn't irritation. I watched my friends stride off down my garden path. They stepped outside, closed the gate and walked away along the esplanade.
The Studio, our house, sat right on Portobello Beach. Which meant I just had to walk out of my garden and across the esplanade, and I stepped right onto the beach. My bedroom, a guest bedroom, the kitchen, sitting room and a bathroom were situated on the ground floor of the white painted brick midcentury building we called home. Upstairs, taking full advantage of the sea views, was Carrie's art studio and my dad's office. My mother was famous among the art crowd as a successful and generously compensated mixed media artist. My dad was a writer. He'd won a few literary awards for his second novel, The Street, a commercially successful book that was even made into a British television mini-drama. The money from that novel paid for our house on this sought-after location. Although he did well with his books, my dad had never achieved the same heights with his subsequent novels, and I think he kind of enjoyed playing the part of the frustrated artist.
Most people thought it must be pretty cool to have semifamous artist parents.
It wasn't.
At least not my parents.
The most thought my parents have ever given me was in choosing my name. For two weeks I was Baby Caldwell while they struggled to find something unique they could agree upon. Then they gave me a name I couldn't possibly live up to and proceeded to treat me with offhand kindness, disinterest and sometimes outright negligence. I was an accident, and not a happy one. My parents were too much in love with their art and each other to have any love left to spare for me.
That's why my friends were important to me. But so was self-preservation.
I shut the front door and locked it, then leaned back against it as a sudden headache flared behind my eyes. This wasn't the first time I'd refused to hang out with Vicki and Steph.
When we were kids we were all quiet, geeky, book-types, but when we got to high school they started to change. Steph decided she wanted to be an actress and even won a part in a local advert for a soft drink company. She came out of her shell, landing parts in the school plays, and as the years turned her from an average blonde girl into a stunning teenager, she got so much attention from boys that she became boy-crazy.
Vicki seemed happy to spread her wings, too, socially. And where Steph's bubbly loudness got her what she wanted, Vicki's laid-back, effortless cool made people flit to her. She was the kind of girl everyone wanted to be friends with. She was my BFF, and seeing her friendship circle grow was hard for me.
I would admit to being a little jealous.
Now I was worried, as well.
If I kept refusing to hang out with them if it involved hanging with other people, would Vicki and Steph one day give up on me?
The thought caused angry butterflies to take flight in my stomach and tears to prick my eyes. Some days I wished I could be more like my friends. But if it meant pretending to be something I wasn't, exhausting myself trying to please people who didn't really care about getting to know the real me, then I chose lonerhood. I chose books.
I slammed into my bedroom, not caring if the noise jerked my dad out of whatever sentence he was taking a painstaking amount of time over, and launched myself onto my bed. Lying flat on my stomach, I stared across my large bedroom at the shelves that lined two walls. Books, books and more books. Just the sight of all the shapes and sizes, all the colors, all the textures, stretching up on bookshelves that were fitted to the ceiling, made me content. No matter what was happening in my life, in my room, I had over eight hundred worlds to disappear into, and over a thousand others on the e-reader on my nightstand. Worlds that were better than this one. Worlds where there were people I understood, and who if they knew me would understand me. Worlds where the boys weren't like the boys in this one. They actually cared. They were brave and loyal and swoonworthy. They didn't burp your name in your ear as they passed you in the hall or bump into you a million times a day because they "didn't see you standing there".
I stretched across the bed, picked up the paperback I was reading and flipped it open.
No way was some cruddy party hosted by Heather McBitcherson better than the world I was holding in my hands.
We hope you are enjoying the book so far. To continue reading...
The Fragile Ordinary
Samantha Young
Copyright © 2023 All Rights Reserved