The Duchess Takes a Husband
Book info
Sample
Audiobook
Media
Author updates
Lists
Synopsis
Despite her illustrious title, Camille, Duchess of Hereford, remains what she has always been—a pariah. Though her title means she's technically accepted by London Society, the rebellious widow with her burgeoning interest in the suffrage movement and her American ways isn't exactly high on every hostess's guest list. But Camille starts to wonder if being an outcast is not without its perks when the tantalizing answer to her secret fear appears in the shape of Jacob Thorne, the illegitimate son of an earl and co-owner of London's infamous Montague Club.



Jacob is used to making deals with his club members—he's just not accustomed to them being beautiful women. Nor have the terms ever been so sweetly seductive as Camille's shocking proposition. To finally buy his own club and gain the crucial backing of investors, Camille offers Jacob the respectability of a fake engagement with a duchess. In return, the tempting widow has one condition: she wants Jacob to show her if it's possible for her to experience pleasure in bed.



The lure of such a bargain proves too delicious to resist, drawing the enterprising rogue and the wallflower duchess into a scandalous game and an even more dangerous gamble of the heart.
Release date: May 23, 2023
Publisher: Berkley
Print pages: 336
* BingeBooks earns revenue from qualifying purchases as an Amazon Associate as well as from other retail partners.
Listen to a sample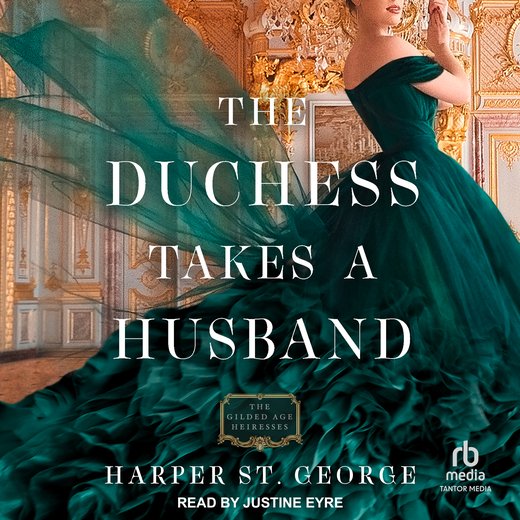 09:38:19
264.74 MB
May 23, 2023
Tantor Audio
2023
The Duchess Takes a Husband
Harper St. George
Chapter 1
BLOOMSBURY, LONDON
WINTER 1878
Smile, but not too wide. Smiles in public are meant to be mysterious, not expressions of joy. Keep your shoulders squared at all times but always, always remain demure. Chin tilted downward the slightest bit, darling. It wouldn't do to appear too confident. A wise woman knows her place is one of support and encouragement. When a suitor gazes upon her he should see a prospective helpmate, someone who will assist in his life instead of forcing her own will. No one likes a headstrong woman.
Camille, Dowager Duchess of Hereford, closed her eyes, attempting to block out the words. No matter how she tried to ignore them, her mother's advice always seemed to play in the back of her mind when she least wanted to heed it. As the only child of Samuel and Martha Bridwell, she had been raised to the most exacting standards from birth. Her mother had been fastidious when it came to her grooming, comportment, and even her friends. Her education had centered around the intricacies of both running a large household and navigating the treacherous waters of Society. Nothing had been more important to her parents than seeing her married well, and Camille had all these speeches memorized, having heard them relentlessly.
Unfortunately, her parents' ideas of married well had been vastly different from Camille's. She had valued kindness and affection, while her parents had valued social status. That was it. That seemed to be their sole requirement.
She opened her eyes and smiled at her reflection in the mirror before her, the muscles in her face responding from memory, curving her lips upward in a cold imitation of happiness. She hated this practiced smile. It made her feel aloof and untouchable. While it had its uses in London ballrooms, it was not what she needed now. She was at Montague Club, not a mansion in Mayfair. The gaming club was for entertainment, not social climbing. Something a bit more sincere would probably be better for her purposes this evening, though she honestly didn't know. She'd never tried to seduce a man before. Her stomach fluttered in nerves and perhaps a tiny bit of anticipation as an image of Jacob Thorne came to mind.
She let the smile drop and leaned forward to get a better look as she rubbed her fingertips along the bracket lines left behind in the fair skin on either side of her mouth, hoping to make them disappear. At twenty-three she wasn't old, but recent years had given her face a maturity that her mother had warned her against when Camille last visited her in New York.
Haven't you been wearing the night cream I sent you?
Camille had lied and answered yes, but when she'd returned home to London, she had found another case of the fancy French jars waiting for her. At the time she'd been annoyed. She'd been in mourning for a dead husband whose loss she did not grieve and her mother was already stressing the importance of marrying again. Well, Camille did not want to marry again. Ever. But now she rather wished she had started applying the night cream. Men liked women who looked young and fresh. The cream might help that, but there was nothing she could do about her eyes.
Her eyes were sad, and she didn't really understand why. Hereford was dead and not around to control her life anymore. She did not miss him or his high-handedness. She was a wealthy widow with all the freedoms inherent in the position. Though the bulk of the money her father had transferred to Hereford upon their marriage had gone to his heir on his death, she had been provided a small pension and a London residence. Then, completely unprompted, her father had bought her an estate situated not far outside of London. She suspected he had been motivated by guilt but had never questioned him. So given that, she should be very happy, but there were her eyes, staring back at her and calling her a liar.
She smiled again, this time wider and with joy, revealing a row of mostly straight,
white teeth, but her brown eyes did not brighten at all. Sighing, she sat back, thinking of all the women she had seen Thorne escort about the club with their easy smiles. It reaffirmed her instinct that he would like her better if she could smile more naturally, and she would have tried again, but the door to the ladies' retiring room swung open and a beautiful woman came sweeping in. She paused in surprise as soon as she set eyes on Camille. She appeared to be about the same age as Camille with dark eyes and hair and a golden complexion.
"Well, well, well, you do exist." The newcomer smiled and took a seat beside Camille on the elongated ottoman that was set before the mirror and vanity. "Lilian Greene," she introduced herself.
"Camille—" she began, but the woman took over.
"Duchess of Hereford, yes, I know." Lilian Greene's smile had no trouble lighting her eyes as she turned toward the mirror and leaned forward to adjust a hairpin hiding near her temple in her raven tresses. She was elegantly dressed in a modestly cut chocolate-colored gown.
"Dowager now," Camille clarified.
"Of course, Dowager." She paused, her sympathetic eyes catching Camille's in the mirror. "I am sorry for your loss, Your Grace."
Camille gave a nod of acknowledgment. "Please call me Camille. I'd prefer to have one place where my title doesn't matter." She hated the title, actually. It had brought her nothing but pain and frustration.
"Then you must call me Lilian. When Jacob told me another woman had joined the club, I was happy, of course, but then I never saw you here and I wondered if he'd made you up simply to placate me. I am always on at him to bring on more female members and stop referring to it as a gentlemen's club." She chattered easily as she arranged other pins in her hair.
"You know Mr. Thorne well, then?" There was no reasonable explanation for why the fact that Lilian had called him by his first name made her feel so heavy inside. Lilian seemed unaware of this fact as she pulled out a small cosmetic tin from the handbag dangling on a strap looped around her wrist and dabbed a bit of scarlet rouge on the apples of each cheek and her lips.
"Would you like some?" she asked instead of answering the question, holding the little pot out to Camille.
"Oh, thank you." Perhaps a little color would brighten her face.
She put a dab of the cream on her fingertip and slicked it across her bottom lip. It was brighter against her lighter skin and blond hair, but she l
oved the effect. Usually, she wore only neutral shades meant to subtly enhance her peaches-and-cream coloring, but the scarlet was arresting, drawing the eye immediately to her lips. A tiny revolt against the social constraints of her life. She couldn't help wondering if Thorne would like it. Another swirl of anticipation swooped through her, prompting her other hand to press against her stomach.
"That color works well on you. And to answer your question, yes, Jacob and I know each other well. I'm a longtime member." Lilian winked and rose, adjusting her skirts.
It was absolutely none of her business, but she couldn't help but wonder if Lilian and Thorne were lovers. He had lovers. Camille knew that. She had been a member of the club for a few months, and in that time she had seen any number of women arrive by the ladies-only entrance and greet him very warmly. Sometimes he'd offer his arm, other times he'd slide his hand around their waist and disappear with them into parts unknown and she wouldn't see him again that night. She couldn't say with reasonable certainty that he slept with all of them, but it was a fair bet that he'd bedded a few.
"How many women members are there?" Camille hadn't thought to ask when she'd filled out her registration form and paid the rather expensive dues. She'd joined because Hereford would have been appalled, not because she'd been trying to prove a larger point about equality of the sexes.
"A dozen, give or take, not nearly enough. I have to hurry off, but I would love to chat more. Will you be here another evening this week?"
Camille opened and closed her mouth when she realized she didn't know what to say. If Thorne rejected her proposition, then she couldn't imagine showing her face here again, but she didn't want to miss the chance of making a new friend. She didn't have many of those. Since coming to London over three years ago, she'd become that American because she could never seem to live up to the expectations of being Hereford's duchess. It had become the done thing to invite her to events only to sneer at her behind her back. Fellow American heiresses the Crenshaw sisters, August and Violet, were her friends, but they were both happily married now and starting families of their own.
"Perhaps we could have tea one afternoon?" she offered.
Lilian's smile was genuine when she said, "I would like that very much."
They exchanged goodbyes and Camille was left alone. She didn't bother practicing her smile again because it could quickly become a procrastination tactic. Either he was attracted to her and he said yes, or he wasn
't and he said no. Taking a deep breath and letting it out slowly, she rose and brushed out invisible wrinkles on her skirts. She wore an emerald-green gown cut the slightest bit lower than modest and in the natural shape that emphasized the flare of her hips, selected precisely because she thought it showed off her figure to the best advantage.
Pushing open the paneled mahogany door, she made her way down the wide corridor to the gaming room. It was nearly ten o'clock in the evening, which meant Thorne was probably there talking with patrons or dealing cards. He owned Montague Club along with his half brother, Christian Halston, Earl of Leigh, and their friend Evan Sterling, Duke of Rothschild. Both men were married to the Crenshaw sisters, so Camille had met him socially a handful of times. While she had always been charmed by his handsomeness in those social settings, it wasn't until she had joined Montague Club that she'd found herself viewing him differently . . . as someone she might want to get to know in an entirely more intimate way.
The double doors that led to the main gaming room were thrown wide open, revealing a dimly lit but richly appointed setting. Gilded sconces topped with frosted globes were set at regular intervals giving off flickering gaslight that was immediately absorbed by the dark wood paneling, creating playful shadows and an aura of intimacy. Aubusson rugs in dark reds, greens, and gold matched the sofas and overstuffed chairs set in small groupings near the fireplaces on either end of the space. Rosewood gaming tables topped with green baize were scattered throughout the middle of the room. It was a slow night, so only a few had men playing at them, while the rest sat empty.
As usual, the table where Jacob Thorne stood dealing cards was busy. He was well-liked and the club members seemed to gravitate toward him. He was as sinfully handsome as his half brother, Christian, but not nearly as forbidding. They were both tall and filled out a frock coat nicely, but where Christian's smile seemed to hold an edge of cynicism, Thorne's was more open and friendly. That was partly why she had decided to approach him with her indecent proposition. He was kind and trustworthy. She didn't think he would laugh at her or brag to his friends, but even more than that, he was the only man who had turned her head in a long time. Since her parents had introduced her to Hereford. Once she had met her future husband and reluctantly agreed to the marriage, she hadn't viewed men in the same way. She'd begun to despair that she ever would again, but something about Thorne had her looking twice.
She studied him as she made her way around the tables to reach him. He was dre
ssed as well as the men he entertained with nothing about him to indicate he owned the club and they were customers. His clothing was bespoke like theirs and had probably come from the same tailor. He was the son of an earl after all, though born outside of wedlock. He had been raised by his father, and that aristocratic arrogance showed on his face and in his mannerisms, except he wore it more naturally than many. It wasn't conceit with him, so much as grace and charm.
His well-formed lips parted in a smile as he dealt another hand of vingt-un and made a joke she couldn't hear. The men at the table laughed as they added to their bets. Thorne picked up the deck of cards with a skill born from years of practice and tossed another card onto each stack. His hands were strong but graceful with long fingers and clipped nails. If all went to plan, he could be touching her with those very hands soon. She paused as a flush warmed her face, but it was too late. He'd caught sight of her.
"Your Grace." He smiled as the other three men greeted her in turn. "Have you come to join us?" he asked, his voice rich and smooth.
She swallowed and willed the butterflies in her stomach to cease their antics. She'd talked to him many times since joining his club, and tonight didn't have to be any different. Only it was. Fighting past her nerves, she took the chair at the end of the crescent-shaped table. "Yes, but I'm afraid I've never played the game before."
"Not to worry, Your Grace. We'll teach you, won't we, gentlemen?"
They murmured their agreement. A footman came forward almost immediately, bearing a small tumbler of her favorite whisky on ice. The service here was remarkable. Accepting it with a smile, she spent the next several minutes watching the men play as Thorne went over the rules. The game seemed easy enough; one simply tried to get the sum of their cards to add up to twenty-one without going over. It wasn't complicated. Finally, Thorne dealt her in, and she promptly lost the first two hands.
"Too aggressive," he warned her with a shake of his head when she asked for another card on the third round. The gaslight played in his thick, black hair, and she wondered if it would be as soft as it looked.
"I'm not aggressive," she said.
"Stand on anything higher than fifteen," he instructed. "The risk is too high otherwise."
"Good God, Thorne, don't help her. You already win most hands; if you teach her to best us there will be no use in any of us playing."
She recognized the man who spoke as a young lord who had inherited his title a few years ago. Most men at the club had been a bit reticent with h
er presence; they accepted it but didn't embrace it. Their clubs had long been a refuge from female companionship. He'd been one of the few who had not been bothered by her.
"Come now, Verick, you can't be upset that a mere woman might best you?" she teased.
Verick grinned and said, "My male pride can only take so much, Your Grace, before it needs soothing."
She didn't miss the inuendo, but Verick wasn't who she wanted. She also didn't miss the way Thorne's eyes cut to him at the comment. A little wisp of pleasure flickered to life in her belly that Thorne would care.
"All right, I'll stand." Her cards added up to sixteen. The other men went over and she won by default. She smiled in satisfaction.
The game continued for a little while with her winning a few more hands before the men drifted away, leaving her alone at the table with Thorne. He handled the cards easily as he shuffled, his gaze flicking up to her from beneath a thick fringe of lashes. "Another hand?"
"Actually, I hoped we might talk a bit." She cleared her throat as it threatened to close. "In private." She forced the words out.
"Intriguing." He shuffled the cards and set them in the small tray on the table before placing his palms on the green baize and leaning toward her a bit. "It almost sounds as if you have a proposition for me."
She swallowed under the force of his gaze, letting her eyes take in the strong lines of his face to avoid meeting it. He had high cheekbones that any woman would kill for, and his nose was blade straight. "Of sorts."
"Shall we go to my office?" The inky slash of one brow rose in question.
No! That would be too intimate. What if he refused her and she was forced to sit there beneath the intensity of his stare? What if he said yes and expected to follow through tonight? It couldn't be tonight. She'd only concocted the scheme over the last week. If he agreed, she would need a couple of days to prepare herself.
"Perhaps semiprivate would be best. One of the lounges."
He nodded. "Follow me."
Taking one last fortifying sip of her drink, she left it there as she walked with him. He led her through the larger rooms, where a few groups of men congregated on leather chairs talking politics, to a smaller room in the back corner of the club. A modest fire roared in the hearth, and bookshelves lined one wall. The little nook faced a side street that was quiet at this time of night, and though it was adequately lit, the moonlight that came through the windows m
ade it seem more intimate than she would have liked. The door was open to the nearby lounge, however, so they weren't completely alone.
"Will this do?" he asked, indicating she should take one of the chairs before the fire.
"This is fine." She had to walk by him to sit and caught the scent of his cologne, a very pleasing mix of sandalwood and vetiver. She had admired it before, but this time it made her thoughts swirl in her head, or maybe it was because she had to move so close to him. He was tall and broad, and the very indecent question she meant to ask him made her aware of how very large and solid he actually was. Her breath hitched in a strange mix of fear and anticipation.
He waited for her to settle herself before he sat down opposite her, his long legs stretching out before him as easily as if they were old friends convening for a visit. His gaze searched her face, the firelight casting a sable tint to his deep brown eyes.
"A drink for you both, sir?" A footman materialized in the doorway.
"No, thank you, Marcus."
The footman gave an abbreviated bow and left them alone.
"So, what is this proposition, Your Grace?" he asked.
"Camille," she said, but he didn't reply. He simply watched her with the corners of his mouth turned up in that easy way he had about him. That expression always seemed to say that he knew far more about you than you knew about him. "I've been having an issue . . ."
God, is that how she meant to ask him? To come to him as some sort of charity case in need of his help? To admit that something was wrong with her? Had she not once practiced what she might say in this moment? No, she'd been too focused on the goal to actually plot out a persuasive argument. Her heart pounded as her mind went blank.
How could she properly explain to him that she didn't understand why she never enjoyed sex? She was starting to believe that something was wrong with her, and he was her last hope. But she couldn't say that. Of course she couldn't.
He shifted back in a languid pose and clasped his hands across his stomach as he waited patiently. She had to say it now before she lost her courage. With tact not an option for her at the moment, she decided to be as straightforward as her pride would let her. Squaring her shoulders and raising her chin a notch for confidence, she met his gaze and said, "I would very much like to go to bed with you."
Chapter 2
Jacob sat very still as every muscle in his body clenched in frustrated awareness of her. Each nerve ending, long trained to a forced compliance in her presence, bristled against its restraint, sending crackling heat along the surface of his skin. When Camille had asked to speak with him, he had expected her to request some sort of accommodation for the female members of the club, not this. He wasn't even certain he'd heard her correctly. Perhaps he'd been having so many sordid thoughts about her they had finally manifested themselves in a way that had turned a perfectly innocent request into something far more decadent.
He opened his mouth to speak, but his throat was too dry. He should have had Marcus bring him that drink, but he'd been too anxious to hear what she had to say to waste another second. She stared at him wide-eyed, as if she, too, were surprised by the words—or terrified by them. It was that edge of fear shadowing her face that gave him the wherewithal to grab on to his wilting restraint and drag it back to the forefront of his good sense where it belonged. Every inch of his body hissed its displeasure.
"Why?" It wasn't very eloquent, but it was all he could utter past the roaring in his ears that demanded he not question the gift of finally having her in his bed.
"B-because I find you handsome and I believe you are attracted to me." Her gaze drifted to the fire as if she couldn't say those things and look at him at the same time.
"I do find you beautiful, very much so," he said, warmth stealing over his chest when her cheeks tinted pink. "My query is more along the lines of why now? Why me? I don't bring every woman I find attractive into my bed." Evidence to the contrary aside.
"Oh!" She closed her eyes in embarrassment and sat back in the chair. "I didn't think . . . If you don't find me attractive in that way, then of course I understand."
"No." Christ, he hadn't meant that at all! He reached out to put a reassuring hand on her knee but reconsidered when his trousers got noticeably tighter at the prospect. He recalibrated and shifted his aim to her hand, but the hot throb of anticipation that darted through his groin told him that skin-to-skin contact was out of the question. Now that the subject of sex breathed between them like a tangible third presence, his body was waging a ferocious war with his mind, and he wasn't certain whose side he was on.
Crossing his legs to hide the unfortunate side effect of her request, he fisted his hands and kept them firmly on the arms of his chair where they would stay not touching her, not pulling her into his lap where he could kiss her properly, and not tugging her bodice down to finally get a look at what he suspected was the most perfect set of tits in London. No, he was not going to do any of that.
Taking in a serrated breath, he said, "I find you more than attractive . . . That isn't my point." What the bloody hell was his point? Rational thought was fast losing the battle. "Do you think our being together in"—he couldn't say the words; he'd be gone—"that particular manner would be wise? You are very close with Lady Leigh, who is married to my brother; her sister, with whom you are also close, is married to my business partner. It seems a bit—"
"But that's why I thought we might be perfect. I trust you." She stared at him with such perfect innocence compared to the havoc running rampant inside him, that he convinced himself with some difficulty that she hadn't said that to merely make it worse.
"I am not looking for any sort of permanent relationship, Your Grace—"
"Mr. Thorne . . ." She took in a breath, rallying herself for her next words. "Now I understand your hesitation. I don't think I made myself very clear, and I'm sorry for that. I've been married, and now I find that I very much enjoy not being married. Marriage isn't something I plan to do again for a long time, maybe never. When I s
aid that I wanted to—" She paused to look past him, ascertaining that no one was about, before she added in a lowered voice, "To go to bed with you, I meant in a friendly way."
His brain had stopped working after the word bed, because all the blood in his body had rushed to the massive cockstand in his trousers. He could only manage to parrot, "In a friendly way?"
She nodded, a gentle smile curving her fantastically red lips. "Yes, friendly."
He had absolutely nothing to say to that. Several scenes played out in his head of the things he wanted to do to her in his bed, all of them depraved, some of them possibly illegal, none of them friendly.
He must have stared too long, because she added, "Like some of your friends who I've seen you meet at the women's entrance. I don't mean to be presumptuous, but once or twice it seemed as if you had an intimacy with a couple of them. I'd like us to have something similar . . . a friendly relationship that sometimes involves more."
It all sounded so reasonable when she said it, and that's how he knew that she'd never properly had a love affair, which helped him shore up his restraint once more, tattered as it was. There was one difference between Camille and those women. They never looked at him as she was doing now. Her whole heart was in her eyes, and it was bruised and vulnerable. Those women were looking for a fun and pleasant evening. Whether she knew it or not, Camille was looking for more. He couldn't give her more.
Clearing his throat, he said, "The difference is that I don't see those women socially. Our involvement could make things awkward when we see each other at my brother's home, for example, or at Charrington Manor. Imagine how you might feel when you're finished with me only to encounter me at some family event. Casual intimacies are best left to those who are casual acquaintances, don't you agree?"
Her brows came together as she considered his words. After a moment, she looked down to where she worried a seam on her gown with her fingers. "I suppose you're right. I didn't consider that. It seemed like a good idea because I knew you'd be discreet, and I wouldn't have to worry about damage to my reputation." Rallying, she stared back at him with earnest intensity. "Is there someone you might recommend I approach? Someone who would be equally as discreet?"
Over his dead body seemed an extreme reaction, particularly since he'd just told her
that nothing was possible between them and it would make him the worst sort of hypocrite to deny her pleasure with someone else, but it was how he felt.
"You could procure a sexual aid. A dildo, perhaps. They are very effective at pleasure and discretion, I'm told."
The corner of her mouth quirked upward, and she reddened even more. "Thank you, but I'm looking for a man."
"I regret that I can't help you, Duchess."
Her eyes flashed at his impertinence in calling her that. It made the lustful beast inside him roar in outrage that he wouldn't unleash him.
"What a shame, but thank you, Mr. Thorne." She rose and brushed past him, leaving notes of vanilla and amber lingering in her wake.
He closed his eyes and imagined giving in to the baser impulses that urged him to go after her, toss her over his shoulder, and carry her through the club like a prize he had won on the way to his suite. He knew instinctively that's how bedding her would feel. Ever since he had first seen her—and wanted her—at Christian's wedding breakfast, he'd been uncomfortably aware of her and how unattainable she was to him. From that point forward he had avoided her as much as possible at the few social gatherings they both found themselves attending. Now even with her husband dead, her close friendship with his sister-in-law made her a risky choice for a lover. No, it was best that he continue to hold her at arm's length, no matter that a certain part of his anatomy might vehemently disagree.
He waited until his pulse settled and he was able to walk normally. Pulling out the gold watch he kept on a chain inside his waistcoat, he took note of the time. He had a half hour before his next meeting. Though it might be the most important meeting of his life, he'd need a detour to his bedroom to get a handle on his lust before taking it. ...
We hope you are enjoying the book so far. To continue reading...
The Duchess Takes a Husband
Harper St. George
Copyright © 2023 All Rights Reserved