Flash sale
$0.99 $4.99
Starts:
March 29, 2021
Ends:
May 03, 2021
Prices may change without notice. Check price before purchase.
Book info
Sample
Audiobook
Media
Author updates
Synopsis
'Involving, immersive and unputdownable' - bestselling author Jill Mansell

I need to tell you a story, ma chère. My story.

Rosa Kusstatscher has built a global fashion empire upon her ability to find the perfect outfit for any occasion. But tonight, as she prepares for the most important meeting of her life, her usual certainty eludes her.

What brought her to this moment? As she struggles to select her dress and choose the right shade of lipstick, Rosa begins to tell her incredible story. The story of a poor country girl from a village high in the mountains of Italy. Of Nazi occupation and fleeing in the night. Of hope and heartbreak in Switzerland; glamour and love in Paris. Of ambition and devastation in Rio de Janeiro; success and self-discovery in New York.

A life spent running, she sees now. But she will run no longer.

Breathtaking and utterly enthralling, The Dressmaker of Paris is perfect for fans of Lucinda Riley, Kate Morton and Dinah Jefferies.

'The Dressmaker of Paris is a delicious book: elegantly structured, beautifully written and with a fascinating protagonist. Georgia Kaufmann has created a beautiful and compelling novel that had me hooked until the very last page. And that ending: wow!' - Gill Thompson, bestselling author of The Oceans Between Us

'Sensuous, sweeping and utterly engrossing, The Dressmaker of Paris is as dazzling and finely crafted as a Dior gown' - Rachel Rhys, bestselling author of Dangerous Crossing

'The story of a remarkable woman . . . A book you will lose yourself in' - Gill Paul, bestselling author of THE LOST DAUGHTER
Release date: January 28, 2021
Publisher: Hodder & Stoughton
Print pages: 368
* BingeBooks earns revenue from qualifying purchases as an Amazon Associate as well as from other retail partners.
Listen to a sample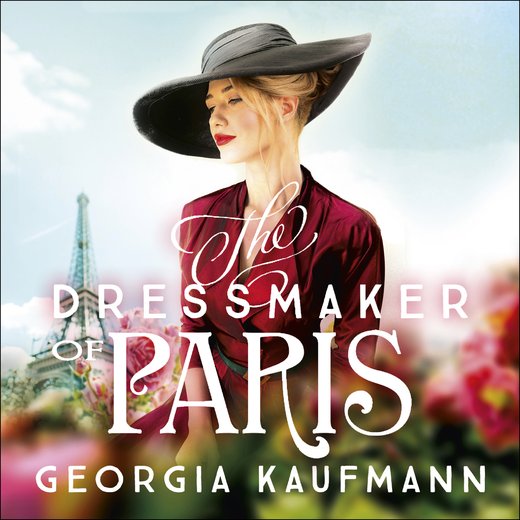 13:22:06
367.18 MB
9781529322897
January 28, 2021
Hachette UK
The Dressmaker of Paris
Georgia Kaufmann
1991

Is that the time, ma chère? I'm going to be late. I am, for once, floored. No, it's not the weather – New York is never inspiring in November, even at the best of times. Nor is it that this winter's collections are so boxy and drab. It's that I can't think of anything appropriate to wear. Don't look so surprised, ma chère. I might know what to wear to a White House dinner or a fashion show or a board meeting, but such events pale in comparison to the importance of my engagement tonight.

Please stay, ma chère. It will calm me – and this meeting will affect you too. It may change our lives. But there are some things I need to sort out first. Leave those papers, please. It's my will, I was just checking it. I'm only sixty-three – it is not in my five-year plan to die! – but as you know, I like to be prepared. As I said, this appointment is important.

You know the story of this house, don't you? The one thing we didn't change when we reorganised the living arrangements was this bathroom. I've never met a businessman who did not count the pennies. Frivolous spending is not the habit of people who have earned their wealth. Any choice I make is informed by style, of course, but more so by understanding structure, materials and function. In designing clothes or a room or indeed anything, the material is a primary choice. In all things the craft is to understand the fabric and materials first, to know their strengths and weaknesses. The choices I made in this bathroom create the atmosphere.

Do you know what this is? The whole bathroom is clad in marble. Naturally this is Italian, not just because I come from there but because Indian marbles are porous and polish so poorly that, despite their unrivalled beauty, they are not practical in a bathroom. Good design makes beauty from materials appropriate to the task. This marble is both impermeable and beautiful; see how it seems almost alive with rivulets of pink, red, grey and white flowing over each other? It took a lot of effort to source this palest, pinkest Arabescato Orobico Rosso marble. I can't tell you how many slabs I examined in how many stone warehouses to find such a pale one. Later, nothing would induce me to risk ruining this marble just to shift it upstairs, so here we have stayed. It is different from the master bathroom upstairs; there, I envisaged something stately and muted. The whole notion was to show that Mr James Mitchell was not a flashy, showy upstart, but rather someone with class. There was no question of having Carrera marble. All that white in one room? That would be like buying haute couture for the label rather than the design, tailoring and fabric. That is for people with money and no taste.

I am rambling. I am so nervous, I feel sick. Come, come. What was I saying? Ah yes, I remember: Breccia Oniciata, that's what I chose for the bathroom upstairs. It's a sleek beige marble with flecks and streaks of white, pink and lilac. Just as you have to choose the right stone for a tile and the right fabric for a dress you must select the right look for a meeting. If I am going to a business meeting, I need to consider how much I want to impress, how much to seduce. If I intend to impress with my business acumen and power the moment I walk in the door, I'll wear Dior or Yves Saint-Laurent. If I want my creative spirit, my artistry and capability as a designer to overwhelm, I choose my own Dumarais clothes. Or if I want to beguile, make people feel at ease with my femininity and then hit them with my business nous, I'll model some Chanel pieces. All this I can accomplish in the time it takes me to enter a room and walk across it. But not tonight.

This is ridiculous, ma chère, have you ever seen me dithering over what to wear? I've never thought my wardrobe excessive before. The problem is that I am so scared and desperate, I have to make the right impression, but I don't know where to begin. Usually I start with the fabric, ma chère, always the fabric. I learnt that from the first time I cut a pattern. The same pattern in wool or silk or cotton, or the same fabric cut bias or along the grain, and you have a different outfit each time. The fabric works at a subliminal level. Cotton means summer, summer means being relaxed. Linen is similar but more refined – it takes confidence not to mind the creases. Wool means winter, cosiness and protection from the cold. Silk is for every season and always means opulence and luxury. And as for nylon and polyester – well, nylon has its role in hosiery but under wraps is where it should stay.

I left home – a home in which, incidentally, there was no shower and we bathed just once a week, on Sundays before church – with the proverbial nothing, other than a battered suitcase containing only two outfits and some underwear. From that, relying on hard work and talent, I created this. So, every day, every single day, I go into my bathroom and ask myself: what do I need to look like today? Who am I going to meet? What do I need to achieve? I start with my make-up and hair before I dress and then, when I have perfected my look, I am ready to go out and perform to the best of my abilities. I leave nothing to chance. I would have made an excellent girl guide.

I am lucky – a combination of my natural form and lessons in deportment and posture at Dior means I look good in almost everything. I cannot do otherwise; even in jeans and a T-shirt I look elegant. If you have style, you have it regardless of what you wear. But tonight? I have no idea about what would be appropriate, what would work. I just don't know.

I need to tell you a story. A long story. My story. Only then will I know what to wear, how to prepare myself. You'll be able to help me.

It all started with my mother, of course; everything starts with your parents. It took me a long time to understand that people get things wrong, whatever their good intentions, and it is often the unintended consequences of their actions that leave the deepest imprint on a child.

It is not just a fable; we really did have very little when I was a child. Italy was a poor country in the 1930s and up in the Alps people had little money. Most were subsistence farmers. Skiing and walking holidays were a thing of the future. There was not even a toyshop in Bressen, the market town in the main valley that led down to Meran and Bozen, the biggest towns in South Tyrol. There was just a small selection in the back of the clothes shop. Up in Oberfals, the only toys we had were made of wood and carved by the farmers on the long winter nights.

When I was eight my mother gave me a painted wooden doll for Christmas. She was unclothed but, in my child's mind, she was lovely. I played with her all the time. I named her Elisabeth after the little English princess whose father had just become king. I already knew how to sew and knit. We all learnt early – not for pleasure, but as a practical, necessary skill. So, I collected scraps of old serviettes, tea towels and cloth remnants and sat in the evenings, when my mother did not need me in the Gasthaus, making a wardrobe for my princess doll, large stitch by large stitch. It is hard to imagine now what my first foray into clothes design was like, but at the time I was pleased with my handiwork. I made her a dress that had a lacy blouse front, which came from an old doily. I sewed white cotton underpants and a vest for her. I knitted her socks, which would not stay up, and a cardigan. When the news of the impending coronation of the princess's father filtered through from the Dolomitten, the regional newspaper, I cut the scarf, royal blue with tiny yellow flowers, that went with my dirndl and made my doll a long, trailing robe for the ceremony.

At first, I kept her at home, but gradually I began to take her out with me, first to church and then in my satchel to school. She barely fitted in – the tips of her feet poked out of one corner – but I felt that a future queen needed schooling, too. It was the week after the King of England's coronation in May when I was showing my friend Ingrid Stimpfl how Princess Elisabeth had processed behind her father. We were wondering if we could somehow make a fur trim for her gown – Ingrid's father had brought a rabbit home for stew the week before and she thought the pelt might serve for ermine. Ingrid was talking while I smoothed out the train behind the princess, then she fell silent, mid-sentence, and as she looked over my shoulder her face closed. I turned around.

Rudi Ramoser had snuck up behind me. Although only thirteen, he was tall and heavily set with a farmer's muscles. He was handsome, blond and blue-eyed, his natural swagger buoyed up by the fact that his father was the richest man in town and brother-in-law to the mayor, Herr Gruber.

'Du, Gitsch!' Rudi shouted at me. 'What are you playing with?' He sneered as he took a step closer to me.

'My doll,' I said, looking up at him and standing my ground. I was used to bullies.

'That's a doll?' He sniggered and looked around to see if anyone was looking. 'A piece of wood, more like.'

He was bigger than me; he did not want the doll, but he wanted to get at me. I had seen that look in my father's eyes when he was drunk. I had learnt to stay away. 'She's mine,' I said, finally taking a step back. 'I'm not afraid, you're just a Raudi.'

'She's Princess Elisabeth.' Ingrid Stimpfl was a sweet girl, but not too bright.

'Princess Elisabeth.' He reached down to take her, but I held her tight against my chest. 'Let me see,' he said in a low snarl as his fingers wrenched mine off one by one and he crushed them in his grasp.

When he had twisted her from my hands, he turned and walked away. 'I'll let you know tomorrow what I want – if you want her back.'

Ingrid began to whimper. My hands were striated white and red from the force he had used to yank them off Elisabeth. I bit my lip. He was not going to make me cry.

My parents did not spend much time with us. My mother ran the Gasthaus Falsspitze, the only bar and restaurant in Oberfals. She worked very hard (I suppose that was something good that she passed on to me). My father was as dissolute as she was forbearing. When the bar was open, she was busy but approachable, though we all knew not to interrupt her when she was cooking. She seemed to lose herself in the rituals and routines of chopping, grating and stirring. There was a meditative rhythm to her movements that I used to love to watch.

When I ran into the kitchen that afternoon, breathless and confused, she was making knödel. All the stale bread from the day before was heaped in a pile in front of her and a large knife was swinging in her hand as she chopped it into small pieces for the dumplings. You could almost tell the time by what stage she was at in the cooking. It must have been just gone three.

'Mother.' My uncertain voice tried to reach her. I remember being caught between my anxiety at losing the doll and my fear of interrupting her.

Her blade swung up then down, chop.

'Mother!' I called louder.

She looked up. The knife chopped through the stale bread. 'I'm busy.'

Tears spurted from my eyes. 'Rudi Ramoser has stolen Princess Elisabeth.'

'Who?' she asked after a long, distracted pause.

'My doll. The one you gave me for Christmas.'

She put down her knife and stared at me. 'So, get it back.'

'But Mother, he's thirteen. He's bigger than me.'

'Rosa, it's just a doll. I'm too busy for this.' She picked up her knife again.

The next day Rudi Ramoser was waiting for me when I came out of school. He was leaning against the wall opposite talking to some other boys but broke away from them when I came out.

'Do you want your doll back, Gitsch?' His big blue eyes looked innocent but his voice was taunting.

'Yes,' I said, determined not to show any fear.

'Meet me by the bridge. At three o'clock.'

The Gasthaus was in the centre of the village and the road to Unterfals and St. Martin led out from the square, crossing the river Fals as it left the town. After school the streets were empty; children were tasked with errands and chores while mothers prepared supper and the men were still at work. I knew everyone in each house that I walked past. I stared at the fresco of St. George on the Koflers' house. They were very proud of it. I realised that I should have asked Ingrid or my sister, Christl, to come with me. I was warmly dressed in my hat, gloves and scarf and my tightly knitted jacket but nevertheless, I was shivering.

I heard the sound of Rudi and his friends before I got to the bridge. They were down by the side of the stream, which was full with the spring melt. They were throwing stones across the water. I stopped to look around at the top of the mud path leading down to them. Elisabeth was neither in his hands nor on the ground.

'Where's my doll?' I shouted in dismay.

'Here.' He pointed up in the air. He had strung Princess Elisabeth from a tree hanging over the riverbank.

'I can't reach that high.' I fought back my tears.

'I'll get it for you,' he said.

I stared at him. He did not move. The water rushing over the boulders was sending up a fine spray that gleamed in the weak spring sunlight. I pursed my lips: bullies do not respect weaklings, I was going to stand my ground.

'But you have to do something for me first.'

The other boys had stopped throwing stones and were standing around him now, huddled like sheep. I came down the path slowly. It was slippery. He was a head taller than most of the boys, and I was smaller than all of them.

'I want her back,' I demanded.

'You have to earn her back,' he said, his face creased with a mean sliver of a smile. There were patches of snow on the meadows above the treeline. We were alone and out of sight.

I stared at him, wondering what he could want. I had very little, and certainly nothing a boy could want. I was sure that he was not a reader, he would not want my books. 'How?' I asked after a few seconds.

'Well …' He smiled at his friends. 'Lift up your skirt.'

The boys laughed.

'What?'

'Lift it up,' Rudi repeated. 'We want to see, Gitschele.' He was looking at me intently, and some of the other boys were smiling, but Michael Stimpfl, Ingrid's cousin, was looking at the ground. In school we stripped down to our pants and vests for sport but this felt different, I didn't know why. But I could see no real reason to refuse. His blue eyes were burning into me. I reasoned that they had all seen knickers like mine in school and I wanted Elisabeth back, so I lifted my skirt. The boys all laughed again, and I felt my face burning. Trying to mask my shame, I dropped the woollen dress and it settled back against my thighs.

'Now give it back to me,' I pleaded.

'I ain't done,' he jeered. 'I didn't say stop. This time, lift up your skirt and then drop your pants.'

I stared at him. We never did that in gym. Not even in front of the other girls – when we went to the toilet, there was a door to hide behind. I was certain that this was wrong, even sinful. I had made a mistake giving in to his first demand, and like any bully he had no reason to stop now.

'No,' I said, straining to look taller than I was. 'I did what you asked, now give me back my doll.'

'You won't get it back, unless you do as I say.' He stepped forward and tried to grab me.

The rock under my feet was slick and shiny and I slipped as I backed away from him. His hand closed like a pincer around my arm and began to drag me up. I grabbed a loose piece of stone and, twisting in his grip, hit him as hard as I could. Blood spurted from his face and he shrieked as he released me.

I landed on the ground and then scrambled back up the bank and ran. I kept on going until I got to the Ramosers' bakery. The mayor, Rudi's uncle, a portly, complacent man, was leaving as I ran into the shop. I dodged past him and came to an abrupt stop, overwhelmed by the thick, sweet, yeasty smell. Herr Ramoser, Rudi's father, looked over the counter at me. My dress was dirty, my knees were grazed and bloody, and my face was stained with tears.

'Rudi stole my doll,' I cried. 'Princess Elisabeth. He made me … and he still wouldn't give her back, so I hit him with a stone. I think I've killed him.'

Herr Ramoser fixed his shocked blue eyes on me.

'What did she say?' Herr Burgermeister Gruber said from behind me. 'She's killed Rudi?'

'I just wanted my doll back,' I said, trying to explain.

'What have you done to my son?' Herr Ramoser bellowed.

'She hasn't done anything,' Michael Stimpfl said as he squeezed in past the mayor. 'It was Rudi. He wanted to do things to her. She's only eight. It's not right.' He took a step towards me and pulled Princess Elisabeth from inside his jacket. 'Here, take her,' Michael said.

I snatched Princess Elisabeth from him and pulled her to my chest. Her clothes were wet and torn and I could feel their stiches coming apart. A huge sob burst out from me.

It was only when I got home that I realised I was still clutching the stone. I held it up to the light to examine it. Oberfals rested on poor, thin soil that seemed to slide off the rock underneath. Now I know that it was schist. It is made of millions of tiny flat plates of mica, like thin sheets of plastic, interleaved with quartz and feldspar sprinkled with hard crystals of garnet. Schist is not hard like the limestone that marble is made from. It is soft and flaky. Back then, I loved prising the leaves of mica apart with my nails.

It was a stroke of luck that the piece I had grabbed had a chunk of dark red garnet poking out from it. If the rock had been pure mica it would have just glazed off his face and he would have caught me again. Instead, Rudi would always bear the scar over his left temple where I had buried the dark red nugget. It's all about choice; even a stone, if it is fit for purpose, can serve you well.

When I am nervous, like now, I smile. It takes effort to set my face in calm repose when my instinct urges me to flash my teeth. I wonder if it is an ancient reflex to stress; the difference between baring teeth in a smile or fangs in a snarl is not so great. Of course, my teeth are white and strong. I brush and floss them religiously. I have tried all the techniques in my time: dental tape, dental floss, noisy oral irrigators, floss strung between two prongs like a mini slingshot, and these new minuscule wire brushes colour-coded for their size (the larger for the healthier gums, the smaller for the more inflamed), each like a shrunken version of a brush for baby milk bottles. It takes time and patience, my jaw stretched open in an eternal 'aaah' while I clean each crevasse, tooth by tooth, around my mouth. The benefit, of course, is that I still boast all my own teeth and they shine milky white like mother-of-pearl inside a shell. When I was a child, life was simpler. We used toothpicks.

Every morning after breakfast, before school, I would go to the store cupboard in the kitchen and pick up a carton of toothpicks. My job was to refill the salt and pepper pots on each table and stow the toothpicks in little wooden boxes. It was the custom for everyone to pick their teeth absentmindedly after they had finished eating, while they washed down lunch or dinner, or my mother's famous strüdel, with a drink. It was a discreet but public ritual.

Now I would consider it vulgar to pick my teeth in public. I floss here, in my private lair. As a child, living in a Gasthaus, the distinction between what was public and what was private was unclear. It made me more protective of my privacy. I do not think that I was truly aware of the public arena, the power of spectacle until the end of the summer of 1943. Children growing up in a war have nothing to compare it to, it is just normal. It was only much later that I came to understand how the South Tyrol, my homeland, had been badly stitched on to Italy after the First World War when the Austro-Hungarian empire was unpicked. Trying to fit originally Austrian, German-speaking, Alpine South Tyrol on to Italy was like me trying to sew a teddy bear's arm on to Princess Elisabeth.

Since I was eleven, families had agonised over the choice between being German or Italian – to opt in or out. The two fascist nations had made an agreement that cut through the fabric of daily life. The young men had to choose between signing up to Hitler's Nazis or Mussolini's Black Shirts. It tore families in two. Those who opted to stay were denounced as traitors, those who chose to go to Germany were vilified as Nazis. Men would disappear quietly, conscripted into one or the other army, the families giving as little away as possible. We kept things close to our chest – we were mountain folk and talked of the weather, late snowfalls and summer storms that threatened the crops, not our disgraces.

And then in September 1943, everything changed. The Allies pushed Mussolini north where he set up his puppet state of Salò in Lake Garda, and the Germans, unable to resist, marched into my homeland, the South Tyrol, and declared it part of Greater Germany. It solved that dilemma of opting in or out but was in a way more confusing than ever. My parents moaned that they had been born in Austria, lived in Italy and were now in Germany, without ever having moved from Oberfals.

It was mid-morning when we had first heard the distant bells tolling in Unterfals and then in St. Martin below us. Herman Egger, the bell ringer in St. Martin, played the same melodies week in and out; we were so familiar with his chimes that we knew he would never have created this cacophony willingly. The clanging, discordant crash of metal on metal sounded a beat that we all instinctively understood. It was the panicked forewarning of worse to come.

Fräulein Petsch, our teacher, ushered us out of school, urging us to get home without delay. My sister, Christl, and I followed Herr Maier, the postman, across the square and battled against the stream of men leaving the Gasthaus. My mother was standing by the door, which she closed and locked as soon as we were in. Laurin Maier walked across the deserted room to his usual table, greeting old Herr Holzner as he passed. Herr Holzner always took half the morning to totter to the Gasthaus and most of the evening to hobble home, and my mother must have realised that it would have been cruel to send him on his way. She told me to serve Herr Holzner a tankard of beer and semmelbrot and speck, while she closed all the shutters. As she drew the last ones by Herr Maier's table, the gloom thickened. The postman looked up at her as she turned from the window and they talked briefly. She did not ask him to leave.

He came every day at this time for his lunch and to read the newspaper. He was a rare creature in our valley: an unmarried man. To me he seemed old, but looking back now I guess he must have been in his forties. He was a strong man, tall and well-set, but his bulk moved easily as he walked up and down the valley paths. My mother told me to take him his beer while she went back into the kitchen to fetch his lunch. Herr Maier opened his copy of the Dolomitten and started to read, sipping his drink. Christl and I sat playing with the beer mats until she came back with his goulash soup and bread. Then she shooed us upstairs.

Whatever emotion the bells' clangs caused, curiosity was by far the strongest for us children. It was a month before my sixteenth birthday and the furthest I had ever been from our village was the twice-yearly day trip we made, before and after the snows, down our valley to Bressen. The town sat across the bridge straddling the fast-flowing river Etsch, where our own narrow valley, Falstal, joined the larger, flat-bottomed Vinschgau Valley below. We would hitch a ride on the back of the brewer's dray cart and ride down behind the empty caskets of beer. My mother bought our summer dresses in the spring and our winter clothes in the autumn. I was lucky. I was the eldest girl and always got something new; my sister only ever got a new dress if my hand-me-downs were worn beyond repair. We would wander the streets of the town admiring the frescoes painted on the walls advertising the sentiments or professions of the owners. I could never go into the Gasthaus without first stopping to admire the image of St. George, his legs straining up in his stirrups as he drove his spear down into the dragon coiled around the horse's stomping hooves. The flames from the dragon's mouth shot up towards the eaves. Away from the fire, cherubs hovered over the door, garlanded by grapevines, looking down at approaching customers with satisfied smiles. After we had made our few humble purchases, we always lunched and watched my parents drink beer courtesy of the patron (this being also the brewery for the beer they sold at home). We knew nothing about life in town and little about the world beyond our valley.

The soldiers who were marching into our lives came from far beyond Bressen, from over the mountains, from another country – they were Germans.

Our Gasthaus stood on a corner of the square closest to the end of the valley. From Oberfals the road climbed steeply until it terminated at a fence and a stile. When my mother joined us upstairs she opened the windows and pulled the shutters in, leaving them on a latch so that we could see out through the crack that ran vertically between them. We peered out through the gap, listening to the sound of muted voices and footsteps carried up from the square, and waited.

People began to congregate in the square below us. It was easy to see who: the ambitious, the disaffected and the hard done by. The Grubers stood next to the Ramoser family – Rudi and his brothers in lederhosen, his sisters in dirndls – all of them in their tightly knitted Sarner jackets, ranked in size, and waving swastika flags. Herr and Frau Demetz, the grocers, the Koflers, the Hallers, the Obristins and the Mahlknechts came, one family after another. The men wearing farmers' blue aprons were the ones whose land holdings were too small to provide for big families. The parents and older children had to take on extra work on the bigger, fatter farms. They came with their scruffy clothes and hungry looks and stood in the square, waiting for change.

We heard the sound of the engines from the road that snaked up Falstal from Vinschgau before we saw them. First two motorbikes, then three trucks and a single large Mercedes drove into the church square. The vehicles parked in a neat row. Uniformed men spilled out of the trucks, carrying bags and equipment, and there was momentary chaos. In just a few seconds, they had filled up a space that usually stayed empty except for the meandering of stray cats and dogs, and the widows going to and from the church in their black vestments. Then the square was quiet again. The soldiers had formed themselves into tidy blocks and were standing to attention either side of their commander.

I knew why they had come. Although Oberfals lay at the dead end of the valley, there was a thin, straggly footpath that took you over the mountains into Switzerland. For years already it had been the escape route for anyone who wanted to slip away from German rule.

The Hauptmann waited, arms behind his rigid back, flanked by his uniformed men. Herr Burgermeister Gruber emerged from the crowd of onlookers. The mayor appeared to shrink as he walked towards the Hauptmann, his gait uncertain, his head bowed. We stayed huddled around the window and watched as Gruber came to a stop and tried to puff himself up to welcome the Hauptmann, who stood as still as the statue of St. Martin in the church down the valley. I stared, fascinated and frightened in equal measure. We had seen Italian soldiers once or twice in Bressen but they had been casual. This array of military vehicles and the German soldiers standing rigidly, their rifles pointing skywards, was a chilling display.

No one ever knew what words passed between them but it looked as if the Hauptmann, when he inclined his head down to our rotund mayor, slowly drew all the pomp and confidence from him, so that when the mayor nodded then turned to the gathered villagers, he was utterly deflated. Even from our window I could see that his normally ruddy and complacent face had paled and his jowls looked like pallid fat. His die had been cast; he would do everything that the Germans asked – calmly, quietly, but soullessly.

'Meine sehr verehrten Damen und Herren,' he began, his voice flat. 'Who will help us provide accommodation for the Feldwebel and these fine young soldiers?' When no answer came, he turned to the soldiers. 'May I suggest you eat in our excellent Gasthaus while we arrange the billets?' He led the Hauptmann in our direction, while Herr Ramoser took the sergeant and two soldiers elsewhere. We rushed downstairs. Without hesitation, my mother went to open the door.

'Rosa,' she said, her voice low. 'Go and clear Herr Maier's table.' She took a deep breath, turned the key in the lock and shaped her face into a welcoming mask.

It was only then that I realised the postman was gone. He must have slipped out through the back door. I rushed to his table then stopped. The shutters had been opened – he had been watching. He had left some of his goulash and half of his beer. The toothpick holder was turned upside down. All the toothpicks lay
We hope you are enjoying the book so far. To continue reading...
The Dressmaker of Paris
Georgia Kaufmann
Copyright © 2021 All Rights Reserved