Book info
Sample
Audiobook
Media
Author updates
Lists
Synopsis
Alexsi Smirnoff—a Russian orphan—is trained as an agent by the Russian Secret Service and inserted into Nazi Germany, where he rises to a position in German intelligence services. As the war grinds on, trapped between two brutal dictatorships, Alexsi betrays both sides in a desperate ploy that succeeds...and fails. His false identities burned, his life at risk, Alexsi attempts to disappear in the hills—but is caught by the British. Recruited by the SIS, and by C himself, Alexsi is once again a double agent. Initially betrayed by a Soviet agent inside the SIS, Alexsi is sent beyond the reach of the Soviets, into Italy with a new identity as a sergeant in the German army. Settled into the headquarters of Field Marshall Albert Kesselring, Alexsi finds himself at the nexus at a critical point in World War II, balancing between the various forces vying for control in the Vatican, the Italian resistance, and the brutal German Army that is determined to maintain control of Northern Italy. In the end, Alexsi is finally forced to choose sides over his own survival. Sequel to the well-regarded A Single Spy, The Double Agent is a fast-paced, compelling novel of espionage set in the most momentous and dangerous of times.
Release date: November 15, 2022
Publisher: St. Martin's Publishing Group
Print pages: 400
* BingeBooks earns revenue from qualifying purchases as an Amazon Associate as well as from other retail partners.
Listen to a sample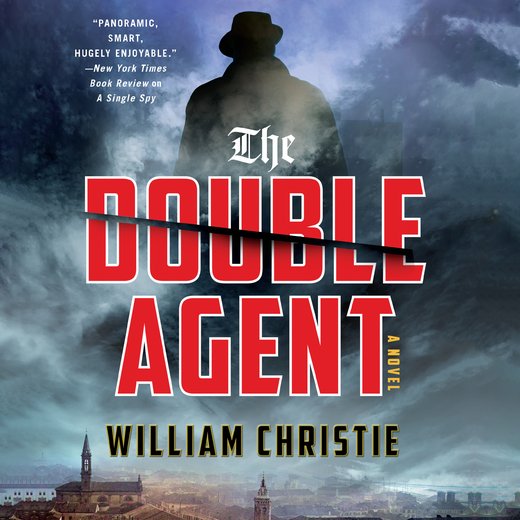 09:24:09
258.26 MB
9781666620344
November 15, 2022
Dreamscape Media
The Double Agent
William Christie
1943
TEHERAN, IRAN
It was past midnight in the British embassy. Alexsi Ivanovich Smirnov was still wearing his purloined Russian uniform. The buttons that ran halfway down the shirt tunic were open, exposing the elasticated bandage binding up his broken ribs. Sticking plasters covered the glass cuts all over his face and neck. He sat with his hands folded calmly upon his lap, and through his clothing he could feel the hard outline of his lucky folding knife. The British were no better at searching you than anyone else.
A British officer wearing colonel's insignia sat opposite him, with a pad full of notes. They had been at it for quite some time.
The knob turned and the door opened. And the great man walked in with absolutely no fanfare. He was smoking a cigar and wearing that same ridiculous one-piece collared jumpsuit he'd had on before, with a cloth belt loosely buckled over his girth, two big breast pockets, and a zipper down the front.
Alexsi stood to attention.
Winston Churchill swung the cigar out of his mouth with a sweep of the hand. That famous voice rumbled out. "They tell me I owe you my life, young man. Give me your hand."
With the British colonel watching him like a wary guard dog, Alexsi leaned over the table and shook Churchill's hand.
Churchill released him and, with a gesture that was pure noblesse oblige, bid him to sit down. And took the colonel's chair for himself without a word.
Alexsi caught the aroma of the cigar. Cuban. Romeo y Julieta, Uncle Hans's favorite, too.
"Your story has been related to me," Churchill said, his famous lisp even more noticeable at close range. "Quite remarkable. If you don't mind, I have a few questions of my own."
"Your servant, sir." Alexsi hoped that was the right English, since it came from books.
In any case, it made Churchill's eyes twinkle with delight. Then they turned serious. "I am told you are a native Russian, is that correct? A Russian intelligence officer."
"Yes, sir."
"And that for seven years you have been posing as German. Eventually joining their army and becoming a German intelligence officer?"
"Yes, sir."
"Remarkable. Most remarkable."
Churchill sounded almost wistful at the thought of such an adventure. Alexsi wondered if he would have to disillusion the man by telling him he'd been dragged into the entire affair against his will. Blackmailed and threatened at every turn.
Serious again, Churchill said, "My question is this. As a Russian intelligence officer, was it possible that some lower-level official hatched this scheme without Stalin knowing of it?"
"No, sir," Alexsi replied instantly. "Out of the question. No one in the Soviet Union would dare such a thing. No one. Not even Beria. This had to be approved by Stalin personally. There is nothing more certain."
Churchill nodded gravely and drew on his cigar. He seemed lost in thought. And then, "I realize that only one man knows the answer to this question. But perhaps you can offer me some insight into why Stalin would do such a thing."
"You mean plot your death, sir?"
"That is correct."
"I can only guess."
"Please indulge me."
"You are an old-line anti-Bolshevik, sir. A dedicated foe of Communism since the time of the Revolution. If Stalin believes in nothing else, it is annihilating his enemies when the time is ripe."
Churchill didn't miss his hesitation. "And?"
"The Germans foolishly sneer at them. I do not know what the Russians think. But anyone with eyes can see that the Americans will be a great power after the war. Perhaps, sir, just as he was easily able to persuade them to reside in the Soviet embassy where the NKVD will be recording all their private conversations and reading their secret documents, Stalin feels that the Americans would be more easily persuaded in all things without you standing beside them."
Now Churchill was rumbling with outrage. "And he would accept this monstrous risk?"
"Not much of a risk, sir. All the NKVD did was stand back and let the SS assassination team they had been observing all along take position in the house I obtained for them but never intended to be used. I am told the Soviets delayed you at the vehicle gate demanding proper identification? For a period of some time before I arrived? As if they had no idea who you were?"
Churchill nodded.
"They knew that a man such as yourself would never carry an identification card in his pocket. So you have an overzealous Russian private soldier delaying the prime minister of Great Britain over the proper identification required to enter a gate. Just stupidly following his orders to the letter. Anyone who knows soldiers would laugh. And I'm sure you laughed, sir, as you waited for someone in authority to come and straighten it out."
His face fixed into that famous bulldog glower, Churchill nodded again.
"So all the Soviets have to do is make you a stationary target, sir, long enough for the Germans to take a clear shot. Stalin would not care in the least if they mowed down a score of Russian soldiers in the attempt. If the Germans succeed all the Russians at the gate, and everyone who received the order to delay you, would be shot for criminal incompetence. The Germans who killed you would of course all die. Molotov would attend your funeral with an exquisite wreath of flowers, and most likely weep with emotion. They would perhaps name a street in Moscow in your honor. But if the Germans fail, heroic Russian soldiers gain the credit for saving the British prime minister. It was embarrassingly close, so everyone agrees to keep it secret from the world. And all the Russians along the line of the order will be shot just the same and silenced forever. Stalin takes his chance, and it costs him nothing. You are still his ally today, from necessity, and you will never love him in any case. This is how the man does his work, sir. He does not have to be this subtle in Russia."
Churchill concentrated on his cigar again. "And his work in Russia is as evil as I imagine?"
"There are more in camps than live now in your nation, sir. Unless they have been driven out to die in front of the German guns. Not including countless numbers shot out of hand in dark cellars all over the Soviet Union."
Churchill nodded, as if that was the answer he had been expecting. "One final question. Make no mistake, young man. I am deeply grateful to you for saving my life. But I am curious why you went to such extraordinary lengths to do so."
Alexsi knew this was a man of vast experience. He would not accept being told that it was someone risking his life because it was the right thing to do. His instinct told him to tell the truth. "Sir, when I was in Berlin I informed Stalin when and how the Germans would invade the Soviet Union. I am sure there were other warnings."
"I also informed him," Churchill interjected.
"Yes, sir. He ignored them all. Eventually, every Russian who gave him this intelligence will have to die. Stalin will never let it be known that he sat back and allowed Hitler to invade and nearly conquer the Soviet Union. He cannot."
Churchill went back to dreaming over his cigar.
Very much like Uncle Hans used to. Alexsi thought it was a fine way to make everyone wait while you thought things over. "And as I said before, sir. Sooner or later, every Russian with knowledge of this plot against you, even the very highest, will be liquidated."
"And a man of your abilities could not manage to disappear without a trace?" Churchill inquired.
"I chose not to, sir," Alexsi replied, boiling anger locked up behind his impassible Russian face. He'd saved the old bastard's life. He didn't expect them to kiss him like a Russian, but did he have to go down on his knees to beg the British Empire for refuge? Fine, he'd do it if he had to.
Churchill exhaled a puff of Cuban smoke. "You're quite an extraordinary fellow, aren't you?"
It did not come out as a compliment. Alexsi did not expect anyone to understand his story. All he said was "There is an old Russian saying, sir, that if you live among wolves you must act like a wolf."
A brief flicker of enjoyment crossed Churchill's face, as if he had been expecting another response and liked this one better. Now he rose, and Alexsi and the colonel rose along with him. He put out his hand to shake once more. "Thank you again, young man. We have high hopes for someone of your talents. Colonel—"
An undisguised warning glance from the colonel cut the prime minister off before he gave a name.
"Very well," Churchill said, with barely disguised petulance at being corrected. "The colonel here will discuss these things with you."
"Sir," Alexsi said, confused. High hopes?
They remained standing until Churchill left the room. As the door closed they both sat down.
The colonel rushed to light a cigarette. "The prime minister thinks cigarettes are unhealthy. Ten cigars a day, and they're unhealthy."
"High hopes?" Alexsi said.
The colonel waved out his match. "The German woman you were with crashed her car into a bridge on the outskirts of Teheran. Dead."
Alexsi nodded. No accident, there. The NKVD being thorough. "High hopes?" he repeated.
The colonel drew on his cigarette. "Having you with us is the most splendid opportunity. We intend to play you back into Germany as our agent. We've already begun negotiations through the Swiss to exchange you for a British intelligence officer in German captivity."
Alexsi only nodded. The Englishman smiled, thinking he was in accord. But for Alexsi it was more along the lines of: Yes, that was exactly what I should have expected.
This was what happened when you were foolish enough to tell the truth.
1943
TEHERAN, IRAN
Alexsi Ivanovich Smirnov sat on the edge of the army camp bed, as he had all night, listening to the British embassy settle down around him. After being awake for more than two days, he'd been afraid to lie down and perhaps miss his chance. Though that was doubtful with the combination of broken ribs stabbing like knives with every drawn breath and the iron-hard canvas of the folding cot. He knew the guards would never stop pacing the hallways, because Prime Minister Winston Churchill was still somewhere within the building, definitely in a more comfortable bed. But two hours had passed since Alexsi's ears told him the last shift had changed, and the footsteps were taking longer and longer to pass with military regularity before the door of the little room they had him locked into.
With an air of regretful necessity, it had to be said. Frightfully sorry, old chap—for your own safety, you understand. They actually spoke that way, just like in the English novels he had read. The Germans would have told him that he would be shot if he attempted to escape. The Russians would have shot someone in front of him to make sure he absorbed the message. The British were much more civilized about it, which slightly mitigated Alexsi's resentment. Though he had absolutely no intention of returning to Berlin as their spy. Since they did not seem open to discussion, especially now with their prime minister's endorsement, it was definitely time to leave.
The wristwatch the British had been either polite or careless enough to leave on his wrist read 3:10 in the morning. Everyone who wasn't asleep was tired, and he would have just enough time before dawn.
The footsteps creaked in front of his door, and he counted off the seconds it would take until they turned the corner out of sight.
Alexsi rose quickly. Too quickly, for he almost cried out from the pain. He'd blown a house full of German commandos down nearly on his own head, and the parts of his body that weren't in agony had stiffened up from the battering they had taken. He hobbled toward the door like an old man, suddenly fearful of being unable to move quickly if he needed to.
He plunged his hand down into his waistband, to the pocket he had sewn into the front of his underwear for the little Russian folding knife he had carried since he was a boy. A trick taught to him by Azerbaijani smugglers who shrewdly noted that even the most conscientious policemen searching for hidden weapons balked at putting their hands on another man's groin. Alexsi had found it to be true, with the exception of Soviet secret police guards of the Lubyanka prison, who ruthlessly examined every last possible hiding place, including the interior of your ass with an unsurprising lack of gentleness. Even so, he had gotten the knife past them, and it had saved his life on more than one occasion.
Alexsi had filed the smaller of the two blades down to his own specifications, and an old warded door lock was useful only to keep your friends from barging in on you. He jimmied it open as quietly as he could and peeked out.
The hallway was empty. He'd been locked in an interior room with no window, in what he judged to be the basement of the building.
Alexsi crossed the hall and tried the first door on the opposite side. He was looking for an outside window. No luck on the first two rooms. He'd noted the row of small ground-level ventilation windows as he was led into the embassy, a former Persian mansion.
A glance at his watch told him that the guard would be coming back soon. Alexsi closed the door behind him and stood silently in the darkness of the musty storeroom. Precious time was passing, but impatience was always the enemy.
The guard's footsteps trailed away again. As soon as Alexsi opened the next door down, the heightened visibility told him that there was a window. The room was filled with wooden file cabinets and a small desk barely large enough for a man to sit at.
Alexsi picked his way to the far wall carefully, since bumping into anything would sound like a bomb going off in the early-morning silence. And any light would be a beacon under the bottom of the door.
It was a small window, nearly square, and just slightly above the level of the ground outside. Alexsi eyed it warily—it would be a very tight fit. He tested his weight against a nearby chair, and propped it up against the wall. Standing on it, he examined the window carefully, feeling around the frame. Yes, there were two alarm wires joining at a contact plate just under the bottom latch. He found the wires by touch, as they were nearly painted over. They looked old enough to be long-disused, but this was not the time for foolish risks.
Alexsi used his knife to pry the wires away from their brackets around the window, and this gave him enough slack to gather them together. With his knife he carefully scraped away a section of paint and then the insulation on each wire to expose the core, finally twisting them together to keep the alarm circuit closed when he opened the window.
He raised it carefully, grimly awaiting an alarm bell. Nothing. With ears tuned to the sound of running feet, he locked the window open with the little metal rod on the hinge and poked his head out to see what the guard situation was like. It appeared that the landscaping was at least partially hiding him from sight of the walkways. Excellent. He waited a bit longer for someone to kick in the door of the room, but all was quiet.
Time to move. Alexsi pulled the bulky wool Soviet Army tunic over his head, trying not to cry out loud from the pain in his ribs. The wide elasticated bandage the British doctor had bound them with would have to remain on.
Pushing the tunic out onto the grass above, he tried to go out headfirst. No, his shoulders were too wide for the window frame. He extended one arm through the window to turn his shoulders sideways, and with the extended hand pushing on the outside wall turned himself faceup.
His legs were off the chair now, dangling inside the building, and the pain in his rib cage was so incredible he was afraid he might lose consciousness. A cold sweat washed over his body. Alexsi was wedged tightly in the window frame with only one hand free and the other pinned against him. He realized that his agitated pushing was only making things worse, and there was no quick way through. He stopped, took a deep breath, and resolved that the only solution was to calmly wiggle an inch at a time.
The scraping sound of hobnailed boot soles on stone made him freeze. The low hedge in front of his face was bordering a walkway. Lying on his back on the grass, Alexsi looked up in despair to see a British soldier coming down the walk.
All the sentry would have to do was look down. The rifle was slung over his shoulder, and the fixed bayonet gleamed in the moonlight. Alexsi only hoped the soldier wouldn't panic and pin him to the ground with it, like a butterfly in a case. He closed his eyes, not only out of resignation but because he had been trained that all animal eyes gleamed at night.
The footsteps passed and nothing happened. Alexsi snuck a look up. The sentry had his hands in his pockets against the night chill, and was walking hunched over as if the helmet on his head was weighing him down.
Alexsi began breathing again. He was bathed in icy sweat that made it feel like Moscow in the winter. He resumed wriggling through the window, and every move was like being stabbed in the lungs.
Finally he was far enough out to get his left arm through the window frame, and both hands pressing on the outside wall speeded his progress.
Then he was free. He rolled over in the grass and leaned back in to close the window behind him. Starting to shiver uncontrollably, even though it was well above freezing, he pulled the placket-front gymnasterka tunic back over his head.
And that was the problem. It would be easy enough to slip back over the wall, which was how he had arrived at the embassy. But then he would be walking the highly patrolled streets in the ripped and disheveled partial uniform of a Red Army private soldier. With incredible luck he might make it a block or two before being picked up.
He had another idea. His twin careers as first a thief and then a spy had proven that a bit of unexpected boldness often paid off better than elaborate sneaking about.
The lush landscaping of the embassy grounds made it easy to stay out of sight. That and the fact that British soldiers on guard insisted on marching to and fro as if on parade, rather than waiting quietly in the shadows for some intruder to pass by.
Unfortunately, they might have been clumsy but there were a great many of them. It took Alexsi longer than he had hoped to ease his way through the trees to the rear side of the embassy. The approaching dawn was beginning to purple the horizon.
He was rewarded with the sound of a vehicle engine, and homed in on it. There was an open area of grass between the tree trunk that was concealing him and the hedge that was his destination. Alexsi surmounted this by crawling slowly along the line of shadow cast by the tree in the moonlight. Still on his belly blending in alongside the hedge, he peered through it to the sight of an orderly row of American jeeps. Even more perfect, these had fabric tops all neatly buttoned up around them to protect the driver and passengers from the elements.
Predictably, there was a sentry stamping around the perimeter of the car park. Alexsi waited until the fellow reached the side corner with his back turned, then made a little hop over the edge as if curling around the pole of a high jump. After a moment to get his breath back, he was up and inside the jeep. The door was only a simple metal latch.
Almost in spite of himself he had to pause to touch the flexible but clear plastic window in the canvas cover of the door. He had never seen its like before. The inside smelled of canvas, grease, and petrol.
Fortunately these vehicles had no ignition key. He'd had to teach himself to drive one shortly after arriving in Iran.
Now it was time for one of those decisions where you would either be patting yourself on the back for the next week or regretting everything for the rest of your life, however long that might be. Alexsi decided to wait, curling up in the well beneath the steering wheel, out of sight of the passing guards.
The sky progressively lightened, and he kept checking the luminous hands of his watch. Soon it would be too late, and he would have to chance it.
Then a jeep engine started, two rows of vehicles away from him. Alexsi popped up into the driver's seat and pushed his foot against the starter button next to the accelerator pedal. The engine briefly turned over and died.
Alexsi's stomach dropped, and he fought the urge to plunge his foot down on the starter again. He took a breath to calm himself and lightly tapped the accelerator to give the engine some petrol. Then he pushed the starter and accelerator pedal at the same time. The starter ground away sickeningly for a moment; then the engine caught. Alexsi pumped more petrol into it, and twisted the lever to activate the lights. Turning the wheel, he released the clutch and pulled out into the open space between the rows.
Alexsi held up a moment to let the other jeep get in front of him, then followed it toward the gate.
The jeep in front paused before the closed metal gate, and after a brief wait honked its horn. A soldier finally emerged from the guard shack, making a rude gesture as if to say, I'm coming, I'm coming. He opened the gate and angrily waved the jeep through.
Alexsi let the clutch out again and followed the first jeep through the gate. The soldier on guard had already positioned himself to close it, and didn't even look over at him.
The first jeep turned left. Alexsi turned right. He'd been worried that a single jeep might be seen as an interesting diversion in the boring small hours of the morning. But confronted with two the guard couldn't wait to get back into his warm little shack. Even in the German Army, soldiers were always vigilant about anyone trying to enter a guarded facility but never paid attention to anyone leaving. Now that he was driving about Teheran in exactly the right vehicle, it made no difference that he was in the wrong uniform.
We hope you are enjoying the book so far. To continue reading...
The Double Agent
William Christie
Copyright © 2023 All Rights Reserved