The Doors of Eden
Available in:
eBook
Paperback
Audiobook
Hardcover
Book info
Sample
Audiobook
Media
Author updates
Lists
Synopsis
From the Arthur C. Clarke Award-winning Adrian Tchaikovsky, The Doors of Eden is an extraordinary feat of the imagination and a page-turning adventure about parallel universes and the monsters that they hide.
They thought we were safe. They were wrong.
Four years ago, two girls went looking for monsters on Bodmin Moor. Only one came back.
Lee thought she'd lost Mal, but now she's miraculously returned. But what happened that day on the moors? And where has she been all this time? Mal's reappearance hasn't gone unnoticed by MI5 officers either, and Lee isn't the only one with questions.
Julian Sabreur is investigating an attack on top physicist Kay Amal Khan. This leads Julian to clash with agents of an unknown power - and they may or may not be human. His only clue is grainy footage, showing a woman who supposedly died on Bodmin Moor.
Dr Khan's research was theoretical; then she found cracks between our world and parallel Earths. Now these cracks are widening, revealing extraordinary creatures. And as the doors crash open, anything could come through.
"Tchaikovsky weaves a masterful tale... a suspenseful joyride through the multiverse." (Booklist)
Release date: August 18, 2020
Publisher: Orbit
Print pages: 640
* BingeBooks earns revenue from qualifying purchases as an Amazon Associate as well as from other retail partners.
Listen to a sample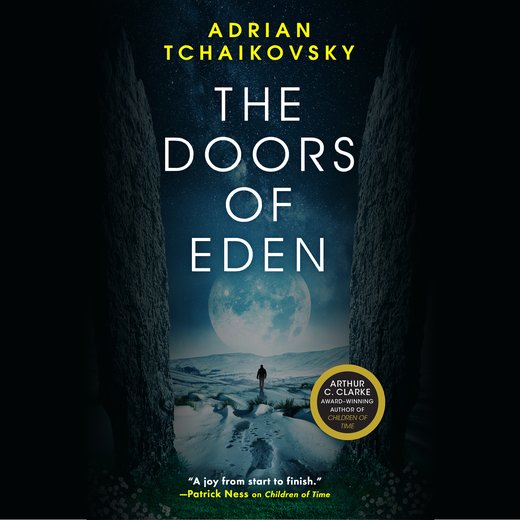 18:03:30
496.01 MB
9781549106361
August 18, 2020
Hachette Audio
The Doors of Eden
Adrian Tchaikovsky
For three billion years the only life here has been microscopic. Bacteria have been leaching sustenance from strange chemicals in the bowels of the Earth or the depths of the sea. Ice comes, ice goes; the atmosphere for most of this time is a heady mix of chemicals either toxic to life or simply useless to it. There is life, though. For almost half the aeons since its formation, this world has known self-replicating organic entities. They've been bustling and thriving and dying and trying to outdo one another in a ferocious, invisible war for survival.

Life sometimes seems destined, to we fortunate ones who live at the far end of time's telescope. But what were the chances of success? Hard to say, and the no man's land between inorganic process and organic existence is a region, not a hard dividing line. We fondly believe there is no reversing that step, however, after a few very basic criteria are satisfied. Imagine life as a manual that includes instructions for replicating itself. The replication process is fallible, of course; everything is in this world. That leads to mutation and the possibility of change, and so to evolution. Here, a mutation can give one minuscule knot of organic chemistry the opportunity to replicate more efficiently than its neighbours. Its offspring faithfully copy the fortuitous error and thereby inherit it. Even without the evidence nestling in the heart of every living cell, the logic itself should be infinitely persuasive. Evolution is inevitable once you have an imperfectly self-replicating system in an environment of limited resources.

For the longest time, all the dramas of this particular world could have played out in a drop of water, life was of so small a scale. We have some evidence of a few flowerings of more complex life developing. But either the ice came back, acidity rose or oxygen levels fell—and these early signs collapsed like enlightened empires before the tides of barbarism.

Three billion years passed like motes in a god's eye. Life expanded to fit the meagre niches the world provided. And a constantly changing cast of life forms fled from one another, devoured their fellows like miniature tigers and traded genetic material like shady black marketeers hiding contraband in their trench coats. These life forms exploited the inorganic substrate of the world. Later, they exploited the organic matrix that was the graveyard of a million billion fast-lived generations of their forebears.

Then in this Archaean microbial age, some unicellular visionary made an explosive discovery—akin to mankind's discovery of fire, in terms of its impact. A volatile, poisonous chemical was tamed. Since the dawn of the Earth, this chemical had voraciously attacked any element it came into contact with; now it became the servant of developing life. This first metabolizing of oxygen might have been a defence mechanism. A process that incorporated the dangerous substance rather than falling prey to it. Perhaps your ancient ancestors took wolf cubs from their mothers with a similar goal. And what a world of opportunity opened up! Oxygen is a shortcut to a higher energy lifestyle, a ticket to getting out of the bacterial ghetto to live the high life. Our cast of characters becomes more complex as a result. Life gets a new paint job, alloys and go-faster stripes, now there is something more powerful under the hood.

Next, single cells find advantage in numbers. Simple bacterial mats carpet the floors of every sea, shore to shore, washing up on lifeless beaches in a scummy slick of organic matter that cannot even decay properly yet. Then cells cling to each other, sharing the work so enough of them might even resemble some larger coherent being. But the next storm or riptide breaks them down again, to reform slowly, later. Some developing cells cling to those bacterial mats and rocks and sieve the water for organic detritus; some drift in the current. Cells evolve that can only survive in the company of their fellows, doing some small specialist role like an office worker who only deals with form G. But because the rest of the alphabet is also monitored, the paycheque still comes through every month. Multicellular life evolves exponentially, now it has that hard, oxygenated liquor to fuel it. Everywhere, a garden of life arises—the very first Eden. But it doesn't support life like ours, or even our ancestors'. This is life of another caste entirely. A world of quilt-bodied things that lie supine upon the sea floor, or inch slowly across the bacterial mats without limbs or muscles, feeding upon them without mouths. They are a global community of organisms alien to us, and they live without tooth or claw, without eyes, without organs.

Our world was like this once. Go back six hundred million years and you wouldn't know the difference. But this is not our world.

In this world, something awoke.

Her name was Lee, short for Lisa Pryor. Which, technically, was short for Lisa Chandrapraiar. But when her grandparents came to England from Pakistan, the immigration authorities had been having a rough day and so Pryor was what went on the paperwork. Her parents still called her Lisa, but Mal called her Lee and that was the important thing. After a while her other friends did too, because what Mal said tended to stick.

Mal was short for Elsinore Mallory, because her parents came from a particular social stratum where that was perfectly acceptable. However, she never forgave them for it.

They were nineteen. Lee was studying zoology at Reading, Mal was reading English Lit at Oxford—an establishment so exclusive that they had a whole other verb for what you did there. They'd only been friends in school because Lee's parents had pushed hard to get her somewhere good and Mal's parents had lost their starched white shirts on some dodgy stock market deal, so couldn't afford to send her to an expensive private establishment. The moment she'd first met Mal was engraved in Lee's mind: a thin white girl sitting on her own because she was, frankly, pretty much insufferable at age thirteen. She'd come over from a very posh school that had told her she was better than everyone else. Being thirteen, she'd told her new peers that too, and had been surprised to discover they hadn't agreed.

So Mal had been alone in the cloakroom, shoulders hunched inwards, head down, reading Lyall Watson's The Nature of Things. And Lee had a tatty second-hand copy of that very book back home. She had never run into anyone else who'd read it; it was bonkers too, pure Forteana about the secret life of the inanimate world. Here, for the first time ever, was someone else who was interested in that stuff.

Mal had looked up defensively, anticipating more mockery from the chubby Pakistani girl who was staring wide-eyed at her. Yet somehow she'd understood exactly what Lee was after. From that moment, they'd been inseparable. Lee's parents didn't know what to make of her, and Mal's certainly didn't know what to make of Lee, but neither of them cared.

There followed years of sharing everything, from Dungeons and Dragons campaigns to their first intimate experience. This deepening of their relationship had seemed inevitable to both of them, but none of their parents ever guessed at it, locked into a mindset where such things didn't happen.

Their other shared pastime was hunting monsters.

It started off passively, reading the Fortean Times, watching old reruns of Arthur C. Clarke's Mysterious World, trawling the internet. There they found rumours of yetis, Mokele-Mbembe, the Jersey Devil and stray big cats. Two years before, though—before The Thing That Happened—they had started holidaying together. They had been seventeen, and Mal could always cadge some travelling money from her parents. They thought Lee was a good chaperone who would prevent their daughter from getting into compromising situations. In this they were absolutely and exactly mistaken. But it meant that when the pair of them wanted to go backpacking in Scotland, or visit Gévaudan to practise French, it all sounded perfectly respectable. Nobody knew they were casting themselves into the wilderness, desperate for a look at beasts that almost certainly didn't live there.

Looking back, Lee couldn't have honestly said whether they believed any of it. She could never quite recapture the mindset they'd had, not after what happened. They weren't seriously looking to actually find proof, not exactly. They wanted to be the ones to take that vaunted blurry photo that might, in a certain light, look a bit like something was there: the ripple on the loch, the faintly anthropoid shadow in the woods.

And then, after we'd done it a couple of times, Mal picked a target for our next jaunt, and we actually found our monster.

Later, making a tenuous living writing cryptozoology articles for magazines and websites, Lee would explore the literary tradition where "monster" was a metaphor: the monstrosity inside us all along, the true villain being human nature, all of that. And she would feel like a fraud, because that wasn't the kind of monster she and Mal had encountered. They met the other kind, with terrible claws and savage teeth. And how many other cryptid-hunters had experienced that moment, confronting the fugitive panther, standing before the ape-man, realizing that the true joy was in the quest. The actual finding holds only terror and loss.

Lee had been away from Mal for most of the summer term, sending her mournful emails and indulging in lonely midnight Skype calls. Mal had settled in better, up to her eyeballs in LARP and the university debating society. They'd been an item for years, but now they were apart and in that stage in a relationship where you constantly wonder, Is this more important to me than to her? Am I too needy? Am I trying to tie her down? These worries always disappeared the moment Lee actually got to speak with Mal. Nevertheless, every day she was away, Lee was newly terrified that Mal would suddenly remember she was white and posh—and go back to her own people, like some brief alien visitor to Earth.

Then exams were done, term was done, and Lee was willing the train faster all the way to Hemel and home. Her parents and siblings were given a five-minute window of her time before she was off, westward to Bracknell and the big old house Mal's folks were still holding on to by their fingernails.

Mal, at that time: she was like porcelain. You'd think that she'd break into pieces with a little shove. For the longest time Lee had thoroughly envied her metabolism, because that girl could eat. Twice as much as Lee, whose mother would tut and nag about dress sizes and what nice boys might or might not want (a matter of supreme indifference to her), and yet Mal remained waif-like. She was so pale you could almost see through her; she dyed her short hair platinum because it annoyed her mother, and because she had a love-hate relationship with standing out. She hated strangers staring, hated the thought of people making judgements about her. Yet at the same time she couldn't dress down and drab, like Lee usually did. A part of her had to be seen and heard, to know she was real.

Before university, of course, Lee worked out that Mal was so slim because most of what she ate she purged right out again. She became quite ill one summer, and her parents were frantic that someone would guess there was something wrong with her. She had private doctors and therapists, and they even packed her off to a kind of rehab centre for very rich people with eating disorders. Lee remembered living through that time as if under a shadow, taut with a strain she had nobody to talk to about. After the business with the too many pills they took her out of the centre, though, and stopped locking her in the house. Lee was able to see her again, and Mal was better after that.

When The Thing That Happened happened, Mal was still skinny, but you couldn't see her bones quite as much. Lee's worries about Mal meeting some Oxbridge wunderkind and running off with her had abated. More than that, Mal had been making plans.

"Lee," she said, with that grin that went through Lee like sticking fingers in the mains socket. "We're going on holiday."

And of course they were; that was their tradition, to pack cameras and night-vision kit and go play cryptid detectives on some well-worn trail. This time, though, Mal had found something different. No Loch Ness Monsters or Lambton Worms, nowhere with a gift shop where the cryptid in question was immortalized as a gurning plushie. They felt their old yearning for new territory stirring.

That undiscovered country, as the bard said, from whose bourn no traveller returns…

YouTube was not, of course, undiscovered country. Discovery was entirely the point of YouTube. And if you looked hard enough, you could discover just about anything on it, although sometimes you had to wade through a lot of porn to find what you were looking for. One thing YouTube had, if you entered the right search terms, was a plethora of the Unexplained.

Mal and Lee were no longer wide-eyed naifs when it came to that sort of thing. They'd spent a dozen hysterical evenings over the last couple of years trawling the net to find cryptid videos, mysterious sightings of unknown species. Lee's firm impression was that nine-tenths of the "unknown animal" videos on YouTube boiled down to (a) gross jellyfish, (b) bad special effects and (c) actual readily identifiable animals with the bad luck to be encountered by someone who'd apparently never seen a nature documentary. One of them, under the heading of MISTERY ANIMALS!!, had been just a regular heron. And the look in that heron's eye had said, "Don't you be pulling that internet shit on me," or that's what Mal had claimed.

So when they were huddled together on Mal's bed, blinds drawn and her laptop balancing precariously across their knees, Lee hadn't exactly been holding her breath.

The video Mal had found was titled Birdman of Bodmin?, and at least all three words were spelled correctly. The alliteration was a nice extra.

"This is going to be dumb," Lee decided, leaning into Mal.

"Just watch." And there had been a jag of excitement in the other girl's voice that said that however dumb this dumb video was, they would be heading to Bodmin Moor that summer.

It purported to be footage from a security camera. Black-and-white nocturnal video of a suitably grainy quality, so that the viewer didn't have to try very hard to start seeing things in the static-laden gloom. The viewpoint was immobile, angled to look down the stone wall of a two-storey building: there were suggestions of rectangular windows, and across from them, a corrugated wall, perhaps a barn. There was a gap of about ten feet between the buildings, cluttered with what might be farm implements and tarpaulined crates, a kennel on its side, a bicycle missing its front wheel. At the far extent of the view, after a security light was triggered, Lee could just make out the looming hulk of a Range Rover, crusty with mud. Or that was how she remembered it in retrospect. She could never quite square the precision of her recollection with the grainy quality of the video. Memory screwed you over like that.

She'd scoffed at the time. Not so hard as to get on Mal's nerves, but that was how the Forteana side of their relationship worked. One of them would propose something and the other would gently knock it down. And this video had been a classic, in terms of the cryptid cock-tease. Fixed camera angle, so things could be happening just off-screen, plus bad-quality images full of ghosting and phantom movement. The viewer could read in a whole conga line of Sasquatches.

The camera was supposedly attached to the house of a sheep farmer on Bodmin Moor, down in Cornwall. The video's description went into impressive amounts of detail about the lonely farmer whose livestock was being attacked by a mysterious (note the correct use of the letter y!) animal. And that was also a red flag in the credibility stakes. When someone went to these lengths to embroider a narrative, it tended to be because the facts resolutely refused to speak for themselves. Much of the original footage was steeped in gloom: moonlight filtering in to show the outlines of things, but nothing definite. There was no sound. Then the motion sensor triggered and everything lit up, but nothing was there—someone had misaligned the camera and sensor, no doubt. It was another absolute standard in the "fake videos of spooky things" oeuvre. The more you could make the viewers' imaginations work for you, the better.

This happened a couple of times. And maybe the farmer was going nuts, or maybe he was asleep or off in the big city displaying his prize trick-performing pig. Lee remembered getting a bit fidgety after the second jump-scare-ha-no-false-alarm, and started rolling her eyes at Mal, who poked her in the squidge at her waist and told her, look, here it is.

Everything had been gloom for a minute and a half, and in that gloom Lee could see movement, if she was so inclined. Truthfully, she could have seen anything. Squint and that suggestive shadow was creeping forwards, slow enough to fox the motion sensor. Blink again and it hadn't moved a pixel. Or was that something occluding the Range Rover's licence plate, a hunched shape that might be a dog or a humanoid figure on hands and knees? Birdman of Bodmin? queried the title, and that alone peopled the darkness with all manner of outlandish shapes. Bird cryptids were rare, after all, and what was a "Birdman"? Lee remembered the flywheels of her imagination spinning, denied anything solid to sink their teeth into.

Then the light went on again, and something was suddenly there, frozen in the brightness. Lee couldn't see it properly, half behind a tarpaulin. The light was so bright that it leached away detail. Most likely it was some art student's CGI project and everyone'd been had. But something was there, bigger than a bird, a little smaller than a man, insofar as there was any frame of reference. They both saw it: a hunched, prickly shape, with a suggestion of limbs, of wings that were more like arms despite the ragged sleeves of plumage. A head lifted high on a serpentine neck—or maybe it was just an arm inside a puppet.

It bolted, shooting between the Range Rover and the house's wall, knocking over a crate as it went. That was the thing that had hooked Mal and sent a thrill down Lee's spine. It didn't move like anything they'd ever seen. It wasn't flying or hopping like a garden bird. Not the long lope of an ostrich, or a bloke in a chicken costume. The whatever-it-was legged it straight across that narrow alley and into the concealing shadows. There was nothing of man to it, and precious little of bird. Lee was left with an afterimage of a feathered body covered in ragged plumage and a whirl of legs—its long tail almost a blur, emphasizing just how damn fast the beastie was. And that head, heavy on the muscular neck, looking back at the camera. It was as though it knew it was being watched, the eye flashing a rapid tapetum reflection before it vanished.

There are certain codings for how a creature moves that are designed to awaken a deep and ancestral unease. Lee had seen them all in those fake videos. Make something that's too close to human for comfort; make something that jolts into sudden, scurrying motion like a spider. Design something that bends and flexes wrong, but not too wrong. There was a language of horripilation in creature design; ask any SFX studio that's done a horror film or two.

This thing, the Birdman, displayed none of those tricks. Its body was built from a different alphabet, another language entirely. That was what caught them both. It was a fake—obviously it was a fake. But so long as neither of them said as much, they could pretend it might be real.

By that evening they'd booked a hire car and a bed and breakfast in a small village called, delightfully, St. Teath. They were going to Bodmin to hunt—not for its infamous Beast, but the Birdman.

At the B&B they were told, to their faces, that breakfast wasn't included. Neither of them dared ask what the other "B" was for, though they had fun inventing options. Lee remembered nobody cared that they were two girls booking into a room with a double bed. She didn't know if their hosts were pleasantly broad-minded or if they, like Queen Vic, honestly didn't think of women as being that way inclined. Next up was to work out where they were going. The thing about dodgy YouTube videos of fake cryptids is how many important details they don't include in the description, and Lee and Mal weren't about to go wandering Bodmin Moor looking for "the farm." They spent a day travelling from village to village, showing stills from the video and asking if people recognized it, until in a pub, one sunny lunchtime, someone gave them a queer look (so to speak) and asked if they were there for the beastie. Straight out with it in broad daylight, like they'd never seen a horror film in their lives. This was a prime opportunity to put the wind up some tourists, and yet here was this cackling old boy just telling them about the local bogeyman without any ominous build up or They do say…

Thinking back, four years on, she could laugh. However, when things went to crap this encounter had felt like the awful warning they'd ignored.

The old boy had been so helpful because the farmer in question was known locally, and not in a good way. A weird loner who didn't get into town much, and enjoyed bitter boundary disputes with anyone luckless enough to be his neighbour. So when he'd turned up months before at the local police station, claiming there was a monster on his farm, everyone leapt on this opportunity for fun. The old boy spent a half hour talking about it and bought some decent local perry to go with the story. He also marked the farm on their maps and provided the name of its owner—one Cador Roberts. He sounded like a Welsh hill chieftain, except apparently he was mostly a grumpy middle-aged man, stuck out on a sheep farm on the edge of the moors.

They returned to the B&B to spend the evening inventing lurid tales of what might be found on Roberts' land. They wondered whether he had faked the video himself or if someone had been gaslighting him—there seemed no shortage of suspects, from the way the old boy had gone on. Roberts had given his CCTV tapes to the police station, apparently. But they'd ended up leaked to a YouTube channel—so maybe the whole online exercise was to piss off Roberts should the man ever get near a modem.

In the morning they put their hiking gear in order, buying maps, water bottles and sandwiches from a local garage. There was a track that led to Roberts' place, but they'd been told authoritatively that their little hire-car hatchback would not survive the trip. They planned to take the road as far as they could, walking the rest of the way and aiming to be at the farmhouse by noon.

They could, of course, have gone trespassing, looking for Birdmen. But farmers tended to own shotguns, especially those with possible cryptid interlopers. And they had a secret weapon, should Roberts think they were part of the village gaslighting brigade, out to poke fun at him. They had a copy of the Fortean Times from January that year, in which Lee had an article about The Beast of Gévaudan. It was her first published piece, and she was inordinately proud of it. Roberts would see they were serious cryptid-hunters.

The walk took longer than they'd thought. They were having such fun getting away from all the nonsense that was most of their lives that they didn't notice it was well past noon until they spotted the farmhouse. There was a chill in the air, too, that had been absent the previous day. The country was beautiful, but you had to like bleak to really appreciate it. It was all ups and downs, with plenty of places where the rocks had clawed their way right out of the earth. The land was scrubby too, green and yellow. The occasional houses were all grey stone boxes with too few too small windows, as if purpose designed for storing mad wives in the attic. And they were ruinous; most of the buildings Lee and Mal saw had been abandoned generations before. The Roberts family obviously had more staying power than most.

Later, Lee had to acknowledge that the whole venture was a spectacularly stupid thing to do, for entirely quotidian reasons. They never considered the possibility that Roberts would be an axe-murderer, or even that a random non-Roberts axe-murderer might happen upon them. They were after monsters, and weren't frightened, because neither of them expected to find any.

Knocking on the door didn't yield any results, and they decided Roberts was probably off on sheep-related business, which they really should have thought of earlier. At that point, though, their options were to wait an undefined length of time for permission or to seek forgiveness later, so they went around the house to find the vista the video had shown. They weren't being stealthy—chatting away nineteen to the dozen, in fact, because it was an adventure and they were doing it together.

They found the spot almost immediately. Some of the junk had shifted, but there was the alley between house and barn, and, there, the actual CCTV camera. They took their own photos and examined the muddy ground, as though expecting to find incriminating footprints.

They did find footprints. And they weren't human.

Lee still had the photos on a datastick somewhere. They weren't exactly a smoking gun though. None of the footprints were complete, and they overlapped one another—but if someone had made them with a fake wading-bird foot, they'd really gone to town. The prints had two long toes and one short one, as though the inner toe had broken off halfway. Mal and Lee exchanged looks, and there was something between elation and terror in the air. Even messy and infinitely interpretable, this was new. This would get them in the Fortean Times. This would get them a speaker's spot at Weird Weekend or even air fare to a big symposium in the States. This would make their names in the field—they knew it.

Mal picked up a bad smell beyond the general farmyard odour and followed it round the side of the barn. Lee's subconscious was busy comparing reality with her memories of the video, feeling something was missing.

When Mal let out a horrified noise, Lee dashed over, already feeling sick in her stomach. The scent of dead meat was overpowering even through her hay-fever, sweet with rot. Most definitely she could hear the legion of busy flies. She was horribly certain it was Roberts.

It was sheep, though. A little flock had been penned in here, in what looked like decidedly makeshift accommodation, and something had got in amongst them. They were very dead, and for a moment that was all Lee could think about, because there was blood everywhere, painting the walls even, and some of the bodies seemed to have just about exploded. Mal lost what was left of her lunch right then, staggering out of the barn and retching, but Lee just stared. She'd seen roadkill before, and her neighbour's hamster, when it did that hamster trick of dying for no reason. Now she was looking at the brutally torn-up carcasses of at least seven sheep. She felt almost clinical about it, like she was Sherlock Holmes ready to make gnostic pronouncements about the murderer. And the more she stared, the more she really did think like that, because she was noticing things, even as Mal called for her to come away. Horrible as the sight was, this wasn't just death for death's sake. There were far too many visible bones, and they were hacked about, not torn by the teeth of animals…

"Flensed," she said, and Mal gave her a baffled look. Then Lee lost her nerve and didn't explain the thought sitting in her head like a toad: this is what you get when you butcher bones, not when you gnaw on them.

She looked at the horrible, crimsoned walls, seeing places where the blood hadn't just spattered. She took one photo before she had to get out into the air: a few smears and lines, really. Nobody would have thought anything of them, save that there was purpose there. Something had made those streaks, way past the high-water mark of the killing. And they'd see marks like that again.

Lee's theory was right then: some sadistic bastard really was gaslighting poor Roberts. Someone had come in and cut up his sheep and put fake footprints about, or maybe it was the man himself, after the insurance.

At that point something bolted from the barn. It shot past them at such speed that it was almost gone around the building's edge by the time they spun round to watch. Lee was left with an impression of it, a sense of something grey and ragged with a long tail. But of course that was what the video had primed her to see, and the next moment she didn't know whether it had been real or just in her head.

Mal looked horribly pale, but also determined. She wanted to find something more, now. Lee was right with her, her brain belatedly stepping in to hand her a note about what they hadn't seen yet.

"Range Rover isn't here." Roberts must be doing farm things, and there was a set of tyre tracks heading away from the house, over the rugged moors. They exchanged looks, wide-eyed. They knew they were crossing a line, but that was what the cryptid-hunting game was about, after all. B
We hope you are enjoying the book so far. To continue reading...
The Doors of Eden
Adrian Tchaikovsky
Copyright © 2023 All Rights Reserved