The Couple at Number 9
Available in:
eBook
Paperback
Audiobook
Hardcover
Book info
Sample
Audiobook
Media
Author updates
Lists
Synopsis
"Tense, twisty, fraught with emotion and packed with secrets, The Couple at Number 9 is Claire's best thriller yet."—Gilly MacMillan, bestselling author of What She Knew
The internationally bestselling author of Do Not Disturb and Just Like the Other Girls delivers a heart-pounding psychological thriller about a couple who inherit what seems to be their dream home, until they make a horrifying discovery—and the danger begins.
The Victims . . . 
When pregnant Saffron Cutler moves into 9 Skelton Place with boyfriend Tom and sets about renovations, the last thing she expects is builders uncovering human remains. The remains of two bodies, in fact.
The Investigation . . . 
Forensics indicate the bodies have been buried at least thirty years. Saffy has nothing to worry about—until the police launch a murder inquiry and ask to speak to the cottage's former owner. Her grandmother, Rose.
The Witness . . . 
Rose is in a nursing home and Alzheimer's means her memory is increasingly confused. She can't help the police, but its' clear she remembers something. 
The Killer . . . 
As Rose's fragmented memories resurface, and the police dig ever deeper, Saffy fears she and the cottage are being watched.
The Truth . . . 
What happened thirty years ago? Why did no one miss the victims? What part did her grandmother play? And is Saffy now in danger? 
Release date: August 2, 2022
Publisher: Harper Paperbacks
Print pages: 400
* BingeBooks earns revenue from qualifying purchases as an Amazon Associate as well as from other retail partners.
Listen to a sample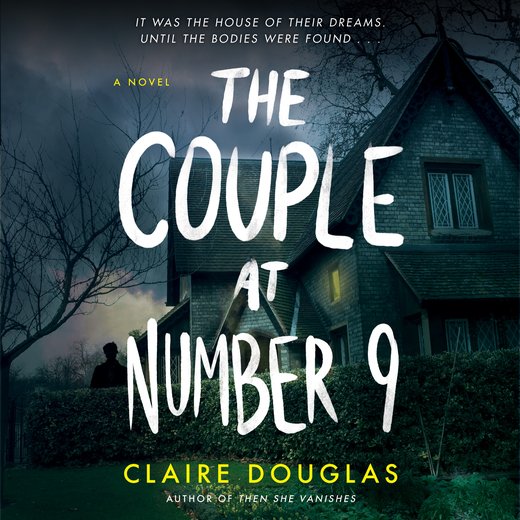 12:43:56
349.72 MB
9780063138193
August 2, 2022
HarperCollins
The Couple at Number 9
Claire Douglas
April 2018
I'M IN THE FRONT GARDEN, PULLING AT WEEDS THAT spill out from the borders of the driveway, like gigantic spiders, when I hear yells. Deep and guttural. The builders are in the rear garden with the mechanical digger. All morning, as I was pruning the rose bush under the living-room window, I could hear the thrum of it on the breeze, like a nagging headache. But now it's stopped. It's enough to make my heart pound and Snowy – Gran's little Westie who's lying beside me – prick up his ears. I turn towards the cottage, a film of sweat breaking out between my shoulder blades. Has something happened? I imagine severed joints and gushing blood – at odds with the blue skies and the dazzling sunshine – and my stomach heaves. I've never had a strong gut at the best of times but being fourteen weeks pregnant I'm still experiencing morning sickness – well, morning, noon and night sickness.
I stand up, mud stains on the knees of my jeans, still my usual size, although the waistband is snugger. I deliberate, chewing the inside of my cheek, inwardly berating myself for being so indecisive. Snowy stands up too, his ears pricked, and he emits one solitary bark as a builder – Jonty, the young good-looking one – suddenly appears from around the side of the house. He's running towards me, damp circles under the armpits of his T-shirt as he waves his cap in the air to get my attention, his sandy curls bouncing with each step.
Shit, he's going to tell me there's been an accident. I fight the urge to run in the opposite direction, instead shielding my eyes from the sun that beats down onto the thatched roof. Jonty doesn't appear injured but as he gets closer I can see shock on his freckled face.
'Is someone hurt?' I call, trying to keep the panic out of my voice. Oh, God, I'm going to have to ring for an ambulance. I've never phoned 999 in my life. And I'm not good with blood. I wanted to be a nurse when I was younger, until I fainted when my best friend fell off her bike and gashed her knee open.
'No. Sorry to disturb you but,' he sounds out of breath and his words tumble out in a rush, 'we've found something. You'd better come. Quick!'
I drop my gardening gloves onto the grass and follow him around the side of the cottage, Snowy at my heels, wondering what it could be. Treasure, perhaps? Some relic from the past that could be exhibited in a museum? But the yells. They weren't of joy at the discovery of something precious. They were laced with fear.
I wish Tom was here. I don't feel comfortable dealing with the builders while he's at work: they constantly ask questions, expecting me to make decisions I'm worried will be wrong, and I've never been very authoritarian. At twenty-four Tom and I are only three years out of university. All of this – the move from the flat in Croydon to Beggars Nook, a quaint village in the Cotswolds, and the cottage with views of the woods – has been so unexpected. A surprise gift.
Jonty leads me to the back garden. Before the builders came it had looked idyllic with the mature shrubbery, the honeysuckle snaked around the trellises and the rockery in the corner filled with velvety pansies in a burst of pinks and lilacs. Now there is an ugly orange digger surrounded by a huge mound of unearthed soil. The other two builders – Darren, mid-thirties with a hipster beard, who, by his confident stance, is the boss, and Karl, around my age and as stocky as a rugby player – stare down at the hole they've made in the ground, hands on hips, their heavy boots sinking into the soil. They whip their heads up in perfect synchrony when I approach. They're wearing matching shocked expressions, but Karl's eyes are flashing with something akin to excitement. I follow his gaze and notice a glint of ivory among the soil, protruding like broken china. Instinctively I reach down and grab hold of Snowy's collar to prevent him from darting into the hole.
'While we were digging we found . . . something,' says Darren, folding his arms across his dirt-streaked T-shirt.
'What is it?' Snowy strains against my hand and I tighten my grip.
'Remains.' Darren's expression is grim.
'Like . . . an animal?' I ask. Darren and the others exchange a look.
Karl steps forwards confidently, almost gleefully, kicking up dust from the ground as he does so. 'It looks like a hand . . .'
I step back in horror. 'So you're saying . . . they're human?'
Darren regards me with sympathy. 'I think so. You'd better call the police.'
BY THE TIME TOM ARRIVES HOME TWO HOURS LATER I'Mpacing our tiny kitchen. It looks like a relic from the 1980s with its farmhouse units and the scenes of fat-cheeked pigs and sheep on the wall tiles. We've managed to squeeze in our oak table from the flat, although we can pull out only two of the four chairs. Not long after we moved in, in February, we'd sat with the architect, a short balding man in his sixties called Clive with a good local reputation, planning the back of the house: the kitchen would be extended and span the width of the cottage, with Crittal doors leading out into the large garden. And, to be honest, it's taken my mind off my pregnancy, which I still feel jittery about even though I've had the twelve-week scan and everything looks okay. But I'm blighted with what-ifs. What if I miscarry the baby? What if it doesn't grow properly, or comes too early, or I have a stillbirth? What if I can't cope when the baby is born or suffer post-natal depression?
The pregnancy hadn't been planned. It was something Tom and I had spoken about, loosely, after perhaps a wedding, but we'd been busy starting up our respective career ladders and saving for a deposit to buy our own flat. Babies and weddings had been for when we were older. For when we became proper grown-ups. But I'd been ill with a stomach bug, had forgotten to take extra precautions. And that one slip-up had resulted in this. A baby. I'd be a young mother but not as young as my own mum had been.
Snowy is stretched out in his bed by the oven, head on his paws, watching me as I pace. From the leaded window I can see the hub of activity in the back garden. A white tent has been erected over half of the lawn, and police officers and men in forensic suits come and go, along with another officer, a camera slung around his neck. Fluorescent yellow tape has been put up around the tent and it flaps in the slight breeze. It has CRIME SCENE DO NOT CROSS printed along its length, and it makes me feel nauseous every time it catches my eye. It might look like a scene from an ITV crime drama but its presence drives home the reality of the situation. I'd been surprised (and, actually, a little bit proud) of myself for how quickly I'd taken control of things after I'd recovered from the shock. First, calling the police and then, after we'd given our statements, sending the builders home, saying I'd let them know when they could resume work, even if my heart still pounded the whole time. Then I'd called Tom at his office in London; he'd said he'd be on the next train home.
I hear Tom's Lambretta pull up on the driveway; he's always wanted one and treated himself to the second-hand moped when we moved here to get back and forth to the station. It's cheaper than running two cars, and all the spare money we had saved is going on this extension.
I hear the front door slam. Tom rushes into the kitchen, concern etched all over his face. He has his glasses on, the trendy black-rimmed pair he bought when he started his new job in the finance department of a tech company over a year ago. He felt they gave him more gravitas. His sandy-blond fringe falls over his face and he's rumpled in his linen shirt and blazer over jeans. It doesn't matter what he wears, he still manages to look like a student. He smells of London – of fumes and trains and takeaway lattes and other people's expensive scents. Snowy is circling our legs and Tom bends down to pat him distractedly, but his attention is firmly on me.
'Oh, my God, are you okay? What a shock . . . the baby,' he says, straightening up.
'It's all fine. We're fine,' I say, palms on my stomach protectively. 'The police are still outside. They've interviewed me and the builders, and now they've set up crime tape and a tent and everything.'
'Fuck.' He looks past me at the scene from the window and his expression darkens for a few seconds. Then he turns to me. 'Have they given you much info?'
'Not much, no. It's a human skeleton. Who knows how long it's been there? It could date back a few hundred years for all I know.'
'Or to Roman times,' he says, smiling wryly.
'Exactly. Probably been here before Skelton Place was even built. And that was . . .' I frown, realizing I can't actually remember.
'1855.' Of course Tom would know. He only has to read things once to remember them. He's always the first to answer a general-knowledge question on game shows and he's forever looking up facts and trivia on his phone. He's the opposite to me: calm, pragmatic and never overreacts. 'It looks like serious shit, though,' muses Tom, his eyes still fixed on the scene in the garden. I follow his gaze. Someone has turned up with two cadaver dogs. Do they suspect more bodies? My stomach twists.
Tom turns back to me, his voice serious. 'Not what we expected when we moved to the country.' A beat of silence before we break into nervous laughter.
'Oh, God,' I say, sobering up. 'It feels wrong to laugh. Somebody died after all.'
This sets us off again.
We are interrupted by the clearing of a throat and we turn to see a uniformed policewoman standing at the back door. It's one of those stable-style ones, so the top part is open and it frames her, like she's about to perform a puppet show. She's regarding us as if we're a couple of naughty school kids. Snowy starts barking at her.
'It's okay,' murmurs Tom to Snowy.
'Sorry to interrupt,' says the officer, not looking sorry at all. 'I did knock.' She pushes open the bottom half of the door so that she's standing on the threshold.
'That's fine,' says Tom. He releases Snowy, who instantly darts over to the police officer to sniff her trousers. She looks vaguely irritated while gently pushing him away with her leg.
'PC Amanda Price.' She's older than us by about fifteen years with a dark bob and intense blue eyes. 'Can I just confirm you are the owners of this property? Tom Perkins and Saffron Cutler?'
Technically my mother is but I don't complicate things by saying so.
'Yes,' says Tom, widening his eyes at me. 'This is our cottage.'
'Right,' says PC Price. 'We'll be a bit longer, I'm afraid. Is there someone you can stay with tonight, maybe for the weekend?'
I think of Tara, who currently lives in London, and my school-friend Beth, who's in Kent. Tom's friends are either in Poole, where he's originally from, or Croydon. 'We haven't lived here long. We haven't made friends in the area yet,' I say, and it brings home how isolated we are, in this new village in the middle of nowhere.
'Parents nearby?'
Tom shakes his head. 'Mine still live in Poole and Saffy's mum's in Spain.'
'And my dad lives in London,' I say. 'But he's only got a one-bedroom flat . . .'
She frowns, like this is all information she doesn't need. 'Then may I suggest a hotel, just until Sunday. The police will pay your expenses for this inconvenience. It's just while the crime scene is being secured and the excavation is completed.'
The words 'crime scene' and 'excavation' make me feel sick.
'When can the building work resume?' Tom asks.
She sighs, as though this is a question too far. 'I'm afraid you won't be able to use the back garden until the excavation and removal of the skeleton has been completed. You'll have to wait until you hear from the SOCO. A scenes of crime officer,' she clarifies, when we look at her with puzzled expressions.
'So you think this is a crime?' I ask, throwing Tom a concerned look. He tries to smile at me in reassurance but it's more of a grimace.
'We're treating it as a crime scene, yes,' she says, as though I'm incredibly stupid, but she doesn't offer any further information and I sense it would be fruitless to ask.
'We've only been here a few months,' I say, feeling the need to explain, just in case this stern police officer thinks we might have had something to do with it, like we're in the habit of hiding dead bodies in our garden. 'It might have been here years . . . centuries perhaps . . .' But the look on her face makes me falter.
PC Price purses her lips together. 'I'm not at liberty to say anything further for now. The CSI have requested a forensic anthropologist to confirm the bones are human and we will keep you updated.' I think of the hand that Karl claims he saw. It doesn't sound like there's much doubt. There follow a few beats of awkward silence before she goes to leave. Then she pauses, as though suddenly remembering. 'Oh, and please can you be out of here within the hour.'
We watch her step out into the back garden, into that gruesome world of police forensics, and I fight back tears. Tom reaches for my hand silently, as though he's lost the ability to offer words of comfort.
And it suddenly hits me that this is really happening. Our dream home, our beautiful cottage, is now a crime scene.
Luckily the Stag and Pheasant in the village has a room for us to stay in and they allow dogs. We turn up with one overnight bag each, which Tom insists on carrying while I take Snowy on his lead.
The landlady, Sandra Owens, regards us questioningly. 'Aren't you the new owners of the cottage up at Skelton Place?' she asks, as we hover in the bar area. We've only been in the pub once since moving to Beggars Nook and that was for Sunday lunch last month. We'd been impressed with the tasteful pale green Farrow & Ball-painted walls, the rustic furniture and delicious home-cooked food. It had, apparently, undergone a huge makeover when the Owenses took it over five years ago.
I don't know what to say. Once the news gets out it will be all over the village.
'We've run into a bit of bother with our build,' says Tom, pleasantly but noncommittally, 'so thought it best to move out for a few nights, just until it's sorted.'
'Right,' Sandra says, although she doesn't look particularly convinced. She's in her late fifties and attractive with her highlighted bob and elegant wrap-dress. It won't be long before she finds out the truth but neither of us wants to tell her about it tonight. Fatigue has set in and it's not even seven o'clock yet, still light. I just want to crawl into bed.
She shows us to a double room, which is small and cosy with views of the woods from the back window. 'Breakfast is between seven thirty and ten,' she says, before leaving.
Tom is standing by the tea-making facilities, looking out of the window at the trees in the distance. 'I can't believe this,' he says, his back to me.
I stretch out on the bed – it's a beautiful four-poster with a quilted bedspread in inky tones. Normally this would be such a treat for us. We haven't had a holiday for ages – all our money over the last five months has been put aside for the extension – but it's tainted, overshadowed by the excavation back at the cottage. Every time I think of it I feel sick.
Snowy hops onto the bed next to me, laying his head on my lap and looking up at me with his soulful brown eyes. 'I can't believe we've been turfed out of our own house,' I say, as I stroke Snowy's head. Then I pull my cardigan around myself. It's turned chilly, or perhaps it's the shock.
Tom flicks the switch on the little plastic kettle, then comes to join us on the bed. The mattress is softer than ours at home. 'I know. But it will all be okay,' he says, with a return to his former optimism. 'We'll be able to resume our building work soon and everything will be back to normal.'
I snuggle into him, wishing I could believe him.
We resist the urge to walk past the cottage. Instead we spend the weekend either in the pub or on long walks through the village and woods.
'At least it gives me the weekend off decorating,' says Tom, on Saturday, taking my hand as we amble through the village square. He's done so much to the cottage already since we moved in: taking up the threadbare carpet on the stairs, painting the living room and our bedroom a dove grey, sanding the floorboards. Next he wants to strip the wallpaper in the little bedroom ready to decorate before the baby arrives, although he put off doing this until my twelve-week scan so as not to tempt Fate.
When we eventually return on Sunday after lunch, with our bags at our feet, like visitors in our own home, my heart sinks. There are police cars and vans still parked on our driveway. Another uniformed officer – a middle-aged guy this time – informs us that they should be done excavating by the end of the day, and we're allowed in the cottage but not the garden until they've finished. I wonder if they've searched inside. The thought makes me uneasy: I hate to think of the police rifling through our things. When I voice this to Tom he assures me that they would have said if they were going to do that.
Tom and I spend the rest of the afternoon hiding in the living room. 'What must the neighbours be thinking?' I say, standing at the window and sipping a decaf tea. I think of elderly Jack and Brenda next door. A hedge obscures their property from ours, but she's definitely the curtain-twitcher type, and when Clive put in the plans for the kitchen extension they opposed them.
A small crowd has gathered at the end of our driveway, only partly hidden by the police vehicles.
'I bet they're journalists,' says Tom, over my shoulder, his fingers clasping a mug. 'You might want to ring your dad and get some advice.'
My dad is the chief reporter on one of the national tabloids. I nod grimly. I feel as exposed as if someone has ripped the roof right off our house. 'This is a nightmare,' I mutter. For once Tom doesn't offer any assurance. Instead his face is grave, a muscle throbbing near his jawline as he stares out of the window, sipping his coffee in silence.
I ring Dad later to ask his advice. 'You don't fancy giving your old dad an exclusive,' he deadpans.
I laugh. 'I don't know anything! It might turn out to be hundreds of years old yet.'
'Well, if it's not I should warn you, as soon as the police confirm a crime and have identified the body, you'll be swamped by press.'
'Should we move out?' Although as I say this I have no idea where we'd actually go. We can't afford a hotel. I wish Dad lived closer. Or Mum, but she's even further away.
'No. No, don't do that. Just be prepared, that's all. And if you need anything – information or advice – let me know.' I can tell he's in the newsroom by the sound of phones ringing in the background and the general hubbub of conversation and activity.
'Will you be sending someone down here?'
'I expect we'll use a press agency for now. But if you're going to talk to the press, remember me, yeah? Seriously, Saff, if you're unsure about anything – whether it's the police or the reporters – then come to me first.'
'Thanks, Dad,' I say, feeling reassured. My dad has always had the ability to make me feel safe.
The next morning the police take down the tent and crime tape and Tom and I stare in horror at the huge hole left in the garden. It's four times bigger than it was when the builders left it. Tom asks his boss if he can work from home for a few days, and we spend them trying to avoid the smattering of journalists that still hover.
And then, on Wednesday – the day Tom returns to work – the police call.
'I'm afraid it's not good news,' says the male detective with a gruff voice, whose name I instantly forget.
I stiffen, waiting.
'Two bodies have been found.'
I nearly drop my phone. 'Two bodies?'
'I'm afraid so, yes. All the bones were recovered and forensics could determine that one was a male and the other a female. We could also work out the ages of the victims based on the bone formation and maturing. Both victims were between thirty and forty-five.'
I can't speak, nausea rising.
'Unfortunately,' he continues, 'the female victim died of blunt trauma to the head. We're still trying to ascertain how the man died. The decomposition of tissues makes this more difficult. With the female skeleton it was more obvious due to the fracture to the skull.'
I squeeze my eyes shut, trying not to imagine it.
'That's . . . that's awful.' I can barely take it in. 'Are . . . are you sure there aren't any more?' I suddenly have visions of the whole garden being dug up to reveal a mass grave and shudder at the thought. Other 'houses of horrors' as the press luridly describe them, come to mind – 25 Cromwell Street and White House Farm. Will our cottage become as infamous? Will we be stuck here for ever, nobody ever wanting to buy it? My heart starts to beat faster and I swallow, trying to concentrate on what the detective is saying.
'We had cadaver dogs at the site. We are confident there are no more bodies.'
'How . . . long have the bodies been there?'
'We can't be sure for definite, not yet. The soil in your garden is more alkaline based and the conditions, therefore, have preserved some of the clothing and shoes, but we think no earlier than around 1970, and by the decomposition, no later than 1990.'
Goosebumps ripple over my skin. Two people were murdered in my house. In my idyllic cottage. Everything suddenly takes on a dark, surreal quality.
'And, of course, we have to speak to everyone who occupied the house between 1970 and 1990,' he continues. 'I'm afraid, being the previous owner of the cottage, we will need to speak to Mrs Rose Grey.'
The room tilts.
Rose Grey is my grandmother.
May 2018
I CAN'T STOP THINKING ABOUT THE BODIES. IT'S ON MY mind when I take Snowy for his daily walks around the village, when I'm watching TV with Tom, when I'm working on a project in the tiny room with the 1970s flowered wallpaper at the front of the cottage that I use as an office.
It didn't take long for news to get around the village, and even though it's been more than ten days since the excavation, people are still speculating about it. They won't yet know the latest information, about how and when the victims died, but while I was in the corner shop earlier, I heard old Mrs McNulty gossiping about it to one of her elderly friends – a stooped woman wearing a headscarf and pushing a checked bag on wheels. 'I can't imagine the Turners being responsible,' she'd said. 'They'd been there years. Mrs Turner was very mousy.'
'Although,' Mrs McNulty lowered her voice, her beady eyes flashing with excitement, 'wasn't there all that business a few years ago? With his nephew and the stolen goods?'
'Oh, yes, I remember that. Well, they did leave in a bit of a hurry,' said Headscarf Woman. 'When was it now? Two years ago? And I heard they left the cottage in a bit of a state.' She lowered her voice. 'Hoarders, apparently. Although they kept the garden nice. Mrs Turner liked to plant bulbs.'
'And now those youngsters have turned up.'
'I hear they've been given the cottage for free. Inheritance apparently.'
'It's all right for some.'
I could feel my cheeks burning. I put the tin of baked beans back on the shelf and left the shop before they noticed me.
Now I grab my cardigan from the back of the chair. It's cooler today, the sun struggling to poke through clouds, and I bend over Snowy's bed to kiss him on the top of his fluffy head. 'See you later, mister.'
I'm knocking off work early today, like I do every Thursday, to visit Gran. I feel a lurch of guilt when I think of how I ended up missing my visit to her last week because of the swarm of press outside our house. Yet today won't be like all the other Thursdays. Today, when I sit opposite my grandmother I'll be wondering what happened all those years ago. How did two people end up dead and buried in her garden?
My battered yellow Converse trainers crunch over the gravelled driveway as I dart to my Mini. I'm wearing denim dungarees with the bottoms turned up. They feel so much more comfortable now my tummy is expanding. I'm sixteen weeks pregnant and have a small bump. Although it doesn't look like I'm pregnant, more bloated. I've tied my dark curls back with a matching yellow scrunchie. My mum always turns her nose up at my collection of scrunchies. 'They're just so . . . eighties,' she says, rolling her eyes. 'I can't believe they've made a comeback.' I haven't seen her since Christmas and that hadn't gone very well, thanks to her rude boyfriend, Alberto. The weeks are flying by and I still haven't told her she's going to be a grandmother. Every time I think about telling her I imagine her disappointment.
As I get behind the wheel I notice a man standing in the lane, partially concealed by our front wall, staring up at the cottage. He's stocky, with a face like a bulldog, maybe mid to late fifties, wearing jeans and a waxed jacket. When he notices me he moves away. Was he taking photos of the cottage? He must be another journalist. Most of them have given up for the moment – until there's new information to be had. But every now and again another will pop up, like the weeds in my front garden. On Saturday, as we made our way down our driveway to take Snowy for a walk, a journalist sprang out in front of us, obscuring our path and taking a photo of us. Tom was furious, and swore at him as he scuttled back to his car.
I pull out of the driveway and continue slowly past him, making sure to give him enough room so he doesn't have to press himself against the hedge, but as I do I notice him shooting me such an intense look that it shocks me. From the rearview mirror I see him getting into a black sedan parked further down the hill, next to number eight.
Tom came home from work yesterday saying he'd spotted a piece about the bodies in the garden in a copy of the Sun that someone had left on the Tube. It had a sensationalist heading that played on the skeletons at Skelton Place, accompanied by the photo the journalist took of us on Saturday, with startled looks on our faces. 'Oh, God, Tom,' I'd said, my face flushed with fear. 'They're going to say we're Wiltshire's answer to Fred and Rosemary West!'
He'd laughed properly then. 'No, they won't. It happened at least thirty years ago. We weren't even born.'
But my gran was.
I push the thought of the man from my mind as I continue down the hill, passing the Stag and Pheasant at the bottom. Instead I think again about how peaceful Beggars Nook is with its beautiful old Cotswold-stone buildings. I drive through the village square, taking in the market cross, the pretty church, the corner shop, a café and the one boutique selling trinkets, cards and slouchy expensive clothes. All walkable from the cottage and in a dip, surrounded by the woods and the thick oak trees that stretch up to the sky. ...
We hope you are enjoying the book so far. To continue reading...
The Couple at Number 9
Claire Douglas
Copyright © 2023 All Rights Reserved