Book info
Sample
Audiobook
Media
Author updates
Lists
Synopsis
A debut small-town horror novel that is a chilling blend of Shirley Jackson meets Devil's Day by way of Westworld
When Lady Mae turns eighteen, she'll inherit her mother's ghastly job as the Butcher: dismembering Settlement Five's guilty criminals as payment for their petty crimes. But then their leaders, known as the Deputies, come to Lady Mae's house, and there in the living room they murder her mother for refusing to butcher a child.
Within twenty-four hours, now alone in the world, Lady Mae begins her gruesome job. But a chance meeting years later puts her face to face with the Deputy that murdered her mother. Now Lady Mae must choose: Will she flee and start another life in the desolate mountains, forever running? Or will she seek vengeance for her mother's death even if it kills her?
Release date: September 27, 2022
Publisher: Titan Books
Print pages: 320
* BingeBooks earns revenue from qualifying purchases as an Amazon Associate as well as from other retail partners.
Listen to a sample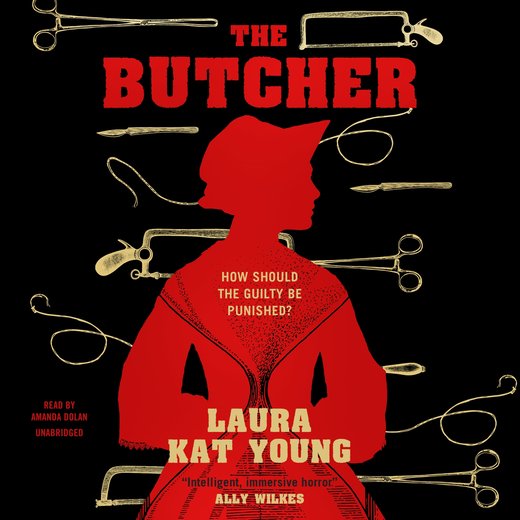 08:20:11
228.98 MB
9798200880249
September 13, 2022
Blackstone Audio
The Butcher
Laura Kat Young
1
When Lady Mae went into the kitchen to wash the dishes, she found that her mother had left her kit at home. It sat on her mother's side of the old, worn table, inches from where Lady Mae stood. Though she had been taught from as far back as she could remember that inside the kit were her mother's work tools—the ones for people in any case—lately, when Lady Mae found herself in the presence of the kit, there was a knocking at her breast and a speeding in her heart. The kit itself was small and ordinary, no bigger than the book containing Settlement Five's bylaws. Alone, there on the table, the tools inside the kit remained harmless. But in her mother's hands—and soon also her own—they commanded what Lady Mae had taken for respect. And that's what it was, right? The bowed heads, the quiet that fell on the square when she and her mother walked into town. It was absolution, a kind of credence. Her mother had explained it to her over and over. It ain't always like it seems. Right now it's me, but soon it'll be you. They don't know no better. Maybe they didn't, maybe they did. Maybe what they knew was so heavy and frightening, that to even look in the direction of it was impossible. And so when Lady Mae and her mother passed the other residents as they stood still on their porches with brooms in hand, their eyes stayed at the women's feet lest they let it show.
Lady Mae stood next to the table and looked down at the kit. Its forgotten presence in itself did not cause Lady Mae alarm—perhaps today her mother was only working on the livestock and the tools she needed, bigger and sharper, were hanging on hooks in the back of the depot by the livestock pen. But if her job that day was an atonement, and her kit was still there in the shack—Lady Mae resolved that she'd bring it to the depot. If her mother had to return to the shack and fetch them, the Deputies might come around. They'd been worse lately, too, or so it seemed. But then another thought crossed her mind. In the seventeen years she'd been alive, Lady Mae had never disobeyed her mother purposefully. Not once, not ever. But that morning as the hot wind blew up against the kitchen window, she pulled out her mother's rickety chair and sat down. She dragged the kit toward her, saw the cracked and shredded leather by the clasp. It looked like the skin of a fish salted and left to dry, and Lady Mae ran her fingers along the spine. She would leave her shack shortly and make the walk to the depot, but first she wanted to see what was inside.
The clasp was cool on her fingertips. There was no lock and key, no numerical combination to open it up. She simply pressed down on the horseshoe-shaped latch, and it popped open. Lady Mae opened it slowly, and as she did, saw firsthand what she had long known was in there: small tools made of shiny metal and buck-horned handles each in their own sleeve. She lifted out the scalpel. It was heavier than she expected it to be, and though its blade was no bigger than her smallest finger, she was careful. Even without touching it, it was sharp enough to cut through skin and muscle with ease.
Lady Mae went from left to right picking up and examining each tool—the clamp, the saw, the tourniquet, the file, the bone cutter. Each had its own purpose, but there at the table in the midmorning light, they did not seem big or weighty enough to remove a finger or a hand or an entire leg—how could her mother adequately do her job with such rudimentary tools? How would Lady Mae be expected to do so as well in less than a year? She looked at her hands, and though they were dry and cracked they were young still: would they be strong enough when the time came? If she wasn't strong enough, where would it come from? Maybe she already had it. Maybe she was born with it, bequeathed from mother to daughter like everything else.
Lady Mae closed the kit and secured the clasp. She stood from the table, the chair creaking as it released her weight. It was nearly half past nine, and her lessons with Arbuckle started promptly after lunch. She'd have to be quick if she wished to make it back with enough time to ready herself for his arrival. Moving quickly, she took off her apron and pushed her dark curls up into her bonnet. Then she tucked the old kit underneath her arm and left the shack.
* * *
The day was already warm. The wind that blew from the west was hot and dry. Dust swirled around her, and the bottom of her skirts dragged along the dirt road. She couldn't remember the last time it had rained; the hills that were usually lush and verdant were the color of silt. If lightning struck, the flames would easily catch and quickly blanket the hills with their orange light. There was no water between the hills and Settlement Five, and there wasn't enough in the well to do anything besides put out a stove fire or two. The drought was unsettling, but Lady Mae and her mother had lived through worse. And their rations did not dwindle like that of the other residents' in times of duress, though Lady Mae wished they did; receiving anything from the Deputies—especially that which the other residents did not get—made her sick.
The first rock struck the small of her back. It didn't hurt, but she knew what it was and kept her eyes down to the ground. Her mother had told her: if the other children, especially the younger ones, saw how much their actions pained her, how it tormented her, they would never relent. And so she tried to ignore them as the pebbles and sticks soared through the air toward her. Instead, she focused on the tips of her boots and the way her fingernails felt on her palms, pressing into the skin until it was as though they would slice right through. The children called after her, their voices whirling together like a cyclone, trapping her in the middle of the road. A rock flew past her head. Another hit her in the shoulder. Laughter floated past her ears, and she looked to her right, catching a small body disappearing behind one of the shacks. It mattered not who it was—theywere all the same: vile, unseemly beasts that had taunted and teased Lady Mae ever since she could remember.
She kept walking, digging her heels down in the dirt faster and faster until she was nearly running, tripping over laces that had become untied and kicking up the dust around her. She could see the depot down the road, its door open. Maybe her mother was watching and would come running out quick, throwing her body onto her daughter's to protect her as she always had, as she had always promised she would.
"Your mother's the devil!"
"You the devil!"
Lady Mae's pulse skipped. A sudden sweat appeared at her hairline. The sun shone down, and there was the flash of metal off the tin roofs to her right. The children were better when her mother was around, who had more than once grabbed one by the ears or the collar and dragged them back to their own shack kicking and screaming. Their parents behaved accordingly, whipping and haranguing their children in front of the butcher in hopes it might lessen their own sentence when it came time. But her mother was not there in the dust with Lady Mae, and any elder that stood behind the tattered curtains of their front window offered nothing but a quiet disappearance from view. Did they hurt you too, Mama?
"I'm gonna cut off your fingers one by one!"
"I'm gonna make you eat them!"
She should've started running toward the depot, but in that moment, there in the road not ten meters from her shack, she stopped walking. As the rocks continued to belt her back, she lifted her arms to protect her head. But it was of no use. Someone had thrown one high in the air, and as it fell from above it landed squarely upon the top of her skull. Her body went limp and collapsed to the ground, and the children around her cried out joyfully, hatefully, their disgust seething in their veins. They had gotten the butcher's daughter, maimed her as their parents had been. An eye for an eye, just as the Deputies preached.
"Scum!"
"You ain't wanted!"
The children crowded around her in a circle. They shouted at her, kicked rocks and dirt into her face. They pulled her long curls out from under her bonnet and stomped on her back. They thought they had won—thebutcher's daughter lay prostrate on the ground—but as their taunting let up, as they turned to walk away, Lady Mae dragged herself up out of the dust. She crawled first to her hands and knees and spat. She put her hand to her skull, the warm blood stuck between strands of hair. The children stared at her, nudged each other with their elbows and walked back, silent and wondering, toward Lady Mae.
"I ain't afraid. You ain't nothing to me."
Her lips moved, and she heard her own voice as the words drifted in the still summer air. The children stopped moving and stood, hands hanging from their sides, their tiny fists clutching stones. They watched Lady Mae stand up and take a step forward, slowly, purposefully, dragging her back foot to meet her front. She took another step, and then another and another still. Closer and closer she got to the beasts, their eyes, their little bodies, their heads shifting toward one another, unsure of what to do, as though scared that they weren't as strong as they thought. She was Lady Mae, the butcher's daughter, after all. But what they couldn't know is that something had unmoored inside of her, and as the hot wind blew the dust up around her, she wiped the blood from her mouth, leaving a grotesque smear that went down the edge of her chin. The children, who thought themselves safe from any punishments—safe because Lady Mae had never told the Deputies of the treatment she endured—saw a flicker in her eyes, as if a wave of electricity had suddenly swelled up from deep down. She'd felt the rush before, many times in fact, but always it seemed too dangerous to embrace. When it bubbled up, she tried to push it back down for it went against her mother's words instilled in her so long ago. It ain't going to change nothing, her mother had said. You're better than that, Lady Mae, she'd said, those kids need forgiveness just like everyone else. But in that moment, Lady Mae wondered if she was any better than the savages and how hard she could throw a fist-sized rock and how much blood would pour from their small heads. They didn't deserve forgiveness, and Lady Mae was tired of blaming her injuries on chores, the woodpile, her own clumsiness. Her mother never believed her anyway. She was tired of running, and so as she squared her body toward the small group of children, she felt her fear unravel and make its way out of her.
"You better watch I don't tell my ma," she said. "Assault's against the law."
She'd never spoken to the children other than to yell stop you can't no please. She'd never threatened them, and because of that they thought themselves invincible. Maybe they were. But maybe she was, too. After all, she had come from her mother, had inherited her eyes and mouth and high cheekbones; might she also have gotten the same strength that allowed her mother to go to the depot day in and day out?
"You ain't gonna say nothing. We'll make sure of that," a boy called. It was the older Thompson boy, the meanest one, and he stood stuffed into an old shirt, dirt on his cheeks. He was ugly, and it wasn't just because he was cruel. The younger one—too young to understand just how awful his brother was—ran up to Lady Mae and pushed her hard back onto the ground. Edith Cummings, the only girl in the group, threw a handful of gravel at her face. But Lady Mae, whose ears still rang and with eyes still blurry, rose to her knees again, the tiny stones cutting through her skirts, and looked the awful girl in the eyes.
"I ain't afraid."
She brushed the dirt from her hands. But she was weak, and the children were losing interest, calling to one another to leave her, that she ain't nothing, nothing but a poor girl whose mother ought to be hanged. As quickly as it had churned through her, the strength vanished, and in its place she felt the familiar fear, the sticky panic underneath her fingernails.
"Come on," yelled Balthazar Jones. "Let's get out of here." Being the oldest he gave the orders and the others listened. They backed away slowly, keeping their eyes on the butcher's daughter. When they were far enough away, they turned and broke into a run.
"We'll get you, Lady Mae! Ain't nowhere to hide."
"Come and get me," she called after them too softly for them to hear. "Come and get me if you think you can."
And as they disappeared from her view she felt her body again, bloodied and bruised. She rose to her feet, each step like fire whipping around her bones. She turned in the direction of the depot and began walking, knowing that when her mother saw her she would take Lady Mae into her arms and press her head against her chest. There she would hear the rhythmic beating of her mother's heart, the life inside of her undeterred. But as Lady Mae approached the depot, she slowed. What would she say to her mother this time? How would she explain the blood, the bruises, the torn dress? Lady Mae didn't know how to hold the rage that had filled her—her mother hadn't taught her that—and she could not tell her mother of the burning resolve she'd felt to fight back, how though she'd felt it before, this time it was different. You ain't give me words for it, Mama.
She walked gingerly up the depot's porch steps, her feet heavy and hot. The door was open, but before Lady Mae called to her mother, she heard a man's voice, low and growly. Peering through the window, she saw her mother bent over the man. Her mother's back was to the window, and the man sat in the chair, a tourniquet around his forearm. Her mother held a saw in her left hand—the same kind of saw that was in her kit—and the sun, which had just lifted high in the sky, glinted off the blade. The man sat still. Lady Mae ducked down and leaned her back up against the splintered wood of the shack. She wasn't allowed in the depot, not ever, and most likely she'd be in trouble if she was found peering in through the window. So she crouched and listened to her mother's voice.
"You move the worse it'll be," her mother said.
"I ain't gonna move," the man said.
"That's what you said last time."
"Just do it already."
"On three, then. One, two—"
There was a choking scream, one that gurgled far back in the man's throat, and then Lady Mae heard a familiar sound, a grinding of metal to bone that was not unlike that which she heard when it was her turn to clean the chicken for a special meal. She listened: four, five, six, seven, eight, nine. And then her mother's voice humming softly. In the sky, a small murder of crows bent and rippled, but none cried out.
She looked down at her own fingers and wondered how many layers of skin and muscle and bone there were. Would hers be warm and sticky where the skin pulled back, the phalanges jagged and sharp? What if the blood wouldn't still and it flowed out of her until she was as dry as the earth? She felt a tightness in her jaw and the bubbling of spit in the back of her throat. Earlier that morning as she watched her mother ready herself for the day, she had wanted her mother's hands to cup her face as she used to and tell her it was nothing, that it was just part of her job, that the patients really did deserve their atonements. But instead, her mother had grabbed her daughter's wrists with each of her hands so tightly that Lady Mae saw the blood slowing as her mother's knuckles turned white. Their arms held there, heavy and alike, in the empty space between their bodies. Lady Mae did not dare pull away.
"You must believe," her mother had said. "You must trust. But above all, you must be careful of the questions you ask; the wrong one can lead you to the butcher, even if it's me."
Lady Mae lay the kit next to the door and crept away from the depot. The man in the chair—she hadn't expected that, though she couldn't be sure of what she expected. She knew what her mother did and that she was quick with it; whether it was an animal or a person, her hands were steady and precise. It was both exactly and completely unlike what Lady Mae had envisioned in her mind. Her mother had looked exquisitely barbaric standing over the man in the chair, her toes inches away from the blood on the floor. She knew there was blood—always there was blood; there wasn't a single dress of her mother's that didn't have faded stains on the sleeves. But that wasn't what had jarred Lady Mae—it had been her mother's singing, the song she then recognized as the one her mother sang her when she was hurt or tired or sad; it was her mother's job to maim, to console, and it would soon be Lady Mae's job, too.
* * *
Although she walked home from the depot quickly, Arbuckle was already waiting outside her door. As she crossed the road, ...
We hope you are enjoying the book so far. To continue reading...
The Butcher
Laura Kat Young
Copyright © 2022 All Rights Reserved