The Ballad of Perilous Graves
Available in:
eBook
Paperback
Audiobook
Hardcover
Book info
Sample
Audiobook
Media
Author updates
Lists
Synopsis
Music is magic in this vibrant and imaginative debut novel set in a fantastical verison of New Orleans: a battle for the city's soul brews between two young mages, a vengeful wraith, and one powerful song.
Nola is a city full of wonders. A place of sky trolleys and dead cabs, where haints dance the night away and Wise Women help keep the order. To those from Away, Nola might seem strange. To Perilous Graves, it's simply home.

In a world of everyday miracles, Perry might not have a talent for magic, but he does know Nola's rhythm as intimately as his own heartbeat. So when the city's Great Magician starts appearing in odd places and essential songs are forgotten, Perry realizes trouble is afoot.

Nine songs of power have escaped from the piano that maintains the city's beat, and without them, Nola will fail. Unwilling to watch his home be destroyed, Perry will sacrifice everything to save it. But a storm is brewing, and the Haint of All Haints is awake. Nola's time might be coming to an end.

Put on your dancing shoes and enjoy this song for New Orleans, the city of music, magic, and dreams.

Audiobook features an Original score written and performed by Andrew McGowan
Release date: June 21, 2022
Publisher: Redhook
Print pages: 465
* BingeBooks earns revenue from qualifying purchases as an Amazon Associate as well as from other retail partners.
Listen to a sample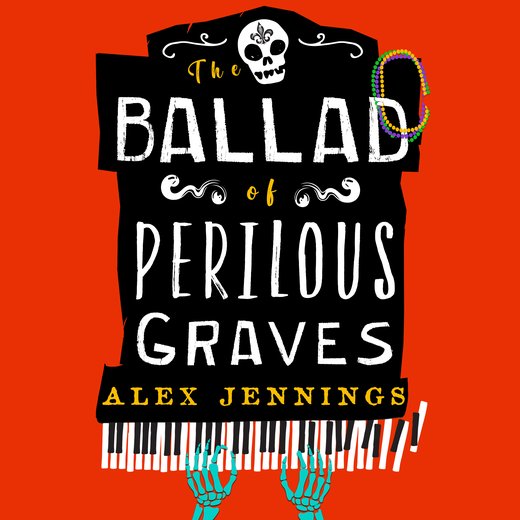 17:15:16
473.92 MB
9781668605332
June 21, 2022
Hachette Audio
The Ballad of Perilous Graves
Alex Jennings
Perry Graves tried not to think about summer's arrival—the heat devils hovering, breathless, over the blacktop as if waiting for something to happen—or even about the city streets. Tomorrow was the last day of school, and he'd be free to roam the neighborhood soon enough… But it wouldn't be soon enough. Perry and his little sister, Brendy, sat cross-legged on the living room floor watching Morgus the Magnificent on the TV. The unkempt, hollow-eyed scientist was trying to convince a gray-haired opera singer to stick his head into a machine that would allow Morgus to amputate the singer's voice with a flip of the switch. From here, Perry could hear his parents and their friends gabbing on the front porch as they sipped sweet tea and played dominoes.
"Why you ain't laughing?" Brendy said.
"Don't talk like that," Perry said. "Daddy hears you, he'll get you good." Then, "I don't always have to laugh just because something's funny."
"Oh, I know, Perry-berry-derry-larry." Brendy stuck her tongue out at him. "You in a mood 'cause you ain't seen Peaches in a week. You don't want me talkin' like her because it remind you of the paaaaaain in yo heaaaaaaaaart!"
Perry scowled. "Shut up."
"I'm sorry," Brendy said. "I'm sorry you luuuuuuuvs Peaches like she yo wiiiiiiiiife!"
"Little bit, you be sorry you don't shut your mouth," Perry threatened. He had no idea what he could do to silence her without getting into trouble.
"Nyeeeeowm! Zzzzzrack!" For a moment, Brendy absently imitated the sound effects from Morgus. "You just want her to say 'Oh! Perilous! I luuuuuvs yew tew! Keeeeeeess me, Perry! Like zey do een—'" Perry was ready to grab his baby sister, clap his hand over her mouth at least, but before he could, a clamor rose up outside. "Looka there!" some grown-up shouted from the porch, his voice marbling through a hubbub of startled adult exclamations.
Whatever was going on out there had nothing to do with Perry, so he ignored it. He was sure that someone had just walked through some graffiti, or that a parade of paintbodies was making its way down Jackson Avenue. He grabbed Brendy's wrist, all set to give her a good tickle, but when the first piano chord sounded on the night air, Perry's body took notice.
Perry let go of his sister, and his legs unfolded him to standing. By the time the second bar began, his knees had begun to flex. He danced in place for a moment before he realized what was happening, then turned and made for the front door. Brendy bounced along right beside him, her single Afro pouf bobbing atop her little round head.
Oooooooh—ooh-wee!
Oooooooh—ooh-wee!
Ooo-ooh baby, ooooooh—ooh-wee!
Outside, Perry's parents and their friends had already descended to the street. Perry's grandfather, Daddy Deke, stood at the base of the porch steps, pumping his knees and elbows in time with the music. "Something ain't right!" he shouted. "He don't never show up this far uptown—not even at Mardi Gras!"
Perry bounced on his toes in the blast of the electric fan sitting at the far end of the porch. The night beyond the stream of air was hot and close—like dog breath, but without the smell. As soon as Perry left the breeze, dancing to the edge of the porch steps, little beads of sweat sprang out on his forehead and started running down.
From here, as he wobbled his legs and rolled his shoulders, Perry saw a shadow forming under the streetlight. It was the silhouette of a man sitting at a piano, and the music came from him. The spirit's piano resolved into view. It was a glittery-gold baby grand festooned with stickers and beads, its keys moving on their own. Shortly thereafter, Doctor Professor himself appeared, hunched over, playing hard as he threw his head back in song. He wore a fuzzy purple fur hat, great big sunglasses with star-shaped lenses, and a purple-sequined tuxedo jacket and bow tie. Big clunky rings stood out on his knuckles as his hands blurred across the keyboard, striking notes and chords. Perry smelled licorice, but couldn't tell whether the smell came from Doctor Professor or from somewhere else. The scent was so powerful, it was almost unpleasant.
All Perry's senses seemed sharper now, and he tried to drink in every impression. He danced in place to the piano and the bass, but as he did, guitars and horns played right along, their sound pouring right out of Fess's mouth.
Ooh-wee, baby, ooooooh—wee
What did you done to meeeee…!
By now, everyone for blocks around had come out of their houses and onto the blacktop. A line of cars waited patiently at Carondelet Street, their doors open, their drivers dancing on the hoods and on the roofs. It was just what you did when Doctor Professor appeared, whatever time of day or night. They danced along to the music, and those who knew the lyrics even sang along.
You told me I'm yo man
You won't have nobody else
Now I'm sittin' home at night
With nobody but myself—!
Perry gave himself up to the sound and the rhythm of the music. The saxophone solo had begun, and it spun Perry around, carried him down the steps and across the yard. His feet swiveled on the sidewalk, turning in and out as he threw his arms up above his head.
Just as quickly as he'd come, Doctor Professor began to fade from sight. First, the man disappeared except for his hands, then his stool disappeared, and then the piano itself. He had become another disturbance in the air—a weird blot of not-really-anything smudged inside the cone cast by the streetlight, and just before he had gone entirely away, Perry heard another song starting up. The music released him, and the crowd stopped moving.
"Oh, have mercy!" Perry's mother crowed. "That's what I needed, baby!"
"That Doctor Professor sure can play."
"Baby, you know it. Take your bounce, take your zydeco—this a jazz city through and through!"
Wilting in the heat, Perry turned to head back inside and saw Daddy Deke still standing by the porch. The old man wore a black-and-crimson zoot suit, and now that he'd finished his dance, he took off his broad-brimmed hat and held it in his left hand. He looked down his beaky nose at Perry, staring like a bird. "Things like that don't happen for no reason," he said. "Something up."
"Something bad?" Perry asked.
"Couldn't tell ya, baby," he said. "Daddy Deke don't know much about magic or spirits. But I gotta wonder… why thatstreetlight in particular? That one right there in front of Peaches's house?"
Now Perry turned to look back at the space where Doctor Professor had appeared. Daddy Deke was right. It stood exactly in front of Peaches's big white birthday cake of a house.
"I didn't see her dancing," Perry said. "Did you?"
"If she'da been there, we'da known it," Daddy Deke said. "Can't miss that Peaches, now, can you?"
Perry and Brendy's parents resumed their seats on the porch, but Daddy Deke headed past them into the house. Perry and his sister followed. In the foyer, Daddy Deke paused to breathe in the cool of the AC and mop his brow with a handkerchief. "Ain't danced like that in a minute," he said.
The living room TV was still gabbling away. Brendy twirled and glided over to shut it off—and Perry wasn't surprised. After seeing Doctor Professor, the idea of staring at the TV screen seemed terminally boring—but so did porch-sitting.
"What you doing tonight anyhows, Daddy Deke?" Brendy asked.
"Caught a couple bass in the park this morning," the old man said. "Might as well fry some up and eat it."
"You went fishing without us?"
"Y'all had school," Daddy Deke said. "If you comin', come on."
Daddy Deke's house sat around the corner on Brainard Street, a stubby little avenue that ran from St. Andrew to Philip, parallel with St. Charles. The low, ranch-style bungalow with the terracotta roof and stucco walls looked a little out-of-place for the Central City—it was the kind of place Perry would expect to see in Broadmoor, crouching back from the street like ThunderCats Lair.
As Perry and Brendy crossed the lawn, Daddy Deke broke away to head for his car, an old Ford Comet that seemed like a good match for the house in that it was also catlike. But instead of ThunderCats Lair, it reminded Perry of Panthor, Skeletor's evil-but-harmless familiar. Daddy Deke turned to look at his grandchildren over his narrow shoulder. "Gwan, y'all. I just gotta stash something real quick, me."
As always, the door to Daddy Deke's house was unlocked. Perry let himself and Brendy inside and took a deep breath. Daddy Deke's place had a smell he couldn't quite identify, but it was unmistakable. A mix of incense, frying oil, and Daddy Deke's own particular aroma—the one he wore beneath his cologne and his mouthwash, the scent that was only his.
At one time, the house had been a doubled shotgun. Daddy Deke had had the central dividing wall and a couple others knocked down, but the second front door remained. Perry and Brendy took off their shoes and stored them in the cubby underneath the coat rack. By then, Daddy Deke had followed them inside.
"Do the fish need scaling?" Perry asked. Daddy Deke had shown him how to descale, gut, and fillet a fish, but Perry was still refining his grasp on the process. There was something about it he enjoyed; figuring out how to get rid of all those fins, bones, and scales felt a little like alchemy—transmuting an animal into food. It made Perry think of the Bible story where Jesus fed thousands on a couple fish and two loaves.
"Naw," Daddy Deke said. "Did it my own self this time—wanted to get them heads in the freezer. Gonna make a stew later on."
Perry's mouth watered. Daddy Deke's fish-head stew was legendary—no matter what form it took. He could make it French-style, Cajun, or even Thai. On those nights when Daddy Deke made a pot for the family and carried it around the corner, the family would eat in near silence, punctuated with satisfied grunts and hums of approval.
"Why I can't never fix the fishes?" Brendy asked. "I wanna help make dinner!"
"You didn't want to learn," Perry said. "You said it was gross."
A flash of anger lit Brendy's face, but it blinked away as quickly as it had come.
"You promise to be careful with the knife," Daddy Deke said, "and we put you on salad duty, heard?"
"Yesss!" Brendy hissed. "Knife knife knife knife knife!"
"Lord," Perry said with a roll of his eyes.
In the kitchen, Daddy Deke turned on the countertop radio and stride piano poured forth to fill the room like water. "You know who that is?" Daddy Deke said.
Perry listened closely. He recognized the song—"Summertime"—but not the expert hands that played it. Hearing it made him feel a sharp pang of loss. He hadn't touched a keyboard in more than a year. He pushed that thought away—thinking about playing was a dark road that led nowhere good. "No," Perry said. "Who is it?"
"That's Willie 'The Lion' Smith," Daddy Deke said, "outta New Jersey. Used to work in a slaughterhouse with his daddy when he was a boy. He said it was horrible, hearing them animals done in, but there was something musical about it, too. That's the thing about music, about a symphony: destruction, war, peace, and beauty all mixed up, ya heard?"
Perry frowned and shut his eyes, listening more closely. He could hear it. At first the tone of the music reminded him of water, and it was still liquid, but now he imagined a bit of darkness and blood mixed in. He saw flowers unfurling to catch rain in a storm. Some of them were destroyed, pulverized by the water or swept away in the high wind.
"That's the thing about music," Daddy Deke said. "It can destroy as much as it creates. It's wild and powerful, dig?"
Perry opened his eyes. "Yes," he said, trying to keep the sadness from his voice. "I understand—a little bit, I think."
We hope you are enjoying the book so far. To continue reading...
The Ballad of Perilous Graves
Alex Jennings
Copyright © 2022 All Rights Reserved